Massachusetts is the go-to place when it comes to family-friendly, affordable, and great skiing day trip up in the snowy mountains. If you are someone looking for the most scenic and picturesque views while skiing down the hill, then Massachusetts is the right place.
Massachusetts is a decent choice for a quick getaway from the busy life of cities. You get to enjoy and relax amidst nature and have a stress-busting ski session.
So the dwellers of Boston, Massachusetts, Hartford, and Albany usually prefer to head toward the center of the best ski resorts in Massachusetts with the best snowmaking capabilities.
You will be pleased with the activities, terrain parks, night skiing, and whatnot in Massachusetts.
Among the top ski mountains in Massachusetts, you will find Blue hills ski resort, Wachusett mountains, Jiminy peak, Ski butternut, Berkshire mountains, Taconic Mountains etc., at the leading positions. These resorts offer beauty, snow, adventure, and activities while being a few hours away!
Our Top Picks of the Best Ski Resorts in Massachusetts
Planning a ski vacation can be a hectic task as you need to look for some major factors like pricing, distance, quality, services, tourist attractions, and, most importantly, snow.
If you are traveling with family, then you need to look for the best family-friendly resorts. Also, you must look out for entertainment options for kids and teens. Hence, a lot of research has to be done before heading out.
However, now you can rest on your armchair because we have done the homework for you. Following is the list of best ski resorts in Massachusetts with all tids and bits.
1. Wachusett Mountain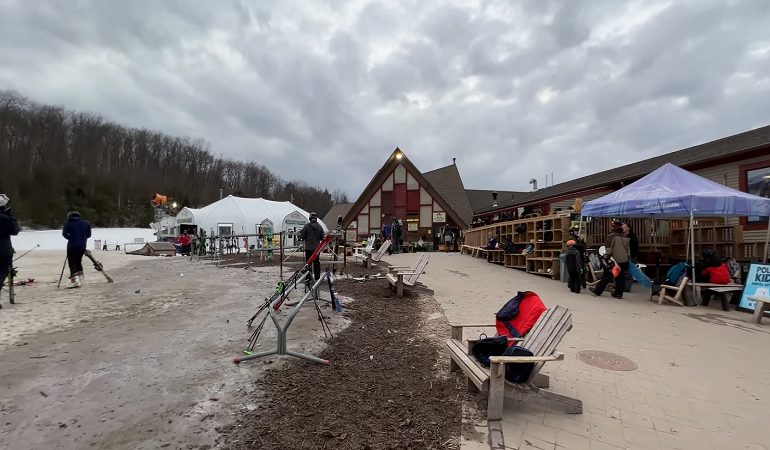 Features
Opening and closing dates: November 27, 2022 – April 3, 2023
Famous for: Snowmaking system
Wachusett Mountain is conveniently located near the Princeton mountains. It is regarded as one of the top family-friendly ski areas in Massachusetts.
Wachusett's literal meaning is 'The great hill,' and it serves as one too. There are 112 skiable acres with 27 ski trails, a terrain park, and 104 acres for the night.
The ski terrains are 19% for beginners, 63% for intermediate, and 19% for expert skiers. Although there are mixed trails, more focus is on the blue diamonds for the intermediate skiers so that they can step up their skiing game.
These trails are served by 8 ski lifts with no lift lines due to an efficient lift system. The lift ticket prices are very reasonable at Wachusett mountain.
The famous 'Science of the slope' program is offered by Wachusett mountain along with snowshoeing and guided ski lessons for new skiers.
The surrounding wild forest and Wachusett lake provide mesmerizing views to visitors. You can enjoy snacks and hot drinks at Bullock Lodge Cider House or the Waffle cabin.
At the base lodge, you can amuse yourself with live music and happening nightlife. For lodging, there are plenty of options, from budget-friendly accommodations to luxury cabins like Doubletree hotel by Hilton. Thus, there is something for everyone at Wachusett mountain.
Pros
Night skiing
Happening nightlife
Reasonable lift tickets
Cons
2. Jiminy Peak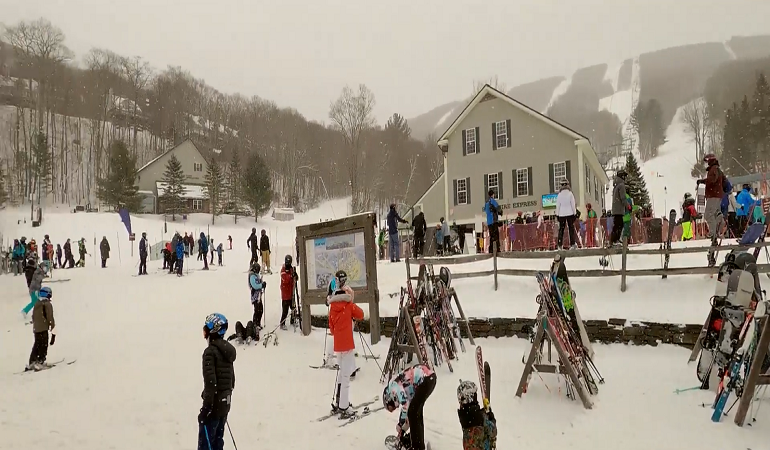 Features
Opening and closing dates: November 2022- March 2023
Famous for: family-friendly and self-sustaining
Jiminy peak radiates positive and welcoming energy, signaling the zesty fun at the ski resort. It gets most of the crowd for being closer to New York, Boston, and Springfield.
It has 167 acres of skiable terrain with 45 ski trails. These trails are not designated for only one kind of skiing ability. Instead, there are runs all along with numerous off-track landscapes.
Three terrain parks at Jiminy Peak serve the freestylers and snowboarders to practice and challenge their skills. These trails and terrain parks offer the most capacity, with 9 lifts to accommodate the crowd.
Also, it has an efficient snowmaking capacity to ensure a great skiing experience with enough snow.
Jiminy Peak is the "have it all" place and is a self-reliant ski resort. There are numerous family-friendly activities and entertainment options other than skiing.
The central town of Jiminy Peak is the hub of all needs. For instance, you can find grocery stores, cafes, restaurants, shopping centers beer and wine options. You name it, and Jiminy peak has it.
If you are planning a staycation, then Jiminy Peak mountain resort is just a 10 minutes walking distance from the conveyer lifts. While Wyndham Bently Brook hotel is also there to serve, you can find multiple rental options according to your budget in the nearby towns of Jiminy peak.
Pros
Groomed ski runs
Beginner-friendly trails
Family-oriented activities
Cons
3. Ski Butternut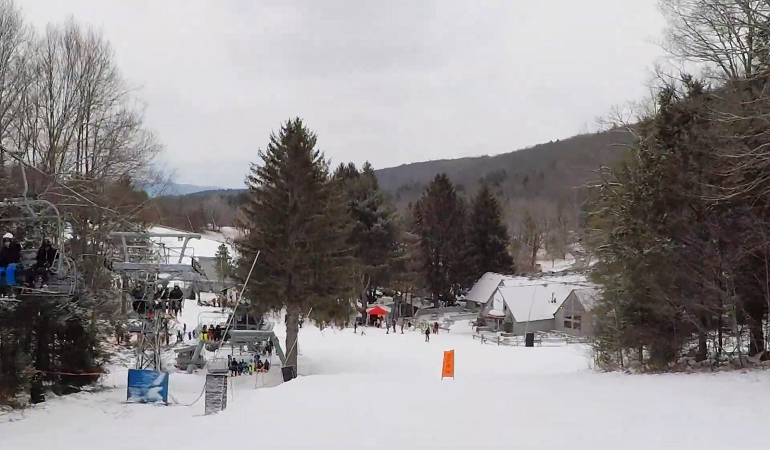 Features
Opening and closing dates: December 25, 2022- March 27, 2023
Famous for: Après ski activities
Ski Butternut is located at the Great Barrington, attracting more riders, tourists, and visitors from New Jersey and New York City. This ski area can be flocked by the crowd because it is the most affordable and family-friendly ski resort in New England.
There are 110 acres of skiable terrain with 22 ski trails, including runs for beginner to experienced skiers at Ski Butternut. The two terrain parks are for snowboarding and snow tubing, with the longest run of 1.5 miles.
For lift service, charges are the lowest, ranging from $25-$60. This ski resort is also capable of snowmaking to ensure an ample snow supply for a powder-dry experience.
Ski Butternut has a lot to offer other than skiing. With around 65 restaurants and cafes, you get a number of lodging amenities. One lodging option is Great Barrington which is 1 mile away from Ski Butternut.
Barrington is awarded as the best town in America, with plentiful entertainment options like miniature golf courses, museums, movie theaters, rustic inns, and bowling alleys.
You also have B&B, hotels, motels, and other rental cabin options available for your staycation.
Pros
Reasonable prices
Beginners friendly
Vast ski area
Cons
No night skiing
Crowding of place is expected
4. Blue Hills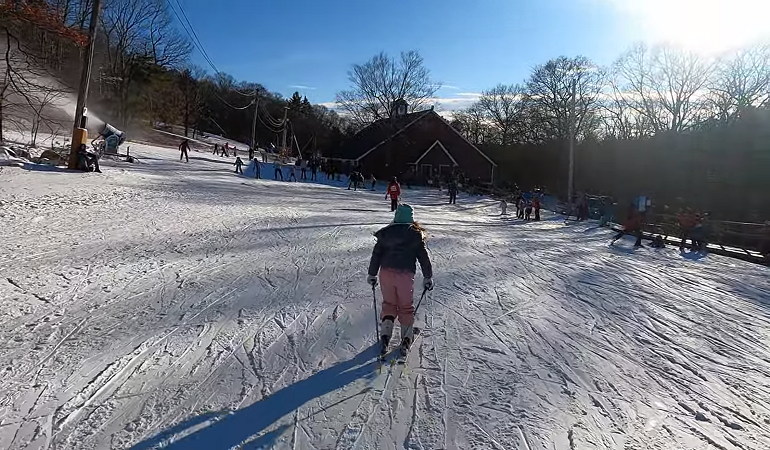 Features
Opening and closing dates: December 27, 2022 – March 20, 2023
Famous for: Scenic location
Blue Hills ski area is one of the closest ski resorts to Boston. So, Bostoners, you've hit the jackpot in the form of this mighty tourist destination.
It is perfect for a prompt weekend getaway or even a day trip in the snowy mountain. In a compact ski area of 60 acres, there are 16 runs for beginner, intermediate and expert skiers.
There is one terrain park, snowmaking capacity, and a night skiing option to grab more attention from the visitors towards Blue Hills. The ski trails have 4 ski lifts to get the job done in the most efficient way ensuring no long lift lines. The lift ticket price is reasonable, ranging from $5-$50.
The town area of Blue Hills is enriched with aesthetic vibes. Canton is the closest town to Blue hills resort. It has plenty of quaint stores, shops, small restaurants, and vintage places.
However, if you want to have the same urban experience, then Norwood or Dedham are the downtown areas for your city-like vibe and are always open and welcoming
While there are luxury options like Homewood Suites by Hilton, you can also look for reasonable rental amenities in Canton. You can opt for a staying place as per your choice and budget.
Pros
Nearest to major cities like Boston
Night skiing
Cons
Crowded place
Limited ski area
5. Berkshire East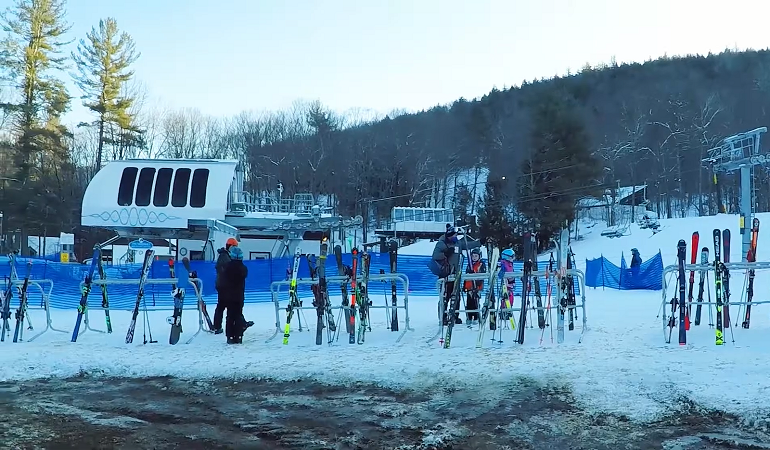 Features
Opening and closing dates: December 2022 – March 2023
Famous for: Night skiing and self-sustenance
Alpine-style skiing is one of the specialties of Massachusetts ski resorts. Originally called Thunder Mountain, Berkshire East ski resort has continued its legacy for the last 35 years.
So you can be assured about the quality of services when visiting Berkshire East ski resort. It is the biggest ski resort in the western part of Massachusetts.
The entire skiable area consists of 120 acres of terrain, having 45 ski runs and 2 terrain parks for snow tubing and snowboarding. 36% of the ski trails are designated for new skiers, 39% for intermediate, and 15% for expert skiers.
9% of the ski trails are for the double black diamonds with challenging twists and humps best suited for advanced skiers.
For night skiing, there are 80 acres with efficient power and electric supply, along with high-end snowmaking.
Due to the Berkshire snow tubing park, Berkshire East ski resort is popular among families. It caters to all age groups, so every member of the family can return home with a smile.
For instance, the adults of the family can join the Berkshire East ski team to take part in ski races and much more fun sports. At the same time, children can find their own fun with the great kids' programs in the snow.
Charlemont and Hawkey are nearby towns with some good options for shops, cafes, and restaurants. Deerfield River valley around Berkshire offers lodging amenities at all price ranges.

You can find hotels, rental cabins, Airbnb accommodations, and much more alongside the groomed ski slopes.
Pros
Ski trails for all skill levels
Night skiing trails
Cons
Fewer accommodation options
Conclusion
Although you may not find huge ski resorts in Massachusetts, they are full of winter wonders. Also, you would not need to spend hours driving your car to reach the resorts, as the ski resorts are just a few hours of drive away from the main town.
From skiers to snowboarders to snow tubing lovers, everyone is entertained at the ski resorts in Massachusetts. The ski resorts also offer night skiing so that you can witness the starry nights and glittery snow.
The twisted terrain park, ski ward, and vertical drop of most of the ski areas in Massachusetts will provide you with the best skiing experience, no matter if you are a new skier or an expert.
Thus, the terrain parks, skiable terrain, ski slopes, magic carpets, and lifts altogether make your experience pleasant with the quality of services. So, leave all the doubtful thoughts back home and enjoy your holidays up in the snowy mountains.
Related Guide