Introduction
Gone are the days when finding comfortable lodging options and places to eat at the ski areas was tough.
Now, things have changed, and you get to pick from an extensive list of luxurious hotels, travel-friendly lodges, budget rentals, and top-notch terrain parks.
As far as choosing a ski resort in Maine goes, you get some really quirky options to pick from. Raise your hand if you, too, love availing discounts and reducing the overall cost of the event.
Some resorts in Maine really help you manage your budget efficiently through amazing discount deals.
Our Top Picks of the Best Ski Resorts in Maine
Let this article take you through each and everything you need to be aware of regarding skiing in Maine, the opening times, weather, and ways to travel with the heavy ski equipment.
1. Sugarloaf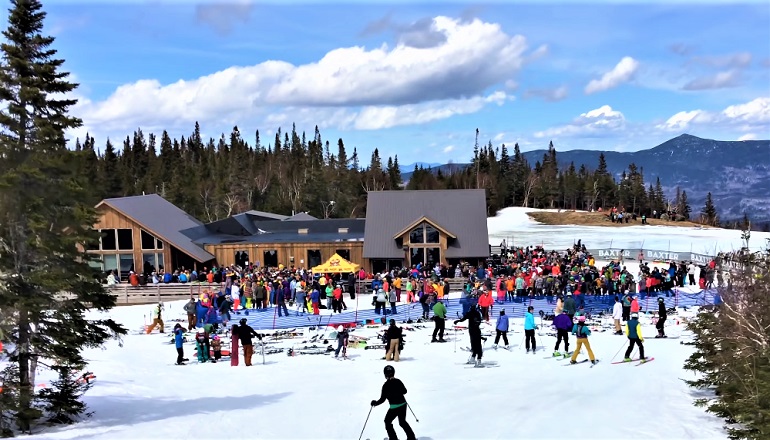 Are you ready to reach the peak of Sugarloaf mountain in western Maine and skid through the groomed trails along trees covered in white powder? If yes, then you should definitely choose Sugarloaf resort as your next destination.
Features Worth-mentioning
Though it's completely possible to visit this resort all year round, the winter season is definitely better in terms of adventure offers. Amongst all the Maine ski resorts, this one is the largest. This is why its vertical drop is something you should try at least once in your lifetime to satisfy your adrenaline thrust.
Around 50km of groomed trails are specified for classic skiing, and you can also opt for the experience of cross-country skiing at this mountain. If you don't know what is Nordic skiing, this type of skiing is associated with around 60 km of terrain, and picking this option would help you make memories for a lifetime!
The location of this resort is its biggest plus point! You would spot it right in the heart of the Carrabassett valley, which makes it a desirable place to stay at. With the most scenic views and gorgeous hills, Carrabassett valley really charms tourists and offers them the opportunity of cat skiing!
Also, you don't need to worry about reaching here! The closest airport to it is the Sugarloaf Regional Airport, which is merely a ten-minute drive away, while the Boston Logan International Airport is around 250 miles far from it, from where you can get a train and reach Maine.
Love being a part of phenomenal events? The Sugarloaf resort lets you delight yourself with some of the most well-organized events if you plan your trip timely.
From the local race league draft night to the holiday gift bazaar and from the never-ending activities of the Christmas vacation week to the fantastic firework of the new year, this place has a great line-up of exciting happenings.
The vertical drop of 2820 has aided this ski resort in earning the stellar reputation of being one of the best skiing spots in Maine. It'll start its winter adventure at its six terrain parks on November 18 this year and would expand it all the way to 30th April.
If you are a fan of adventures and gorgeous views, a ride in the car for two hours will take you to the Sunday river. The meatloaf served at the Grand Summit Hotel on the Sunday river is surely worth trying!
Also, you can check out the ice skating activity area as well, especially if you have kids with you! Birches offers snow tubing as well, which is quite appropriate for kids as well as adults.
One thing that I particularly didn't appreciate about this ski resort is that there are no post signage on the trails, which are perilous owing to the icy conditions. Hence, if you are going with family, make sure to take good care of all the members to avoid dangerous situations.
2. Sunday River Resort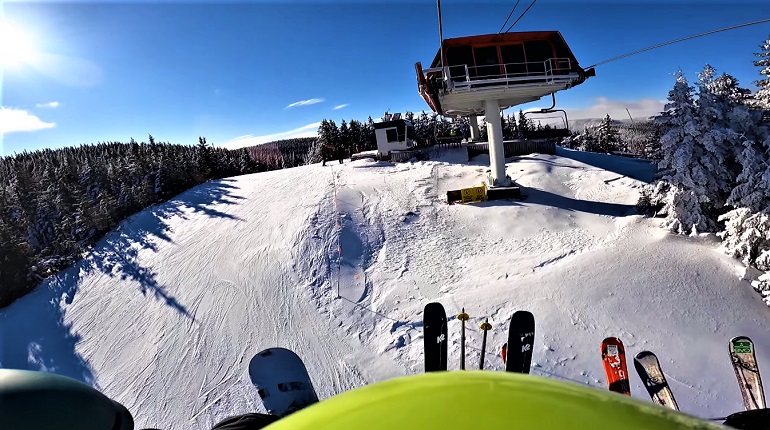 With 884 acres of skiable area and 139 trails, this resort is a great choice for downhill skiing in Maine. Also, if you are a chairlift enthusiast and love to have a good view of the mountain many feet above it, you would be glad to know that Jordan 8, the eight-person chairlift, would be fully working this winter season!
Features You Need to Know About
Skiing at the Sunday River Resort is best suited to those with previous skiing experience. The terrain parks are great for intermediate and advanced-skill skiers, as the challenging terrain requires some level of expertise.
You can choose your lodging as per your convenience. You could either opt for the Base Lodges for your stay and check out the options available at the Bethel Village. The South Ridge Lodge is the biggest base lodge while the White Cap Lodge offers some great viewing of the natural snow.
The airport closest to the Sunday river resort it is the Portland airport, and while traveling towards it, you would be amused with a foliage road trip. The seven terrain parks of the resort offer some of the best winter activities in Maine.
If it gets too cold at the top, you can move to Shawnee Peak for a warmer temperature. However, for skiing, you'll have to rush back to the Sunday river! Or, you could check out the ski biking option that this resort offers to adventure lovers.
The latest development in the resort is the installation of a high-speed quad chairlift on Barker Mountain. This, in addition to the ski and snowboard opportunities, makes Sunday river ski resort one of the most sought-after Maine ski resorts.
Located on the east coast, the ski area of the Sunday river resort is well-groomed. However, the only disappointment I felt was that the lifts were closed for action most of the time, owing to the bad weather condition. I could see the disappointment on the faces of non-skiers who visited the place just for the lift fun!
3. Saddleback Mountain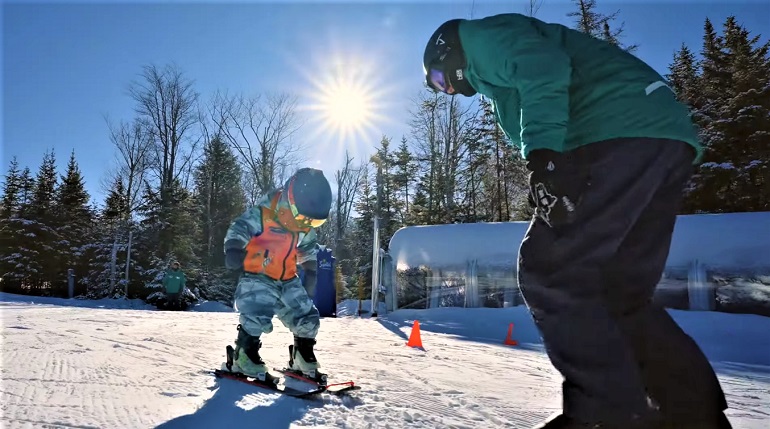 This resort is arguably one of the most famous ski locations in Maine and offers high-end ski resort amenities. The site sits at a vertical drop of 2000, which makes it a world-class ski area! Also, it offers the most stunning views of the whole powdered mountain you would ever see.
Features We Must Talk About
While being here, you would get a plethora of options to fill your hungry tummy with delicious food options. If you love visiting pubs, you would really be amused by those located at Rangeley. The local eatery offers amazing dining options for families. The Pub itself is a great dining place for the tourist.
As far as it concerns being a part of activities other than simply skiing, you would be delighted to know that this resort offers phenomenal events. My personal favorites are Augusta Scavenger Hunt as a self-guided tour and the Half Day Kayak Rental on Sebago Lake
This is a great spot for beginners. The terrain parks are well-groomed for those who are yet to hone their skiing skills. If you are one of them, you would love to know that The Roger Page Snow School at Saddleback instructs beginners with all the required training necessary for a safe ski experience.
For the beginning skiers, this surely is a jackpot!
Reaching there would get you through numerous bumps, glades, and groomers. However, as soon as you would reach, you would be surprised by the wide space you have right in front of you to explore.
4. Camden Snow Bowl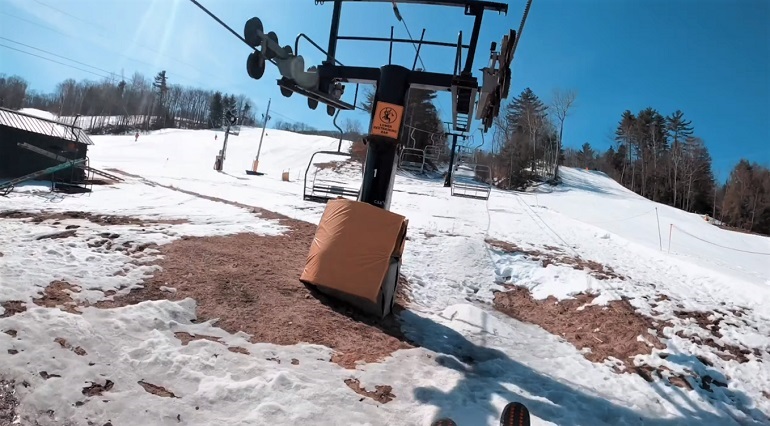 With its impressively soaring mountains, stunning views, and extensive winter activities, skiing at Camden Snow Bowl should definitely be on your bucket list! Also, it's considered to be the most family-friendly mountain for skiing in Maine.
Features worth Discussing
Can't spend half of your journey to this mountain managing the extensive ski equipment? Not a problem! The resort offers experienced and newbie skiers a chance to rent the equipment, and they no longer need to ride the buses and shuttles while holding heavy ski gear.
To help you save some extra bucks, the Camden Snow Bowl offers Program Rental Packages, which are highly cost-effective!
If you have reached the mountain but are still not fully prepared for the ski season, the lessons at ski school will help you regain your confidence. For beginners, Camden Snow Bowl offers a great opportunity to master some basic skills.
The vertical drop at this part of the mountain is 1,150 feet, which makes it a great choice for night skiing. But, a word of caution: this should only be opted by the expert skiers. As the slopes can turn pretty dangerous at night, the twilight skiing is a choice more suited for expert skiers.
For more experienced skiers, Nordic skiing is also an option to avail. The advanced terrain lets the skiers rejoice the north peak with deep powder glades and tricky slopes.
For foodies who prefer devouring scrumptious meals after a long day of adventure rather than simply nibbling quick snacks, this place offers extensive options. My personal favorite is the Rockport Diner Family Restaurant, with vast options on the menu. Blue sky Cantina is phenomenal if you want to taste some real Mexican food.
If you are a sucker for watching competitions, this place offers you a chance to enjoy the national toboggan championships. It is probably the only organized wooden toboggan competition you would see in the country.
The fall season at Camden Snow Bowl is gorgeous as it showcases foliage at its full glory. The stunning slopes are an add-on! Also, if you are looking for an option most suited for families, book this ski mountain to delight yourself with the ski season this fall!
This is one of the best world-class ski resorts and has set the date of December 26, 2022, to kick start its winter season, which will extend all the way to March 25, 2023.
5. Mt. Abram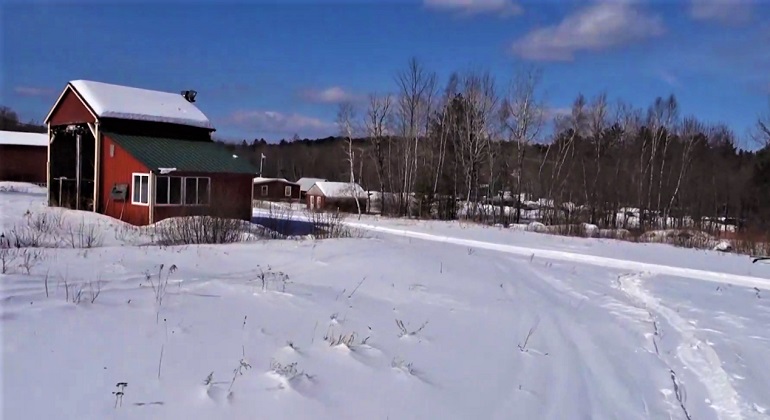 You'll find Mt. Abram on the western side of the coast, less than an hour drive away from Portland; and with its amazing snowfall, it is a great destination for skiing! It is also one of Maine's most challenging ski sites.
Features You Need to Know About
Want to explore the entire mountain in the least possible time? Get your hands on the lift tickets! There are five lifts working in this mountains region, which give you a great view of the ski hills!
If you avail yourself of the weekend deals this ski season, you would be able to save huge bucks when it comes to buying lift tickets. The winter season for skiing and other winter activities begins on December 17, 2022.
Most of the terrain is specified for intermediate skiers, while around 10% is feasible for experienced skiers.
Some amazing Maine lakes are close to the resort, including the North, Round, Twitchell, and Bryant Ponds. This makes it one of the best ski resorts in Maine for tourists with families.
As this mountain is not very massive, there are great chances of it getting overcrowded, especially during the weekends, and you're likely to see too many people around you. If you are looking for a peaceful ski experience where you won't bump into others, book the ski hill during the weekdays.
For beginner skiers, the The Youth Seasonal Program is a great opportunity to hone skiing skills. Extending for eight weeks, this ski school offers extensive skiing lessons on the relatively less challenging ski area of the mountain.
6. Powderhouse Hill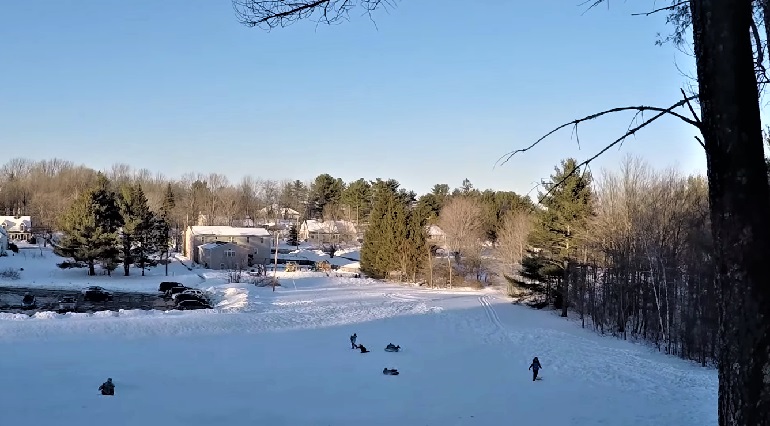 Thanks to its well-swelled three trails and a rope tow, this place is an awesome spot to hit throughout most months of the year. This southern Maine ski resort is a great destination spot to pick this winter season!
Features We Need to Appreciate
With 53m of vertical drop, this is surely the best ski resort for beginner and intermediate skiers. Cross-country skiing is also available, but you need to get your own gear as rentals are not available.
Love hiking? You would be able to hike a little while going up this resort! When I visited this resort during the summer season, I loved the red berries hanging on the trees along the path.
One of the most amusing winter activities there is sledding! As it's America's Smallest Ski Area, you can surely let your kids ride through it with great independence.
In terms of the area, it's a little ski hill, which makes it a secluded place to stay. Also, smart tourists who make their bookings at the right time are able to enjoy a secluded vacation with their families.
The only downside of this place is that it doesn't offer its tourists the facility of a chairlift. You won't be able to get a peak of the entire mountain through the lifts as they won't be available for you! Hence, families with kids wanting to ride the ski lifts would have to head somewhere else!
My Verdict
With more than half a dozen phenomenal ski resorts, year-round snow situation, amazing ocean views, and tremendous slopes, skiers and boarders can surely choose Maine to be their next vacation destination.
For an expert skier, choosing the highest base elevation would be a great pick for some ninja rides across the region. So get one of the best ski bags and plan your next trip!
Related Guide: