There's no one-size-fits-all kayak when it's time to hit some Class IV whitewater rapids or beyond. Recreational kayaks are a no-go, but the types of whitewater kayaks designed for the furious storm of whitewater kayaking are exceptional.
In fact, there are seven different "yak" designs for tackling rapids, most of which are on this list. Beginners, beware if it's your first attempt at whitewater kayaking; the right kayak will make all the difference in the world.
It's a good idea to go over the terminology and meaning of the different kayak parts to better understand what the kayaks on this list have to offer.
But even a veteran appreciates a good whitewater kayak buying guide, and that's exactly what this is. So, have fun wracking your brain around which one is right for you.
Best Overall

Dagger Rewind
Material:
Polyethylene

Item Weight: 43 Pounds
Rich in Features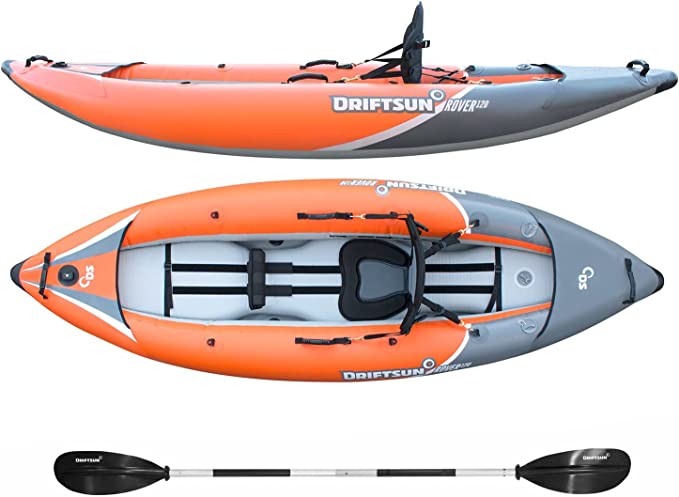 Driftsun Rover 120
Material:
PVC

Item Weight: 22 Pounds
Great Stability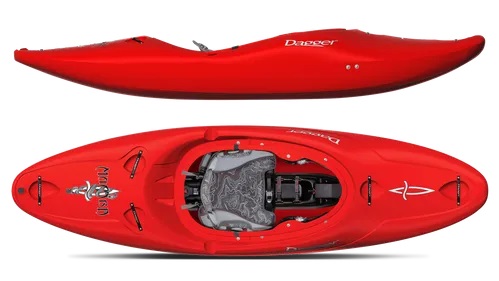 Dagger Mamba 7.6
Material:
polyethylene
Item Weight: 43 Pounds
Great Maneuverability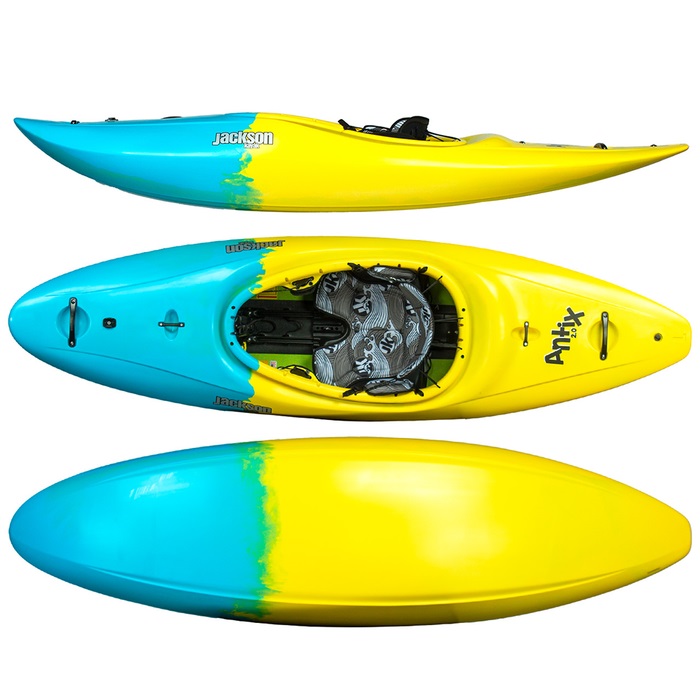 Antix 2.0 Kayak
Material:
plastic
Item Weight: 34 to 42 Pounds
Highly Durable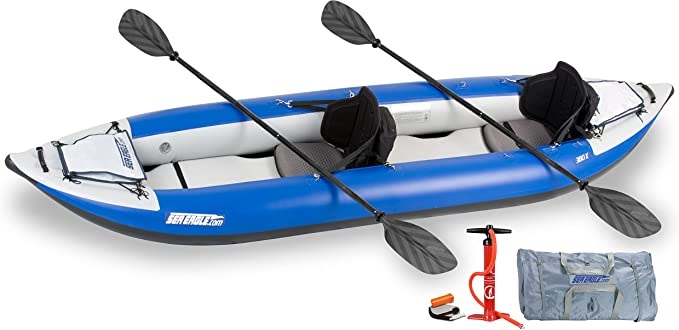 Sea Eagle 380x
Material:
1100 decitex
Item Weight: 40 Pounds
Perfect Balance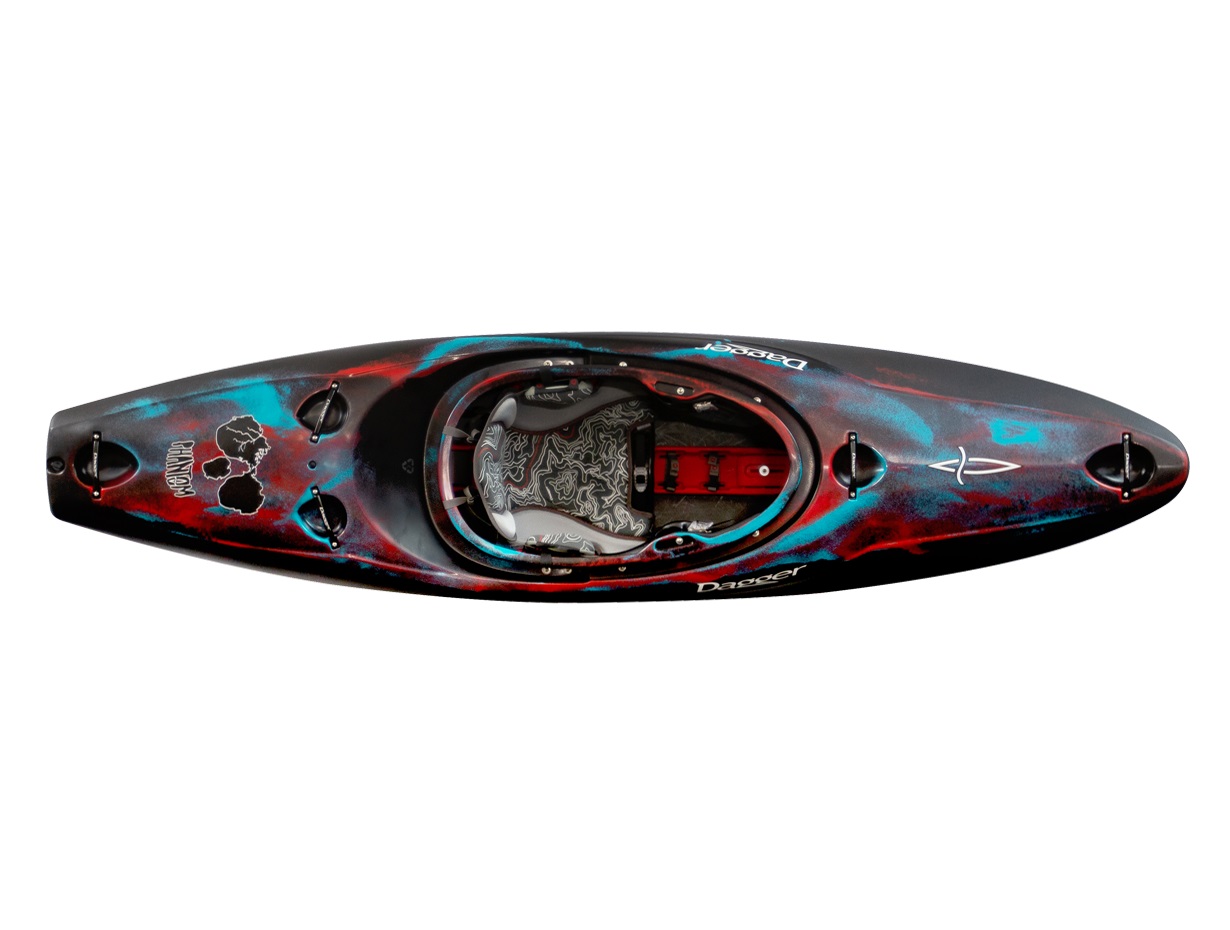 Dagger Phantom
Material:
Polyethylene

Item Weight: 49 Pounds
Best Outfitted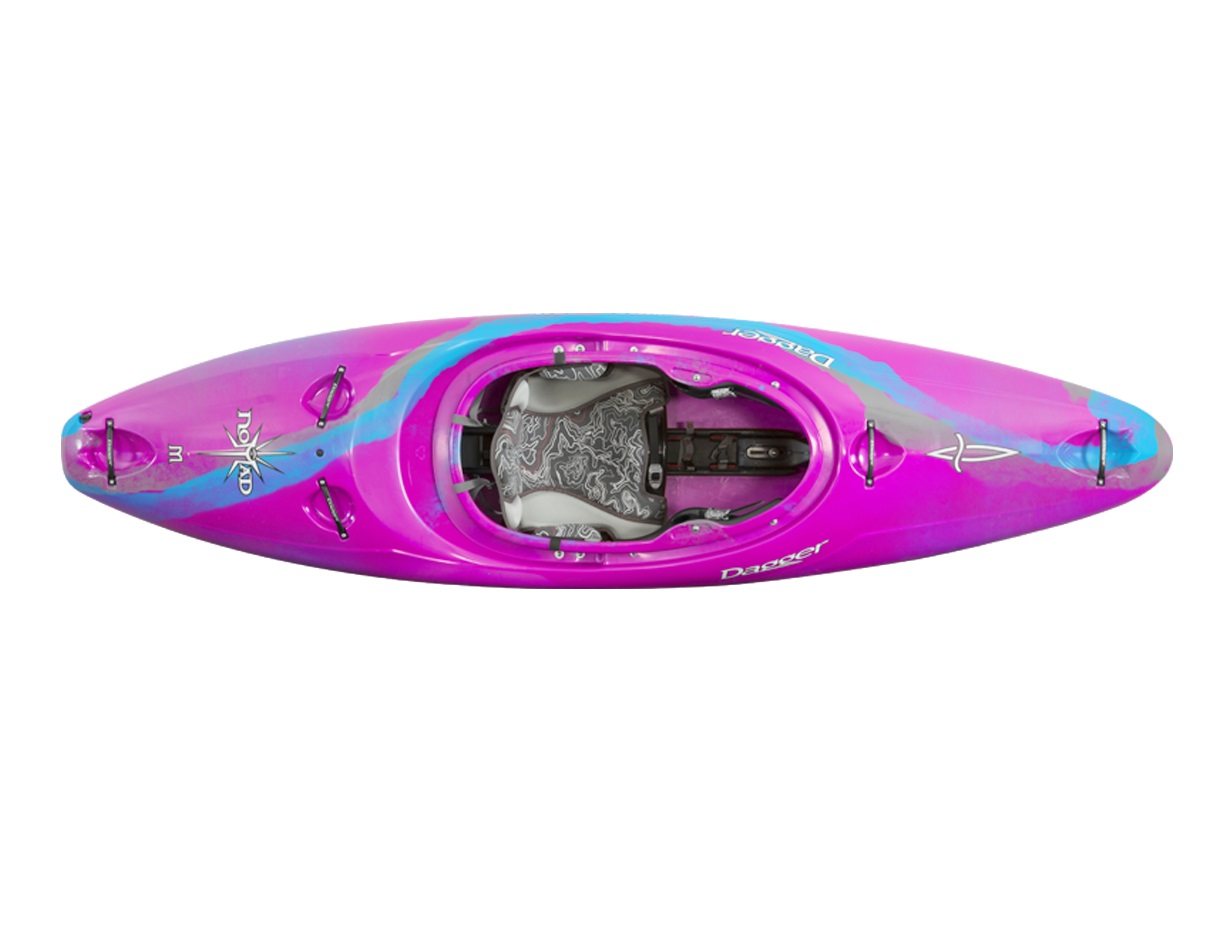 Dagger Nomad M
Material:
Polyethylene

Item Weight: 49 Pounds
Most Spacious

Riot Kayaks Thunder 76
Material:
Polyethylene

Item Weight: 50 Pounds
Most Versatile

Aquaglide McKenzie 105
Material:
Duratex
Item Weight: 19 Pounds
Best White Water Kayaks for 2023
There are a number of different whitewater kayaks designed for taking on every class of rapids, including creek boats, river runners, squirt boats, slalom boats, slicey boats, down river boats, and play boats.
So depending on the class of fast-moving rivers you're experienced with, there's a kayak just for that.

The Dagger Rewind is a downriver playboat. No, that doesn't mean you'll find bouncy balls and video games in the hull. What it does mean is the yak is a blast, and once it was released in 2019, it started raking in awards quickly.
What sets the Rewind apart is the higher volume up front (whitewater yaks are compared in terms of volume, with the higher numbers equaling more buoyancy). Creek boats are considered overkill for Class III and Class IV, but this kayak, shaped like its namesake, is awesome enough to tackle any class rapids.
It also has a larger rocker than previous Dagger iterations, with the possible exception of the Dagger Phantom. The design idea is to give kayakers more pivot up front, especially if they need to be in a hurry.
It also means Rewind boofs effortlessly, with a low-volume stern if you're into doing tricks and enjoying greater maneuverability.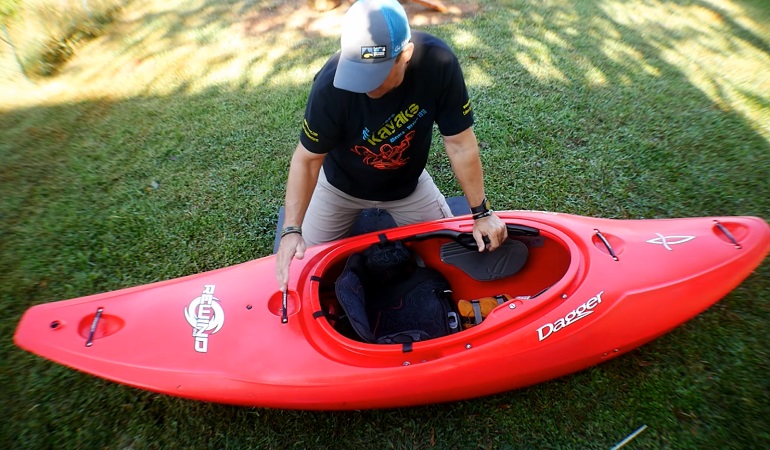 The Medium Rewind measures 8′ 9″ in length and is extremely quick in the water. If there's a downside to the Dagger Rewind, it's the manufacturer's insistence on exceptional comfort levels.
More comfort in this sit-in kayak means more weight, and the Medium Rewind weighs around 43 lbs. The Dagger Rewind is easily one of the best whitewater kayaks on the market and a slam dunk for kayakers of all skill levels.
Pros:
An excellent kayak for newcomers and veterans alike
Large upfront volume and rocker
Low volume in the stern
Includes a Contour Ergo Outfitting
Roto-Molded Seating
Cons:
A little heavier in exchange for extra comfort.

Dagger Rewind
The Price of "Dagger Rewind" varies, so check the latest price at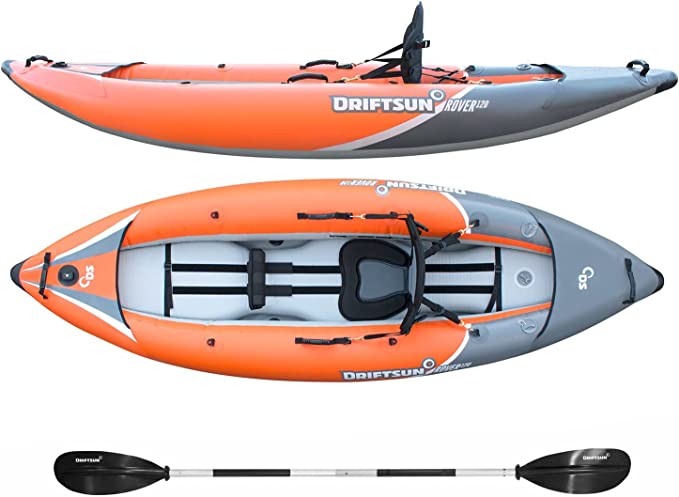 Best inflatable kayaks are often thought of as inferior when it comes to whitewater kayaks. However, inflatable kayaks of today are not the same as those of ten or even five years ago, and the Driftsun Rover 120 is proof of the new rule.
The front and rear profiles on this five-minute inflatable are exceptional, and the level of maneuverability is outstanding. The skeg isn't fixed, so you're free to keep it on for flat water and drop it for rapids. Fully inflated, the Driftsun Rover 120 is 8′ 5″ in length and a yard across, weighing a very light 22 lbs.
It also features a high-pressure, drop-stitch floor that's extremely durable. With three air chambers and 1000D reinforced PVC side layers, this beast can take a beating on the sides.
This sleek, inflatable kayak is designed to both slice the water and allow for rapid maneuvers. It's manufactured for class IV and class III whitewater.
Unlike hardshell whitewater kayaks, inflatables have a tendency to bounce on impact. Even if you're a veteran kayaker, if you've never used an inflatable before, it takes some getting used to. As far as whitewater kayak hulls go, this thing is surprisingly resilient and long-lasting.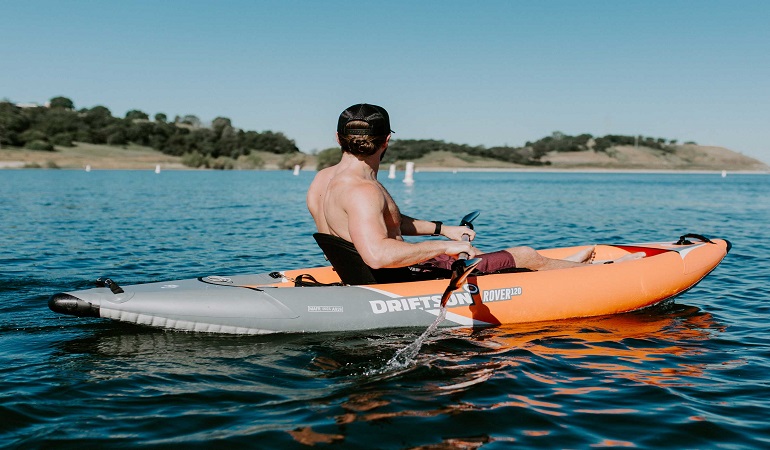 For whitewater kayakers looking for a more playful kayak, the Driftsun Rover 120 is all that and more. If you're a Class V + kayaker, it's not the best whitewater kayak for that level of intensity. But it's certainly fit for Class IV and below, especially for newbies learning the ropes.
Pros
Includes a front camera mount (that's just awesome in its own right)
Plenty of space
300 lb weight limit for larger paddlers
Removable skeg for whitewater and flat water
Lightweight and very portable
Cons
Whitewater kayaks take some getting used to.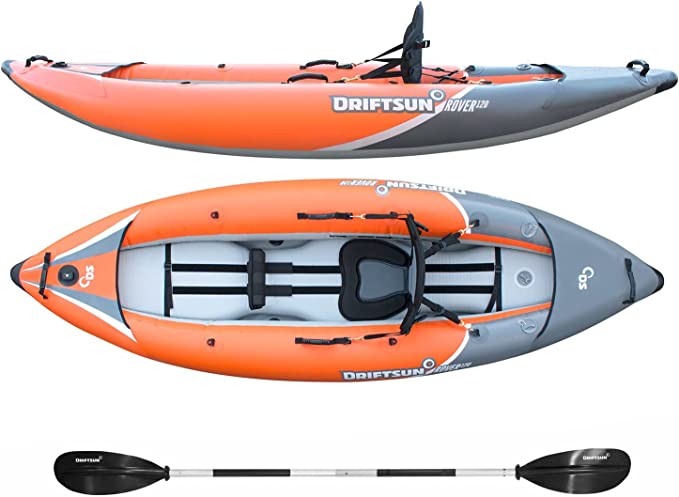 Driftsun Rover 120
The Price of "Driftsun Rover 120" varies, so check the latest price at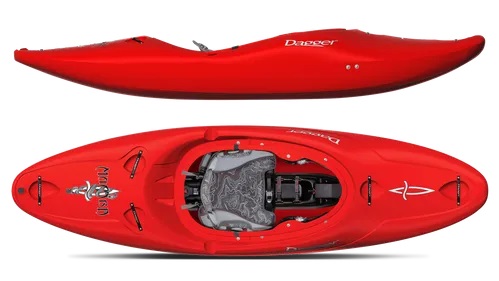 Yet another Dagger on our list. If that doesn't give you a hint with a wink, I don't know what will. The Dagger Mamba 7.6 is probably one of the most well-known Dagger whitewater kayaks on the market. It's that good.
One of the stand-out features on the 7.6 is the Creeker seat, which is a sturdier, more rigid (yet thankfully comfortable) design than the previous Mamba iterations. For those in the know, a more rigid seat design helps with escapes, and the Mamba 7.6 is nothing if not a water ninja.
It features longer rails for slicing through eddies and surfaces rapidly after drops. Released in 2012, the Mamba 7.6 is still in the conversation because it's one of the best creek boats on the market. Dagger's planing hull design allows for plenty of stability and control without sacrificing speed.
As far as creek boats go, the planing hull design is an interesting choice. However, the Mamba 7.6 is fantastic on any class of rapids and will quickly become the go-to option in your arsenal. It also happens to be very forgiving, making it one of the better beginner kayaks.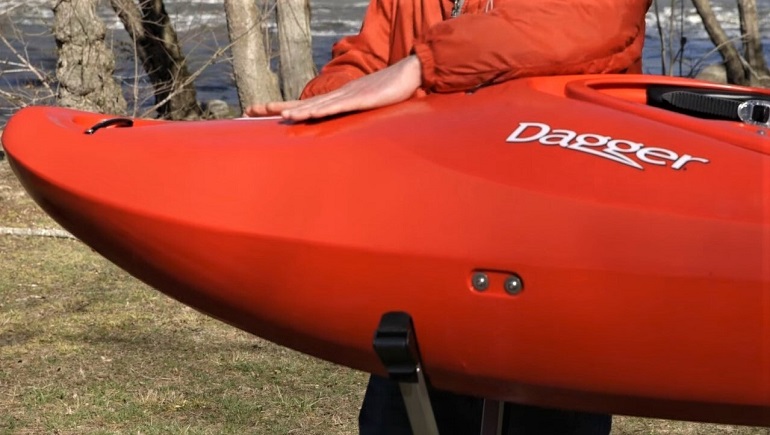 If you're in the market for a stable whitewater kayak that checks all the maneuverability boxes, it's hard to go wrong with the Mamba 7.6, even if this is your first foray into the whitewater kayak life.
Pros:
Excellent speed
Tracking straight line and maneuverability are a plus
The Mamba 7.6 kayak's stability is excellent
Resurfaces quickly and well
Perfect volume
Cons:
On the heavy side for a short creek boat.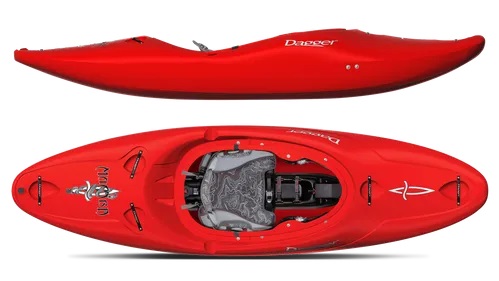 Dagger Mamba 7.6
The Price of "Dagger Mamba 7.6" varies, so check the latest price at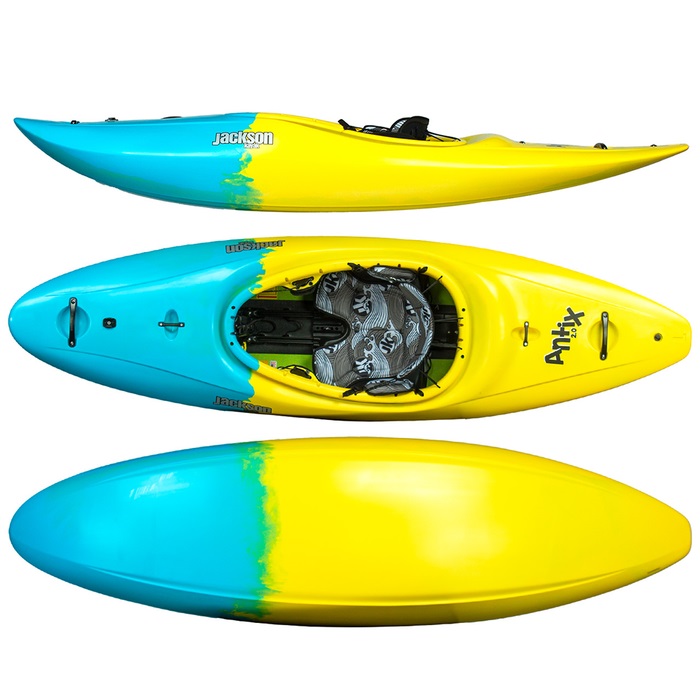 While Jackson's Antix 2.0 might not be the best whitewater kayak in the world, it's undoubtedly one of the most stable. Jackson's manufactured the Antix 2.0 with superb volume distribution, a flat hull design, and an ample rocker. The result is a supremely stable feel on rapids or waves while maneuverability remains strong.
The Antix 2.0 belongs in the family of half-slice kayaks, which means you have to be an aggressive paddler and keep your weight forward for the best results. As shorter half-slice kayaks go, the 2.0 isn't a speedy boat, but it's a fantastic playboat thanks to its highly maneuverable design.
Jackson's didn't go low volume here, instead opting for more volume just behind the seat, which translates to easy tight turns but reduced speed on the fairway. Smaller paddlers will love the Antix 2.0, but beginners should opt for something else, at least until a time or two on the water.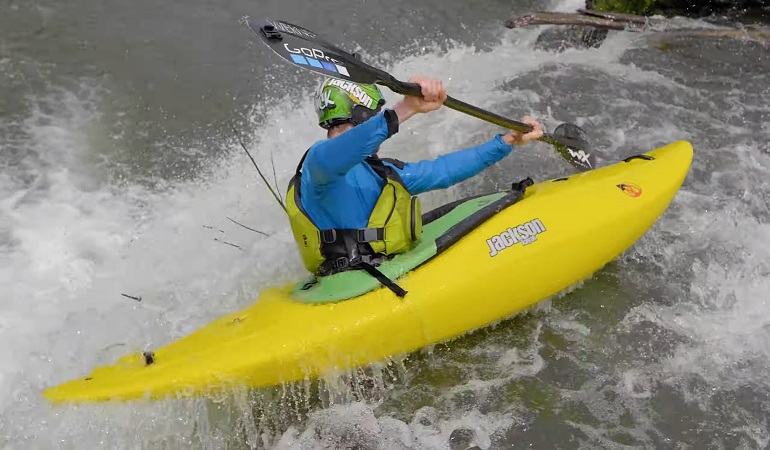 The Antix 2.0 also features a system of thigh braces, otherwise known as the Bees Knees Thigh Hook System. Thanks to the added leverage, this helps taller paddlers with more stability and control.
Whitewater kayaking in the Antix 2.0 is a blast, but it requires an aggressive paddler to get the most out of what it has to offer. The best whitewater kayaks are incredible when it comes to maneuvering, and the Antix 2.0 fits the bill.
Pros:
Excellent planing hull design
Stern is perfect for slicing
A solid combo of river runner kayak and creek boat
Boof with ease
Stands up high and well
Cons:
Planing hull design sacrifices speed for maneuverability.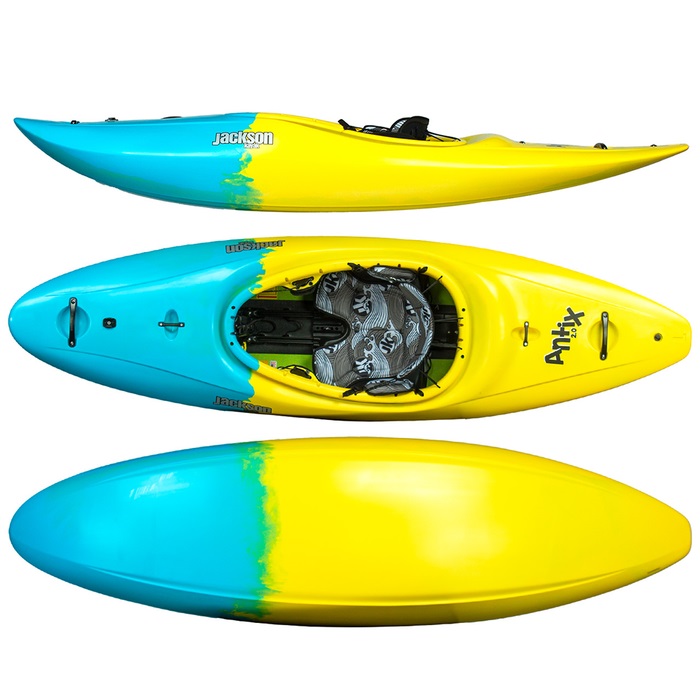 Antix 2.0 Kayak
The Price of "Antix 2.0 Kayak" varies, so check the latest price at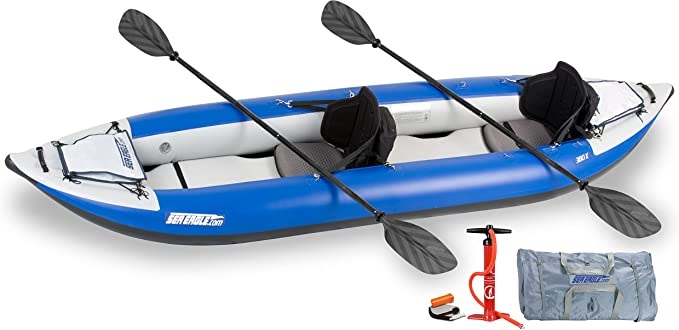 Another inflatable kayak makes my impeccable list of the best whitewater kayaks. The 380x is an interesting model in that it's a tandem kayak but also highly effective and stable as a larger, solo kayak as well.
The 380x features a spray skirt on the bow and stern with 16 drain valves to keep that water draining out efficiently. Any good whitewater kayak needs a rigid, drop-stitch floor, and the Sea Eagle 380x doesn't disappoint.
The design of the 380x, with 1100 Decitex and overlapping material, is rated up to Class IV. As a longer tandem kayak, the dual handles are also a nice addition. If you prefer calm water, the slide-in and out skeg gives the 380x some additional versatility.
The 380x has a slightly aggressive rocker profile yet maintains the planing hulls making them a good option for beginner whitewater kayaks.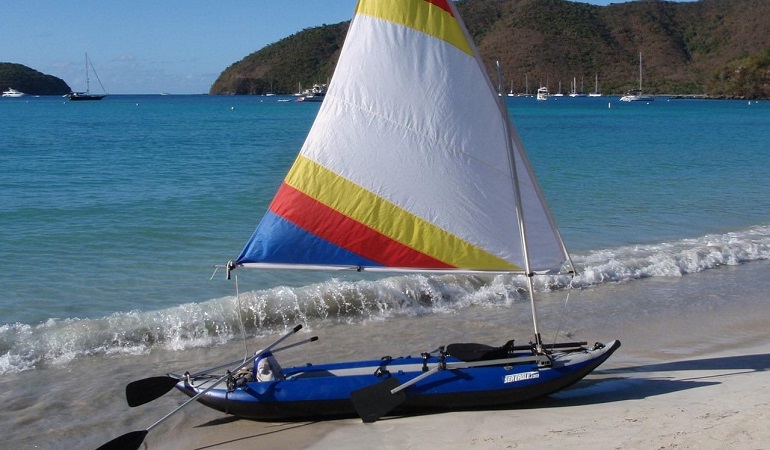 As whitewater kayaks go, this is a nifty whitewater kayak that's designed for Class IV and below. Despite its length, you can comfortably go solo with it as well.
Pros:
5 package options
Overlapping 1100 Decitex material for extreme durability
750 lbs load capacity
Superior stability
Easy for solo or tandem paddlers
Cons:
High stability but slow in the water.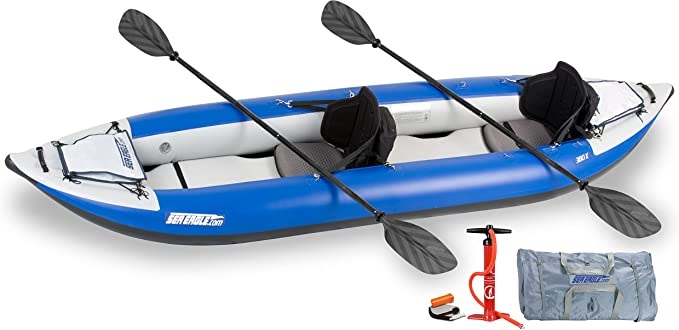 Sea Eagle 380x
The Price of "Sea Eagle 380x" varies, so check the latest price at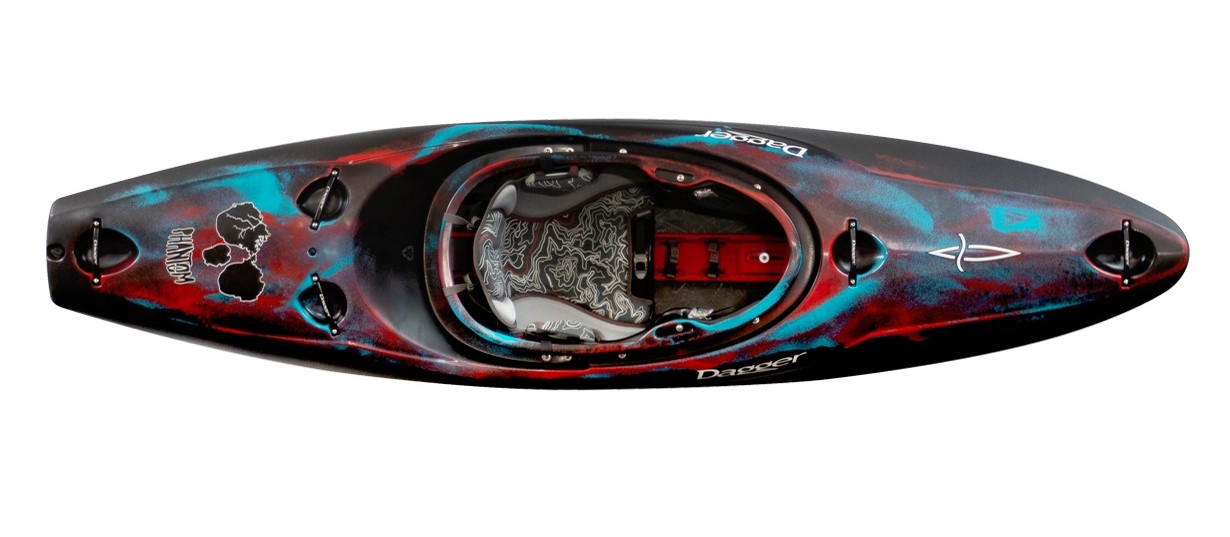 Yet another Dagger makes the list, and this one shares a lot of similarities with the Dagger Rewind. The Dagger Phantom is a small, highly versatile beast, and despite the positives the Dagger Mamba and Rewind have to offer, the Phantom would be my solid choice for a Class V.
Dagger found a way to fine-tune the volume to perfection, and the volume in the Phantom rides a knife's edge in terms of the perfect balance between control and speed. That's despite the Phantom's narrow profile. There's a reason the Phantom is known as the "river bullet."
Like the previous Daggers, the Phantom features Contour Ergo Outfitting and a high level of durability that shrugs off rocks. It's also very easy to shoulder and haul down the side of a hill. The Phantom's excellent lift comes from a wicked rocker profile that runs half the length of the craft.
This is definitely a "lean forward" boat for aggressive paddlers, and the low stern profile keeps the comfort level at a premium. Some of the best kayaks require leaning in from the captain's chair, so they aren't for the faint of heart.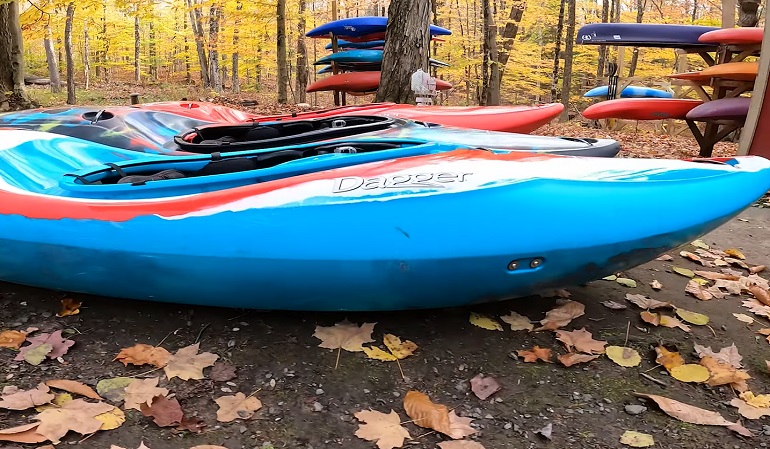 There are many whitewater kayak manufacturers on the market, but it's hard to beat what Dagger has to offer. The Dagger Phantom is just about as close to whitewater kayaking perfection as you can get.
Pros:
Incredible speed
Highly comfortable outfitting
Boofs like it's second nature
Fantastic stability
Very agile
Cons:
I'll have to think about it… N/A.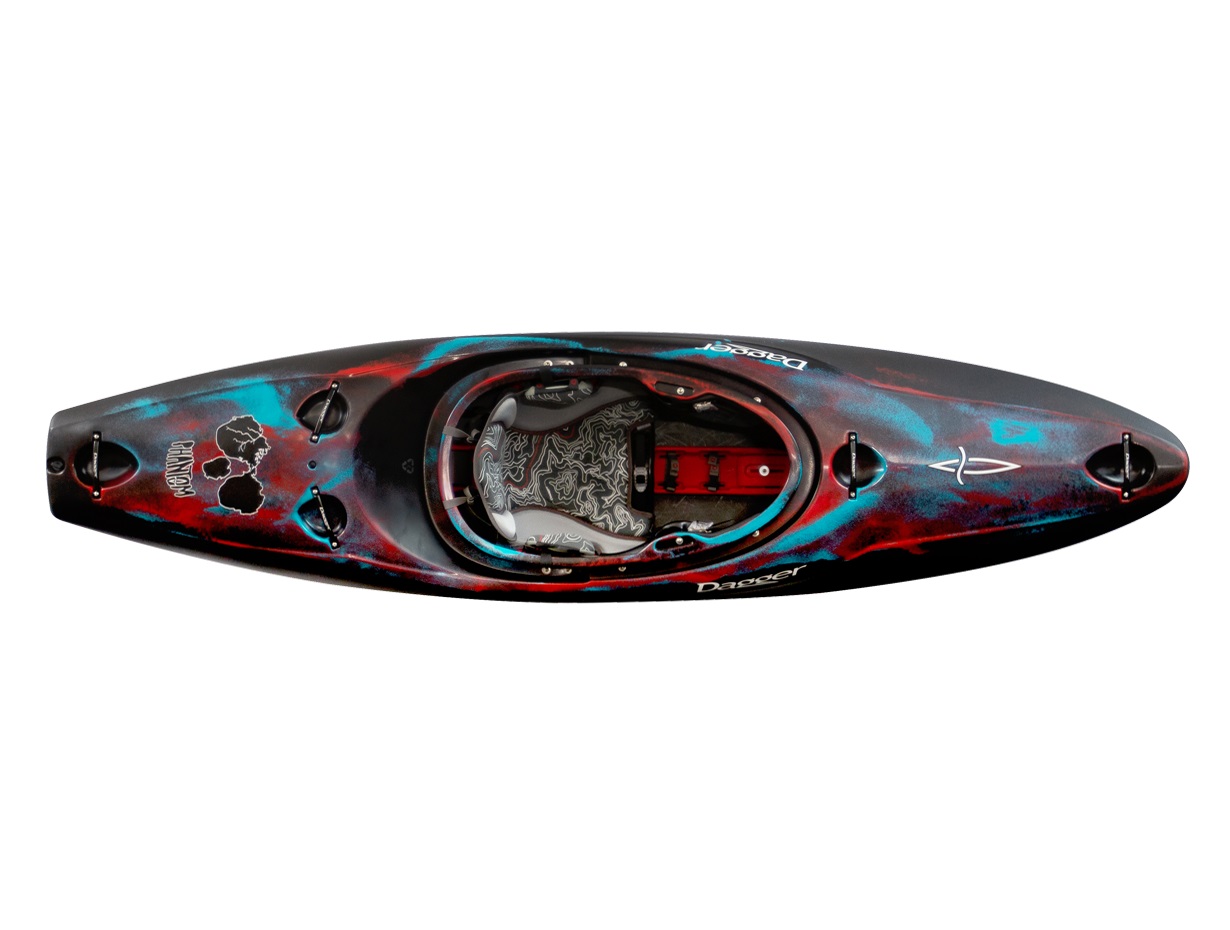 Dagger Phantom
The Price of "Dagger Phantom" varies, so check the latest price at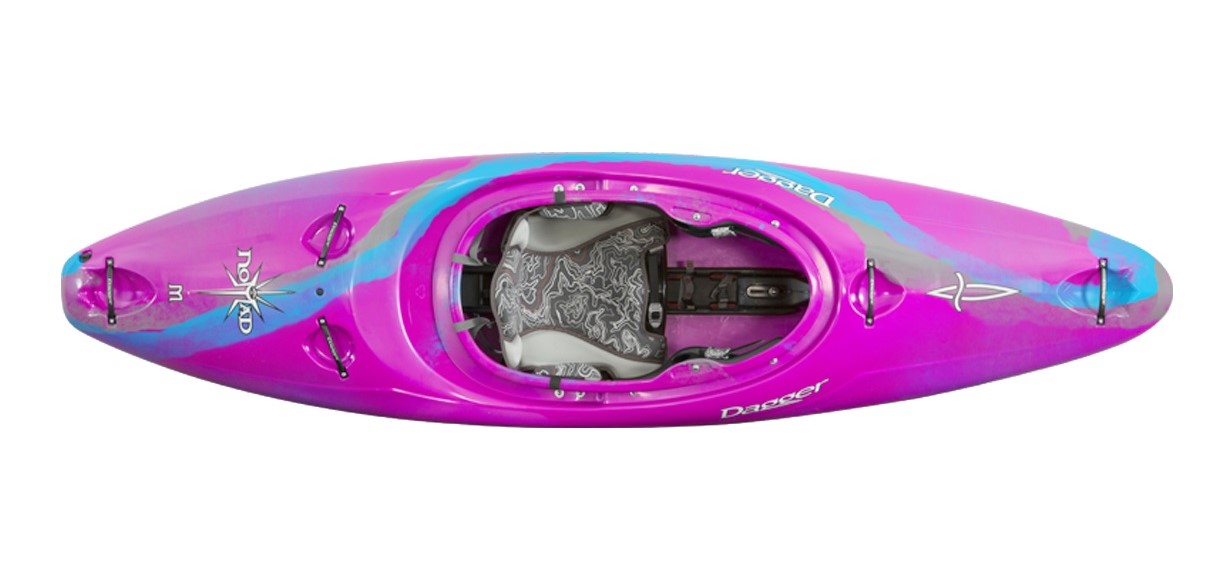 Yet another Dagger, you say? Am I biased toward the Dagger brand? Absolutely not, but there's no reason to avoid the reality of Dagger's incredibly well-manufactured whitewater kayaks. The Dagger Nomad M definitely belongs on the list. In fact, the Nomad M is one of the more well-loved models in Dagger's lineup.
The current Nomad M is a bulkier version of the original Nomad and is also one of the most well-outfitted whitewater kayaks on the list. The outfitting list includes a Contour Adjustable Bulkhead system, adjustable thigh braces, hip pads, and a ratcheting leg lifter for added comfort.
Though the new version of this beloved whitewater kayak is bulkier, there is no sacrifice in speed or maneuverability. It also comes in three sizes. When it comes to eddy lines and big waves, the Nomad M punches through like a bulldozer, maintaining virtually equivalent primary and secondary stability.
Overall stability is vastly improved, and that's saying something, as the previous Nomad was pretty stable in its own right.
The length is 8′ 6," but it won't feel that way with the immensity of the rocker on this animal. You'll also notice (after having this out on the water a few times) that the rocker makes it predictable.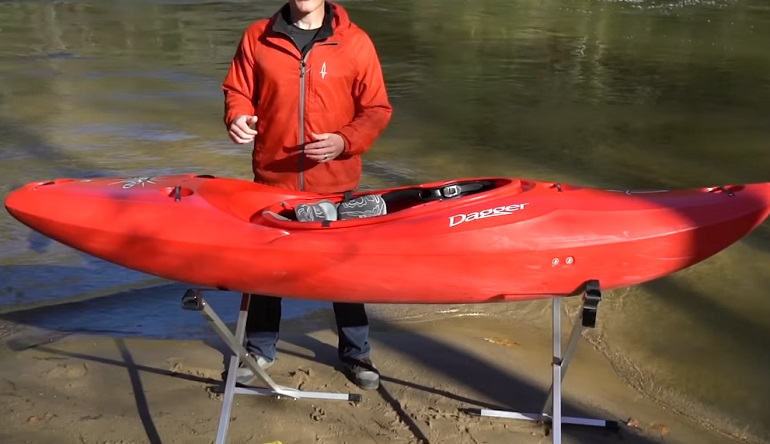 The Nomad M is the best whitewater kayak for those who enjoy a little comfort throughout a thrilling whitewater adventure, and it's also a huge step up from the original. It improves in many key areas without sacrificing the best of the first Nomad.
Pros:
Extremely well-outfitted boat
Upgraded, bulkier variation
Great maneuverability
Nearly equal secondary stability and primary stability
Nice thigh braces
Cons:
The new, bulky design is fast but takes longer to get going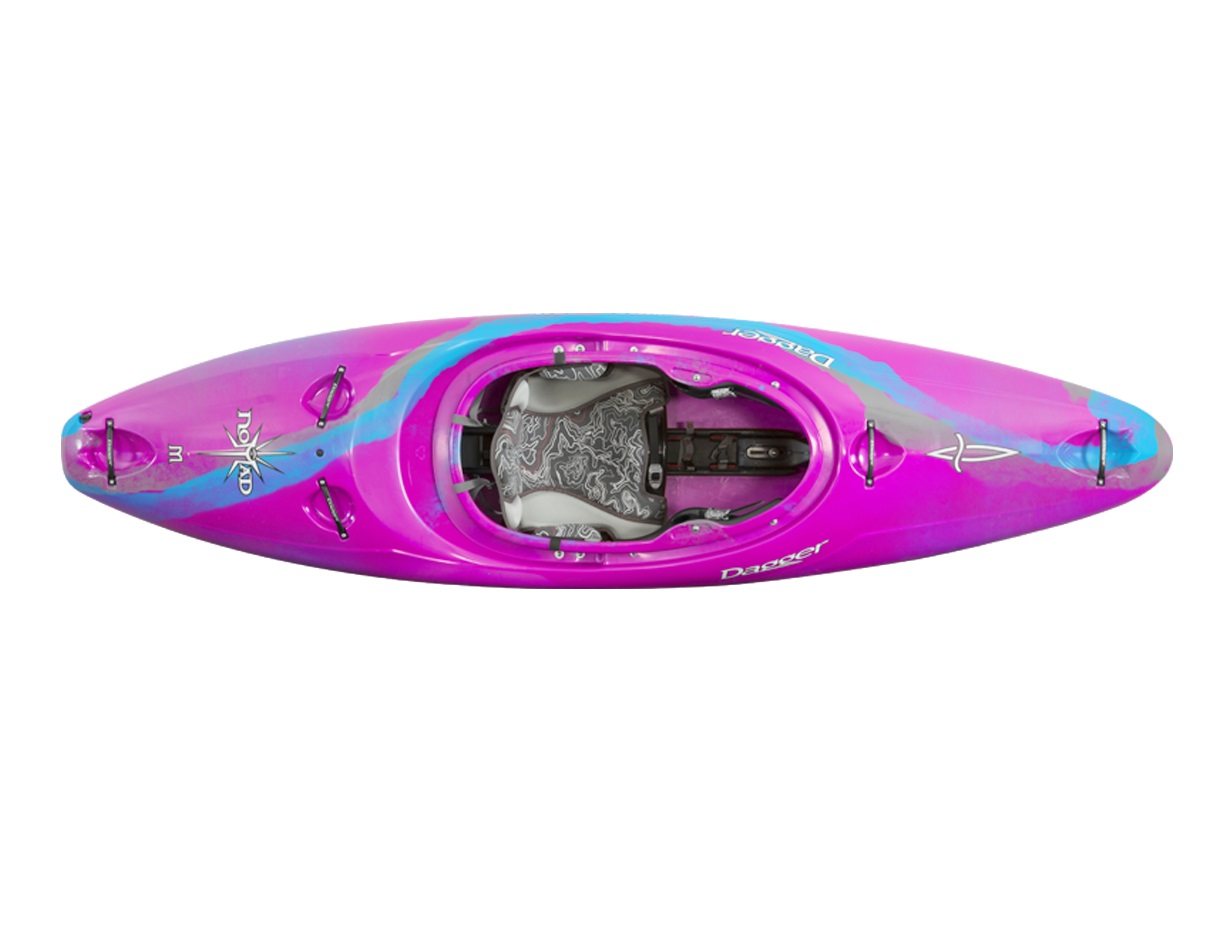 Dagger Nomad M
The Price of "Dagger Nomad M" varies, so check the latest price at

With a name like Riot Kayaks Thunder 76, it has to be one heck of a ride. The Thunder 76 is billed as a river runner with an attitude, and indeed it is. Creek boat and river runner, the Thunder 76 is one of the easiest whitewater kayaks to roll and brace. It's also especially roomy with a large volume for buoyancy without a loss in stability.
It's a little slow on the resurfacing side, but it still gets up pretty quickly. So if you're looking for a whitewater kayak that does it all, the Thunder 76 should be somewhere high on the list. The SureGrip thigh braces are a nice touch, offering some additional leverage.
The hull is flat and shallow, but the unique, beveled chines and edges provide some additional punch and help this whitewater kayak shrug off rocks and light impacts. It also features front and rear flotation bags.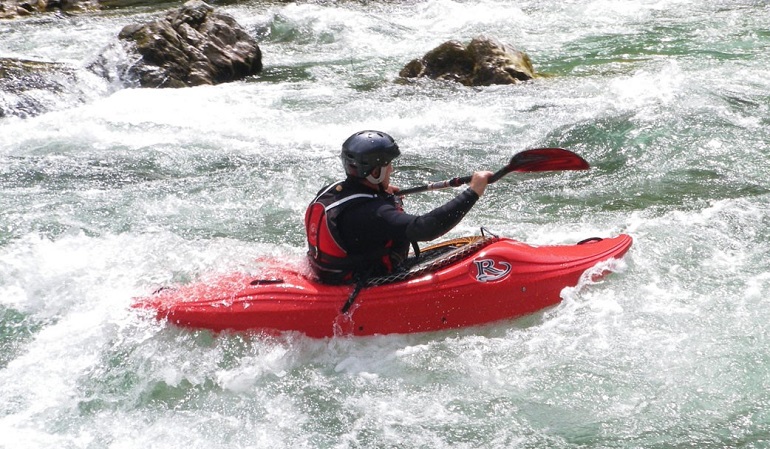 A good flotation bag enhances the safety feature of your kayaks, and they help lift the hull out of the water for a faster run.
Veterans say that the Riot Kayaks Thunder 76 is the best whitewater kayak on the Class IVs. There's truth in these words, as it's one of the more excellent river runners on the list.
Pros:
Nice Unity Seating System
Adjustable foot brace
Excellent punching power
Easy roll and brace
Shallow boof
Cons:
A little sluggish surfacing from a drop

Riot Kayaks Thunder 76
The Price of "Riot Kayaks Thunder 76" varies, so check the latest price at

Last but not least, the inflatable Aquaglide McKenzie 105 rounds out the list. The 105 is a highly maneuverable recreational kayak with some qualities of the hybrid kayak as well. However, it is limited to Class III.
The rocker design is high, giving the Aquaglide some punching power through roiling waves while running rapids, and it's equally enjoyable on a quiet afternoon, fishing on the lake. The DuraTech floor is an EvoBeam construct with maximum durability.
Like any inflatable, bouncing off rocks feels immensely different, so it takes some getting used to, even for veteran kayakers making the switch from a hardshell. As the different types of whitewater kayaks go, the Aquaglide is one of the most versatile on the list.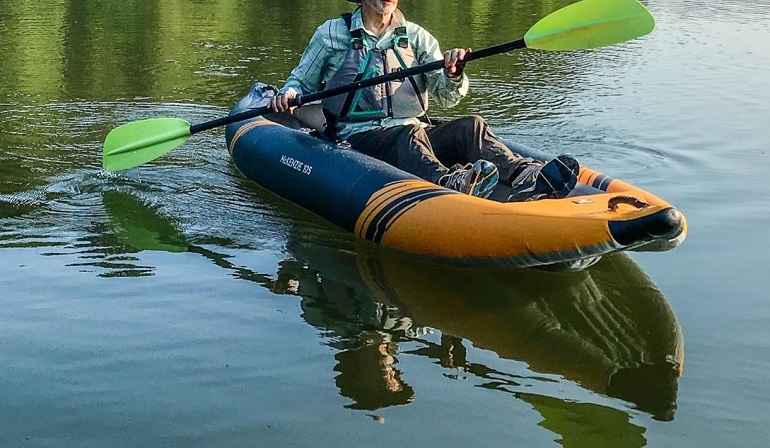 The Aquaglide McKenzie 105 is a versatile whitewater kayak with leisure and whitewater capabilities. It's also highly durable and offers superior comfort and style in the captain's chair.
Pros
300 lb weight threshold
Included touring fin
High rocker with increased mobility
Rapid surfacing
Highly durable EvoBeam construction
Cons

Aquaglide McKenzie 105
The Price of "Aquaglide McKenzie 105" varies, so check the latest price at
What to Know Before Buying a Whitewater Kayak
When I sit down and consider what I want in a whitewater kayak, outfitting is the first term that comes to mind. There's no degree of fun to be had if you have the best whitewater kayak (in terms of performance) and you're miserable for the entire ride.
Just because you're not shopping for recreational kayaks doesn't mean you shouldn't want some creature comforts.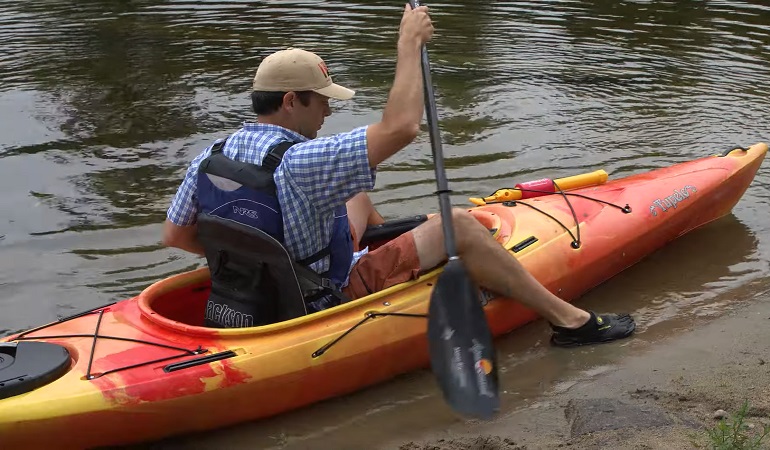 Types of Whitewater Kayaks
Creek boats (creekers), river runners, and playboats (also known as a freestyle kayak) round out the primary three, though terms like a whitewater boat, crossover kayak, and hybrid are bandied about often enough. I like the KISS model (Keep it Stupid Simple).
A play boat is the most difficult, with very sharp edges and designs to facilitate tricks, and they can even perform aerial tricks.
Creekers are for the whitewater paddler in all of us, comfortable for beginners and veterans alike. River runners are designed for slicing, with streamlined designs engineered for speed.
Hull Design Features & Terminology
You can't get the most out of shopping for whitewater kayaks if you don't understand the terminology, features, and various hull designs. It's not the easiest thing in the world because there are a lot of terms to know, like:
Displacement hulls
Planing hulls
Outfitting
Edges
Rocker
Semi displacement hull
Soft chines
Harder chines
Chine refers to the area where the side wall meets the bottom of the hull. Rounder, softer chines are prevalent in creekers, while hard chines are better for playboats and performing tricks.
The rocker is the curvature of the hull, with steeper rockers offering a better lift on the water and quicker surfacing, while more subtle rockers improving the kayak's tracking ability through the water.
Planing and displacement hulls are flat versus V-shaped designs, respectively. Knowing these terms and design features helps you understand how your kayak functions in the water.
Volume
Volume is a feature I pay a lot of attention to. The volume of a whitewater kayak determines how high a kayak will sit in the water. How the volume is distributed in the kayak also affects performance.
Size and Weight
In terms of width, the easiest thing to learn quickly is wider equals stable while narrow reduces stability in favor of speed. It also depends on the paddler and his own size. The bigger the whitewater kayak, the more they will accommodate larger paddlers.
FAQs
How Long Should My Whitewater Kayak Be?
Creek boats are the biggest of the whitewater kayaks, between 7.5′ and 10′ in length. River runner kayaks are typically between 7′ and 9′, while a playboat is the smallest of the whitewater boats at 6′ to 8′.
A river runner is often referred to as a slicey or slicer when looking for category lengths.
Can You Use a Whitewater Kayak on a Lake?
While it's trickier to use some of them on a lake (playboats mostly), you can get away with using most whitewater kayaks. This is especially true if you have a whitewater kayak with a planing hull.
Can You Use a Whitewater Kayak on Flatwater?
The easiest answer is yes; you can certainly use a whitewater kayak on flat water. The issue is you'll spend more time and effort moving around than people with recreational kayaks will. One thing is for sure; you won't feel like the proud owner of a whitewater kayak.
Final Thoughts
Whitewater kayaks tend to be hit or miss in terms of you getting exactly what you pay for. If you aim for a cheap one, be prepared for buyer's remorse. The whitewater kayak type you choose to go with should be thoroughly researched, which is a large part of why I'm writing this buying guide for you.
Whether you decide to go with a planing hull, displacement hull, steep rocker, or shallow, know what you want and what level of whitewater kayaking you're prepared and experienced enough to tackle.
Whatever you go with, be sure to stay safe on your river running adventures, and just as important, have a ton of fun.