Down Stream Fun
River kayaking is a two-faced monster. You can ask experienced kayakers what comes to mind when they think of river kayaking, and they will give you wildly different images. It's easy to understand why.
Rivers come in all shapes, sizes, and most importantly, temperaments. There are the eternally restless. The ones where you will need a strong hull design like that of the Wilderness Systems Aspire 105. Others are calm and tepid, perfect for the Pescador Pilot 12 and its pedal-driven format.
The kayaks are as different and varied as the kayakers themselves.
So then, which one is for you? The raging rapids or the calm and steady? Whatever your final choice may be, there is a kayak for you listed down below.
Best Overall

Aspire 105
Weight: 48 Pounds
Material: Polyethylene
Best Stable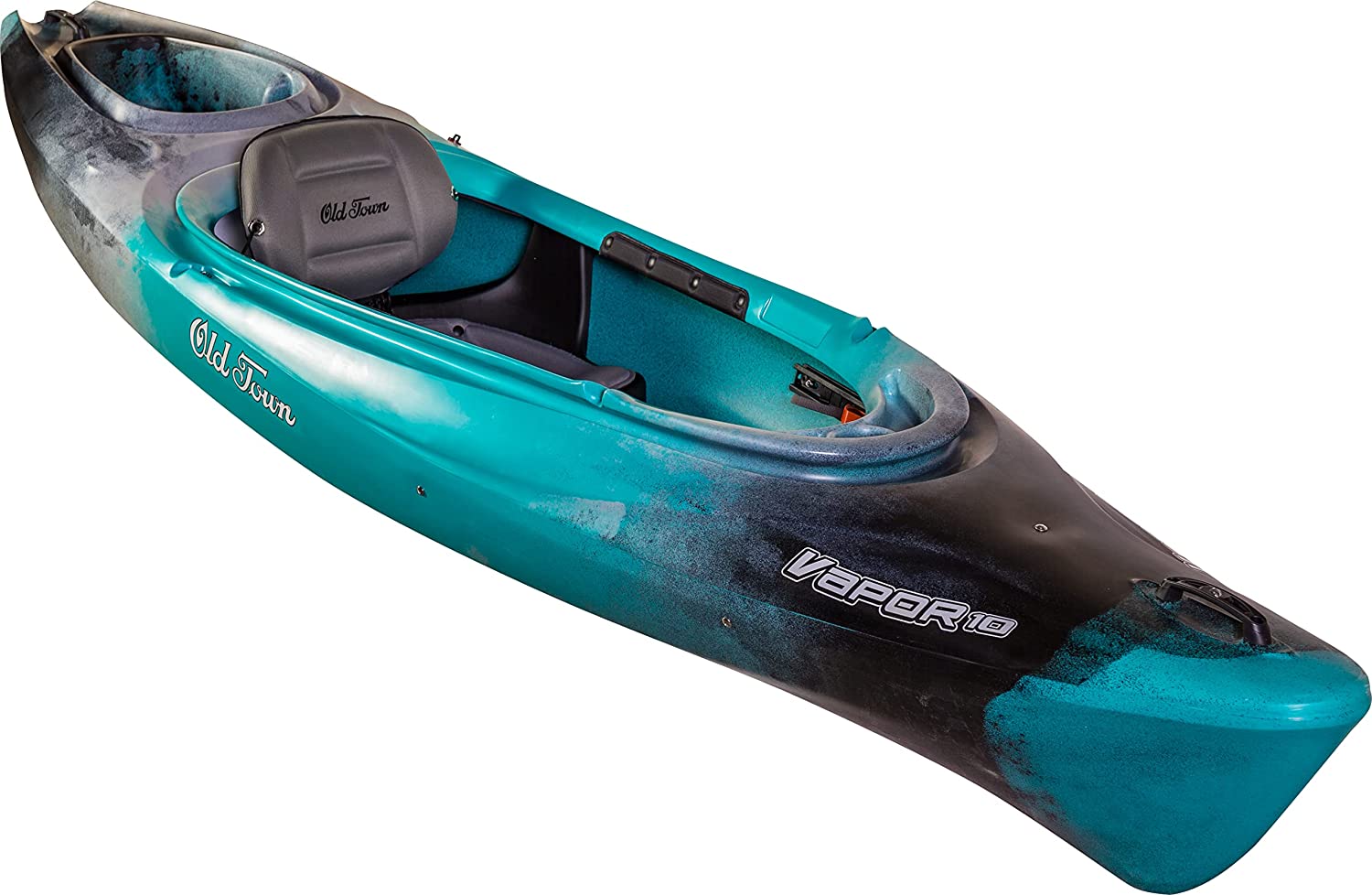 Old Town Vapor 10
Weight: 47 Pounds
Material: Polyethylene
Best Beginner
Perception Flash 9.5
Weight: 41 Pounds
Material: Polyethylene
Best Customization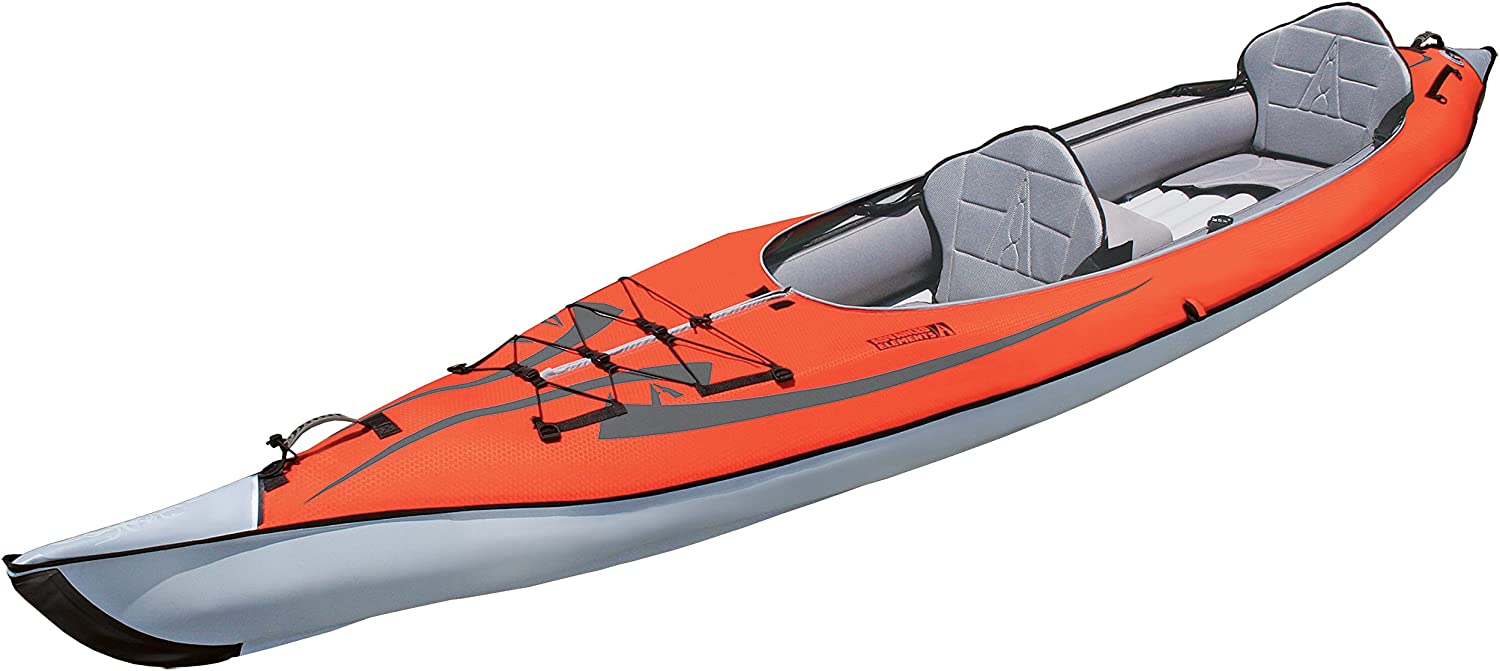 Advanced Elements
Weight: 52 Pounds
Material: Nylon, Plastic
Best Inflatable Kayaks

Sea Eagle 370 Pro
Weight: 44.25 Pounds
Material: PolyKrylar
Best Budget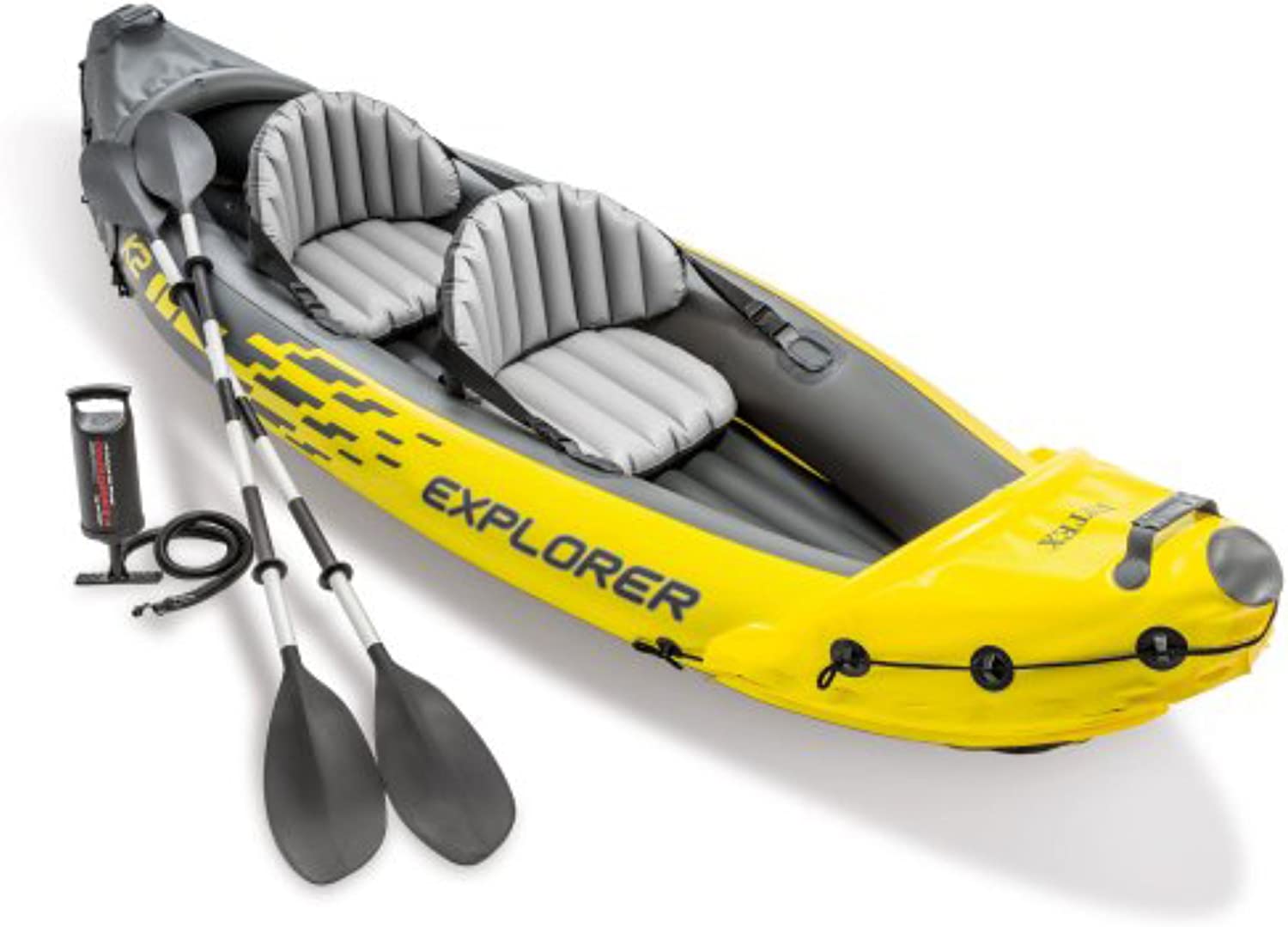 Intex Explorer K2
Weight: 30.42 Pounds
Material: Polypropylene
Best Sit On Top Kayak
SUNDOLPHIN Sun Dolphin
Weight: 44 Pounds
Material: Plastic
Best Premium River Kayak
Perception Pescador Pilot 12
Weight: 50 Pounds
Material: Polyethylene
Best Of The Rest

Aquaglide Navarro 130
Weight: 40.24 Pounds
Material: Nylon
The 9 Best River Kayaks
There are only two things that bind all of the best river kayaks listed down below together. Their quality and the broad category that they fall under. True, these are all high-quality river kayaks, but there's a lot more to them than just that.
Everything from their size and comfort accommodations to their weight capacity and additional features is varied.
Pay close attention to every little detail I just mentioned. The sum of all of these designs will point you to the best river kayak for you. Your exciting paddling journey truly begins once you've found the perfect ride for your needs.

The Systems Aspire is a great river kayak that gets the basics down perfectly. Every river kayak needs to take into account how long you'll be using it. They should provide you with the proper comfort features that are needed to stave off back and joint pain.
Thigh and knee padding have been provided in the appropriate areas. What this does is give you a great rest for your legs to lean on. However, your ability to better control the kayak also increases.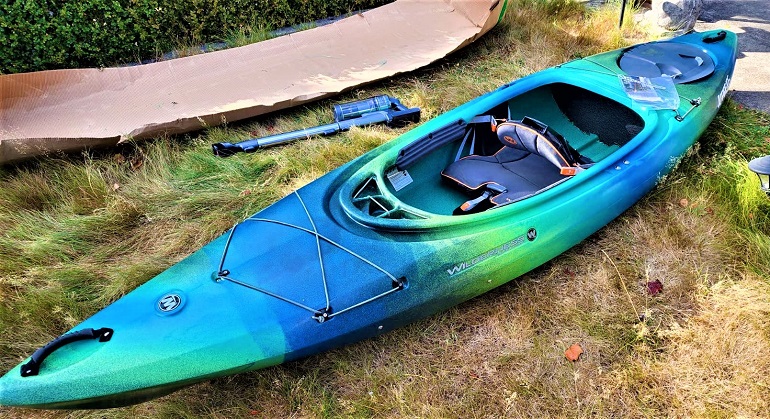 This is because you can better shift your weight and have it influence the kayak's course. At the very tip of the craft, bulkhead foams have been strategically placed to increase lift. Letting you calmly sail through choppy water with ease.
Special mention also has to be made to the large and padded footrests also included. This kayak makes for a comfortable cruise.
Features
Best Feature: Thigh and knee padding
Weight: Forty-eight pounds
Length: Ten feet and six inches
Build Materials: Polyethylene
Comfort: Large, padded footrests
Pros
This kayak has thigh and knee padding that improves not only your comfort but also your boat control.
Has an oval storage space in the rear that comes with a hatch. Perfect for keeping your gear dry.
The stern of this kayak has bulkhead foams that increase buoyancy and lift.
Cons
Not a river fishing kayak for small anglers. Only medium to large paddlers.

Wilderness Systems Aspire 105
The price of "Wilderness Systems Aspire 105 " varies, so check the latest price at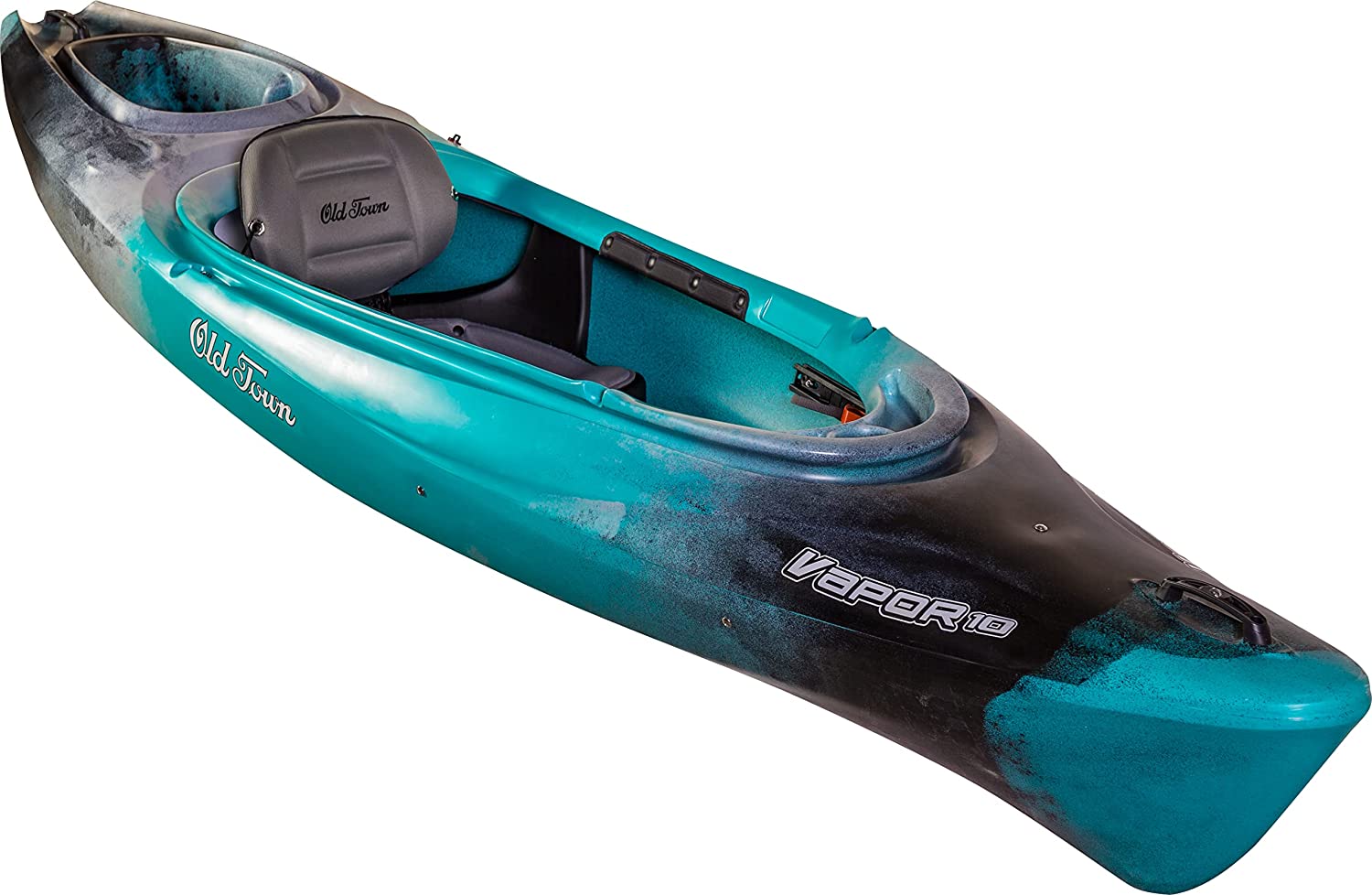 When it comes to stability, the Old Town Vapor 10 will not be surpassed. Its very shape is designed to break up any building waves and resistance. Constructed from a single layer of polyethylene, its durability is not to be questioned.
After long bouts with the waters beneath you, you can rely on the molded-in paddle rests. It's tiny features like these that really make or break an experience for me.
The Comfort Flex seat is adjustable in various ways. Finding the right tilt or slant shouldn't take you long, and with the easy-grip thigh pads in place, settling in will also be a breeze.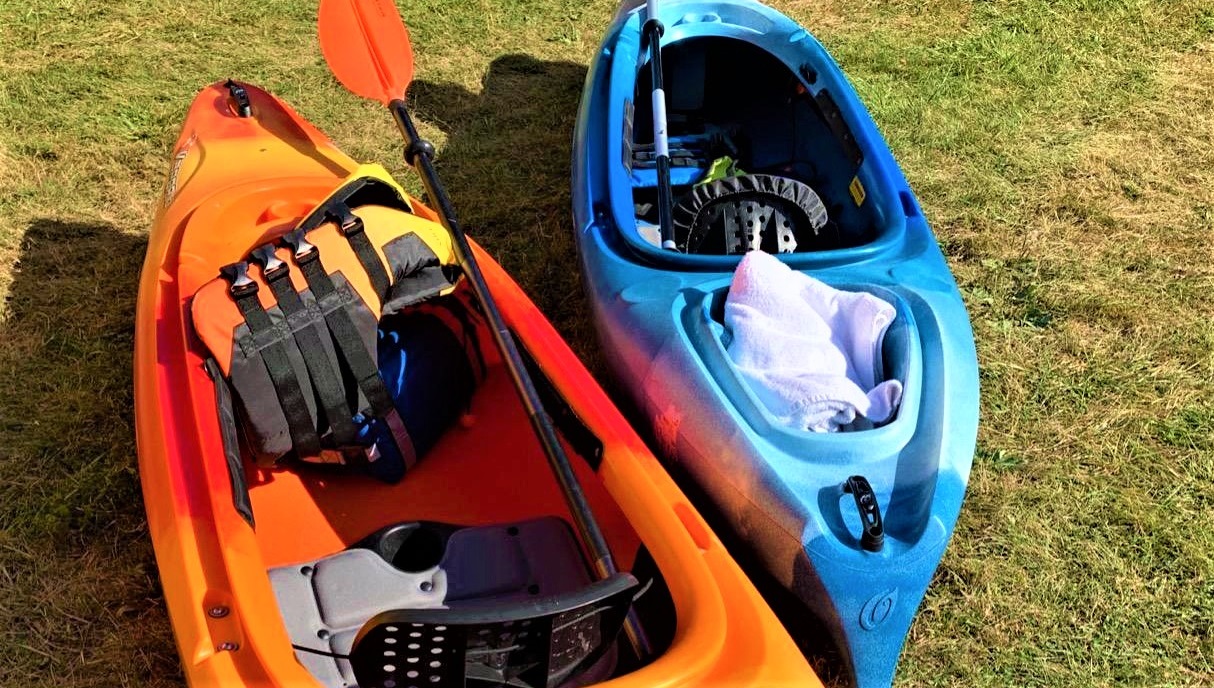 The incredible stability that I mentioned before is only further enhanced by the foot brace system made available to you.
Features
Best Feature: Great shape for rough water
Weight: Forty-seven pounds
Length: Ten feet
Build Materials: Single Layer Polyethylene
Comfort: Molded-in paddle rest
Pros
The bow design of this recreational kayak is tapered, which enhances its ability to cut through rough waters.
Has an adjustable Comfort Flex seat and easy-grip thigh pads. You won't be complaining about uncomfortable seating with this one.
Great stability is brought to you by the foot brace system.
Cons
The purchase does not come with a paddle.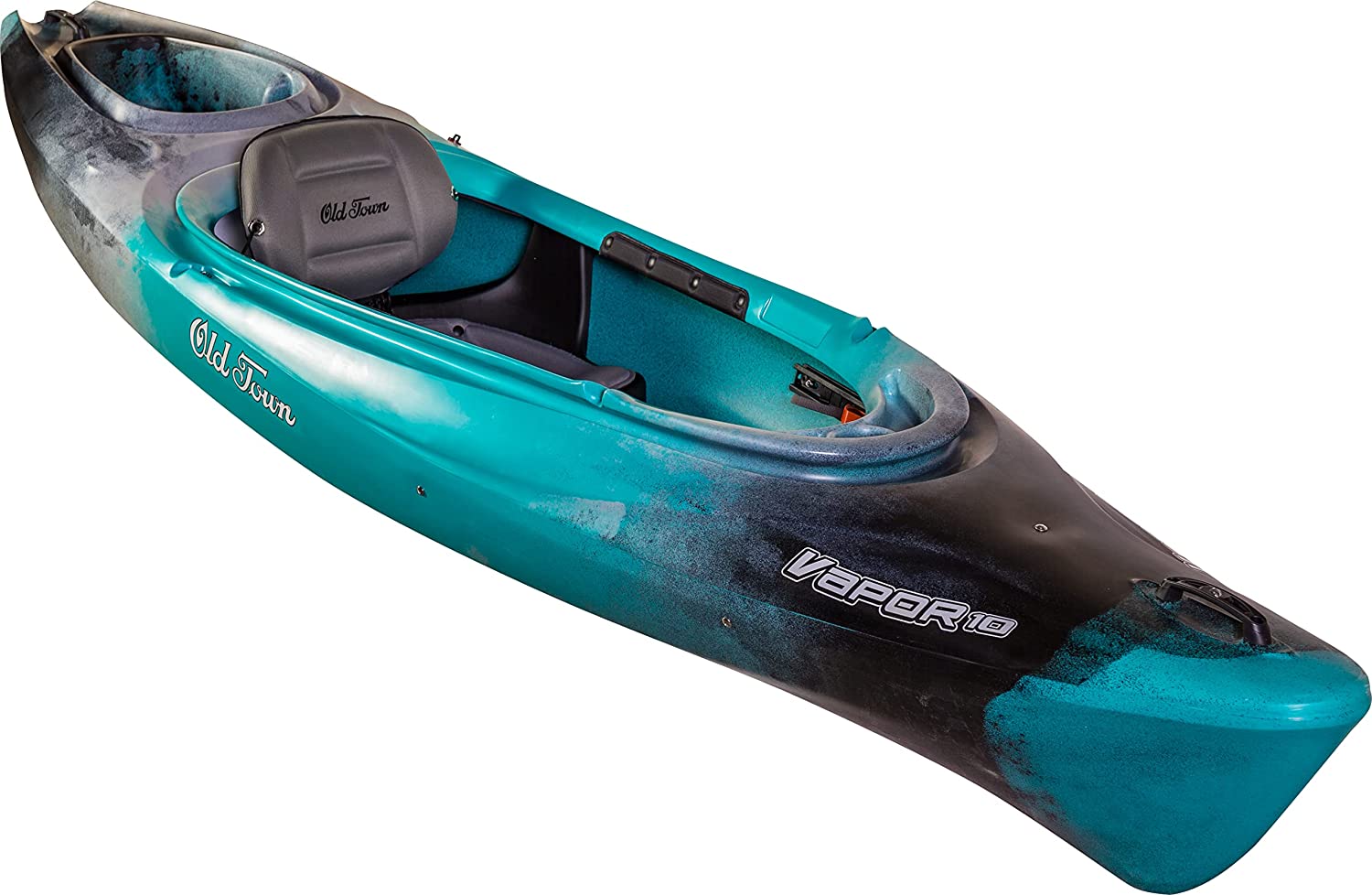 Old Town Vapor 10 Recreational Kayak
The price of "Old Town Vapor 10 Recreational Kayak " varies, so check the latest price at
Having a beginner option that is of great quality is vital to any sport or activity. The Flash 9.5 serves as the perfect jumping-on point for any curious onlookers. Despite being designed for novices, it still manages to have plenty of extra features.
Its easy-access dashboard, for example, provides you with a secure and safe location to store your goods. Unlike a rear tank or hatch, this dashboard is right in front of you and open. It has a small set of bungee cords that'll help you tie down any belongings.
Beneath the kayak are double-tracking channels. What are they good for? Their presence increases the tracking of the kayak. In short, they make it easier to paddle in a straight line.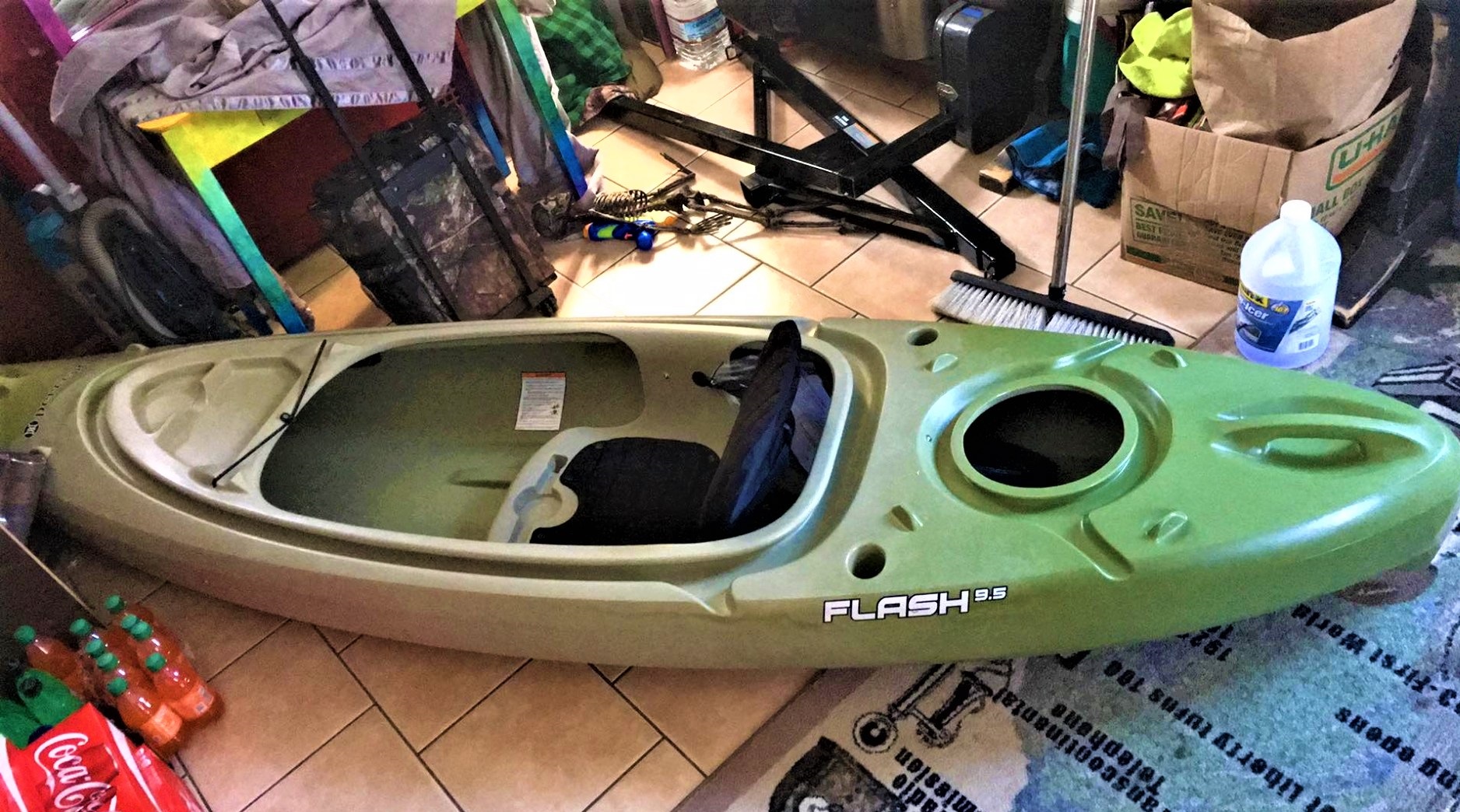 The Flash is a short kayak that has a high level of maneuverability, everything a beginner could ask for.
Features
Best Feature: Easy access dashboard
Weight: Forty-one pounds
Length: Nine feet and six inches long
Build Materials: Polyethylene
Comfort: Highback seat
Pros
Double-tracking channels are part of this kayak's design, gifting it with excellent tracking.
Thanks to its short length, this river kayak has a high level of maneuverability.
Comes with a drain plug that is easy for dumping out any water that finds its way onboard.
Cons
One of the best river kayaks, but bigger paddlers and those with plenty of gear should look for a larger river kayak.
Perception Flash 9.5
The price of " Perception Flash 9.5 " varies, so check the latest price at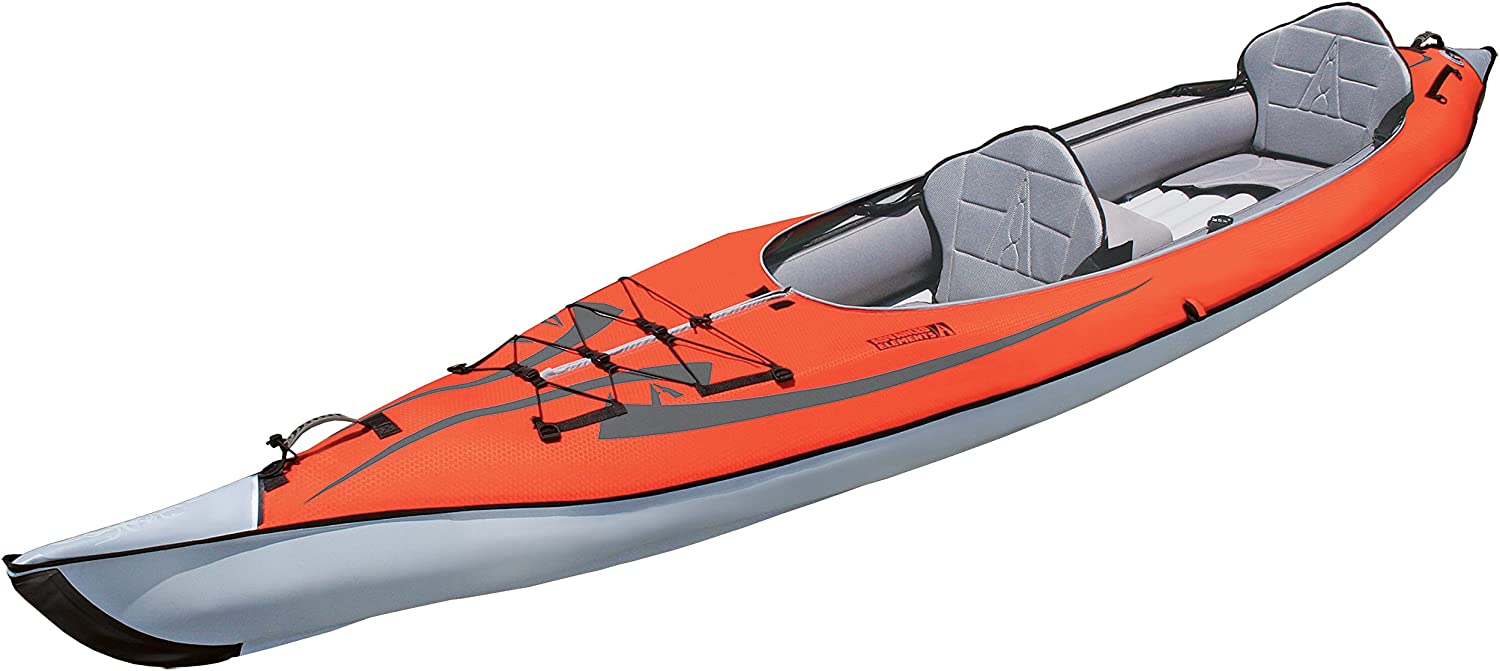 A convertible kayak, now I've seen it all. I've encountered and written about this kayak before. It's got an awesome synthetic and nylon build that incorporates the right amount of heavy plastics in its frame. Durable but heavy.
For your seating comfort, an adjustable padded seat sits firmly in the cockpit. At a little over fifteen feet in length, you can guarantee that there is enough space available onboard for yourself and your gear.
It's got a pretty great weight capacity to back up its size as well. Not the biggest on the list, but far and away, the second highest for sure. Bring a friend along, you've got everything you need to make it possible.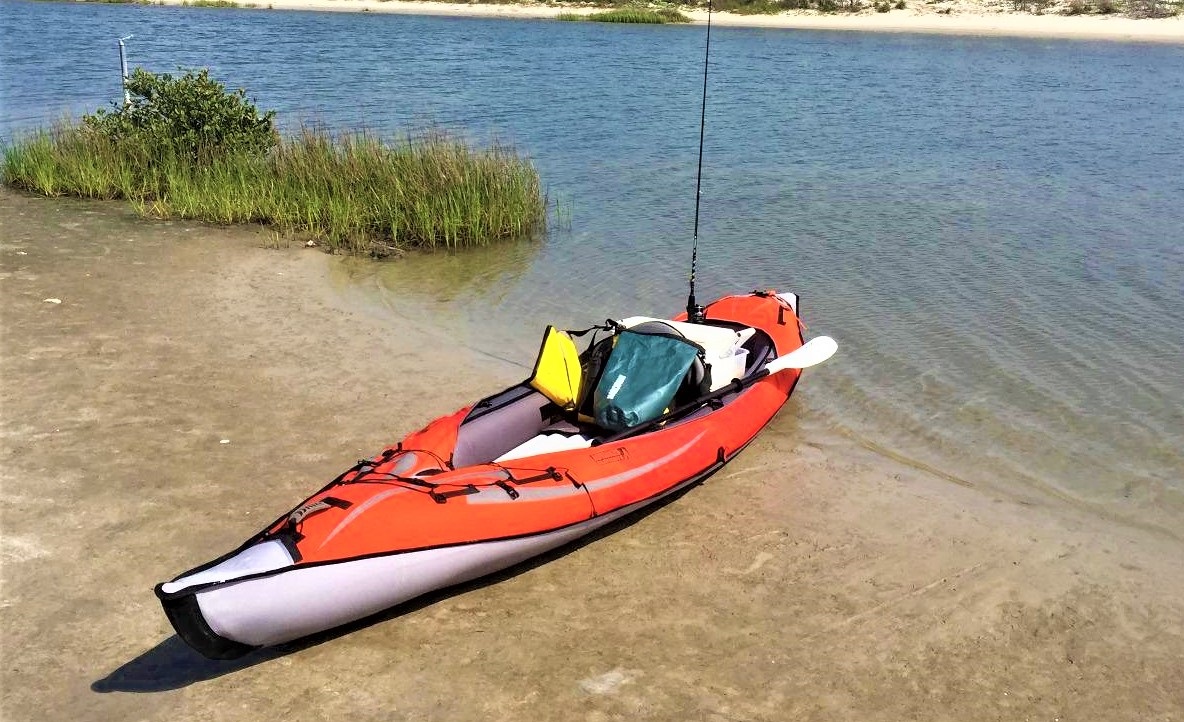 The last feature I'll praise is its most important quality. The top can be changed to turn this kayak into a one-seater. Hence the convertible in the name.
Features
Best Feature: A truly convertible kayak
Weight: Fifty-two pounds
Length: Fifteen feet
Build Materials: Plastic and nylon
Comfort: Adjustable padded seat
Pros
Despite being an inflatable kayak, the Advanced Frame has a massive weight capacity. Maximum weight capacity of five hundred and fifty pounds.
Large cockpit size and long enough to easily seat two paddlers.
Has a three-layer build that is resistant to punctures and abrasions.
Cons
After inflating, you'll have to attach the seats, but this is standard for inflatable kayaks.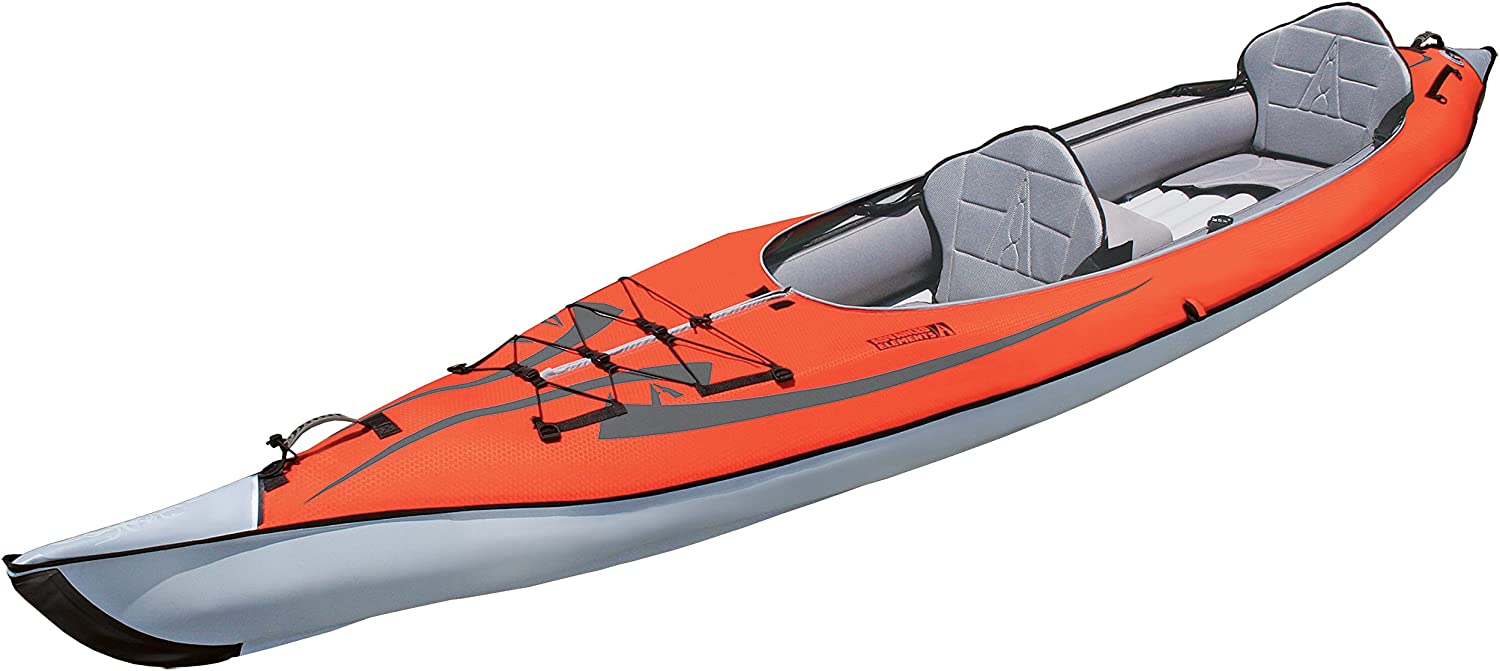 Advanced Elements AdvancedFrame
The price of "Advanced Elements AdvancedFrame " varies, so check the latest price at

As far as inflatable river kayaks go, I believe the Sea Eagle 370 Pro to be the king of the hill. I'll start off with its most impressive feature, its weight capacity. The 370 Pro has a weight capacity of six hundred and fifty pounds.
That's the highest I've seen for any kayak ever. Oddly enough, this kayak only weighs forty-four pounds. Nowhere near the heaviest kayak on the list. Its synthetic materials build suit it well.
Giving it enough durability and abrasion resistance to last you a while. It's whitewater capable, not many inflatable kayaks can boast that.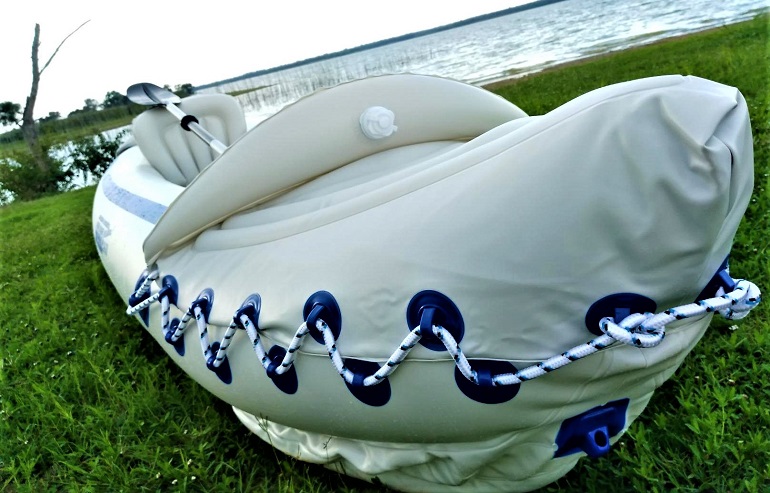 Features
Best Feature: Incredible weight capacity
Weight: Forty-four pounds
Length: Twelve feet and ten inches long
Build Materials: Synthetic
Comfort: Padded seat
Pros
This whitewater kayak is long enough and has a large enough weight capacity to transport three paddlers at once.
Comes with two removable seats that are heavily padded and have great back support.
Four-part paddles with asymmetrical blades and an aluminum shaft are included with the purchase.
Cons
These whitewater kayaks are capable of fitting three people, but they only come with two seats.

Sea Eagle 370 Pro
The price of "Sea Eagle 370 Pro" varies, so check the latest price at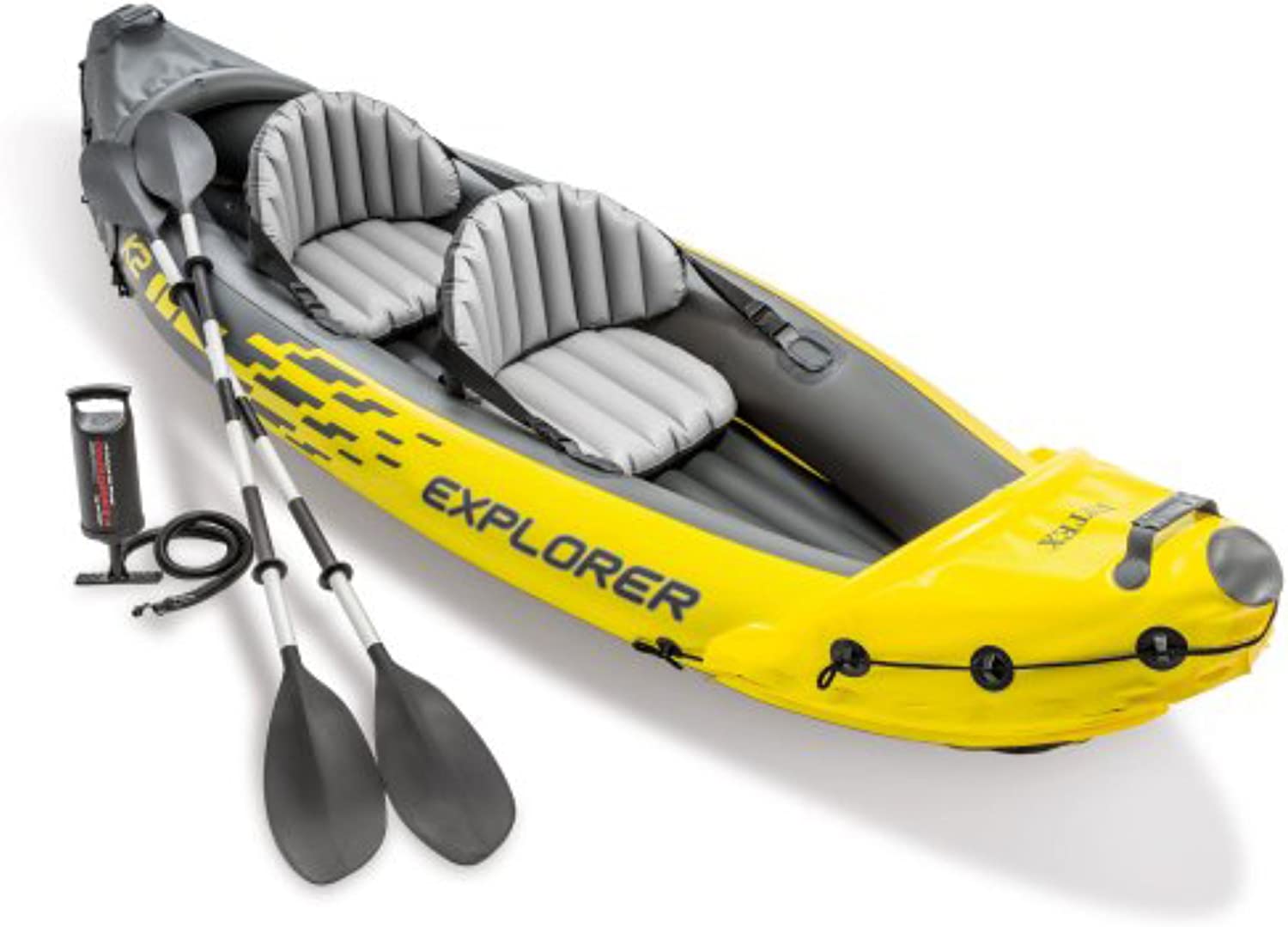 You can blink, rub your eyes, or attempt to wake up, but this is no dream. The Explorer K2 is priced under one hundred and fifty dollars, and I have no idea how they were able to get it that low without compromising on the quality.
Coated with puncture-resistant vinyl and weighing only thirty pounds, the Intex Explorer K2 is as durable as it is lightweight. If you feel like the directional stability is lacking, then simply remove the skeg. It's an option.
It's got three separate air chambers that each account for the other. Should one chamber get punctured, fear not. There are two more that will keep you afloat until you can make it to shore.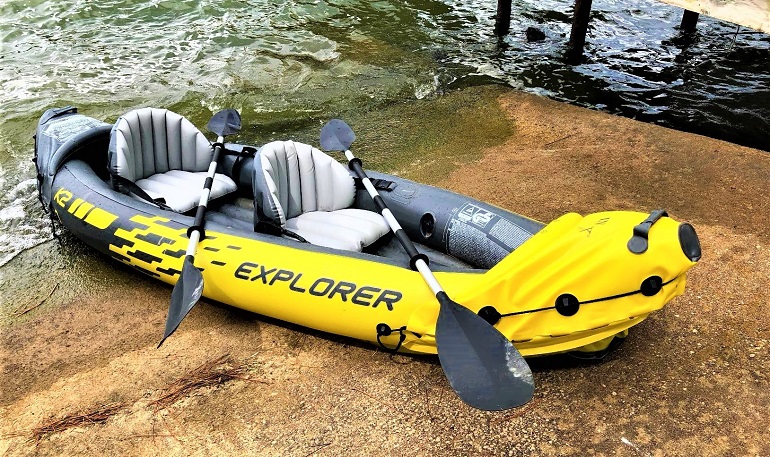 Throw in two aluminum oars, an electric pump, and a manual pump for good measure, and you've got the best deal in the house.
Features
Best Feature: Puncture-resistant vinyl
Weight: Thirty pounds
Length: Ten feet and three inches
Build Materials: Polypropylene
Comfort: Adjustable inflatable seats
Pros
The skeg is removable in case you want to increase directional stability.
This budget river kayak comes with two aluminum oars, a manual, and electric pumps.
Has three separate air chambers at the base for increased buoyancy and as a fail-safe, in case one gets punctured.
Cons
Not a sea kayak, only to be used for small rapids and other small bodies of water.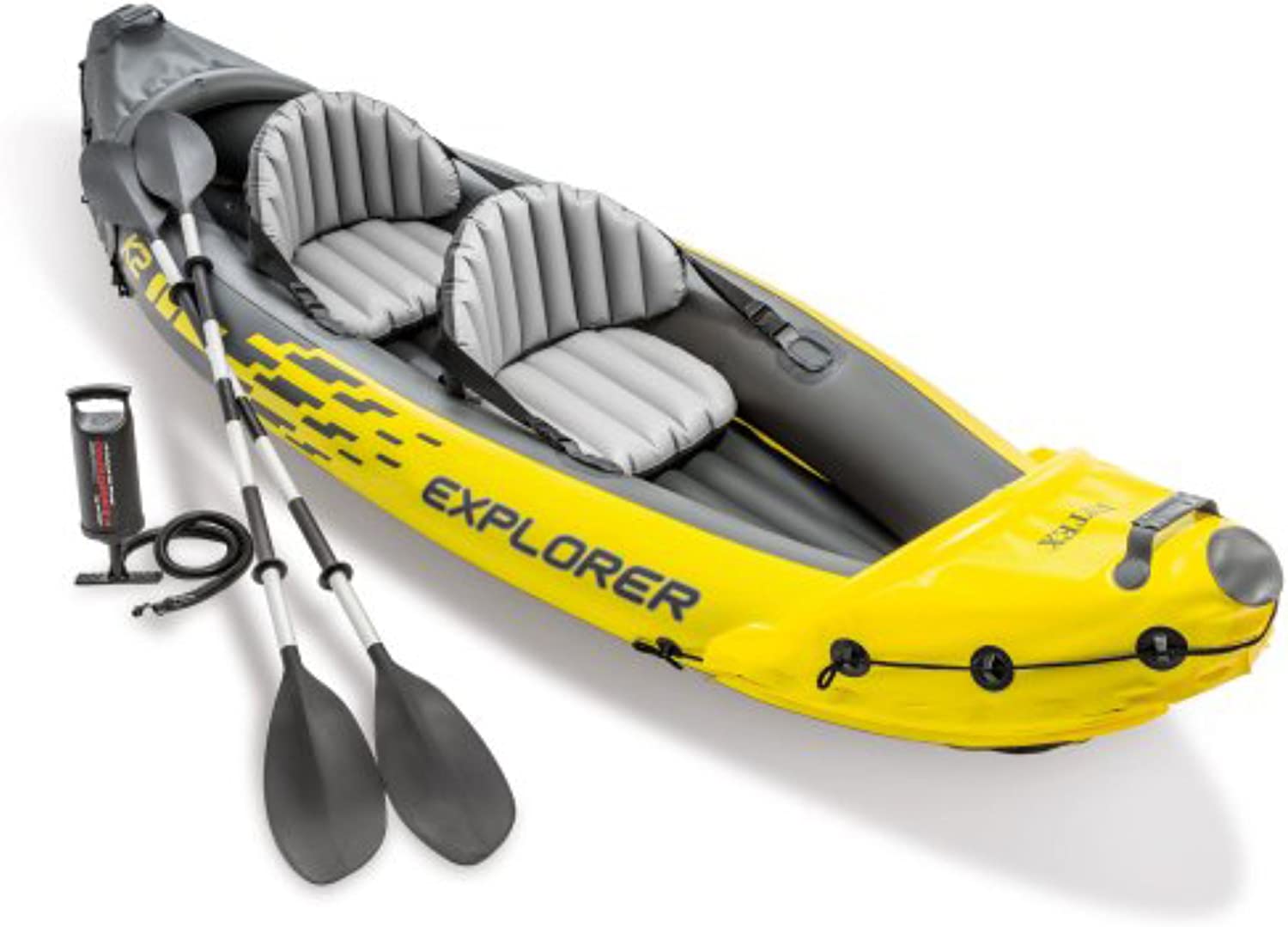 Intex Explorer K2 Kayak
The price of "Intex Explorer K2 Kayak " varies, so check the latest price at
Sit-on kayaks are all about the summer. You get to enjoy the best of the water and whatever breeze you can squeeze out of the heat. The Bali SS encapsulates what is so good about these kinds of kayaks perfectly.
Now, there aren't any features that'll leave your head spinning. However, that doesn't mean that you won't be pleasantly surprised. The Bali SS has with it a portable accessory carrier. Remove it from the kayak and place inside it whatever you need. Once you are finished, simply slot it back into place.
The cockpit is large enough for you to get a full stretch in. None of this bent knees nonsense. Down below, adjustable foot braces help you dial in the right position. It's a solid option that won't break the bank.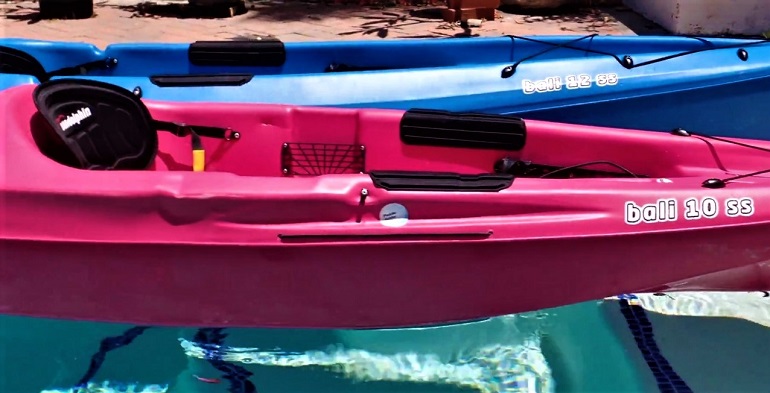 Features
Best Feature: Portable accessory carrier
Weight: Forty-four pounds
Length: Ten feet long
Build Materials: Plastic
Comfort: Large cockpit
Pros
I loved the large cockpit space, which is ample enough to accommodate the paddler and any gear they may have.
A great solid recreational kayak that is perfect for any river trips you have in mind.
Has adjustable foot braces that you can use to find the perfect comfortable fit.
Cons
It's a solid option but don't expect any extra quirks or offerings.
SUNDOLPHIN Sun Dolphin Bali SS
The price of "SUNDOLPHIN Sun Dolphin Bali SS " varies, so check the latest price at
The Pescador Pilot 12 is the fisherman's dream. Powered by pedals, leaving your hands free to reel in the dream catch. It weighs fifty pounds from bow to stern. Not the lightest option, but assuredly not a deal breaker either.
At twelve and a half feet long, it provides you with plenty of space to pack or bring along whatever you may need. Despite its price and its build quality, which is spectacular thanks in part to the polyethylene in its frame, this is a recreational kayak first.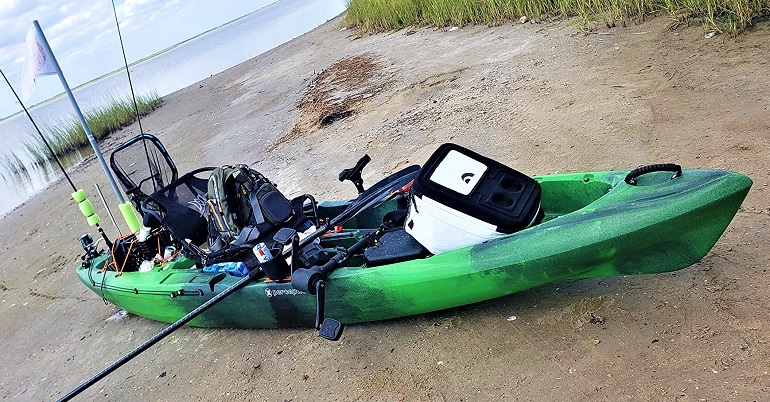 Best used on slow-moving and closed-off bodies of water. Please don't think that its price means that it is fit for all conditions. It's not. However, this kayak is perfect for river fishing and relaxing kayaking outings.
Its great high-back support is a further testament to this.
Features
Best Feature: Pedal-driven
Weight: Fifty pounds
Length: Twelve feet and five inches
Build Materials: Polyethylene
Comfort: Highback support
Pros
This awesome recreational kayak is pedal-driven. Propel yourself forward at any speed while maintaining your hands-free.
Plenty of storage space and compartments onboard to safely hold all of your river paddling gear.
This recreational river kayak is the ultimate option for slow-moving rivers and calm rivers.
Cons
Is available for a huge price, but its build quality more than justifies it.
Perception Pescador Pilot 12
The price of "Perception Pescador Pilot 12 " varies, so check the latest price at

The Navarro 130 is easily overshadowed by some of the flashier options on our list. What it does best isn't something that you would easily notice. However, as the seasons fly by and the Navarro is still left standing, you'll know what made it special.
This river kayak is a longevity option. With drop-stitch flooring that leaves no seam to chance and a nylon exterior that takes care of any potential abrasions. It's comfortable too.
The seating is compact but well-padded and positioned. The durability and comfort accommodations work hand-in-hand to deliver the best silent worker in the kayaking world.
To further increase the stability and durability of this kayak, shell-covered pontoons have been added for extra support. It's not the loudest kayak on the list, but you will remember its performance and longevity.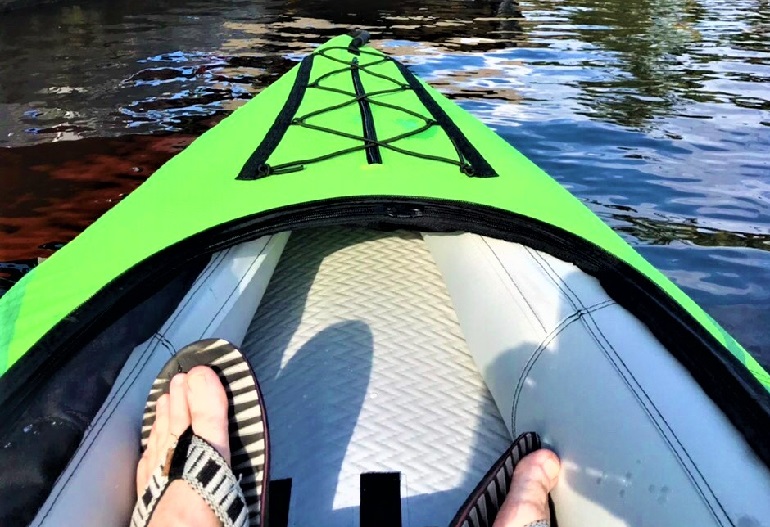 Features
Best Feature: Drop-stitch floor
Weight: Thirty-five pounds
Length: Thirteen feet and three inches
Build Materials: Nylon
Comfort: Compact and comfortable seating
Pros
Aquaglide engineering makes this one of the best river kayaks for performance on the list.
This heavy-duty performance design weighs only thirty-five pounds.
Hex shell-covered pontoons support the stability of the kayak and increase its durability.
Cons
The cover advertised with the kayak does not come with the purchase.

Aquaglide Navarro 130
The price of "Aquaglide Navarro 130 " varies, so check the latest price at
What to Consider to Get the Best River Kayak for You
You will walk away a happy camper with any of the best river kayaks listed above. However, if you want that true "fits like a glove" feeling, then you'll need to keep in mind the information below.
The categories listed below are essential to cataloging and helping you figure out which kayak is best for you. Not all kayaks are created equal, and what might work exceptionally well in one scenario will falter in another.
The best way to avoid that dreaded buyer's remorse is to head into any purchase with a cool and informed head.
The Type Of The Kayak
The type of kayak that you are using is gravely important. Recreational kayaks may feel amazing to paddle in when coasting through a slow-moving river or still body of water but try taking it out onto some whitewater rapids.
The same can be said for any ocean kayak or sit-inside kayaks. The type of kayak matters and will determine where you should be taking it. Some kayaks are easy to figure out. For example, whitewater kayaking requires the best whitewater kayak, and so on.
But what about sit-in kayaks? This kind of kayak is best for rough waters and when you wish to remain as dry as possible. A sit-on-top kayak is best for beginners and those that want to cool off in the summer heat.
Ultimately, the type of kayak that you should use will one hundred percent depend on your ability level and the location in which you will be kayaking. When river running, any one of the kayaks listed above, like the Wilderness Systems Aspire, will do.
However, if you mostly plan on kayaking through flat water and embarking on the occasional river trip, then the Pescador Pilot 12 should be more than fit for the job. In the end, the only kayak you shouldn't be using is the one you don't feel comfortable in.
Seating Accommodations
Kayak anglers are usually a solitary bunch, but sometimes a nice fishing trip isn't complete without a companion. It should be simple enough to pick out the right kayak based on how many seats you'll be needing.
However, there are some tandem kayaks that are capable of fitting three people on board despite only having two seats. The Sea Eagle 370 Pro is one such case. It has removable seats, and so you can make full use of its length, but if you want to seat three individuals, then you are out of luck.
This kayak only has two seats on board, and only two seats can be installed. The perfect kayak for rivers for those that travel on their own would be the AdvancedFrame Convertible. Thanks to its convertible design, it's easy to find the right cover for a snug and comforting fit.
Any seats on board should also be padded. Beware of seats without padding because you will come to regret it the more time that you spend with your kayak. Not just your bottom but your entire back will eventually burn due to the lack of lumbar support.
Thigh padding is also a great pickup, but I'll be further discussing them in the following section.
Kayak Weight Capacity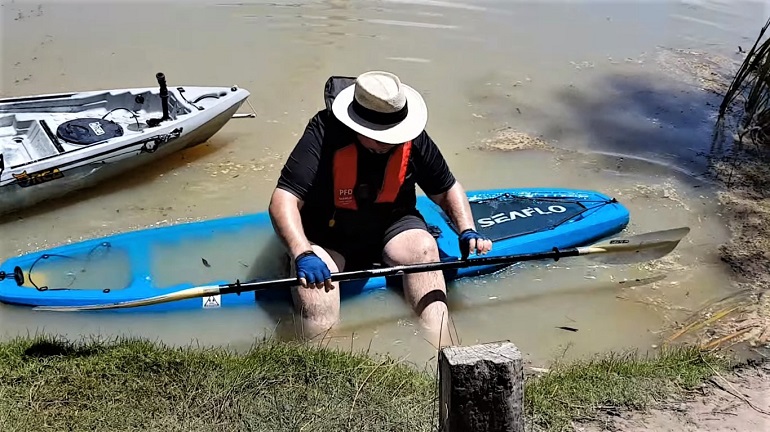 The weight capacity of a kayak is important for two reasons. One, it determines how many people you can bring on board. Regardless of length, what really matters when considering companions is your river kayak's weight capacity.
I've come across kayaks that advertise their great length, but they, unfortunately, fail to inform prospective buyers of the weight capacity. Other kayaks will state that they have a weight capacity capable of handling two individuals. Once again, failing to mention that one individual must be a child or young adult.
To avoid falling into these traps, take a kayak's weight capacity and subtract it from your weight and the weight of any potential tag-along that you may have in mind. You could also avoid the math and just get the Sea Eagle 370 Pro.
This kayak has a weight capacity of six hundred and fifty pounds!
A kayak's weight capacity also affects how much extra gear you can bring along. Accounting for this shouldn't be as much of an issue. Any of the kayaks listed above have the weight capacity to accommodate you and your gear.
Kayaks built for raging rapids and other intense situations tend to fair better in this category than others.
Additional Features
Additional features are quite literally anything that isn't necessary but highly appreciated when thrown in. These kinds of features are either additional accessories and equipment that come with your kayak purchase or actual features that may be included in your kayak's design.
For example, the portable accessory carrier that comes with the Sun Dolphin Bali SS is not necessary but extremely useful. Now you have a storage space that you can separate from the vessel and fill up before slotting it back into place.
The AdvancedFrame kayak didn't need to give you the option to change its top cover. And yet, this feature greatly enhances the kayak and makes it an instant stand-out hit. Remember, all a kayak needs to be is a hull that won't float. It's these additional features that give each kayak its own flavor and performance feel.
Perhaps my favorite kayak in this category is the Explorer K2. This kayak is available for an insanely low price. Not only that, but it also comes with two aluminum paddles and two different pumps. An electrical and manual pump.
You have to pay close attention to what comes with the purchase. It's a great way to save money and end up pleasantly surprised.
FAQs
Is River Kayaking Dangerous?
Without the proper precautions and training, any kind of kayaking can quickly become dangerous. However, this danger can be completely avoided with proper planning. Only stick to slow-moving rivers and waters if you aren't confident in your kayaking or swimming abilities.
Be sure to get river kayaks such as the Explorer K2 kayak or the Vapor 10. These river kayaks are known for their stability and multiple air chambers.
What Are the Best Kayaks to Use for Camping along a River?
The best river kayak for camping along the river would be the Pescador Pilot 12. It's a pedal-driven kayak and so perfect for the kind of leisure activity that river kayaking camping usually is.
The Wilderness Systems Aspire is also another solid pickup for camping along the river.
Are Sit-on-top Kayaks Good for Rivers?
Absolutely, sit-on-top kayaks are a great option for river kayaking. This is because this kind of kayak has a large beam in its frame and build that bolsters its stability. The enhanced stability makes it so that you don't have to wrestle with the current.
Its seating arrangement also helps you paddle at an angle. You get more power per stroke. Thanks to your elevated position, you won't get as wet as you would with a sit-in kayak.
Is It Safe to Kayak Alone in Slow Rivers?
Yes, but that doesn't mean that you won't need a personal flotation device. You should also be confident in your swimming abilities before ever stepping foot in the water. Best touring kayaks generally have a storage space or hatch that you can use to store anything you may need. It's always better to be safe than sorry.
My Final Thoughts
River kayaking is grand, even if you don't plan on reeling in any big catches. However, the best river and sea kayaks have got a sturdy construction that'll last and carry you through the entire year.
It should go without saying that the incredible stability of the best river kayaks benefits you in more ways than one. You get to enjoy the quiet ride but also have to worry less about the river's current conditions.
Taking full benefit of this stability also allows you to conserve energy since you don't have to work to keep your kayak in line.
There are many benefits to a quality river kayak, but you'll have to try one out for yourself to see what I mean.