Achill Island is one of the most beautiful places in Ireland.
As our car rounded the bend in Mulranny, the town just preceding Achill Island, it was hard not to stare. Cascading auburn hills fell away into placid waters while the winding road continued on through the mountains to Achill Sound.
So this is what everyone had been talking about.
Within minutes of crossing the causeway onto the island, we realised the scenery would far exceed any expectations we'd had beforehand — and that's coming from someone who's lived on Ireland's Wild Atlantic Way for the best part of their life.
In a word? Achill Island is magical.
Read next: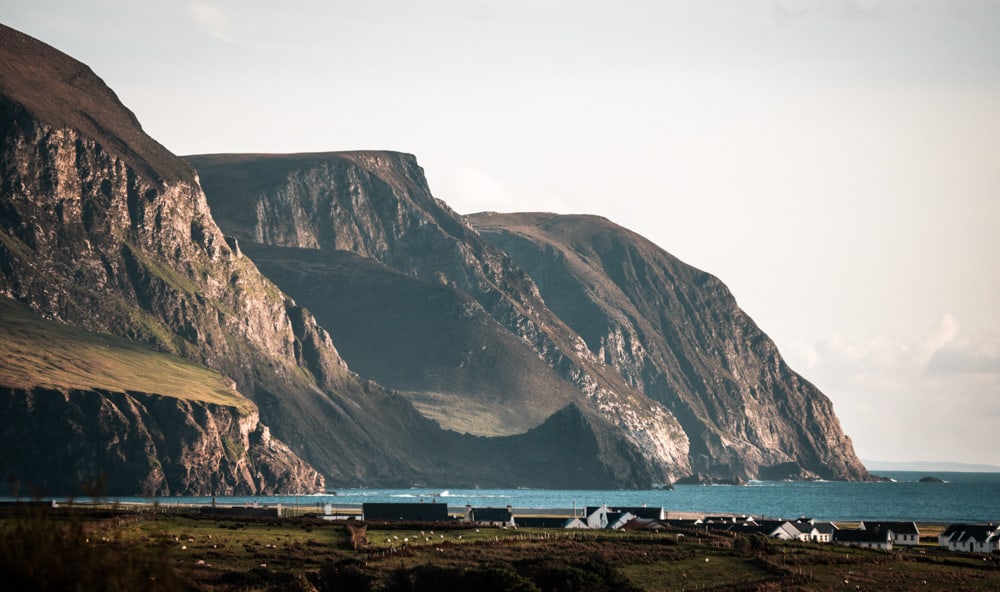 Maybe it's the hills heavy with megaliths, ruins, and heather-filled fields, the smell of the rain as it lands on wool, or the sheep that rule the roads. Maybe it's the swell and surge of the ocean that only those perched on the edge of the Atlantic truly know. Maybe it's seeing the last shards of sunlight turn the whole sky tangerine before it slips below Europe's most westerly fringes.
Whatever it is, it had us hooked from the moment we arrived.
If you're considering visiting Achill Island, all I can say is: you won't be disappointed. 
It's a haven away from the madness of the city and Ireland's well-trodden tourist trail, and still, it's all the natural beauty, craic, friendliness, and adventure that you'd hope to find in a craggy corner of the Irish countryside.
For those of you ready to add a trip to Achill to your Ireland bucket list (or perhaps those still looking to be convinced) here's our attempt at summarising that which can't really be put into words. This post will walk you through exactly what to expect from a visit to Achill, including all the most epic things to do there, where to stay, eat, and drink pints (yassss!), how to get there, and more.
Here's your complete adventure travel guide to Achill Island.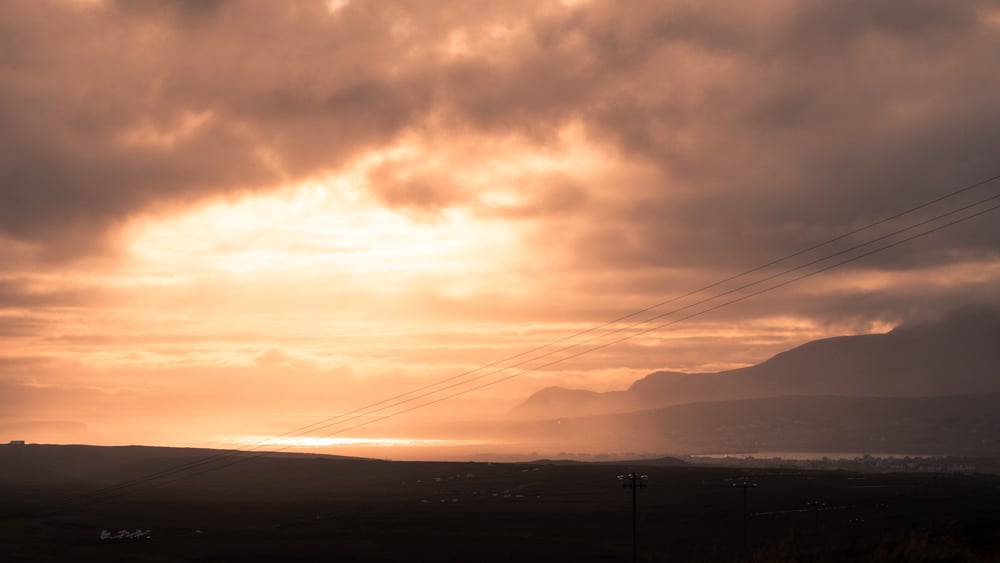 Where is Achill Island?
Achill Island is located on the northwest coast of Ireland in County Mayo. The nearest cities are Sligo and Galway, with towns like Westport, Newport, and Castlebar closer still. Achill sits about 300km west of Dublin (approx. 4 hours by car), 140km northwest of Galway (2.5 hours by car), and 330km northwest of Cork (4.5 hours by car). Achill Island also happens to be located along the Wild Atlantic Way, a renowned tourist trail that runs along the west coast of Ireland from Donegal to Cork.
Ireland's largest island, Achill Island is connected to the mainland by a short causeway. Visitors can drive across without the need to catch a ferry. And for what it's worth, the drive is absolutely BREATHTAKING and acts as the perfect introduction for what the rest of the island has in store.
What to expect from your visit to Achill
A trip to Achill Island promises a glimpse of the rural, quiet countryside that's reminiscent of a bygone Ireland. It's a place to get away from it all; to see some of the most gorgeous scenery on the Atlantic coast — but without the crowds. Unless we're talking about crowds of sheep. Errr, make that flocks?
The island offers outdoor adventures galore like hiking the tallest peaks, cycling along the coastal roads, and adrenaline-fuelled kitesurfing and surf sessions (we'll get to all that in detail below). It's perfect for nature lovers, photographers, landscape junkies, and those looking to experience "authentic" Ireland.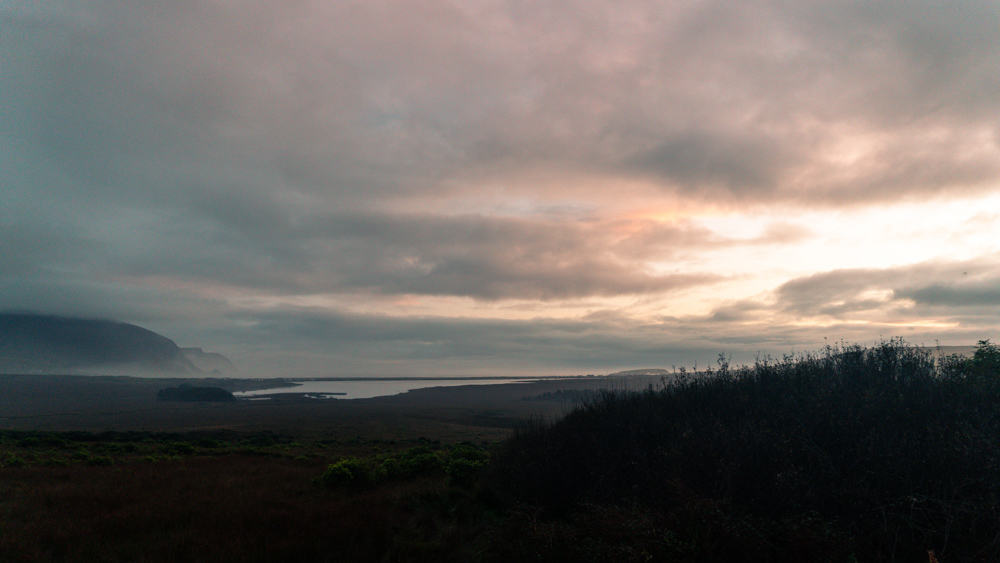 Read next:
Achill Island weather
One thing to note before you set off is that Achill Island's weather is extremely volatile. 
If you've spent time in Ireland, you'll already be familiar with the isle's ability to swing from stone-splitting sunshine to lashing rain in minutes — but ask us, and we say Achill Island's weather is particularly, errrr, hormonal.
We spent a week there at the end of September and let's just say, we got wet. Not because it was a constant downpour — quite the opposite. More like we'd be strolling around on the beach in the sunshine when suddenly it'd be bucketing down on top of us, soaking us to the bone in seconds.
Prepare for the worst, hope for the best — as they say (we've included a handy packing list below which should help you be prepared for 'all the seasons of the day').
Transport
The island, although the biggest in Ireland, isn't all that huge (according to Wikipedia it's 148 km2 or 57 sq mi). As such, everything is within easy driving distance. 
We've been asked if you can drive on Achill Island, and the answer is yes — in fact, you most certainly should drive on Achill. I can pretty much guarantee that unless you're visiting with a tour group, you'll struggle without a car (public transport isn't really a thing in Ireland's backcountry and everything is quite spread out on the island). 
If you don't have your own car, we'd highly recommend visiting Achill Island with a rental car from AutoEurope. 
So, that's the logistics done and dusted (if you still have questions, hang on for our FAQs about Achill Island at the end of the article). Let's move on to what there is to do on Achill Island:
Adventurous Things to do on Achill Island: Attractions, things to see, places to visit
---
Kitesurfing
Kitesurfing acts as many people's primo reason for visiting Achill Island — as it was for us. 
Achill is home to some of the best conditions for kitesurfing in Ireland, with fairly strong, consistent wind blowing in off the Atlantic and a mix of waves and flat water.
Kiters can take their pick between the blustery shores of Keel Beach and the flat water of Keel Lake, just opposite. Both spots are insanely scenic. 
Working best on a S/SW/W wind, the beach sits at the foot of some massive sea cliffs, where clouds and crashing waves merge into one to form what seems to be a near-constant glittering mist. The beach is sandy with a few pebbles and features a grassy area behind which is perfect for launching and landing. Depending on the strength of the wind, the waves can get pretty big.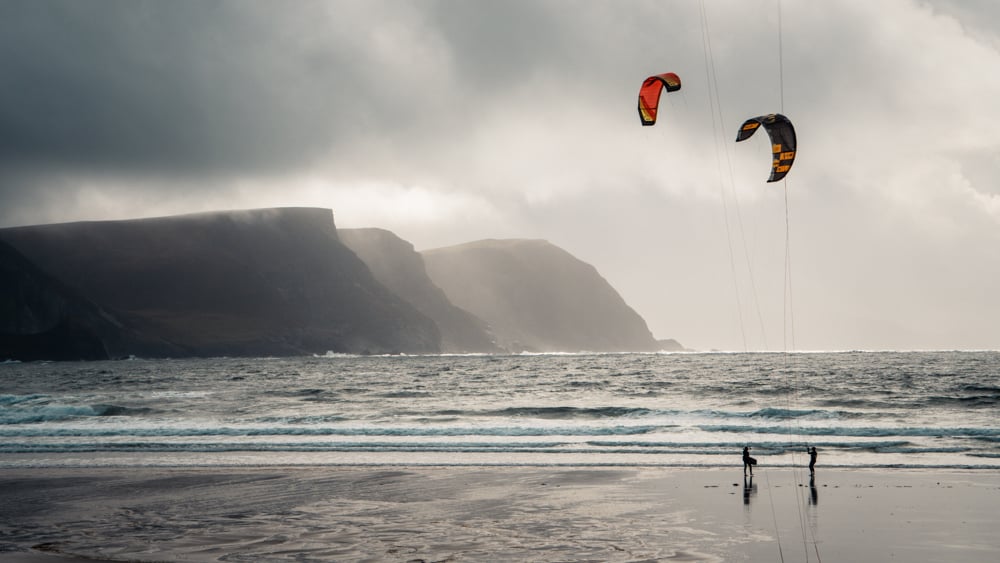 Meanwhile, Keel Lake (which is literally just over the road) is a flatwater haven. The water is fairly shallow — think knee-deep — which makes it ideal for beginners looking to get to grips with riding for the first time. The lake works on the same wind direction as the beach; should the direction turn any more northerly, it becomes mega gusty thanks to Slievemore Mountain which sits just behind.
For those of you looking to make the journey to Achill for kitesurfing, get in touch with the crew from Pure Magic Watersports. During the summer season, they run a fabulous club in Keel, providing all you'll need in terms of lessons, advanced coaching, and gear rental. They also have a super lovely lodge where guests can stay right near the spot. We stayed there ourselves during the 2019 Battle for the Lake festival and loved the homely vibes, friendly staff, food, craft beers, and craic.
Atlantic drive
Experience the diversity of Achill Island's natural beauty by hitting the road and exploring the island's waymarked Atlantic drive. The route takes you along the most scenic part of Achill's Atlantic-facing coastline, beginning just opposite Achill Sound in the east and stretching through the villages of Shraheens, Derreens, Cloughmore, and out overlooking Clare and Achill Beg islands.
The landscapes you'll pass on this drive encompass all that incredible diversity of Achill Island; vast expanses of rhododendrons, waves crashing against sea cliffs, sleepy villages, ancient churches, coves and beaches, and viewpoints that'll take your breath away.
Surfing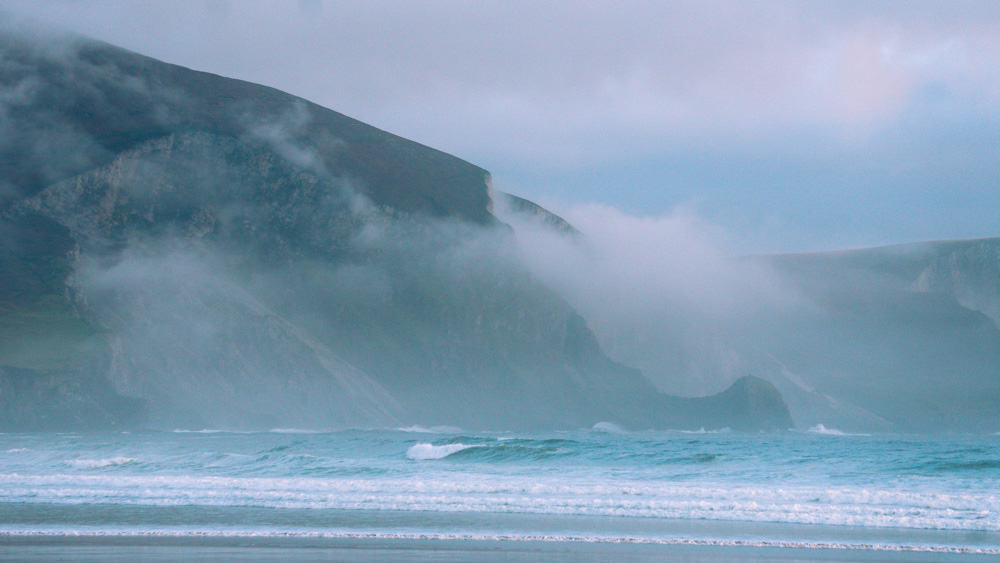 Achill Island may bear the brunt of frequent Atlantic squalls, but it also benefits from them — the island's wave-smashed coastline is a surfer's paradise. Keel Beach is the premiere spot, with a gently sloping sand-bottom beach break and nicely spaced waves.
FWIW Jim and I had the chance to drive around the island checking out some of the other beaches too, and we spotted a few quiet coves with absolutely gorgeous clean waves. There's so much potential for surfing on Achill Island!
Achill Surf School & Adventure Centre is based out of a club near Keel Beach, offering surf lessons for all levels as well as board and wetsuit rentals. They also offer a pile of other adventure activities, like kayaking and coasteering.
Minaun Heights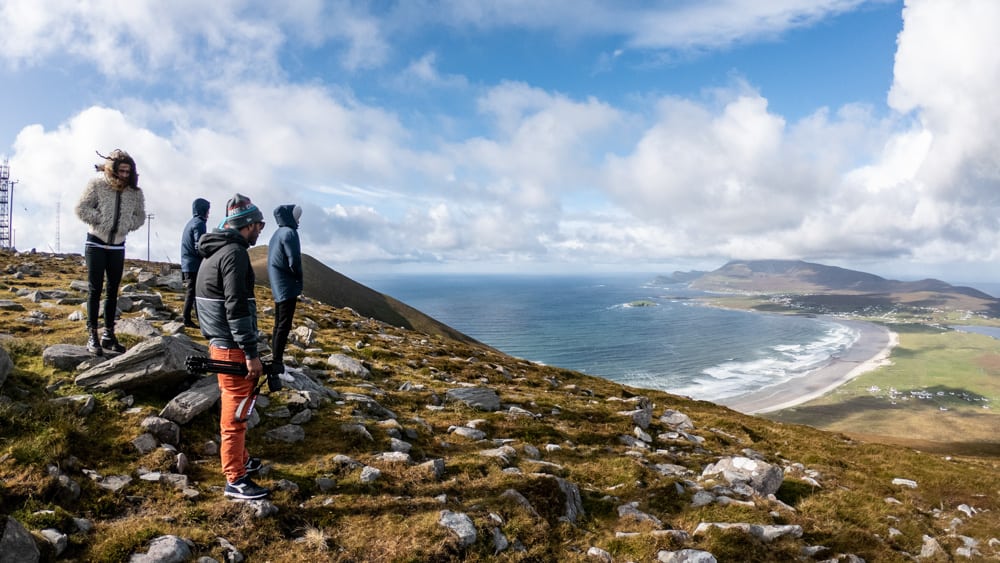 While we've got road trips in mind, you definitely won't want to miss the drive up Minaun Heights — the huge peak overlooking Keel Beach, the lake, Blacksod Bay and beyond. 
The drive up Minaun is all hairpin turns and sheep, most of whom have taken to chilling on the grassy banks next to the road (though admittedly, often in the middle of it). You could easily park at the bottom and hike up instead!
Psst: are you mad for hiking? Check out our complete guide to Ireland's best hikes for more inspiration!
Timing is everything when it comes to visiting Minaun Heights. The first day we drove up there, we were met with a thick blanket of clouds that completely obscured the view; but we made sure to nip back up there in the days that followed as soon as a sunny spell appeared — and it was so worth it.
Cycling
When we visited, we hadn't even reached the island before we noticed Achill Island's phenomenal cycling opportunities. There's a cycling path that runs parallel to the road from the mainland to Achill, but sits a good distance closer to the coastline than any vehicles can go — so it's quiet, safe, and unbelievably scenic (especially the section near Mulranny, holy bananas is that area beautiful).
Once on the island, there are myriad cycling routes which take you all over Achill. There are three looped cycling routes on the island, as well as the final section of the 42km Great Western Greenway cycling route which takes you from Westport all the way across Achill Island.
You can rent bicycles on Achill Island from local businesses like Achill Bikes and Clew Bay Bike Hire who have centres in Westport, Newport, Mulranny, and Achill Sound.
Keem Beach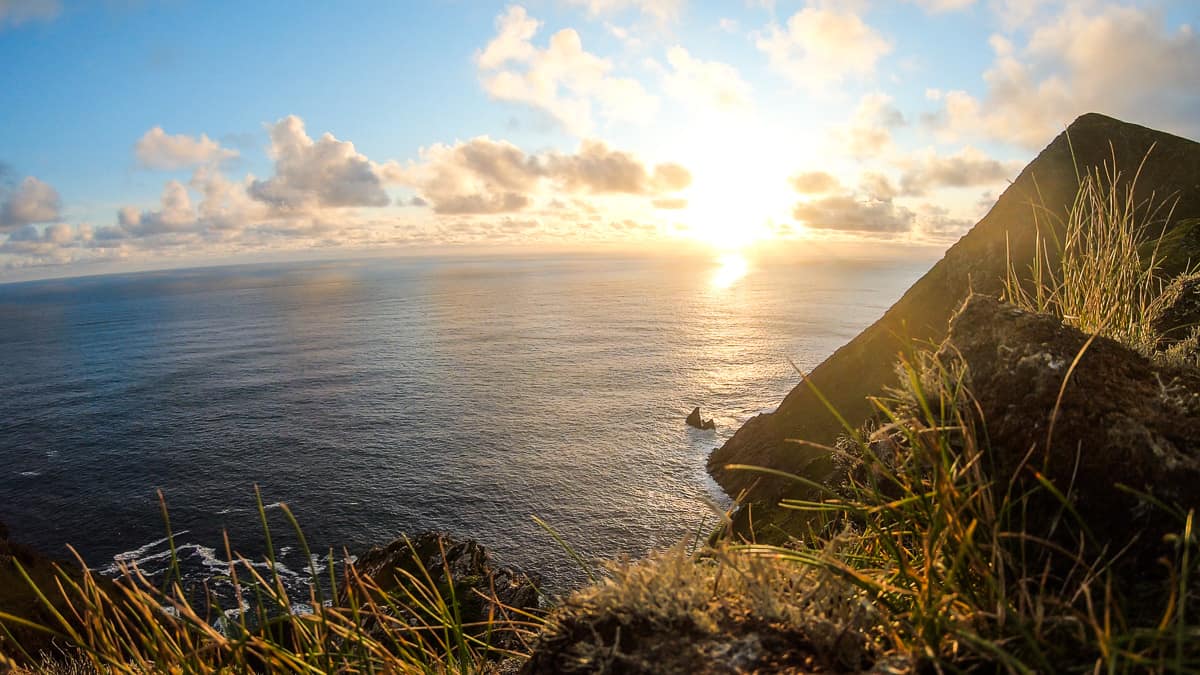 Coming over the crest of the hills that tumble down towards Keem Beach, it's hard not to do a double-take and ask yourself if you've been magically transported out of Ireland to somewhere far more tropical.
Keem Bay is home to clear turquoise water and golden sand. The beach is sheltered, flanked by gently sloping hills on either side, affording visitors some bit of respite from the often blustery weather.
Keem Bay is perfect for a laidback beach stroll, paddle boarding, swimming, and wildlife spotting — and you'll never guess what kind of flippered friends frequent the area…
Whale, dolphin & shark watching
Did you guess it?! Dolphins and basking sharks — the second biggest fish in the sea, behind whale sharks — are amongst the most common sights off Achill's coast. Some of the best places to head for to spot these guys are Kilcummin Head, Downpatrick Head, Erris Head, Annagh Head, Achill Island, and Clew Bay.
In May 2019, a number of basking sharks were spotted off the coast of Keem Bay on Achill Island, including one measuring in at a whopping 7 metres (or 25 feet)! 
A local drone pilot was lucky enough to capture the shark swimming with a pod of dolphins in Keem Bay's clear blue water — unbelievable shots, and probably not something you'd normally expect to see in Ireland!
Before you lose your pluck to go surfing up here, know that basking sharks are very placid and don't present any danger to humans. They feed on plankton — and they don't even have teeth! Local diver Gavin Ó'Briain swam alongside them and called it "the most amazing thing he's seen underwater — and probably in his life" [sic]. 
Would you believe basking sharks used to be fished off the Mayo coast for their oil? The numbers caught off the Irish coast between the 1950s-80s is pretty shocking — even more so when you realise there's only a few thousand of them left in the wild today. These days the animals are endangered — and therefore, protected. 
Deserted village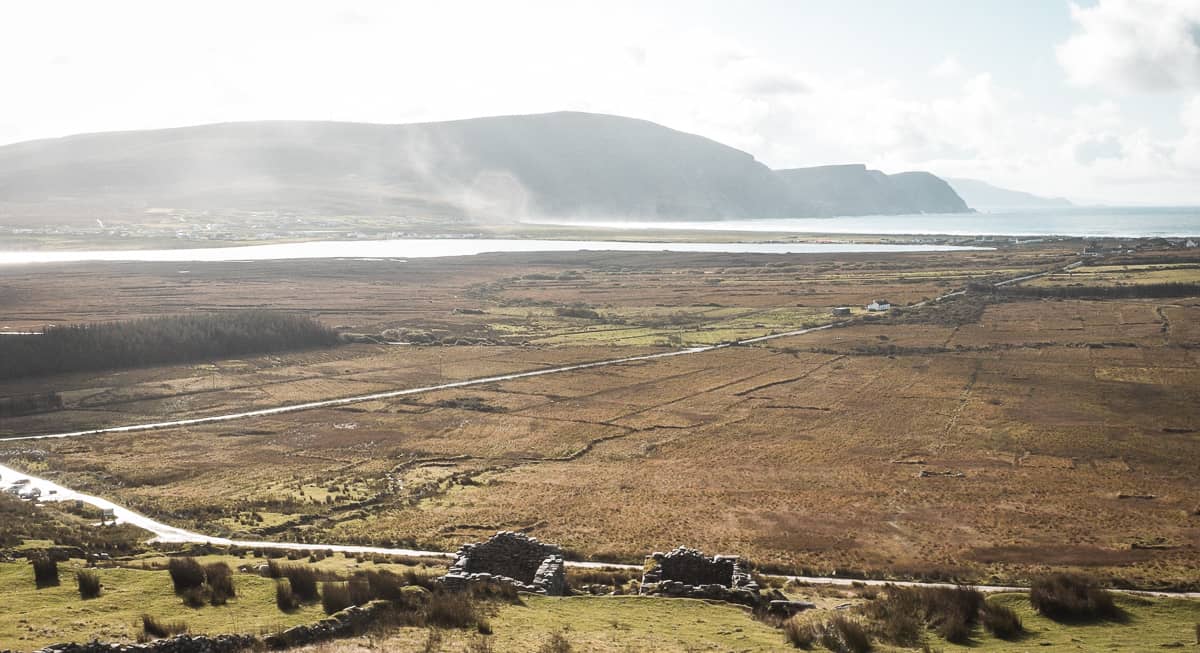 At the foot of Slievemore Mountain, you'll find the remains of a deserted village — home to ruins of neolithic, megalithic, and Bronze Age settlements. Reachable by car or via a short walk from Keel village, visitors can trek up the grassy hillside and explore the structures up close. 
Those looking for more information on the ancient history of Achill Island's deserted village can reference the signposts onsite, which provide a super detailed background.
Art galleries
Achill Island has served as inspiration for painters, poets, and playwrights — creatives of all kinds, really — for years. As such, the relatively small island is home to a pleasantly disproportionate number of art galleries — and there's nothing better to do when the weather turns nasty than trawling through them.
Check out the Ronan Halpin Gallery, Western Light Gallery, The Sea Shore Gallery, and the unusual Lakefield Gallery featuring a collection of locally made bogwood sculptures by artist Liam Kelly.
Where to stay on Achill Island
Midrange: Pure Magic Lodge
We stayed on the west of Achill Island near Keel, in the Pure Magic Lodge. We thoroughly enjoyed our stay here and definitely recommend checking it out for your own visit.
The lodge is near the main kitesurfing spots in Keel, which also has a fair amount of amenities — like pubs, restaurants, an ATM, and a small shop. It's also very near some of the island's main attractions, like Keem Bay and Minaun heights (though in fairness, the island isn't huge so nothing is too far away, regardless of where you stay).
In addition, we spotted a few other places to stay on Achill that we thought would make great choices:
Achill Island campgrounds
We visited during Pure Magic's annual Battle for the Lake Festival, which tons of people had travelled to the island for — many of whom did so in their own campers and converted vans. Achill Island is ideal for travelling this way since there are so many campsites and camper-friendly places to spend the night. 
We loved the look of Keel Sandybanks Caravan & Camping Park, which is located right on the shores of Keel Beach and has a stunning view of the sea cliffs.
Achill Island hostels
The Valley House is one of Achill Island's hostels, located in a super quiet part of the island. The family-run lodge is surrounded by woodland fit for a fairytale, as is its stunning Victorian architecture. They also run a bar attached to the hostel, where we enjoyed a seriously fun night out with the local watersports crew (more on that in the next section!).
Luxury accommodation on Achill Island
Though we only drove past and didn't have the chance to go inside, we were spellbound by the mere sight of Slievemore House. With an eye for ambiance, atmosphere, and an authentic countryside experience, the boutique inn seems like the perfect place to head for if you're planning an intimate getaway on Achill Island.
Achill Island restaurants & pubs we love
Wondering where to eat on Achill Island (and where to grab some good pints?). Here are our favourite spots:
Pure Magic Lodge
In addition to their accommodation offerings, the Pure Magic crew also run a restaurant serving slap-up meals inspired by their French/Irish roots. Don't miss their delicious wood-fired pizzas — way too good (pssst: they have TONS of veggie/vegan options, including vegan cheese pizzas!). Pair it with a pint of Reel Deel Brewery's Jack the Lad — a seriously drinkable Mayo IPA — and you're good to go.
The Amethyst
Located in Keel village, The Amethyst is a fairly big bar with a great restaurant. Expect good quality pub grub, tons of beers on tap, and a cosy atmosphere.
The Annexe 
The Annexe sits right across the road from the Amethyst and is a perfect spot for a few post-surf pints. Friendly staff, a great pint of Guinness, and an open fireplace make this one of our favourite spots on Achill Island.
The Valley House
As well as their hostel offerings which we mentioned above, the Valley House also run a cosy little bar with an outdoor beer garden. It's a special feeling to pull up in what feels like the middle of nowhere and walk into the courtyard of the historic house — only to be met with the warmth and welcome that lies inside. A fabulous setting and brilliant hospitality.
How to get to Achill Island
So, assuming we've convinced you that visiting Achill Island is an absolute must, the question knocking around your noggin now is probably "how do I get to Achill Island?". 

Here's the long and short of it:

---
How to get to Achill Island from Dublin
Driving from Dublin to Achill Island takes about 4 hours. The island is reachable from the capital via the M6 and N5. The shortest route, which is 290km along the N5, takes you from Dublin City through Mullingar, Longford, Castlebar, and Newport.
How to get to Achill Island from Westport
Westport is one of the closest hubs to Achill Island — but exactly how far is Achill Island from Westport? The town sits 51km from the island and is reachable in about an hour's car journey. The route takes you via the N59 and R319 north of Westport through Newport, then east to Burrishoole Abbey and Mulranny.
How to get to Achill Island from Galway
Galway is located approximately 130km south of Achill Island, which equates to a 2-2.5 hour car journey. Drivers can take either the N83 or N84 to get to Achill from Galway, the latter of which is slightly shorter. The most direct route takes you through Headford, Ballinrobe, Castlebar, Newport, and Mulranny.
How to get to Achill Island with public transport
The most direct way to reach Achill Island by public transport is to take the train to Westport or Castlebar and from there take the public bus to Achill. Westport is slightly closer to Achill, and therefore slightly more convenient to travel to.
Packing list for Achill, County Mayo
Hiking/weather-proof boots: with the rapid change of weather, waterproof boots are a must. Bonus points if they're comfy enough to hike in. I lived in my Doc Martens for the entire week we were here. 

Thick socks: For warmth, but also for blister prevention.

Rain jacket: Something to keep the water out and the warmth in. 
Waterproof bag: Super handy for all your outdoor adventures; no more frantic scrambles to make sure your phone/camera isn't getting damp in a pocket somewhere.

Very compact umbrella: Because who even needs a bulky umbrella? Get yourself a super slim on that you can pack away into a small day bag.

Tripod for phone: You don't have to have a huge pro-level camera kit to capture the beauty of Achill Island, but you'll massively up your point-and-shoot game if you mount your phone on a tripod. Bonus points if you buy one with remote control, like this.

Good moisturiser: Cold Atlantic wind? If you're anything like me, you'll find it's going to take its toll on your skin sooner rather than later. I always use Kiehl's ultra facial moisturiser because it's designed for mega cold temperatures and harsh conditions. Light — not greasy! Also, lip balm is essential.
Read next:
FAQs about Achill Island
What size is Achill Island?
Achill Island is 148 km2 or 57 sq miles, making it the largest island in Ireland in terms of size.
What county is Achill Island in?
County Mayo.
What's the population of Achill Island?
There are approximately 2,500 permanent residents on Achill Island, though this number increases significantly during the summer months when tourists and students visit the island for summer camps.
Is Achill Island a Gaeltacht?
Yes, Achill is one of Ireland's Gaeltacht regions — meaning Irish is the primary language (though English is widely spoken). County Mayo is home to a number of other Gaeltacht, which you can see in detail on the official website.

Can you drive to Achill Island?
Yes, there is a bridge to Achill Island which connects it to the mainland.
---