Does the weight of your snowboard really matter? I used to think it doesn't, if you are not a pro rider, you can't really tell the difference for an extra pound or two on the board.
But everything changed when I tried the carbon pocketknife snowboard, light as a feather.
Wow! The ride was so smooth, like cutting through butter. It felt like the board itself had a desire to fly, launching me out of anything and everything, It was amazing! Of course, after this ride, I couldn't go back riding my old school, more traditional board.
Now I am not saying we should all go for the lightest board on the market. But yes. the weight of the snowboard greatly influences the performance of your ride, and it's key to finding the right weight for your snowboard.
In this article, we are explaining how much do snowboards weigh and why the weight of the board matters. We are going to decode the weight of an average snowboard and the factors that account for it. We'll help you figure out what is the right weight for your snowboard, so that you may experience perfect board rides every time!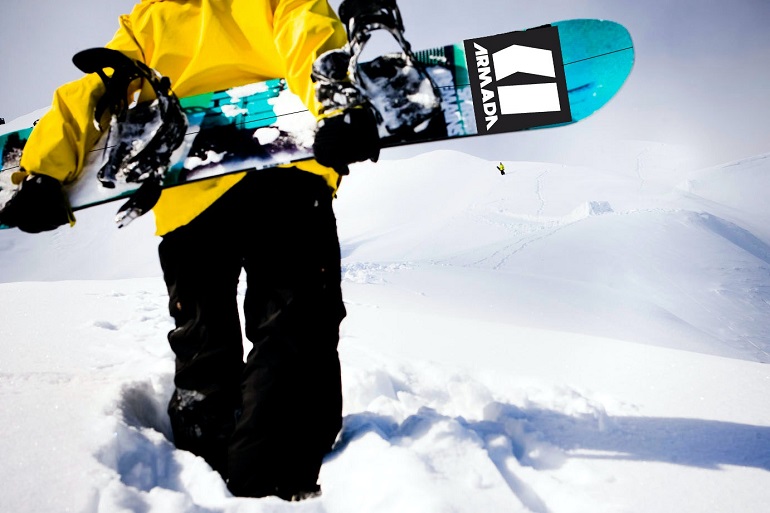 How Much Does a Snowboard Weigh
Most boards will weigh between 9-15 pounds along with the incorporated bindings. Usually, the setup of incorporated bindings weighs 2-3 pounds. The best snowboard bindings are generally lighter than ski boots as they have a rigid shell.
Nowadays, contemporary snowboard manufacturers are launching boards much lighter than traditional ones, due to technological progress in improving power materials.
However, multiple factors will dictate the actual snowboard's weight, like the size of the board, the type of riding is designed for, and the materials used in the snowboard construction.
As a trivia fact, the lightest board to date is Amplid Carbon Split, weighing 2.3 kg (5 pounds). It's surprising because split boards are known to be heavier than conventional snowboards. But isn't it a treat to climb up to the mountain peak using such light skis, which then will be turned into an ultra-light board?
Why Does the Weight of a Snowboard Matter?
First of all, before getting into more details, let's explain why the weight of the snowboard matters: different weights can have different performance attributes when they are on the snow. Also, every snowboard is particularly made for a definite weight of riders.
Lighter boards
Lighter or soft snowboards are ideal for freestyle riding and snow park styles. Lightweight snowboards can slide faster and are easier to maneuver with minimum resistance in the air. They have more synthetic materials like fiberglass and plastic.
Heavier boards
On the other hand, heavier boards are good for freeride and all-mountain snowboard riders. Heavier snowboards are generally more stable and have more wood and metal in their construction
If we are to measure the performance of a lightweight snowboard, we will get to the conclusion that lightweight boards are better at making pivots, spinning, and more importantly, it's easier carrying it around on the slopes.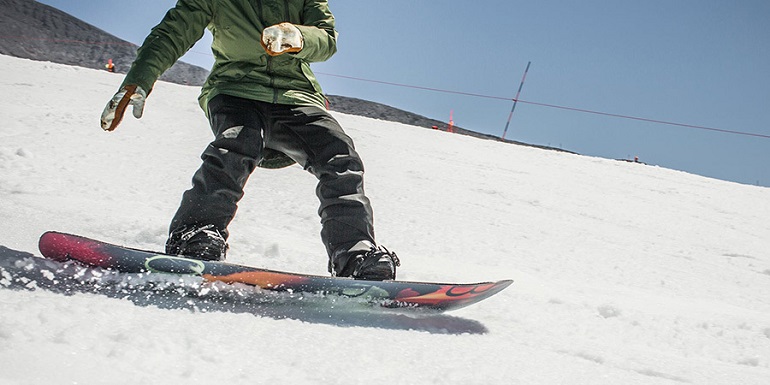 Weight of a Snowboard
The overall dynamics of one board may differ from another. The weight of a snowboard is influenced by the materials used in its construction, as well as the snowboard size ( board length and width), so let's take a closer look at each one of them:
Material
Snowboard materials vary from model to model and brand to brand, but there are some elements that are quite common.
Snowboards are made of a variety of materials featuring sandwich construction crafted together: fiberglass, plastic, steel, and wood. Fiberglass makes up two layers of the snowboard with the wood core in the middle.
Some also use Kevlar and aluminum in the construction of the snowboard cores, along with carbon fiber, in order to reduce the weight. The best thing about carbon fiber is the fact that it is very lightweight yet very strong, allowing for higher stiffness.
Due to technological advancement, contemporary snowboards are way lighter yet still maintain their high flex rating and stiffness. Lab carbon pocketknife is the lightest snowboard ever manufactured, with a meager weight of 3.8 lbs.
Wood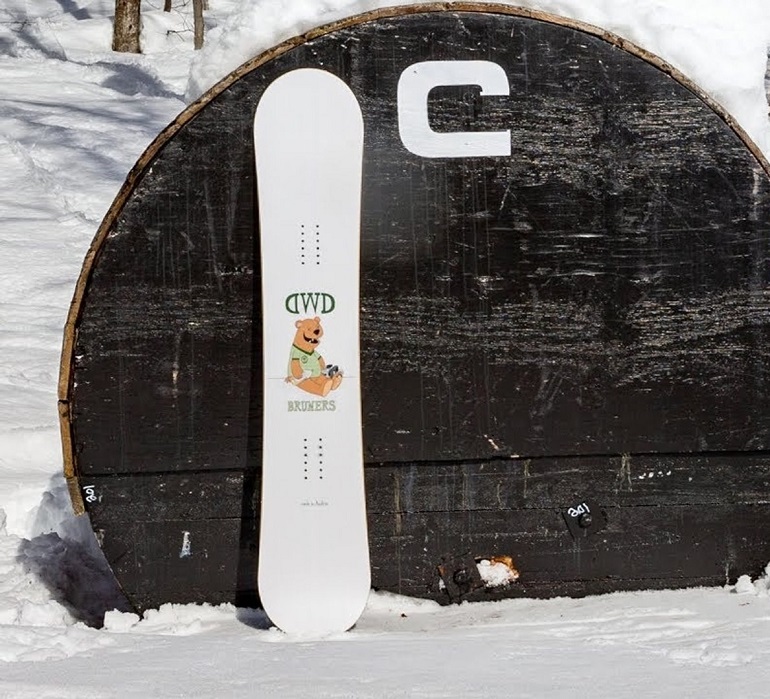 Most snowboards are made of wood core like beech, birch, aspen, bamboo, or a mixture of them. Wood is used as it gives a lively feel with good vibration damping, keeps its shape well, and has less resonance than foam or plastic. Later on, the wood is set amid fiberglass.
Fiberglass
Fiberglass brings stiffness and torsional strength to the snowboards, adding more structure and composition to the snowboard. The best thing about fiberglass is its high level of vibrations absorbency offering a smoother ride.
P-tex
P-tex is a high-modulus porous plastic material that is used for the base of the snowboard. This material is heated and then immersed alongside the wax to produce a soft, hydrophobic façade.
Metal
There are no completely metal-made snowboards. Metal is commonly found at the edges of a snowboard. In general, there are two kinds of metal-made edges of snowboards:
Partial steel: goes all the way to the side, reaching the nose and the tail
Full steel: covers all the way around at both edges of the snowboard.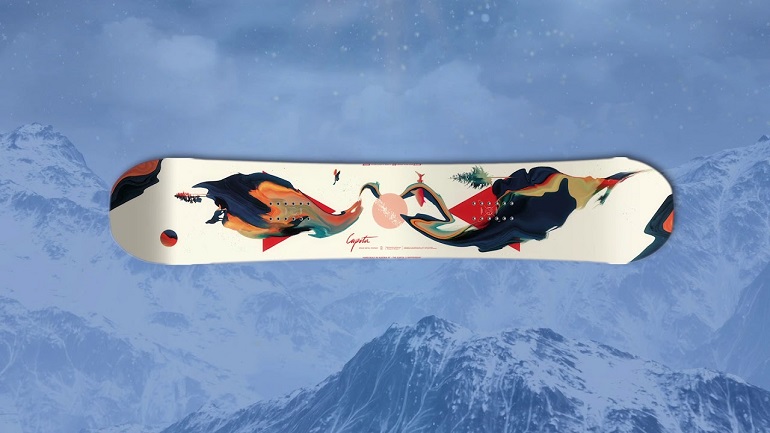 Snowboard Length and Width
If you are going to be mostly freeriding, choose a slightly longer board (which means heavier) for more stability and speed, If it's a freestyle snowboard you are looking for, consider a shorter, lighter, and narrower board that will be easier to handle performing tricks in the snow park.
On the other hand, an durable all-mountain snowboard is usually on the bulkier side. How much does a snowboard weigh can greatly affect the way a board performs. Unlike men's snowboards, women's snowboards are mostly shorter and lighter in weight.
So, to summarize, longer and heavier boards are best for all mountain, powder or freeriding, or riders who are above average weight. Shorter and lighter boards are best for tricks, park or freestyle, lightweight riders, or beginners.
Also, you should take into consideration the snowboard waist width, which is connected to your shoe size.
Your snowboard boots should fit on the board, they should hang over the edges of the board just slightly but not so much as to hit the snow when the board is on edge. If your snowboarding boots extend too far over the edge, they'll hit the snow during hard turns and cause you to fall.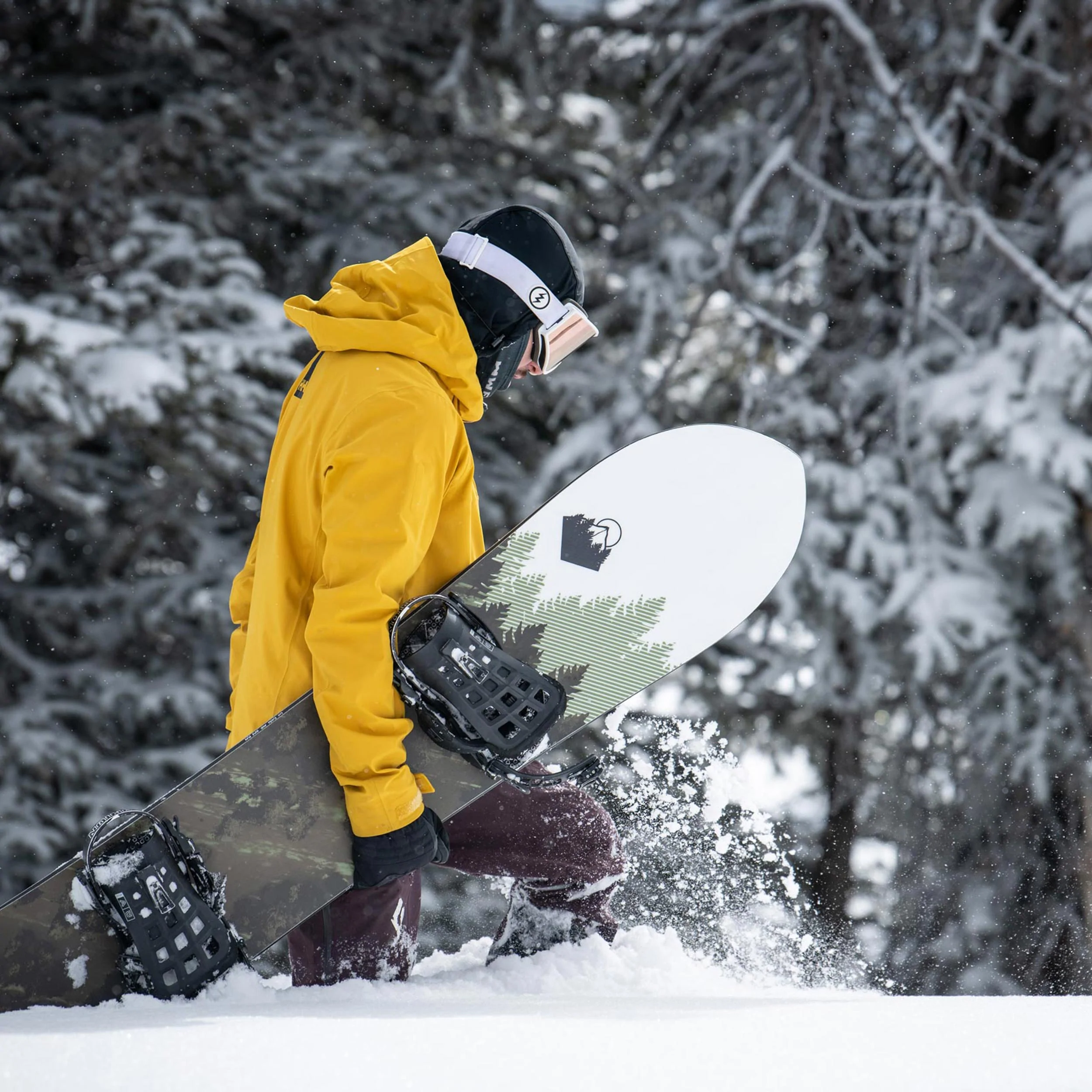 Snowboard Bindings
Usually, the average weight of small sample-sized snowboard bindings can range anywhere from 2 to 3 lbs. However, the lightest one can go down to 1.6 lbs, and the heaviest may go up to 3 lbs.
The contemporary snowboard industry has revolutionized the gear and started manufacturing lighter snowboard boots that greatly aid in keeping the total weight down. You should research extensively to find the perfect size bindings before making a purchase.
How Do You Choose the Right Snowboard Weight for Your Board?
The simple answer to this question is that you should consider your body weight and style of riding when choosing your new snowboard size, and therefore its weight.
Getting a board that will support your weight when you are riding will improve your control and flex of the board.
If you get a snowboard that you are too light for, you won't be able to manage, flex and spin the board because you can't put enough pressure to make the snowboard bend as much as it should.
If you are too heavy for the snowboard, your board won't be stiff enough for your weight to be stabilized, and you will be losing control of the board, especially at a higher speed. In this case, the board will flex more than normal and may even snap.
Also, it is possible that riding in the deep powder will be difficult for you because the board won't float on the surface of the snow.
So, to determine the right size and weight for your board, you need to scale yourself first. The rider's weight will generally be in the range of 2 – 3 different snowboard sizes. If you want a more stiff ride with stability, you should size up. If you want a more playful and flexible ride, you should size down.
The next step is to evaluate your riding style, ask yourself if you prefer freeride snowboard, freestyle, all-mountain terrain, or backcountry, and check out the boards specifically designed for your preferred style.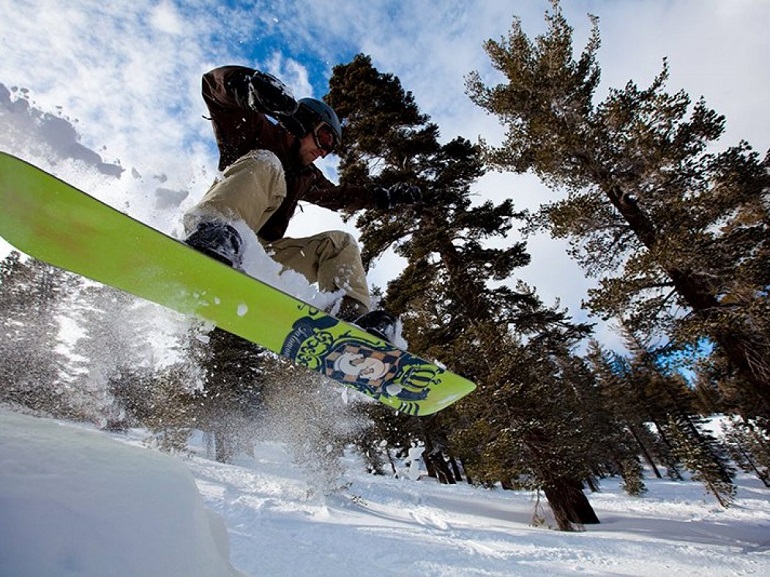 How to Figure out the Weight of a Snowboard? How Much Can a Snowboard Bag Weigh?
When planning to book your flight ticket to the ski resort, you need to know the exact weight of your snowboard. First of all, you should know that the airlines require your right snowboarding gear to be packed in a snowboard bag.
Depending on the material and number of wheels (if any), an empty snowboard bag may weigh between 3 and 8 pounds. Most airlines allow a luggage weight limit of 50 pounds for sports equipment.
Before traveling, you can figure out the weight of your sports equipment by simply weighing yourself on a scale, holding your snowboard bag with your board, and the rest of the gear packed inside.
Then compare it to your own weight. For sure, your snowboard will not exceed the 50 pounds luggage limit, but there's a good chance that it's not the only thing that you will be packing.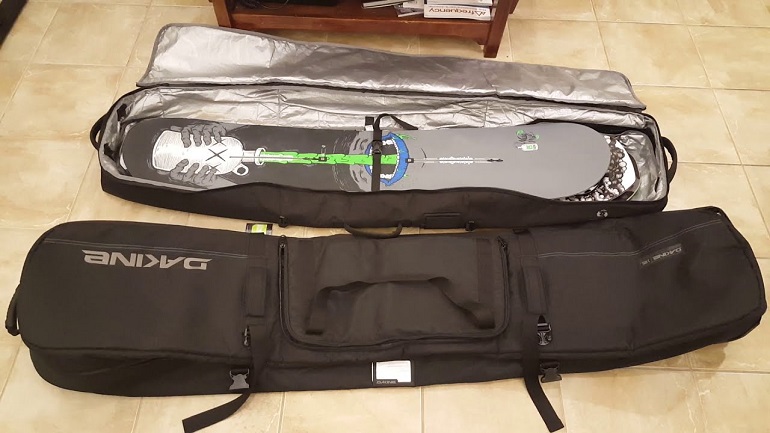 Final Thoughts
We hope this blog helps to provide answers to how much does a snowboard weigh and why does it matter. It can be confusing when trying to find the right snowboard weight for you, there is a lot of misinformation out there.
But you can simplify your decision: when it comes to determining the weight of your board, nothing is more important than your body weight and your riding style.
Following these simple criteria, you should get a clear idea about the range of a standard snowboard weight that can be a good match for you.
A light board is great, but don't get fixated only on this criteria when choosing your snowboard.
Always choose the best snowboard, considering how it performs and feels, because that's what will matter on the slopes. For that purpose, it would be great if you have the possibility to ride different snowboards before buying.
You have by now all the details for making an informed buying decision, so choose wisely and don't forget to have fun on the slopes!
See you on the winter playground!