Overview
Skiing Boots are arguably the most worthwhile investment you can make to ensure a consistently good skiing experience if you have a hobby or career in this sport. However, many factors go into your decision before purchasing ski boots, and this means understanding the factors in depth.
Ideally, the best ski boots give you a precise and snug fit, are comfortable, give good performance output, and elevate your skiing ability.
The important thing to understand is that everyone's foot is unique – what feels good for you may not feel good for someone else! So, it's very preferential – if a boot fitter tells you there's a right fit, that's just misinformation.
In this list, we will go over a careful curation of features, including boot fit, power strap, sole, shell, and liner, among others. These few criteria will help you choose the right boot for skiing. Read on to find out!
Your Skiing Style
Before buying new ski boots, your skiing style and preferred method might make a huge difference in the type of boot you get. The typical ski boot can be categorized into the following three types: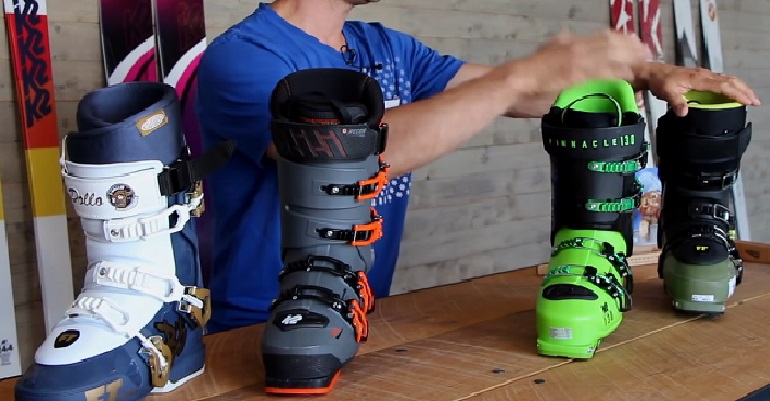 All-Mountain,
Free-Ride boots, and
Alpine Touring boots.
This means that the type of skis compatible with the ski boot will differ according to the category and where you go skiing. All terrains and conditions define the skiing boots fit in skis according to the easy and intermediate skier. You must figure out the best terrain and fit for you.
There are various skiing styles, but we are outlining three of the most common ones here: All-Mountain, Freeride, and Alpine (AT) Touring Boots.
All-Mountain
Also known as the downhill ski boot, all-mountain boots remain the most popular category of skiing boots. We think this is definitely due to their versatility and adaptability for skiing, walking, and hiking on mountainous terrains and snowy hills when you want to switch it up.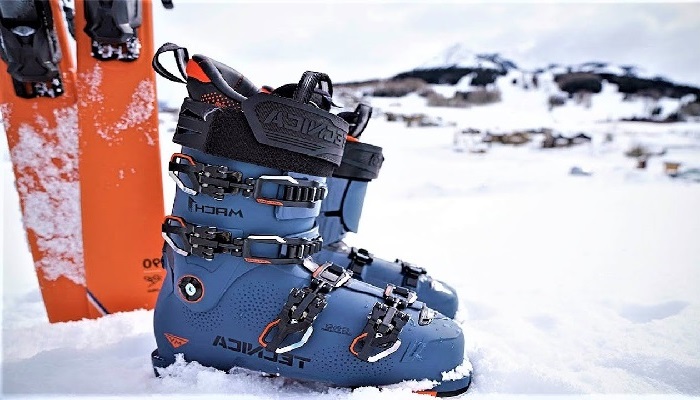 These would be helpful for when you want to go skiing, for which the boots will fit into your skis, but also for when you want to trek in the same boots. Just detach and go, extra soles or adjustments are unneeded.
These boots have a strong foundation for extreme stability in all terrains without sacrificing too much performance. As a result, you get enjoyment and overall functionality!
So, if you want a boot that can go everywhere, provide comfort and balance, and suit any foot shape, then all-mountain is the one for you.
Freeride
On the other hand, boots for freeriding focus particularly on skiers who like to cruise downhill at fast speeds. If you have a freeride ski style, it simply means that you like to be free, at ease, and have fun while skiing.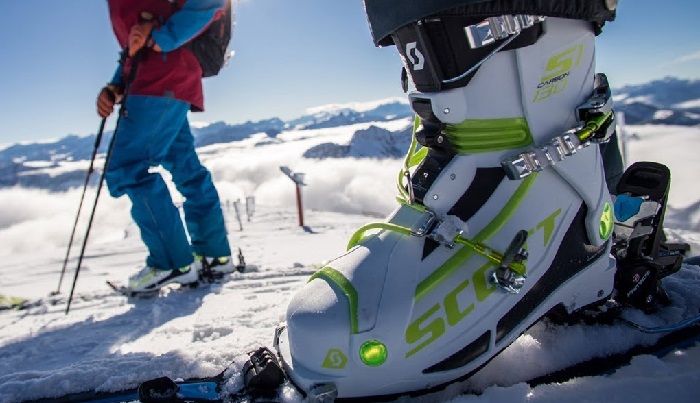 Freeride boots follow the same formula as you riding with your natural style without any rules or precision to match.
These boots are powerful to make up for the lack of control you would be giving to your moves while skiing. Thus, they would hold up your energy for you, let you make split-second decisions on where to go, and adapt quickly and accordingly.
Thus, if you have a freeride style, your boots would be made for mixed terrain and would be a bit stiffer boot with a higher flex rating to give you some power. They would also be lighter to increase walkability.
Alpine Touring
Finally, alpine touring (AT) boots are designed for downhill skiing and uphill walking, and traveling. They are usually inflexible and rigid boots to give you maximum control over your movements. Often, the alpine sole fitted in is grippy and rubbery to ensure you don't fall.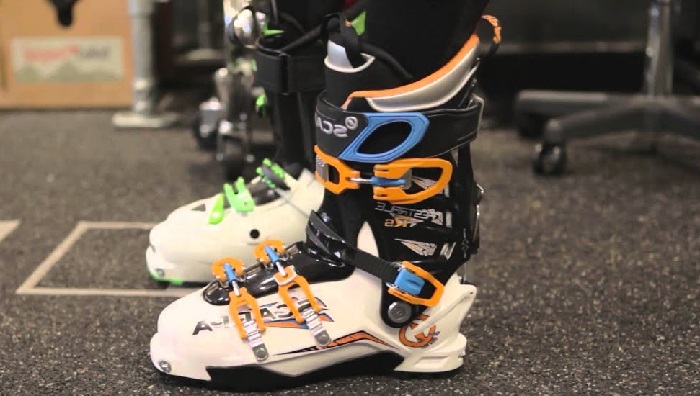 If you have a touring ski style, you like to travel uphill for hiking just as much as you like skiing downhill. Thus, performance matters on both ends, and an extended range of motion is given to alpine boots via a switch mechanism, so there is more efficiency.
Alpine boots are a type of stiff boot with a very stiff flex rating. This means they will ensure peak performance and keep your boots strictly adhering to the ski while you cruise down the mountainside.
How To Choose the Ski Boots For You
Ski boot manufacturers consider countless factors while building optimal and multifaceted boots. The types of things looked at and valued as important by different people vary. Similarly, features held in high regard might also differ in genders.
When choosing ski boots, one must consider many things, like the size, first and foremost. The mondopoint sizing system is different from typical shoe sizing, as it measures your foot size in centimeters rather than inches.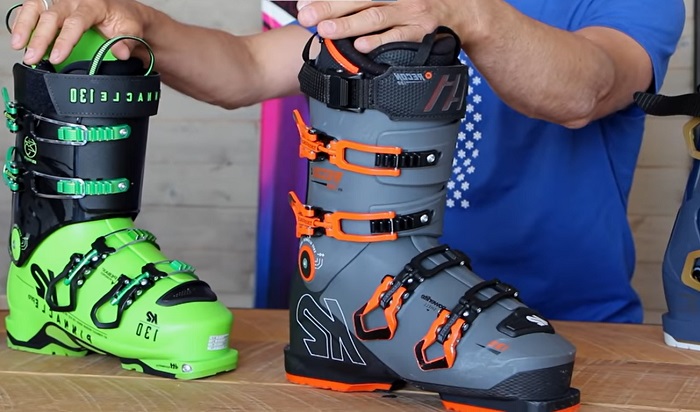 Measuring your foot for boot fitting with the mondo system would give a much more perfect fit. Keep the widths of the boots in mind, as they consist of an inner and outer boot, so measure your foot according to the inner boot size and then place your order!
You must also ensure the flex rating of your skiing boots is appropriate: we recommend around 60 for super soft, comfortable boots and upwards of 140 if you're a ski racer needing race boots that are stiff and rigid for maximum control.
Non-negotiable factors are comfort, snug fit, right size ski boot fitting, and perhaps even the aesthetics of whether you like the look of the boot. Let's look at some crucial features below.
Boot Stiffness
Stiffness, or boot flex, refers to how much your foot can sit within the skiing boots and move around according to the motion involved. A stiffer flex, compared to a softer flex, is your foot unable to move at all and held in place, compared to having a slightly larger range of motion.
Flex ratings and a flex index on boots determine the comfort of your feet while skiing and your level of control.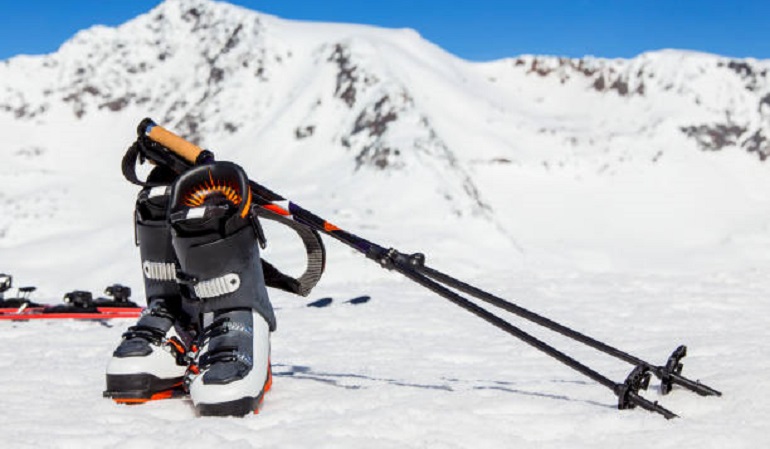 A softer flexing boot might be more comfortable, but it will encourage natural body movement, which may not be the best for beginner skiers. Make sure to check your height and weight before considering what stiffness is best for you.
Some boots, like AT boots, allow an adjustable flex. This allows switching up between the times you are skiing downhill versus trekking uphill in walk mode. Overall, it is good for versatile skiers.
Shell
Boot shells are important to consider because most boots are built with a plastic shell which can be hard or soft. Many boots feel supported and weighty due to strong, good-quality shells.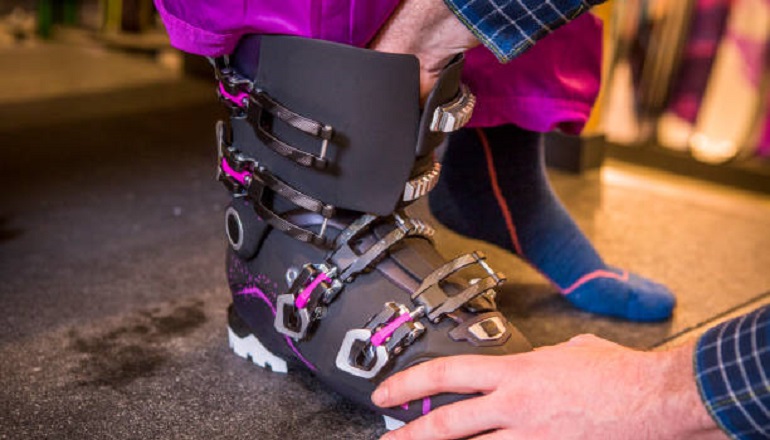 A boot shell is the hard, outside plastic covering of the boot. Intermediate skiers and advanced skiers especially need a high-quality shell to keep up with doing tricks downhill.
A professional boot fitter can provide you with the most accurate size ski boots' fit to check if your shell is comfortable or not.
Width matters! Some skiers would go for a shell slightly smaller than their foot size to get an extremely strong and inflexible boot! This would allow extreme control, but of course, it would not be uncomfortable, just what their foot is used to for the conditions required.
Meanwhile, a beginner might go for a comfortable fit, so the shell would be bigger than their foot size. Make sure to choose appropriately!
Liner
The shell is outside the boot, but the liner is the soft footwear of the boot contained inside the shell, and it can be removed easily. The width of the boot and the length of your foot coincide to create the perfect inner liner.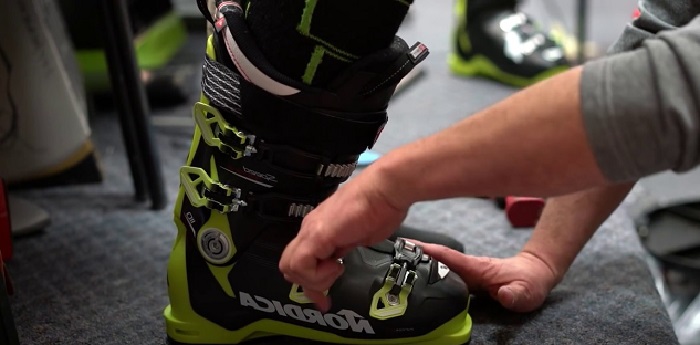 Most liners compress and adjust to every skier's foot, no matter if you have narrow or wide feet. This makes liners provide a custom fit, which is an added bonus to purchasing a good quality ski boot. Thermo and heat adjustable liners are new technologies that give warmth to the foot while skiing.
You can check out a detailed review on top ski boots for wide feet because something that people with wide feet tend to struggle with.
Sole
A boot sole is crucial in understanding the best ski boot based on your ability level. A boot sole can be fixed within the shell, be part of the shell itself, and even be removable if it is part of an AT boot experience. The last kind is called interchangeable soles.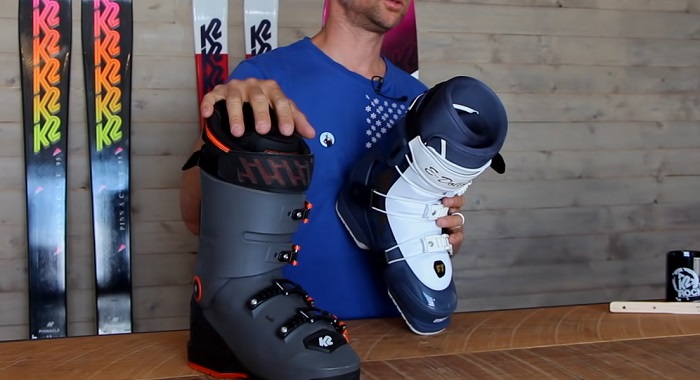 Soles face the biggest brunt of the wear and tear of your boots, whether you have narrow lasted boots or wide lasted boots. Thus, they may need to be changed often. But this can be prevented if you avoid walking on places like sidewalks, dirt, etc., and only strictly use your soles and boots for skiing.
Footbed
A pair of boots also contain a foam footbed located inside the liner to give your feet an extra layer of insulation, support, and heel lift. The ones included with your original boot are not guaranteed to be very comfortable.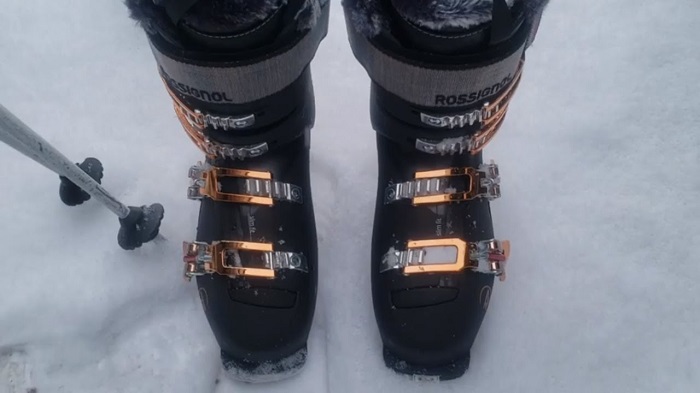 So we think it's a great option to buy an extra footbed, known as an aftermarket footbed. This should be good quality so that your feet don't suffer discomfort post-skiing. Most women's boots are made with averagely comfortable footbeds with narrow widths and a heel pocket, and so are men's boots.
Again, going to boot fitters is a great way to preserve the health of your feet and your boots. They might be able to recommend a good quality footbed to you.
Buckles
Some boots have 2 buckles, some have 3, and some have as many as 4. Buckles are very important to ensure your boot's precise fit and versatility.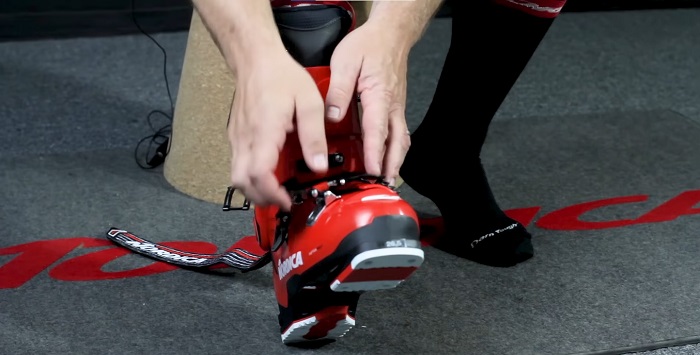 The best buckles should be built of metal, but plastic can suffice. Strong, unmoving buckles also provide added security to your foot while sporting, which helps prevent injuries like a twisted ankle!
Micro-adjustable buckles are a new technology that helps in enhancing your foot control even more. This means your boot won't slide forward haphazardly due to improper buckling. Better safe than sorry!
Also, ensure your buckles are adjustable when you have your warm ski gloves on, as the ergonomics of buckles are important.
Power Strap
The power strap is at the very top of your boots and allows the tightening of your skiing boot to your leg rather than your foot. Usually, there is a Velcro strap which does the job quite well. They should be wide rather than narrow for maximum coverage.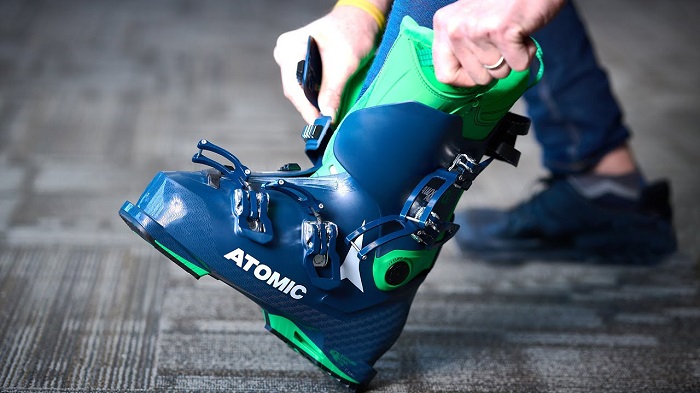 Conclusion
During your ski setup, you can look at all the above features and ensure they work smoothly together, as all skiing boots, from medium-width boots to wide boots, have them.
All these features enhance your skiing experience. If your ski boots are not too tight, not much performance-altering, and not too uncomfortable, then you're good to go!
Injuries like a twisted ankle are way too common, so a well-fitted ski boot with good features according to your needs can keep you out of deep waters later!
You should purchase boots that fit you well and feel good. Consider your budget, ski style, and the features you need to enrich your skiing experiences.
Happy skiing!