A kayak transportation failure can change your will for a big venture of exploring waterways every season into a desire for one time trip only. And I am dead sure you didn't spend hundreds of dollars for a single trip. You are not Kylie Jenner, and I am no fool.
I am also sure that you cannot handle a damaged kayak near a 6 inches baby alligator even, because its 12 ft. Mama Gator is probably somewhere near the baby, giving you that Thomas Shelby death stare. Don't be mad! You weren't invited to the house.
So, to keep you from translating into a meal, I would like to educate you on how to safely transport your kayak to the desired kayaking destination.
Common Methods of Transporting Kayaks
You know, kayaks come in various sizes and shapes. One should always decide on a method for transporting kayaks while considering the weight, size, width, and shape of the kayak. Let's go through some practically possible options which come to mind the instant we think about hauling a kayak.
Kayak Trailer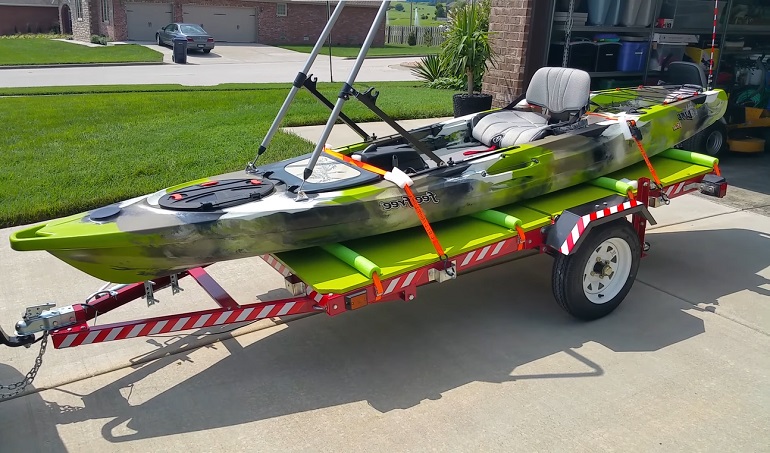 My friend! You need not worry if you don't own an SUV because I have got a better idea for transporting all four kayaks of your family, in a single run. Guess what it is? A best kayak trailer– a top pick of many kayakers!
A trailer is the best option, especially if you need to carry heavy river fishing kayaks or more kayaks on your tour. It comes in different designs and with different capacities. If you need to carry two or four kayaks, any type can do it, however, if you need to carry six or more, you are going to need a double-decker rack.
Besides the carrying capacity, there is a limitation of weight also. Most trailers can bear up to 250 lbs. So you can easily stack up four to five kayaks weighing 40 to 50 lbs.
Moreover, always double-check the length of the trailer and the kayaks. I mean, carrying an eighteen-foot-long tandem on a small trailer really kills the purpose of safe transportation. Now let's look at some pros and cons of carrying kayaks on trailers. Pros first!
No more heavy lifting! As a trailer can literally sit lower on the floor to get your kayaks on and off, you need not worry about lifting heavyweight champion kayaks anymore. Don't we all fear the loading and unloading part?
A kayak trailer swanks extra weight capacity. While roof racks start screaming after 150 lbs, trailers roar for more.
You save your car from getting scratched! Nobody likes a dent after all.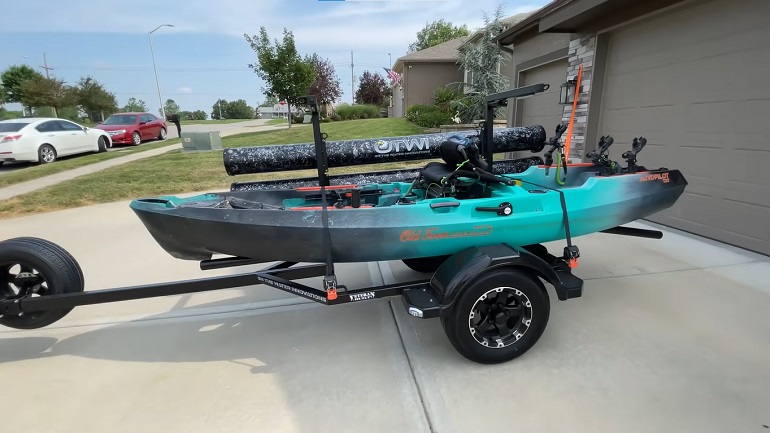 Since we are talking about a car for loading, let me tell you another good news: You and your car don't have to witness the cruelty of structural modification of the car for tying up kayaks. The only demand is that your car should be equipped with a tow hitch for pulling the trailer behind.
It can not only bear hundreds of pounds of boats, but it also provides you that extra room for gear storage. And I don't mean tiny accessories but heavy items like huge bikes or paddle boarding accessories.
Besides spaciousness, a trailer is easy to function. One can easily switch the trailer between cars if the need arises.
When not in use, a kayak trailer can be utilized as a space for storing gear until the time comes for the next tour of the waters.
Now, I'll put some light on the cons of having a kayak trailer for carrying load:
The biggest con is the price, as a trailer is costly to buy, keep registered, and maintain for longer use.
If you have zero experience with towing loads, you can easily get yourself in hot water. Oh, I know that smirk. Nice confidence! Now try backing up with a trailer, maybe?
Besides money and operation, another thing that might bug you is the issue of storage. If you don't have enough space at your home for storage, buying a trailer might prove troubling for you.
Truck Bed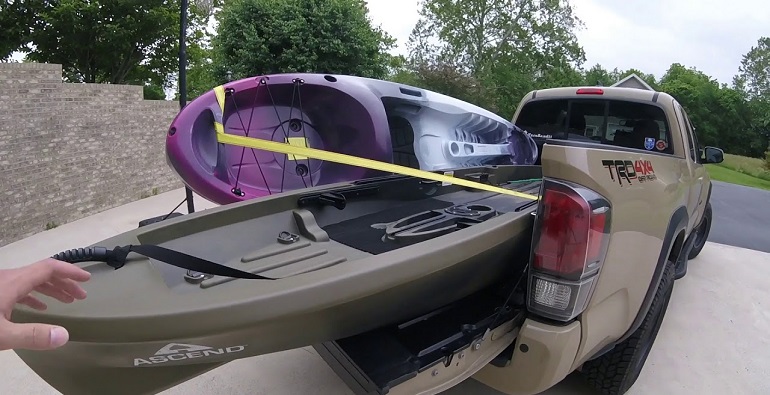 Mark my words, nothing can prove more helpful than a pickup truck. So, if you have got one, celebrate! You have got yourself a best friend.
Now let's talk about the practicality of using one. Basically, there are two main fashions of transporting kayaks using a truck. One is with its tailgate opened and the other with the tailgate closed.
Before I start raising your hopes, I want you to cross-check the length of your kayak and compare it with the length of the bed of your transport. The bed should cover at least more than half of the length of your 'yak, as excessive overhang can not only deform your equipment but also cause accidents.
To take an example, your six or eight ft. truck bed should support a 12 ft, kayak. So, if both lengths complement each other like this, congratulations, you couldn't find a more convenient way of transportation than this one.
To haul your kayak on the truck's bed, grab a bed mat, bow and stern lines, a red flag, and some tie-down straps.
As mentioned earlier, you have got two main ways of using the bed: towing with the tailgate open or transporting with the tailgate closed. Not to mention, both ways are practical but there are cons to both.
Let's start with loading a kayak with a tailgate down. First thing first, check your trunk for debris or dirt that might be partying under the tonneau cover. Smash it, clean it, and start loading the kayak.
Add some foam underneath the kayak to protect its hull from damaging itself. Make sure the overhand is no more than 40 pc as excess extension can cause trouble. To keep it from floating in the bed, use some stern straps.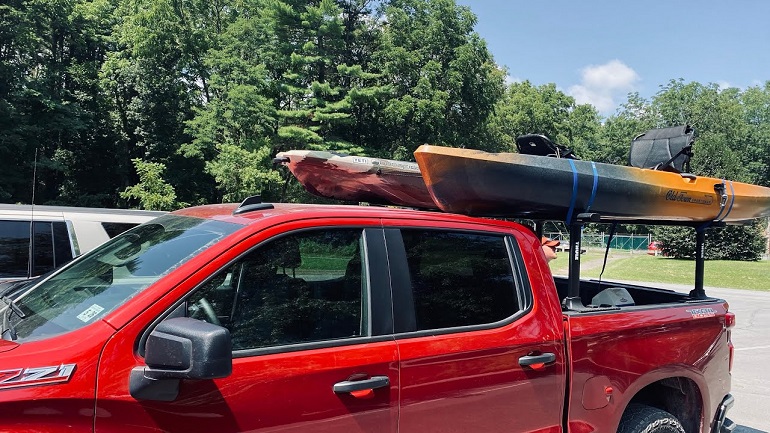 With the tailgate down, it gets easy for you to just drag the kayak out on your arrival without any fuss. Secondly, this way you keep the kayak balanced and parallel to your machine but avoid too much tension. Attach a red flag, tie the kayak's stern to the rear of the truck and attach the bow to the cabin.
Let's bring to light some cons, shall we? Open tailgate robs you of extra space for gear and accessories. However, if you have a backseat space vacant, it might be no big deal for you.
You need to own a car roof top kayak carrier system on your vehicle if you want to load the kayak with the tailgate up and closed. If you are missing a rack, go get one installed first, and by installation, I mean permanent structural changes to the roof of your transport.
A closed tailgate spares you much space for gear storage as well as keeps the backseats vacant for passengers. Also, by going this way, you keep the kayak out of the way of people.
Kayak Cart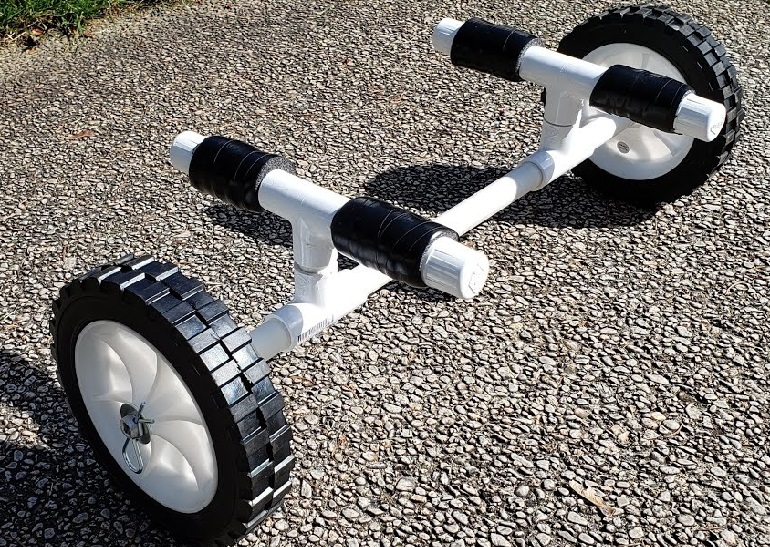 Bad news! Besides towing your kayak from your home to the destination, there is more work waiting for you. Did you think your kayak would fly to the actual spot after you pull over? No, you need to carry it from the parking into the water.
So, there are three ways of carrying it: put it on your shoulder and do some exercise, ask a buddy for help, grab it by the carry handles and tow it, or buy a kayak cart. There is no fourth option of dragging your kayak by holding it from one end.
Let's talk about the kayak cart now. It is a carry with two wheels and looks like a mini trailer. This towing trailer is used for covering walking distances only. If you think you are unfit for lifting your kayak on your shoulders, you can always resort to this helpful option.
What Is the Best Way to Secure a Kayak?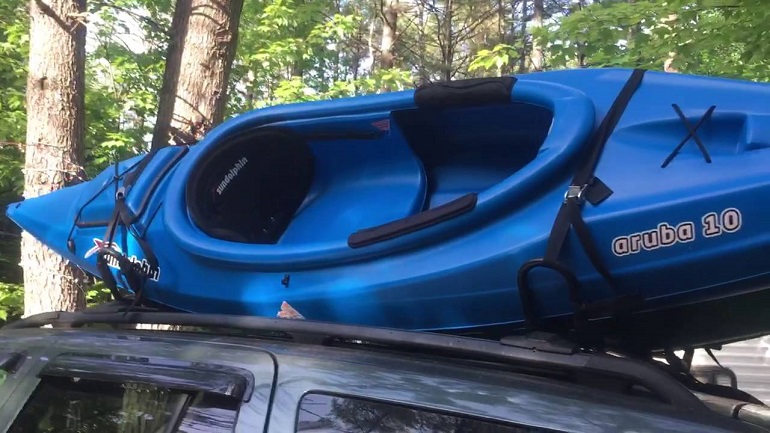 I bet you have already picked your type from all the famous transporting methods I discussed earlier. However, before you lock your decision forever, take into account the length, weight, and material of your kayak.
Why? Sometimes, even if your transportation method seems suitable for the kayak, it often turns out otherwise because of the type of road you choose. A short and smooth ride is very different from a bumpy long road drive. Don't you agree?
No matter what option you choose, you need to take a few precautionary steps for a safe and secure journey.
Use a Cockpit Cover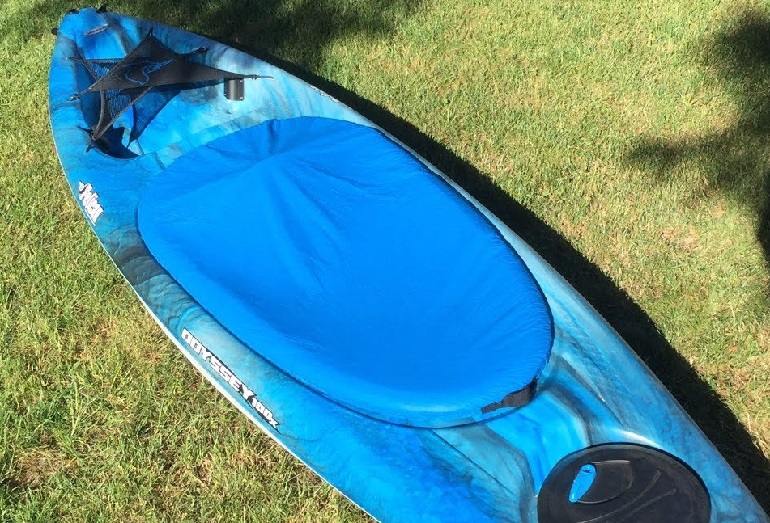 If you are towing your kayak without having it covered, you are inviting debris to eat it. For sure, you cannot avoid exposing it to the elements, however, you can mitigate the effect.
One can utilize cockpit covers to maintain distance between the harmful dust particles and the gear. Using one doesn't guarantee your gear would be riding off-road, but it does make a huge difference.
Furthermore, a cockpit cover ensures a more secure ride. I mean, you might get stuck with the windy weather that can loosen up your ratchet straps, what would you do then? Do you want your kayak flying in the air or floating in the bed? Seriously, if your gear isn't steady back in the truck bed or it breaks loose, your ride would sooner result in a chaotic mess.
Routinely Check All Straps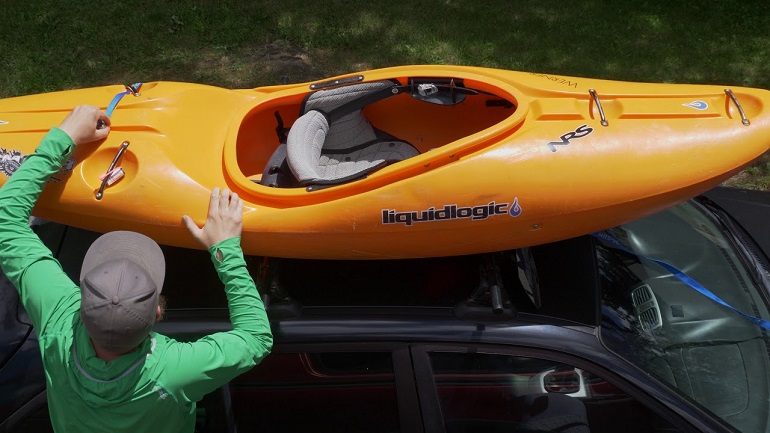 It might feel hard to pull over just minutes after the ride started, but having your gear flying in people's faces is dangerous. That is why it is recommended to always cross-check your belongings before you ignite the engine and also throughout the road journey.
The golden rule is to double-check before leaving and right after fifteen minutes have passed. Also, whenever you make a stay, don't hesitate to tighten the loosened straps. If you happen to hear anything floating on the rack or in the truck bed, take an instant break to fix it.
Use a Red Flag for Visibility
Always flag your transport to alert other drivers. Regardless of what method (tailgate up or down) you choose to go with, your kayak would be trespassing the original space of the vehicle, which makes you take responsibility for alerting people around you.
I mean, it is better to act right in the first place than owe an apology later. The least you can do is tie a rag to your vehicle to send a signal. It is preferred to use any bright colors to expose it more clearly to the drivers around you and always go for a stark contrast rag for better visibility.
How to Transport a Kayak With a Roof Rack?
What if you don't own any trucks or kayak trailers? You certainly won't cry but prep a roof rack for loading. Just about any vehicle can be modified for carrying a kayak.
Yes! You can transport a kayak on the roof rack of your car, as most kayaks available in the market are made lightweight.
To get started, have a good look at the roof of your car. Is it bald? If yes, give it a wig. If your car is without a roof rack, you need to buy an aftermarket system. Many vehicles have the privilege of an installed luggage rack system while some lack it.
Secondly, your roof rack can differ from the rack of your neighbor's car, so don't panic because the tying system is almost the same. However, there are some requirements for secure tying. Next, what you need to do is inspect the roof rack of your vehicle.
Types of Roof Rack Systems:
Your car's roof rack system will definitely identify with any one of the following three:
Side Rails and Crossbars:
If your rack system swanks both side rails and crossbars, you are good to go, as you only need a few attachments for safe towing.
Side Rails: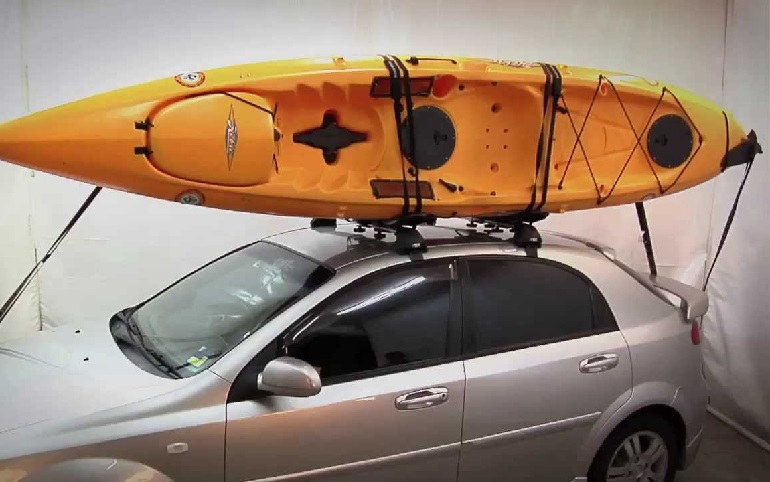 Some vehicles don't feature crossbars but rails only. For promising security, I suggest you install some fitting crossbars to it. You can easily hunt a suitable size and style, and get it attached to already existing side rails.
Removable Roof Racks: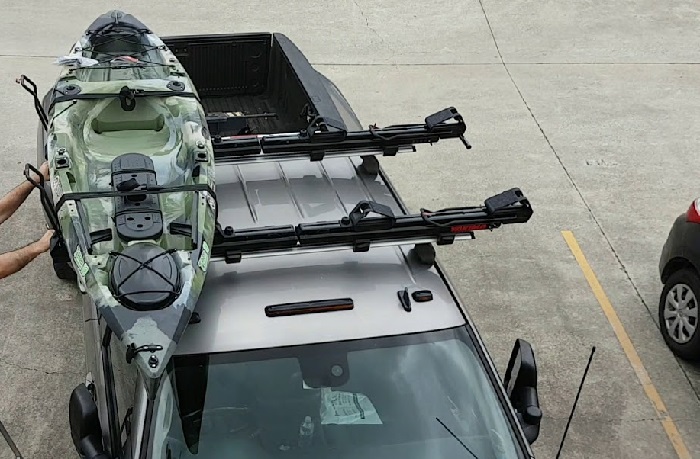 If your car doesn't feature a roof rack, purchase a removable system. Remember one thing, your vehicle should possess a wide head to entertain a roof rack.
Now, let's talk about the attachments you are going to need to tie the kayak on your roof racks. There are a few attachments you will find mostly in the market:
J Cradles/J-style kayak Racks:
It is one of the most versatile options when it comes to tying kayak to the rooftop. It boasts a side-loading system that leaves space for hauling other accessories also.
Stacker Kayak Racks:
As the name suggests, it is used to stack multiple kayaks and transport them in a single run.
Foam Pads:
It is easiest to install and uninstall. Its function is to add padding to the roof rack system for extra support.
Saddle Racks:
It makes a cushioned platform for kayak transportation even in the worst weather. However, you can transport only one kayak at a time.
Loading:
Now that you have gone through all the essential steps you need to take prior to kayak transport, let's educate you on the secure loading of your watercraft. If you desire to transport the kayak safely, follow the steps below: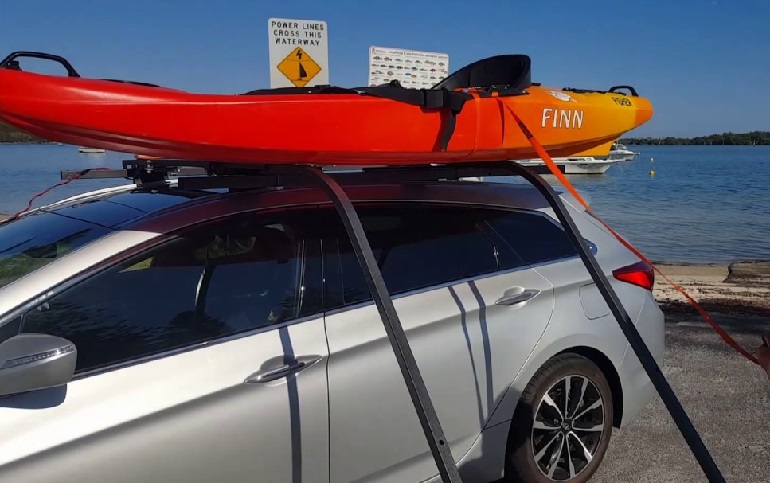 First, you need to decide if you are going to do it on your own or if you need assistance. I'd say, loading is easier with two or three persons. So, just hold the grab handles available at both ends of the kayak, and lift the kayak parallel to the car.
Use a ladder if you own a tall vehicle and unanimously raise the kayak over the roof rack, and lower it onto the roof.
Set it in an angled position (45 degrees): place the bow into one of the corners of the truck (if you have any) and leave the stern hanging over the opposite corner. If it's a car and you are using foam blocks, put your kayak upside down. However, if you are hauling two kayaks or more on a stern rack, try tying them down on their sides.
Reach for cam straps, and secure the cam buckle to the side of a crossbar and its other end under the crossbar. Next, take it back to the original side and loop it under the crossbar once more before locking it. Repeat, and make sure the straps stay inside of where the crossbar meets.
Now attach ratchet straps or any adjustable buckles to the bow and stern of the kayak and secure it to your vehicle. Avoid tie-downs.
If you want to transport a kayak without a roof rack, run and buy a lightweight inflatable kayak, or google for any DIY roof rack cheat. Not to mention, transporting a kayak without any racks is a difficult game. if you want to transport 2 kayaks without roof racks, there are convenient ways to do that too!.
What Is the Best Way to Secure a Kayak to a Car?
Short answer: the preferred method is a factory-installed roof rack for secure transportation. However, if your vehicle lacks it, aftermarket roof racks can work too. You know, something is better than nothing at all.
Using a Pre-Installed Roof Rack
It offers ideal stability with cross bars and side rails. If the crossbars are missing, install them.
Picking the Right Attachment
If you need to transport multiple kayaks, stackers are the recommended kayak rack option. They are considered the best kayak rack for towing multiple kayaks. The choice of attachment system will depend on your specific needs. For transporting kayaks in the truck bed, you can explore options like a kayak rack for truck bed rails
Tying Down a Kayak Properly
The line should neither be too tight nor too loose. You don't want to bend or break your kayak or let your kayak slide its way out of your vehicle.
Final Thoughts
The hauling method should be considered before buying a kayak. It will help a lot as the length, weight, width, and material type of a kayak should also comply with the towing method.
A safer ride is guaranteed if you follow all the instructions given in the article. No? Happy riding with your car doors open!
Also, do not panic if your lines loosen up, and make regular stops to inspect your gear and the tire pressure.
Remember! Checks are a surefire way to heaven!