Before 2015, there was Jones Mothership. We are facing a new era when an all-mountain snowboard can conquer any territory through stability.
Not really designed for beginners, this piece of equipment will delight all those riding for a long time. Suited for technical, challenging, and steep terrain, it is one of the most confidence-boosting freeride boards of all time.
Why is that? Because it provides a smooth and stable ride even at high speeds. A hybrid Rocker/Camber board, the Jones Women's Flagship is equally appealing to female snowboarders riding aggressively and those playing with passion in powder.
Built with quality materials, it helps you ride consistently down the mountain, either in a resort setting or in the backcountry.
Slightly smaller than the Men's Flagship, this board designed especially for women doesn't believe in compromises. Many riders state that it's the best board that they've ever ridden. Is it so? Let's find out.
Who Is the Ideal Candidate to Ride the Jones Flagship Snowboard?
It is stiff but snappy, fast yet fun. Most of all, it is a very sturdy board, able to take you successfully through various situations and circumstances.
Who are you? Probably an experienced rider who has tried many freeride snowboards and has ridden many vertical kilometers. Even so, a confidence boost is always a welcome addition to our lives!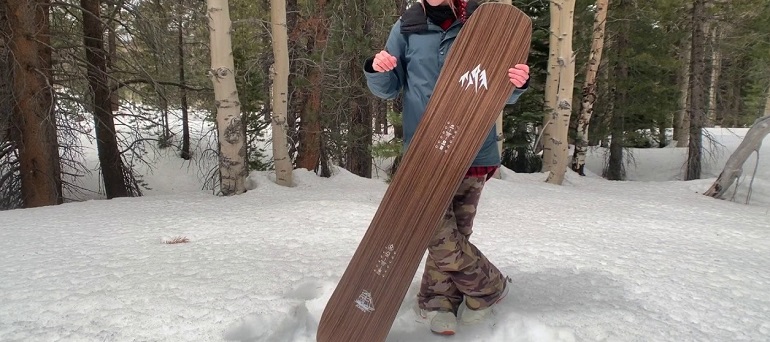 You are curious and open to new experiences and looking for a board that can be a reliable all-mountain partner. Powder, hard snow, ice, even slush – you want this board to be precise and responsive and contribute to a fun experience on the slopes.
You are in great physical shape and just want to have fun snowboarding, not worrying too much about catching an edge but feeling flakes on your skin and wowing at the view or exploring what the backcountry has to offer.
An assessment of the various features that you may be interested in follows if you read this Jones Flagship review. You'll see if this all-mountain snowboard is something that you might or might not consider purchasing for your future snowboarding season or your current mountain adventures.
You should also need to know how to store a snowboard before purchasing the best snowboard for you.
Demo Details: Jones Flagship Review
How did Jones Flagship snowboard do? Continue reading for the facts* about the demo and, of course, the finds**!
*All the elements were based on my height, weight, usual ride stance, and ability level.
**The following review is designed to compare the features of Jones Flagship and recommend the gear (or not) for performance under certain conditions.
Snowboard: Jones Women's Flagship 21/22
Size: 149 (239mm waist width)
Date: 23.01.2022
Conditions: Overcast skies, with heavy snow and low visibility mid-afternoon; clear skies in the evening
Resort ride; portions with soft snow, others with deep snow, patches of ice
Nice temperature mid-afternoon; quite cold as the evening set in
Rider boot size: 8.5
Stance (bindings angles): +15/-15, goofy
Rider weight & height: 154 lbs, 5'5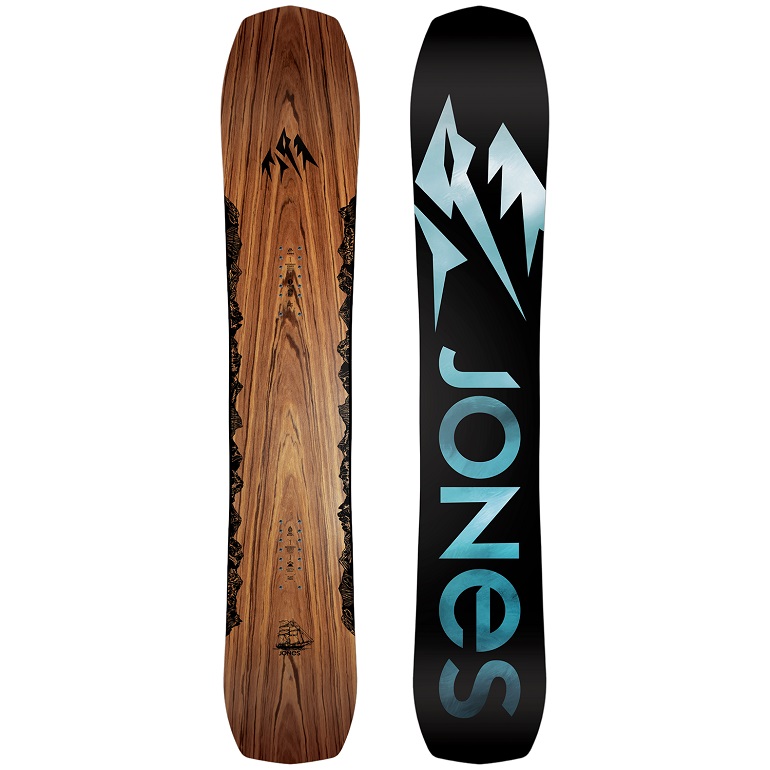 Jones Flagship Snowboard
The price of "Jones Flagship Snowboard" varies, so check the latest price at
Performance
Too stiff and technical for beginners and even intermediate riders, this board has unbelievable precision and delivers high-performance rides! Built with those seasoned riders in mind, it will be a game-changer even for them, as it compares to no other boards in terms of speed and carving!
Could this be the queen of freeride snowboarding (ladies present!)?

The Directional Rocker profile and the Traction Tech Sidecut make it a board that is going to deliver rock-solid, predictable, and stable performance in steep, extreme backcountry. There are also extra contact points along that effective edge that will bite into the snow even more.
Construction
You'd have the feeling, given the sensitive top sheet made of mixed woods, that the Jones Flagship is going to fail you. Or that it won't even last this season. Made from 100% FSC-certified wood laminate, the top sheet is supposed to dampen and absorb the vibrations from the board.
The board is beautiful, but it is fragile. There are quality materials used, and many technologies have gone into this board, which is true. But the top sheet scratches very easily and seems worn too soon into its use.
All Jones boards are currently built with bio-based, renewable epoxy instead of petroleum-based epoxy. The raw materials used in the making of Super Sap Bio-Resin are co-products or waste products of other plant-based industrial processes.
The Sintered 9900 Base is super strong and durable. It is relatively easy to repair due to the mix of Polyethylene and Carbon UHMW-PE.
There is also a multi-axis stitched Triax Fiberglass laminate that Flagship offers. This allows a precise and responsive ride in any snow condition. This explains the versatility of the Jones Flagship.
It is more Rocker in the nose than tail and Camber between the snowboard bindings. We are dealing with a blunt nose and a freestyle tail. After all, the hybrid Camber/Rocker is an innovation that should be used to the snowboarders' advantage.
The rockered tip floats the board's nose and improves maneuverability, while the Camber underfoot provides edge hold and response. It can be difficult – and quite a workout! – to engage the Camber section.
A sturdy, reliable, and best freeride snowboard that feels quite heavy on snow.
Flex
Medium-Stiff flex on snow, as stated by Flagship's manufacturer – probably one of the stiffest snowboards for women around. This will help you carve, making your ride quite aggressive.

All in all, the flex rating makes the Jones Flagship board more forgiving than expected. Forever Flex is a new technology that helps stabilize the flex of the board, throughout its life cycle.
The flex has mellowed compared to older models of the board, which added to its maneuverability.
Carving & Turning
It carves! The biggest plus is that the board carves like no other board in multiple snow conditions and offers great edge control.
In terms of turn initiation, it is medium-fast and a very comfortable board. Traction Tech is, as Jones calls it, the equivalent of Magne-Traction. It is a slight wave in the steel side, which provides more grip, cutting deeper and sharper into ice or snow.
The Jones Women's Flagship is the right choice for aggressive riders, as it is quite responsive. Small mistakes will be easily forgiven, and the transition will feel very comfortable, with a decent spring out of the turn.
As a rider, however, you will have to be in top shape to get your ride down the mountain right. It can catch the edge if you don't keep it straight, which is something that snowboarders should consider.
Powder & Switch
As a lover of pow days, I can say that the Jones Women's Flagship is a dream in powder. It also provides more stiffness in areas with deep powder.
There is an extra set of Float Pack inserts with heavy setback incorporated in the board for those extreme powder days. With the taper and the stance setback, the only bad news is that it is difficult to ride switch.
The slightly-rockered tail of the board keeps the power and stability of a traditional board while helping maintain the tail catch-free when initiating turns and landing switch.
Another great improvement? The edges of the Flagship's Spoon nose are beveled up for improved float and turn fluidity. At the same time, the Spoon tail edges are beveled up for less catch. The board can even be ankle-steered!
The triple core of the board, with Bamboo stringers, provides extra pop and adds torsional response. The Paulownia wood keeps the core light, while the hard type of wood around the edges leads to extra-direct power transmission over edge change.
Speed & Uneven Terrain
We've got a super-fast base, which guarantees high speed. The board seems to have only one speed – fast. It feels, however, very stable.

There are tiny amounts of chatter in the nose at high speed, and you can feel it under the front foot, but nothing to keep the board from riding smoothly.
It may not be the best of boards when snowboarding along narrow distances between trees or at tight turns, or even riding switch. However, it handles uneven terrain well, and it comes to life in the more challenging sections of the mountain.
Rumored not to handle slow speeds well, the board remains agile at slow speeds.
Jumps
It is an average board for jumps, but the landings are solid, with a touch of forgiveness. It feels nicer for large jumps than for small ones.
I am not a snowpark enthusiast, but I like watching other snowboarders hit the park. I believe, however, that the features of the Jones Women's Flagship probably make it more suited for regular resort rides and even natural hits in the backcountry or off-piste resort run.
Nah for jibbing and buttering – they're not that easy to perform!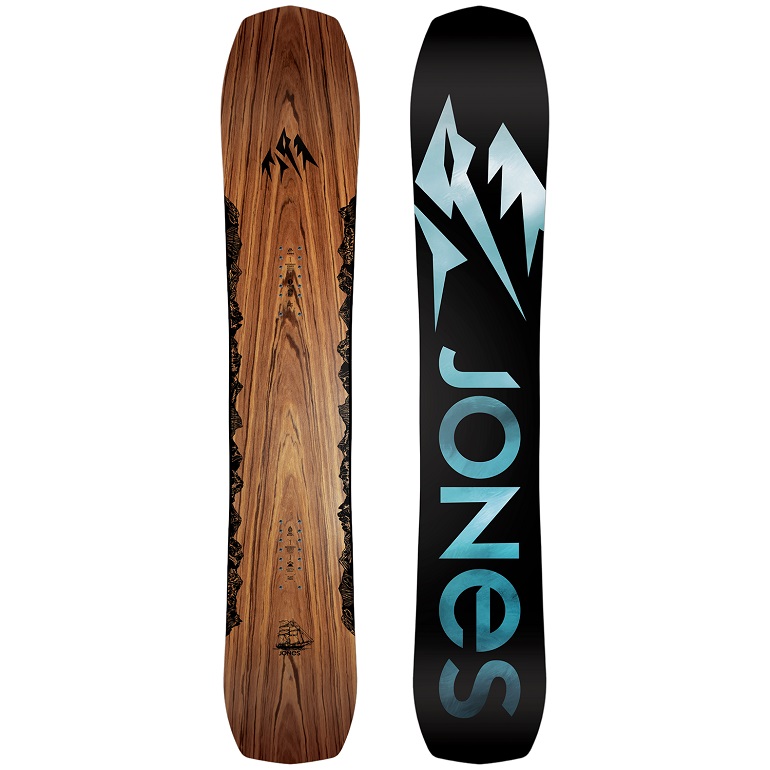 Jones Flagship Snowboard
The price of "Jones Flagship Snowboard" varies, so check the latest price at
Verdict: Jones Flagship
Feature My rating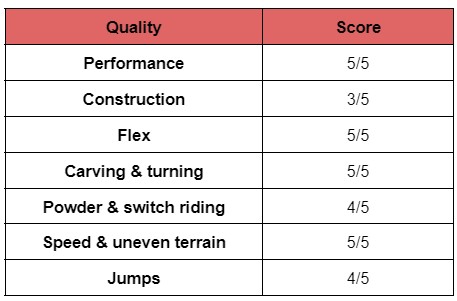 Final Review Score, Jones Flagship 4.50
Is this the best snowboard in the world for all-mountain freeride conditions? It could be.
In the 2020-2022 models, compared to the past models, flex has mellowed, and there is more taper, which makes the board more forgiving than before.
It also made it a lot easier to maneuver at slower speeds, with a better performance delivered with bumps and moguls. It got more fun and modern and is a great board for all those looking forward to these improvements!
It is super stable at high speeds and provides fantastic edge control. It goes fast. It is incredible in powder. It does super well as a carving snowboard. This freeride board glides!
On the other hand, even with a beautiful design, it lacks a sturdy top sheet, which is fragile and easy to scratch.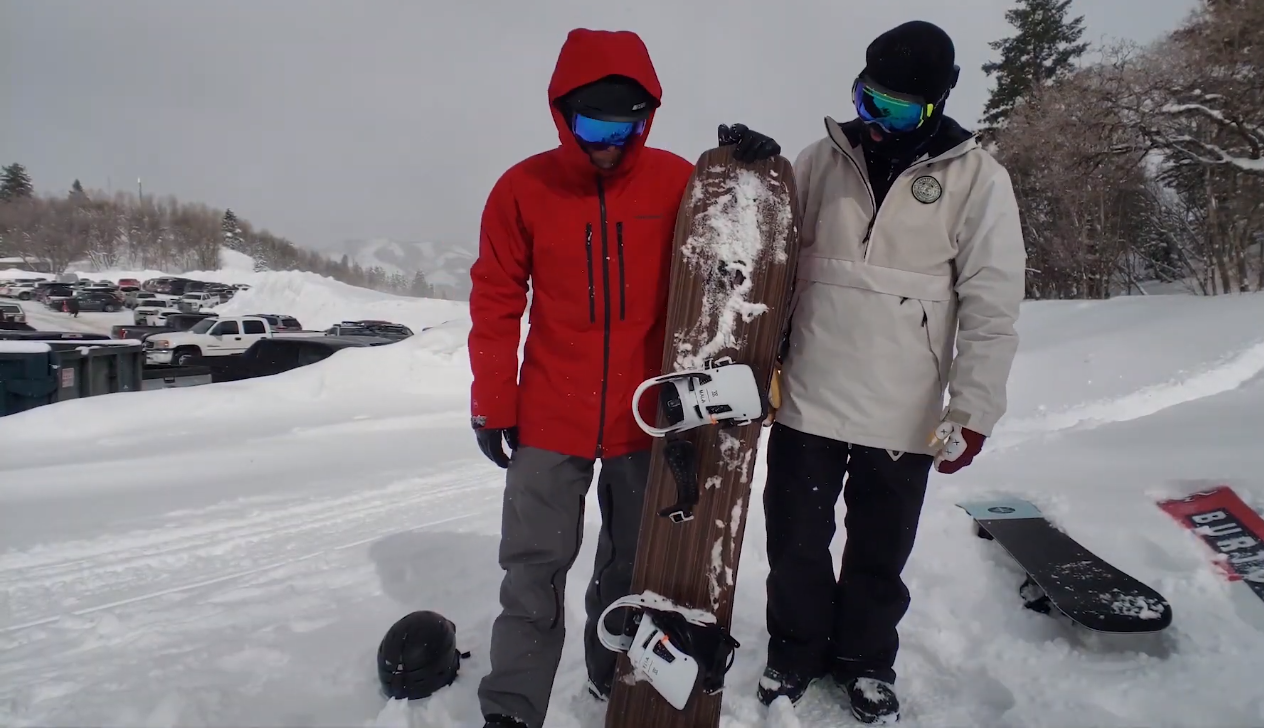 Catering to advanced and expert riders (maybe even upper-intermediate riders, but not the average rider!), it gives them the freedom and confidence to ride in any snow conditions: hardpack, ice, slushy, deep snow, or challenging technical terrain. It doesn't do quite well as far as riding switch and jumping are concerned.
Should it have them all or are the features that matter to free-riders sufficient for a happy purchase? The price label is also attractive for a board that handles everything, and that comes in versions for men and women, too.
Conclusion
So, riders with an aggressive riding style and pow lovers are welcome to try it, love it, and take it home with them! In the end, that hybrid Camber/Rocker profile brings out the magic in the Jones Flagship. It shines in the most challenging circumstances.
…and so will you! In the fresh snow! (At the end of this review, I should say that it is rumored to be the best type of snow for the Jones Flagship to provide a consistent ride)
Just put your front foot down and know that this is the board for you!
Remember, snowboards are usually delivered ready-to-ride, with a waxed base and sharpened edges. This factory tuning is, however, not very durable, and you should properly wax all your new snowboards after a few days and maintain them regularly.
The manufacturer claims that all Jones snowboards are factory tuned at the tip and tail so that you can go straight from the store to the mountain.
Jones snowboards are also ready to shred straight out of the store, as they are factory waxed with WEND natural wax, which also goes for the Flagship.