Who even doesn't fancy a kayak for all seasons? I know an avid kayaker like you always dreams of a watercraft that can give death to whatever might come its way and not your good self!
But what if you are experiencing all four seasons in one day? Is there a thing that can handle everything from running creeks to slow-moving waters? For sure, there is one – the Old Town Vapor 10.
The most impressive and magical thing about this kayak is that it can accommodate almost any rider. From lightweight 5'4" kayakers to heavyweight 6'3" tall riders, everyone seems to enjoy their rides with Old Town.
The thought process that goes behind its construction is commendable. Are you curious about finding out its most prominent features?
In this fishing kayak review, I will discuss all the trade-offs that you would have to make between a sit-inside kayak and sit on top kayak. Also, I will share all the perks of owning a kayak like the Old Town Vapor 10.
Believe me when I say that this is the top fishing kayak on the market and the top choice of many recreational paddlers also. Without further ado, let's dive into its particulars.
Performance Evaluation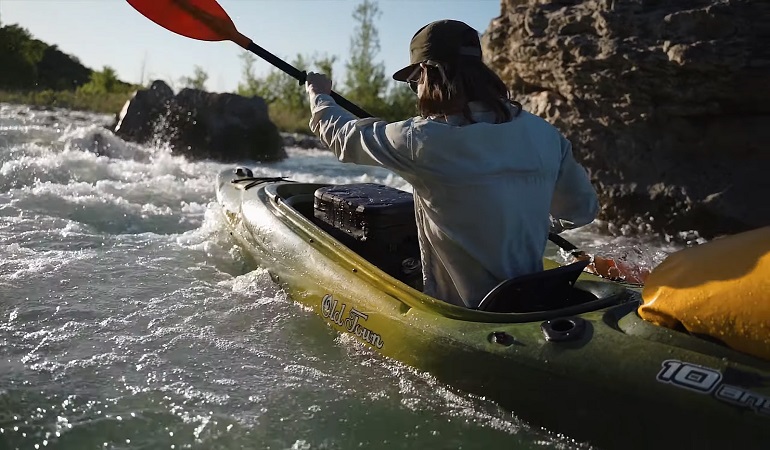 To give you highlights real quick, this kayak breaks a lance with many top-notch entry-level kayaks, which is courtesy of its high performance and super functional features. These fishing kayaks are user-friendly, easy to carry, load and unload, and shine even brighter when in water.
All the mandatory aspects, like maneuverability, stability, traction responsiveness, and comfort, are precisely delivered by this fishing kayak. This wide and short profile kayak rotomolded from high-density polyethylene only speaks durability when in use or not in use.
Old Town Vapor 10 fishing kayak is applauded for the level of stability it provides with its rounded wide flat hull and perky sidewalls. Such a profile permits tilting movement without feeling tippy.
What else adds to its superior stability is its wide waist and the capacity to carry a heavy weight of 323 lbs. This stability further advocates straight traction without letting its width overshadow the tracking experience. Just so you know, the deck tracks well, especially for a 10-footer.
Let's talk about its speed, shall we? The Old Town Vapor 10 features a wedge-shaped bow and a keel that runs the entire length, both these features support buoyancy and medium speed.
The pointy profile assists in swiftly cutting through the waves and wind to catch speed. The striking keel that runs in the center, along with the skeg (built-in spin), makes sure that a straight course is maintained while tracking. Not to mention, all these features come at a trade-off of some kind.
For instance, a better tracking experience comes at a price of hard turn initiations. However, the Old Town company tried its best to circumvent the issue by providing a rocker in the kayak. This particular tool mitigates the situation and strikes a balance between the two.
You must be wondering what a rocker is. If you take a profile view of the kayak, you will notice an upward curve at the nose and the tail of it. If you take a closer look, you will notice a mild rocker in the front and heavier in the rear. This uplifted profile helps in maneuverability by lifting the stern and setting it free from water contact.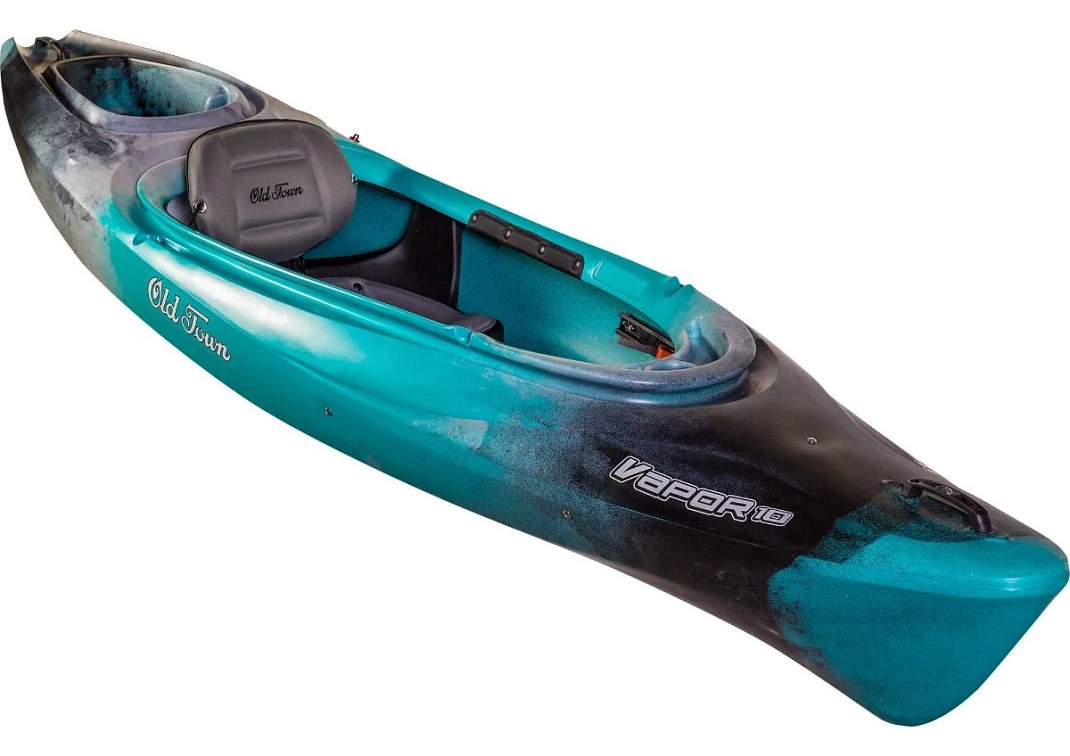 Old Town Vapor 10
The Price of "Old Town Vapor 10" varies, so check the latest price at
Specifications
Let's go through its spec sheet so you get a better understanding of what it has got in store for you.
| | |
| --- | --- |
| Activity | Recreation |
| Style | Sit-inside |
| Number of Paddlers | 1 |
| Propulsion | Paddle |
| Seat Type | Comfort Flex |
| Material | Single Layer Polyethylene |
| Technology | Rotomolded |
| Weight Capacity | 325 lbs |
| Assembled Weight Boat | 47 lbs |
| Length | 10 ft |
| Width | 28.5 inches |
| Cockpit | 48*19.5 inches |
| Hatch | Stern |
| Deck Height | 16.75 inches |
| Rudder | None |
| UPC | 0759239302170 |
Features
For customer satisfaction, Old Town is stacked with numerous features. To mention a few:
Thigh pads
Skid plate
Stern day well
Molded-in paddle rest
Adjustable Comfort Flex kayak seat
Built-in carry handles
Molded-in cockpit tray with cup holder
Drain plug
In this Old Town Vapor 10 review, there is a lot to discuss when it comes to exploring the feature-rich Old Town Vapor 10. So let's look into some pronounced features that are praised by every user.
The most liked component is the installed paddle holder. It proves to be one useful feature, especially when you leave your paddles unattended, like when you are getting in or out of the kayak or while fishing.
This pole holder is located at the front of the cockpit, so you can leave your poles as it is and set your hands free. I told you people count on old Town for kayak fishing ventures.
There is also available an anchor trolley system for fishing purposes. This feature helps in maintaining balance when not paddling. However, there are a lot of fishing-specific features that are missing in these recreational kayaks. For instance, the kayak fishfinder, rudder, gear tracks, etc.
Another attractive feature is the cup holder and tray. The spacious tray proves very handy as it offers space without much hassle. The watertight storage area in the stern really assists in storing accessories or extra gear that you bring along.
For extra security, bungee cords are also provided to hold items in place. The rear storage space also features a customizable hatch.
Gliding and Tracking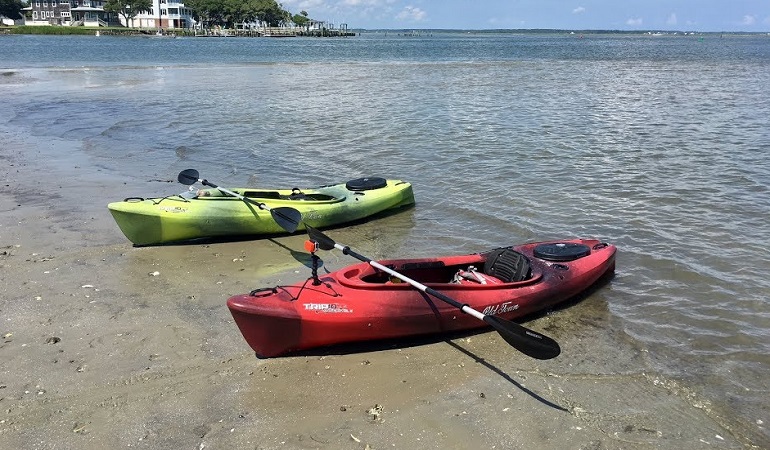 Old Town Vpor 10 swanks a terrific hull that is precisely crafted for better tracking. The hull design encompasses a mild V-shaped front along with an overall hybrid profile. It features mild rocker at the ends and a comparatively flatter center that renders it ideal for flat water and gentle rapids.
On a scale of 1-10, customers seem to rate its gliding and tracking ability to be around 7, which is a pretty good score for a recreational kayak like that. It couldn't get past 7 for the reason that it doesn't feature a skeg and a pretty narrow profile as well.
Although the kayak is pretty narrow and long, it doesn't slice waves like any specialized yak. So, don't even think of trying to outsmart anyone with this one. You might end up getting tagged as 'the over-smart.
Maneuverability
The compact design means you get to enjoy perks like better maneuverability. The kayak, with its narrow and sleek design, allows you easy access to places that something average might not be able to approach.
The shorter hull and slim profile are designed to give you the opportunity of discovering new horizons. I know you have got a mini Columbus in you. So why not bring the best version out?
The yak allows tight turns and makes every narrow spot accessible, even if it lacks a rudder. What a daring yak it is! Don't you agree?
Stability
Are you so done with your kayak rocking on the water ever so often? Or are you a beginner kayaker who wants something stable because falling is not an option? I'm sure Old Town Vapor 10 fully answers the memo and covers all your requirements with its recreational and angler hybrid nature.
It is the right choice, especially if you are dealing with a fidgeting issue or if you are a newbie and tend to overreact whenever the yak moves without any given command.
But to let you know, the Old Town Vapor 10 boat isn't boring at all! Although it performs well in the waves and boat wakes, it doesn't suck the fun out of your rides. It is maneuverable, responsive, and stable at the same time. long story short, it is not a bland piece made just to keep you afloat.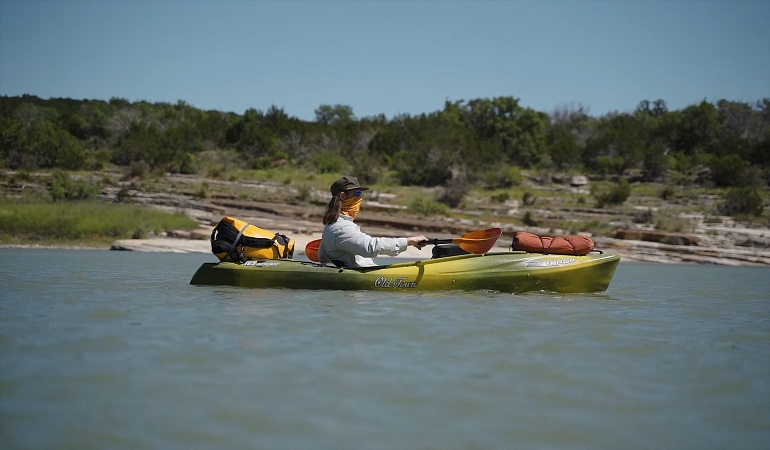 Durability
The plastic construction may be a sturdy one, however, you should avoid any great impact collisions as the material might fray. The yak weighs heavier than many of its competitor recreational kayaks, so it feels heavier to carry solo.
Hence, always consider using a carrier or a trolley for hauling it to the kayaking destination, especially if you need to cover long distances.
However, dragging can work for short distances. You can drag with the help of the ski plate provided on the hull. As far as its durability in the water is concerned, the kayak can easily handle minor to medium and even major collisions. Moreover, accidental drops are also mostly dodged by the yak.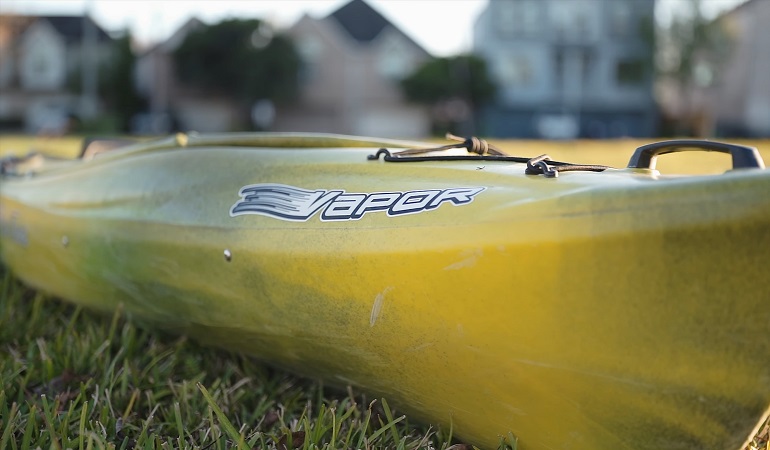 Comfort
Comfort is mandatory for fun rides, and the Old Town Vapor makes sure you get bags of it. Since we are talking about comfort, let's see how much thinking went into making this craft an ergonomically friendly kayak.
If you delve into the construction of its cockpit, you will notice that it is super spacious, measuring about 19.5 by 48 inches. This very thing makes rides easy for people with mobility issues and other similar limitations. You know, a confined cockpit isn't everyone's cup of tea.
The elongated cockpit of Old Town Vapor 10 provides plenty of leg room to not only stretch your legs but also to bring along your pets. Can you imagine the level of relaxation? Not only that, the large cockpit makes exit and entrance easy regardless of the kayaker's size. It also lets you store extra gear if you brought any.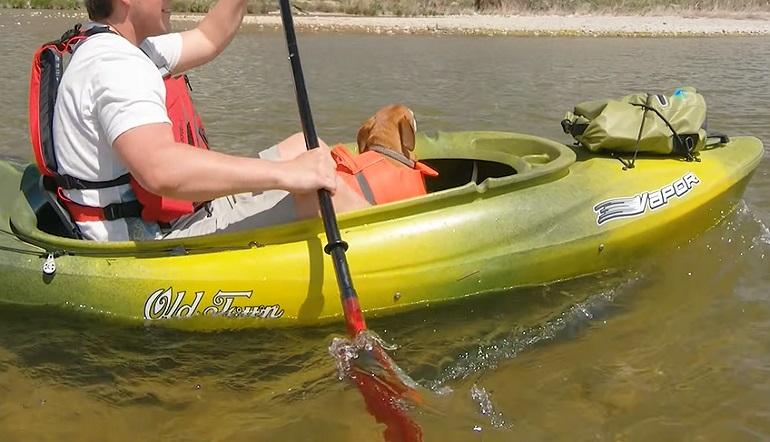 The kayak also features sliding adjustable foot braces featuring Glide Track technology. This brace system, along with the tight pads, keeps your feet in place while you make tricky turns. It not only lets you sit securely but also provides additional contact points for extra stability.
Inside the cockpit, there is a drain plug that drains any water that might enter the kayak. While paddling, water splashes, and the kayak seems always eager to fill water in. That is exactly when the drain comes into action. However, it fails to drain water out completely.
There has been made a recent change to the Old Town Vapor 10, and that is the upgradation of its seat. The new version is a hell lot more comfortable than the previous ones. The new Comfort Flex seat enables you to sit for hours in the cockpit and paddle all you want.
Lastly, there is present a tank well molded into the deck for storage. This recessed storage area proves very useful while fishing. But that storage space cannot win against the spaciousness of a top sitting kayak. You know, the wide-open deck has its own perks.
Speed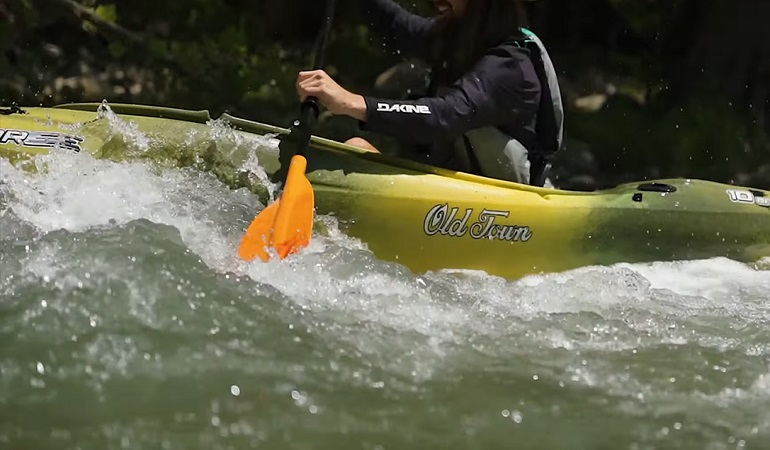 You must be wondering what's the catch for terrific stability. Well, in clear words, the trade-off is speed.
The Old Town Vapor 10 doesn't make the most hydrodynamic kayak for some reason. First of all, the short keel restricts the speed and demands you to paddle hard in case you want to catch some speed. And secondly, it is as wide as a short boat, so it turns slowly and does not show max hull speed.
Portability
As far as hauling is concerned, the Old Town Vapor 10 proves easier to carry. It can be easily transported using a trolly, a lightweight kayak trailer, any secure car roof rack, or a truck bed. One can say, it is one of the easiest fishing kayaks to haul. The 10 feet long kayak can even fit on any trailer, like the Rambo Bike Canoe trailer, and be towed behind a bike.
Construction Quality
Although the kayak isn't made out of the most sturdy material on the market, it sure does boast significant durability in its encounters with collisions, falls, and other damages.
Built with robust roto-molded plastic polymer, the kayak can easily handle neutral conditions and gentle environments. The kayak isn't made for brutal water conditions but for flat and calm waters only.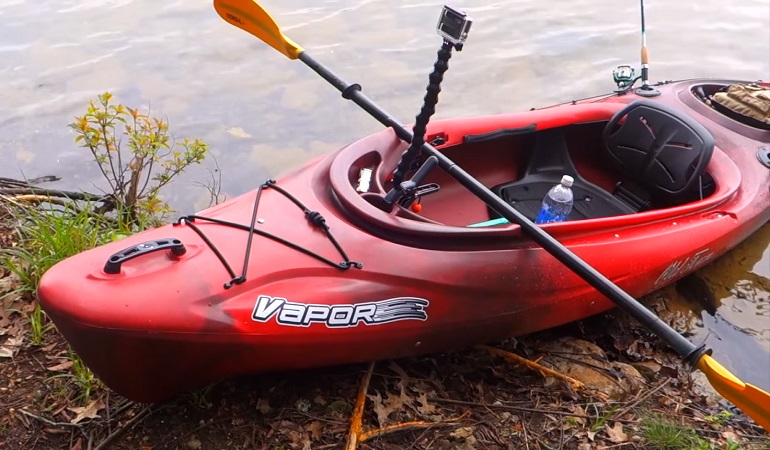 Design
It is evident that during the production of the Old Town Vapor, 10 ergonomics were fully observed. From its material to its construction and design, everything speaks volumes.
The company tends to utilize both single and triple-layer HDPE for the construction of its fishing kayaks. The single-layer polyethylene used in the making of Old Town Vapor 10 might not be the strongest, but it still offers high durability and significantly fights against abuse like dents and cracks.
If you take a peek at its construction details, you will find that this yak is built with the roto-molding technique. It means, plastic pellets were filled into the yak mold and later heated in an industrial oven in an effort to melt it.
This melting process automatically evenly distributes the pellets throughout their length, thus resulting in a seamless kayak.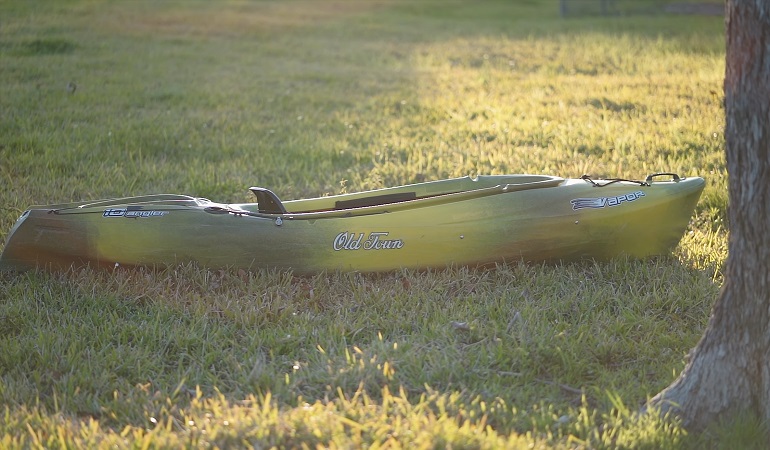 Value
The Old Town Vapor is not only a budget-friendly kayak but also super user-friendly. Even with all those bells and whistles, it still doesn't cost you a fortune, remains cheap, yet competes with some of the high-end yaks on the market. And this very thing adds to its value. But don't underestimate it!
Although there aren't many extra incentives, the kayak delivers the necessary demands of your kayaking journey. If you desire to enhance your fun, you can easily get your hands on the available add-ons.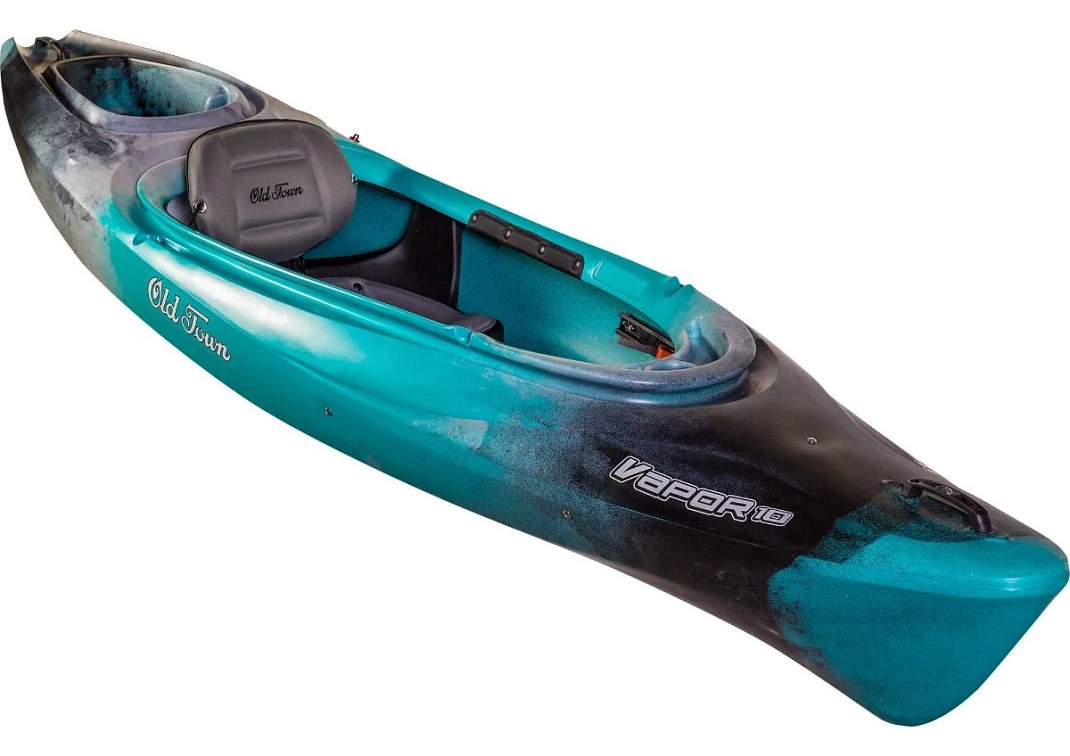 Old Town Vapor 10
The Price of "Old Town Vapor 10" varies, so check the latest price at
Fishing Ease
Long story short, while a lot of Old Town kayaks offer fishing-specific accessories, the Old Town Vapor 10 lacks many of them, so you need to buy them separately.
To take an example, the spot for fishfinder installation is not provided, moreover, the rudder is also absent, and so are the rod holders. The yak also doesn't provide enough space for storage.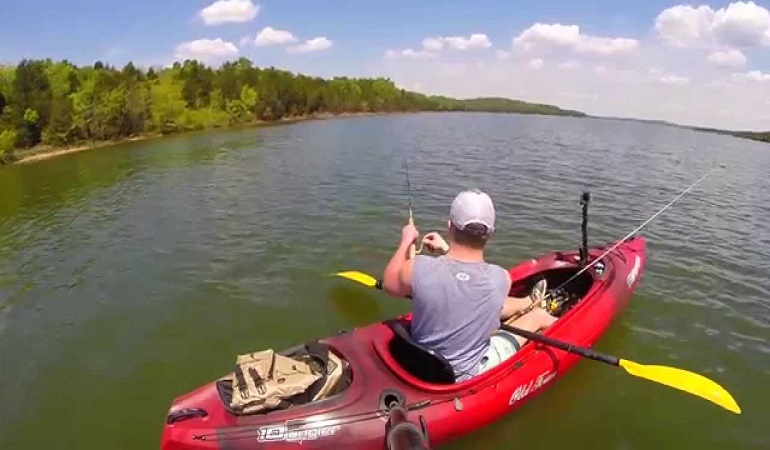 Old Town Vapor 10 Evaluation
Pros
Lifetime warranty
Add-on available
Good Flex Padded Seat with adjustable back
Better maneuverability
Cost-efficient
Beginner-friendly
User-friendly
Portable
Durable construction
Superior stability
Spacious cockpit
Hatch kit
Stable hull
Tracks fine
Good Weight capacity
Cons
Small recessed storage
No bulkhead
Short keel
Sluggish/Slow speed
High deck catches a lot of wind
No cockpit covers for storage space
Conclusion
The Old Town Vapor is an ideal pick for kayakers who wants to go kayak fishing, are looking for comfort, and especially if they are budget-oriented but don't want to take any risks on performance.
This entry-level yak boasts some invaluable features that most kayakers are fond of, like its pole holder, very large cockpit, and watertight hatch.
Believe me, when I say that all its features are solid for leveling up your game if you are a newbie. Although it has its limits, it is a fine choice for someone looking for casual ventures.