All good things come to those who bait!
For all the folks who live and breathe for the sake of fishing, kayak fishing will always be an adventure and a challenge all in one. Whether you are a beginner to it or not, even the first baby steps are enjoyable and engaging.
The quality of your kayak fishing experience depends on the kayak you've chosen to cruise around in and its features.
You've got different choices to select from, but the top choices are sit-on-top fishing kayaks, tandem fishing kayaks, bass kayaks, inflatable kayaks, fly fishing kayaks, sit-inside kayaks, and pedal kayaks.
However, when choosing the best fishing kayak for yourself keep in mind the budget you have, the stability of the kayak, as well as its weight capacity, durability, propulsion, and transportability.
Top Pick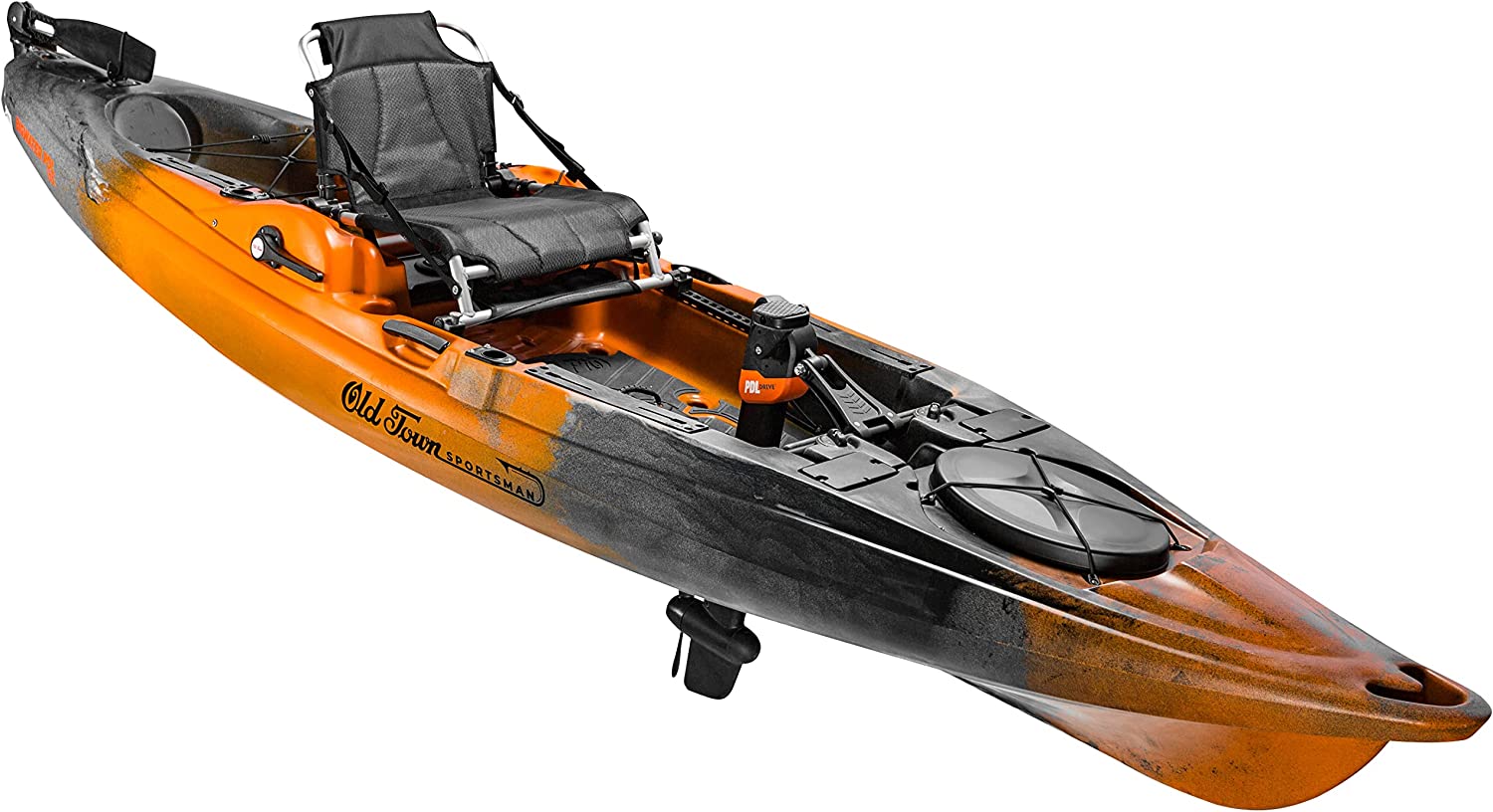 Old Town Sportsman Salty
Length: 12 feet
Weight: 104 pounds
Most Spacious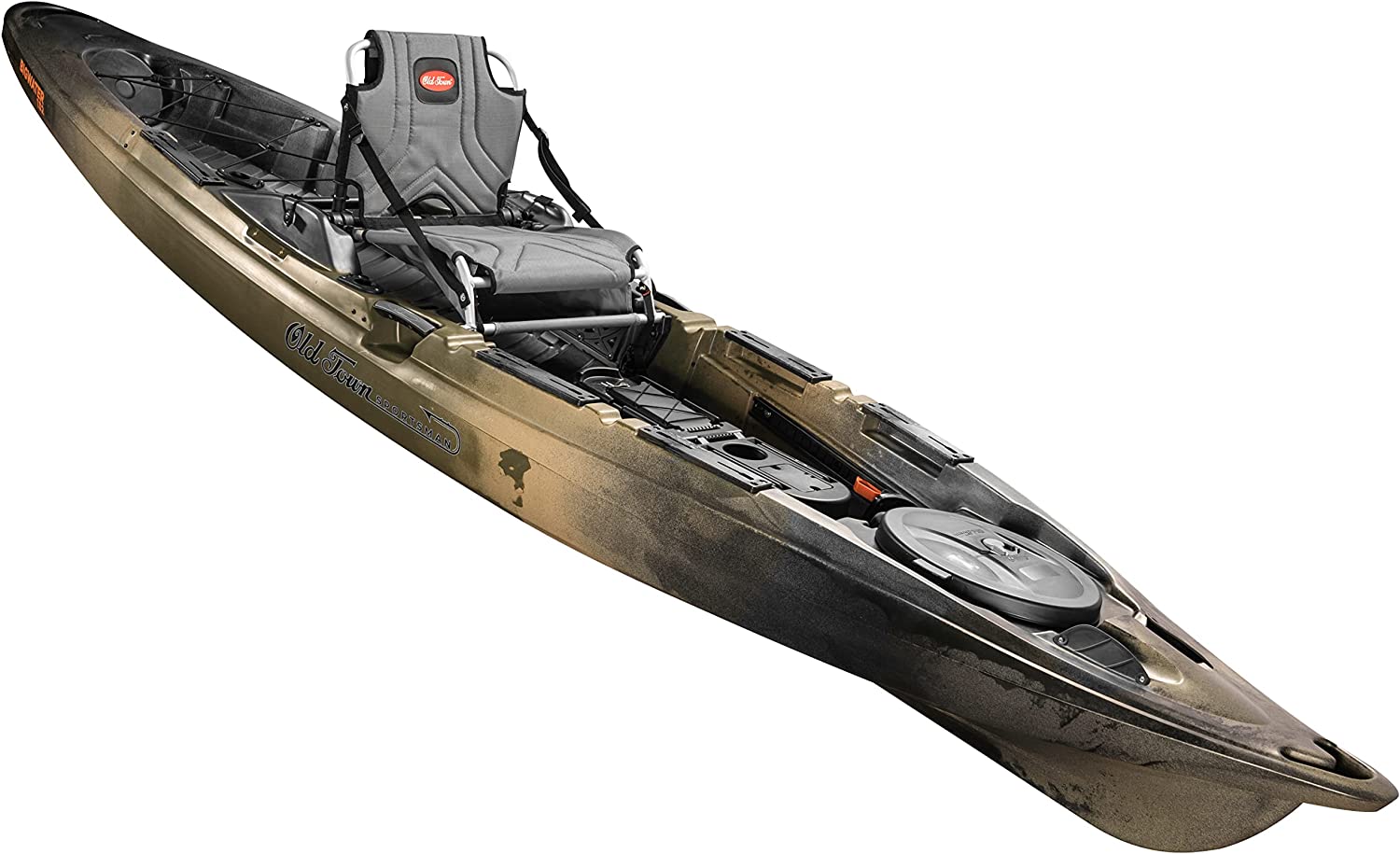 Old Town Sportsman
Length: 13 Feet, 2 inches
Weight: 122 pounds
Super Versatile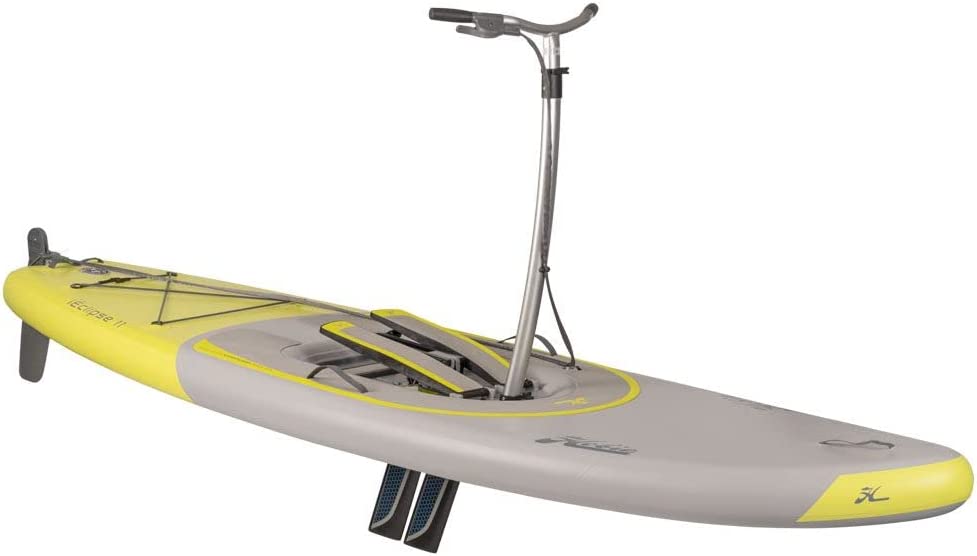 Hobie Mirage Lynx
Length: 11 feet
Weight: 63 pounds
Ultra Lightweight

Hobie Mirage iTrek
Length: 10 feet 8 inches
Weight: 44 pounds
Smart Features

Hobie Mirage Compass
Length: 12 feet
Weight: 87 pounds
Great Value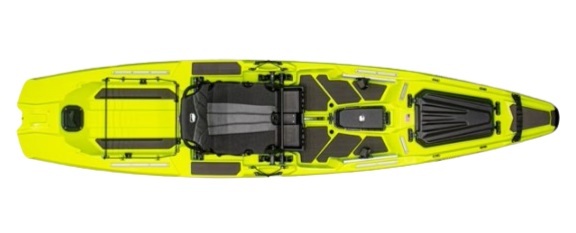 Bonafide SS127
Length: 12 feet 7 inches
Weight: 94 pounds
Affordable Pick

Feelfree Lure 11.5 V2
Length: 11 feet 6 inches
Weight: 87 pounds
Super Long

Wilderness Systems A.T.A.K.
Length: 14 feet 1 inch
Weight: 95 pounds
Cheapest Option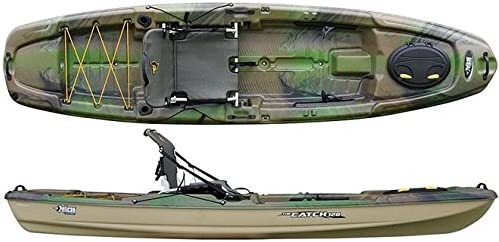 Pelican Catch Classic 120
Length: 11 feet 8 inches
Weight: 68 pounds
Impressive Performance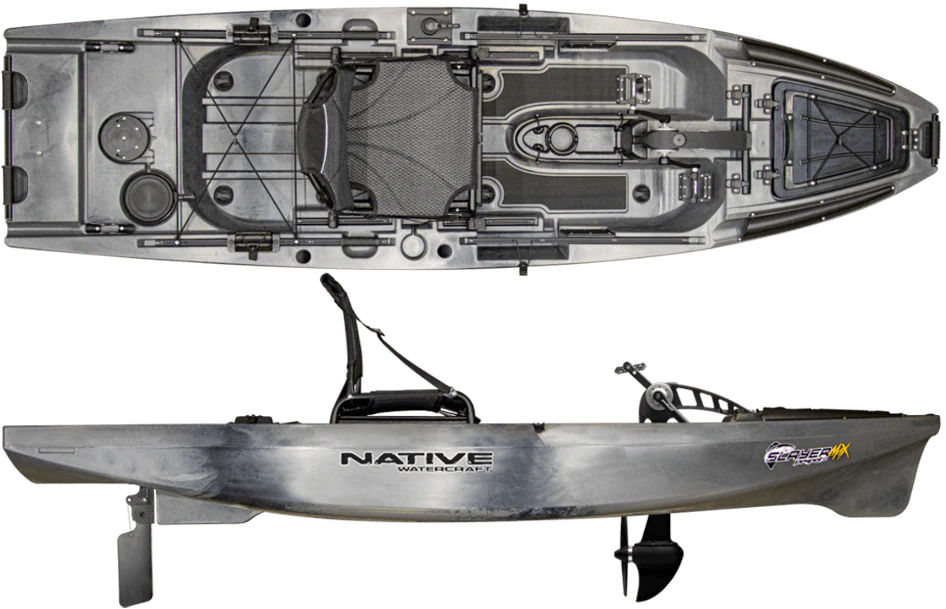 Native Watercraft Slayer Propel
Length: 12 feet 6 inches
Weight: 95 pounds
Small Model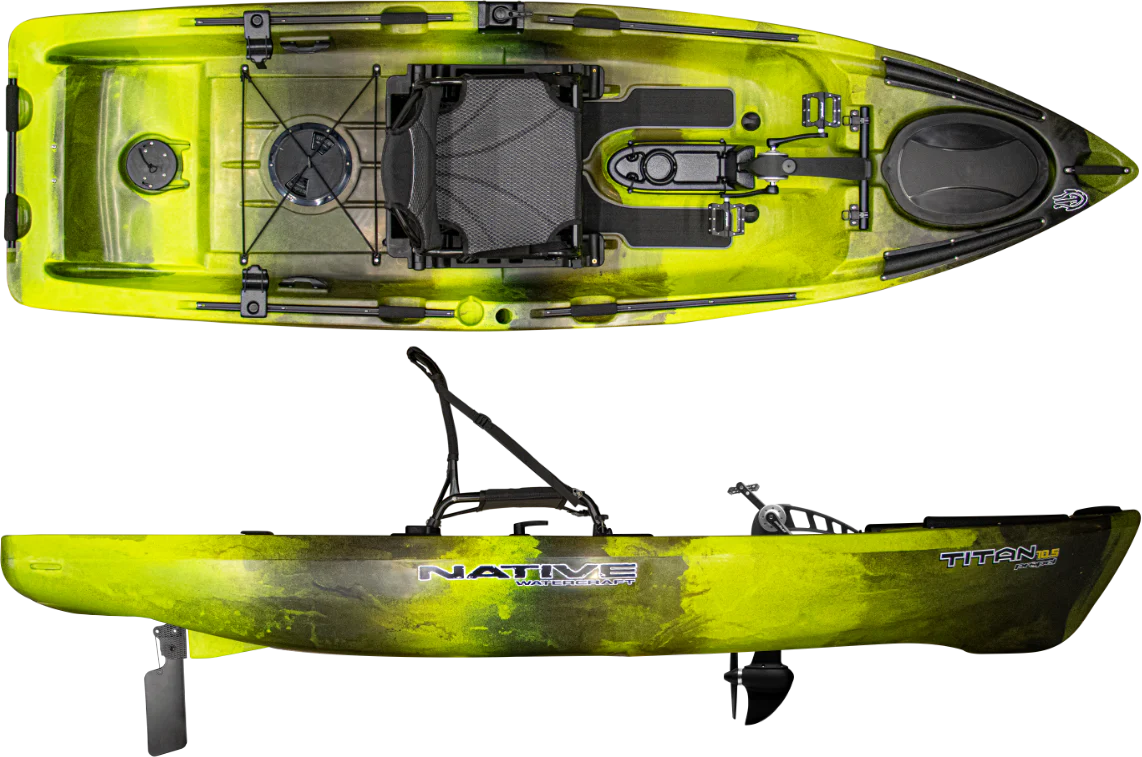 Native Watercraft Titan Propel
Length: 10 feet 9 inches
Weight: 97 pounds
Maximum Stability

Pelican Catch
Length: 9 feet 9 inches
Weight: 75 pounds
Superb Speedster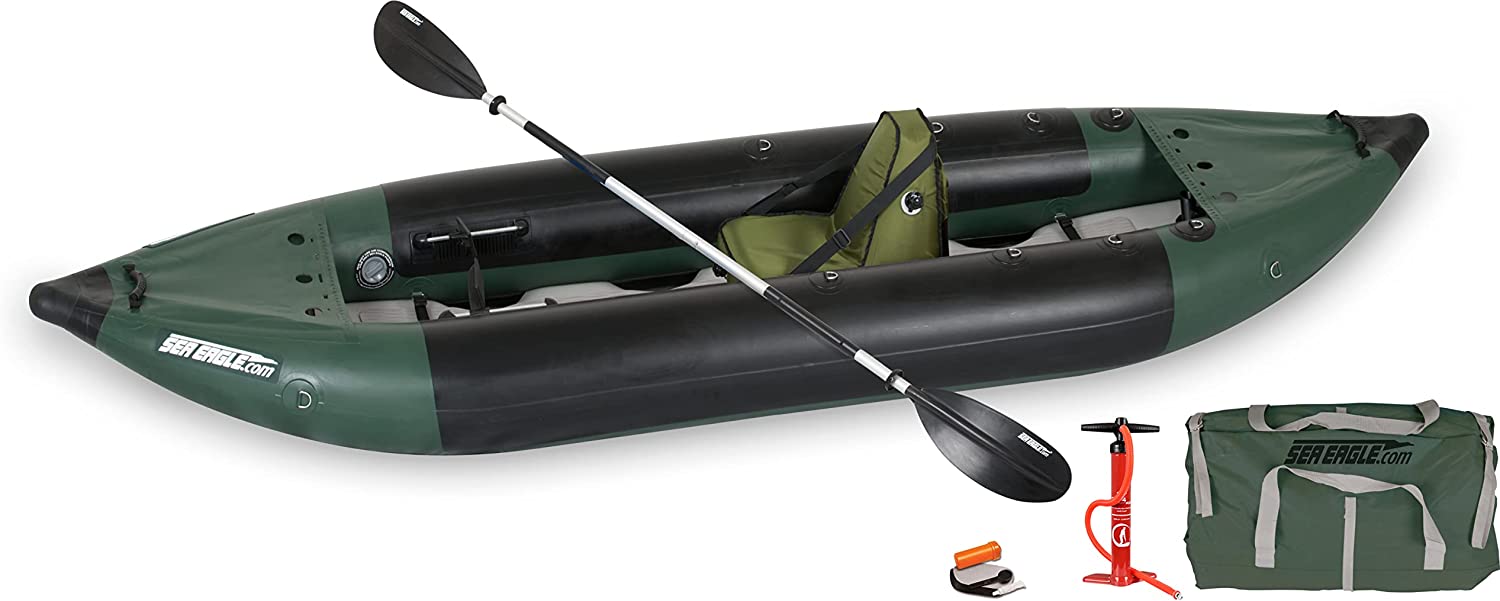 Sea Eagle 350fx
Length: 11 feet 6 inches
Weight: 51 pounds
Compact Design

WILDERNESS SYSTEMS ATAK 120
Length: 12 feet 3 inches
Weight: 86 pounds
Which Is the Best Fishing Kayak To Choose?
We will discuss every little feature to assist you in finding the best fishing kayaks for 2023, but first, let's explore my favorite picks.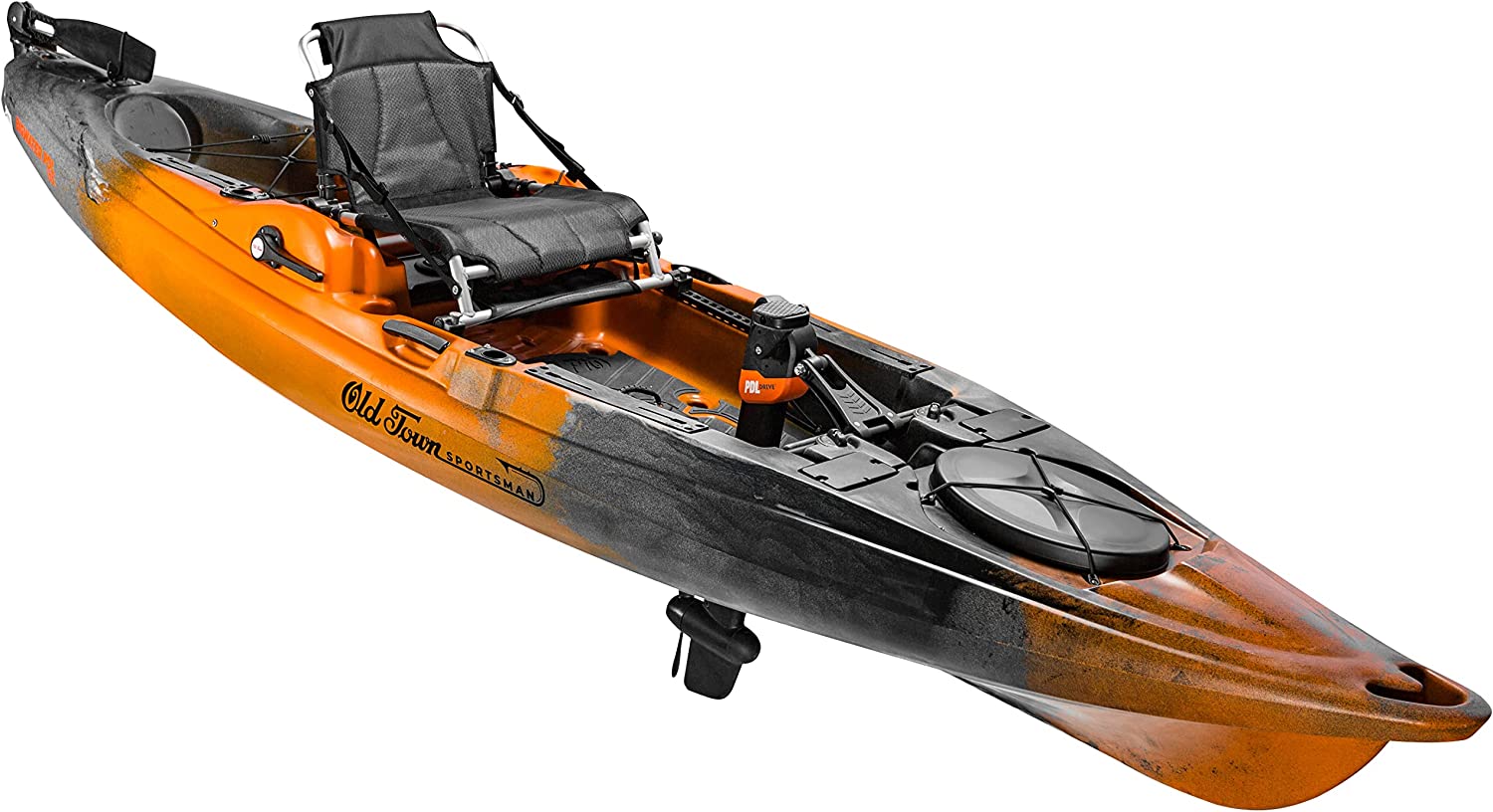 I still remember the first time I paddled one of the Old Town fishing kayaks. It was an incomparable experience, like zooming through the hot galaxies on a smooth butter slab. The PDL 120 is specifically manufactured with a hull designed to tackle all sorts of currents and waves.
Known to be the perfect grab-n-go kayak, it is both practical and patient with its rider. The way it instantly responded to my touch assured me that no matter how many blunders I make, it would still allow me the grace for saving the day.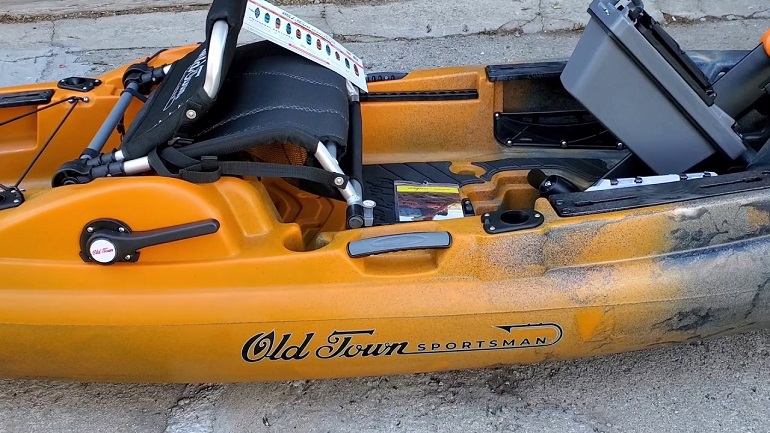 It also has instant forward-and-reverse options that incorporate a new smoothness to your paddling performance.
When it comes to strapping your gear down, there is ample storage space on this 12-foot pedal kayak. With add-on tracks, an adjustable seat, and tie-downs for backup paddles, there is a place for everything you need!
Features
Length: 12 feet
Weight: 104 pounds
Capacity: 346 pounds
Price: Around $2000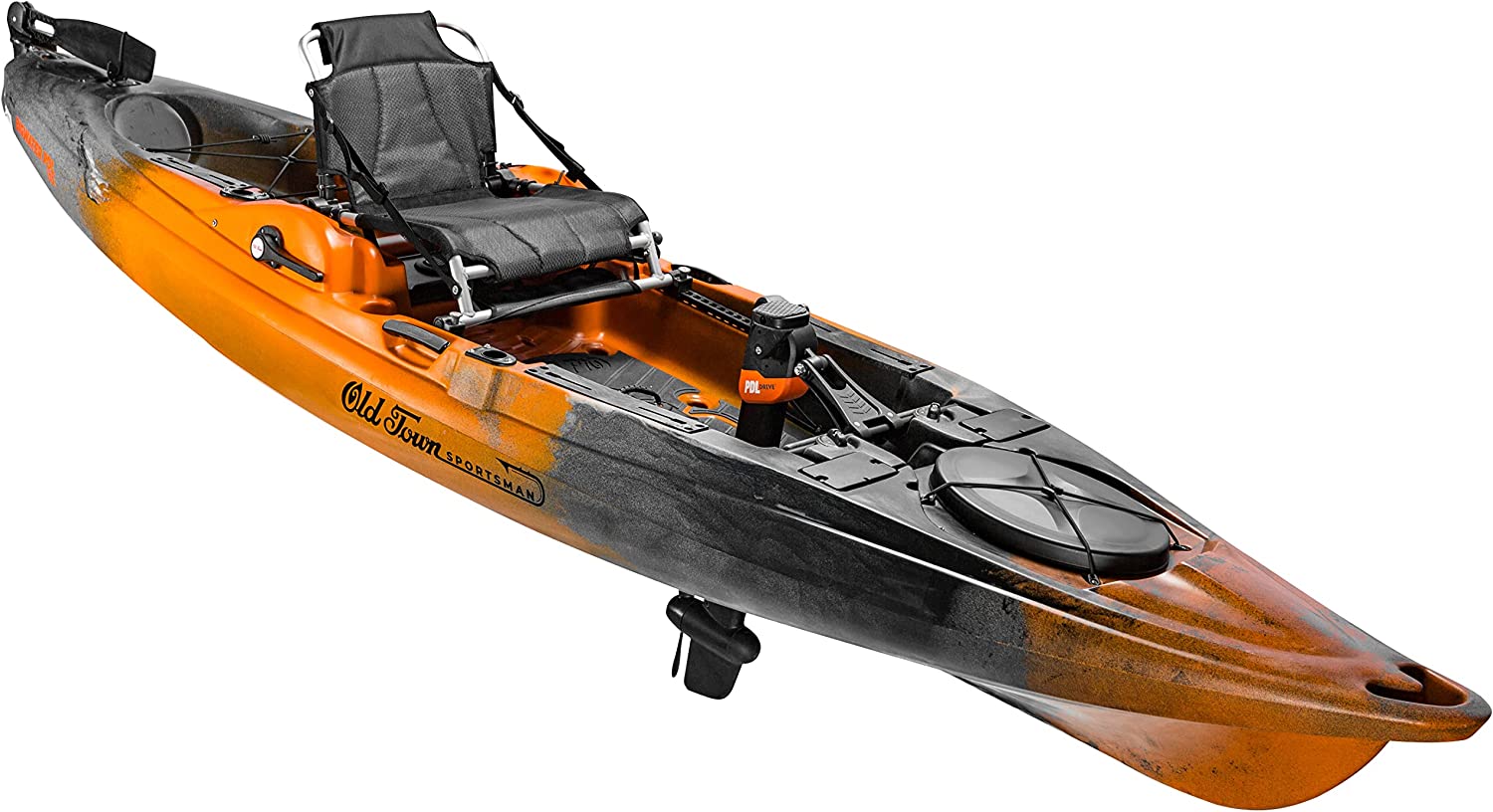 Old Town Sportsman Salty PDL 120
The Price of "Old Town Sportsman Salty PDL 120" varies, so check the latest price at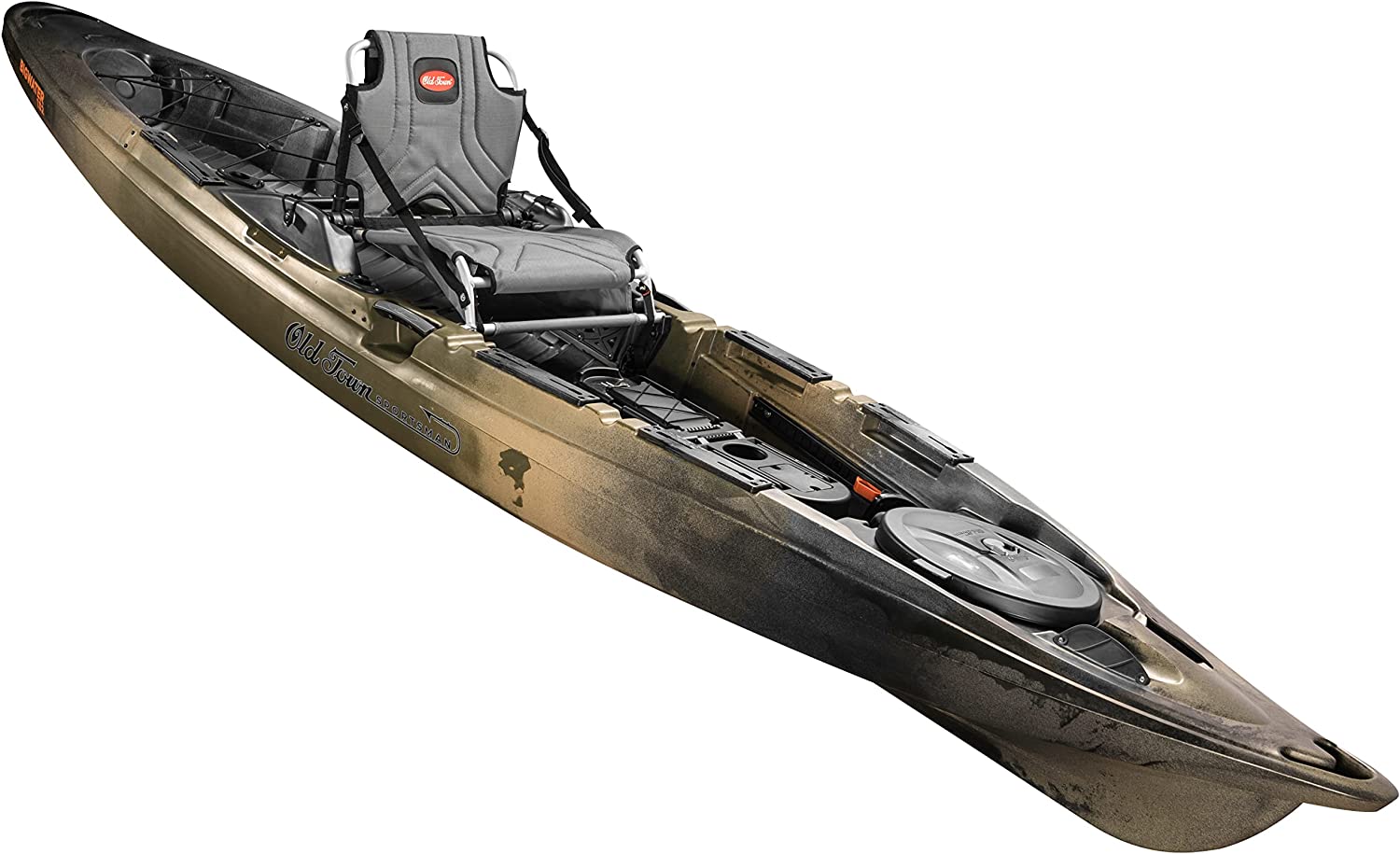 Can y'all guess already that Old Town kayaks are my favorite? There's a reason why there are two of 'em on this list.
Bigger and more spacious than the PDL 120, this pedal kayak has a lot more storage space. Made for the experts who know how to bag a dozen fishies in a minute, there is a stern tank well to store a cooler or baitwell.
However, if you ask me, the cooler can also double as extra storage for water and refreshments for those extra-long trips you want to take on a calm river.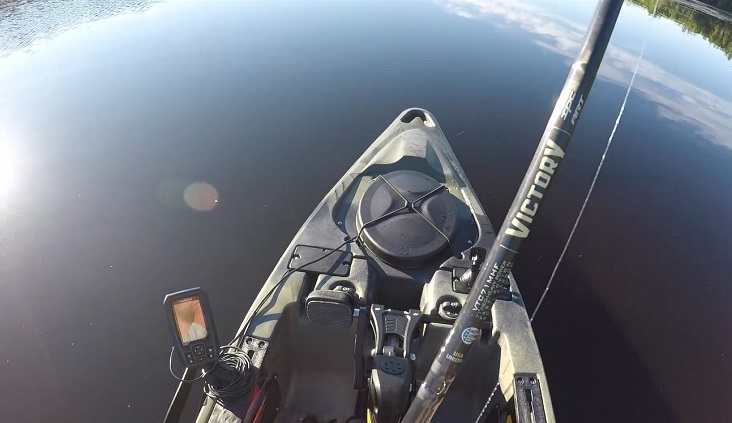 Its large size may lead some to believe that it is a task to run it, but it's actually known as one of the easiest pedal kayaks to use. Moreover, its lanky length, which some may have a problem with when it comes to transporting, is actually the determining factor to make it sail faster.
Get ready for the smoothest hands-free fishing kayak experience ever.
Features
Length: 13 feet, 2 inches
Weight: 122 lbs
Capacity: 378 lbs
Price: About $3,000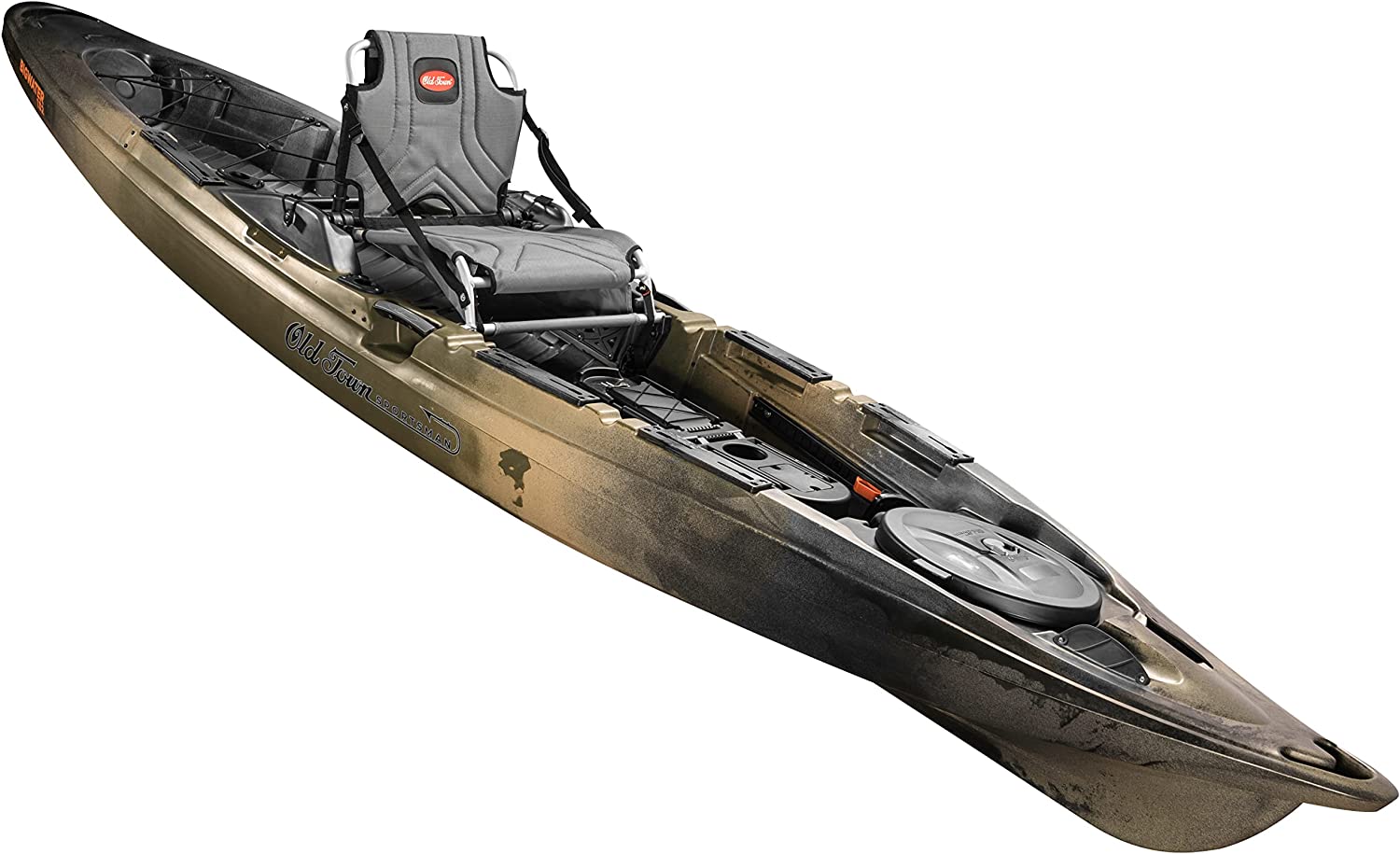 Old Town Sportsman BigWater PDL 132
The Price of "Old Town Sportsman BigWater PDL 132" varies, so check the latest price at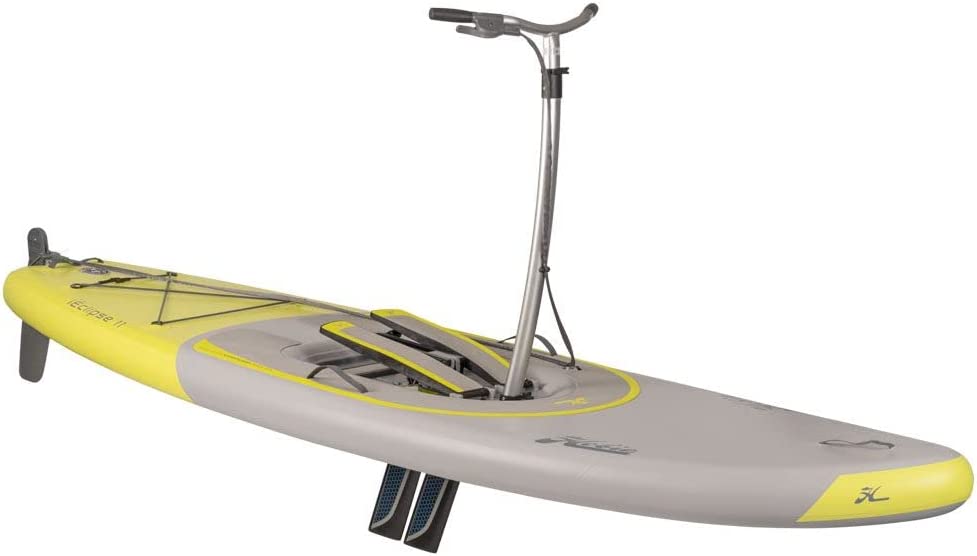 The Lynx pedal kayak is an elegant lightweight kayak that is bound to introduce you to the most inclusive ride ever. You get to enjoy the rugged feel of the waves blended with comfort and stability from the elevated seat.
The versatility of the Lynx is also admirable from the perspective that you can switch between fishing to sailing by simply attaching a Sail Kit. A glamorous pick for kayakers who prefer an all-in-one package.
This kayak presents the rider with a whirlwind speed with its MirageDrive 180 pedal power. But when you couple that with its sleek, streamlined hull design, you're in for the ride of your life.
You get an incomparable level of stability on this kayak due to the heavy and sustainable layering it has. An EPS foam Core enveloped in fiberglass topped off with a Thermoformed plastic outer, and finally, deck pads on top… even the beginners won't slip!
Features
Length: 11 feet
Weight: 63 lbs
Capacity: 350 lbs
Price: Almost $3,000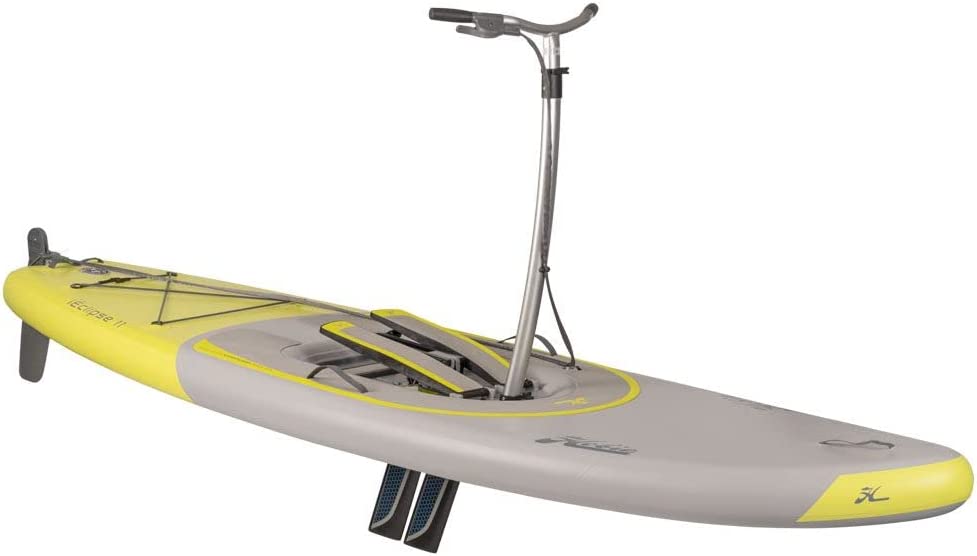 Hobie Mirage Lynx
The Price of "Hobie Mirage Lynx" varies, so check the latest price at

An inflatable fishing kayak with a rigged weight of only 44 pounds, you can pack this in a duffel bag wherever you may be headed. The iTrek 11 took the market by storm with its unique features and riding experience. I personally was surprised as it has quite a small body but outperforms itself.
The comfortable seat comes at an elevated level with a handy little cup holder and nano-mesh fabric to allow for breathability.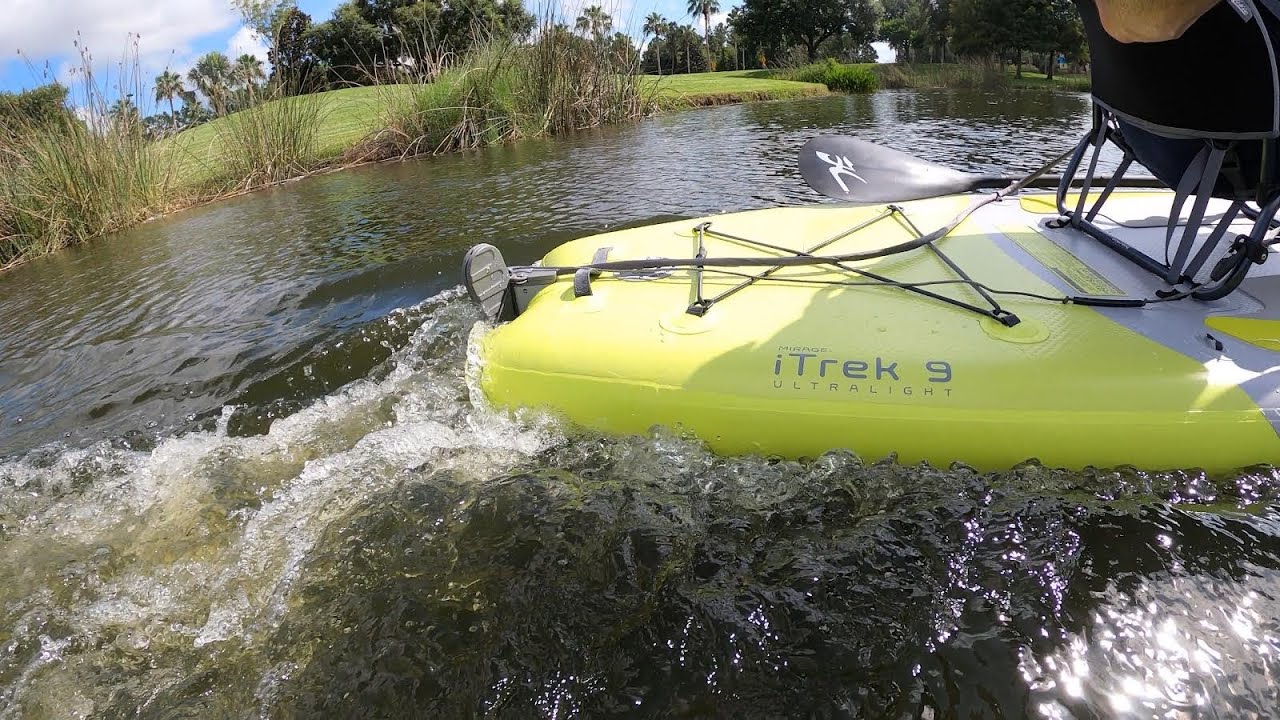 I always say that it is these little features here and there that truly play a determining factor in how much you enjoy your ride. But, you know, it is the dual steering function that truly brings in the heat with this nimble piece of work.
With 400 lbs carrying capacity, the iTrek 11 also presents you with the finest triple-chamber construction. Robust, sturdy, withstanding all conditions, and adhering to all personal preferences, this is definitely a people-pleasing kayak. And I was extra pleased!
Features
Length: 10 feet 8 inches
Weight: 44 lbs
Capacity: 400 pounds
Price: Under $3,000

Hobie Mirage iTrek (9/11)
The Price of " Hobie Mirage iTrek (9/11) " varies, so check the latest price at

Manufactured with the smartest technology to ensure the safest and most enjoyable kayak fishing experience, the Mirage Compass is a wonder to explore the watery depths of any spot.
Its Kick-Up Fin Technology is smart and quick to respond as it automatically retracts the boat wherever any structure comes in contact with it.
With its Hobie Square Tip Fins, you can smoothly and instantaneously forward and reverse pedal this kayak. The mono mesh and ripstop nylon upper on the anodized aluminum alloy frame seat allowed me to feel maximum stability and comfort.
The extra large cockpit and flat space for a standing deck is yet another advantage of this lucky number.
The Sharp Turning Radius of this fishing kayak allows you to smoothly yet smartly maneuver it in tight spots while still maintaining speed and stability. This portable fishing kayak comes with pre-installed rod holders, H-track accessory mounts, and a reserved spot to install a kayak fish finder.
Features
Length: 12 feet
Weight: 87 lbs
Capacity: 400lbs
Price: Around $2,500

Hobie Mirage Compass
The Price of "Hobie Mirage Compass" varies, so check the latest price at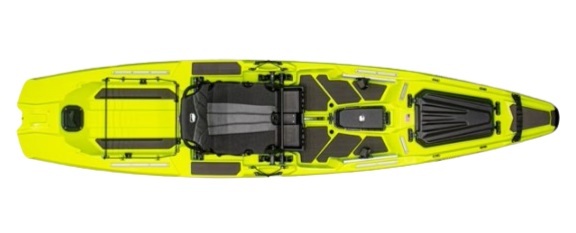 This comfortable sit-on-top kayak is quite a stable fishing kayak, given that it is only 33 and a half inches in width. I was expecting a lot more wobbliness and bumpiness in my ride, but it proved to be quite handy and smooth in navigating.
Quite easily maneuvered and balanced on rocky waters, it tracks very well and flows smoothly with surprisingly comforting stability.
It features a unique hybrid catamaran hull design that plays the largest role in stabilizing it during fishing or cruising. You get additional features for rigging, like the YakAttack GearTrac as well as a sliding Junk Drawer for the fully customizable seat.
Moreover, the best thing about the seat is that it can double up as tackle storage and rod management with the front Boss strap.
In my opinion, it rightfully takes the title of the best fishing kayak as it is an affordable, compact, and easily attainable model.
Features
Length: 12 foot 7 inches
Weight: 94 pounds
Capacity: 475 pounds
Price: Under $2,000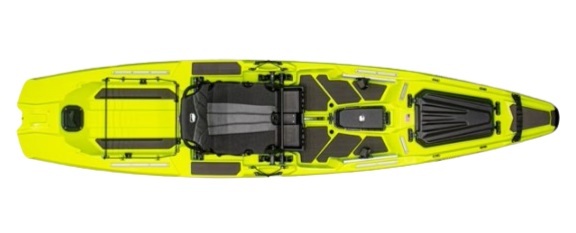 Bonafide SS127
The Price of "Bonafide SS127" varies, so check the latest price at

With the Feel Free Lure fishing kayak, you can easily customize it to your liking and add or subtract any features you prefer. Literally… feel free to do whatever you wish to do with this stable fishing kayak as it provides you with the opportunity to do so.
First things first, the removable sonar pod and electronics pod for installing fish finders and transducers are conveniently removable and replaceable. It also has a UNI-track accessory mounting system which is always rudder ready, and the kayak is entirely Motordrive and Overdrive compatible.
Basically, what that means is that you can install a fully Overdrive pedal unit with an 8-ball steering system alongside a high-tech Motordrive. That allows you the liberty and privilege of a fully hands-off steering experience with little to no effort input from your side to get you from one spot to another.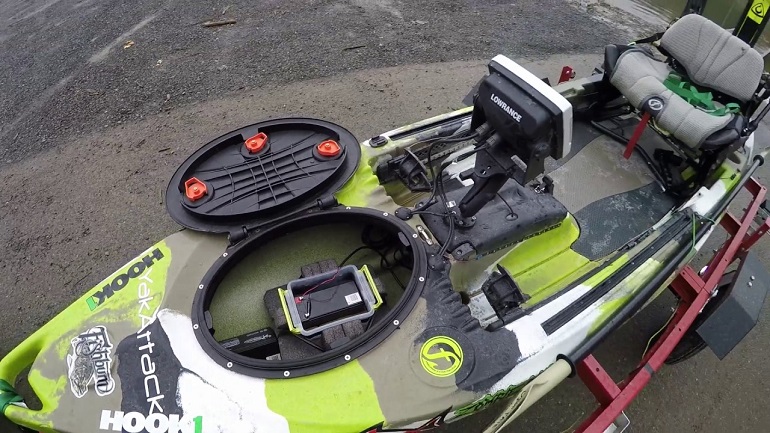 But wait, it doesn't stop there.
You also get an adjustable and removable multi-height Gravity Seat as well as a Uni-track system for whatever outfitting adjustments you wish to make for your kayak. There are also flush-mounted rod holders and a king-size tankwell if you want to install a cooler or store your kayak fishing gear.
With this good fishing kayak, you have the choice between sitting or standing while fishing. I, myself, am a fan of stand-up kayak fishing, so naturally, the padded standing platform proved to be really comfortable and spacious. However, if you plan to sit, the hull design isn't small. At 34 inches wide, you'll be really comfy.
Features
Length: 11 feet 6 inches
Weight: 87 lbs
Capacity: 425 lbs
Price: Under $1,500

Feelfree Lure 11.5 V2
The Price of "Feelfree Lure 11.5 V2" varies, so check the latest price at

Nothing beats the ATAK 140 with its spacious storage areas, comfortable fishing setup, and comfy seating arrangement.
Possibly the longest fishing kayak on this list, I have a specific liking to its set of specifications in a reasonable price range.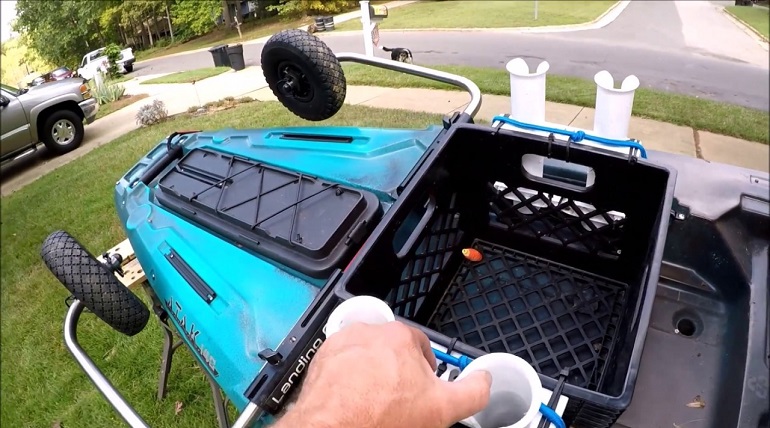 Its open design concept allows the lengthy kayak to stay put on even the windiest of waters
Features
Length: 14 feet 1 inch
Weight: 95 lbs
Capacity: 400 lbs
Price: Around $1,700

Wilderness Systems A.T.A.K. 140
The Price of "Wilderness Systems A.T.A.K. 140" varies, so check the latest price at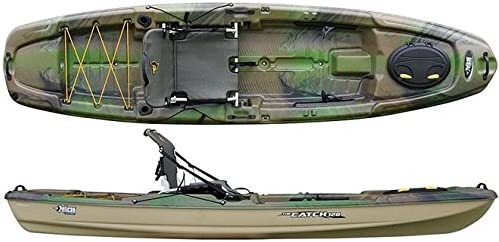 One of the best fishing kayaks whose price tag swoops well below the $1,000 mark. The Pelican Classic is built atop a tunnel hull and doesn't skimp on any features you'd think it would because of its price tag.
Its sizable length is matched with its flat and open deck design giving you ample room for storing your gear and standing your ground to fish. Its dual seating arrangement makes this the cheapest tandem fishing kayak with this set of specs on the market.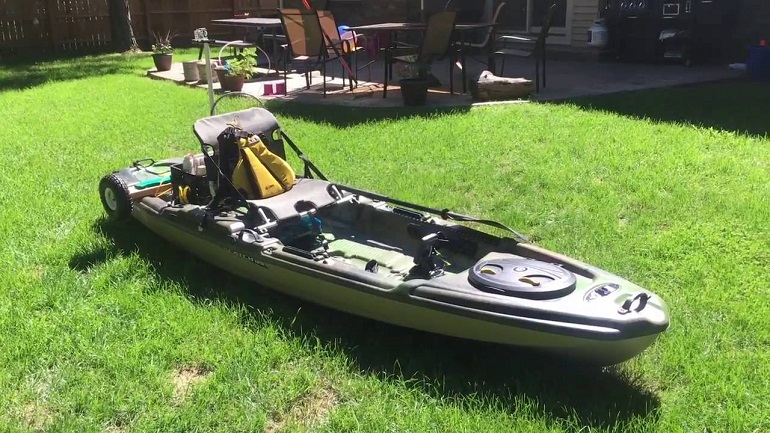 With adjustable footrests, quick lock storage hatches, and bungee cords, you get the handiest features at the best price in the market with this kayak.
Features
Length: 11 feet 8 inches
Weight: 68 lbs
Capacity: 400 lbs
Price: Under $1,000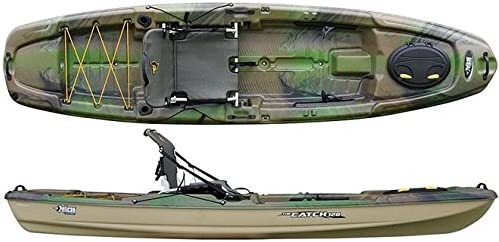 Pelican Catch Classic 120
The Price of "Pelican Catch Classic 120" varies, so check the latest price at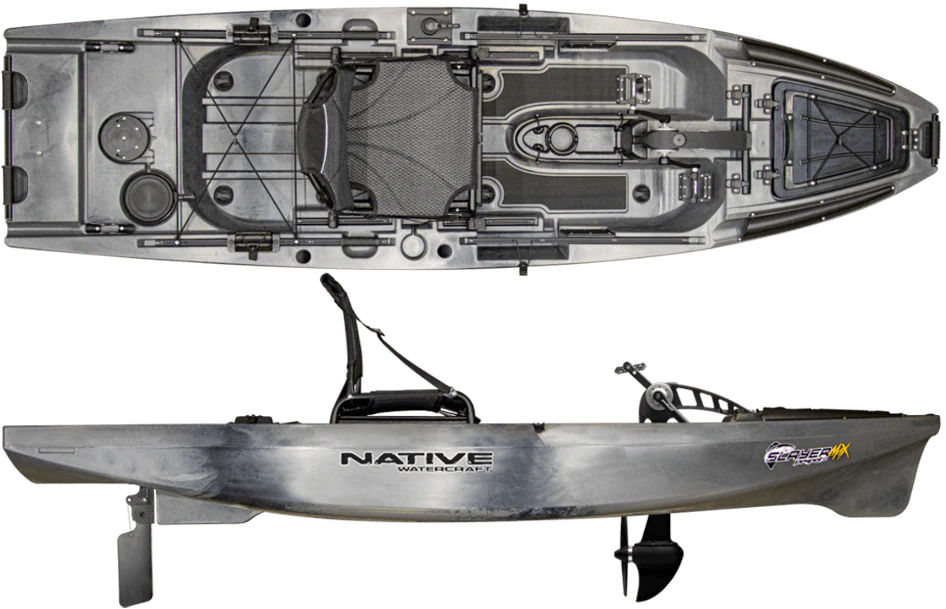 The Native MAX 12.5 is one of the best fishing kayaks for 2023, providing the rider with a super versatile and inclusive ride experience. It adapts to both saltwater and freshwater settings with no performance difference.
It is specifically manufactured with a bunch of key features that tailor for you the best kayak fishing experience.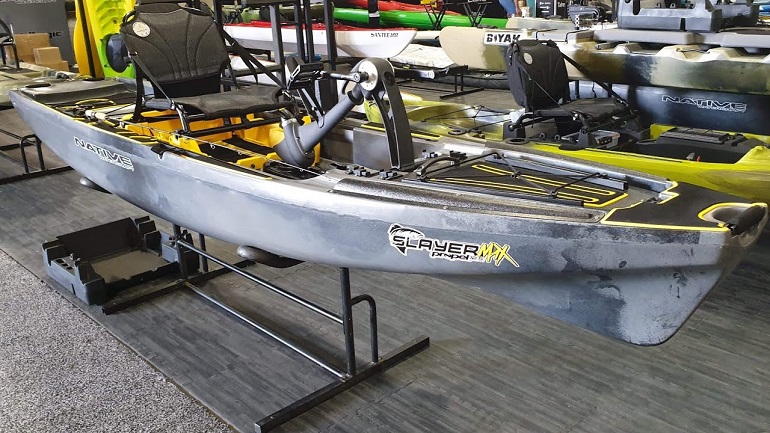 Things like an electronic switch mounting plate (saving you the hassle of drilling your own kayak), bow and stern inserts, built-in transducer mounting points, and bow hatch storage for battery and transducer installation.
Impressive in its performance and swift in its response, it disappoints no one!
Features
Length: 12 feet 6 inches
Weight: 95 lbs
Capacity: 500 lbs
Price: Almost $3,000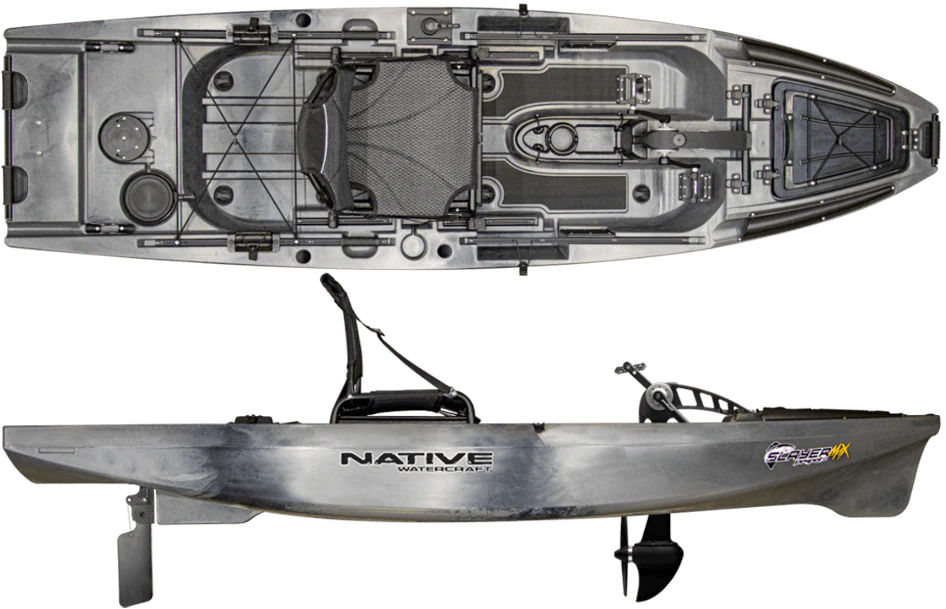 Native Watercraft Slayer Propel MAX 12.5
The Price of "Native Watercraft Slayer Propel MAX 12.5" varies, so check the latest price at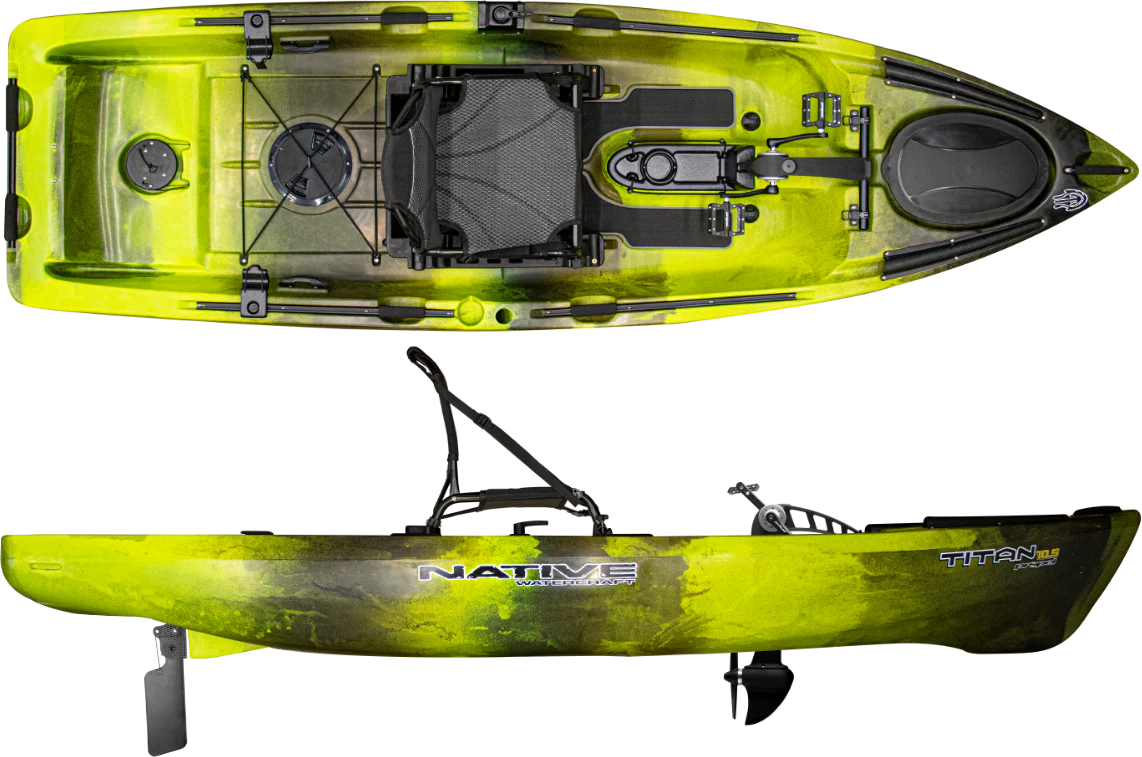 A relatively small model, the Tital Propel 10.5 comes just under 11 feet in length and is nothing short of a full-size larger kayak. But it boasts a highly stable platform that provides the best opportunity for newbies to practice all they want.
Possibly the best thing about this Titan kayak is the seating option which ensures that you can smoothly switch between standing and sitting without feeling any difference or change in your fishing skills.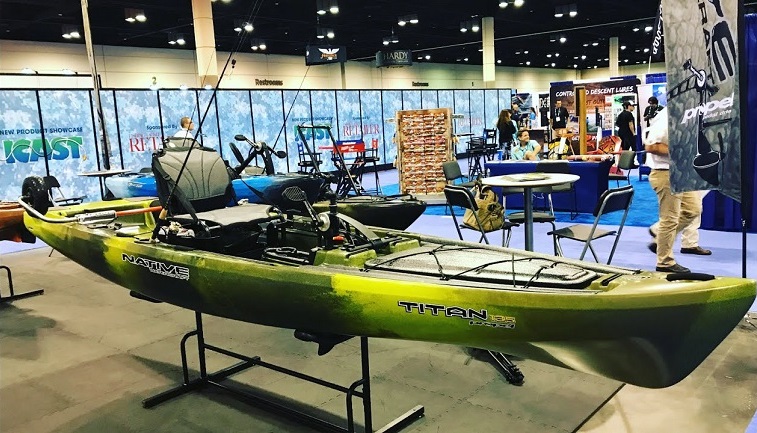 Apart from that, it's quite handy with its accessible horizontal rog storage and Power-Pole micro anchor system.
Features
Length: 10 feet 9 inches
Weight: 97 lbs
Capacity: 500 lbs
Price: Under $3,000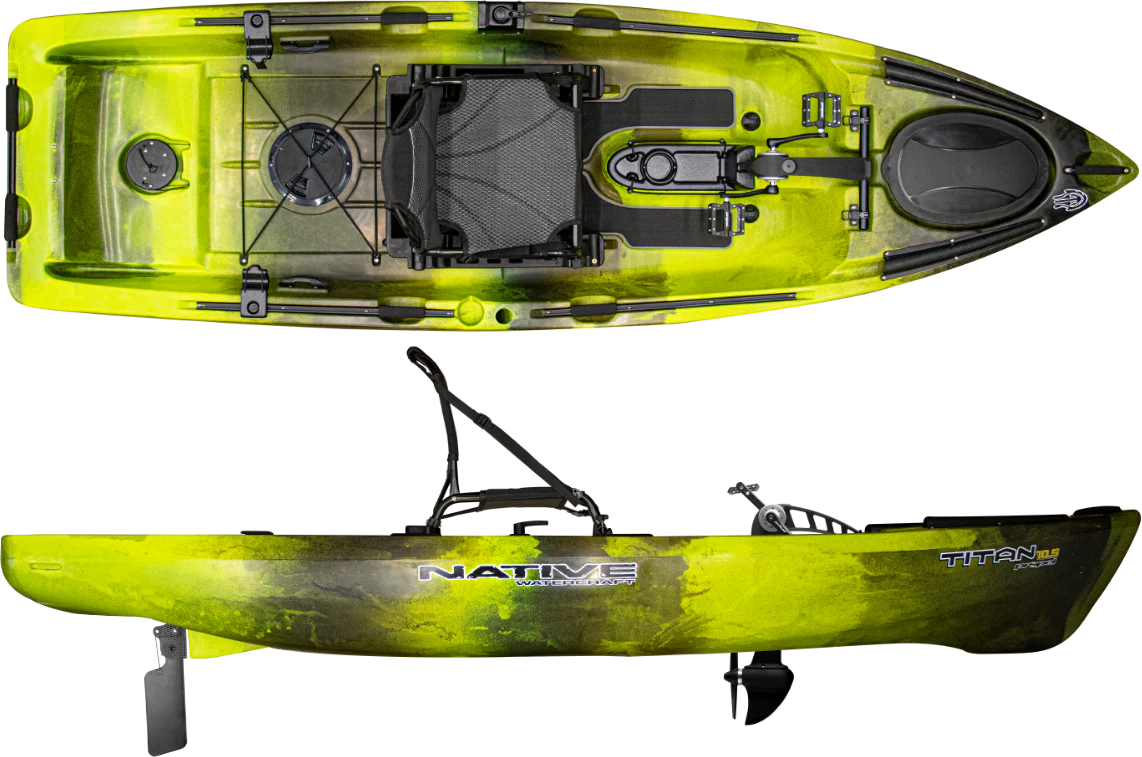 Native Watercraft Titan Propel (10.5/12)
The Price of " Native Watercraft Titan Propel (10.5/12)" varies, so check the latest price at

The Pelican motorized kayak utilizes a first-generation Hobie MirageDrive body design, but the motor system is a welcome upgrade. Some may protest this design because how its length barely goes up to 10 feet.
Don't let this small boat discourage you because what it lacks in length makes up for it in width. The 38-inch wide hull design easily makes this model one of the best fishing kayaks with maximum stability.
The short length of the kayak is actually a great plus point for any angler, as it is very capable of making turns in small spaces without much hassle. Not to mention the Ergo360 seat is a true treat for your patootie. It sure was for me!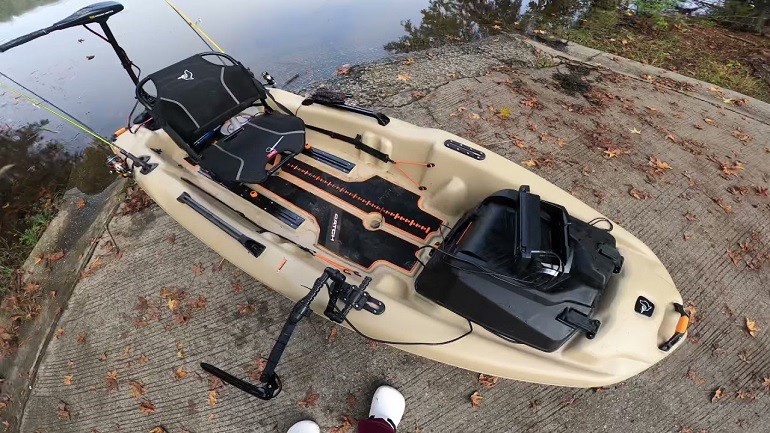 It is a high-level swivel seat mounted on rails that can easily move fore and aft to improve your fishing experience. And you know what is bound to improve your fishing adventure? The motor! The best motorized kayaks amp up your fishing game.
You can hook a kayak trolling motor with 55 foot-pounds of thrust to this practical and small yet nifty kayak. Practically invisible, the motor is installed on a bracket in the transom with the help of a 12-volt marine trolling motor battery placed in the bow.
Both are connected with wires that extend underneath the deck and are not visible, keeping up the clean outlook of the boat.
Features
Length: 9 feet 9 inches
Weight: 75 lbs
Capacity: 450 lbs
Price: About $1,000

Pelican Catch PWR 100
The Price of "Pelican Catch PWR 100" varies, so check the latest price at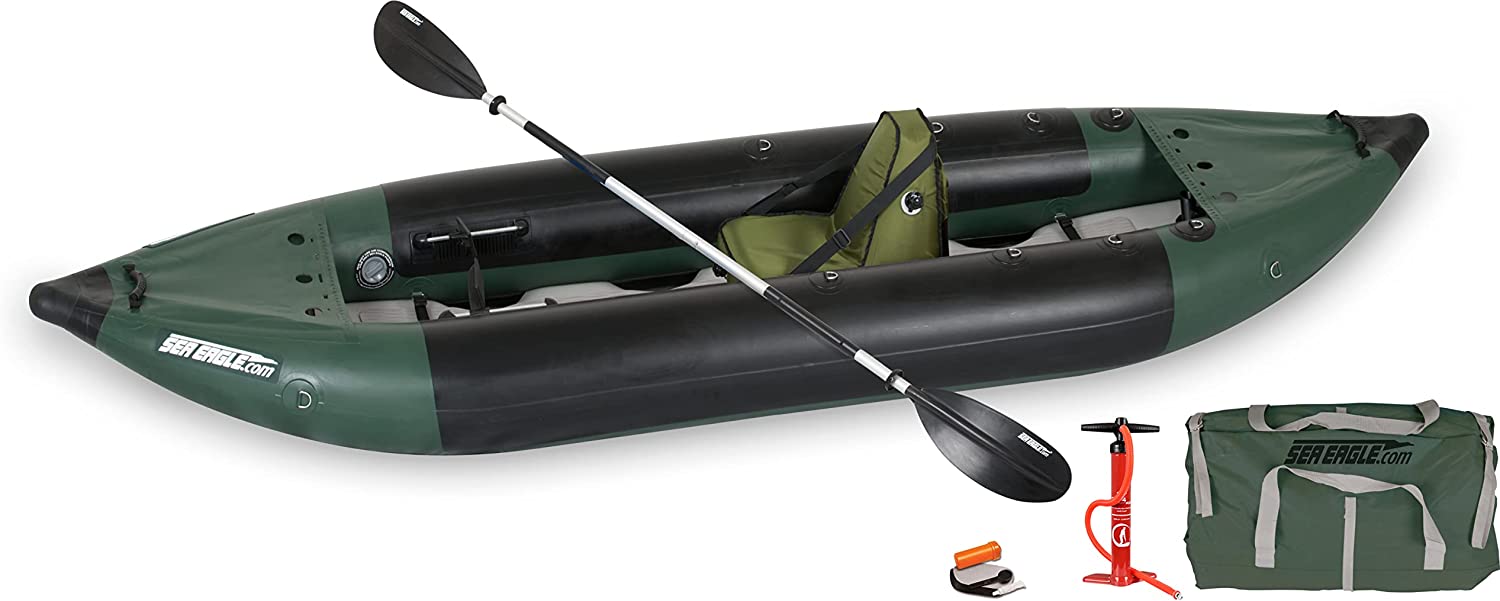 The Sea Eagle is a sweet performance kayak focused on delivering the finest and speediest kayaking experience for the experts. Most anglers have concerns about durability when purchasing any kayak.
This 350FX Fishing Explorer is manufactured with the strongest 2000 Denier double reinforced protective layers made to brave as much as 570 pounds in weight. With forward and aft spray skirts on this fully self-bailing kayak, you are both protected and facilitated.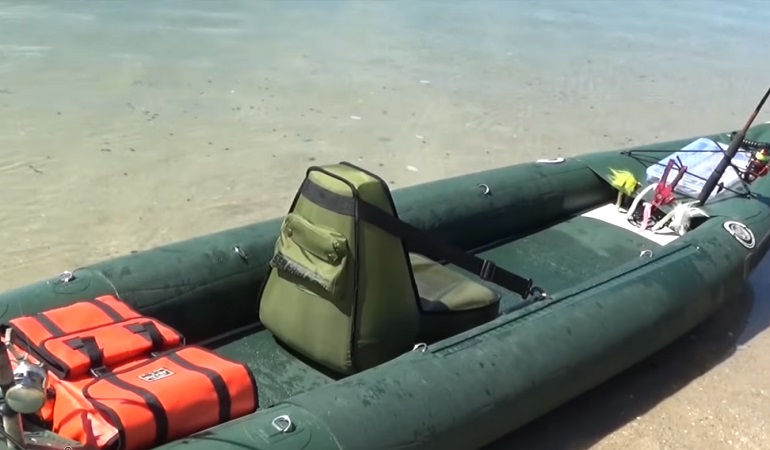 When it comes to gear storage on this great fishing kayak, you have 6-rod holders, Sea Eagle exclusive accessory belts, hooks, anchor trolley D-rings, and lures. Basically, you've got all the storage you could need to store all the gear you need to bag the biggest catches!
Features
Length: 11 feet 6 inches
Weight: 51 lbs
Capacity: 575 lbs
Price: Around $1,000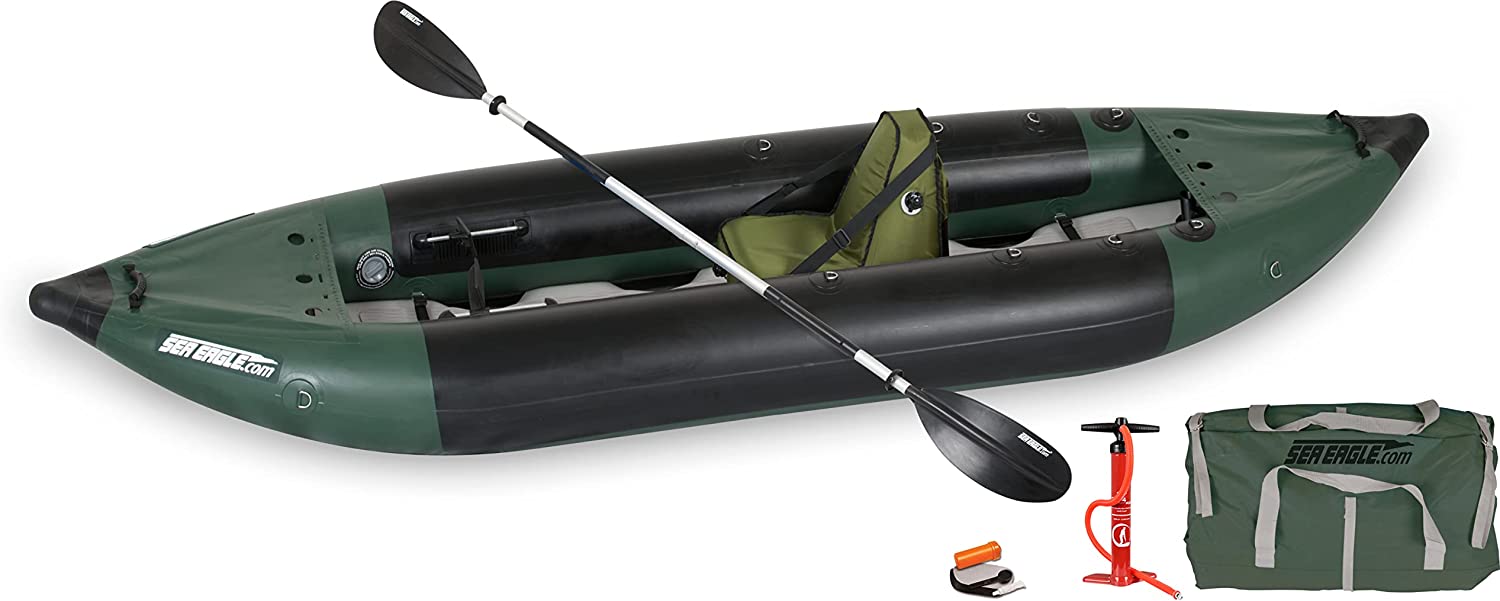 Sea Eagle 350fx Fishing Explorer
The Price of "Sea Eagle 350fx Fishing Explorer" varies, so check the latest price at

The ATAK 120 is a compact mini version of the ATAK 140. You will see all the main specifications of good fishing kayaks in this little gem. You get a perfectly stable and vast customizable platform with a wind-shedding deck and an improved smooth steering experience.
There is an additional transducer scupper installed in this kayak (not seen in the ATAK 140) that allows you to install new kayak technology, like side scanners. It is also compatible with the Helix MD Motor Drive, but that is sold separately and not included in the grand package.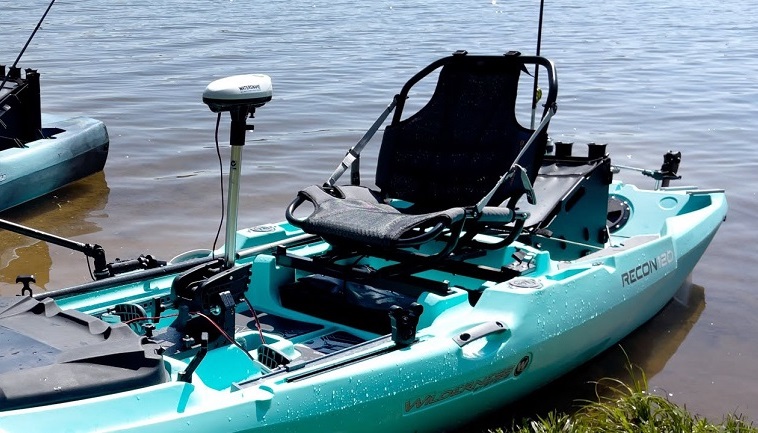 The Air-Pro max seat featuring a lawn chair style mesh design comes with a new quick-release cam lever that facilitates instant adjustment. With adjustable footrests, who's to say you're not going to have a royal seating experience?
Other minor yet highly useful adjustments and features include bow hood storage covers that prevent water splashes from the front. There are also self-draining bungee tank wells.
Features
Length: 12 foot 3 inches
Weight: 86 lbs
Capacity: 400 lbs
Price: Under $1,800

WILDERNESS SYSTEMS ATAK 120
The Price of "WILDERNESS SYSTEMS ATAK 120 " varies, so check the latest price at
Buying Guide for Best Fishing Kayaks
Knowing what you really need is half the battle. We've made it easier for you to make wise decisions while shopping. Read on to learn the essentials.
Price
It is imperative to understand your budget before you make any decisions while purchasing anything. I always tell my friends and whoever strikes up this conversation with me that you should never compromise on quality by being stingy, but budgeting your equipment is a wise and important choice.
Anglers prefer kayaks to other fishing vehicles, such as bass boats, since they are nifty and affordable options that provide a multitude of opportunities and benefits.
I have personally enjoyed a multitude of activities on my first kayak that many anglers were shocked to hear of. From paddling and sailing to cruising and fishing, the options are quite literally endless.
For example, a vessel like a bass boat would easily cost you up to $60,000, but when you check out all the kayak options in the market, you will find the best fishing kayaks barely costing you a few thousand dollars.
Stability
What do you think of when hearing the word 'stability'?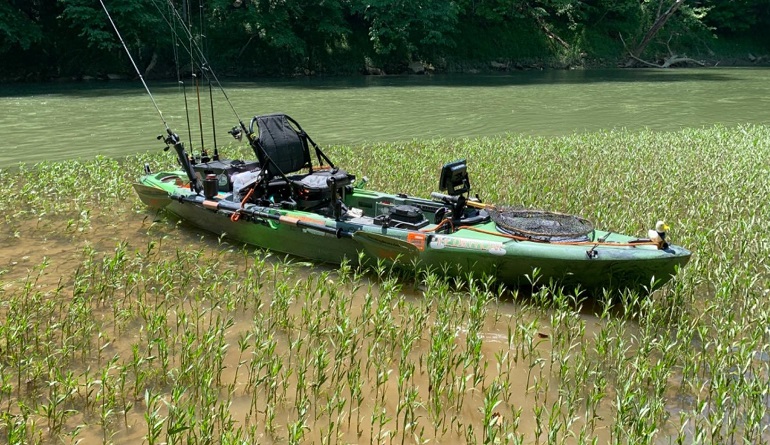 You're probably thinking about how a fishing kayak is able to handle rough waters and bumpy waves. Well, you're close, but not quite!
Stable fishing kayaks are more concerned with providing you stability as you fish and reel in your catches. Since fishing is rarely ever done while sitting, you will need to be standing on your feet on the kayak deck space.
The stable kayak especially features certain specifications that allow you to stand your ground (stand your water) with comfort and ease without worrying about the tumultuousness of the water underneath. However, with each different type of kayak, its body and stability vary.
As a rule of thumb, the longer fishing kayaks are usually a bit tougher to stand in and are prone to be a bit unstable. However, the wider your fishing kayak is, the easier it is to stand in, as it is breadth allows for more traction on the water.
Wider fishing kayaks are also recommended for big-bodied anglers who plan to stand and fish and make a habit of fishing in small bodies of water. Nevertheless, where the stability is exactly as you want it to be, you may notice that wider fishing kayaks are tougher to maneuver and may prove to be clumsy when making tight turns.
On the other hand, if you are willing to sacrifice a bit of stability (this is recommended for intermediate to expert anglers) for a smoother and easier paddling experience, go for the narrower models. Not only are they faster and ideal for all sizes of water bodies they are also quite portable fishing kayaks.
Weight
For those who are thinking the weight of a kayak plays a role in how well it floats or sinks… that's close! But not quite the real reason!
Your fishing kayak weight is very different than the weight capacity. The weight in itself is crucial in determining how you transport and carry it around. It is usually referred to as the 'rigged weight' of the fishing kayak.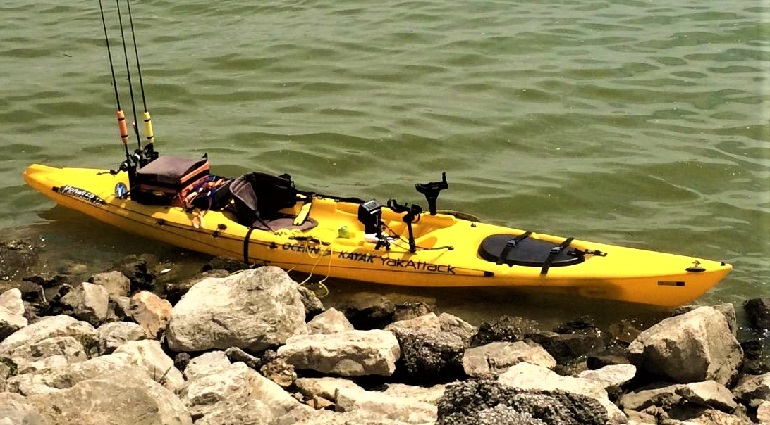 Of course, you will be stashing your kayak atop your car or at the back of your truck until you make it to your venue. But even then, there is a fair amount of carrying that you will be doing with your own hands.
When it comes to inflatable fishing kayaks, the weight is barely ever an issue as the whole thing can deflate into practically one square meter. The rigged weight of the fishing kayak plays an important role when it comes to other types of fishing kayaks.
But, if you think you still can't lug that big boy around till you reach the water, then consider a kayak cart. These carts make life a whole lot easier for the poor folk who have to park their cars a good half mile away from their favorite spot on the beach. But then again, the kayak cart ends up being extra weight to lug around as well.
Basically, at the end of the day, you will need to be lifting some weight, so choose wisely and well within your capacity.
However, when discussing just how the weight impacts the kayak's performance on the water, it is pretty predictable! Heavy-weighted kayaks tend to be slower as they are harder and more straining to paddle. Therefore if you are highly concerned about your performance and speed, then I'd suggest you go for a lighter fishing kayak.
But if you have no issue working out your arms and legs, then by all means… go all out and select a heavy kayak.
On that same note, a pedal kayak is a classic and the most appropriate option for heavy fishing kayaks. That is because you tend to use your leg muscles to paddle the boat, and those are more used to and trained to go for longer distances.
Basically, what I'm saying is you can never skip leg day with these heavy ones. But remember, leg day requires you to transport your equipment back to the car after you're finished.
Propulsion
As you know, technology of every sort is advancing every day. This means that things you would usually have to input 100% physical effort for can easily be achieved by the use of smart technology, and you won't even need half of all that effort.
That is what pedal drive fishing kayaks are all about! They incorporate a pedal-drive propulsion system that cuts down the average time needed to travel from one point to the other by half. The system is engaged by the rider utilizing their feet to propel the fishing kayak either forward or backward.
Models that use such propulsion systems are usually on the higher end of the price range scale but are completely worth it since they free up your arms and hands from managing the fishing kayak.
In that way, you are able to direct all your focus on fishing. Yet another plus point of this system is how it saves you time (and curse words) when reversing and forwarding the kayak. Not to mention leg muscles for days, c'mon now!
This hands-free plus point is also perfect for trolling a line behind your kayak. Basically, you can set up a line and leave it in deep water and wait for the bait to do its work as you cruise without a care in the world.
As the kayak flows smoothly over the water and you contemplate which delicious dish to make for dinner, your work is practically being done for you with minimal to no effort from your side. I call that a win-win!
Skeg
A retractable skeg is normally also available in such types of fishing kayaks. The function of the skeg is to assist you in steering and maneuvering the kayak since it is attached to the stern, and the cockpit hand control feature will allow you to make minor adjustments.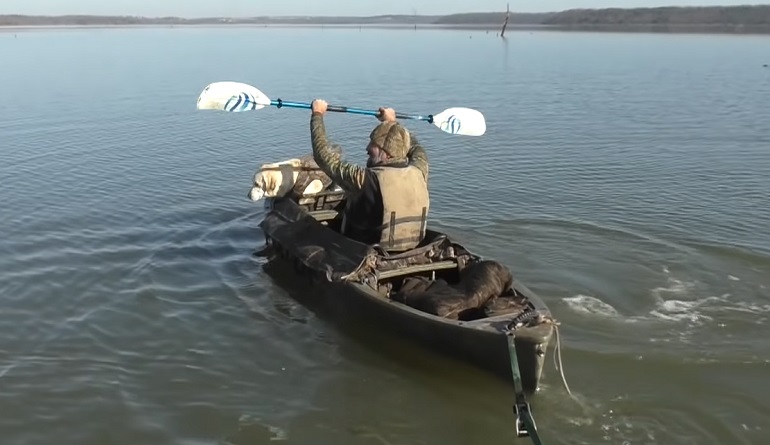 This is a definite yes-man call for all those who prefer their comfort and customizable leisure when steering.
However, to every golden ray of sunshine, there is a gray cloud of smog. A pedal-drive fishing kayak is probably not the best option when sailing in small bodies of water.
First off, the kayak gets twice as hard to maneuver and manipulate over the available surface. Second, if you run over shallow water, the pedals underneath could run aground.
Not just that, but kayak anglers who prefer their standing positions when fishing will find that the available standing space is quite less since the pedals do take up a fair amount of space in the cockpit. Opt for open cockpit designs if you wish to stand and reel your line in.
Transportability
What is it exactly that you want in your fishing kayak?
Before swiping your credit card on any kayak, do a mental note of what is it that you're looking for. Bear in mind that where extra features like rod holders, flush mount rod holders, fish finders, and bungee cords are available, the total weight of your kayak will also increase.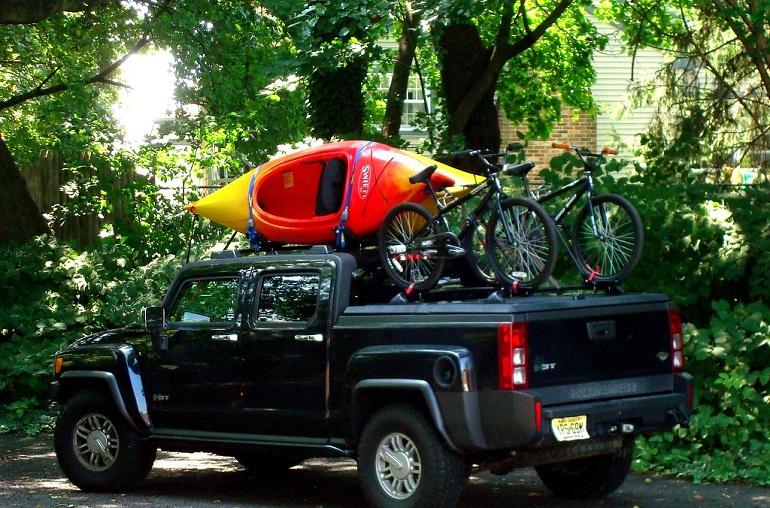 The portability and transportability of your kayak will drastically change in accordance with that. Not just that, but the total size of your package will also change. When you have to pack all these additional items in your fishing kayak bag, the average time to pack and unpack all your gear… that'll also take longer.
Durability
As rich as you may be, fishing kayaks should be a one-time investment (maybe two) in your life. If you feel like you need to keep changing kayaks like you change jackets in your outfit, you're doing something wrong.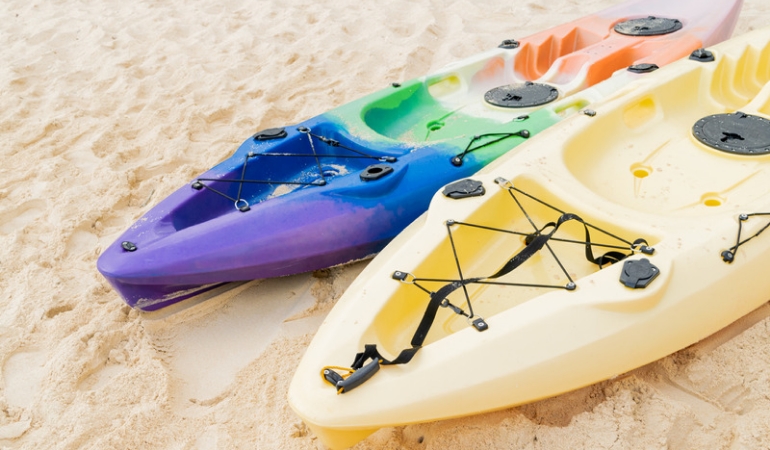 Fishing kayaks are manufactured of high-quality and highly durable materials such as rotomolded plastic, PVC, fiberglass, and EVA foam layers in between.
It is practically impossible for them to wear off easily unless the kayak is being used for purposes other than it was meant for. Yea, I've heard some people used their kayaks as iron stands… for pressing their clothes. Don't do that!
Getting back to the point, it is highly essential that you are aware of just how much your fishing kayak can tolerate and withstand. It is fairly normal for you to encounter little bumps with rocks and trees, and even in the start, you could have some rough collisions with water banks.
You can assure yourself that none of that can destroy your kayak but inflatable/blowup kayaks may need a bit more maintenance.
Thermoformed plastic is yet another highly recommended and newer material in the fishing kayak market that many companies use to manufacture speedy, lightweight, and highly durable boats. They are generally quite flashy and feature a sexier, sleek finish than most fishing kayaks for 2022.
But if you're an old-school kinda fella, then keep a lookout for a wooden fishing kayak. As rare as they may be, they are regarded as some of the best fishing kayaks in the market.
And no, a wooden kayak does not resemble or share any similarities with a raft, if that's what you're thinking. If you do manage to get your hands on a wooden kayak… first of all, don't let go of it!
Those are the most beautiful and rarest fishing kayaks and are bound to turn eyes and necks towards you.
FAQs
Can I Sit or Stand When I Am Kayak Fishing?
I would answer both questions with a "depends." Because it entirely depends on your fishing kayak. Those that have open cockpit designs and are generally wider in girth are more suited for standing in. They are also mainly called stand-up fishing kayaks and are perfect for fly fishing and sight fishing.
If you ask me, I prefer standing and kayak fishing, but when it concerns sitting, then you can sit inside kayak while fishing. It is simply a matter of personal preference. Some kayaks also have extra space for fitting an adjustable kayak seat for a comfortable experience.
How Will I Transport My Kayak? How Will I Store It? Is Inflatable Right for Me?
The biggest concern for everyone who buys a fishing kayak, transportability must be kept in mind during the purchase process. Consider the space your vehicle has, as you will be mainly transporting your fishing kayak over large distances with it packed in your trunk.
However, don't let the constraints of modern-day transportability obstruct your sheer joy and dedication to kayak fishing. When I purchased my first kayak, I owned a… brace yourselves, folks… a 2008 Smart Fortwo.
Yea, if you laughed, you owe me a drink! 
But still, I managed to strap my 11 feet fishing kayak atop the car (that barely was 9 feet in length) and zoom away to the beach. So basically, what I'm tryna say is if there's a will, there's a way. 
Nevertheless, if all that noise isn't something that you can easily tolerate, then opting for an inflatable fishing kayak would be perfect for you.
Some of the best fishing kayaks are inflatable, and you are not missing out on any specifications or luxuries when going for them. In fact, some of the inflatable models have the finest specs on the market. 
How Good Is My Balance? Do I Need Stability Add-Ons?
Stability is necessary for beginners worrying about how they'll find any fish when it is their face that finds the water first. At the start, I would recommend stability add-ons for all kayak anglers.
But if you are the kinda person to learn through tough luck and getting a face full of water every now and then… you can just wing it and go for it.
However, stability add-ons are essential choices for those with limited mobility, elderly anglers, and big guys with limited available kayak space.
Should I Add a Fish Finder to My Fishing Kayak?
The necessity of a fish finder on your fishing kayak depends on just how much of an expert you are when it comes to fishing. Those who are well versed in knowing where to fish depending on what type of fish they want to catch would feel no need in attaching a fish finder to their kayak.
However, if you're starting off or just looking to gain more knowledge and expertise, then there is no reason why not to. It would also be helpful when exploring new waters.
Is a Longer Kayak Better for Fishing?
The speed of a fishing kayak is directly proportional to its length. Therefore if you are looking to travel long distances in a short period of time, go for longer kayaks.
However, if you are fishing and taking your sweet time in taking in the surroundings and enjoying your time, it's not advised to go at high speeds.
Nevertheless, it is crucial that you pay attention to what purpose your fishing kayak serves. If you want to fish and cruise, then it is easy to control the speed while fishing just to enjoy the speedy wonders of a kayak cruise.
When looking at the disadvantages of a long kayak, they are a bit of trouble when making turns and navigating through tight corners. Lastly, it's not the easiest treat to transport a hella long fishing kayak.
Will I Fish Alone or With Another Person?
As a beginner kayak angler, do not make the mistake of embarking out alone on new waters. A tandem kayak is your best choice in such situations, as it reserves a second spot for a partner. However, if you must wander out on your own, then make sure you are in safe monitored waters and during full daylight.
How To Stay Safe While Kayak Fishing?
A life jacket should always be on your person, even if you are sailing on the most stable fishing kayak in the world. There is no telling what could happen. One time I tripped on my own line and ended face-first in the water with a mouth full of my own humiliation. Yea, keep your kayak fishing life jackets on you!
Another important and usually disregarded factor to always keep in mind is dressing up in brightly colored clothes when embarking on your kayak fishing adventure. It makes a whole lot of difference as it makes your figure prominent when natural light decreases or if you traverse too far out in the water.
Packing protective items like personal flotation devices, life jackets, and all are important, but let's talk more about refreshments and adequate food supplies. Freshwater should be your focus primarily, as dehydration is the core reason behind anglers fainting and losing consciousness out at sea.
Finally, a communication device of any sort should be with you whenever you set off on the waters. Not just that, but make sure a walkie-talkie in contact with the Coast Guard or local marina is also stowed safely in your dry storage areas.
Final Thoughts
Hope by now you were able to find the best fishing kayaks for your next fishing trip.
Make sure to get all the essential fishing accessories, like the best kayak fishing net, before setting off to enjoy yourself to the max! If the pocket allows, you can also invest in other kayaking gear, like the best kayaking gloves and the best shoes for kayaking, for added comfort. You can also try out duck-hunting kayaks if you're into the hunting sport.
Stay safe, and have a time of your life!