Your one-stop-shop guide to finding the best coworking space in Hanoi
From the weirdly wonderful city life to its fast-growing entrepreneurial scene, Hanoi is an awesome choice for digital nomads and location independent workers looking for a mix of culture, adventure, and business opportunity.
Located in North Vietnam, Hanoi is as cool as capital cities come.
The Old Quarter is filled with teetering stacks of China and bundles of colourful silk lanterns, while the downtown area is a hodgepodge of modern life and ancient culture, with sights like the famous train street, Hoan Kiem Lake, and the Temple of Literature drawing visitors from around the country.
And for adventurous nomads and extreme sports lovers, it's an awesome place to put down your bags for a while and get stuck into some action.
But even with all the excitement of touching down in a new location, digital nomads still need to focus on one important thing:
Where we're going to power up our laptops and hook into wifi.
Luckily, Hanoi is embracing the new wave of digital nomadism hitting the city, and there's already a decent handful of coworking spaces to choose from.
You might also like:
5 best coworking spaces in Hanoi:
Toong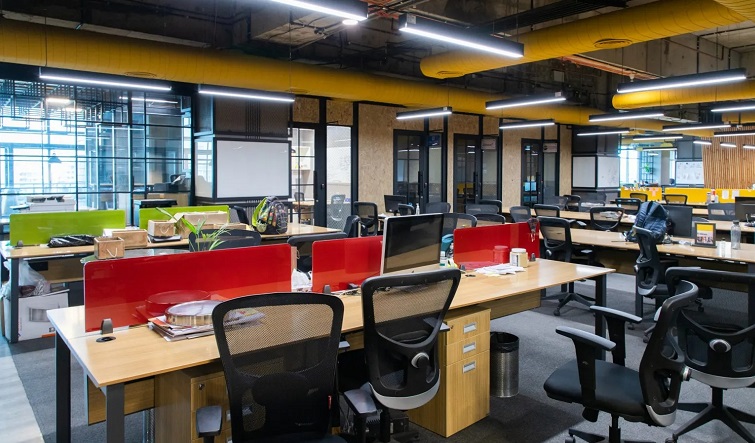 Marketed as "the first coworking chain in Vietnam", Toong has not one, but three coworking spaces in Hanoi.
If you need a place to meet with a client and Starbucks feels a little too predictable, Toong promises to impress.
Sleek style and punchy decor are what Toong is all about, while still providing all the services a digital nomad in Hanoi could ask for: common spaces, meeting rooms, individual desks, lockers, printers, and fresh brewed coffee.
They offer 4 different pricing options: Day-Tripper, Associate, Resident, and Citizen, each of which offers different deals in terms of hours, access to meeting rooms, printing fees, drinks promotions, and locker use (check out their website for full details).
Toong focuses heavily on providing a sort of incubation scenario for small start-ups to find their feet and get moving in the world of business. Their spaces are dominated by mini-office setups and private rooms catering for entire teams to work in long term.
The funky, gothic-meets-Oriental style has earned Toong a reputation as one of the most stylish coworking spaces in Hanoi, although when it comes to individual reviews there are mixed feelings.
"It's not exactly warm" said one digital nomad, working alone on her laptop, which is a comment that makes sense to me. Big, bold interiors straight out of a catalogue makes it come across as a place one might like to be seen, rather than a place you'd like to treat as your home away from home. However, if the 'office feel' is something you value, Toong could be a good fit for you.
Address: Toong HQ: 2nd Floor – 25T2 Hoang Dao Thuy, Cau Giay, Hanoi
Opening hours: 08.00-21.00 daily
Moonwork
It may be a small space, but Moonwork is bursting with quirky personality and relaxed home vibes.
It's tucked away in a residential area in Dien Bien Phu; you have to navigate your way down a couple of back streets before you'll find it.
You'll see a sign that says "Moonwork" on the outside of the building, but the eensy weensy tin can elevator doesn't have any signage inside to tell you which floor to take (it's 4)- or at least it didn't when I visited.
Inside the space however, is pretty cool. The low-key, stylish, totally understated kinda cool.
There's plenty of seating options at individual desks, as well as a private meeting room and a larger function area on the 2nd floor.
There's a nicely decorated serve-yourself-kitchen in the back corner where you can grab coffee and tea and rustle up a bite to eat if you're feeling peckish.
The rooftop- though yet to be officially opened at the time of my visit- is packed with chill-out chairs and benches for socialising, kicking back with a couple of drinks, and (eventually) for movie screenings on the big projector.
Pricing schemes are extremely flexible in here, with options starting from a single hour (for the equivalent of $1 USD) up to unlimited monthly access.
But the highlight for me?
The 'green' balcony, stuffed full of all different kinds of potted plants and a couple of chairs for when you need a fresh air break.
They even have a small selection of products for sale at reception, all of which have been imagined and created by entrepreneurs who use their coworking space; says a lot about their ethos, doesn't it?
Address: Số 34, Ngõ 28B, Điện Biên Phủ, Ba Đình
Opening hours: 08.30-20.30
You might also like:
Hatch Nest
If you're around Ba Dinh District and need a place to plug in for a couple hours, Hatch Nest is probably where you'll end up.
Located on the top floor of a 14 storey building just off of the crazy Doi Can street below, Hatch is a medium sized space with a mixture of dedicated seats, meeting rooms, events spaces, and virtual offices.
Staff's level of English was lowest here out of all of the coworking spaces in Hanoi that I visited, but all of the pricing options are printed on fliers at reception in both English and Vietnamese, so you shouldn't have any trouble communicating.
It was completely silent when I visited- good for the type of worker that needs a quiet space- but I have to admit, I was rather distracted by the sort of strange smell that seemed to find its way into every corner of the floor. It wasn't bad exactly, but it did give me the feeling of being trapped in a stuffy office.
Not all bad, but could do with some airing out.
Address: 14th Floor, 195 Doi Can, Ba Dinh, Hanoi
Opening hours: Monday to Saturday 9:00 until 21:00 – Closed for national holidays
HanoiHub
One of the more established coworking spaces in Hanoi, HanoiHub has two locations in the city: Lang Ha Street and Huynh Thuc Khang Street.
The place is open plan, spacious, but still cosy. Punchy yellow and red interiors gives the space a feeling of warmth, offset by the sleek wooden desks and stone covered floors.
Thanks to their combination of "energetic zones" and quiet corners, there's a spot in here to suit every digital nomad- whether you need some back-and-forth collaboration with a partner, or peace and quiet to think on your own.
Apart from the work space, there's also a thoughtfully curated "relaxation room" piled high with books, magazines, board games, and comfy chairs, as well as an open-air balcony to get some fresh air or have a cigarette break.
They also provide access to public computers and big screen monitors.
Pricing schemes start from 3 hours and go up to 3 months, each with various deals on printing, meeting room access, locker use, and discounts.
Address: Tầng 2, Số 2, Ngõ 59 Láng Hạ, Chợ Dừa, Ba Đình, Hà Nội / Số 64, Ngõ 49, Huỳnh Thúc Kháng, Quận Đống Đa, Hà Nội
Opening hours: 7.30-21.30
ClickSpace
UPDATE January 2020: The Click is temporarily ceasing operations in Tay Ho as they've lost a battle with the landlord to keep the property. Word has it that they'll be reopening later in the year in another location in Hanoi, so keep an eye on their Facebook page for the latest news.
Out of all the coworking spaces in Hanoi that I visited, ClickSpace was the one that really stood out.
Located bang smack in the middle of Tay Ho District, Clickspace is spread out across a massive 3 storey villa complete with its own little garden, patio, and 'Spacebar' cafe.
Spacebar dishes out a mouthwatering mix of healthy nibbles and satisfying veggie dishes (plus you have access to free wifi if you choose only to visit the cafe).
As soon as you arrive, you'll catch on that this place is quite unlike the other coworking spaces in the city, and that's no surprise considering these guys were the first to set up shop here in Hanoi. They literally pioneered the coworking scene here before the digital nomad boom hit town.
While they do foster a couple of start-ups, Clickspace is mainly geared towards solo digital nomads, individual creatives, and freelancers- both short and long term. Many of their customers have been coming here since the day they opened their doors, but most use it as a base while they're just passing through.
The atmosphere throughout the villa is super chilled and gives you the sort of feeling that you're expected to treat the place as if it's your own home. Perfect for creative thinkers who need a stress-free environment to do their best work.
ClickSpace has already successfully hosted a group of 20+ digital nomads from international remote work program We Roam, and they have plans to host some other big global groups in the near future.
On top of all that, they also run a slew of interesting events, parties, workshops, and movie nights.
Laidback yet professional, chilled, and full of character, Clickspace sets the bar for coworking spaces in Hanoi.
Address: Alley 76 House 15 To Ngoc Van, Tay Ho Hanoi, Vietnam
Opening hours: 08.00-22.00
Want to hit the road but need a career change first? See our list of 45 location independent jobs you can do to become a happy nomad and roam the earth in style.
Hey, want to make sure you don't miss any of our future articles? just sign up to our monthly Extreme Nomads newsletter when exiting this page (also located in the footer / sidebar), or follow us on Facebook, Instagram, or Youtube for more original content from us!
Read next:
Interested in going to Vietnam? The street food there is amazing, check out our latest video from Hanoi!
---