Searching for the best snowboards for women can be a pain in the hoo-ha.
Anyone with a vagina and a penchant for board sports will be all-too-familiar with the concept of "shrinking and pinking". Just take a board designed for a man; make it smaller, prettier, and boom: your female-friendly range is ready to roll. Except for not really.

Because as anyone with a vagina and a penchant for board sports will tell you, smaller and pinker does not magically make it suitable for female athletes. I know, right? Mind. BLOWN.

With stance, style, and physicalities as different as they are, women's snowboards (and more to the point, any female-specific sports gear) are always going to be leaps and bounds ahead of the competition if they're — get this — actually designed for women, by women who understand what we need.

Disclosure: this page contains affiliate links, which means we make a commission through sales generated at no extra cost to you. As always, we only recommend products we trust and know you'll love.
As has been the case for aeons, today's outdoor industry is dominated by dudes (no shade, guys. Just stating the facts). From the marketing department to the designers, the people who are put in charge of conceptualizing, building, and advertising women's snowboards are, by and large, possessors of shlong.

For those of you feeling like the industry has been way overdue a feminine injection, dig this: we've just made friends with a coalition of female snowboarders and skiers who are designing skis and snowboards for women who shred.

In this post, we're going to hone in on why so many people think Coalition Snow is making some of the best snowboards for women on the market today.

*For the sake of specificity in answering your questions about the best snowboards for women, we're not going to go into their ski offerings in this post. If you're keen to see us talk about their skis as well, let us know in a comment at the bottom of the page.

Before we get to the boards themselves, let's kick things off with a little background on Coalition Snow and its founder, Jen Gurecki, and how she's carving out a well-deserved place in an industry long dominated by men.

Which, by the way, doesn't come easy.
Meet the women who are shredding the snowboarding patriarchy.
Jen and her business partner, Lauren Bello Okermen, set up the all-women owned and operated ski and snowboard brand in 2014 as an antidote to the "shrink it, pink it" mentality that still reigned supreme in the snowsports world.

They wanted — needed — to shake things up.
With a brood of builders in their arsenal, they set out on a mission to make the best snowboards for women that they possibly could. And we have to say, they did a pretty damn good job of achieving their goal.

In addition to their slick AF skis and snowboards for women, they also run SISU magazine and constantly bust out blogs, newsletters, podcast episodes, and social media posts that invariably promise a lean portion of muse factor and a side serving of sass.

In her phenomenal article about gender bias in the outdoor gear industry, Jen writes "When I started Coalition Snow, a women-founded and women-led ski and snowboard company, I was given advice to put a man at the forefront of my company. Although I seriously considered it, particularly when we were raising our first investment round, I decided against it. It's something that I still grapple with every time we're asked if Coalition skis are any good or if we were "just a marketing company," questions that my male counterparts in snowsports rarely have to tackle.".

Her article details all the ways in which our conscious and unconscious biases influence the flow of money and power in the world of outdoor gear production. She did a ton of research and cited some important studies and papers to illustrate the reality of gender bias in outdoor sports — which is really worth reading.

But for now, let's get back to our main discussion:
Why these might be the best snowboards for women, maybe ever.
These snowboards are for the women who give less of a shit about how good (or…not) their arse looks in snow pants and more about ploughing powder.

What are we talking about?

Quality that's second to none. Women-specific design (as in product design, not just the graphics). Amazing artwork. The fact that every snowboard comes with a lifetime warranty.
These are just a few of the reasons the Coalition's snowboards for women set themselves ahead of the competition.

We also love that the founders chose to install a financing scheme that allows you to pay for your snowboard in affordable instalments.

And while we think the aesthetics and quality alone are more than enough to convince us to buy, there's a kicker:

Choosing to purchase one of these snowboards for women means casting a vote for the company's ethos. For their ethics. For supporting something that f***ing matters. It's a way of saying, as a female who makes up 51% of the consumer base of outdoor sporting goods, "hell yeah I want a seat at the table". And that is something we can seriously get behind.
Let's take a look at the range:
Best snowboards for women: The 3 models from Coalition Snow
Note: the following descriptions are a summary of Coalition Snow's product descriptions; you can hop over to their website and check out the detailed specs for each of the following snowboards for women whenever you get inspired to do so.

Here's the need-know info about each one:
Queen Bee
The Queen Bee offers forgiving handling and is nice and flexy; in fact, it offers the most flex of the three snowboards in the range. It's stable, playful, easy to manoeuvre, and hence a brilliant pick for all kinds of riders in the park and the powder.

The creators peg it as a 'one-board quiver' kinda ride — making it ideal for the minimalists amongst you as well as those of us who are looking for a solid starter board.
Read the full description, customer reviews, and see prices for the Queen Bee snowboard for women here.
Psssst: the Queen Bee is currently on sale for $299 down from $499 — a whopper of a discount!! (July 2020)
Myth
This all-mountain freeride board brings a balance of stiffness and flexibility which makes for easy handling, responsiveness, and stability — even when you're flying at top speed or holding down a fierce edge.

With a neutral edge and medium flex, the Myth is a powerhouse for loading up, popping, and jumping; while the birch core is built to absorb maximum impact.

Are you all about pushing your PB speed records and progressing your jumps? Then the Myth is without a doubt one of the best snowboards for women you can get your mitts on.
Read the full description, customer reviews, and see prices for the Myth snowboard for women here.
Who Dis?
For the most confident riders, this board meets a super stiff core with a rocker tip and tail. Described by the creators as "a beast", this snowboard is all about fast rides and big jumps. If you live for the halfpipe, this is one women's snowboard you need in your quiver.
Read the full description, customer reviews, and see prices for the WhoDis? snowboard for women here.
How to pick the best women's snowboard model for you
As someone who's going to be hitting the slopes for the first time this year, the concept of picking out my weapon of choice for the winter has been occupying a lot of my CPU. I know how to pick out a kiteboard like the back of my hand — but how does picking out a snowboard for women compare?

It's pretty similar, as luck would have it.

There are a few main factors you'll want to consider:
Level
Riding style
Plans to progress
Where you're going to be riding
Size
Coalition Snow has a page on their site which aims to help you picks the perfect snowboard for yourself, with these factors in mind. Check out the comparison of their snowboards for women here.
For the integrity of this section, we reached out to Coalition Snow ambassador and super experienced snowboarder Charlotte for her advice on picking the right snowboard for your abilities and needs. Here's what she said:
Myth:
I. Love. This. Board.
It makes it incredibly hard to be fair to my whole quiver (I have 4 boards!) The website description describes the ride to a T. I'll add that an extremely soft torsional flexion makes the board ideal for easy turns.
I would put any beginner that comes through my lessons on this board. It packs a poppy punch from nose to tail for ollies and floaty side hits, but responds faster than anything on more technical terrain like bumps, trees and steeps.
Queen Bee:
It's a thicker beast to throw around. After spending so much time on the Myth, the Queen Bee was no-nonsense.
While the turn initiation is more of an effort, once the edge caught, it held with a vice grip. Great stability on bigger freeride features. I'd imagine it would float great in wide-open powder. I think this board is perfect for someone who's looking to charge with a partner that will always hold up.
WhoDis?
I haven't had the opportunity to ride this yet, but based on my above comment on it fitting the Queen Bee, I'd say this board is also for a hard charger.
You can check out Charlotte's instagram here.
---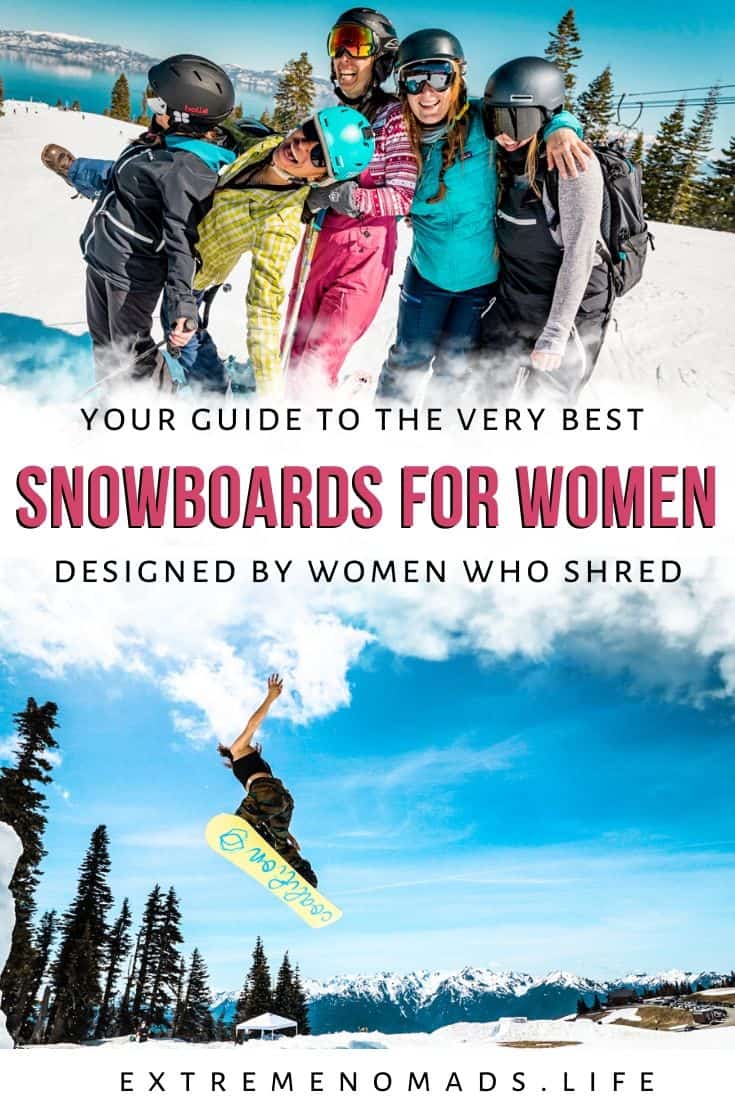 Still have a question about picking the best snowboards for women — or want to chat about anything we've brought up in this post? Comment below or head on over to our FREE Extreme Nomads Facebook group and get in touch with members of our community.