Introduction
You'd think touring kayaks are less stable or more difficult to paddle or turn than recreational kayaks (and other kayaks, of course).
If you are comfortable on the water, it can be the other way around: touring kayaks may feel even more stable, more comfortable, and faster than whitewater kayaks. The first two situations occur because much time is spent in the same position; naturally, the paddler will need a good seat.
For the speed part, most touring kayaks are designed to cut through waves, and the rudder that most of the kayaks have is of help. A lot of help!
What is a touring kayak? You can also call it an 'expedition kayak,' and sea kayaks are a sub-type of touring kayaks, as they've got some particularities that help them fight waves.
Simply put, we are dealing with narrower and longer kayaks (even inflatable kayaks!), with a dedicated paddle and more space to carry items that might be useful during multi-day trips. So, which is the best touring kayak, in the end?
Your Body's Extension

Eddyline Samba 13′9″
weight: 43 pounds
length: 13'10"
Floating on a Cloud

Old Town Castine 140 14'
weight: 59 pounds
length: 14′
The kayak

Dagger Stratos 14'5"
weight: 56 pounds
length: 14'6"
Boat That Grows With You

Riot Kayaks Edge 13 Day
weight: 58 pounds
length: 13'1"
Shared Love For Accessories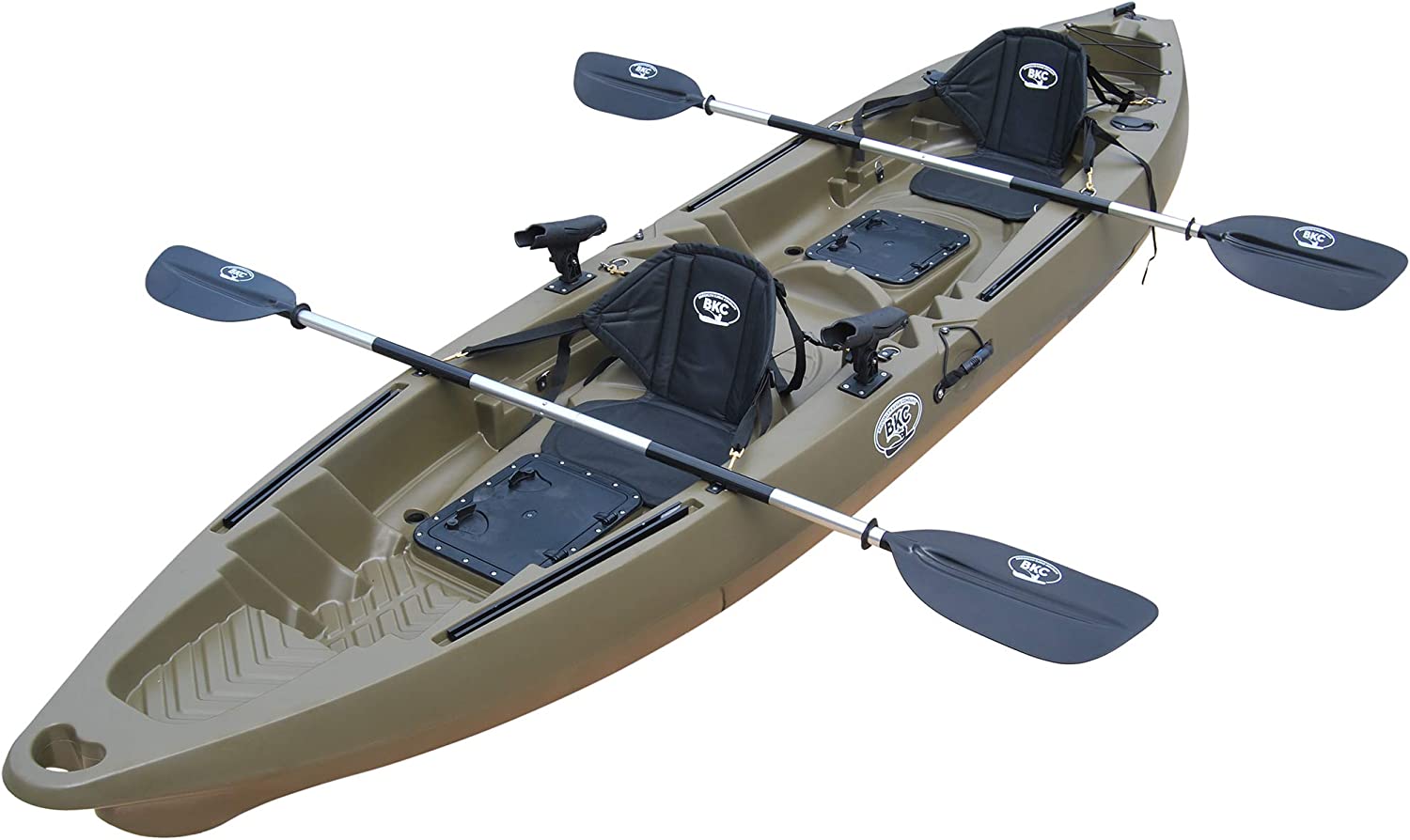 BKC TK122K 12′ 8″
weight: 74 pounds
length: 12'8"
Versatility Unleashed

Perception Carolina 14
weight: 53 pounds
length: 14′
For Independent Individuals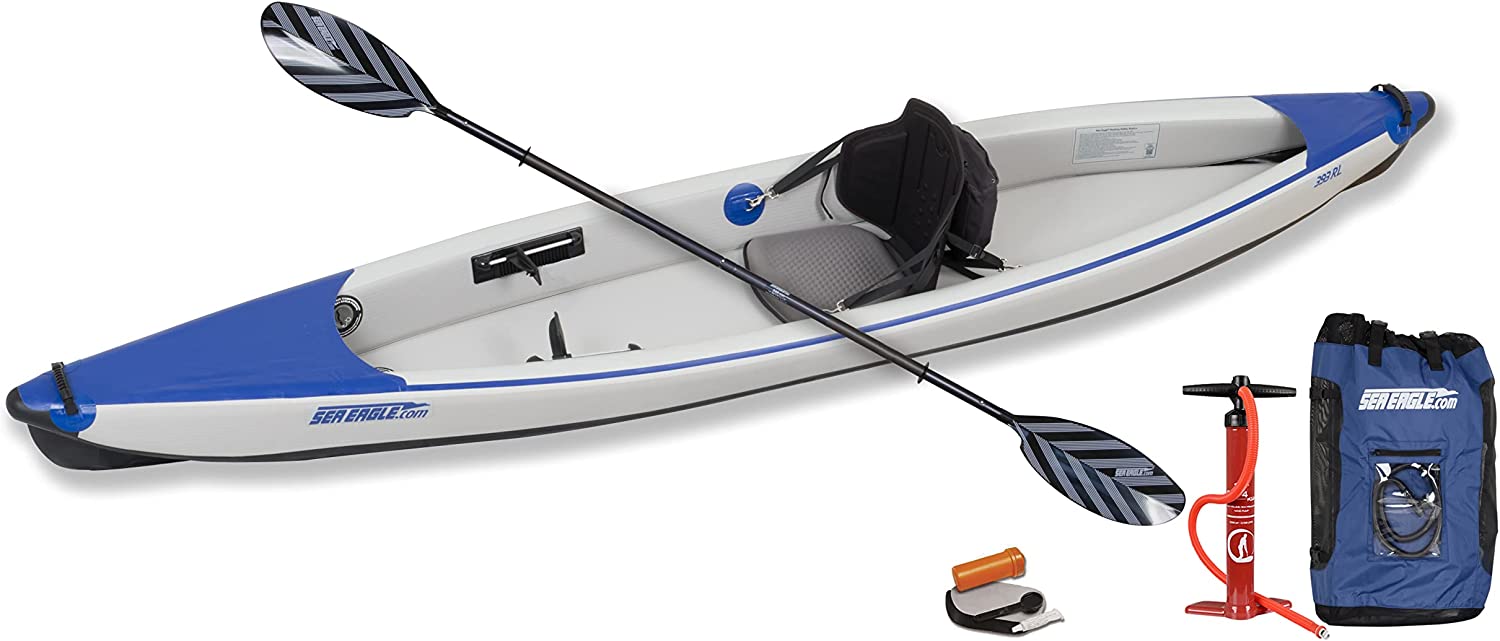 Sea Eagle 393RL
weight: 35 pounds
length: 12'8"
Stable and Safe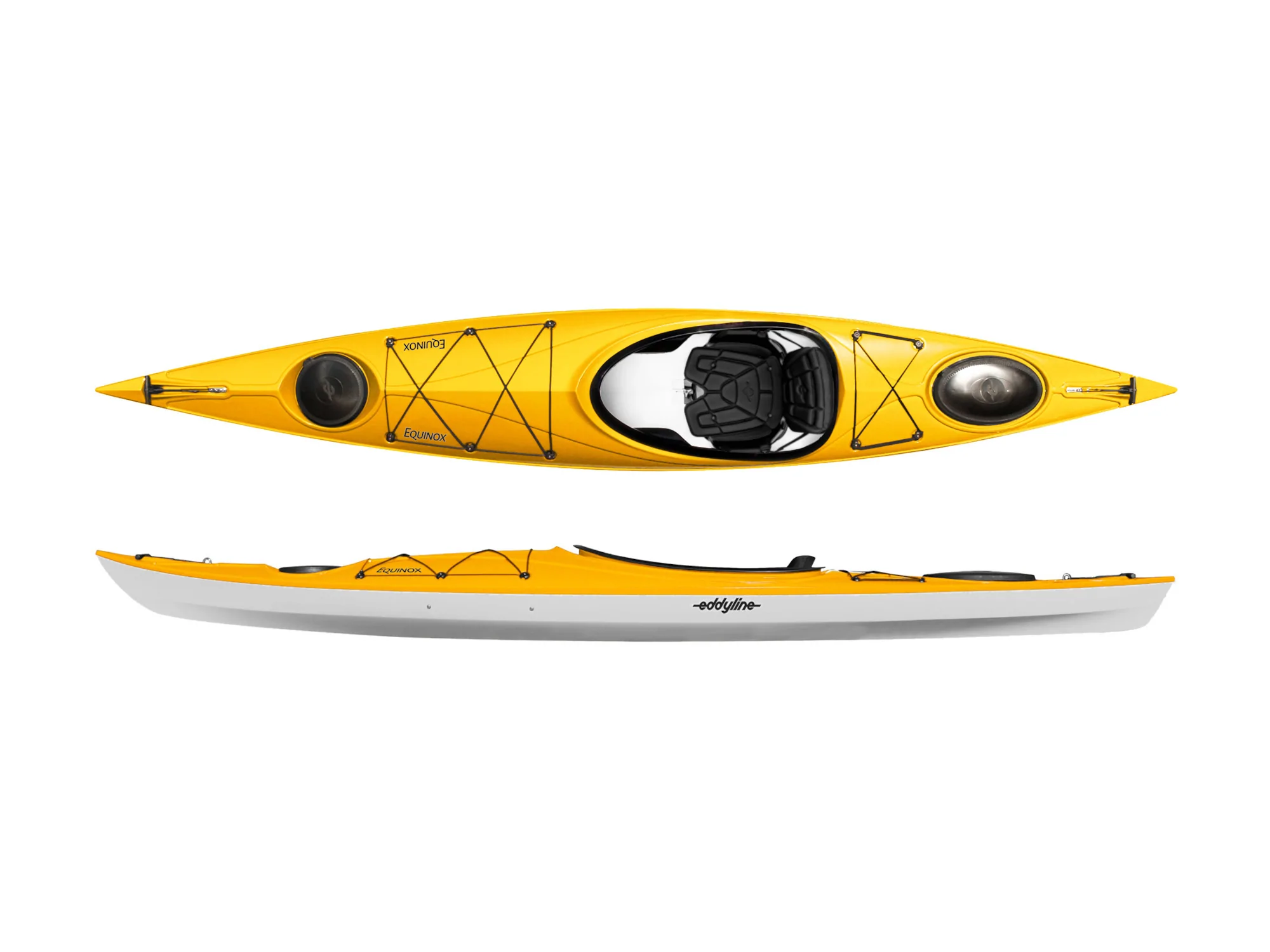 Eddyline Equinox
weight: 45 pounds
length: 14′
Best Touring Kayaks for 2023
Just like a board game unveils right before your eyes, so will the features of a touring kayak if you're a beginner kayaker.
On the other hand, you'll probably feel like a kid in a candy store if you're a regular paddler thinking of purchasing a new kayak.
Here follow your options, detailed and compared in the kayak review below. Hopefully, they'll help you decide to buy your first kayak or make the switch. Choose by going through the best touring kayaks out there.

Medium and smaller paddlers will be thrilled! This kayak was designed for them!
It was conceived as the lightest in Eddyline's line-up of touring kayaks, so it turned out very maneuverable and easy to paddle. The Eddyline Samba is also easy to load onto your vehicle and transport right to the water's edge.
It features deck bungees, retractable carry handles, and two watertight hatches. You are, thus, ready to head on a single or multi-day kayak trip!
If winds intensify, you can always use the retractable skeg to keep you balanced.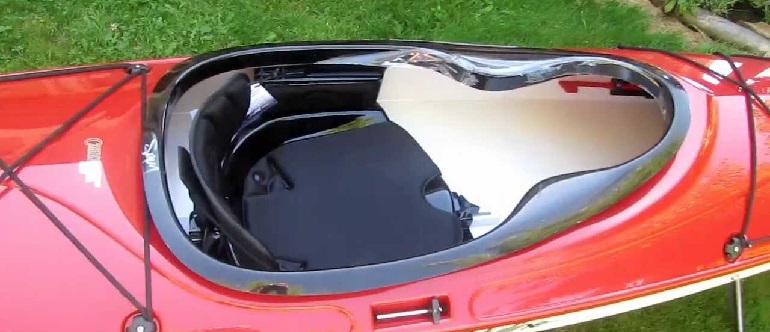 Your comfort will be preserved via the Infinity seat, which can easily be adjusted, as can the backband. The Samba will act as an extension of your body, be safe to lean and be easy to roll, making it a perfect kayak for beginners and advanced paddlers alike.
The price can be an issue… then again, the manufacturer guarantees that riding this kayak will feel as if dancing on water. So, will you have this dance?
Specifications
Length: 13'10"
Width: 22.5"
Weight: 43 lbs.
Maximum capacity: 300 lbs.
Type: Sit-in kayak
Seating configuration: Solo
Level: Beginner, Intermediate, and Advanced

Eddyline Samba 13'9" kayak
The Price of "Eddyline Samba 13'9" kayak " varies, so check the latest price at

The Old Town Castine comes in two colors and three sizes, with the rudder already installed. The ACS2 seat (low-profile backrest and flow-through ventilation) will make paddling feel like floating on a cloud.
This kayak has every basic accessory, from deck bungees to two quick-seal hatches and bow and stern carry handles.
Foot and thigh braces are fully-adjustable for better control while turning and edging; the kayak is fairly light, so every aspect seems to fit simply. Even the price is right!
It's great for overnight trips or weekend trips via large bodies of water but can also adapt fast to slow-moving rivers.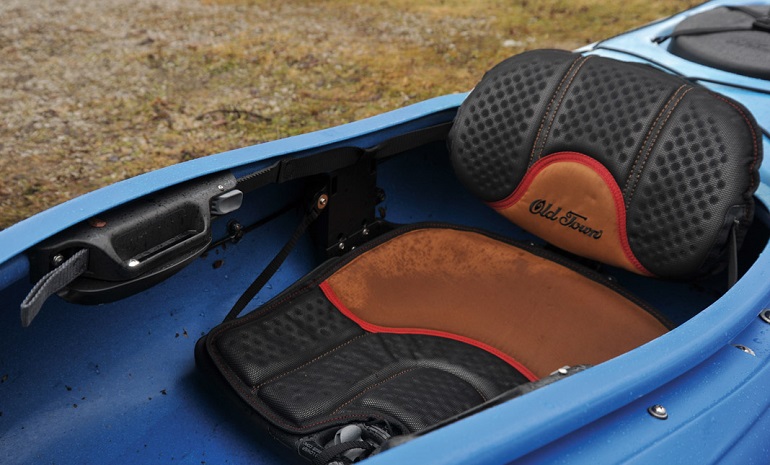 The only part where the Castine doesn't seem to excel is the design/color one – not enough finesse seems to have gone into it. Can you get over this aspect?
Specifications
Length: 14'
Width: 24.75"
Weight: 59 lbs.
Maximum capacity: 316 lbs.
Type: Sit-in kayak
Seating configuration: Solo
Level: Beginner, Intermediate, and Advanced

Old Town Castine 140 14' kayak
The Price of "Old Town Castine 140 14' kayak" varies, so check the latest price at

Dagger kayaks are usually sturdy, well-built, and stable both for river running and the ocean. This ocean kayak is very forgiving, especially in the case of beginner kayakers. However, more experienced paddlers will enjoy it, too. It is a very stable boat, which can excel in surf and rock gardens but also in open water and rivers while keeping you safe and happy.
With 2 volume versions, the Dagger Stratos has a skeg, a redesigned seat, soft handles, two storage hatches (a stern hatch and a bow hatch), and deck bungees. To gain comfortable control of the kayak, there are thigh braces and foot braces.
You will surely be very visible on the water in the 4 colors that are provided, and you'll certainly love the shades.
…which brings us to its price – I'd say it's a 'yes!' for a kayak of this caliber.
Paddlers seem to be thrilled, too. It's the perfect companion as a day paddler and for confidence build-up in the ocean and on great flat rivers, being overall very easy to paddle.
Were there any cons noted? The fact that the backband does not provide sufficient support and that the kayak seems a bit slow may constitute its cons.
I think you can live with them because you realize this is one great kayak you'd love to own and take along with you on your water adventures!
Specifications
Length: 14'6"
Width: 25"
Weight: 56 lbs.
Maximum capacity: 315 lbs.
Type: Sit-in kayak
Seating configuration: Solo
Level: Beginner, Intermediate, and Advanced

Dagger Stratos 14'5" kayak
The Price of "Dagger Stratos 14'5" kayak" varies, so check the latest price at

Robust and harmonious, Riot Kayaks' Edge 13 suggests some fishing options (see the included rod holder or the kayak hook) and is a kayak full of stability.
There are a rubber bow & stern storage hatch, and bulkhead, which means that you can easily get away on camping micro-adventures or extended trips.
In addition, the kayak features a comfortable Flex 4 seat (the most comfortable seat around), a skeg system, and carrying handles (among others). All these suggest comfort, less worrying faced with rougher water, and portability.
It is a light kayak. Being one of those shorter kayaks allows it to also be maneuverable and easy to paddle.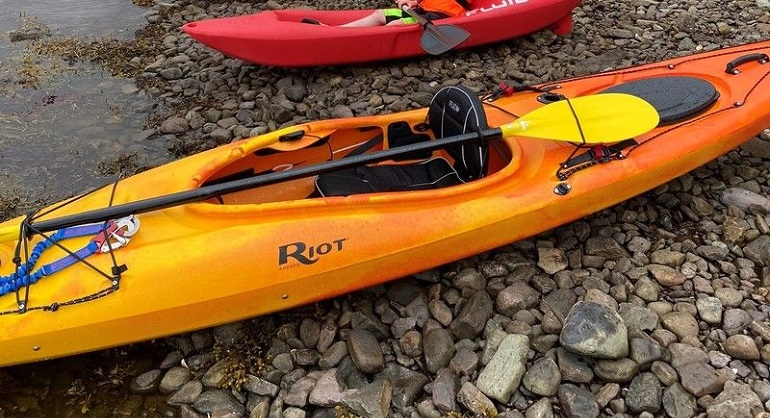 The old version got a remake in 2022 – a small hatch was added before the cockpit for small items (camera and/or sunglasses), together with other features for increased comfort on long trips.
So, we've practically got a new touring kayak that's the perfect boat for ponds, lakes, and slow rivers, and it comes with an affordable price tag.
Specifications
Length: 13'1"
Width: 25"
Weight: 58.50 lbs.
Maximum capacity: 300 lbs.
Type: Sit-in kayak
Seating configuration: 1
Level: Beginner, Intermediate, and Advanced

Riot Kayaks Edge 13 Day Touring Kayak, Sunset
The Price of "Riot Kayaks Edge 13 Day Touring Kayak, Sunset" varies, so check the latest price at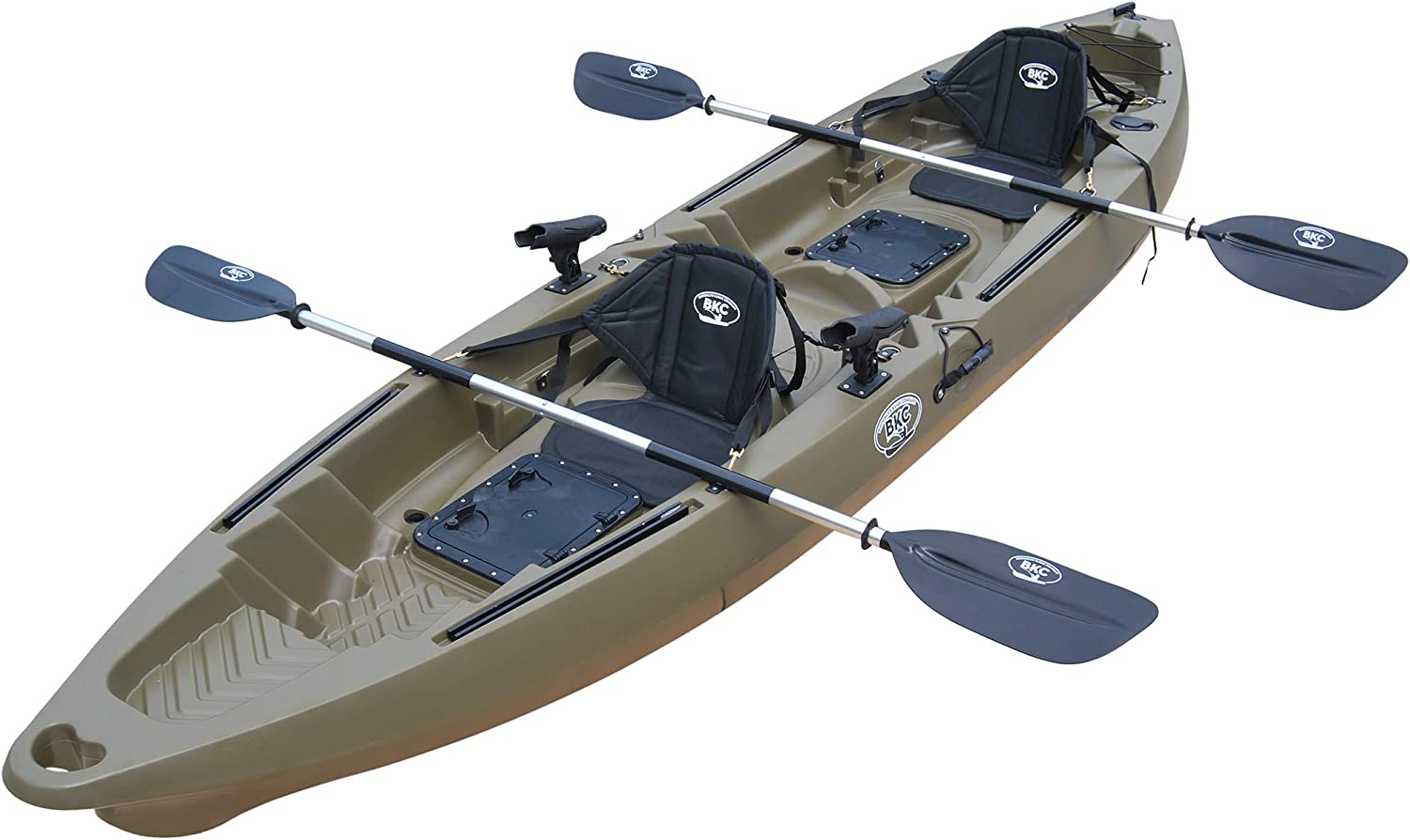 This is one of those touring kayaks that doubles as a river fishing kayak (or vice versa). The Brooklyn Kayak Company designed it for family fun and fishing trips (it does come in colors suited for fishing!).
It's got multiple accessories (like cup holders) already in place and others that can be attached to it, not to mention that there's ample storage capacity. So take your best kayak cooler with you, as well!
You can even take your dog or adventurous cat along (and there's a special spot for them to sit)!
The TK122K comes with two waterproof hatches, two aluminum frame seats (it's sit-on-top, so no spray skirts!), two fully-adjustable aluminum paddles (with paddle parks), 4-rod holders, and even a bungee tie-down.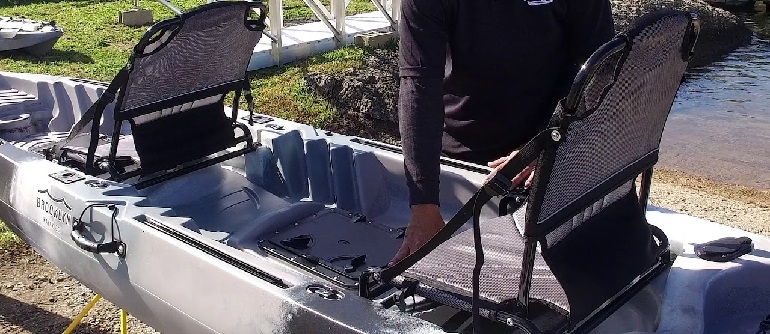 It has an overwhelming capacity for its weight, remaining balanced and stable even in rough water. This comfortable tandem kayak also features UV protection and is impact-resistant.
Paddlers complain that it takes on water, which is a worrying fact.
If you want to try it, you'll have to trust it. But it's all for a good cause (price).
Specifications
Length: 12'8"
Width: 34"
Weight: 74 lbs.
Maximum capacity: 770 lbs.
Type: Sit-on-top kayak
Seating configuration: 1-3
Level: Beginner, Intermediate, and Advanced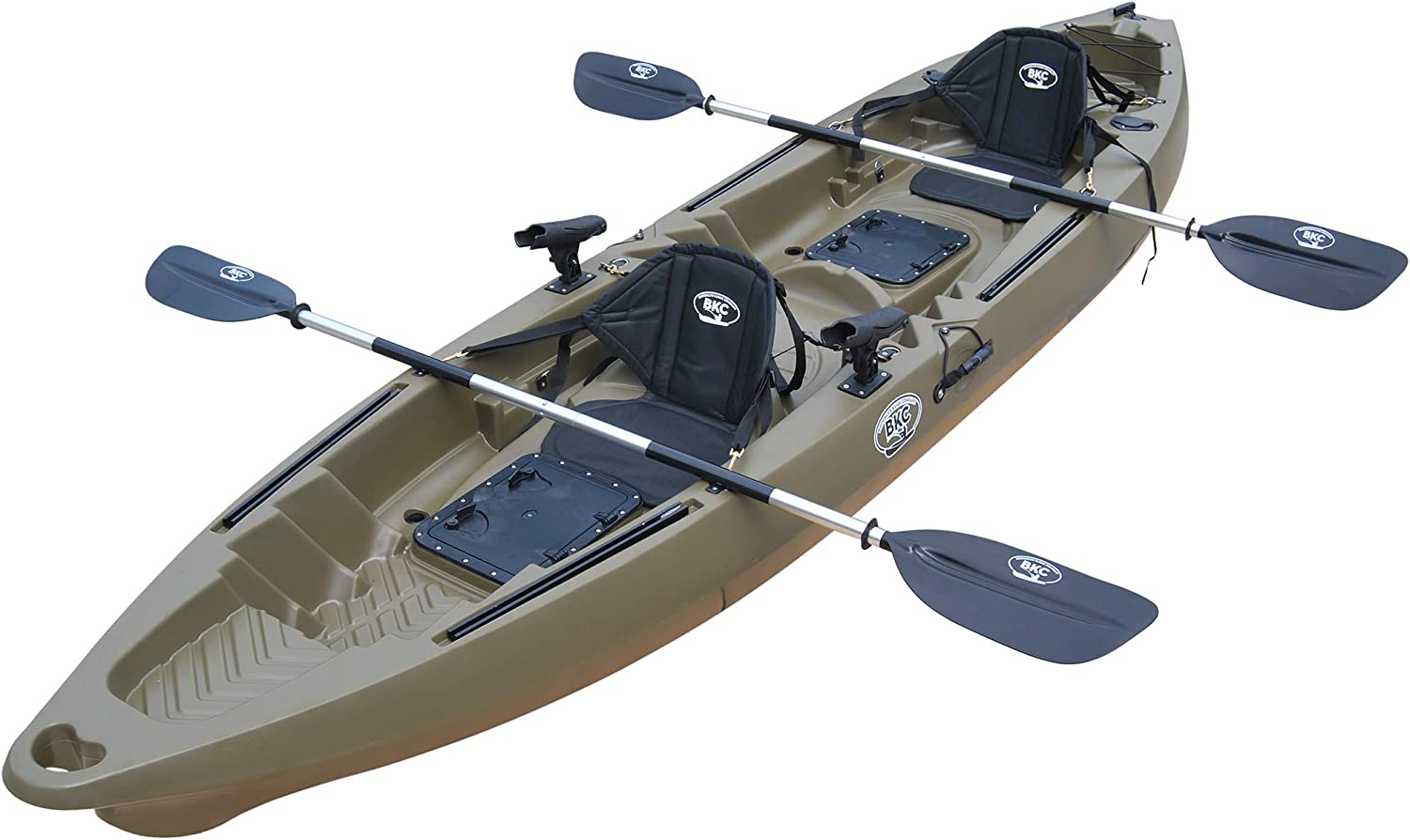 BKC TK122K 12′ 8″ Tandem 2 or 3
The Price of "BKC TK122K 12′ 8″ Tandem 2 or 3" varies, so check the latest price at

The Carolina 14 rides at its best in lakes and ponds and along calm coasts (as a sea kayak). However, it can also tackle rivers and streams, as well as open waters and the ocean/sea. This is where the versatility stems from.
The colors and graphics are wear-proof, and the material of the kayak is UV-resistant. Moreover, the kayak feels steady, easy to enter and exit, and easy on the legs for day-long comfort.
It features bow and stern hatches, deck bungees, and carry handles. A rudder system can be affixed if needed.
This easy-to-handle kayak helps you relax in calmer waters while giving you the confidence to take on greater challenges.
While paddlers complain that it can arrive damaged, with missing parts, you'll love the colors, the weight, and the price!
Specifications
Length: 14'
Width: 24.5"
Weight: 53 lbs.
Maximum capacity: 300 lbs.
Type: Sit-in kayak
Seating configuration: Solo
Level: Beginner, Intermediate, and Advanced

Perception Carolina 14
The Price of "Perception Carolina 14" varies, so check the latest price at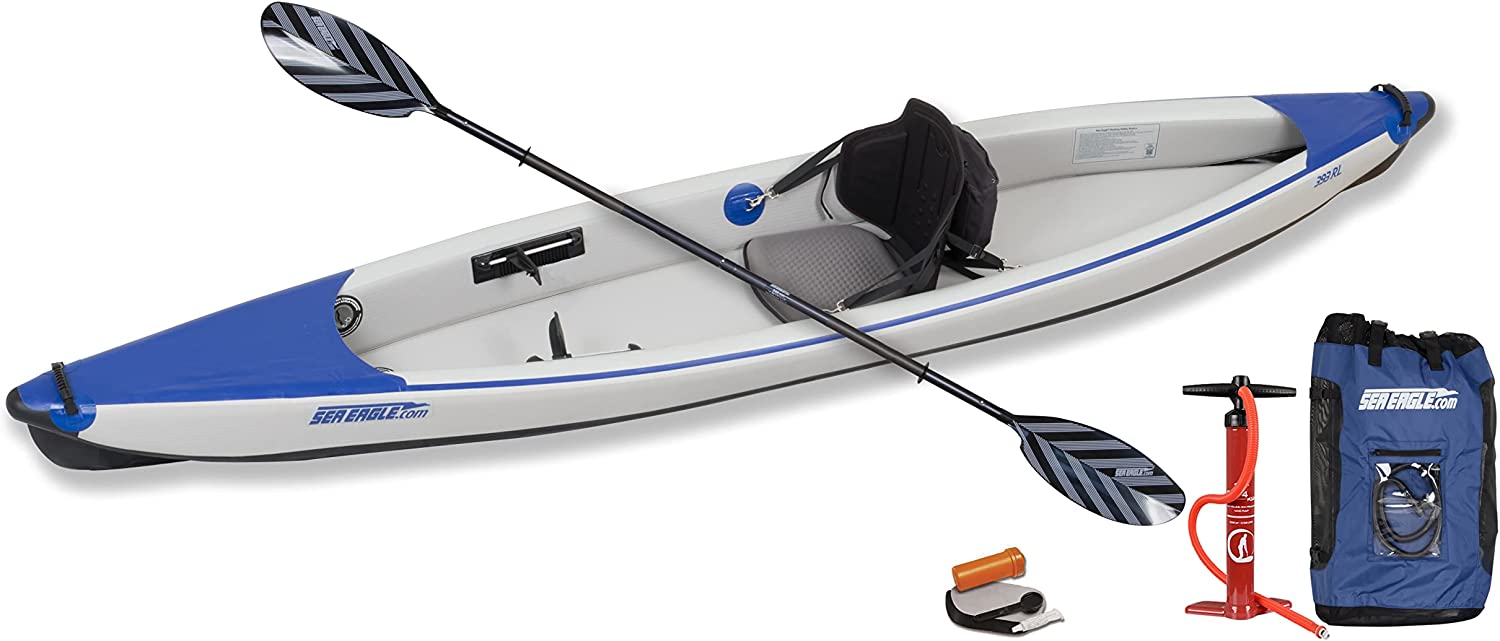 The Sea Eagle 393RL RazorLite inflates in only 7 minutes (and it usually comes with an electric pump, included free of charge). Should I also add that the kayak comes with a paddle, too? Consequently, it is good value for all those paddlers who wish to skip sit-in kayaks altogether.
You've got 2 open and close drain valves and 3 one-way air valves, plus a removable rear skeg and carry handles.
It is a stable fishing kayak that will make you glide smoothly through easy water.
Issues noted by paddlers? The kayak would not hold the air, and its footrests were horrible.
Of course, this inflatable kayak is not as sturdy as a hard-shell kayak, but the ease of transporting it to the water can make you disregard this aspect. No car rack, no second person to help you; you've gained autonomy! The hull design allows the deflated hull to even fit inside a backpack!
Specifications
Length: 12'83"
Width: 28"
Weight: 100 lbs.
Type: Sit-on-top kayak
Seating configuration: Solo
Level: Beginner, Intermediate, and Advanced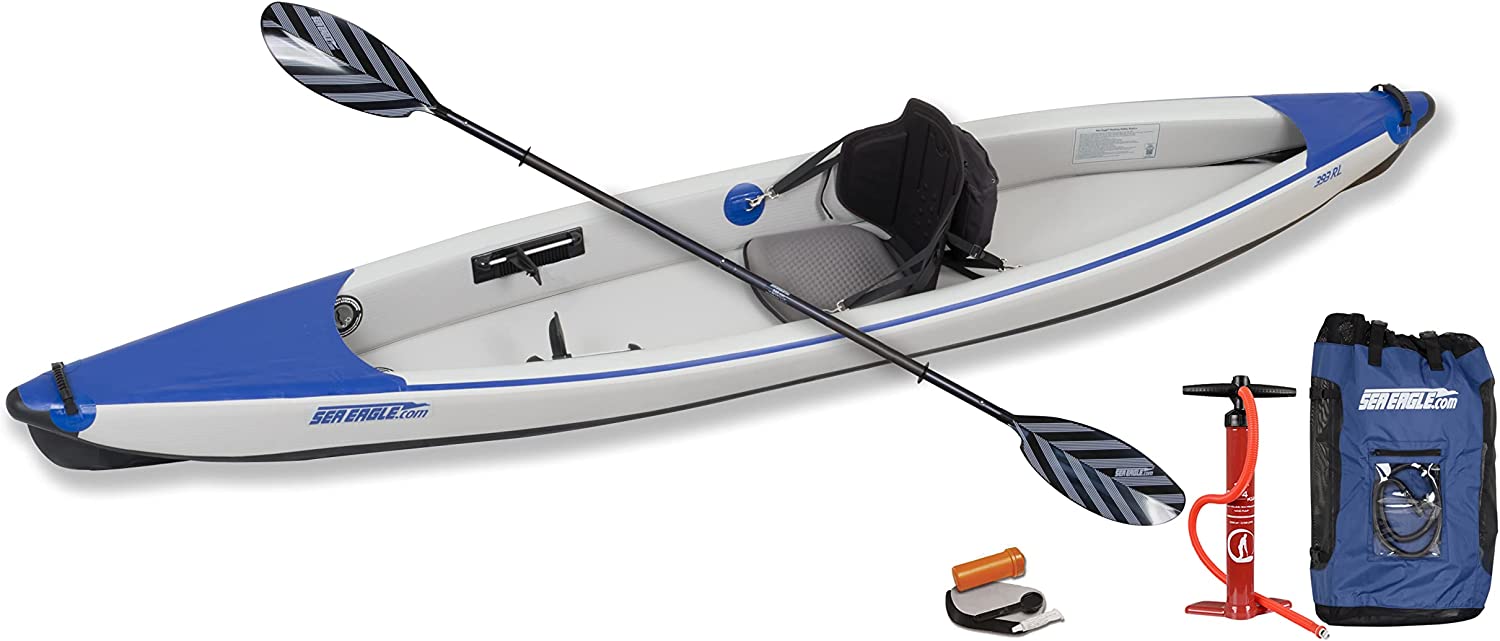 Sea Eagle 393RL RazorLite kayak
The Price of "Sea Eagle 393RL RazorLite kayak" varies, so check the latest price at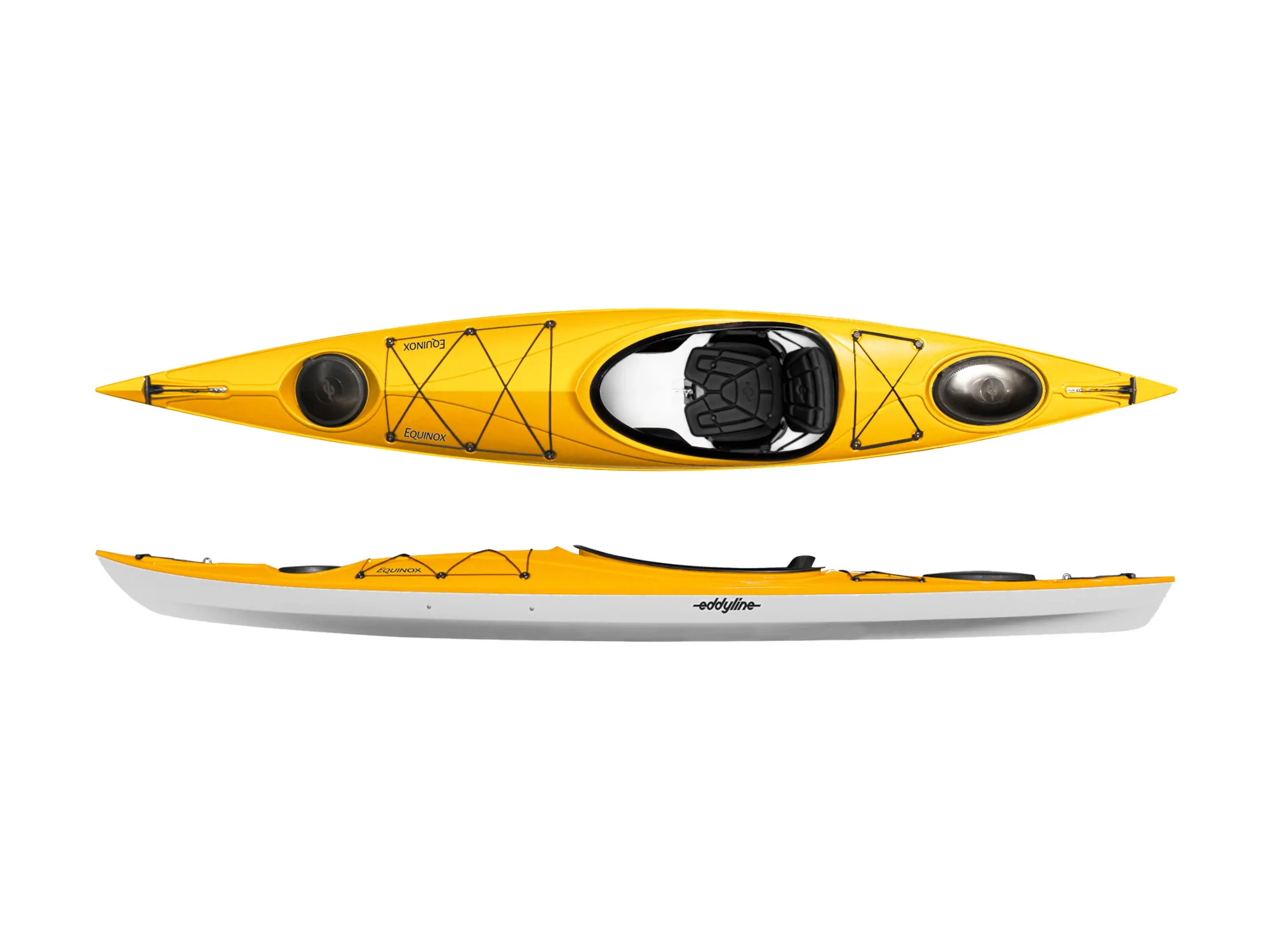 Providing the look and paddling performance of a fiberglass kayak with the sturdiness of plastic kayaks, the Equinox, another product of Eddyline kayaks, can perform leaned turns with ease.
The backrest is comfortable, while the seat slides forward. The extended thigh braces reduce hip and back fatigue. In addition, the seat can be easily removed for cleaning.
The kayak has a bow, stern hatches, deck bungees, and retractable carry handles.
Paddlers are happy with the comfort and space provided by the cockpit. The kayak feels extremely stable (and safe!) even on windy days with choppy water. It is also suited for lakes and gentle rivers.
The Equinox is also light for a touring kayak and quite impact-resistant, and it comes in three classic color combinations.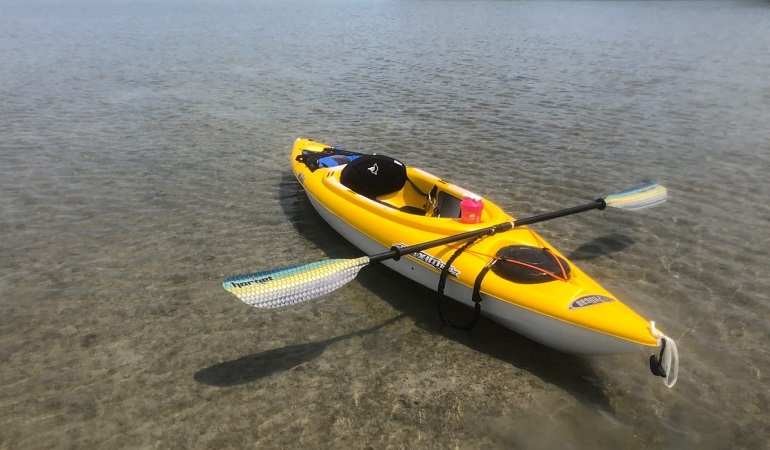 The price is on the higher end, but only a bit. So if you've saved enough money, you've got a winner!
Specifications
Length: 14'
Width: 25"
Weight: 45 lbs.
Maximum capacity: 360 lbs.
Type: Sit-in kayak
Seating configuration: Solo
Level: Beginner, Intermediate, and Advanced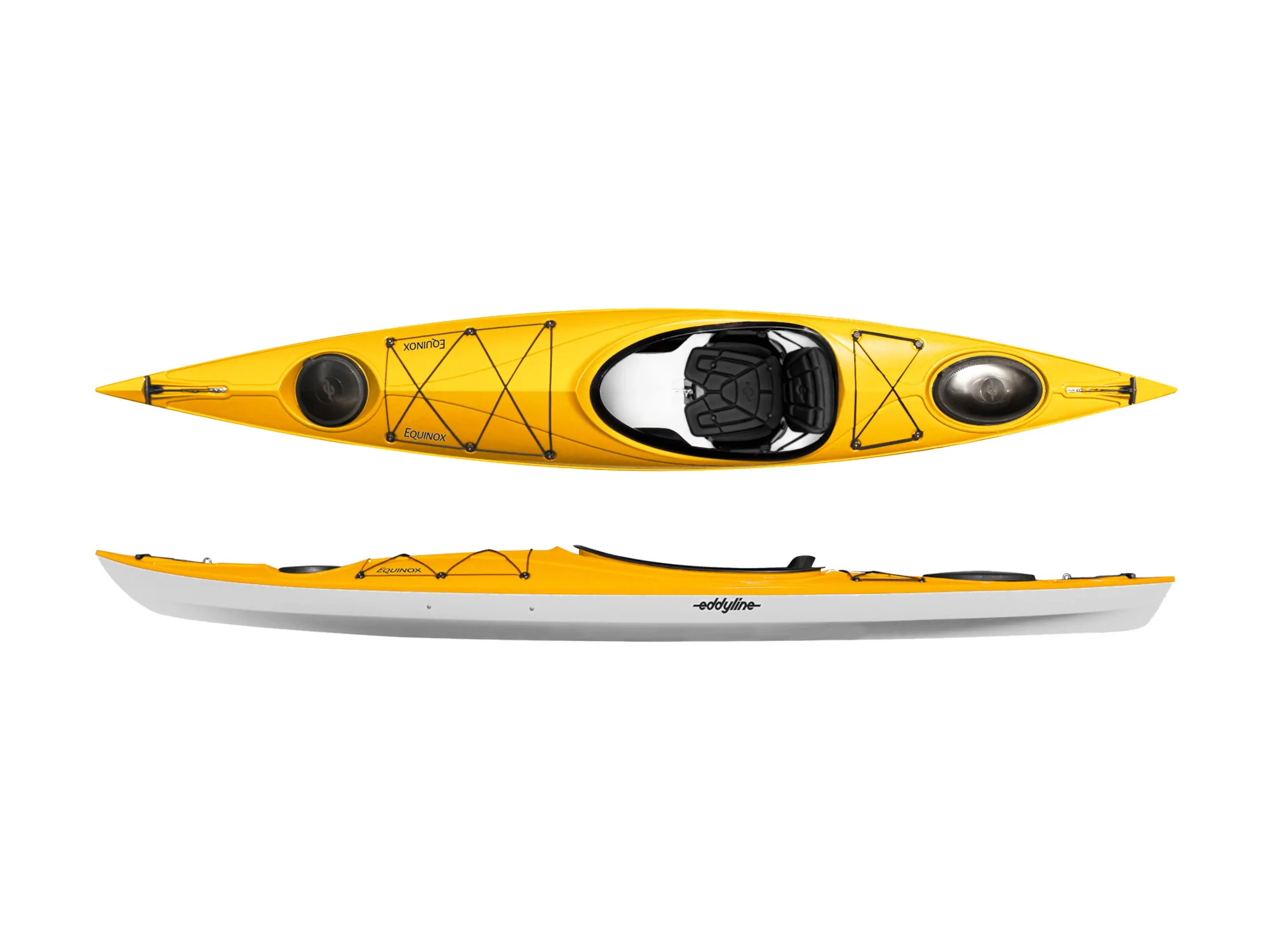 Eddyline Equinox
The Price of "Eddyline Equinox" varies, so check the latest price at
Buying Guide for Best Touring Kayaks
Like any person thinking of an important purchase (or one that would bring great joy), you may worry about too many aspects and issues. So here are a few responses to bring you peace of mind when dealing with touring kayaks and touring kayak reviews.
Type
Touring kayaks can be sit-in (sit-inside kayak) or sit-on-top. In the first case, you will need a spray skirt, too, to protect you from water splashes. You'll be very hydrodynamic in this kayak and gain much speed while paddling.
On the other hand, a top sitting kayak will take stability to a whole new level. You'll not even feel that you're on a boat, trying to keep your balance on the water.
When dealing with stability, we've got primary stability (initial stability), or how a kayak feels the first time you get on it, and secondary stability, or how that same kayak feels once it tilts. Once it ticks both the initial stability and the secondary stability boxes, we may say that the kayak is safe and stable altogether.
Weight, Weight Limit, and Seating Configuration
Kayaks are becoming lighter and lighter. Carbon fiber kayaks are some of the lightest. For instance, a fiberglass sea kayak weighs between 55 and 70 pounds. The weight limit of a true sea kayak is 350 pounds, on average.
While on the water, 10 pounds won't be much of a difference; the advice would be to focus on other practicalities when choosing your (first) next kayak.
Linking the information to the section above, it will be much easier to paddle tandem in a sit-on-top kayak; remember that paddle strokes will need to be synchronous.
Not necessarily while paddling flat water, but trickier waves will need paddlers in sit-in tandem kayaks to be able to perform the role.
An inflatable touring kayak will be able to 'host' even 3 people – well, there are composite sit-on-top kayaks that offer this possibility, too. Of course, it will be more challenging to steer it, but it is manageable.
Depending on your personality type, you'll feel safer and happier paddling in the company of other solo paddlers, in the same kayak, or on your own.
On whitewater, the general rule is 'always paddle with a buddy.' Although extreme situations are less likely to happen, they can still occur. There were cases of people found stranded on islands or some distant shores, so always tell someone about your plans if you are heading out on your own, even if it happens to be on your local lake.
To reduce the risk of hypothermia (because many such accidents occur on the water), always dress accordingly and wear a PFD, observing the 120-degree rule. By adding the air temperature to the water temperature, no thermal protection would normally be needed above 120F. However, you should always rely on common sense when heading out.
Materials
We can be dealing with an inflatable kayak or a hard-shell kayak made of plastic, composite materials, carbon fiber, Kevlar, or even wood. There are also fiberglass boats.
Let's not forget that there are also foldable kayaks for those who don't have gear storage space at home or in the car while traveling. They can also come with you on a plane! So you'll get portability, but you'll lose a bit in terms of performance.

Know your paddling style. If you wish to be around waves and rocks a lot, choose from plastic kayaks.
Volume
Volume is really important when choosing your kayak. You can select between low, medium, or high volume. Taller and larger paddlers would probably feel more comfortable in high-volume kayaks (they come with more legroom, too).
Length
Touring kayaks come in a variety of lengths. However, as previously noted, they are generally much longer (17 feet) than the other types of kayaks.
Very long kayaks will be perfect for fighting the waves and the rougher seas and allowing a little surfing. In contrast, shorter kayaks (13 feet) will be perfect for flat river expeditions, as they will be more maneuverable and turn more quickly when needed.
Width
Sea kayaks will be the narrowest, as they are regularly the longest, too. You'll notice that shorter touring kayaks will have a more generous width.
If we come to think of it, fishing kayaks are touring kayaks, too; they will just come in a shorter length and, yes, a wider shape (after all, you'll need space to store all those fishing tools and rods).
Cockpit Shape
Oval-shaped, keyhole, or ocean – these are the standard cockpit shapes that determine whether a touring kayak feels too tight for you or too big.
The small and circular ocean cockpits are typical for Greenland and British-style kayaks. It is not easy to get in or out of these cockpits, but they provide more control.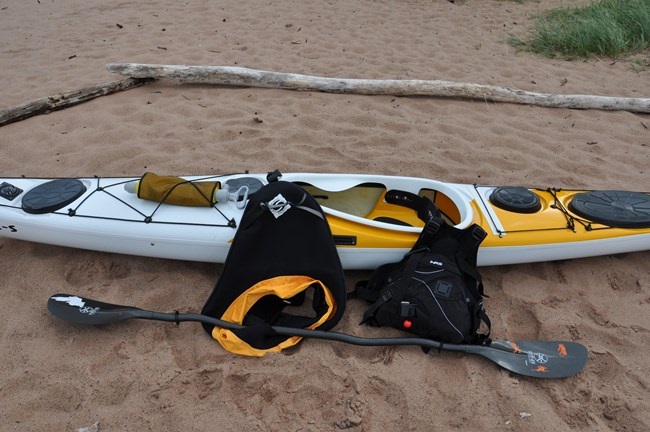 Oval-shaped cockpits are the most common and allow for fast entry/re-entry.
Keyhole cockpits are the intermediary shape between ocean and oval; they keep paddlers snug but not as contained as in the case of ocean cockpits.
Storage Space
Storage hatches that don't leak (and bulkheads, too) are some of the most important kayak accessories. They are extraordinary for longer tours when you can use all that space and take all items needed for the perfect overnight trip – sleeping and camping gear, apparel, cooking utensils, and more.
In the end, you need a place to keep your items dry. How many dry bags can you have, and how large can these dry bags be? A hatch can hold even bulkier objects. If it's waterproof, you won't worry even if you happen to come across heavy rain towards your destination.
Backrest
Long distances need you to feel comfortable while paddling. A padded backrest will help you fight the tension many hours spent in a touring boat brings. Day trips are happier when you're not too tired.
Rudder or Skeg
When dealing with sea kayaks, we should also talk about rudders and skegs.
The best thing about having a touring kayak endowed with a retractable rudder is that you can use it or skip using it. You will feel the difference once it's in the water, especially if amongst beginner paddlers or intermediate paddlers, because it helps you paddle a straight line and keep the course.
The skeg will offset the wind and the current but cannot be used for steering.
Other Touring Kayak Accessories
As the weight of a kayak is considerable, carrying toggles are an important accessory. A kayak roller cart is also a good idea. Purchase one that you can store on top of your touring kayak while paddling.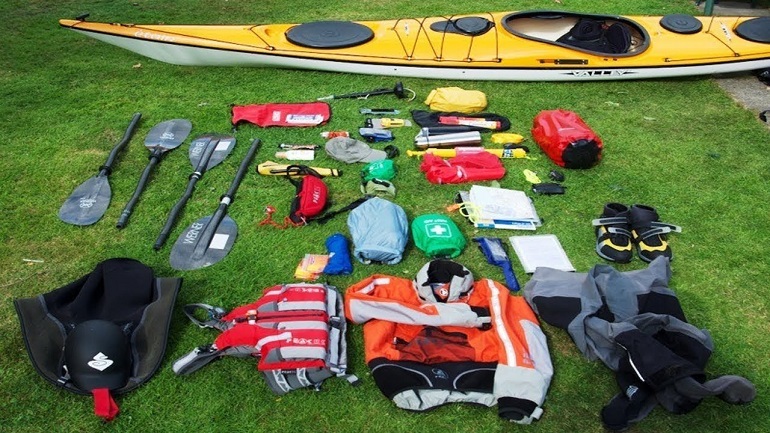 Price
Kayaking is not an inexpensive sport. However, the good part about paddling is that once you buy quality gear – this includes, first of all, your touring kayak –you'll only have to change each item (PFD, paddle, sprayskirt, water shoes, wetsuit, etc.) after many years of use.
Consequently, balance all opinions and gut feelings when you decide to go for the touring kayak that you have in mind. Expect to pay anywhere between USD 1000 and USD 4500 for a touring kayak.
Questions That You Cannot Wait To Ask
So, in the end, the questions that remain are about sea kayaks and sea kayaking… You should also consider that the answer to these questions may as well apply to the 'kayak touring' category, in general. So, here they are—
Are Sea Kayaks Good For Beginners?
Yes, they are! Believe it or not, after my first kayaking lessons taught in a whitewater kayak, I used a sea kayak to learn and train for a year. Only then I got back into a whitewater kayak.
Once you get the balance right in a sea kayak, other kayaks will feel easy to paddle. That is the only tricky part. You'll learn a lot in a sea kayak, and moves that require finesse will help you master all sorts of skills in no time.
Why Are Sea Kayaks So Long?
A sea kayak must be able to cover greater distances, cut through waves, and help carry more stuff. I've paddled a playboat (which, to me, is the most stable whitewater kayak) and sea kayaks in the sea.
Despite being so long, touring and sea kayaks are more stable in the sea. You don't even feel the waves and the length of your route.
Then, once you've reached your destination, you can unpack and wonder how many items you were able to take along. Off the top of my head, you'll probably need a tent and a sleeping bag, a set of dry clothes, food, and cooking utensils as the base.
Can You Use a Sea Kayak on a River?
It is even recommended to use a sea kayak on some rivers! You'll be able to cover and discover so much more!
Let's take the Danube as an example. Yes, the underlying currents are strong, and it has sections where the river is extremely fast. Then again, it is flat. Waves can form but only in case of strong winds.
So, you can comfortably paddle a sea kayak and complete your journey faster than if you found yourself in a recreational kayak. Lazy rivers and smaller canals are even easier to explore using sea kayaks! You'll even get to spots that are inaccessible to larger boats. Consequently, you'll have the fauna all to yourself.
Ending Thoughts
(Sea) kayaking is a very enjoyable way to live in the middle of nature, go birdwatching on flat rivers, test your limits in waves, or experience multi-day adventures and extended trips (with camping overnight on a, let's say, remote island).
It requires a higher investment on your part, but it'll all be worth it. Besides thinking about the kayak's length, width, volume, and weight, consider if you have a partner to paddle with or if paddling on your own will make you happier.
Accessories will be very important in the long run, and so will the storage space, especially when you've got long trips in view. Also, consider if fishing is an important part of your future kayaking adventures. If so, what accessories will you need? Will you need a fishing kayak equipped for lakes or the sea/ocean?
Your paddling style (think: 'longer trips') and the shape of the cockpit and materials used for the kayak will go hand in hand, feeding your need for control, a sturdier boat, and the fastest kayak out there. Hard-shell kayaks will be maneuvered differently from inflatable kayaks.
Even though a test run is always a good idea for a comparison to other kayaks, the best advice would be to follow your heart when you decide to buy the right one from the many touring kayaks around. Their features may have filled your mind through the best touring kayak reviews. Clear it and make your choice.