Expensive Kayaks No More!
What's better than moving through calm water on a quality inflatable tandem kayak? An inflatable kayak that lets you take full advantage of the adjustable quick-release seat to get settled in.
A river fishing kayak with rod holders and paddle holders for when you want to take a break. A kayak with multiple footrest positions for giving your dogs room to roam. The answer is not much, not much at all… except!
What if you could get all of the above at a discounted price? I'm not talking about a few dollars here. I mean, getting one of the best kayaks around for under five hundred dollars.
It's possible. In fact, down below are the eight best kayaks under 500 dollars. Each one is replete with its own features and plus points, but all of them benefit from solid design principles and a great structure.
Searching for recreational kayaks? You'll find them below as well.
Best Overall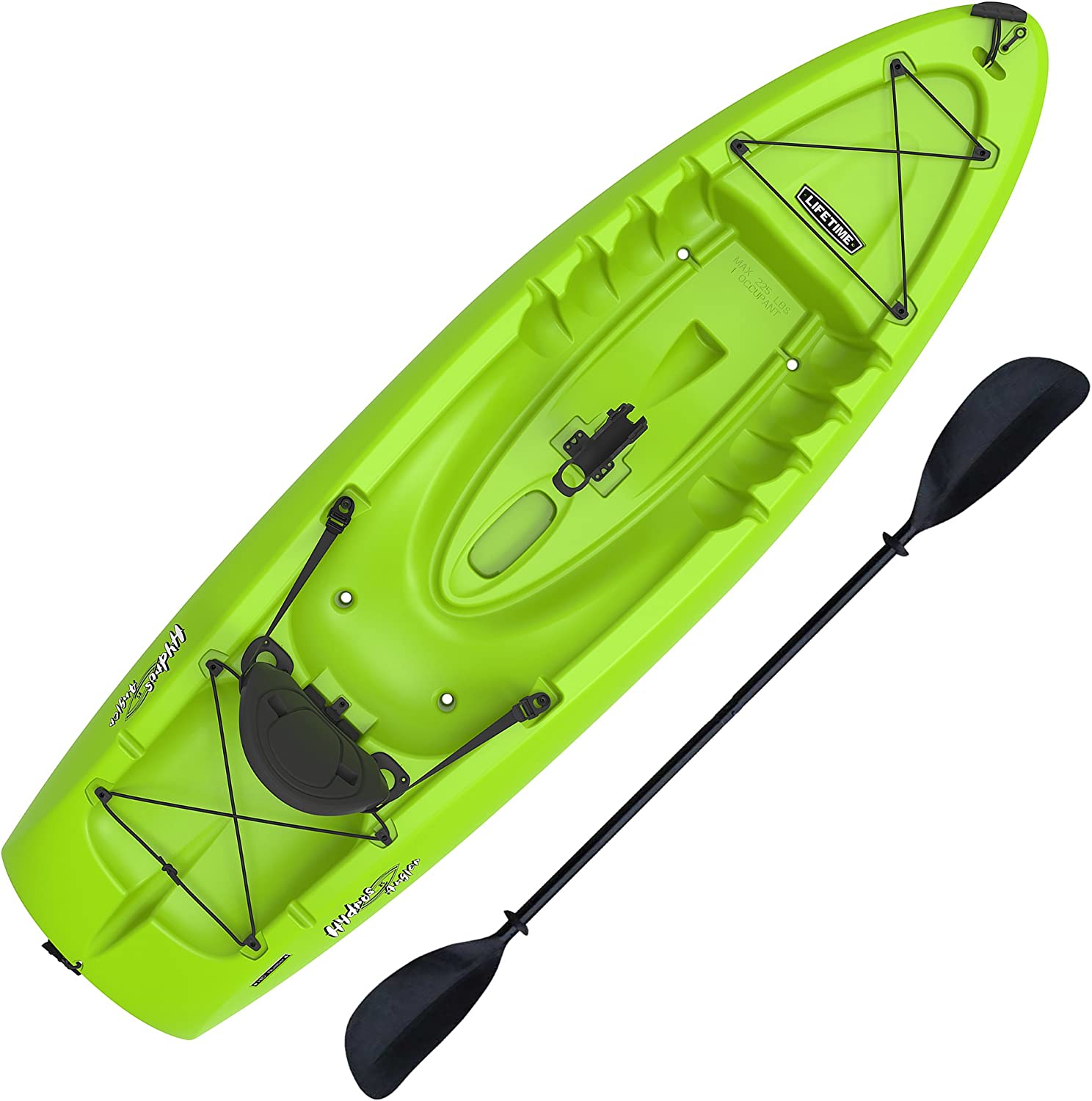 Lifetime Hydros Angler
Weight: 38 Pounds
Material: polyethylene
Best Stability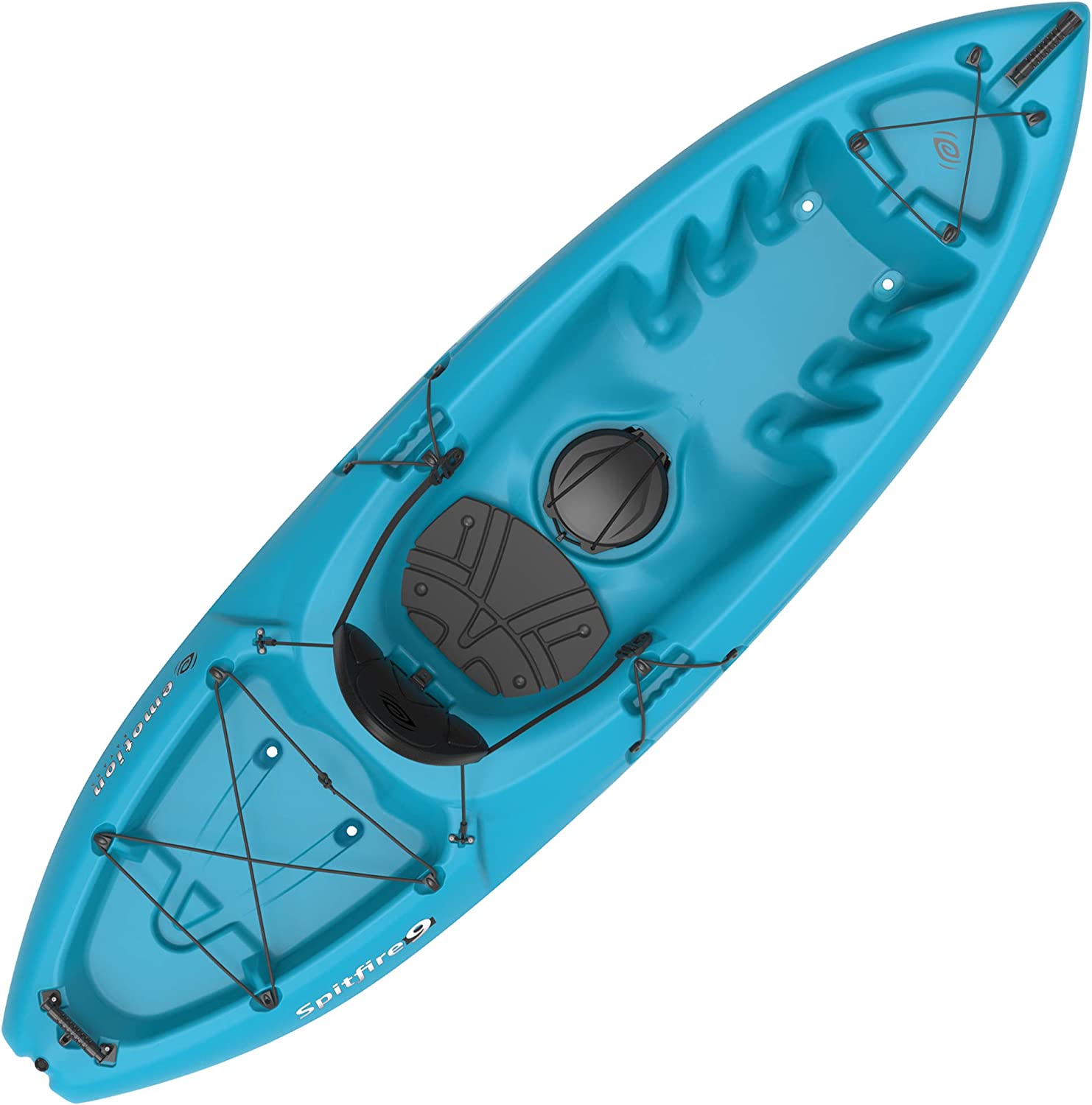 Emotion Spitfire
Weight: 45 Pounds
Material: polyethylene
Most Affordable Option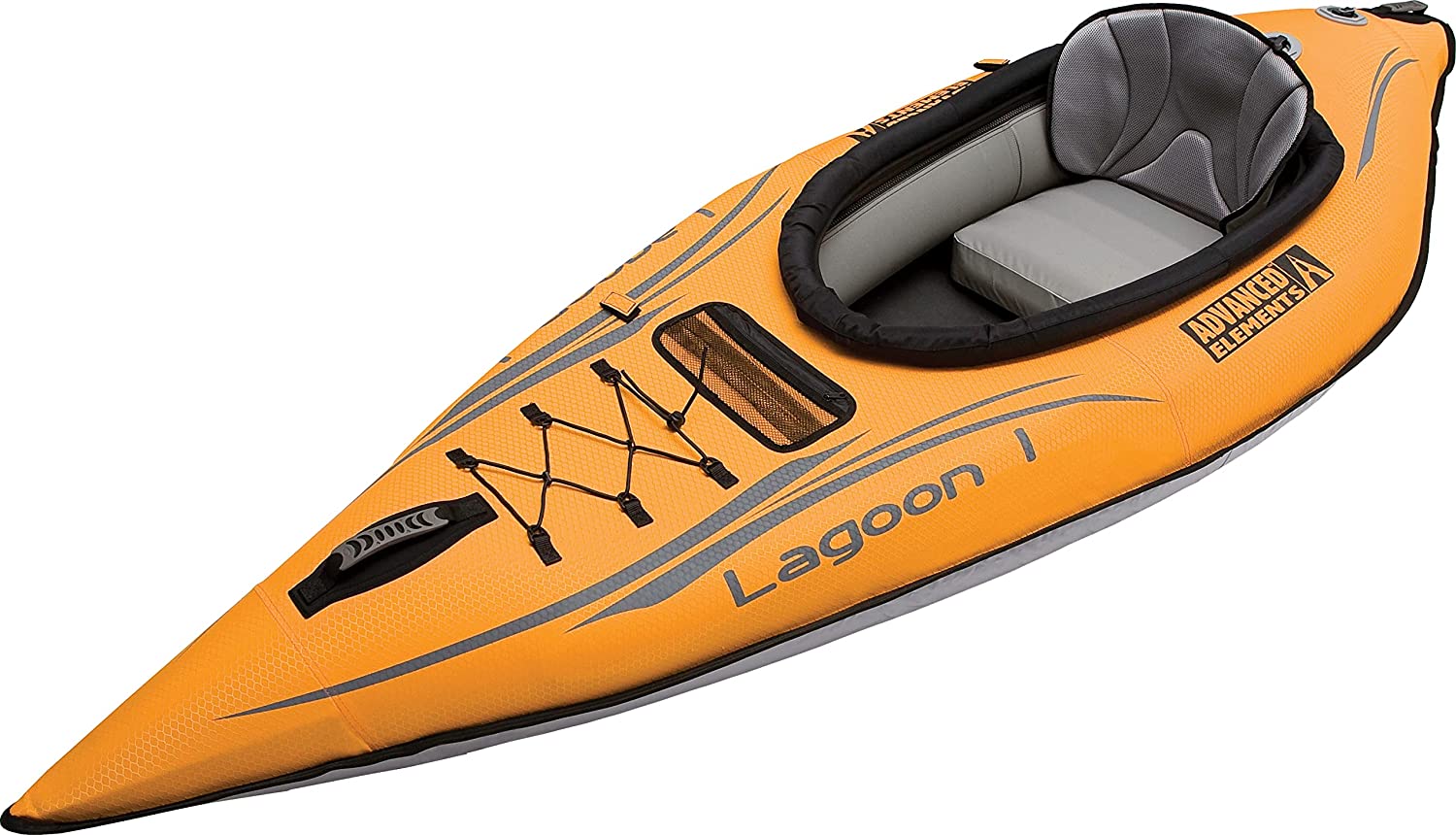 Lagoon 1
Weight: 23 Pounds
Material:  Polyester/PVC
Best Build Quality

Perception Flash 9.5
Weight: 41 Pounds
Material: Polyethylene
Best One-Person Kayak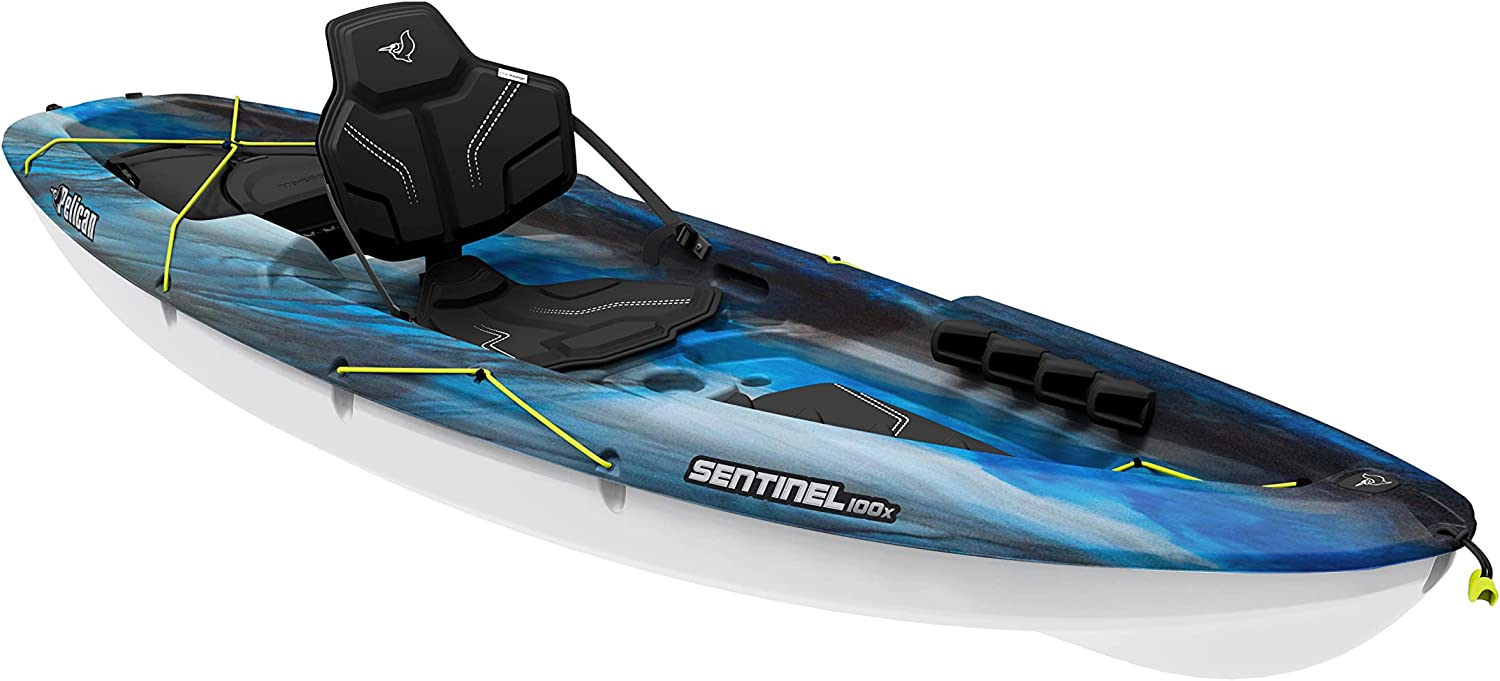 Pelican Sentinel 100X
Weight: 42 Pounds
Material: polyethylene
Best Impact Resistance

Argo 100XP
Weight: 36 Pounds
Material: polyethylene
Best Two-Person Kayak

Colorado
Weight: 35 Pounds
Material: Polyvinyl Chloride
Best of The Rest

Sevylor Quikpak K5
Weight: 25.5 Pounds
Material: Polyester
8 Best Kayak under 500
I know "you get what you pay for" is a dictum that we should always keep in mind, but you can throw that out the window for now. This is because the fishing kayaks, inflatable kayaks, and sit-on-top kayaks, listed down below give you more than what you pay for.
For the first time in a long time, you can be assured that not a single penny was wasted. Whether you get the Hydros Angler to enjoy its awesome swim-up deck or you'd rather try out durable Colorado.
It's all smooth sailing from here. Just be sure to pay close attention to the maximum weight capacity of each kayak.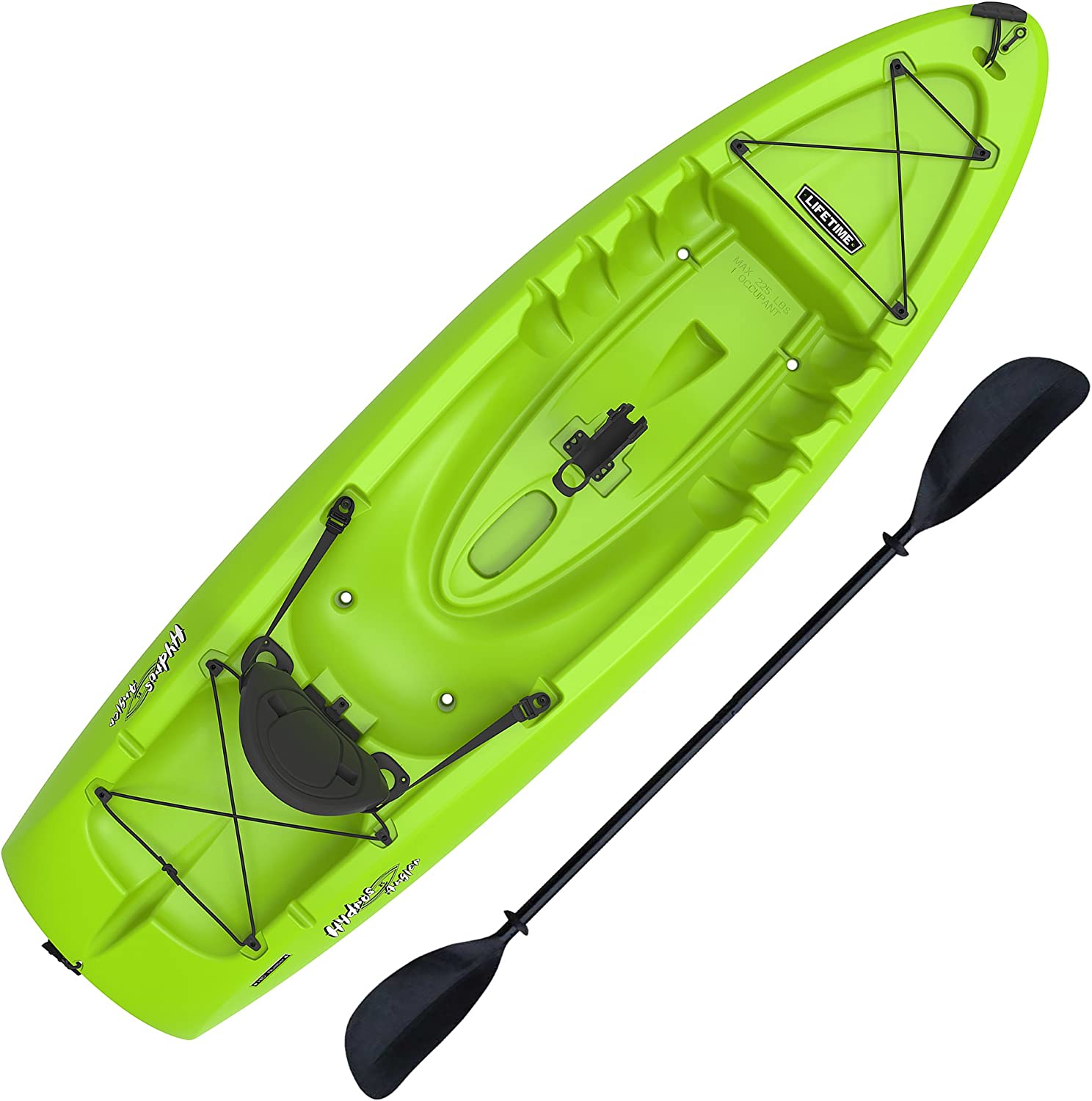 Built for a lifetime and designed to give you the time of your life. The Hydros Angler does things differently. Rather than squeeze as much space into this kayak, a targeted design was sought after.
A streamlined design that saw quick-release seating included. Perfect for when you want to create more room on board. Rod holders were molded onto either side of the seacraft. These molded-in rod holders are flush-mounted. Dispensing any unnecessary water.
The kayak's stern is multi-faceted. Doubling as a storage area ended off with a swim-up 1. deck. It's a testament to the stability of this kayak that it can remain stable while having a grown adult use its stern as a swim-up deck.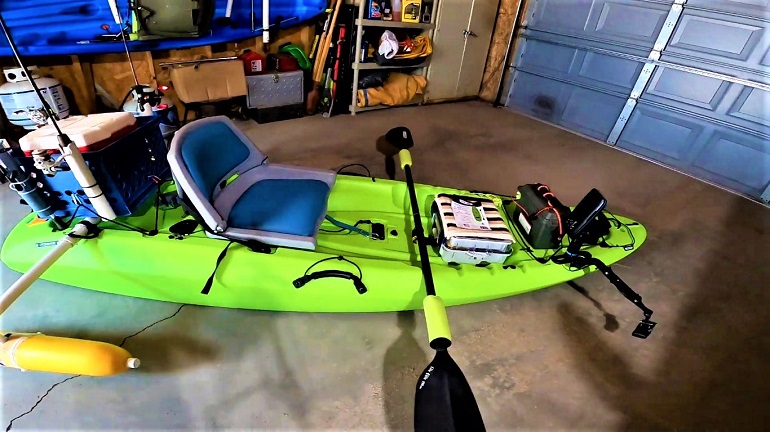 While there was a lack of storage space, it never felt like a serious issue. Rather, one that could be easily worked around.
Features
Weight: Thirty-eight pounds
Build Materials: Hard plastic
Best Feature: Swim-up deck
Warranty: Five years
Comfort: Quick-release seating
Pros
Comes with adjustable seating that has a quick-release seat back. Back support when and if you need it.
Has a swim-up deck that acts as a built-in dock, and the stable tunnel hull design keeps the vessel steady.
Has two-rod holders that are flush-mounted. Perfect for some angling fun, hence the name.
Cons
Not much space for storing your gear safely.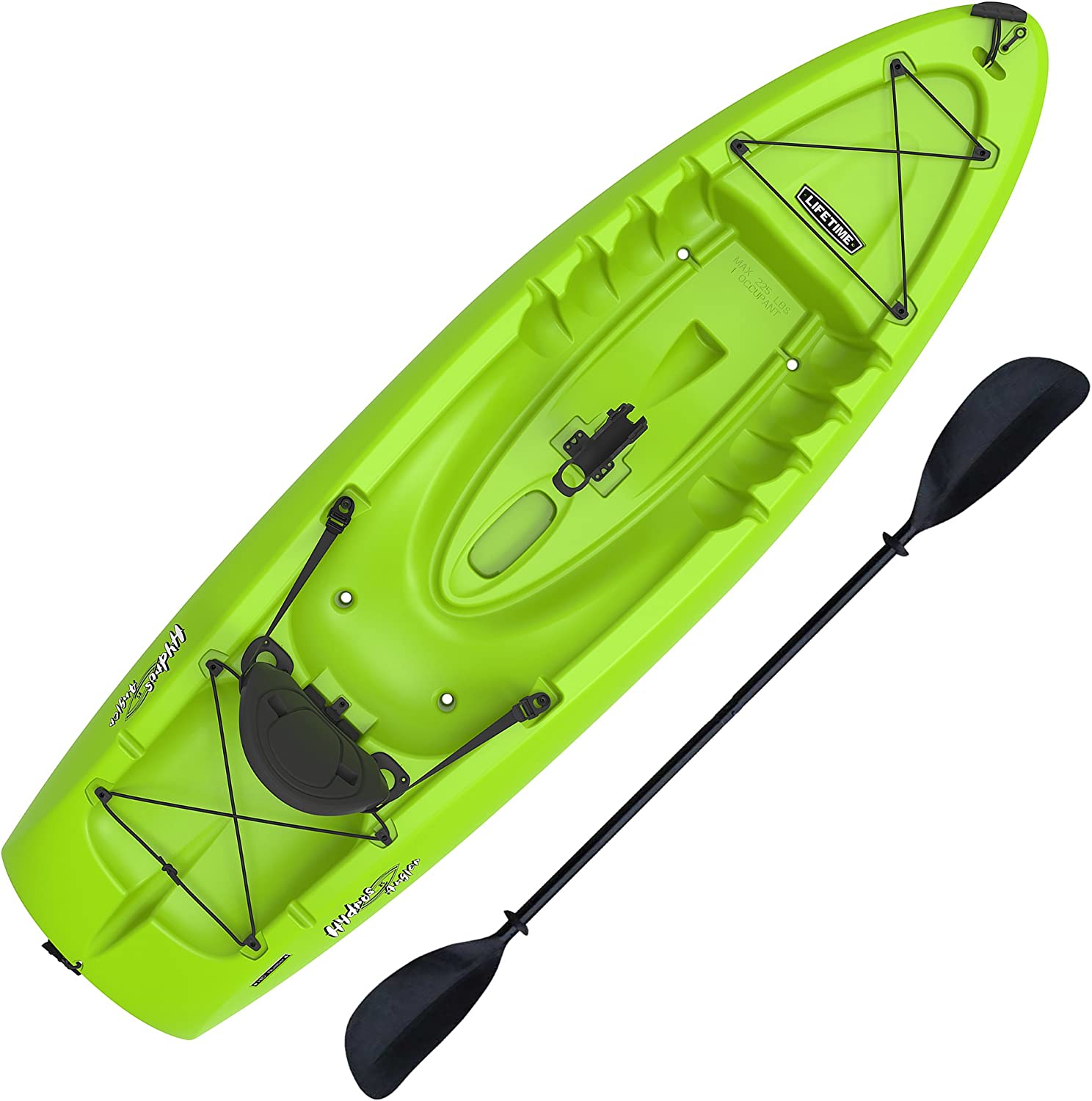 Lifetime Hydros Angler
The price of "Lifetime Hydros Angler " varies, so check the latest price at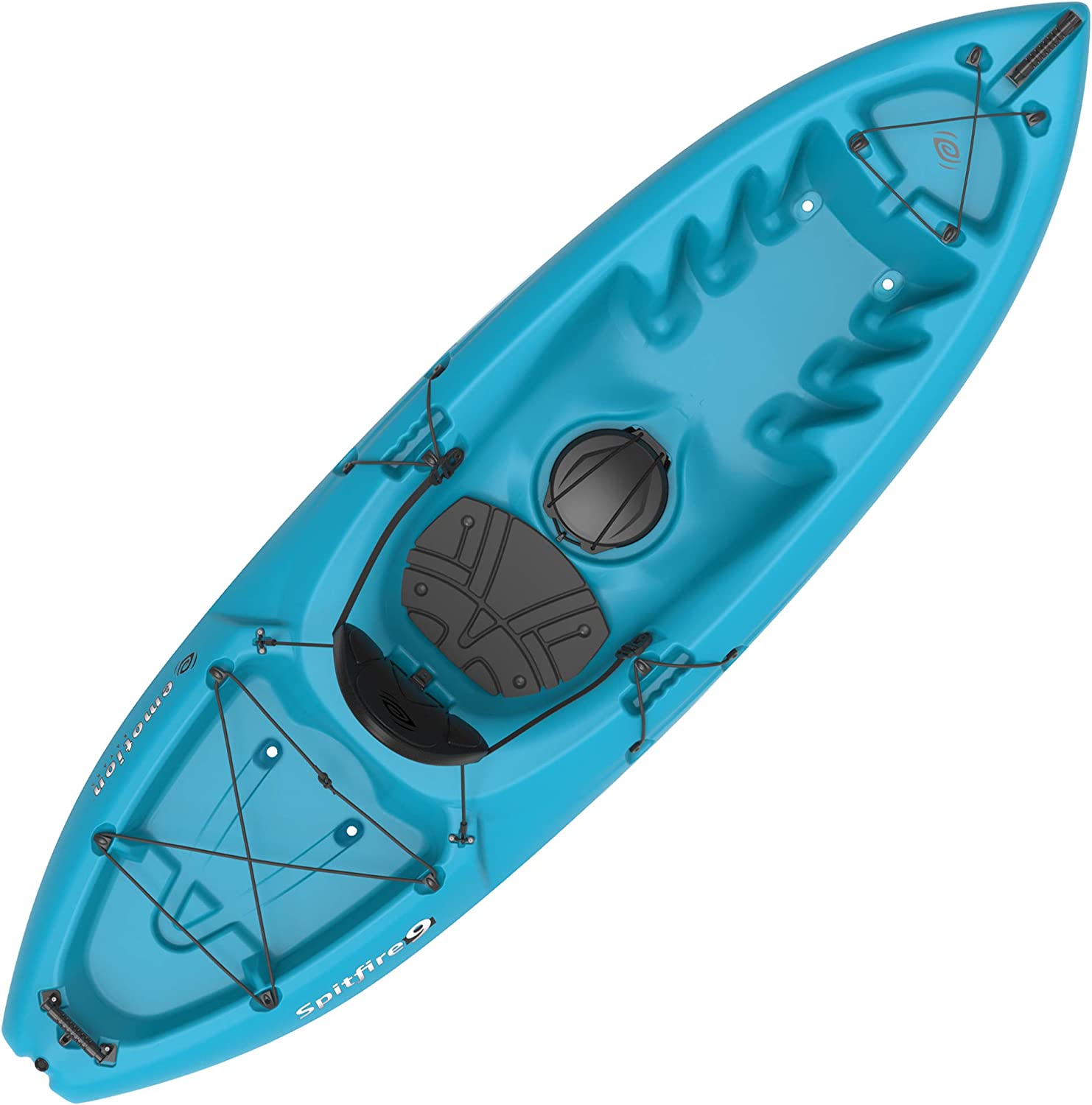 The Emotion Spitfire is the perfect recreational vessel. With an angled hull design that can hold steady in the worst conditions and scupper holes littered throughout its cockpit and tank well, should any water get in, it'll quickly be ushered out.
It's got a hardshell exterior that doesn't break down after a few hits. Underneath your bottom, an UltraLite seat has more than enough padding to provide your backside with a heavenly touch.
What I enjoyed most about this kayak was the storage hatch that resides under the deck. A great space for storing your most valuables and any extra gear.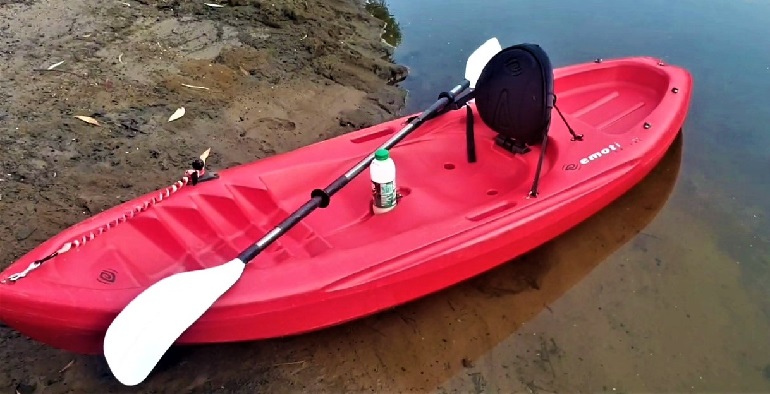 Features
Weight: Forty-five pounds
Build Materials: Hard Shell
Best Feature: Scupper holes
Warranty: Five years
Comfort: UltraLite Seat
Pros
Automatically drains any water that the kayak has thanks to the scupper holes in the cockpit and tank well.
Has a high-density polyethylene construction that is UV protected for resistance to weathering.
Comes with a storage hatch that resides under the deck. Room for all your goods.
Cons
Only one style and color option are available.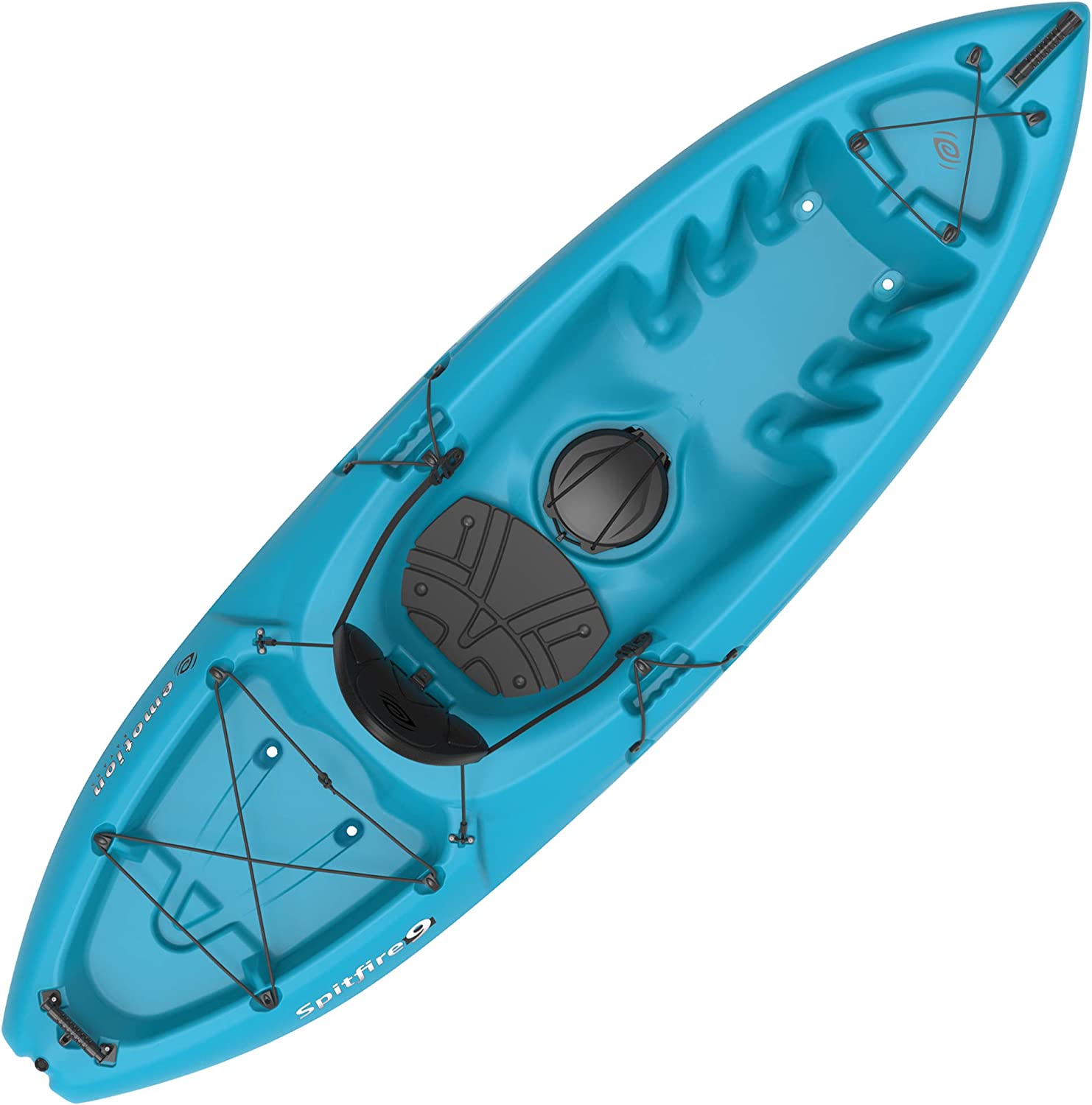 Emotion Spitfire Sit-On-Top Kayak
The price of "Emotion Spitfire Sit-On-Top Kayak" varies, so check the latest price at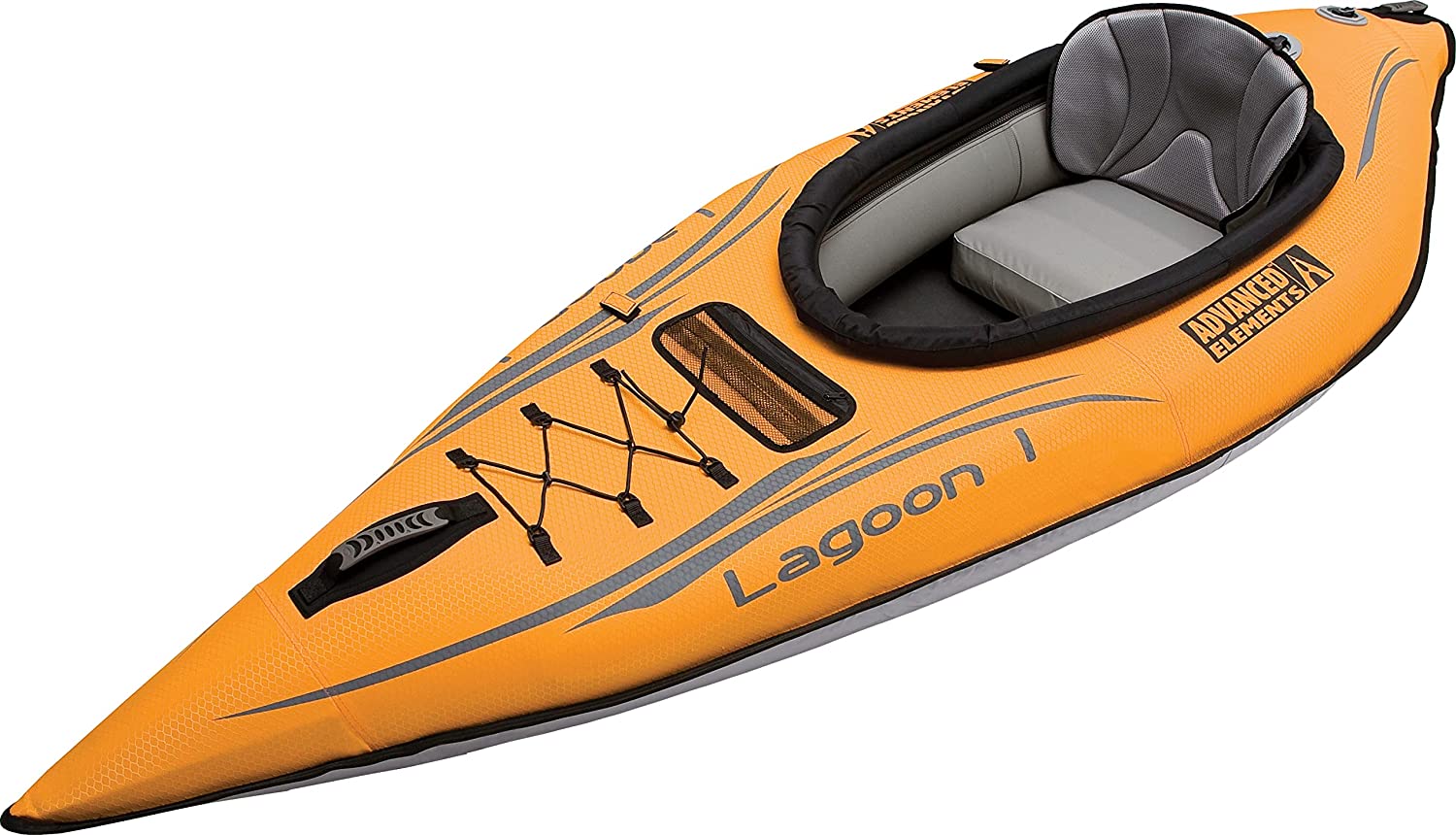 On a list of great cheap kayaks comes the cheapest of them all. The Lagoon 1 is the best deal on the market. Constructed from rip-stop polyester and weighing in at only twenty-three pounds.
It's lightweight and durable. Even coming fit with a comfortable padded seat that folds into itself. This small feature helps you store this kayak with greater ease. And that's the theme of this vessel.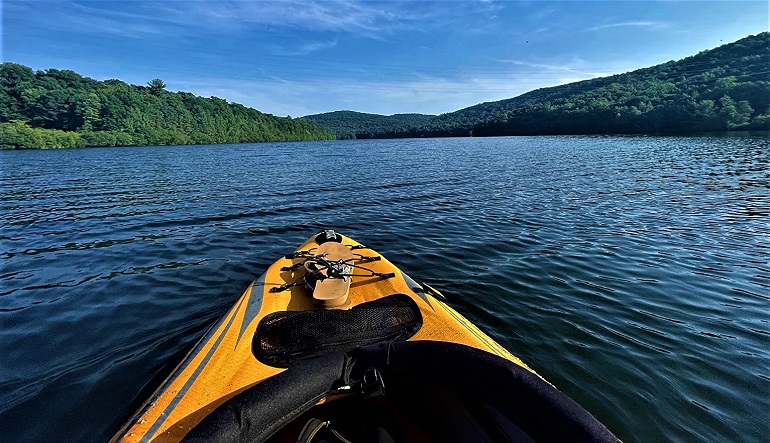 It's a kayak that is easy to love. From its price point to its build quality and fantastic tracking. Besides the lack of storage space available, it's all golden. Paddling with this kayak is a treat, and that's because of its aforementioned tracking.
Several different features came together to make this possible.
Features
Weight: Twenty-three pounds
Build Materials: Rip-stop Polyester
Best Feature: Improved tracking
Warranty: One year
Comfort: Comfortable seat that folds
Pros
The Lagoon 1 has built-in rigid panels that define the bow and stern. This improves tracking.
On the hull, the landing plate and tracking fin further improve this ride's tracking.
Easy to set up and get going. Twistlok valves and spring valves increase airflow.
Cons
Little to no extra space available.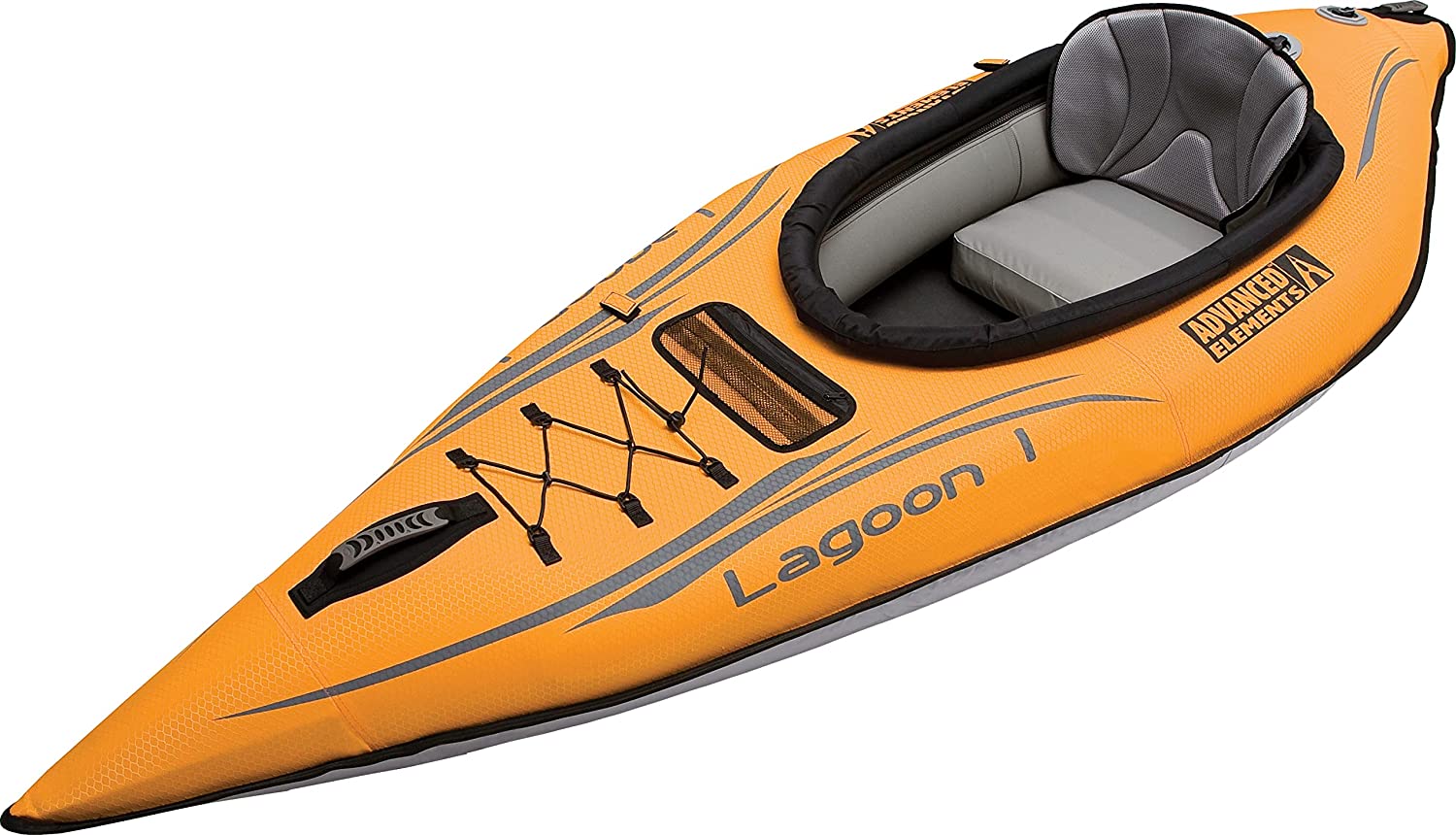 Advanced Elements Lagoon 1 Kayak
The price of "Advanced Elements Lagoon 1 Kayak " varies, so check the latest price at

Premium build quality comes with a heavy toll. The Flash has everything going for it, except its weight. This is a kayak that weighs forty-one pounds but has got the polyethylene build to back it up.
For your feet, multiple adjustable foot braces lie. Letting you get the fit that will work best for you. The padded seat, rather than being removable, is adjustable. You are able to tweak its angle and alignment.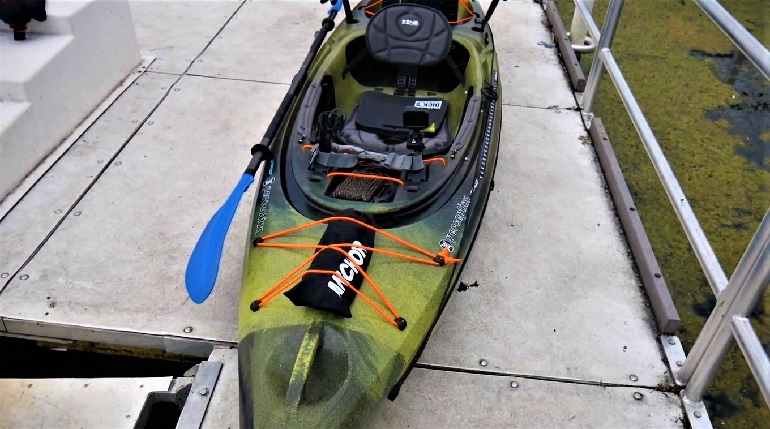 Lastly, while I may not like spray skirts, this kayak is compatible with the said item. Should you want to use one. I know I won't, hard to get comfortable with one on. However, having the option is always nice.
Features
Weight: Forty-one pounds
Build Materials: Polyethylene
Best Feature: Adjustable foot braces
Warranty: Five years
Comfort: Adjustable padded seat
Pros
Has an open cockpit that is easy to enter and exit. Plenty of space to work with.
Has an incredibly easy-access dashboard that is built-in and perfect for placing smaller items.
Spray skirt compatible should you feel the need to incorporate one.
Cons
No complaints on my part. A fantastic offering at a great price.

Perception Flash 9.5 Kayak
The price of "Perception Flash 9.5 Kayak " varies, so check the latest price at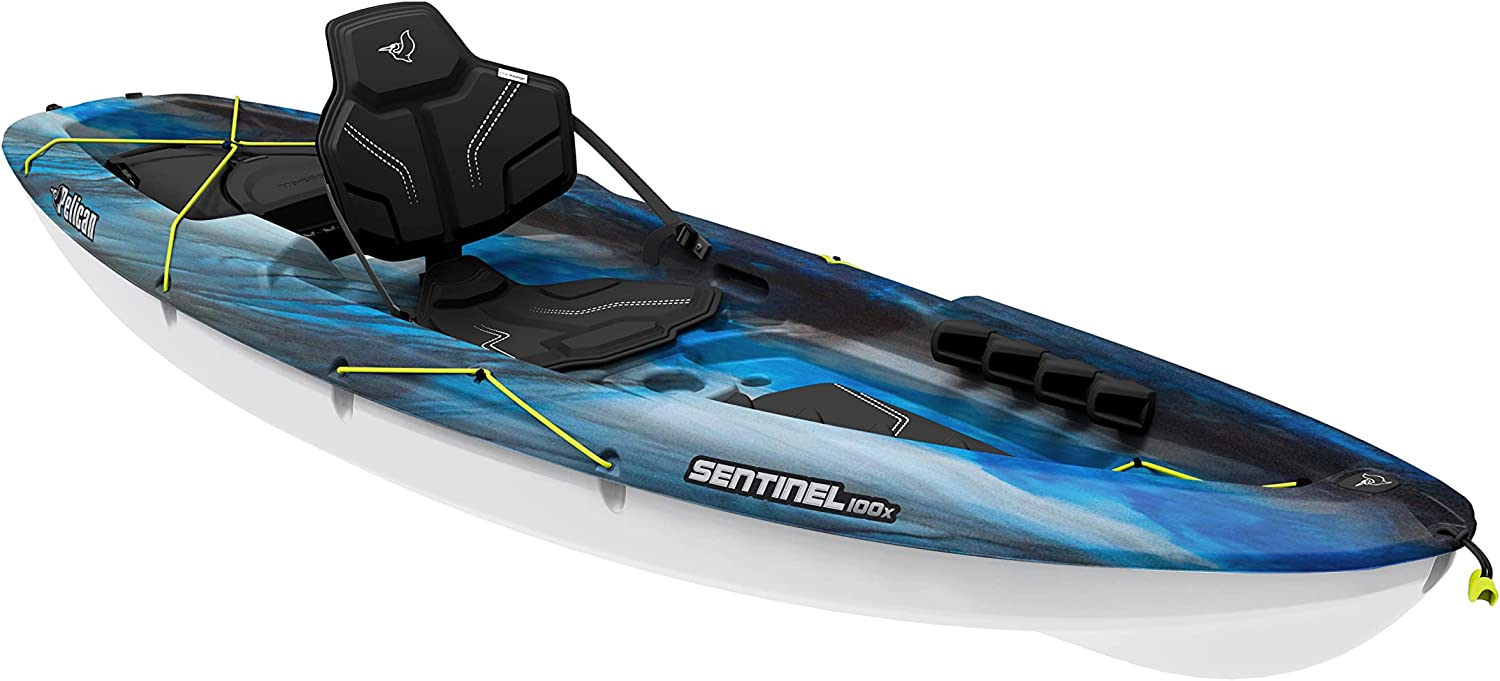 For the solitary warriors that need nothing else but their wits. The Sentinel is backed by a lifetime warranty. This a sure sign that it's got a durable build that its manufacturer is confident in.
The bow and stern of this kayak have their own storage compartments. At the kayak's exterior, a twin-arched hull handles choppy waters with no issue. Even the most annoying turbulence is dealt with. It is also one of the best dog kayaks to take your pup along. Just make sure to train your dog before you take them kayaking.
This option is also reckoned as one of the best duck hunting kayaks. So if you're interested in these outdoor activities, this can be a great pick.
The only downside of the Sentinel, like others on the list, is its weight. It's heavy and difficult to move on your own due to its length.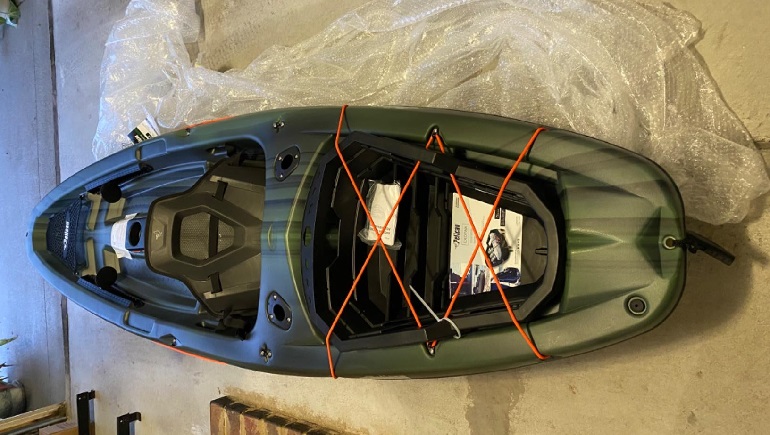 Features
Weight: Forty-two pounds
Build Materials: Hard plastics
Best Feature: Front and back storage space
Warranty: Lifetime warranty
Comfort: ERGOLOUNGE seating
Pros
Has a twin-arched multi-chine hull that increases the stability of this sit-on-top kayak.
For your seating pleasure, extra thick padding and a wide backrest.
Comes with a removable storage space that easily installs and removes in seconds.
Cons
This kayak sits lower than most. You will get wet more than usual.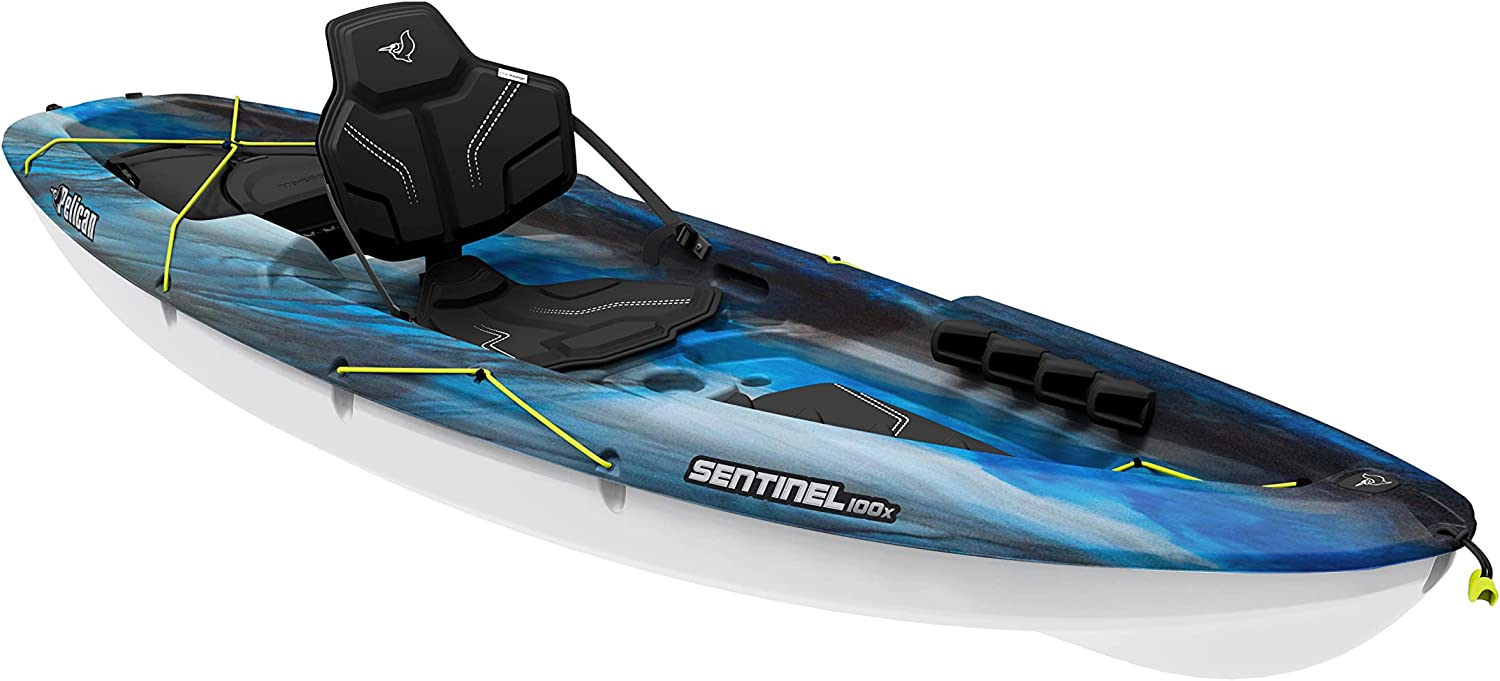 Pelican Sentinel 100X Kayak
The price of "Pelican Sentinel 100X Kayak " varies, so check the latest price at

The 100XP Angler is all about confidence. Even for the most experienced paddler, running into something is bound to happen at least once in our life. But with the 100XP, this no longer has to be a death sentence.
Its entire hull has been made with Ram-X. Ram-X is a patented impact-resistant material that stands up to heavy hits. With this solid structure, you can venture into lands unknown without fear.
After all, what could possibly bring this kayak down? As far as comfortable seats go, the ErgoForm padded backrest is among the best. It more than gets the job done. Providing the comfort and support combo that is necessary for long trips.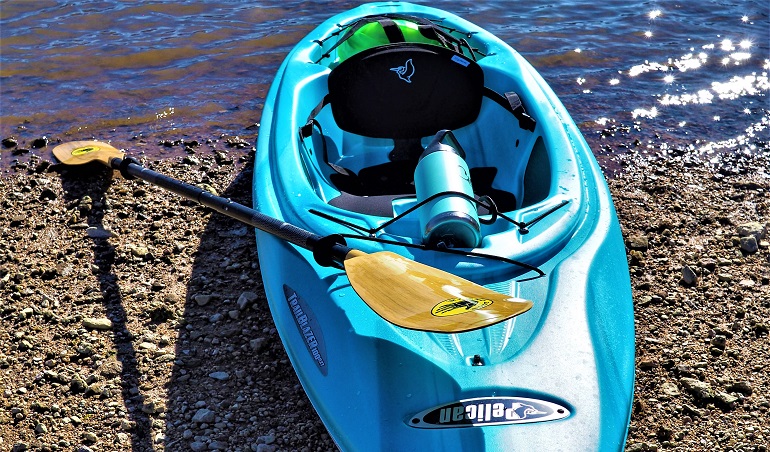 There are even foam blocks placed in the interior of the kayak. These blocks are meant to help increase the flotation of the 100XP Angler.
Features
Weight: Thirty-six pounds
Build Materials: Ram-X
Best Feature: Good length and lightweight design
Warranty: Lifetime warranty
Comfort: ERGOFORM padded backrest
Pros
The best impact resistance on the list, thanks to a strong structure that is made from RAM-X materials.
Despite being more than ten feet long, this kayak weighs only thirty-six pounds. Quality engineering.
Extra flotation is provided by interior foam blocks.
Cons
A solid kayak that could have benefited more from having adjustable seats.

Argo 100XP Angler
The price of "Argo 100XP Angler" varies, so check the latest price at

Colorado has everything going for it. This is the best two-person inflatable kayak that I would recommend to anyone, not just those with a budget. This is because of its durable and heavy-duty build.
The majority of its frame is made from polyvinyl chloride. Already, we came across a material that is known for its longevity. A longevity that is only further compounded by a thick nylon cover that is eight-hundred and forty deniers thick.
Nothing is piercing through this hull. At least, nothing that you would find in the water. For both passengers of this budget kayak, a wide backrest is more than adequate for providing you both with ample support to one of the body's most important regions.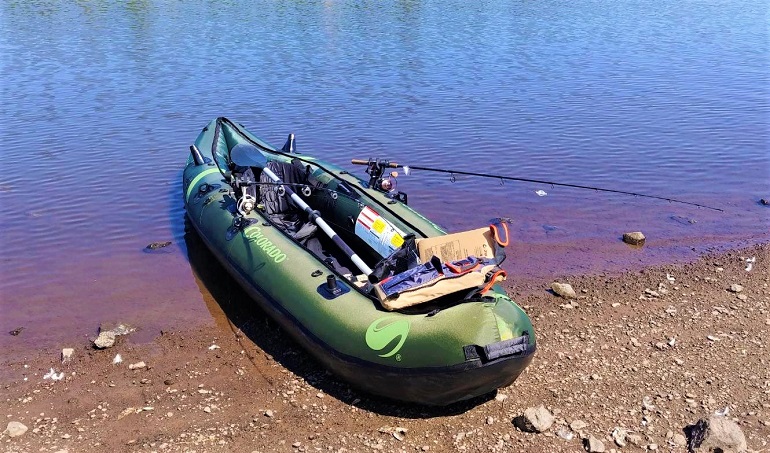 If you wanted something more to help, you move along. Colorado supports the Sevylor motor. Mount it, and off you go.
Features
Weight: Thirty-five pounds
Build Materials: Polyvinyl Chloride
Best Feature: Thick nylon cover
Warranty: One year
Comfort: Wide backrest seating
Pros
Colorado has multiple air chambers that act as fail-safe measures. Should one pop, the others will keep you afloat.
Comes with an 840-denier nylon cover that is extremely durable and resistant to punctures.
Compatible with the Sevylor motor, should you want the extra power.
Cons
Not a very appealing outward design, but as far as fishing kayaks go, this one is among the best.

Colorado
The price of "Colorado " varies, so check the latest price at

The K5 weighs only twenty-five pounds and has expanded airways that help it inflate and deflate completely within a matter of minutes. That's great, but is there more? Included with the K5 are splash covers that do, as they say, cover you from splashes of water.
In case you were asking, there is still more to be had here.
A medium backrest assures that your lower back never tires but also manages to stay out of your upper body's way. Constructed from thick polyester and with plenty of other quality materials thrown in, you won't have to worry about punctures.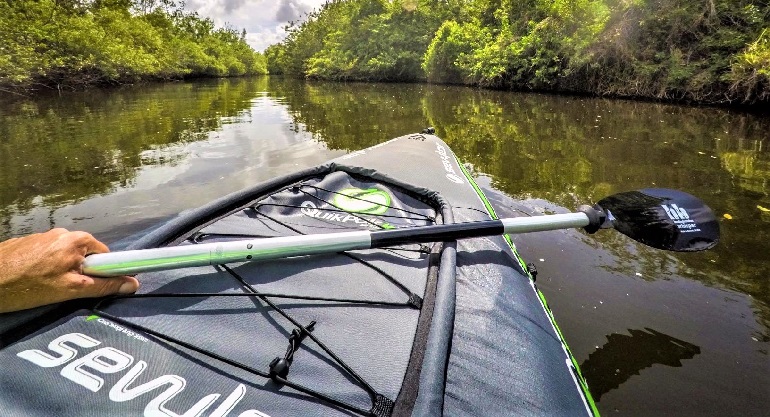 But by far, the best feature on this list by a quarter mile is this kayak's ability to fold into itself. Transforming into a backpack that you can easily travel with.
Features
Weight: Twenty-five pounds
Build Materials: Polyester
Best Feature: Easy-to-carry backpack system
Warranty: One year
Comfort: Medium-level backrest
Pros
Extremely easy to set up. Get up and go in only five minutes.
This folding kayak folds into itself to become a backpack. Love this design feature.
Comes with spray covers for splash protection.
Cons
Not much storage space is available, but I loved everything else about it.

Sevylor Quikpak K5 Kayak
The price of "Sevylor Quikpak K5 Kayak " varies, so check the latest price at
When Searching for the Best Kayaks under $500, Consider the Following
Yes, all of the kayaks under 500 dollars listed above have great price points and even better tracking. However, that doesn't mean that each option is right for you. Some of us want a rigid kayak, and others a big old comfortable vessel to snooze off in.
Besides build quality and having a low price tag, our listed kayaks don't have anything else in common. But that is where this section comes in handy. I'll be breaking down what a kayak needs most and how it should rank in key categories.
Only then will you be able to select the right pick for you.
Build Quality and Materials
There's a menagerie of kayaks listed above, so you will come across wildly different build materials. For an inflatable kayak, having a nylon cover and a PVC hull can pretty much get you through anything.
Solid kayaks of any kind should have a material like Ram-X or an equivalent in its build. This is because this material is specially made to handle heavy impacts. Essentially, you want a material that will handle your kayak's greatest structural flaws.
Inflatables should be made of PVC and nylon, while solid kayaks should be made of impact-resistant materials.
How Comfortable Is the Inflatable Kayak
Comfort is king, especially if you plan on doing any fishing or traveling long distances, which is what I usually do.
The best way to ensure that you have a comfortable experience is to get a stand-up fishing kayak that has padded seating, lots of back support, and then plenty of foothold spaces. The padded cushion seating will prevent your backside from getting ground into fine dust.
The back support will stop the killer of men, poor lumbar support, and the back pain it causes. Finally, plenty of foothold spaces ensure that you can stretch out your legs as far as you please.
The Kayak's Weight & Portability
A kayak's weight doesn't just impact how much effort it'll take to move it across the water. It will also impact how well you can transport it out of the water on your own. Of course, inflatable kayaks take the win here.
They can be deflated and then quickly folded up. Some kayaks, like the Quikpak K5, can even be turned into their own backpacks. World-class design like this is far from common but still available.
A solid kayak will be harder to transport and move in general, but they perform better than inflatable kayaks.
Inflatable Kayaks and Length
The length of a kayak will affect how much space is available to you. Now, I would say storage space, but your own body comes included with this category. The shorter your kayak is, the more control you will have over it and the easier it'll be.
However, the less space that is afforded to you and your comfort. It's a difficult trade-off.
Extra Features and Small Gear Storage Space
Every kayak will come with its own additional features. For example, the Hydros Angler has a swim-up deck. Perfect for getting into and out of the water at your leisure. Other kayaks will come with mounted fishing poles, extra storage spaces, or adjustable seating.
This category can be entirely dependent on your preferences. Be sure to pay attention to the details.
FAQs
What Is the Best Inflatable Kayak under $500?
The unique inflatable kayak that is under five hundred dollars would be the Colorado Two-Person kayak. This kayak has an insanely durable build. I haven't seen any other inflatable kayak that even comes close to it.
This is astounding when you consider the fact that there are many kayaks that cost twice as much as Colorado. The Colorado benefits most from the 840-denier thick nylon cover that encompasses its entire hull.
What Is the Best Fishing Kayak under $500?
When it comes to fishing kayaks, the Hydros Angler had to take the top spot. Its stable deck and flush-mounted rod holders are just the kinds of thoughtful features that one would need when trying to reel in Nessie. And anything else that resides in the depths…
What Is the Best Recreational Kayak under $500?
The best recreational kayak for some fun in the sun and taking it easy is the Emotion Spitfire. This kayak has got great back support and a stable hull that takes care of any rough waters. The seating is elevated to just the right amount, giving you a great position to maneuver the kayak.
My Final Thoughts
That's it! We are done. If, by some miracle, you haven't rushed off to purchase the Pelican Sentinel or the Emotion Spitfire, then now is the time to do it. A good sit-in kayak comes around rarely, and good sit-in kayaks under 500 dollars are a statistical anomaly.
There are options above that come with a carry bag and others, like the Quikpak K5, that turn into their own backpack.
With deep hull tracking channels abound and rear shock cord straps to keep your belongings tied down and secured, finding an awesome kayak has never been easier. Be sure to pack a handy repair kit, just in case.