Reel In A Monster
Have you ever gone kayak fishing? It's great fun and easily one of the most relaxing things that you can do. Even with the sun bearing down on you, and relentless heat waves cooking everything in sight, I would recommend it!
But fishing rivers can't be done on any old kayak. The best kayaks has the design and details to get you geared up and ready. From flush mount rod holders to a dry storage compartment.
The best river fishing kayaks down below can offer it all. Just be sure to get a good foothold before reeling something in. Take it from me, some of those basses are stronger than they look.
Best Overall

Perception Pescador Pro 12
Weight: 85 Pounds
Material: Polyethylene
Best Stability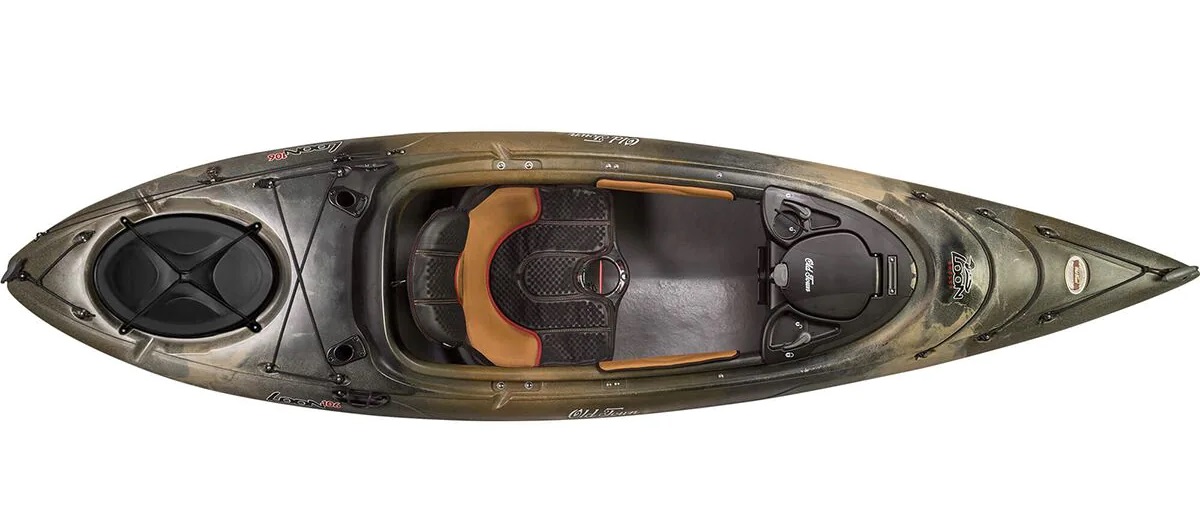 Old Town Loon 106
Weight: 54 pounds
Material: Polyethylene
Best For Convenience

Jackson Kayak Liska
Weight: 82 pounds
Material: Polyethylene
Best Adjustability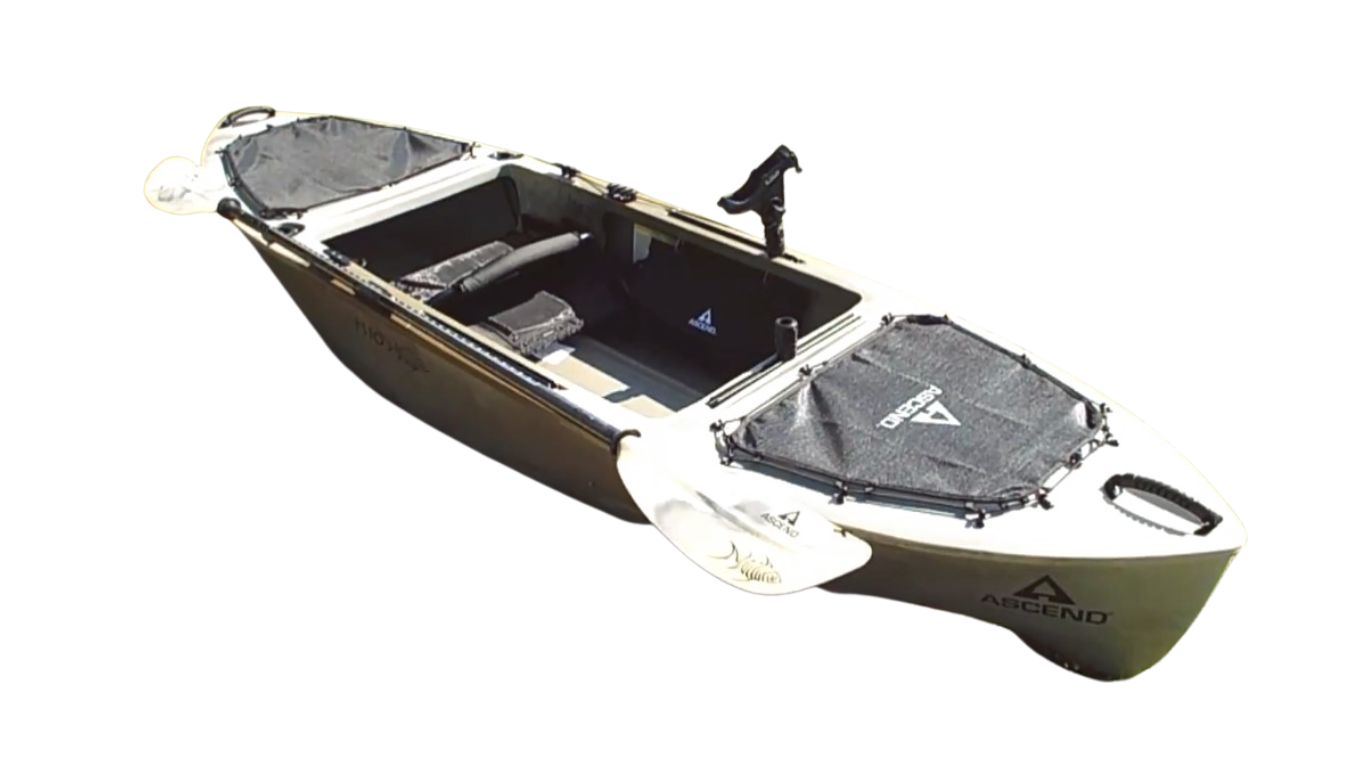 Ascend H10
Weight: 85 Pounds
Material: Polyethylene
Best Budget Option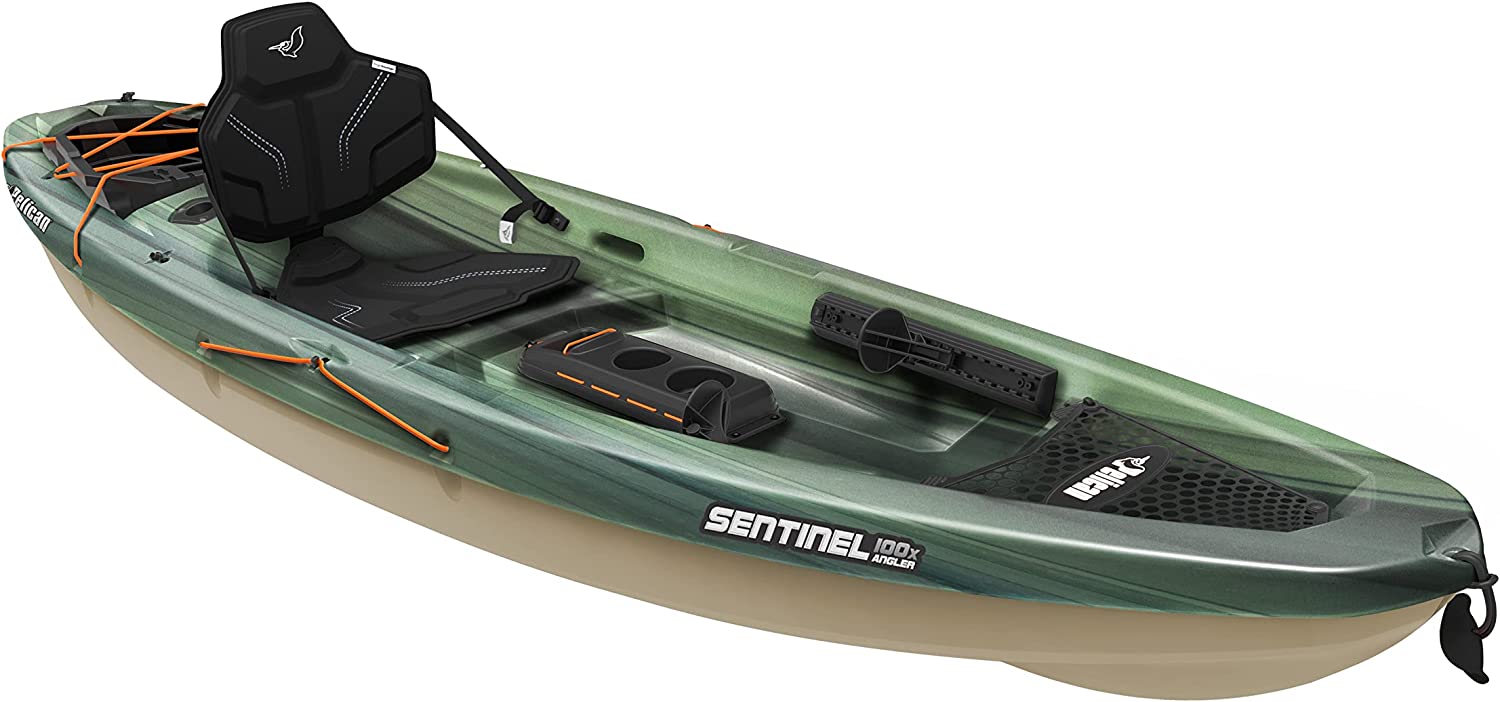 Pelican Sentinel 100X
Weight: 44 Pounds
Material: plastic
Best Inflatable Kayak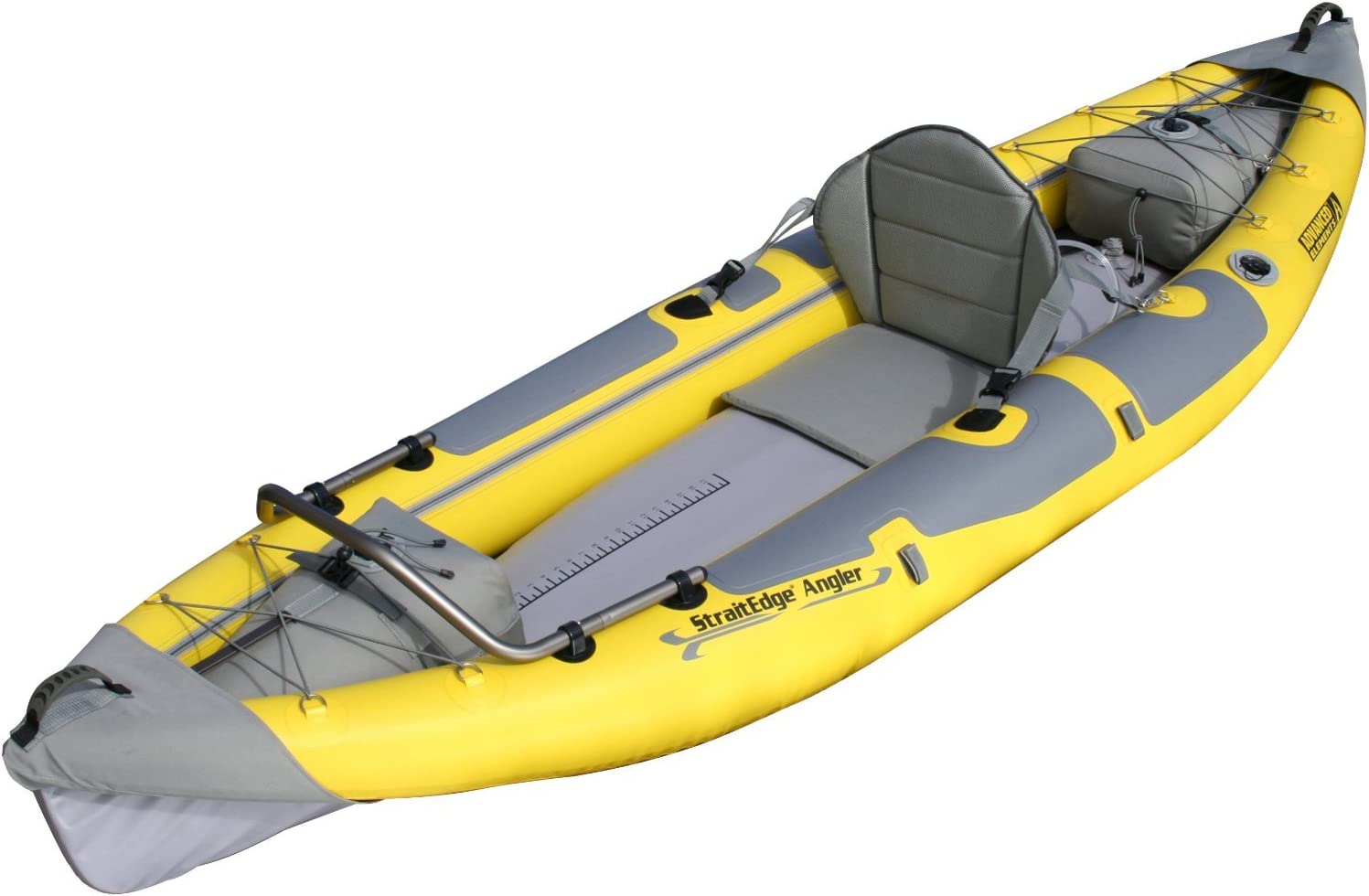 Advanced Elements StraitEdge
Weight: 45 pounds
Material: PVC tarpaulin
Most Durable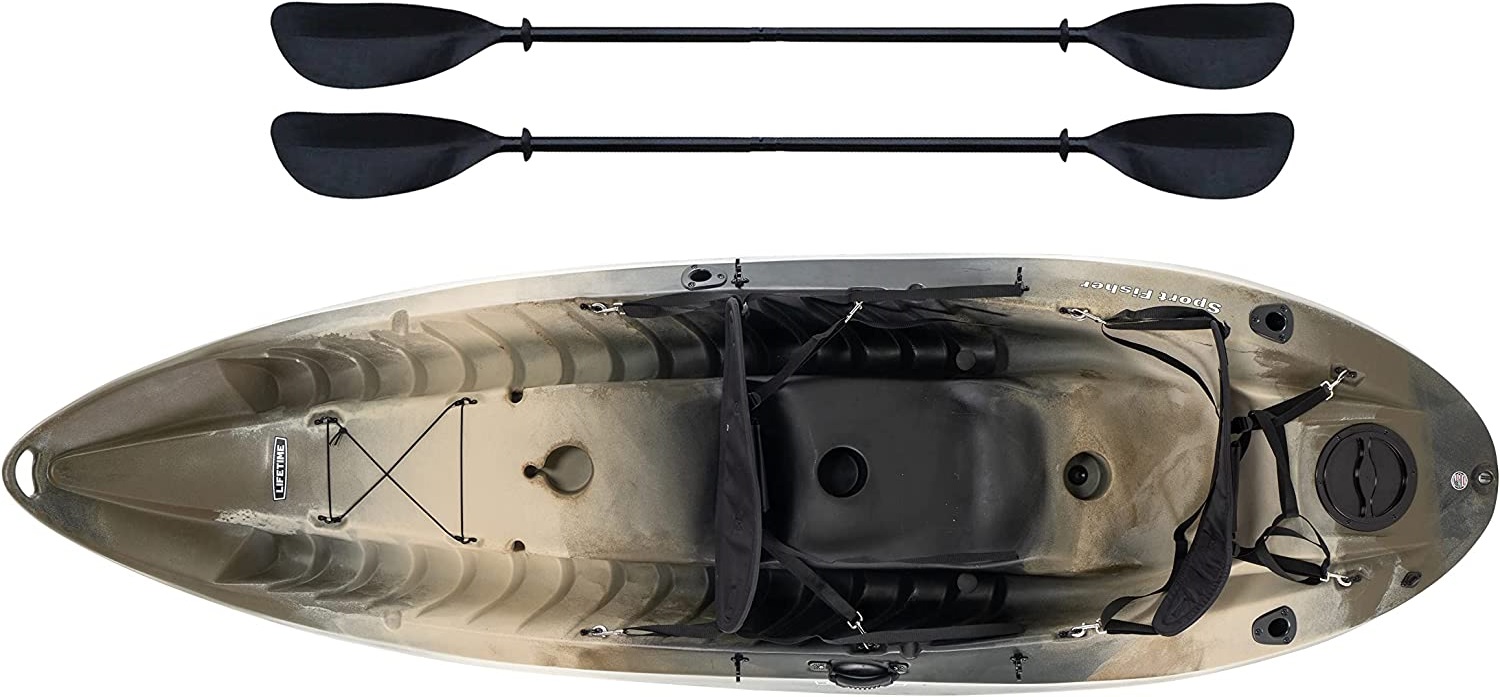 Lifetime 10 Foot
Weight: 60 Pounds
Material: Polyethylene
Best Deal
Aquaglide Chinook 100
Weight: 23 pounds
Material: Polyester
Best Lightweight

Oru Kayak
Weight: 25 Pounds
Material: Polyethylene
Best Of The Rest

Perception Outlaw 11.5
Weight: 77 pounds
Material: Polyethylene
10 Best River Fishing Kayaks
Do you want a river fishing kayak that's got an ergonomic seat that can be easily adjusted? How about storage compartments fit with a mesh cover to secure your gear? River fishing can be a very relaxing activity, but you'll need more than a fishing rod and a kayak to have a comfortable day out.
From origami kayaks that can be folded down in a matter of minutes, I'm serious, to twelve-foot monsters. There is quite a bit on offer down below. An option for any kind of angler that wants to hunt bass and doze off.

The Pescador Pro 12 has got a great name that states its intentions right off the bat. This is the best river fishing kayak for the pros and soon to be's. The entire hull is made from polyethylene. This hard plastic is known for one thing, impact resistance.
Its hard and durable shell will last even amongst the craggy surfaces that some rivers can have, especially when the water gets lower. In case you didn't want to fiddle around with a paddle, this kayak has a pedal drive system.
This system lets you power the kayak and have total control over your speed. The upside is that you get a solid workout on top of your fishing. The downside is that many fishermen would rather take it easy when on the prowl.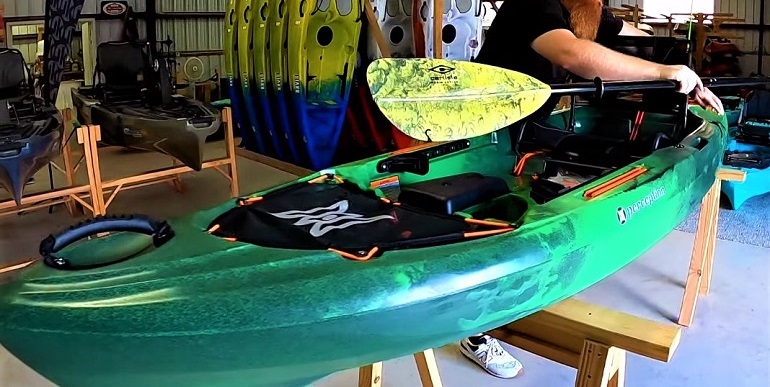 One thing to note is that the Pro 12 weighs more than eighty pounds and is twelve feet long. At that weight and size, this is not an easy object to move around on your own.
That can be said for a majority of the fishing kayaks on the list. A solid and durable vessel is always going to weigh the part. The Pescador Pro 12 is fit with many small details that build up its versatility and rider assistance.
A great pick-up without any of the rigid design choices that plague most others.
Features
Best Feature: Pedal drive system
Build Material: Polyethylene
Weight: Eighty-five pounds
Length: Twelve feet and five inches
Comfort: Lawn chair style mesh seat
Pros
The perfect option for kayak fishing comes with gear tracks, fish finder consoles, and four-rod holders.
The pilot drive system can be fully tucked into the hull to prevent a draft from coming in.
One-piece construction that has zero potential for leaks.
Cons
Can be on the smaller end for bigger individuals.

Perception Pescador Pro 12
The price of "Perception Pescador Pro 12 " varies, so check the latest price at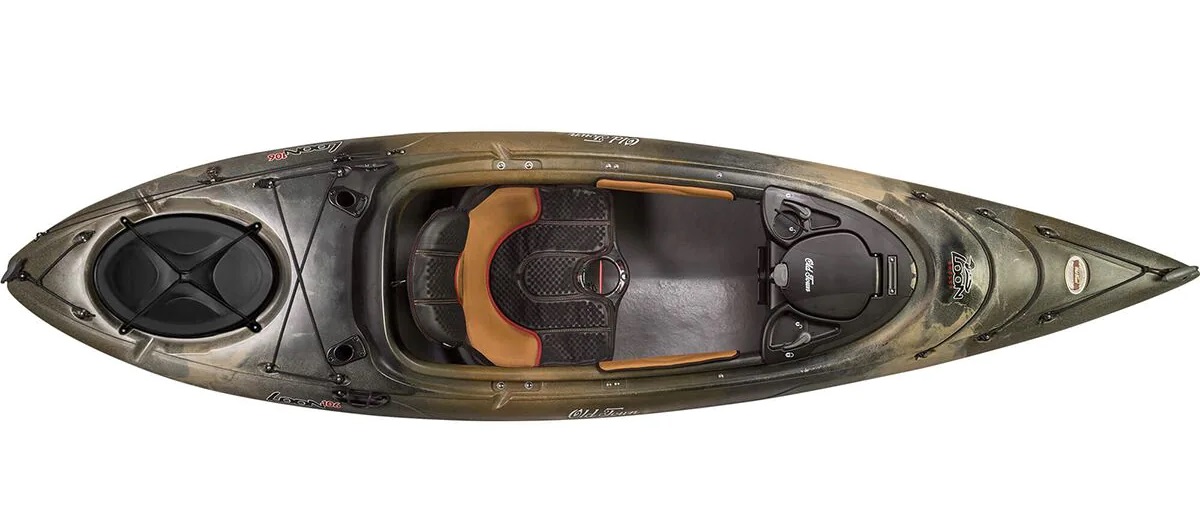 If you are serious about reeling in your dream catch, then you are going to need the Old Town Loon. While the Pescador was the best option overall for any river fishing enthusiast, the Loon is for those that take this pastime more seriously.
Holding you firmly in place are foot braces. Ones that can be adjusted and moved around. This is a great feature and one that I believe all river fishing kayaks should have. The amount of stability and confidence that the foot braces give you can't be matched.
Even the seat, an ACS2, was made to perform at a top level. The way the padding is segmented across the seat, targeting common key problem areas, ensures that you get the support where you need it most.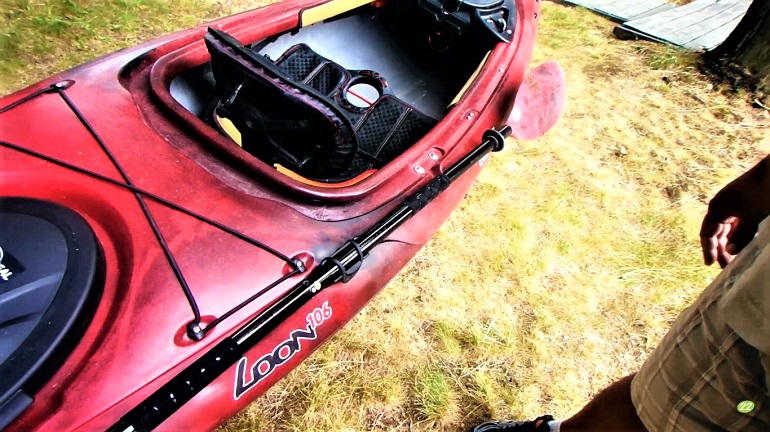 It's more than thirty pounds lighter than the previous option, although its length was also reduced. By a solid two feet. The fact that this is a specialized kayak becomes apparent the more time you spend with it.
It performs really well in slow-moving water, but that score drastically plummets the stronger the current gets. Definitely, a kayak that was built for that experienced angler in your life. The one that has plenty of stories to tell.
Features
Best Feature: Thick pads and foot braces
Build Material: Polyethylene
Weight: Fifty-four pounds
Length: Ten feet and six inches
Comfort: ACS2 seat, excellent comfort
Pros
Has a wide beam and flat hull that give you excellent stability when casting.
Comes with a USB charge port for your phone and other electronic accessories.
The click-to-seal front hatch provides you with ample storage space.
Cons
Best used in slow-moving and flat water.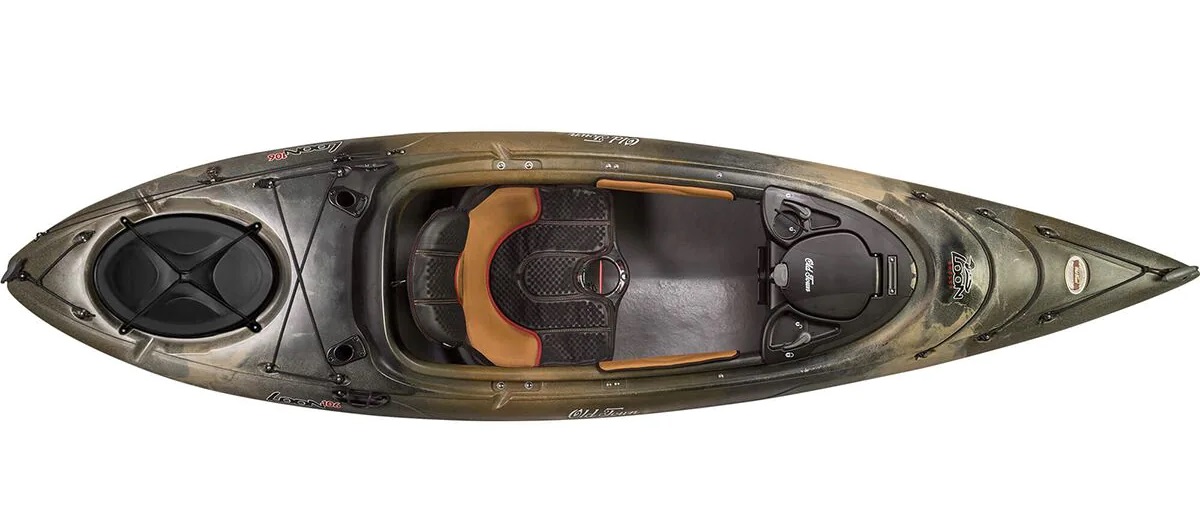 Old Town Loon 106 Angler
The price of "Old Town Loon 106 Angler " varies, so check the latest price at

The Jackson kayak saw a massive bump in weight from the previous entrant. However, this weight was put to great use. Targeting the central part of the hull, right underneath the seat, the extra pounds provide an "kayak anchor" point that steadies your entire ride.
What I loved most about it, however, was the organized compartments spread throughout its design. Near the bow and stern, right behind them, are actually storage compartments that have a built-in deck webbing acting as a roof.
You can calmly secure your gear with ease and get going in record time. With almost any river fishing kayak, getting some webbing installed would be a number one priority. Fortunately for us, the Jackson kayak has us covered.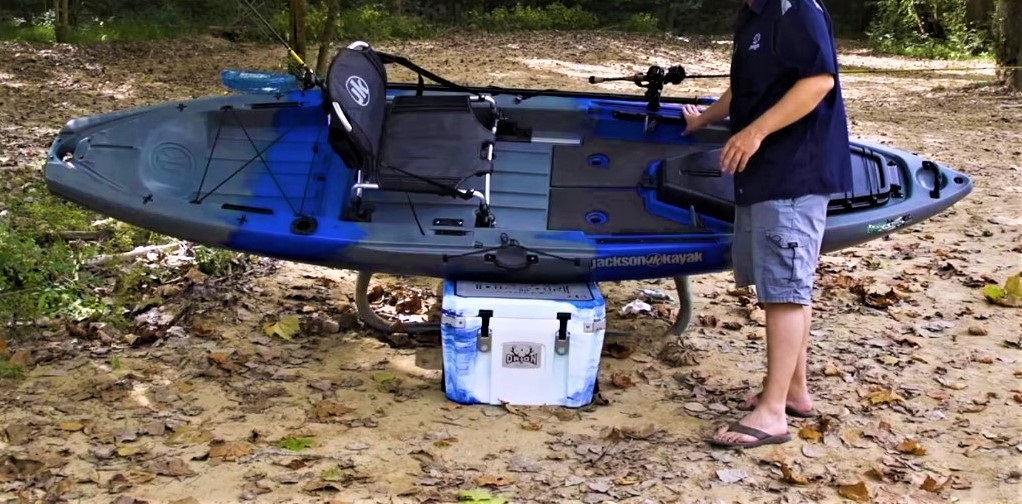 And covered indeed, especially with an ergonomically designed seat. This seat is track-mounted and gives you several adjustment options to choose from. Once again, another feature that I wish more river kayaks had.
In the way of storage, the hull has a waterproof space where one can place their food and clothing. This is why the Jackson kayak is the best option for your convenience. The designers thought of everything, and we are left with a river fishing kayak that covers all its bases.
Features
Best Feature: Organized compartments
Build Material: Polyethylene
Weight: Eighty-two pounds
Length: Twelve feet and one inch
Comfort: Ergonomic seat
Pros
I enjoyed the built-in deck webbing and space that can be used to secure and store your valuables.
The hull has a waterproof storage space for food and clothing.
The track-mounted seat gives you multiple adjustment options.
Cons
Could have benefited from more rod holders.

Jackson Kayak Liska
The price of "Jackson Kayak Liska " varies, so check the latest price at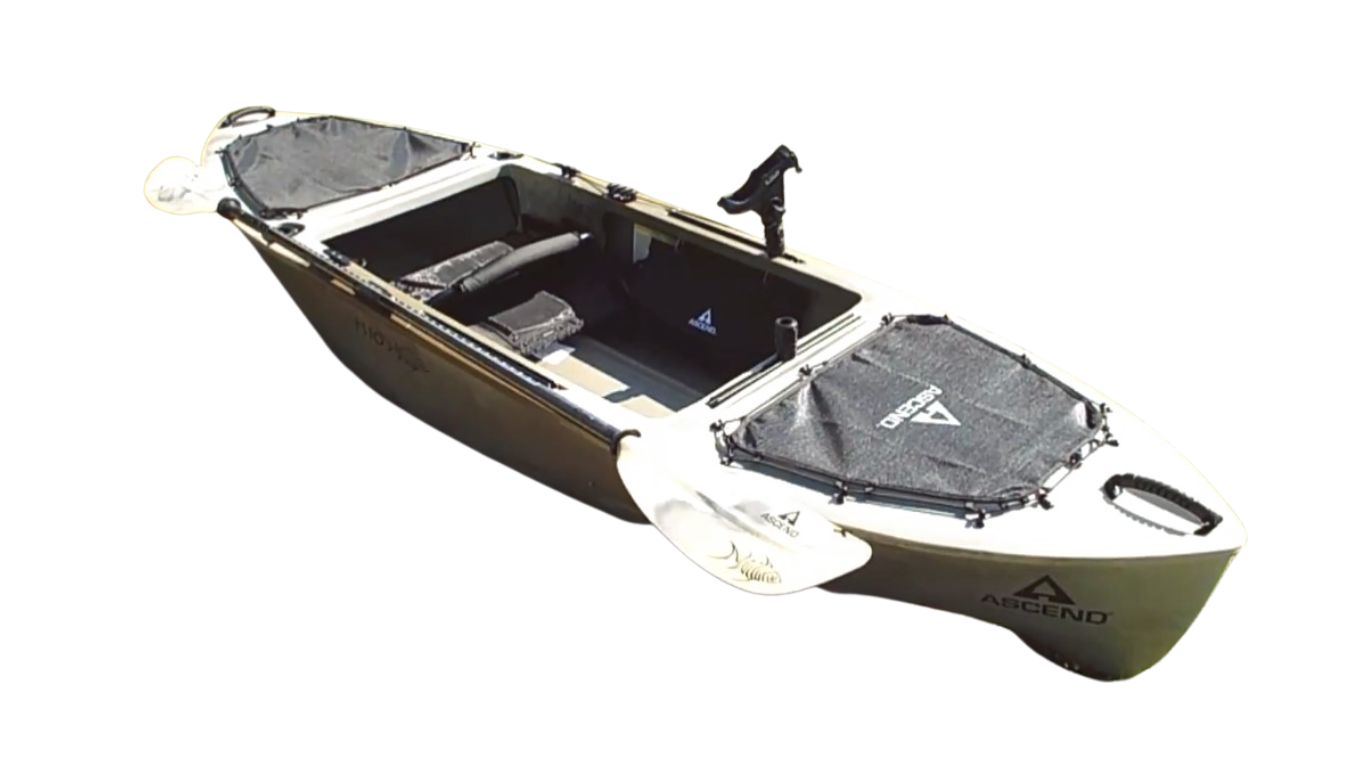 A car, or any vehicle for that matter, doesn't truly become yours until you've worked on it. Thanks to the Ascend H10's multiple adjustable features, this river fishing kayak is made all your own on the first day.
Remember the adjustable foot braces of the Old Town Loon? Well, they make a comeback here, fit with all the bells and whistles of old. Multiple starting points, a solid grip, and built to last. Oddly enough, the weight of this kayak is also reduced. Something about those footholds must really burn some calories.
Measuring in at only ten feet long, this is a below-average-sized river fishing kayak. One that still manages to have its entire hull made from polyethylene. Something to note since this didn't negatively affect the final weight at all.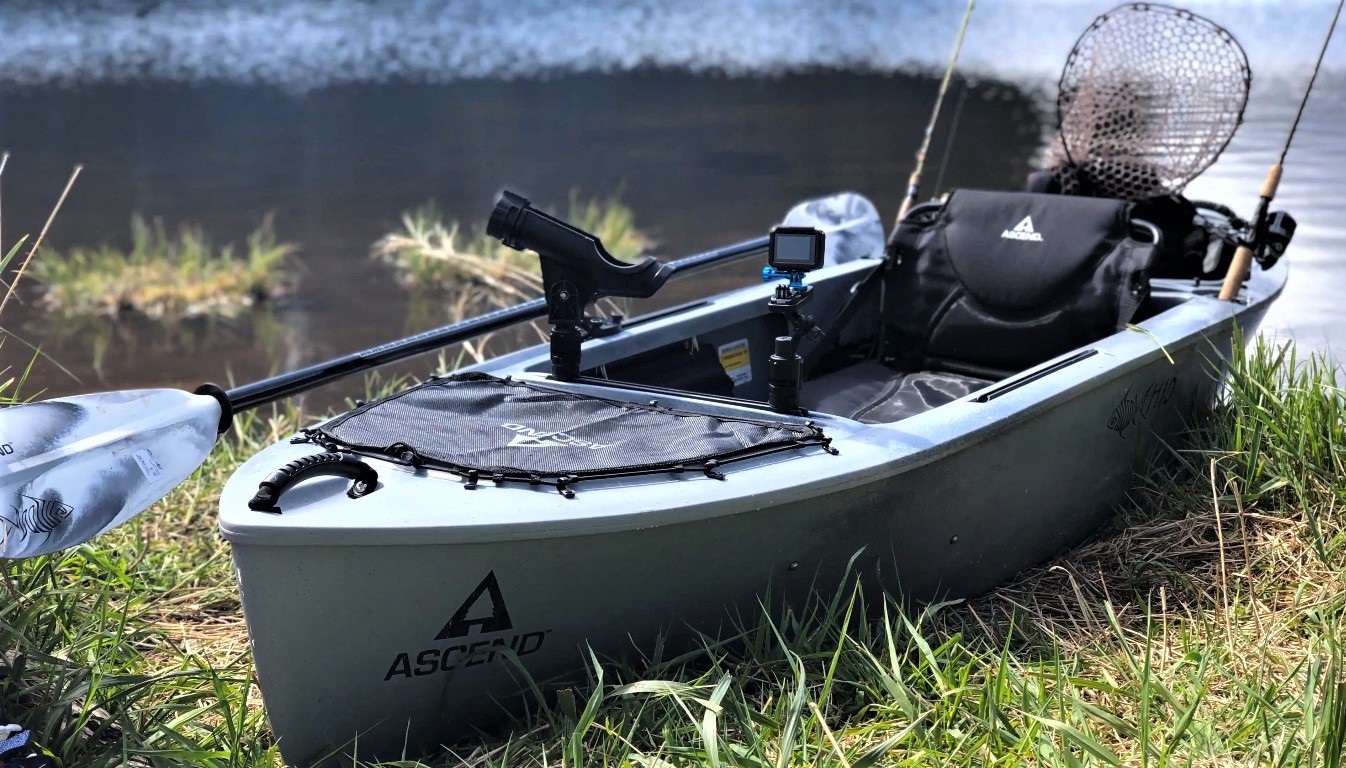 In way of seating, you get a deluxe custom seat that can be removed if you need some more room for storing your gear. Although, I wouldn't do this myself. While not the most comfortable seat, I do believe that it does a well enough job.
Perhaps my favorite feature of this river fishing kayak was the two storage rooms that each came with their own mesh cover. The extra ventilation will quickly dry off any gear without exposing it to the elements.
Features
Best Feature: Threaded, sealed drain plug
Build Material: Polyethylene
Weight: Fifty-five pounds
Length: Ten feet
Comfort: Adjustable foot braces
Pros
The deluxe seating system is removable should you require extra space.
Has bow storage space with an adjustable mesh cover that provides ventilation and protection for your stuff.
The foot braces can be adjusted, find your perfect stance.
Cons
The mesh cover won't be enough to maintain your personals completely dry.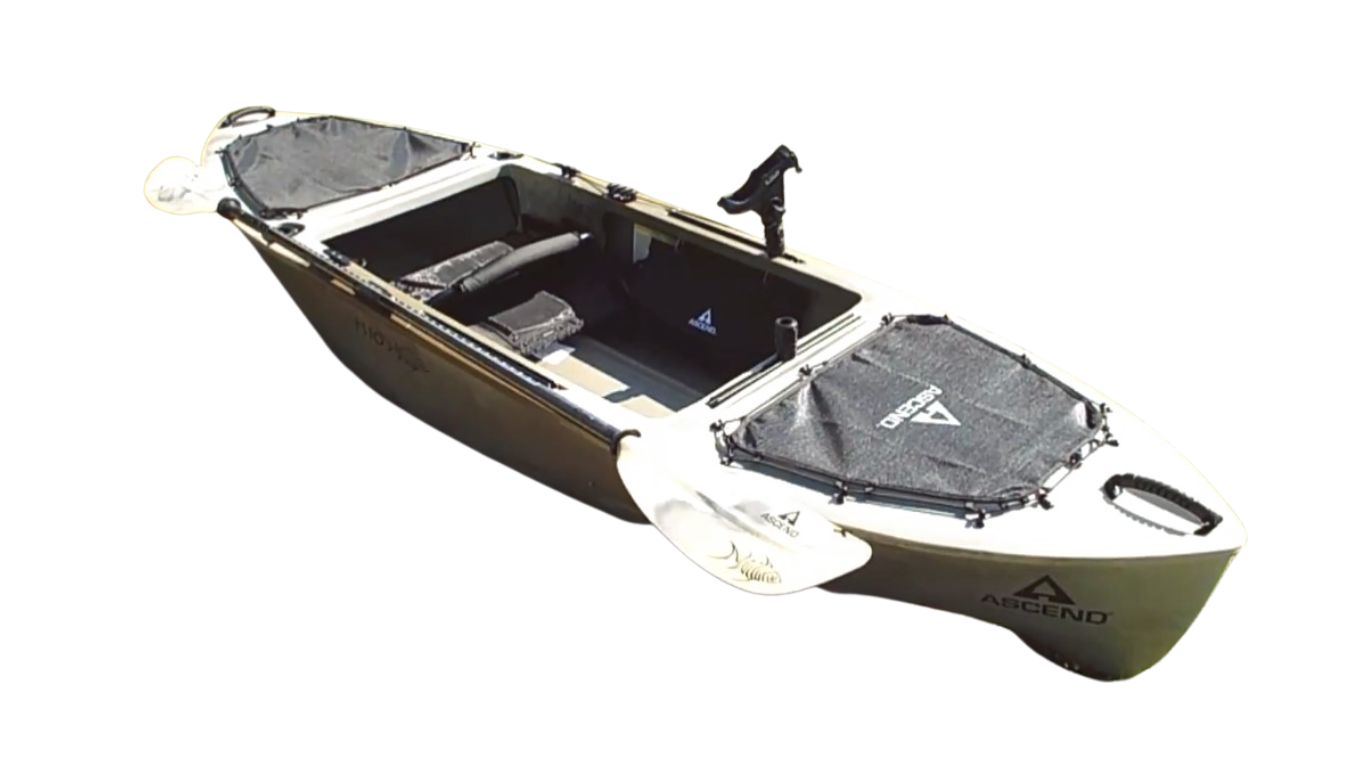 Ascend H10 Sit-In Hybrid Kayak
The price of "Ascend H10 Sit-In Hybrid Kayak " varies, so check the latest price at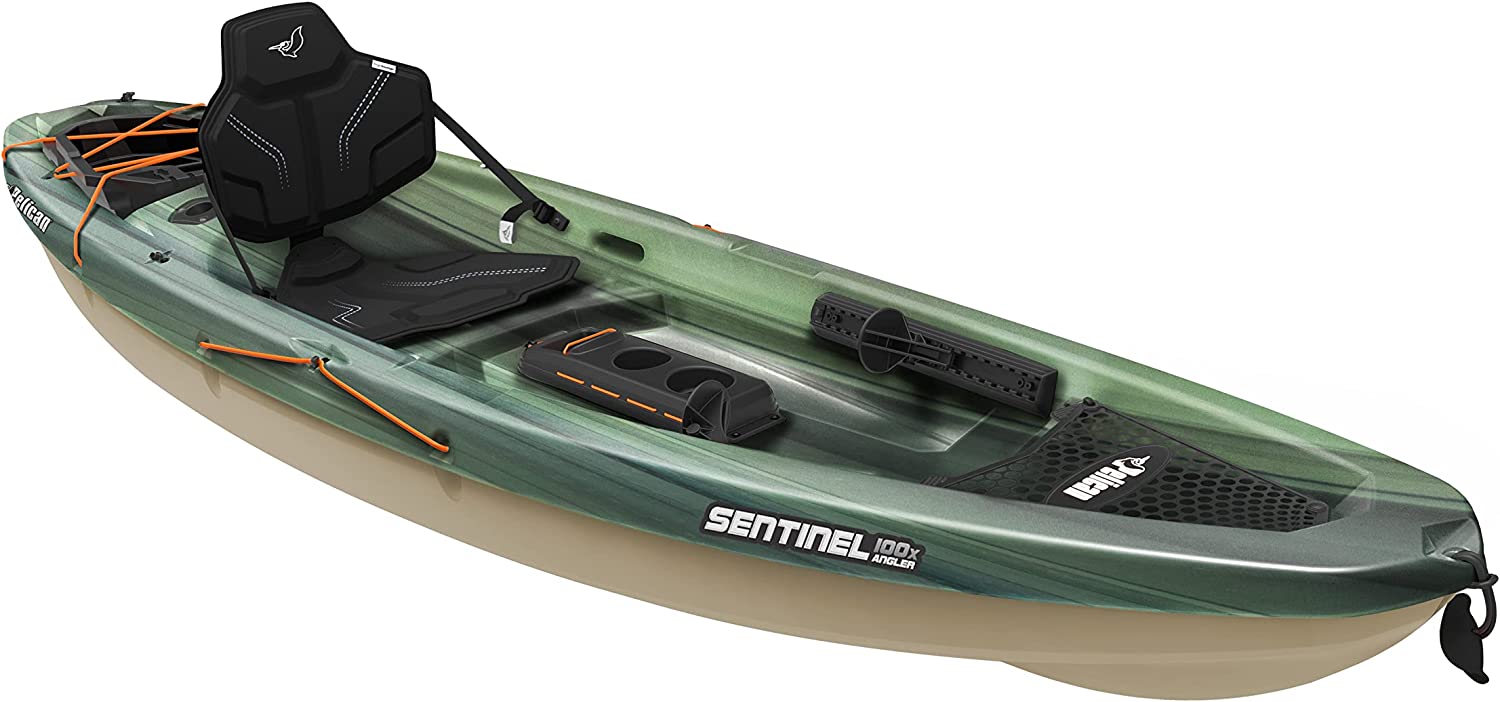 Finally, the budget option has arrived. Even my eyes were starting to spin at all the numbers and commas that we had seen thus far. River fishing shouldn't be left to those that have thousands of dollars to spend. It should be an every-man thing, and the Sentinel 100X is definitely the everyman's choice.
So far, the smallest kayak on the list, but not for long. This nine-foot-eleven-inch fighter has one of the best hulls around. Constructed from patented Ram-X materials, this gives it more luster than the other best river fishing kayaks and their polyethylene. Who needs that?
Weighing in at only forty-four pounds, I'd wager that most grown adults could lift or, at the very least, drag this sucker out to the river bank. Once there, you can take the ExoPak accessory carrier that came with the kayak out of your car and pop it into place.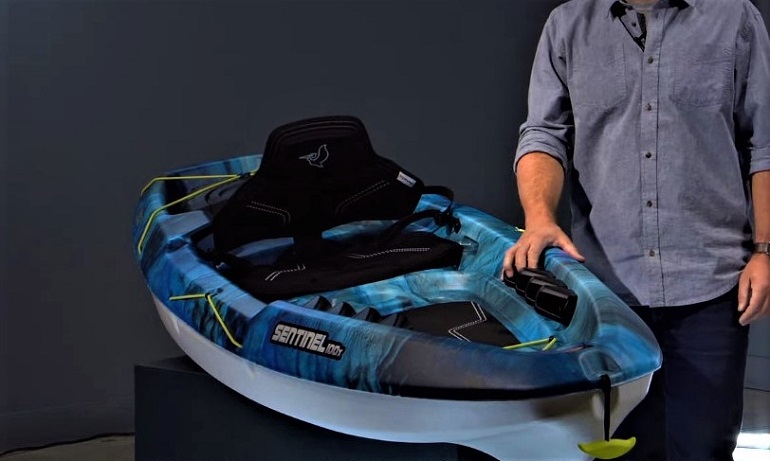 That's right, this budget kayak has a removable and portable accessory carrier.
Thanks to its size, it doesn't take much to completely dominate this vessel. You'll be going where you want to go without much trouble but keep in mind that you won't be able to bring anyone else along. That is just how this kayak was built.
If you have a low budget, you also might want to look at other best fishing kayaks under 500 or fishing kayaks under 1000 available on the market.
Features
Best Feature: Small size and price
Build Material: Ram-X materials
Weight: Forty-four pounds
Length: Nine feet and eleven inches
Comfort: Easy to transport
Pros
This river kayak is small and compact, perfect for one-man transports and total control.
Comes with an ExoPak. This is a portable accessory carrier that can be used in and out of the kayak.
The fantastic build quality and features are all available at a low price.
Cons
Limited space for fishing rods and your other fishing gear.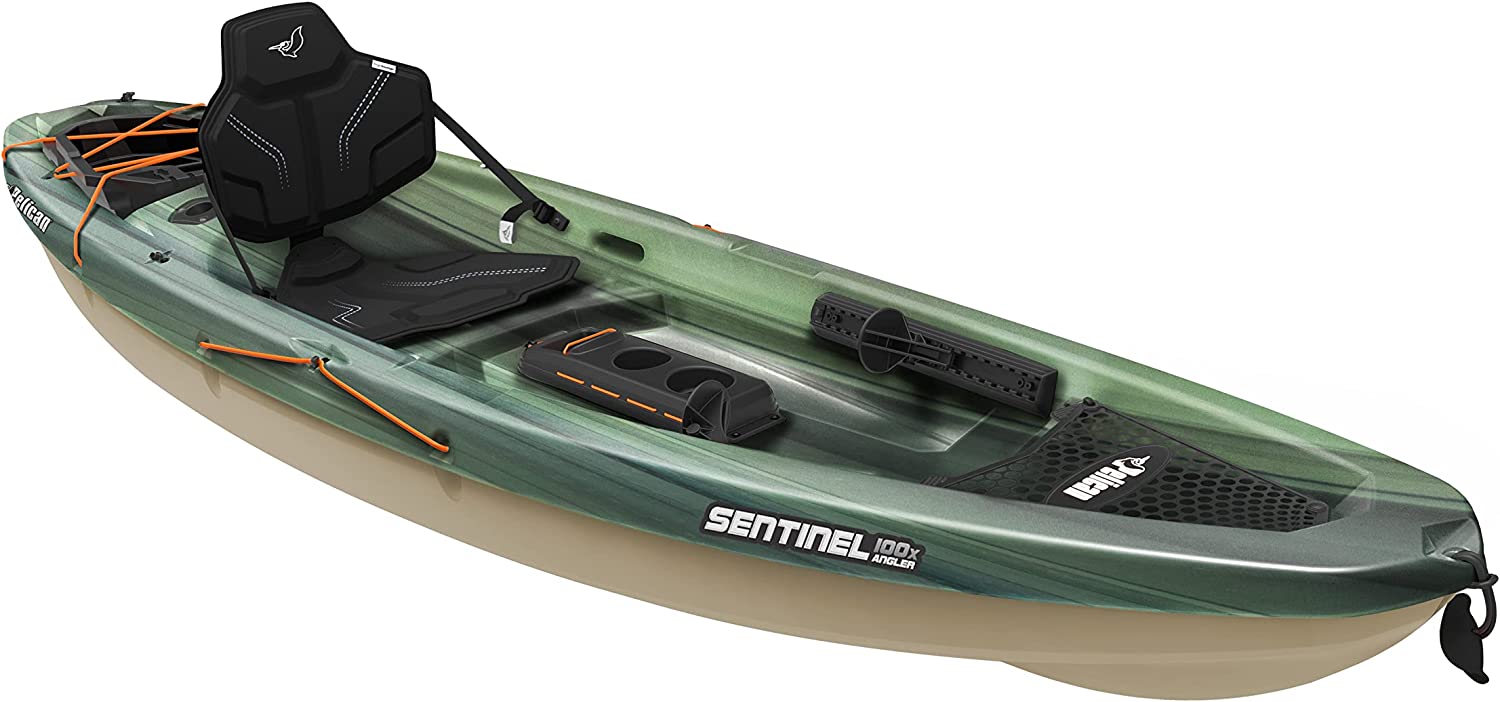 Pelican Sentinel 100X
The price of "Pelican Sentinel 100X" varies, so check the latest price at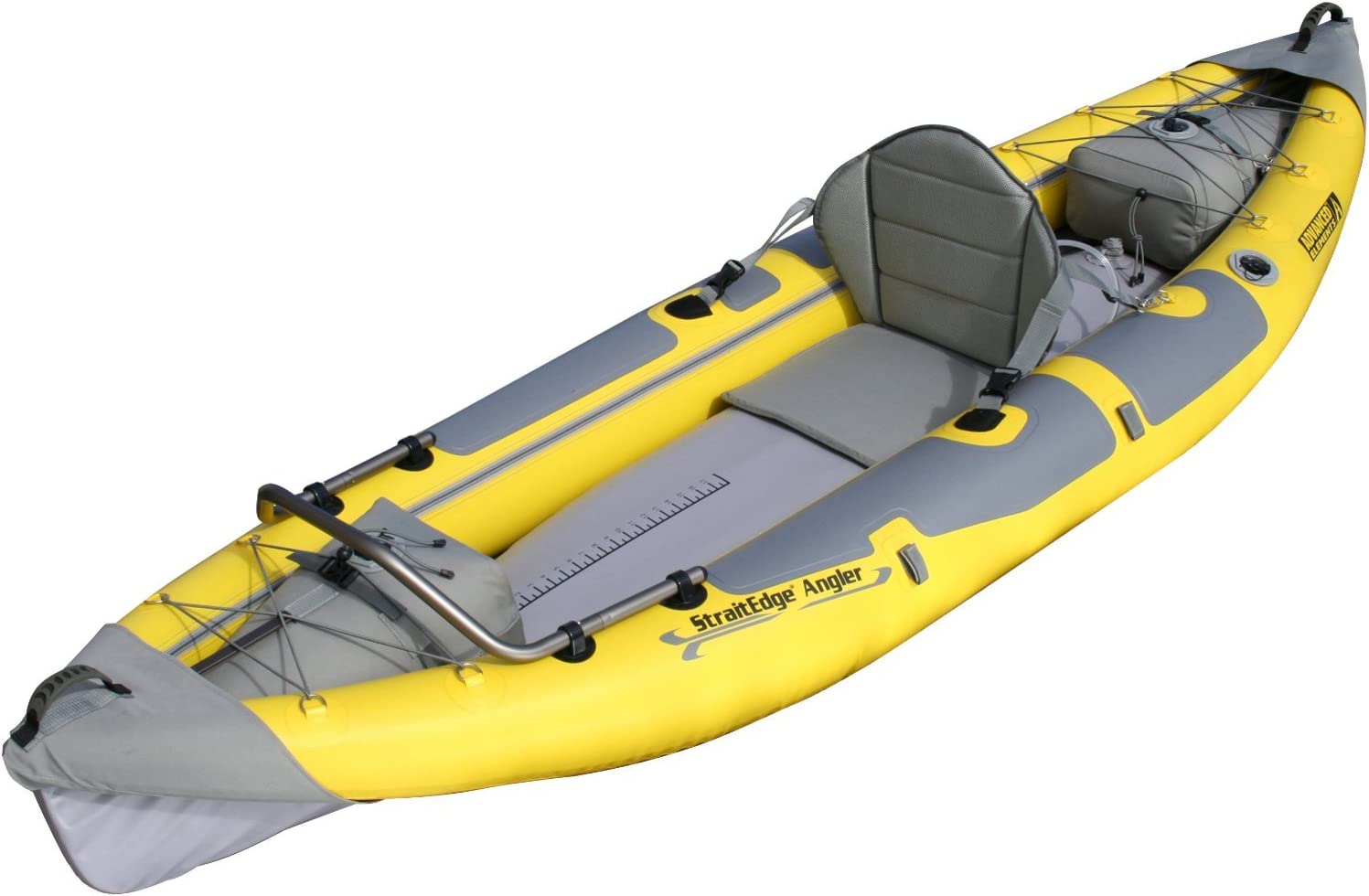 It's got a long name, but so did royalty back in the day. This here is the best inflatable kayak on the list. Before you start with the classic "if it's inflatable, it'll pop" shenanigans, let me assure you that inflatables have come a long way from the days of your mid-sized backyard pools.
Furthermore, one area that inflatables always prospered over solid editions is comfort. Particularly the StraitEdge Angler with its high back seat giving your shoulder blades the support that they never knew they needed.
Of course, one can't mention inflatables without discussing what they are best at. Transportation and storage. Deflating this kayak completely leaves you with something that can be folded into itself and placed on your back.
Ever seen pictures of those hidden mountain lakes and wished you could kayak there? What stopped you? The fact that you couldn't possibly imagine how you would get a heavy kayak through the mountains far enough to reach the lake.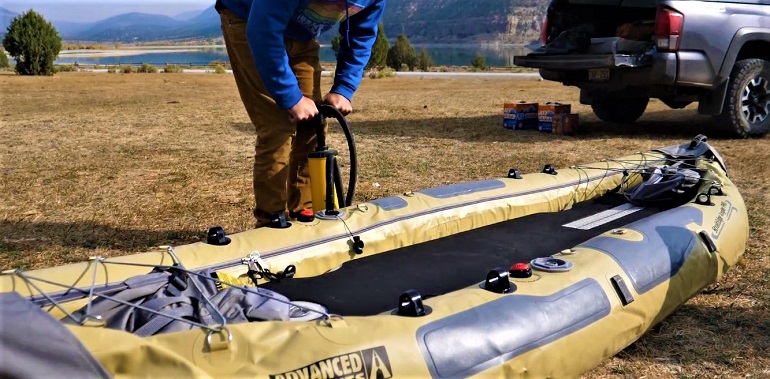 Advanced Elements StraitEdge Angler certainly solves this issue, and once your adventure is over and you've got your home address beamed into your kayak GPS device, you'll be able to rest easy. Knowing that you can deflate your kayak once more and shove it in a closet nearby.
Features
Best Feature: Lightweight kayak
Build Material: Aluminum rib frame
Weight: Thirty-nine pounds
Length: Nine feet and eight inches
Comfort: High back seat
Pros
Inflatable fishing kayaks are great for at-home storage and transportation.
These are the best river fishing kayaks for those that enjoy kayak fishing but don't want to deal with the headache of finding a spot to store their kayak in.
Has two-rod holders and inflatable lumbar support.
Cons
Definitely not as durable as some of the other sit-inside kayaks on the list.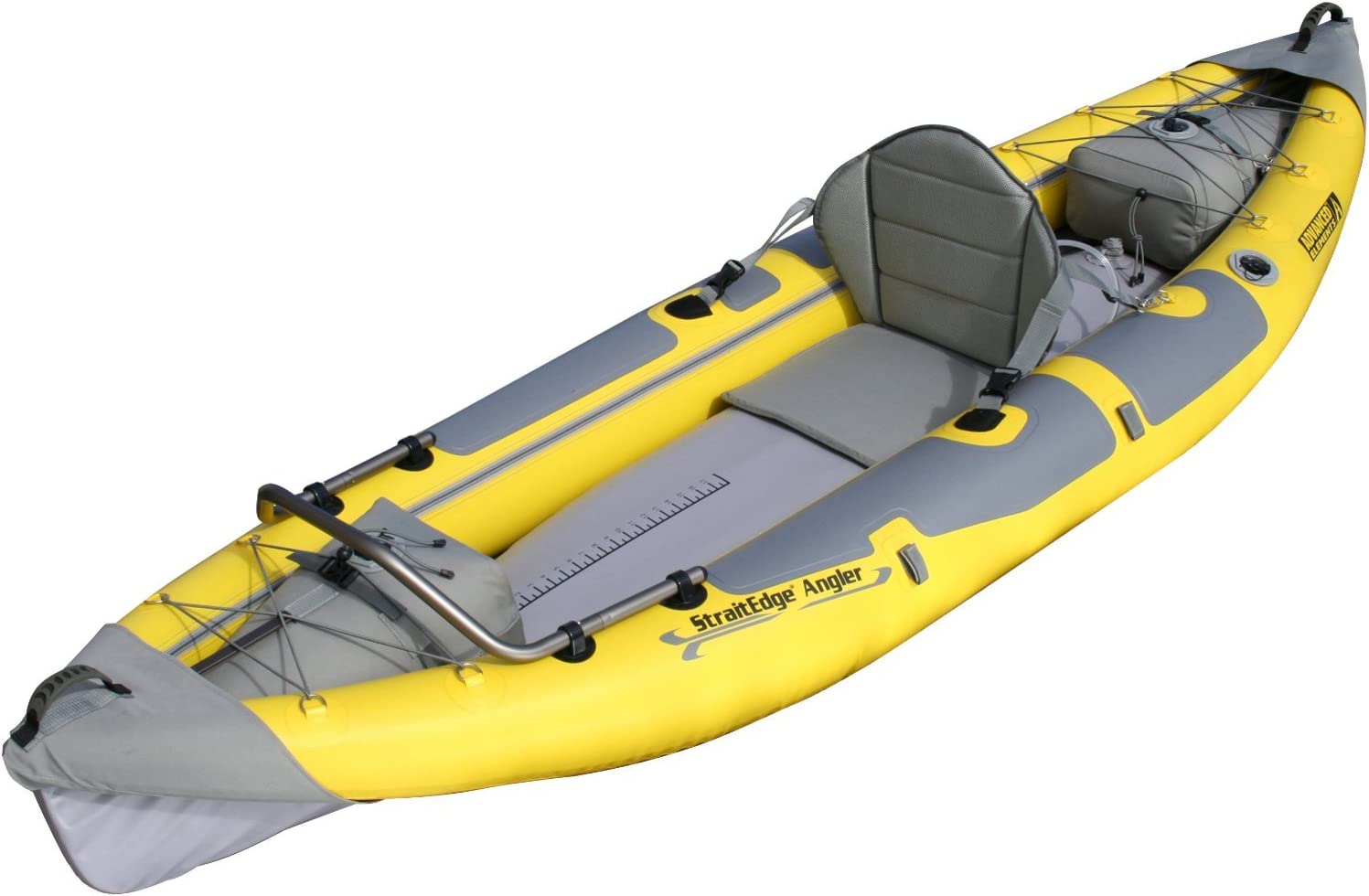 Advanced Elements StraitEdge
The price of "Advanced Elements StraitEdge " varies, so check the latest price at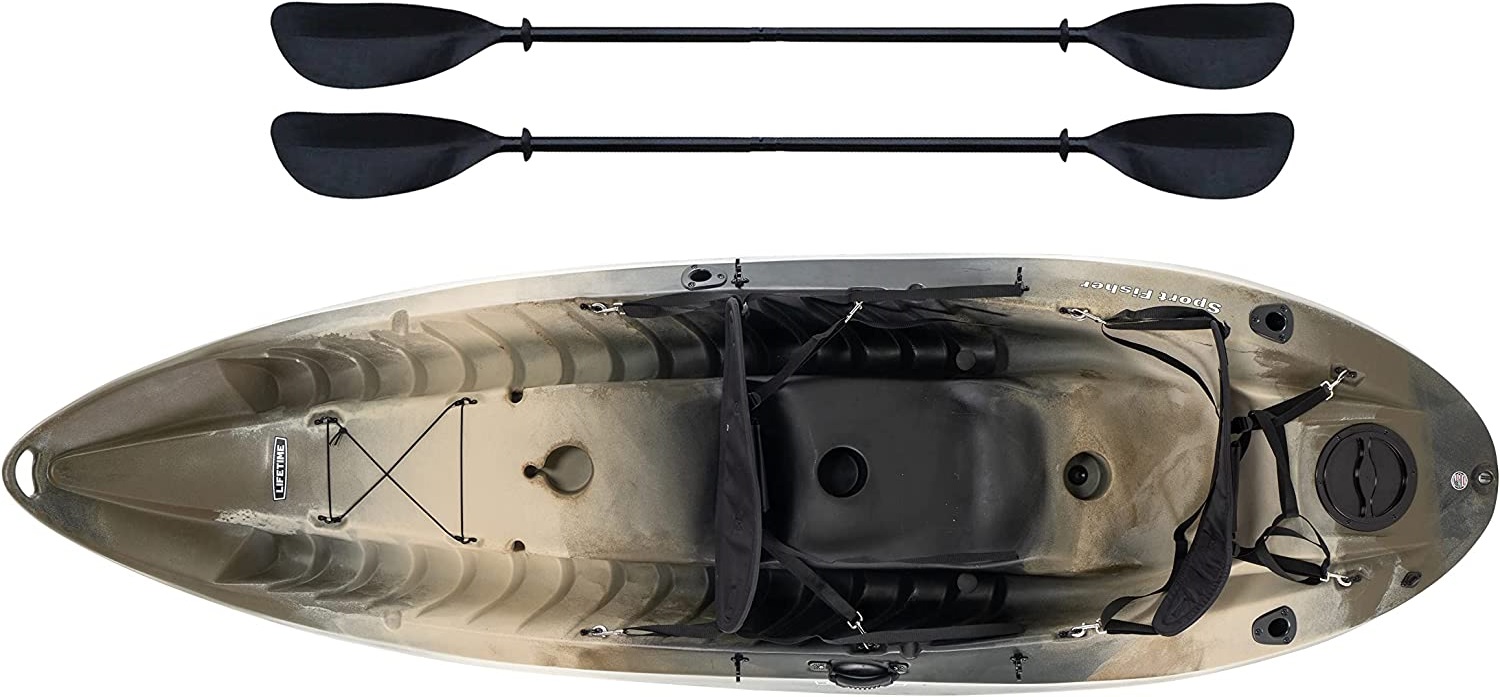 Your money is important. You worked hard for it, it's only fair that you get a river fishing kayak that won't tear or get a puncture upon first contact with the river bank. That's where the Lifetime comes in.
Take that name seriously, with a high-density polyethylene build and a five-year warranty slapped on top of it. This is the best river fishing kayak that you'll pass down to your child. Despite only being ten feet long kayak, it weighs sixty pounds. Once more, this can be attributed to the nature of the build. The kayak's hull here is a true icebreaker.
Despite being a minor feature, the multiple footrest positions gave me plenty of variety when it came to getting comfortable. This kayak is also wide enough to accommodate two people and their gear. The weight capacity also has no trouble handling all the necessities and extra cargo.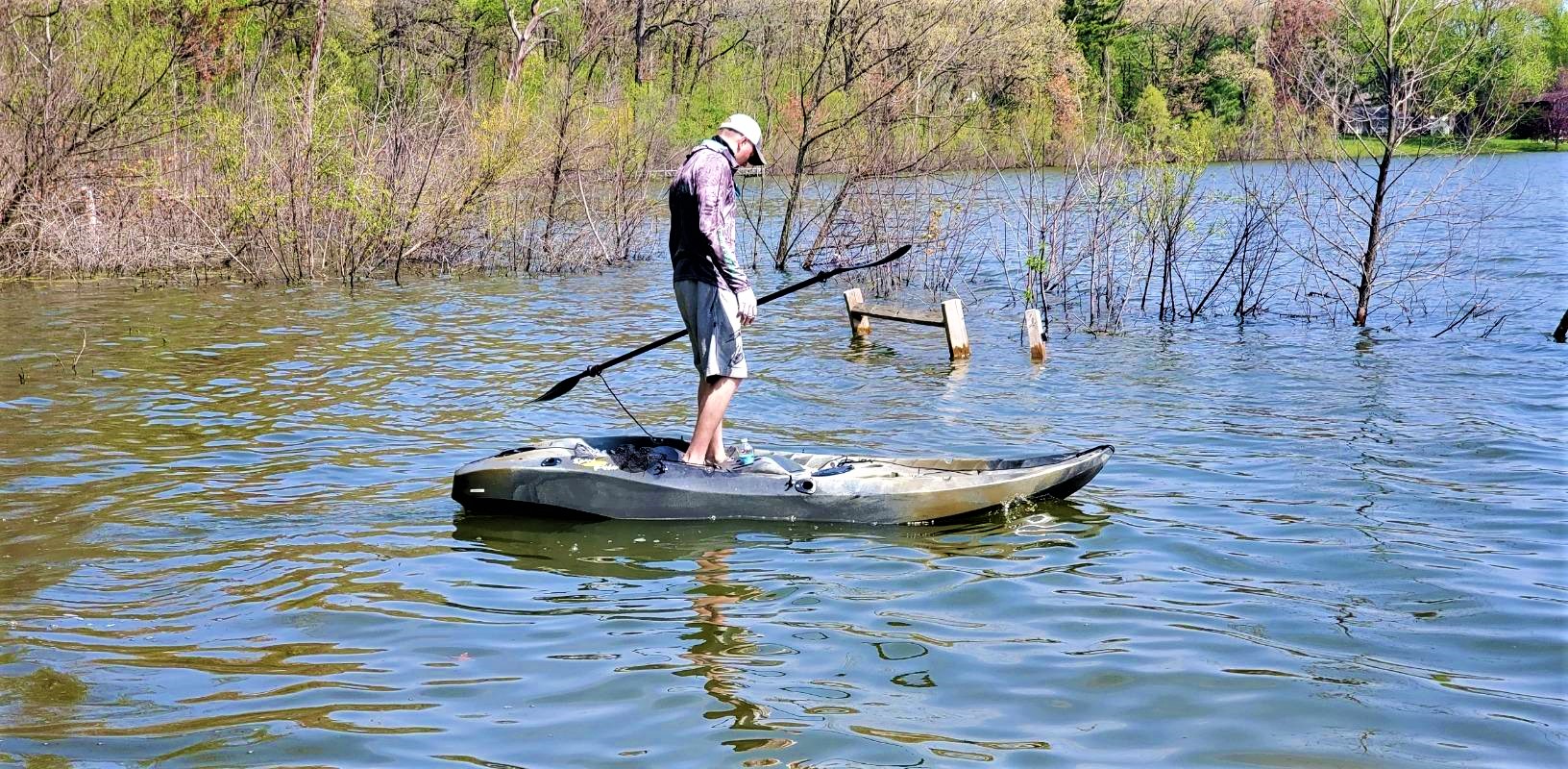 It's incredibly stable and with a structure and frame that'll last you a true lifetime. The only issue I had with it was the quality of the seating. It's not great, but it's not terrible either. A very bland in the middle that only felt worse when compared to other options on the list.
Features
Best Feature: Five-year warranty
Build Material: High-density polyethylene
Weight: Sixty pounds
Length: Ten feet
Comfort: Multiple footrest positions
Pros
Can easily seat two people and has enough room for their extra gear and items.
Two kayak paddles come included with the Lifetime 10-foot.
Incredibly stable and durable build that will last for years.
Cons
The seating isn't very comfortable, especially when bringing someone else along.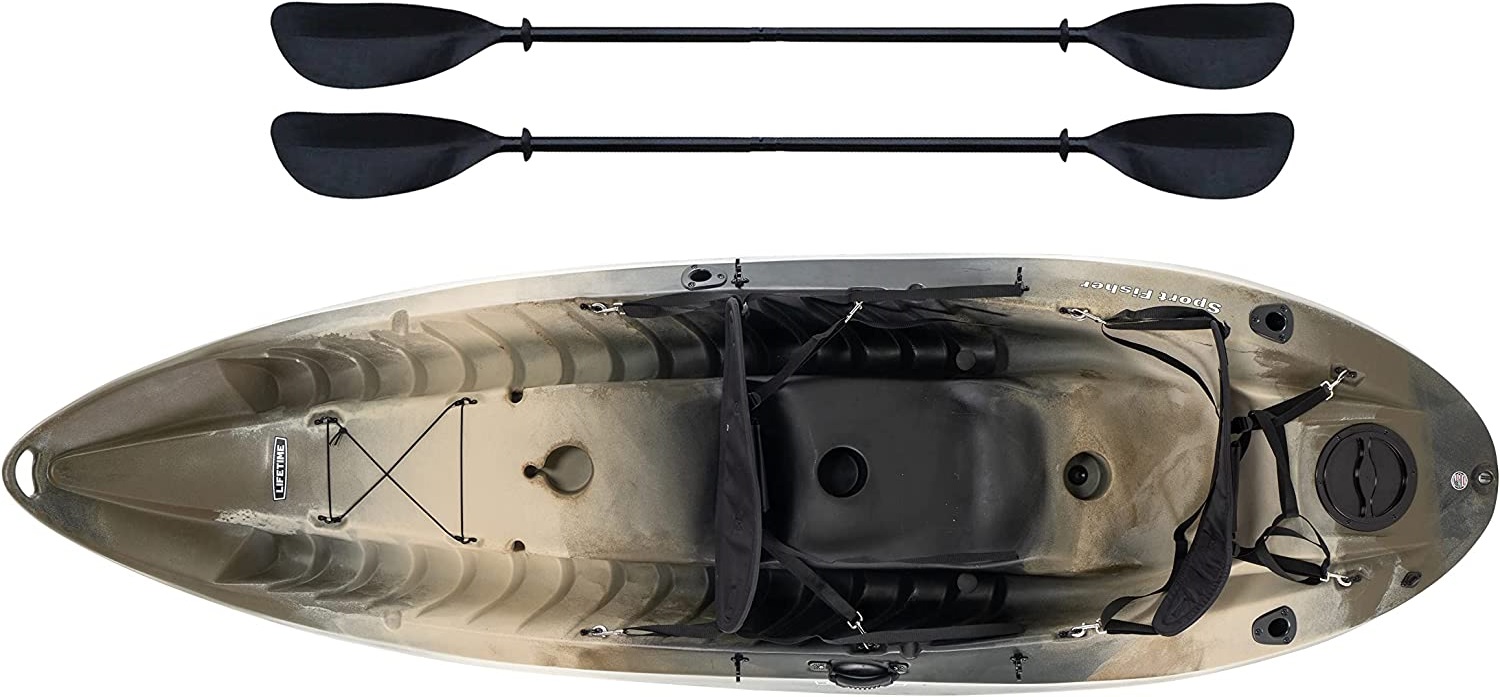 Lifetime 10 Foot
The price of "Lifetime 10 Foot" varies, so check the latest price at
The Chinook 100 may not be the most affordable river fishing kayak on the list, but it is the best deal. Simply put, what you get for what you pay for will leave you feeling guilty. But the good kind of guilty. The "did I just rob them" kind of guilty.
This is another inflatable kayak, but one that is twelve feet long. Plenty of space and strength for a guest or your dog but most importantly, plenty of space for your belongings. You'll need every inch, and that's just to fit everything that comes with the kayak on board.
With your purchase, you get a durable and impenetrable kayak. Safeguarded by a Hex ripstop polyester hull. A kayak that has an amazing quick-release fin that you can unleash to help the Chinook 100 track better. Good stability is important, but so is mobility.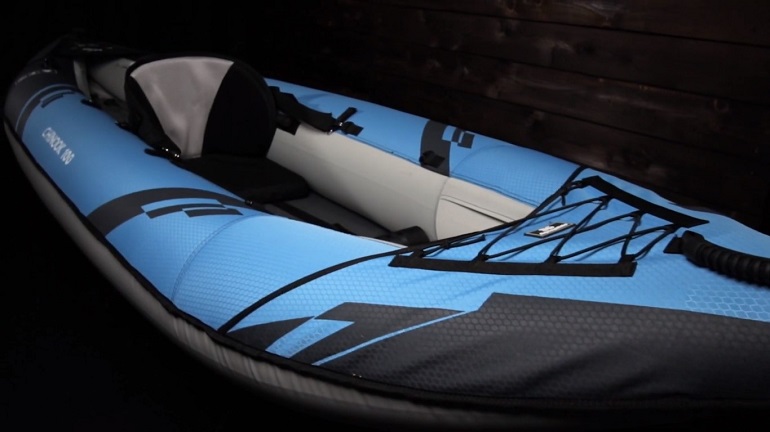 Besides the kayak, we get it… it's good, and you also receive a removable child seat, a storage bag, and several other accessories. Something I will note is that there was no air pump with the kayak. In my opinion, this is a huge downside, it just seems like a no-brainer to include this.
If you can look past this inconvenience, you will have the best deal on the market.
Features
Best Feature: Quick-release fin, improved tracking
Build Material: Hex ripstop polyester
Weight: Thirty-three pounds
Length: Twelve feet
Comfort: Plenty of space available
Pros
Comes with a removable child seat, storage bag, and quick-release fin. One of the best deals around.
Despite being an inflatable kayak, has great tracking and solid balance.
Has a 600 denier polyester deck cover that won't tear or fall apart.
Cons
No air pump included with purchase, a serious letdown.
Aquaglide Chinook 100
The price of "Aquaglide Chinook 100 " varies, so check the latest price at

There's too much to say about the Oru Kayak. Click on that link and watch the video that the manufacturer provides. It speaks for itself. This is a literal work of art. A kayak that doesn't need to be inflated and yet can fold into itself.
A usable piece of origami. One that weighs only twenty pounds and even comes with a seat pad and cushion. Don't think for a second that this is one of those flimsy gimmicks that'll fall apart at the first test. It's got a custom-extruded polypropylene hull.
Long story short, this kayak will not crumble.
The lightweight body and smaller length made this the easiest kayak to control on the list. It's best to sit in it, but you'll have no trouble river fishing thanks to the low walls and surprisingly solid stability.
I don't think I'll come across a more impressive design in a while.

Features
Best Feature: Origami design
Build Material: Custom-Extruded Polypropylene
Weight: Twenty pounds
Length: Nine feet and eight inches
Comfort: Seat pad with cushion
Pros
This fishing kayak has an awesome design that is sleek and trendy.
The lowest-weighing kayak on the list. Unlike most river fishing kayaks, you'll have no trouble steering this one around.
Incredible origami design that unfolds in seconds into a fully usable kayak! No pump or roof rack is required.
Cons
I couldn't find anything I disliked about it.

Oru Kayak
The price of "Oru Kayak" varies, so check the latest price at

The Outlaw breaks all the rules and looks good while doing it. Heavy-set but more than ready for a ride down the toughest currents. Even if you forget the fishing rods at home, you'll find something to do with this kayak.
In fact, you can spend an entire afternoon bumping along from one side of the river to the next. The sides of this kayak have been reinforced with skid plates. Damaged a skid plate during your reckless cruise? No problem, simply replace them with new ones.
That's what the Outlaw lets you do. When it comes to your comfort, the seating has been elevated, and the frame itself can be removed or folded up to take less space. Don't know where to place it? How about the storage compartments at the bow and stern?
You don't need to follow the script. Write up some new rules with the Outlaw 11.5.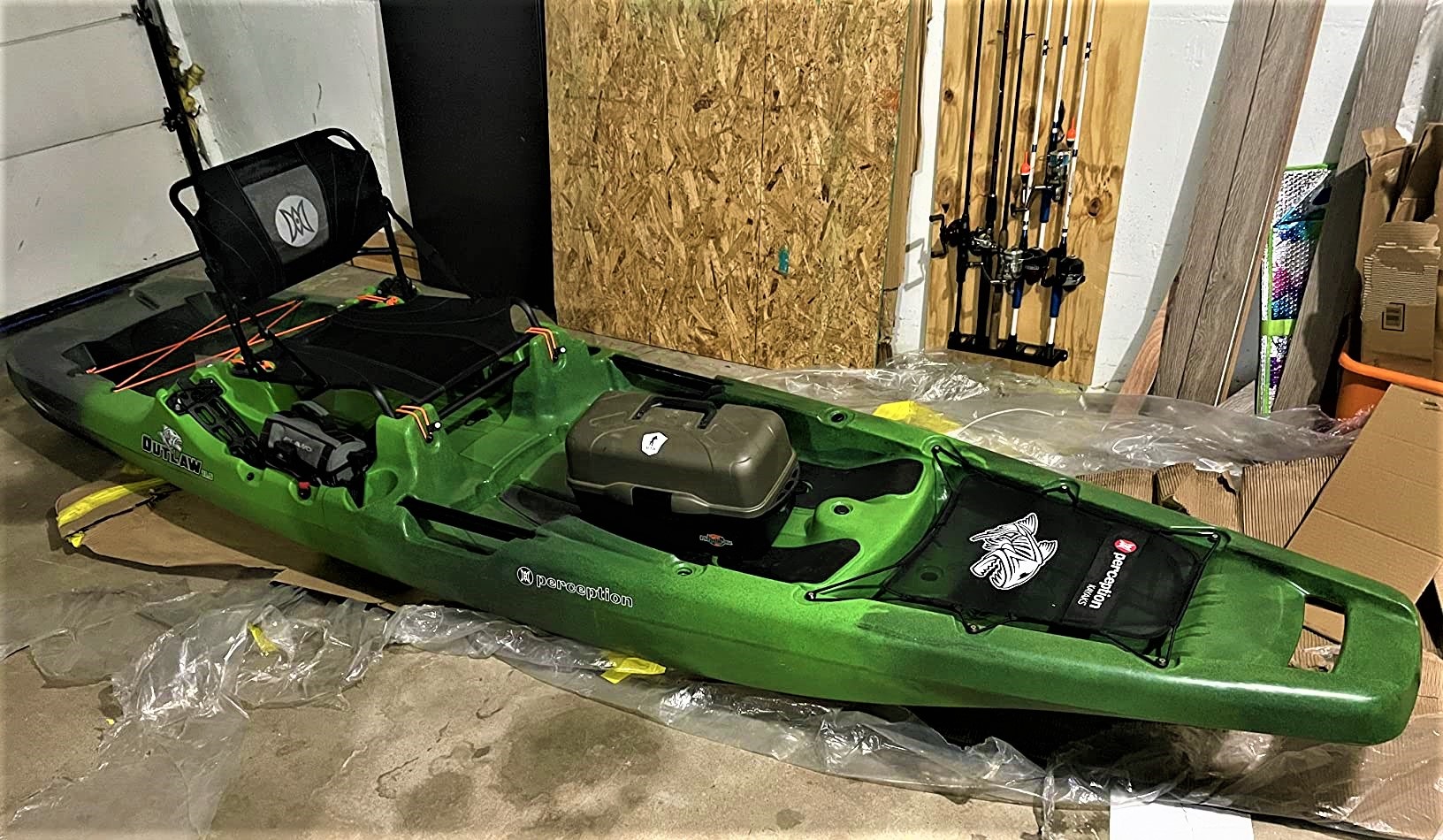 Features
Best Feature: Replaceable skid plates
Build Material: Polyethylene
Weight: Seventy-seven pounds
Length: Eleven feet and six inches
Comfort: Elevated seating
Pros
The hull design is capable of accommodating paddlers of all sizes.
Ample storage space in the bow and stern compartments. Multiple storage compartments are available.
The frame seat can be removed or folded to take up less space.
Cons
Only enough seating capacity for one individual.

Perception Outlaw 11.5
The price of "Perception Outlaw 11.5 " varies, so check the latest price at
What to Consider When Choosing a River Fishing Kayak
The list above had some amazing contenders, but how are you to know which is the right kayak for you? Every product has key features that it should excel in. A river fishing kayak is no different.
For that perfect day out, you'll need to know how much storage space your kayak offers as well as how comfortable it is. Are you an experienced angler or a novice? The answer to that will affect how much stability you need to make a catch.
All the fishing kayaks listed above are top-quality, but only one will fit your every need. This section will help you figure out which one that is.
How Much Storage Space Onboard?
The Oru Kayak won't give you much in the way of storage space. It's a minimalist's dream, but for those that came geared up and ready to roll, or who need a place to put their six-pack, you'll need a bigger kayak.
The longer kayaks have several storage options throughout their structure. Some of them, like the Sentinel 100X, even come with a portable accessory carrier. It comes installed into the fishing kayak, but it can be removed. Take it with you wherever needed.
There are other river fishing kayaks that have multiple compartments, some with a cover and others exposed to the air. What I am trying to tell you is that it's not just about the storage options available but also what kind of storage compartments are provided.
For example, the H-10 Hybrid kayak has two compartments, each with its own mesh cover. This is vastly different from some of our other options despite having the same amount of storage space as them.
Figure out how much you are going to take with you and how protected it has to be.
How Easy Is It to Maneuver?
You won't just be cruising through the water aimlessly. When fishing, you'll have to steer your kayak into place. Positioning yourself for the big bite. When casting your line, angles, and speed are all that matter.
This is why you'll need a river fishing kayak that you can easily steer and maneuver. Smaller kayaks like the StraitEdge Angler and the Oru Kayak are small in length. This shorter stature makes them much easier to maneuver.
Keep in mind that when it comes to speed and maneuverability, an inflatable kayak will perform significantly worse than a hard kayak. Certain kayaks will have extra parts that help boost the responsiveness and drive of the vessel.
However, these parts won't be able to circumvent the deficiencies that inflatable kayaks already have. As stated earlier, shorter and more narrow kayaks will perform a lot better in this category than anything else. Though, these kayak types have deficiencies of their own.
Moreover, you can elevate your fishing experience with the ultimate combination of efficiency and speed by opting for the best-motorized kayak.
How High Is Its Weight Capacity?
Weight capacity is incredibly important because this is what decides how much fishing gear you can take with you in the first place. River kayaks generally have a great maximum weight capacity but that number can be quickly used up when bringing along a passenger.
Two grown men of above-average stature won't be able to bring along much more than the bare essentials. That is if they don't want to sink the kayak. As it is with speed and performance, inflatable kayaks can't carry as much as hard kayaks.
Although, a kayak inlet, while not inflatable, will also have a greatly reduced weight capacity. What you are going to want is something solid and heavy. The heavier it is the stronger it is. This isn't always the case, but it is a good rule of thumb to keep in mind.
If you want some quick options, the Pescador Pro 12 and Old Town Loon are great choices.
Comfortable Seating
Fishing is one of those activities that you'd rather do for a long time. What will keep you chugging along is a seat that'll provide your lower back with the support that it needs. This is especially important for me because my back pain can become an all-day issue once it starts.
River fishing kayaks like the StraitEdge Angler and the Jackson kayak are two options that I believe do well in this department. I prefer the Angler because of its high back seat design. There's more of your back that is supported, thereby reducing the overall strain that would usually be felt.
If you suffer from back pain, then I would advise you to steer clear of the Lifetime 10-foot. This kayak offers nothing in the way of back support. Unless you plan on standing the entire time, then you are better off with the other options.
Ride Stability
When it comes to river fishing, stability plays into so many things. Usually, with regular paddle boarding, stability is only a matter of helping you stay balanced and on your board. But when going after some bass, you need to have a strong stance. Something firm to hold your weight.
It is a lot easier to reel in some big fish when your kayak isn't rocking all about. While solid non-inflatable kayaks are the best choice for this category, there are some inflatable options that do the job well enough.
The Chinook 100 has great tracking and solid balance. There are several little design tweaks that were applied to it in order to achieve this. If you want an inflatable river fishing kayak that has great stability, that there is your pick.
Otherwise, any of the solid kayaks listed above will do the trick.
FAQs
What Are the Best Kayaks for Fishing in Small Inland Waters?
Small rivers and waters that are inland tend to be calm. For these calm rivers, I'd suggest a small fishing kayak, something like the Oru Kayak or the Lifetime 10-foot.
Due to their diminutive length, these river fishing kayaks are easy to steer, and you won't have any trouble getting through tight spaces. You would think that these fishing kayaks would also be great for beginners, but there are better options for those just starting out.
What's the Best River Fishing Kayak for Beginners?
The best river fishing kayaks for beginners would be the Chinook 100 or the Old Town Loon. These fishing kayaks are incredibly stable, making them a perfect option for those that still need their sea legs.
Thanks to their long lengths, they aren't as responsive as other river fishing kayaks. This isn't a downside. Their slow response time allows novices to grow better accustomed to river fishing in general.
Which River Fishing Kayak Is the Most Stable?
The most stable river fishing kayak would be the Old Town Loon. This fishing kayak is fitted with several features and parts that grant it great tracking and stability. Chief among them would be the wide beam and flat hull of the kayak.
Together, these two features stabilize the leading point and center of the vessel. This does make the kayak slower on a turn, but not by a wide margin. If you are interested in buying kayak fishing accessories, then check out our article.
My Final Thoughts
River fishing is one of those hidden gems of our world. Especially when done on a kayak, on a day when the sun is out but the last remaining vestiges of cold winter winds linger. Hours melt into seconds as you drift along the river bank.
Especially when using the Pescador Pro 12 or the Jackson kayak, both options with comfortable seating. It's a fun activity to set your mind at ease and separate yourself from the world, if only for a moment.
And the best river fishing kayaks give you everything you need to accomplish that. You can also take a look at the best net for kayak fishing to land your dream catch. If you want to spice things up, there are duck-hunting kayaks available as well for an even more thrilling adventure.