So you've decided to throw your kid down a hill on a pair of skis. First, make sure you put them in a ski school, and, secondly, ensure they're safe and wrapped up warm.
You don't want your child's day out on the mountain to be ruined by the lack of some good quality insulation, so make sure they have the best kids' ski jackets to keep them warm.
Kids can find it difficult to communicate what it is they want when they're feeling uncomfortable, so it's usually best to just keep all bases covered. Getting a jacket that can do it all will usually be the best option.
A good quality jacket for kids will have some warm insulation, a high level of waterproof coating, lots of pockets, and preferably a bright color, so you don't lose them on the mountain.
Winter sports are supposed to be fun but being cold and wet can ruin them. Keep your little skiers happy with a high-quality jacket, and then you don't have to worry about them getting sad and ill.
Best Overall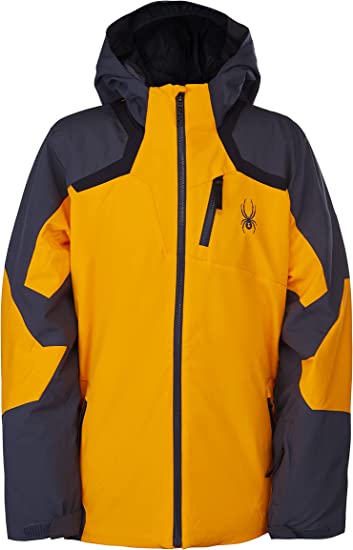 Spyder Leader
Brand:

Spyder

Material:

100% Polyester
All-around Fashion Jacket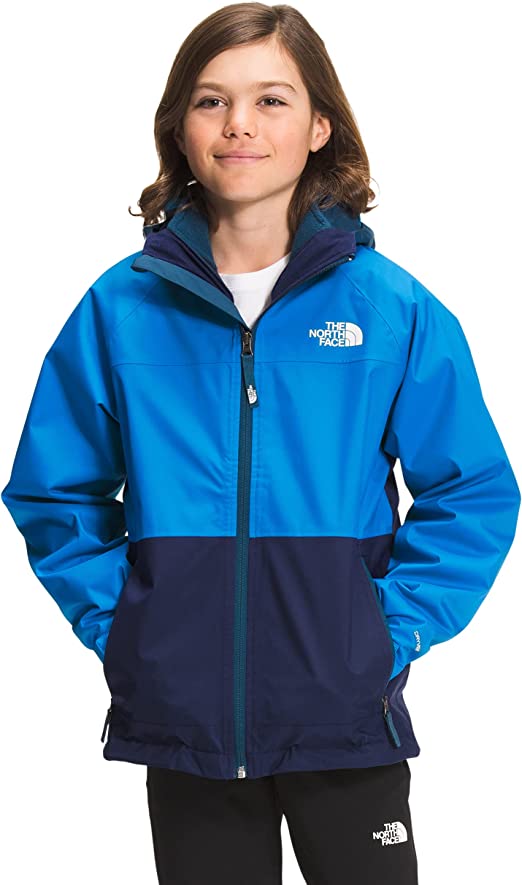 The North Face Vortex Triclimate
Brand:The North Face
Material:

Polyester
Budget-friendly Option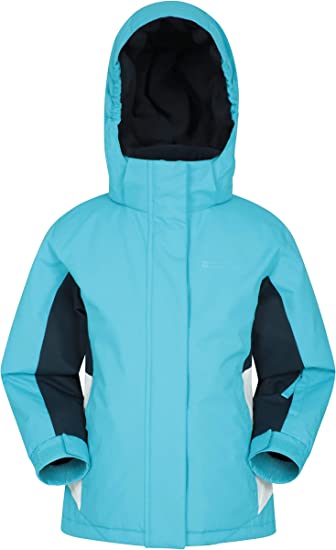 Mountain Warehouse Honey
Brand:

Mountain Warehouse

Material:

Fleece
Most Functional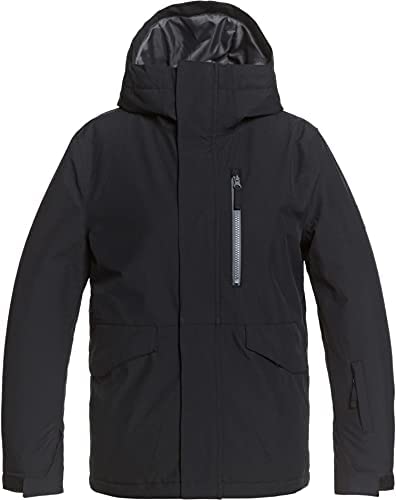 Quiksilver Mission Boy's Jacket
Brand:Quiksilver
Material:

Polyester
High-end Jacket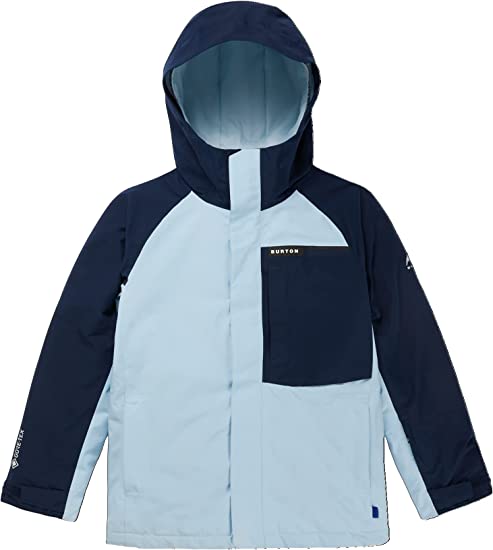 Burton GORE-TEX Powline 2L
Brand:Burton
Material:

Polyester,nylon
Great Value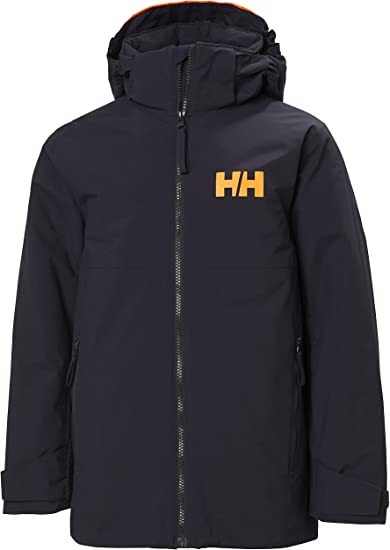 Helly Hansen Traverse
Brand:Helly Hansen
Material:waterproof fabric
Best Purpose-built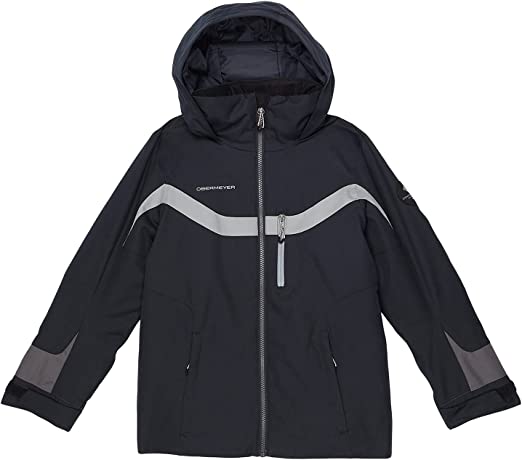 Obermeyer Boys Fleet Jacket
Brand:Obermeyer
Material:

100% Polyester
7 Best kids Ski Jackets of 2023
Wading your way through the hundreds of popular ski brands, models, and jargon of ski gear can be a daunting task for anyone. Luckily, I do it for a living and can help you find the most water-resistant, feature-rich, and budget-friendly jackets to help your little one stay warm.
I know what I like on a day on the slopes, and I expect it translates pretty well to what most kids do too, as I've often been told children and myself have similar mental capacities! I have selected and broken down a range of jackets for you to consider for your next ski trip.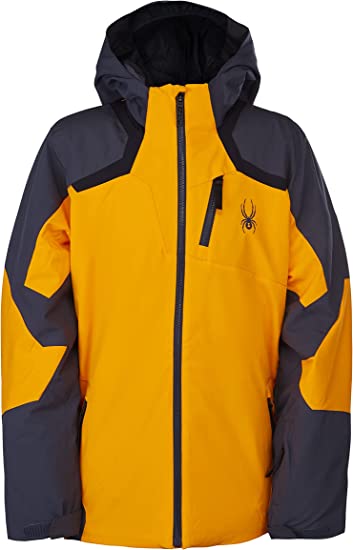 We're starting off with the best kids' ski jacket that will keep your kids skiing in warm and comfortable clothing for the whole day out on the slopes.
This jacket is built with kids in mind whilst still keeping them looking great.
One thing about kids is they just keep growing. They'll probably grow five inches in the few days it takes to get the ski jacket delivered.
The Spyder Leader has you covered with its adjustable sleeves. By simply loosening the stitch, they can be lengthened by 1.5″.
The snow and wet are kept at bay no matter how many times they fall, snowboarding and skiing. The shell is made of 10k/10k material providing great breathability and water-resistant coating.
Further measures to keep your kids warm are facilitated with adjustable cuffs and snap-back snow skirts.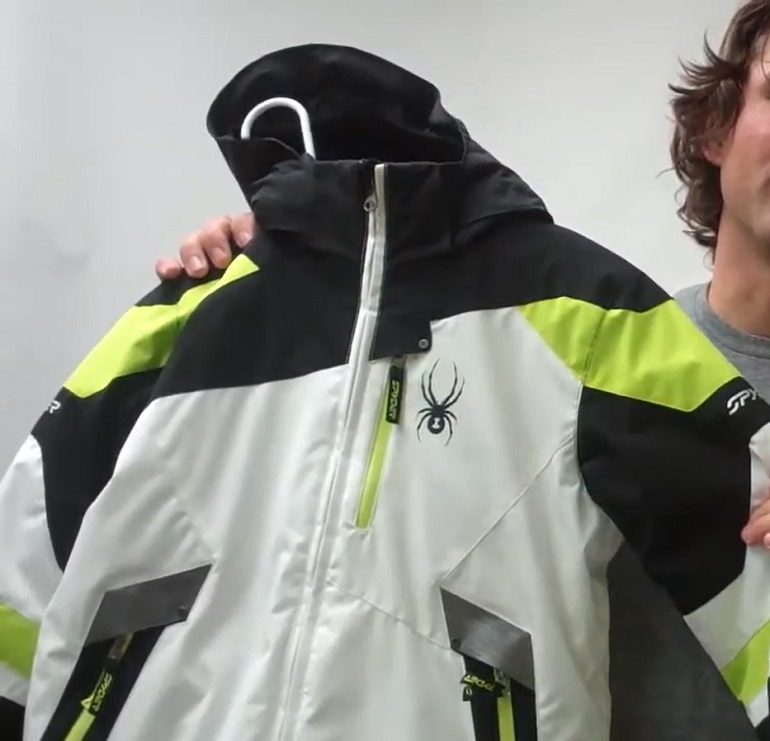 Summary
This ski jacket for kids is a great way to ensure they don't end up getting uncomfortable while in their ski school or while they outpace you down a run.
This jacket leaves space for extra insulation while still providing a surefire way to keep them warm and dry. A few of these for the younger kids in the family would not be a bad investment.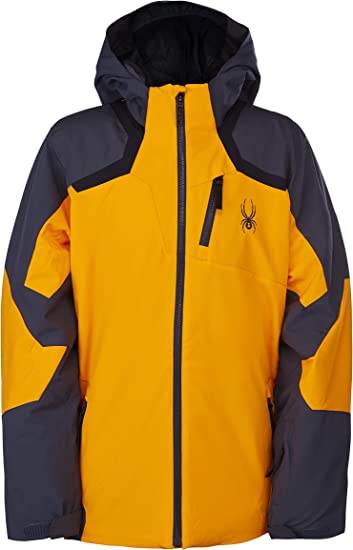 Spyder Leader
The price of "Spyder Leader" varies, so check the latest price at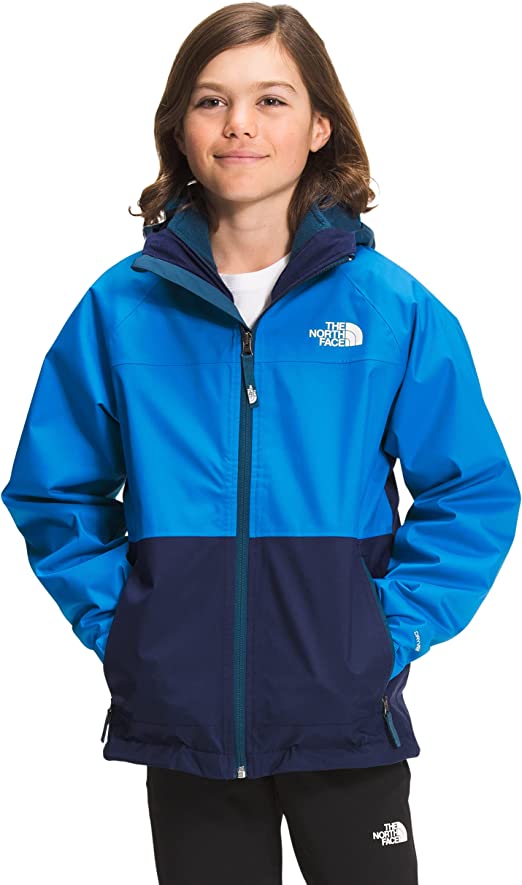 Here we have a jacket that will be just at home on the slopes as it will be on the daily school run and play park.
It has multiple layers, isn't overly showy, and has all the features you would want to keep your kids warm on the mountain. North Face is a well-loved brand, and for a good reason.
This North Face kids snowboard and ski coat come with two layers, and the inner cozy jacket is removable. This allows for a cooler water-repellent shell in the warmer weather or simple insulated fleece lining to wear when waterproofing isn't necessary.
This piece does lack a few bits that would make it a winter sports-specific jacket. There are no powder skirts or specific pockets for things like lift passes or best snow goggles. It does feature a removable hood, although it is not helmet compatible.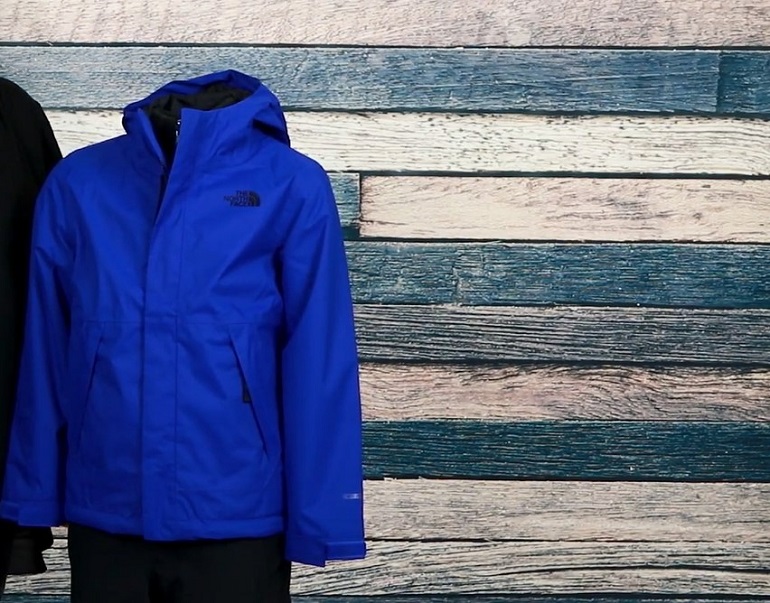 Summary
This is an all-around fashion jacket that can be worn both on and off the resort as a snowboarding jacket or about the town.
The fleece-lined shell can be worn to keep warm, and the outer shell protects against winter conditions. This isn't the best kids' ski jacket, but it is still a great jacket to own.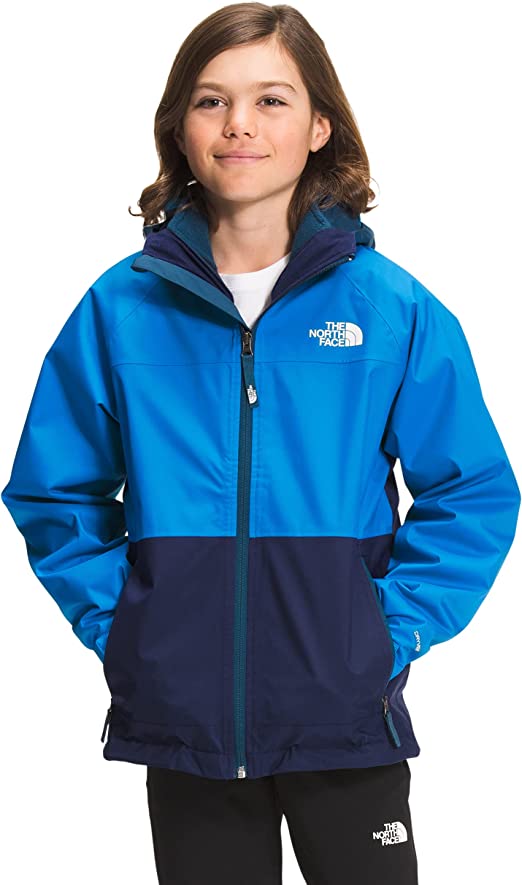 The North Face Vortex Triclimate
The price of "The North Face Vortex Triclimate" varies, so check the latest price at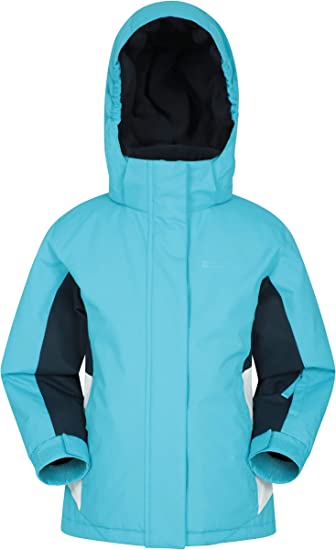 Mountain warehouse has made a budget-conscious jacket for kids. It has all you will need to keep your children warm and comfortable.
This is one of the best options if you know you're going to have to keep buying a new jacket every year. It is functional, insulated, and has plenty of pockets.
First and foremost, this jacket has all the features younger kids are going to need to stay free from powder and moisture under their jackets. The addition of a powder skirt and adjustable cuffs stop all the snow from getting in.
Mountain warehouse has included a water-resistant coating on the outer layer for extra protection.
The Honey jacket has a fleece inner jacket to keep your kid warm on the harsher days when they may be sitting around with their ski school. The hood has a secure pull cord to keep it tight around the kid's ski helmet and keep the wind out.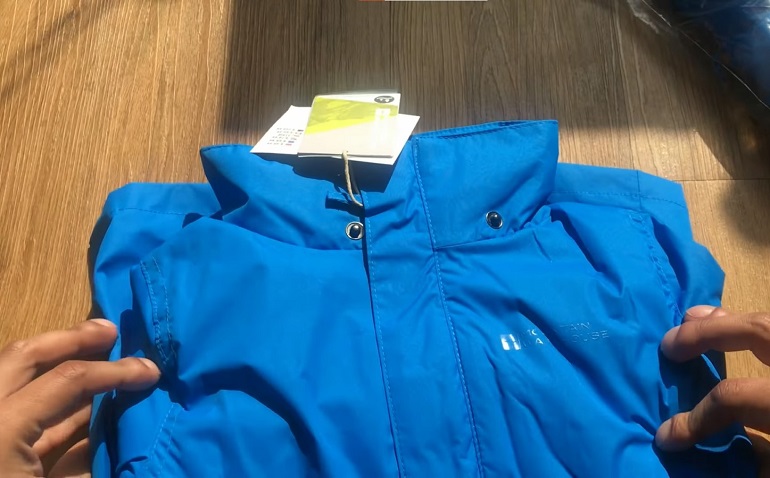 Summary
The Honey is an amazing choice for the budget conscious who want something that will tick all the boxes you want from a kids' ski jacket. It is water resistant, fleece lined, and can keep your kid warm all day.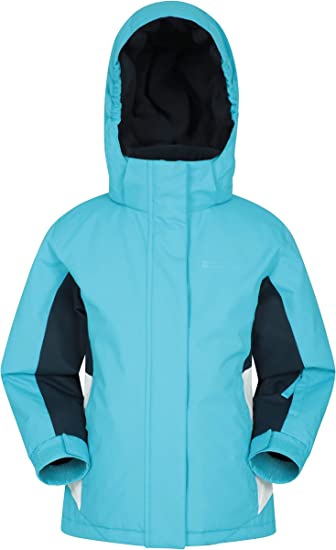 Mountain Warehouse Honey
The price of "Mountain Warehouse Honey" varies, so check the latest price at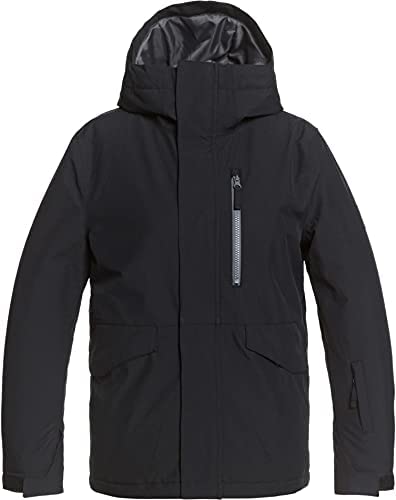 This has all the pockets you could ever want on a ski jacket for kids. It is also well insulated, waterproof, and is definitely built with slopes in mind.
Durable materials and some great extra features make this a great piece of ski clothing.
The pockets really set this apart. It has them for ski passes, and snow goggles, two with hand warmers in, and more tucked away everywhere else. This boy kid's ski jacket can carry everything they need for a day without you.
The durability of boys' ski jackets is essential. Kids punish their clothing by falling over, running around, and generally just being kids.
Quicksilver has addressed this with critically taped seams in areas that are often under excessive stress. Snowboarding is a tough sport.
Summary
This is a functional jacket that will provide for all your kid's needs while out and about.
The cuffs and powder skirt will keep them dry and warm. The lining and heavy-duty, water-repellent shell ensures they will be comfortable all day.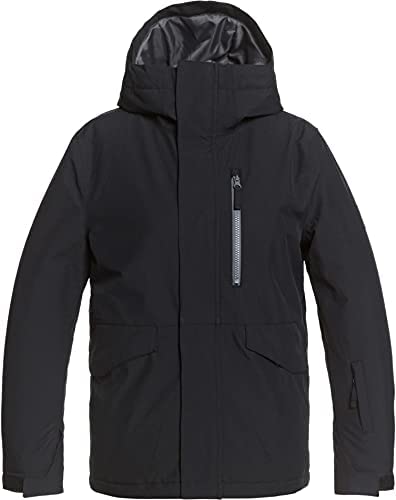 Quiksilver Mission Boy's Jacket
The price of "Quiksilver Mission Boy's Jacket" varies, so check the latest price at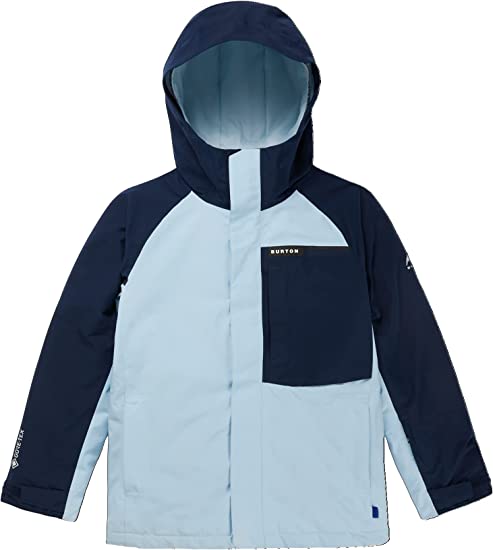 This is a jacket built with one purpose in mind, and that's to keep your child warm in even the worst conditions.
High-tech fabrics ensure a fully waterproof unisex kid's ski jacket that provides some of the best warmth and windproofing on the market.
Industry-leading, durable Gore-Tex is used to make this high-end jacket. The performance of this material is the result of years of research and is well-loved by ski wear brands across the world.
It is elastic, comfortable, and has some of the best breathability and durability available. It will provide the performance you would expect from a jacket at this price.
Some of the extras include a media pocket for your kids' phone or music player. It also has an adjustable, helmet-compatible hood to keep their head safe and warm. When it gets too warm out there, little ones can unzip vents for maximum breathability.
Summary
For a price, you can guarantee your kids are wearing a jacket that provides warmth and comfort in even the worst conditions. The durable material used will last years, so buy a size or two big because they will outgrow it before it gives up.
High levels of insulation and great all-weather performance make this one of the best ski jackets out there.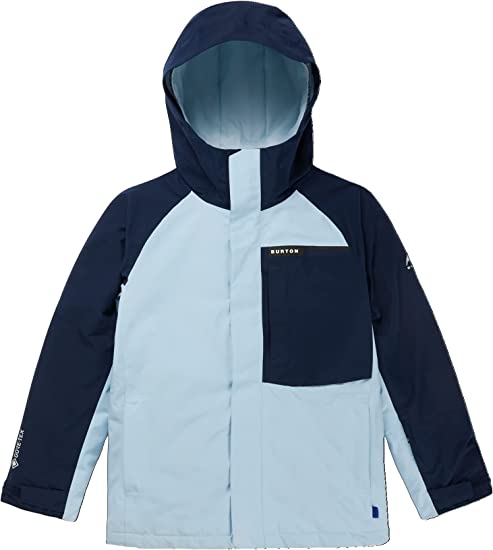 Burton GORE-TEX Powline 2L
The price of "Burton GORE-TEX Powline 2L" varies, so check the latest price at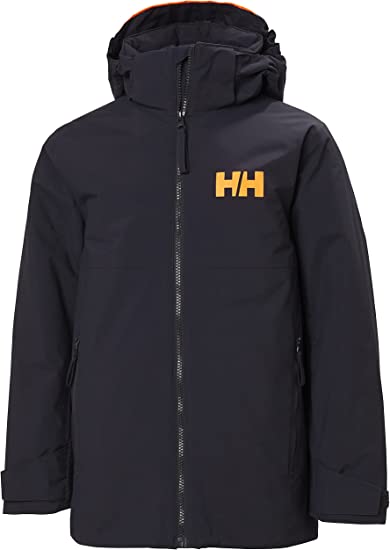 Helly Hansen is a name synonymous with quality, and rightly so. The brand takes care to ensure its products are eco-friendly, high quality, and durable. Their ski jackets are no exception. For a reasonable price, you can equip your kid with a great piece of kit.
These ski jackets' waterproof coating is made to keep the wet snow out. The Traverse is also windproof and built to last when your little ripper goes tearing off through the park or deep into the backcountry powder.
The powder skirt, chin guard, and adjustable cuffs on the sleeves will stop anything from penetrating the water-resistant but breathable membrane.
Primaloft insulation and HellyTech performance fabric are made of eco-friendly recycled polyester materials, so you know you're looking after the environment you're skiing through.
The pockets don't just hold kids' ski goggles and a ski pass. They also come with a RECCO pocket, so if the worst happens, your kid can be located nice and fast. Safety is everything.
Summary
Helly Hansen has designed a very high-quality jacket that will not just be at home on the slopes as it will on a lively winter walk.
The waterproof yet breathable membrane will keep your child dry, and all the extras will have them riding without complaint all day.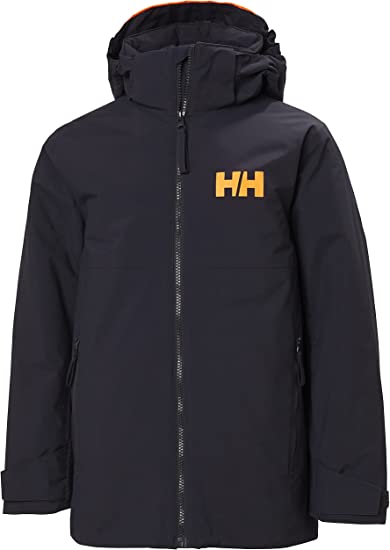 Helly Hansen Traverse
The price of "Helly Hansen Traverse " varies, so check the latest price at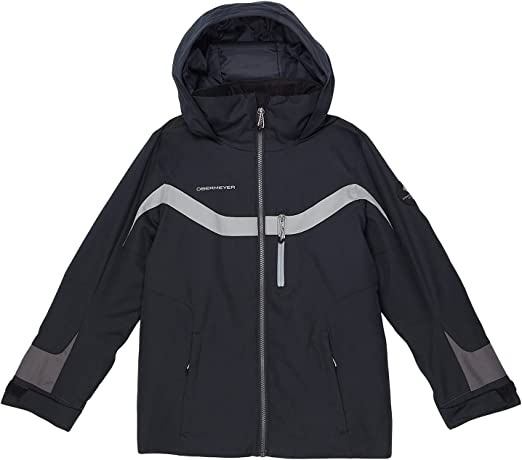 The child's jacket by Obermeyer comes with everything you would like to see in the best kid's ski jackets.
It has a high 10k/10k waterproof and breathability rating and comes with all the bells and whistles you want to make your kids' day on the slopes as easy as possible.
Warmth and insulation are a priority in the Fleet jacket. The insulation is provided by a 160 gsm lining, and the waterproof membrane is supplied by Hydroblock polyester. Your kids' warmth should come from what they wear.
The jacket comes with so many ski-specific features that make it one of the best boys' ski jackets out there.
The critically taped seams help the jacket stay durable with all their slips and falls. There are enough pockets to keep all the little trinkets kids love to carry, including a hand warmer pocket for when gloves just don't cut it.
Summary
Reasonably priced and purpose-built for kids who shred the slopes like a pro. All the features you could want are included in this very reasonably priced jacket.
This isn't a jacket designed for the casual rider or even for the playground, it's made for serious riding and will match your kid turn for turn.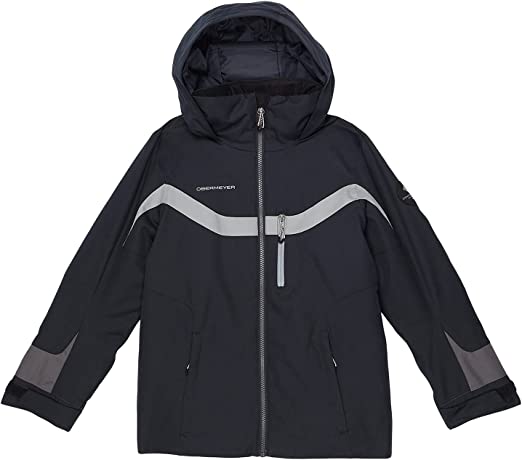 Obermeyer Boys Fleet Jacket
The price of "Obermeyer Boys Fleet Jacket" varies, so check the latest price at
A Few Tips on Buying Kids Ski Jackets
Cut through the nonsense and jargon of buying your mini shredders their next winter jacket with these few tips from me.
Warmth
If your kids' jacket isn't keeping them warm, then it isn't doing its primary purpose. Ensure the lining is thick and the insulation is of the best quality.
Nothing is worse than being cold on a day out, and if your little one is in a ski school, there may be long periods of inactivity for them to get shivery. While skiing on mountains you should also need to carry the best ski gloves for kids to keep your kid's hands warm.
Waterproofing
This is more than just about the shell coating, although that is the most important aspect. Look for the waterproof rating on the jacket, the higher the better. A number reviewed today features 10k/10k, which is a great standard.
Snow skirts and sealable sleeves will stop snow from getting into the lining of clothing, which then melts. Making sure you keep them sealed against the snow helps with keeping the water away.
Comfort
Kids get antsy when they're not comfortable, so make sure you find a jacket that is cozy, fits properly, and is made of breathable, flexible materials. They grow fast, their gear needs to match.
Extra Features
There are a plethora of extra features out there. Some are great such as the RECCO beacon and hand-warming pockets, while others are not so important.
Take a look at the extras and decide if they're going to be something that makes your day on the slopes easier.
A Few Last Words From Me
Keeping your little ones warm and well-equipped means they will spend less time complaining and more time shredding. If they're happy, you're happy so spend some time checking out the market and find the best insulated jacket that will keep them riding in peace.
Shopping in the off-season will always keep the prices lower and means you can grab yourself a bargain. It can get pricey having to buy a new jacket every season as your little ones become not so little. Before splurging on apparel, learn how to teach kids to ski. You don't need a professional, you can do it yourself!