Are You Ready to Go Shopping for the Best Women's Ski Boots?
One of the most difficult endeavors when buying ski gear is ordering ski boots online. Particularly if you are buying a ski boot pair for the first time, you might go wrong.
The best piece of advice is— go to try them in a local ski shop and see if they fit in all aspects (flex, size, weight, the buckles and strap system, etc.).
How do you feel when you wear them? Do you like them? Which are the extra accessories that you could buy to help you feel comfortable on the slopes?
It is also important to know how to care for your newly-purchased ski boots, so they'd last longer.
So, remember the recommendations of the people working in the field and, if you can't visit a store, at least make sure that you can return the boots if they don't fit as you hoped that they would.
Special Boots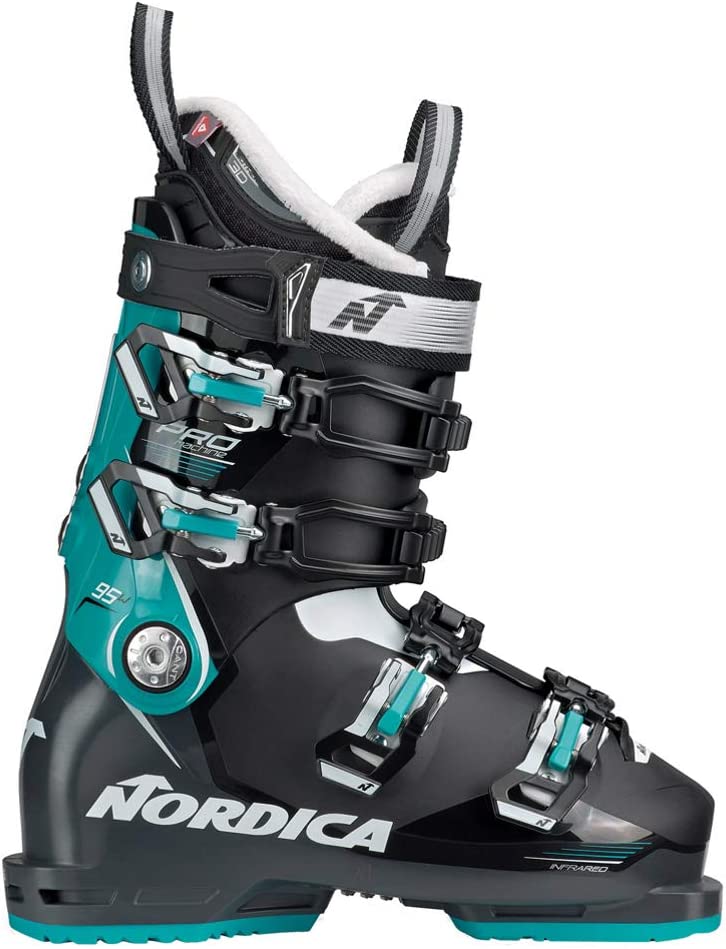 Nordica Promachine 95 W Ski Boots
Ability Level:

Advanced-Expert

Ski Boot Flex:

Stiff
Really Versatile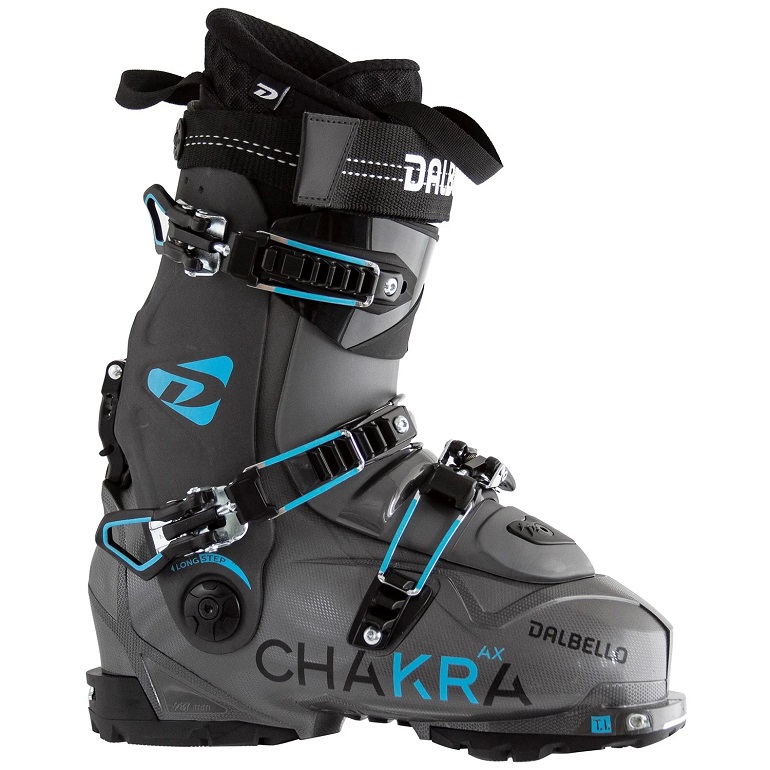 Dalbello Chakra AX T.I. Alpine Touring
Ability Level:

Advanced-Expert

Ski Boot Flex:

Stiff
High Speed Lover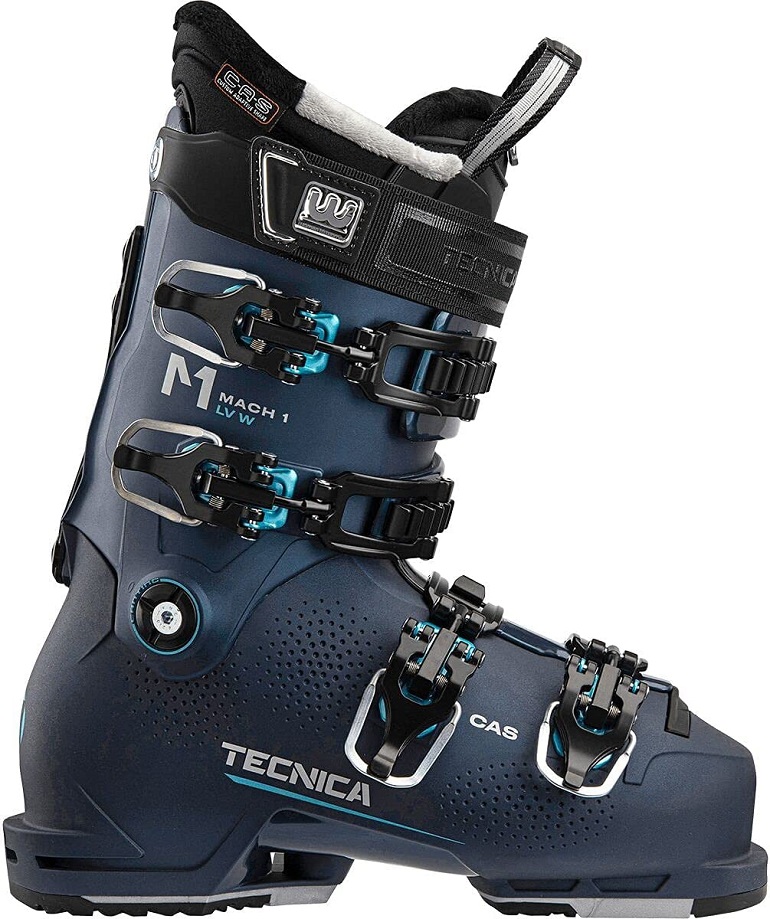 Tecnica Mach1 LV 105 W Ski Boots
Ability Level:

Advanced-Expert

Ski Boot Flex:

Stiff
For Full Time Skier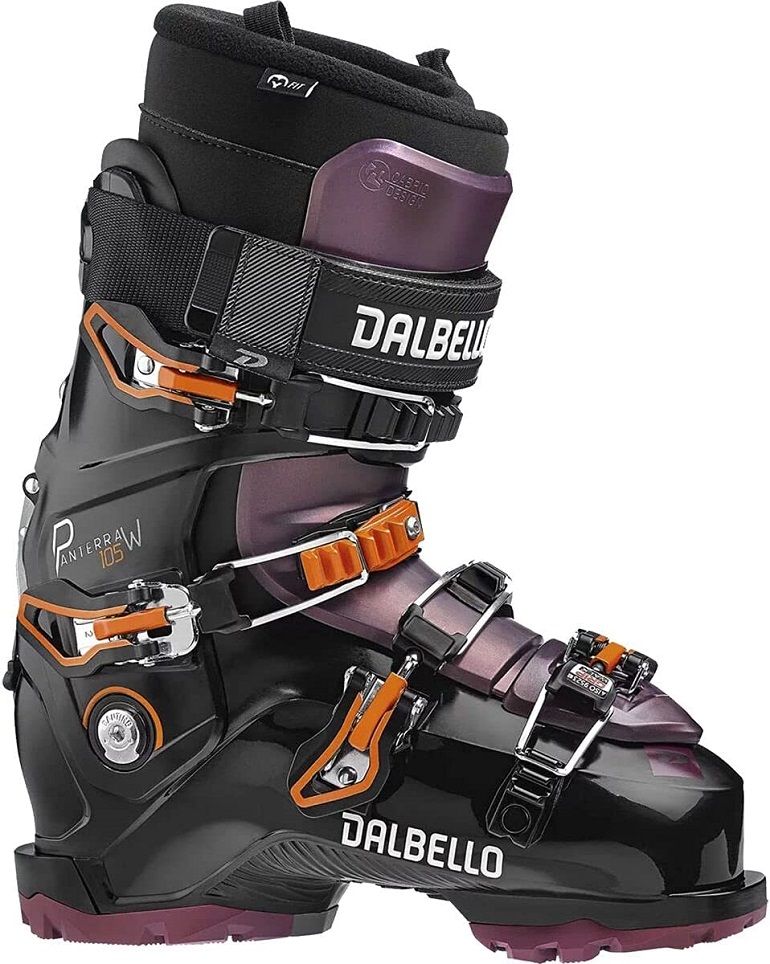 Dalbello Panterra 105 W ID GW Ski Boots
Ability Level:

Intermediate-Advanced

Ski Boot Flex:

Very Stiff
Iconic Boots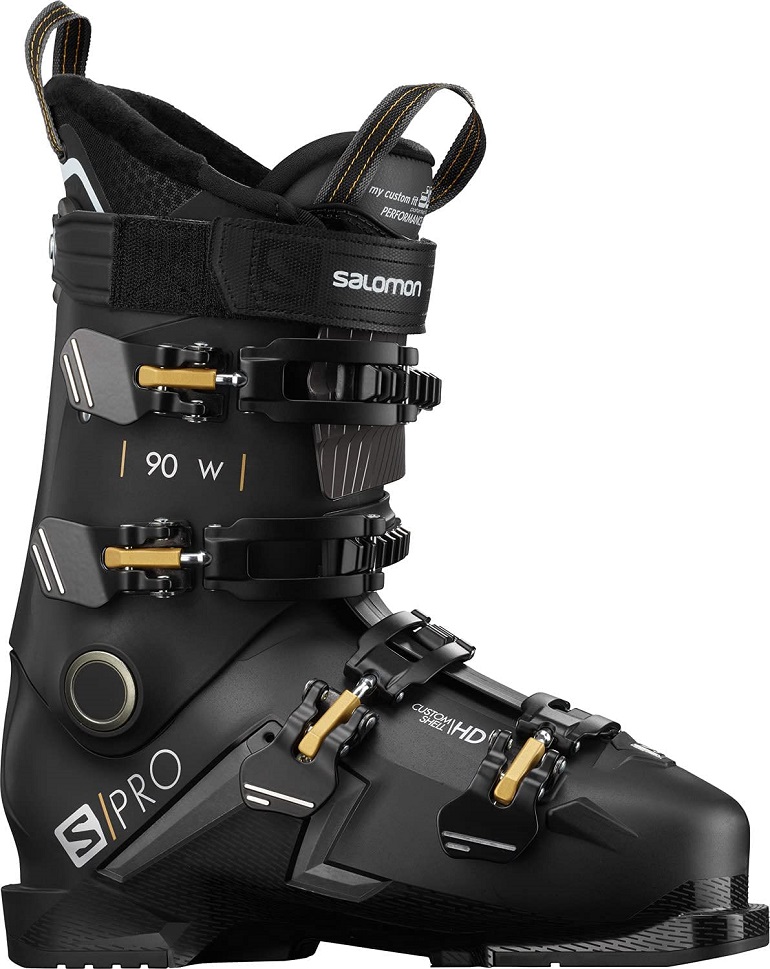 Salomon S/Pro 90 GW Ski Boots
Ability Level:

Intermediate-Advanced

Ski Boot Flex:

Stiff
Touring Boots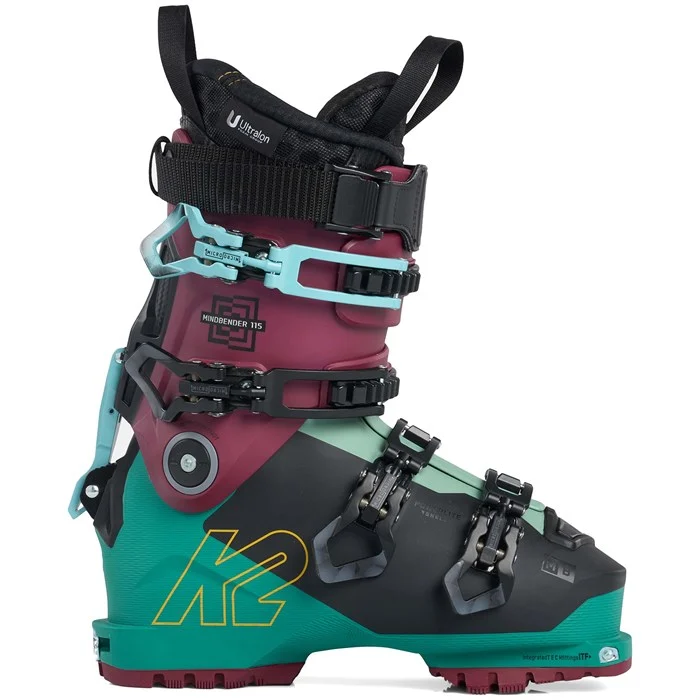 K2 Mindbender W 115 LV Alpine Touring Ski Boots
Ability Level:

Advanced-Expert

Ski Boot Flex:

Stiff
Performance-All The Wway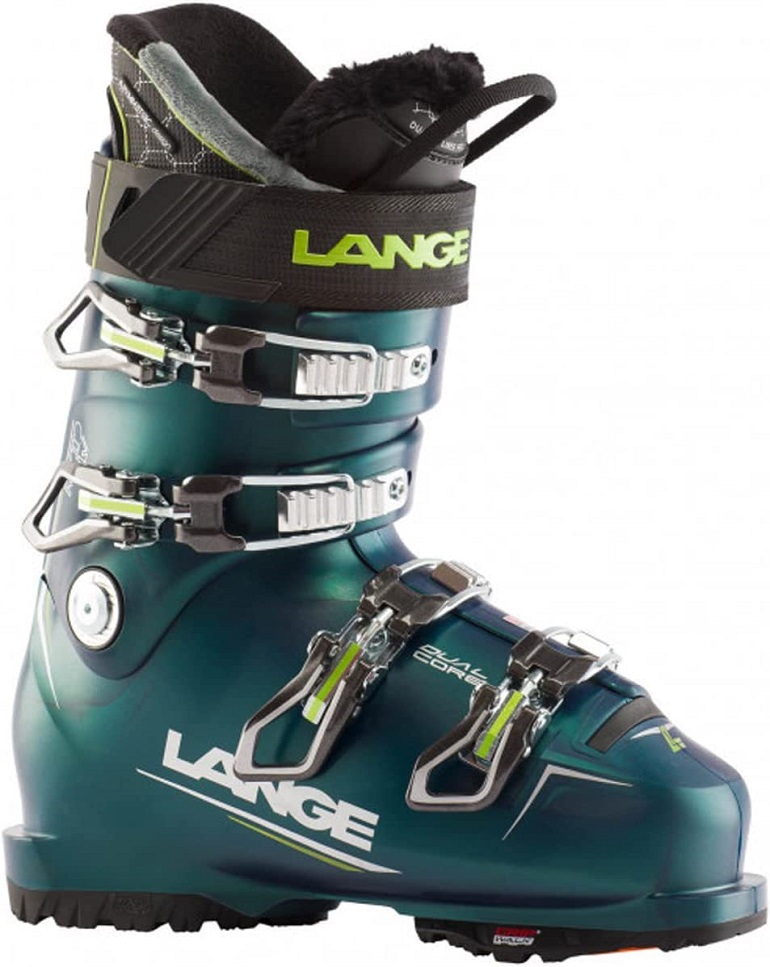 Lange RX 110 LV GW Ski Boots
Ability Level:

Advanced-Expert

Ski Boot Flex:

Very Stiff
Best Highly Durable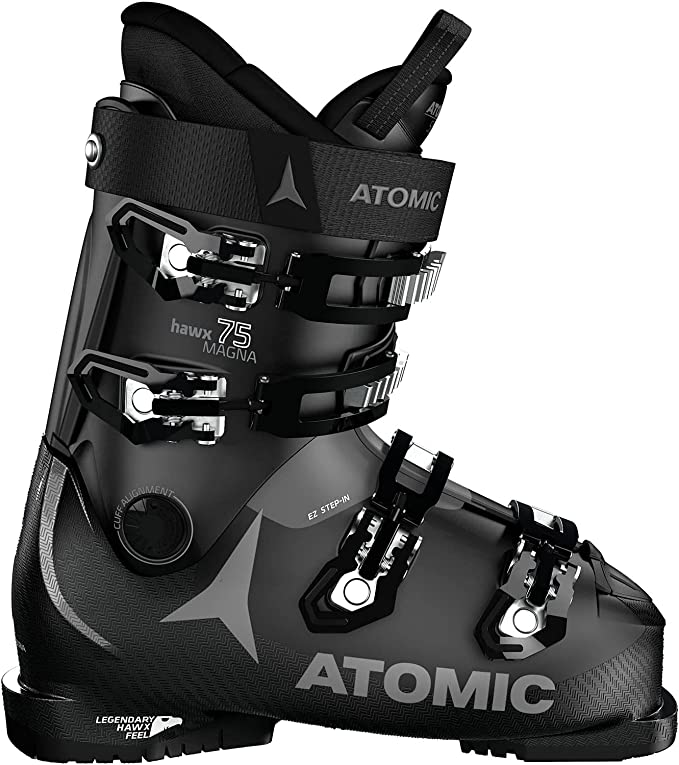 Atomic Hawx Magna 75 W Ski Boots
Ability Level:

Beginner-Intermediate

Ski Boot Flex:

Soft
Our Top Picks of the Best Ski Boots for Women
The list of things to be explained and assessed is extensive. The only one to decide about these new ski boots is the skier who buys them: you!
Whether you're amongst beginner, intermediate, or advanced skiers, here are the best women's ski boots, with pros, cons, and many details.
Why so special? Because they come equipped with a customizable shell and a heat-moldable liner keeping your feet warm and dry at all times – and that's only the start! You've got an infrared lamp that heats problem areas to the perfect temperature.
The flex is medium-stiff. Moreover, these high-end boots couldn't have come without the GripWalk technology. This guarantees increased traction and grip, as well as stability.
It is enough to say that the Nordica Promachine 95 W is a forgiving-flex and high-performance boot. These boots will take you over bumps and down groomed trails and are perfect for lighter women, skiing with more finesse and seeking a ski boot that's both comfortable and forgiving.
Labeled as a 'great fit' by riders, there's only one issue remaining: the price! Are you happy to pay for it? Then, you'll surely have some quality gear for the current or next ski season and some solid all-around performance.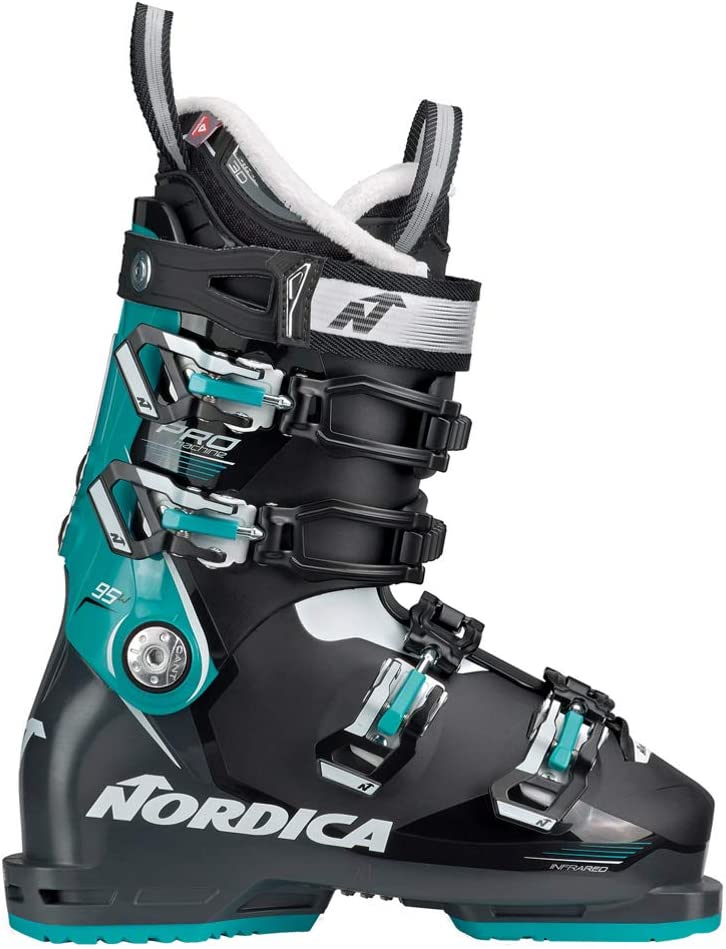 Nordica Promachine 95 W Ski Boots
The price of "Nordica Promachine 95 W Ski Boots" varies, so check the latest price at
We are faced with the stiffer flex of Dalbello Chakra AX T.I. Alpine Ski Boots, which works well in all conditions. That means that the woman rider will love these boots in the resort and the backcountry, too.
The ski & hike mechanism, together with the GripWalk technology, guarantee worry-free off-piste adventures.
These boots were designed with women skiers who need a wider fit in mind. And female anatomy, like a women-specific cuff height and enhanced warmth needed (and provided by the faux-fur liner), was considered when making the boots.
Which are some other interesting features? The FitSport liner is thermoformable; it can be adapted to the foot in only a few minutes. We're really dealing with some women's specific ski boots here. A piece of advice? Make the most of your boots for that price!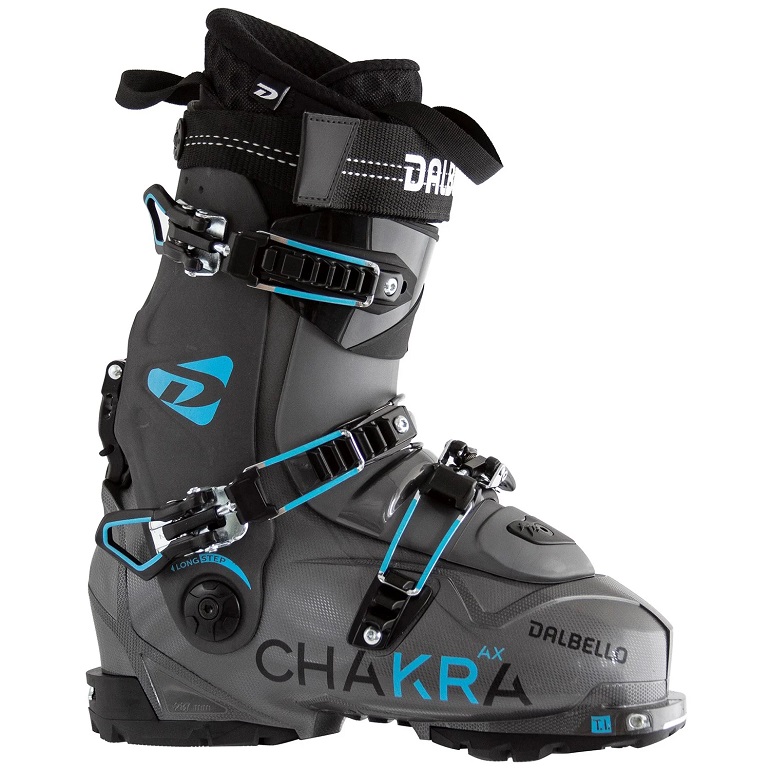 Dalbello Chakra AX T.I. Alpine
The price of "Dalbello Chakra AX T.I. Alpine" varies, so check the latest price at
For aggressive female skiers with an attitude! For those who love high speeds and some of the stiffest flex! Last but not least, for riders who like to carve!
These boots are warm and customizable. They are optimal for female skiers with medium-volume feet. On the downside, they have a wimpy power strap and not-as-envisioned progressive flex… and they're a struggle to get into (they could compete for the stiffest boot award)!
If your skiing style finds you often pushing snow away from the ski at the bottom of the turn, then this boot is right for you.
The Tecnica Mach1 LV 105 W boots are a bit too pricey for what they offer. Then, again, it is always your call. You select the best boot for you depending on your skill level and preferences.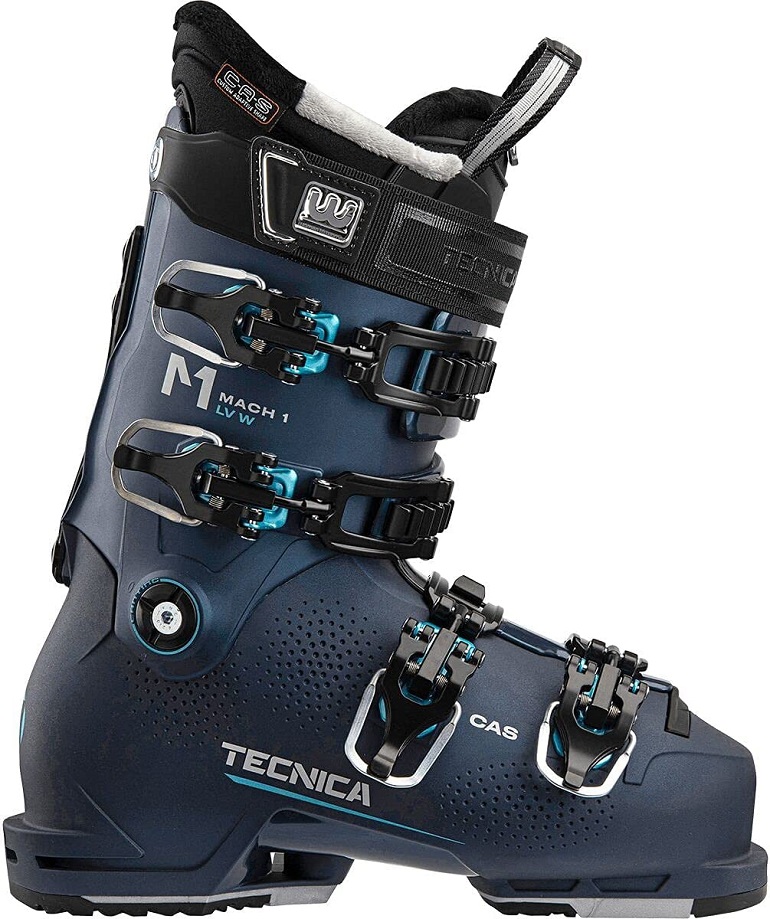 Tecnica Mach1 LV 105 W Ski Boots
The price of "Tecnica Mach1 LV 105 W Ski Boots" varies, so check the latest price at
Advertised as optimal for those ski professionals who aren't willing to be compromising comfort and performance and prefer a great balance between the two in a ski boot!
The boots come with an ID Now liner, renowned for its lighter weight, molding capability, and better insulation. The foam used is thermoformable in only 6 – 12 minutes, making these liners some of the warmest out there.
The boots may seem to have a snug fit but they'll probably work for you. A feature that women will love? The removable cuff insert expands the boot top opening circumference by 5 cm and lowers the boot height by 1.5 cm.
Also, all the materials used in the inner boots are lighter, warmer, and more flexible than the ones used in the men's models.
The Dalbello Panterra 105 W ID GW Ski Boots have a ski & hike mechanism, which enables both performance hiking and skiing. Of course, they are GripWalk soles-equipped. They may have very stiff flex but are lightweight.
They are pricey, but riders with big calves and wider feet seem to adore them. Why don't you give them a try?
If you are someone with bigger calves, there also are specific ski boot options for wide calves available on the market.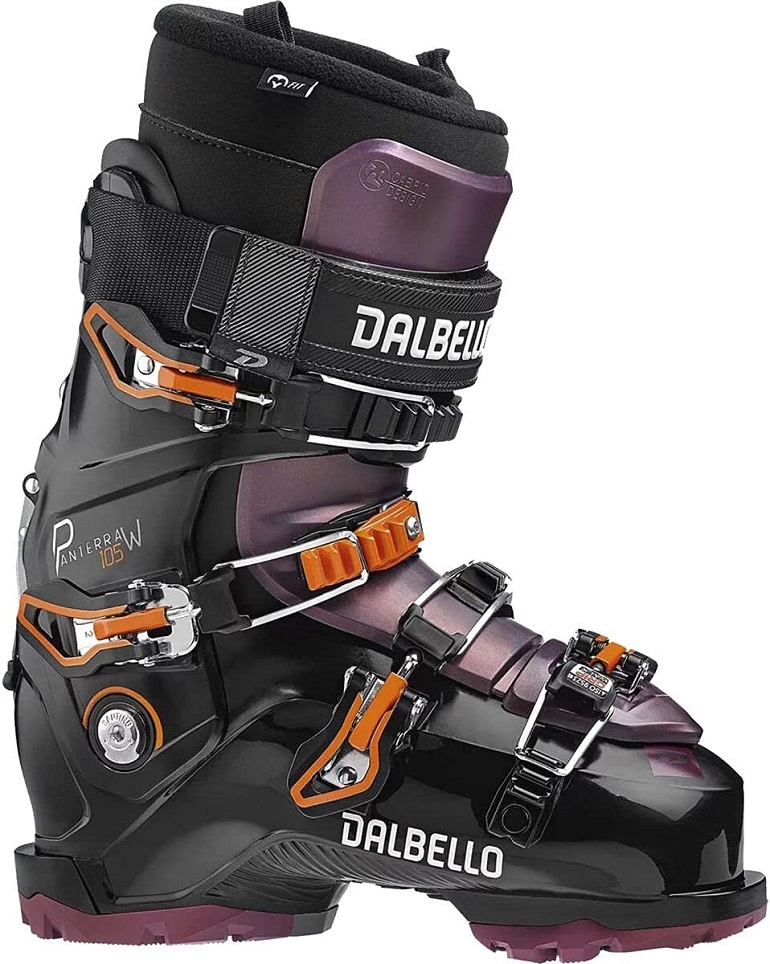 Dalbello Panterra 105 W ID GW Ski Boots
The price of "Dalbello Panterra 105 W ID GW Ski Boots" varies, so check the latest price at
The seamless liner probably makes the Salomon S/Pro 90 GW the most comfortable boot and also the warmest ski boot that Salomon has ever made. It is also Salomon's most tailor-fitted boot because the cuff, shell, and liner can be fully customized.
It comes with several women-specific high-performance features, like the calf adjuster (which adapts to various women's calf morphologies) or the women's liner (which provides better shin and instep comfort in sensitive areas).
The ski boot is lightweight and medium-flex in terms of flex ratings, but some riders claim that it doesn't keep as warm as advertised and that the liners are far from seamless.
Most of the skiers perceive this boot pair as great value for money, though. It's got GripWalk soles, too, for easier walks, greater stability, and better traction.
These Salomon boots may be some of the most popular in the winter sports world, combining the passion for freeriding with the comfort of resort skiing and providing excellent overall performance.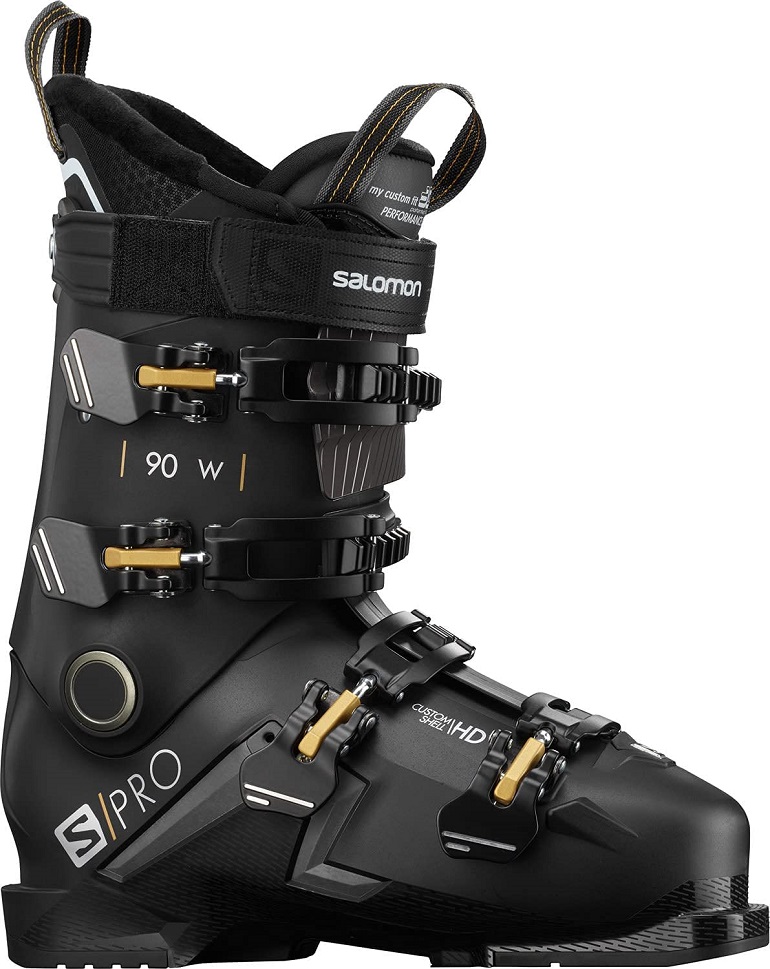 Salomon S/Pro 90 GW Ski Boots
The price of "Salomon S/Pro 90 GW Ski Boots" varies, so check the latest price at
Created with touring in mind, the K2 Mindbender W 115 LV Alpine Boots are also suited for the resort. They come equipped with K2's highest-performance shell design for responsiveness and confidence-boosting. The liners are fully heat-moldable, for added comfort.
Even though some skiers may claim that they fit too snugly, most say that they are extremely comfortable! That's no wonder, given the ski/walk mode that's designed for touring, offering a 50-degree range of motion.
The boot ski pair offers GripWalk outsoles (removable and interchangeable), too, which makes it more comfortable to stand, walk, and hike.
You need a stiff boot's flex for precise riding (and these boots provide just that). Moreover, the boots seem lighter than the average – actually one of K2's lightest models. The price may not be right, but look at those colors and designs! These boots are cool! They're high-end boots, after all.
They will allow aggressive skiers to have their way and, apart from touring, are best for big mountain, freeride, and powder. Again, that 50-degree range of motion does wonders!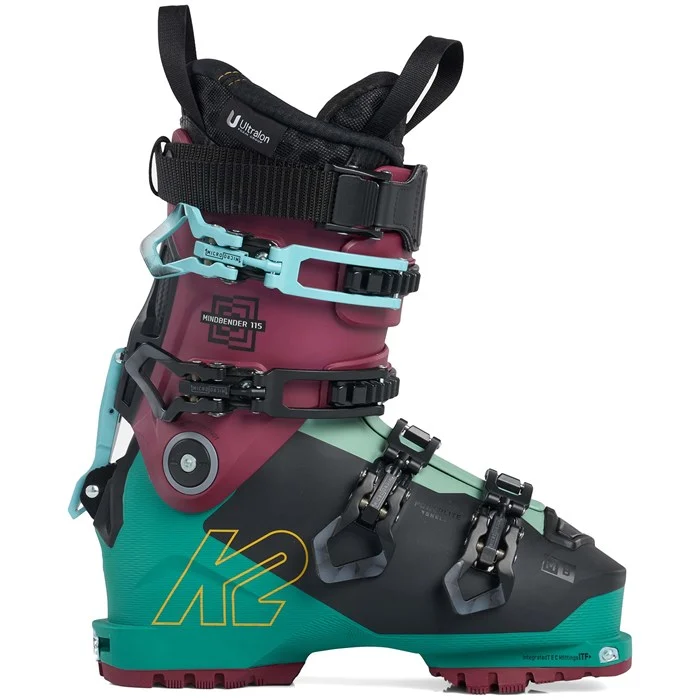 K2 Mindbender W 115 LV Alpine Touring Ski Boots
The price of "K2 Mindbender W 115 LV Alpine Touring Ski Boots" varies, so check the latest price at
With the Lange RX 110 LV GW Ski Boots, performance is key. We've got a Dual Core shell (which compresses and expands as you ride) and a Dual 3D liner (which helps with the energy transfer and molds to your foot for ultimate comfort) that provide power and precision even to the pickiest of riders.
We are dealing with a stiff flex in a great boot that's probably more suited for an upper-intermediate skier or an advanced skier, who likes to ride aggressively.
Is there more to love about this ski boot? The shell offers a natural stance, which means that you won't feel as tired on the slope.
Along the same line, the GripWalk technology supports hikers and ski tourers and provides enhanced comfort for those freerides in the backcountry.
This ski boot is said to be a proper fit for narrow feet. It's an upgraded model from the 20/21 version, with a price to match. Then again, you may find it discounted somewhere, think about that!
Lange RX 110 LV GW Ski Boots
The price of "Lange RX 110 LV GW Ski Boots" varies, so check the latest price at
Here are some all-mountain boots perfect for skiers looking for confidence and control. Beginner skiers and good intermediate skiers are welcome to test them! These ski boots are suited for wide feet, and the soft flex is forgiving and makes you feel comfortable during an entire day of skiing.
No accessories were removed from the boot; on the contrary, the makers used the lightest liners and elements to make this boot as lightweight as possible.
Some skiers claim that the boots took their foot shapes. On the contrary, others complained that they felt too snug. These boots have more allowances for a higher instep than Atomic Hawx ultra.
The price is right, too, but these boots wouldn't adapt to touring unless a special frame is purchased – and they don't have a walk/hike mode either. So, how will the Atomic Hawx Magna 75 W Ski Boots feel and work for you? You'll have to see.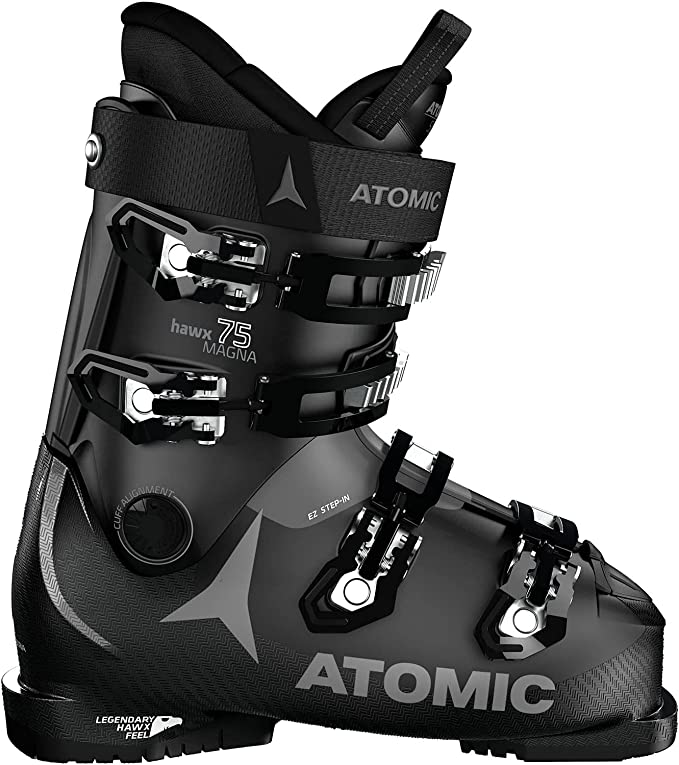 Atomic Hawx Magna 75 W Ski Boots
The price of "Atomic Hawx Magna 75 W Ski Boots" varies, so check the latest price at
Buying Guide
As already stated in the introductory part of this article, selecting your boots should be done in person or at least be guaranteed by the seller that returning them is possible.
Which are the features to consider when deciding to purchase a pair of women's boots?
Boot Flex and Performance
When talking about the flex rating in women's boots, it's lower than the flex rating of men's ski boots. Women's ski boots are a tad softer and shaped to accommodate the female anatomy, including adjustable cuffs or lower ones for shorter calves.
The flex rating for women's ski boots is between 60 and 120. To better explain it, lower numbers are for more forgiving boots and skiing levels – and feel more comfortable!
As we move up the stiffness ladder, we understand that it helps to waste less energy when flexing the boot forward. Also, heavier skiers will find it necessary to choose a higher flex rating.
Ski Boot Sizes
Visiting a store and getting yourself measured is the best way to get the right pair of boots. A boot fitter can also assist in manipulating the fit.
If you found an online retailer that accepts returns, order two different pairs that you love most and see if any of them fits.
What to Watch out for in a Women's Boot?
Mondo (or Mondopoint): the length of your foot in cm (measure it at home by tracing your foot on a sheet of paper and using a measuring tape to find your size).
Consider the fact that your size may be a size or two smaller than what you see on the website of a manufacturer or retailer. A tight fit is recommended with ski boots (ski liners, which are made of foam, will mold to your feet over time).
Last: the footbed width or forefoot width expressed in mm. The performance will be affected if you wear a boot that is too loose around the sides of your feet. The average value is 99-100 mm for women.
Ski Boot Weight
The weight of ski boots can no longer be ignored, not when backcountry skiing and touring are flourishing. It is a challenge to spend a day out on the slopes and feel your legs heavy and tired.
On the other hand, downhill boots are heavy because you need added precision for performance skiing: the shells transfer power well while the linings provide the needed insulation.
Boot Soles
There are two soles – traditional ISO 5355 models and newer GripWalk-equipped designs. The former are mostly flat underfoot and sized to fit. They are, however, uncomfortable to wear, awkward when walking or hiking, and very slippery on packed snow and ice… and, of course, on various types of floors.
The GripWalk boots have a rockered shape to enable easier walking and a tighter grip and a plastic/rubber compound for improved traction. These are mainly higher-end all-mountain ski boots.
Boot Liners
In addition to the rigid shell, the ski boot comes equipped with liners, which make wearing it more comfortable. In addition, they provide support and insulation, being made of various amounts of foam. Thin layers of foam won't hold the foot and the shin while carving and may not mold over the foot over time, unlike thicker layers of foam.
As specified above, go for a precise fit. Be aware, however, of the fact that most boot liners are heat-moldable and custom-fit to your feet.
There are also heated liners for the really cold skiing areas. These come with a control panel, which can be charged via USB. They also come with extra weight, and they'll feel bulkier. The price tag will be an unpleasant surprise, too, but the benefits may just outweigh the minuses and let you spend a comfortably-warm day on the slopes.
Buckle and Strap System
The buckle and strap system is unchanged if we compare different manufacturers. There are two buckles across the foot, one above the ankle, and another along the shin. The buckles made mostly with aluminum are more durable.
Some manufacturers consider removing the ankle buckle to have lighter ski boots. However, the four-buckle system is necessary for downhill performance.
Extra
Have I not discussed important aspects? Well, three are listed and detailed below if you read on.
Backcountry Boots
With the increased popularity of touring, we needed an alternative to regular ski boots. There are hybrid boots or crossover models between resort boots and touring boots. These have a sturdy flex and lightweight construction (yes, in the resort, this feature compromises the precision, and you'll feel the chatter on choppy snow).
On the other hand, you'll save the money you'd spend on two pairs, and you'll enjoy the versatility that the backcountry boots provide. Not to mention that you'll only need one best ski boot bag, so you'll save even more!
Adequate for Walking/Hiking
More and more ski boots include a walk/hike lever, usually located at the heel for added flex rating and comfort in the backcountry, for instance. Walking around the parking lot of the resort or climbing the stairs of the lodge will be made easier with this walk/hike mode… and the dedicated hiking boot, of course.
What about Ski Socks?
Very thick socks are no longer needed, as the new models of ski boots are much better insulated. My favorite material for ski socks is merino wool; it prevents odors, regulates temperature, and feels comfortable on the skin.
FAQs
Let's go through the most-asked questions about choosing the best women's ski boots. They may help you figure things out.
What Is the Best Ski Boot for Women?
The best women's ski boot would be a quality best ski boot that fits you well and can help you spend quality time down the mountain without feeling tired, uncomfortable, or cold.
What Is the Difference Between Men's and Women's Ski Boots?
The first feature that pops into mind is the sizing. Women's ski boots are offered in smaller sizes even compared to Unisex models, let alone men's ski boots.
Another important feature is the flex rating. Women's ski boots have lower flex ratings than men's ski boots.
How Do You Take Care of Your Ski Boots?
If your ski boots are not equipped with a walk mode, that could quickly damage their soles. Even if the walk mode exists, the ski boots are not designed to be used on asphalt or gravel. Solution? Investing in some sole protectors!
Humidity can build up and affect your ski boots. How can you prevent that from happening? Clean and dry them after each skiing day.
Tending for the boot could include removing snow from the shell, buckles, and cuffs. Remove the liners (consider applying talcum powder if your feet generally sweat) and leave them dry. Wipe the inside and outside of the ski boot with a cloth. Close the buckles and leave the shells to dry.
Consider equipment that would help you dry your boots faster, especially if you're on a ski trip and you need dry gear every day (the best boot dryer or a boot bag).
What about caring for your ski boots at the end of the ski season? Remove liners and footbeds. Check for rust in case of all metal parts (and replace if necessary). Wipe the inside and the outside of the shells and then dry them. Remove dirt from liners and let them dry, together with the footbeds.
When all elements are dry, put your ski boots back together and buckle them. Store them in boxes or an affordable bag, in a dry and safe place.
Ladies, Do You Know More Now about Ski Boots?
I hope that you do, and I'm glad if I was able to help you!
To sum up, everything that you may have learned from this piece, here are the actions that you should consider when choosing to buy the best women's specific boots.
Study yourself if you're amongst intermediate or advanced skiers and know where you're heading in terms of expertise or riding style. If you're just starting, what do you love most? Powder? Ski resort skiing? Hitting the backcountry? Be careful about how the boot feels.
What is your budget? Are you willing to compromise, or do you want it all? We are all looking for that affordable option that ticks all the boxes.
Which flex is more suited for you? (It depends again on where you'll be skiing most of the time.)
Are you dreaming of lightweight boots? (Sure, they may be best for touring, but you'll lose precision in downhill performance. Consider a snug fit, after all.)
You'll need comfortable liners, which make you feel warm and take your foot shape, but also heated liners if skiing in areas hit by extreme cold during the regular ski season. Combine these with merino socks, for odor prevention and added warmth.
Go for a sturdy aluminum buckle and strap system.
If you're heading off-piste, buy higher-end boots, with GripWalk, and a hike/walk mode if you're into ski-touring. Not all boots have these features.
Look at this checklist regarding the best women's ski boots once more and don't overthink… wide feet, high-volume feet, or narrower boots… Just buy them. Also, invest in women ski goggles to look cool out skiing!