Surrounded by massive mountains that are covered in white fresh snow, Aspen offers amazing outdoor adventures to snow enthusiasts.
If you have a passion for skiing, the Aspen Snowmass will help you quench this thirst.
Early morning ski sessions at the terrain parks of the beautiful ski resorts in Aspen are surely something you should definitely try at least once in your lifetime.
Also, an added benefit of choosing Aspen as your next vacation destination is that it's mostly less crowded. Hence, you won't have to worry about bumping into people while skidding through the hills.
Our Top-rated Picks of the Best Ski Resorts in Aspen
By all means, you should try planning a trip to Aspen this winter season, and here are some of the best resorts you can choose from:
1. Aspen Meadows Resort- Best Overall
Staying in this resort means an endless supply of direct vistas of the Rocky Mountains. Located on the western side of Aspen mountain, this is quite a secluded space that lets you enjoy nature in peace.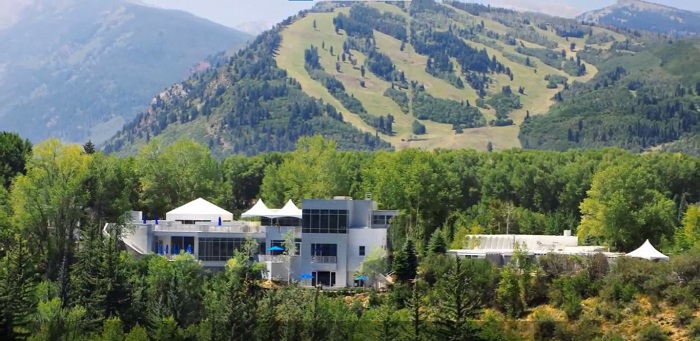 Features Worth Mentioning
Thanks to the never-ending swell of Aspen mountain and its amazing powder, skiing turns into quite a fun activity for adventurers.
Getting here is pretty easy! You would be glad to know that there are two airports quite close to it; Aspen Airport, which is merely at a distance of 3 miles, and Eagle County Airport, which is 31 miles far from the resort.
The resort offers a shuttle service, so you won't have to worry about hiring public transport to reach the resort. This shuttle service connects it with the Aspen highlands.
Restaurant options at the Aspen Meadows resort are seriously epic! There are so many choices that you would be confused while picking one of them.
If you are looking for something fancy, go for The White House Tavern; for a quick coffee after the ski adventure, choose Paradise Bakery & Café; and if you are looking for some local delicacies, opt for the French Alpine Bistro – Creperie du Village.
The rooms of the lodges are massive! You would love the retro feels they exude. I loved that whenever I turned on the tap, it would always give me hot water. What's better than that when snowy mountains actually surround you?
2. The St. Regis Aspen Resort- Closest To Aspen Highlands
With a heated outdoor pool, an amazing wellness center, luxurious restaurants, and a fantastic ski school, The St. Regis Aspen Resort is seriously dreamy. At the base of Aspen Mountain, this is one of the four ski resorts you must delight yourself with.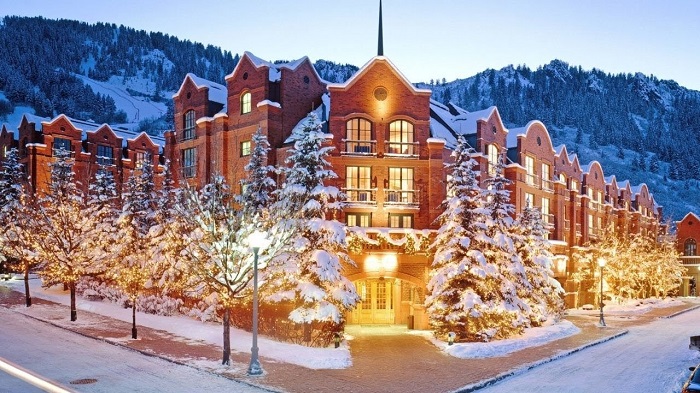 Features Worth Mentioning
This ski resort offers a variety of options when it comes to performing various activities. Apart from skiing and golfing, which are the most common ones, you can be amused with Aspen's DarkSide Ghost Tour and the Amazing Aspen Scavenger Hunt.
Forgot your ski equipment at home? Not a problem. Rent the equipment over the trip and save big bucks.
A range of activities is offered in the area, such as skiing and golfing. The resort also offers ski equipment and bike hire. The John Denver Sanctuary is 600 m from St. Regis Aspen Resort, while Maroon Lake Scenic Trail is 600 m from the property. The nearest airport is Eagle County Regional Airport, 51 km from St. Regis Aspen Resort.
What won my heart was the handcrafted cocktails at the local hotels. Trust me; once you have them, you will forget the taste of the best cocktail you have had in your area.
If budget is not an issue and you want a super luxurious experience, book one of the twenty-five suites of The St. Regis Aspen Resort. The beautiful bathrooms and customized furniture from Ralph Lauren are some things you will never be able to forget!
3. The Gant- Most Amazing Local Landmarks
Since most people head to Colorado to ski, The Gant is a naturally good fit for the activity owing to its great location. Located at the base of Aspen Mountain, this resort offers a great view of the Snowmass village.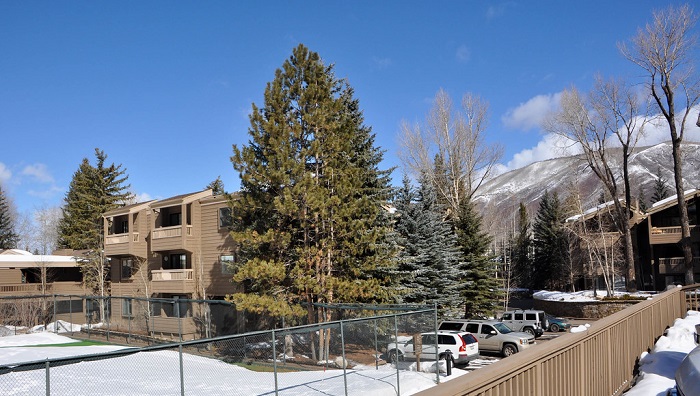 Features Worth Mentioning
This resort is located at the prime location on Aspen Snowmass, and you can visit a variety of areas close to it. Where the Mill Street Fountain is merely a ten-minute walk from it, The John Denver Sanctuary requires you to walk a few miles. Delight yourself with the local landmarks, and you will love the experience.
Staying at The Gant is the best way of ensuring you're close super close to the ski area, ski runs as well as a ski lift. The resort offers downhill skiing along with cross-country skiing.
That's not all! If you love surfing around the areas, have a look at the Hunter Valley Trail and the Silver Queen Gondola, and this will make your travelling experience totally worthwhile!
You get to enjoy a free shuttle service from the airport to the resort, which saves you from the hassle of having to find suitable public transport to reach the destination.
4. Tyrolean Lodge- For The Real Local Charm
Looking for a totally magical place to ski your heart away this winter season? The Tyrolean lodge is where you need to head to! Located merely a seven minutes drive from the Aspen/Pitkin County Airport, it is one of the most loved places on Aspen mountain.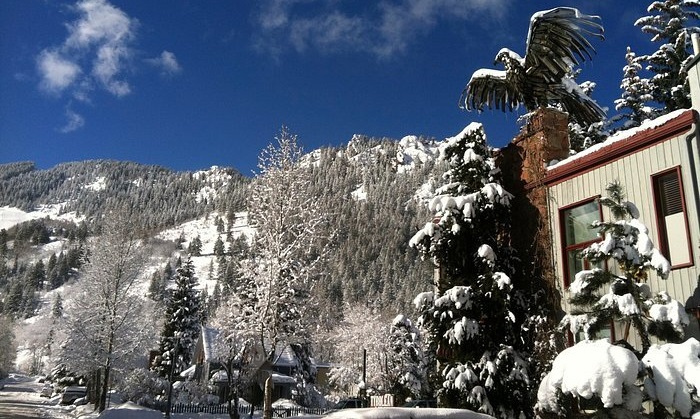 Features Worth Mentioning
The management honestly tries its level best to make the tour of the adventurers as smooth as possible. For that, it takes all the pain and lets the travelers have a chill pill. From the free ski shuttle to extensive ski lift privileges and from ski passes at great discounts to fully equipped kitchenettes, this resort offers it all.
If you want to take pleasure in the Aspen Snowmass to the maximum, the Shadow Mountain, Little Nell, and Silver Queen Gondola are super close to it, and you would enjoy every moment strolling through them on your ski.
To have a peek into the real life of downtown Aspen, you can take the route to some of the most amazing hotels it offers. You would be delighted with their delicious food items and great hospitability.
My personal favorites are Main Street Bakery & Café for its yummy cappuccino and the White House Tavern for its extensive menu.
If you are wondering whether you would be able to do anything other than skiing at this resort or not, you would be glad to know that The John Denver Sanctuary is nearby, and visiting it is an experience of a lifetime.
5. The Little Nell- A Luxurious Experience At Aspen Mountain
If budget is not a problem and you are looking forward to experiencing a luxurious trip to have the time of your life at the Aspen Highlands, look no further and book your slots at The Little Nell.
This five-star hotel on Aspen mountain will ensure you love this experience to the maximum.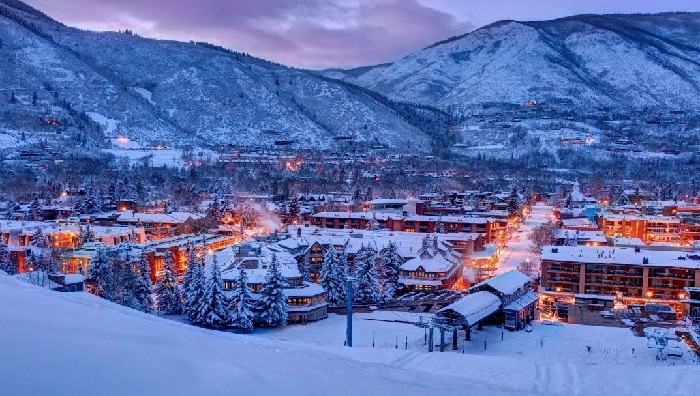 Features Worth Mentioning
This resort is located adjacent to the Aspen Ski Resort, and lets you have a great look at the Aspen Colorado owing to its prime location. While skiing, you would be able to groove on some steep slopes, which would be a treat if you are an intermediate or expert skier.
The Little Nell offers both ski-in and ski-out. Its terrain parks are so well groomed that you would love skidding through the slopes.
Want to stay here with your four-pawed friend? Well, you definitely can! This is a pet-friendly resort that lets families make amazing memories.
Getting to this part of the Snowmass base village is quite easy as the Aspen Airport is merely four miles away from it, and the Eagle County Airport is thirty-two miles far! Also, the ski valet ensures you don't have to find parking yourself after a long day of traveling!
The fitness center, hot tubs, and Jacuzzis make this ski vacation the best you have ever had! Also, the Ajax Tavern would offer you the most amazing cocktails ever!
But, a word of caution! As this is the only five-star hotel in these four mountains, be ready to shell out a few thousand dollars to reap the benefits of this resort!
6. Hotel Jerome- For Its Prime Location
You don't have to be a pro skier or an expert to be able to ski around this part of the Aspen Snowmass area. Rather, even if you have intermediate skills, you can ski out at the hotel Jerome with great ease!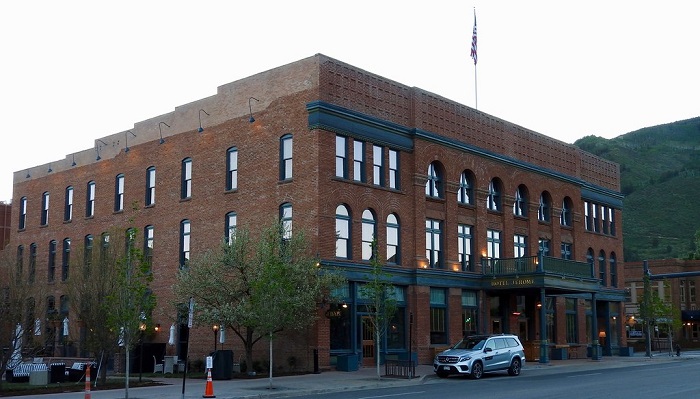 Features Worth Mentioning
Located on the main street, this place is a social hub for Aspen since its inception. With tons of amazing tourist attractions being super close to it, hotel Jerome turns out to be the first choice of most skiers traveling to Aspen Colorado.
The marvelous Maroon Bells, the stunning Rio Grande Trail, the magnanimous John Denver Sanctuary, and the phenomenal Wheeler Opera House are all great spots to visit while you are at the world-renowned skiing site!
The Denver international airport is merely 359 miles far from it, while the Aspen/Pitkin ASE is only six miles away!
The brick structure of this hotel Jerome is sure to take your breath away at the first sight! It made me fall in love with its gorgeous outlook, and the indoor amenities are just the cherry on top!
7. Limelight Hotel Snowmass- For A Budgeted Trip
Are you on a tight budget, yet want to have a family trip to Aspen mountain? Not a problem! The Limelight Hotel Snowmass at Aspen offers family-friendly services at some great prices.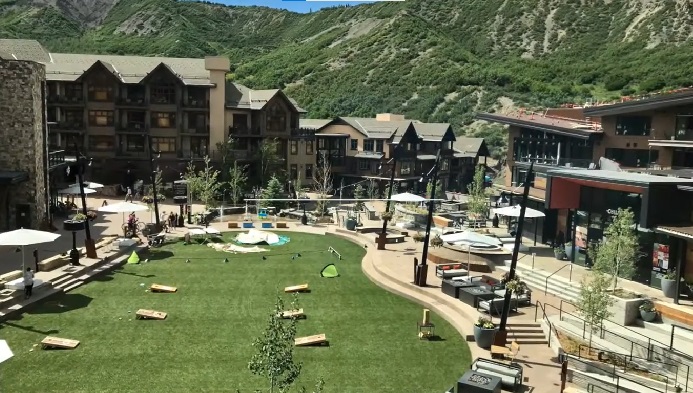 Features Worth Mentioning
For locals, this resort comes with a massive treat! It offers them twenty percent off on EVERYTHING! So, if you are a resident of Aspen, it's high time you too showcased your ski skills on the slopes of Aspen mountain!
By making a booking for four nights straight, you get a discount of 25%, while if you ski in the four mountains of Aspen and stay in the resort, you get great discounts on all the tickets.
The coolest thing about this resort is that it is super close to Buttermilk mountain. While staying here, I loved accessing this mountain to glide on its vertical drop as an absolute beginner.
Ski & Snowboard School of Aspen Snowmass offers amazing refresher classes if you are an intermediate or beginner skier and want to be sure of your skills before hitting the terrain parks.
8. Viceroy Snowmass- For The Homely Feels
There are endless places to explore near the viceroy Snowmass, and you would love to stay at this family-friendly resort during this winter season. This resort is loaded with amazing amenities and fantastic facilities.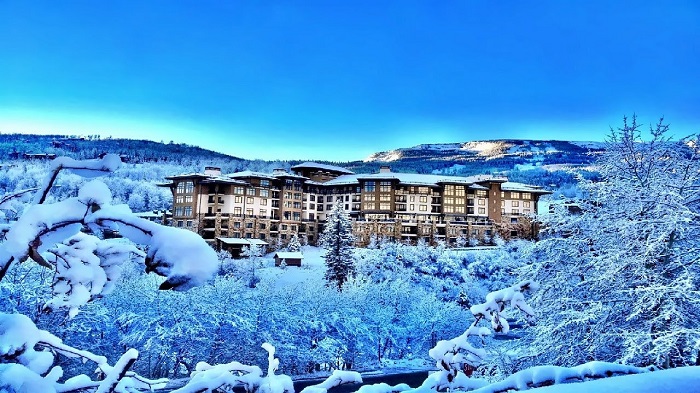 Features Worth Mentioning
What I still cherish the most is the experience of diving into the swimming pool of hot water and unwinding, soon after I returned from skiing at the Aspen mountain in Colorado. Trust me, it will make you feel great!
From Wilton Jaffee Sr. Park to the Moore Ballfields and from Tot Lot Park to the Isis Theatre, this resort has quite a lot of famous places close to it. For the travelers planning a trip there, making sure to visit them all is a MUST!
But, if you are a homebody and don't want to move out of the resort once you are done skiing at the Highland Bowl, you can stay within the premises of the resort and chill. Its fitness center, spa area, golf course, and fishing point are some of the most delightful places to be at!
9. Pokolodi Lodge- For The Scenic Views
The Pokolodi Lodge offers an incredibly scenic view of the Snowmass village, and staying there gives you a closer look at the Aspen Highlands as well.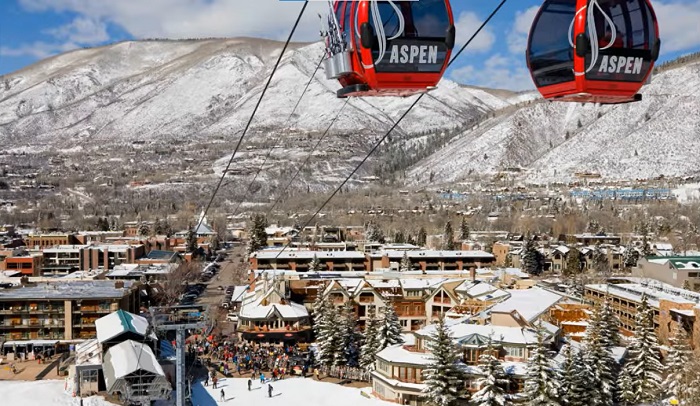 Features Worth Mentioning
With access to Snowmass Village Mall, this is one of the most sought-after accommodations for families planning a ski trip to Snowmass. The slopes are high cruising, and the vertical drop is quite reliable for even beginner skiers.
The resort is super close to Aspen airport and Eagle County Airport. The complimentary shuttle service by the Pokaolodi lodge would double up the convenience it offers to you when it comes to reaching the resort.
If you love treating your taste buds with scrumptious food, this place showers you with some of the most amazing options possible.
Three restaurants that I particularly liked dining at this location are The Stew Pot, IL Poggio, and Venga Venga. Each restaurant offers top-notch services, finger-licking food, and drool-worthy menu choices
10. The Innsbruck Aspen- Downtown Aspen Snowmass
Located amongst the downtown shops and restaurants, The Innsbruck Aspen has a dedicated Concierge Service and is one of the most accommodating ski hotels in Snowmass.
I don't know about you, but I love gorgeous fireplaces, and the one in my room at this property was the prettiest one I have seen yet!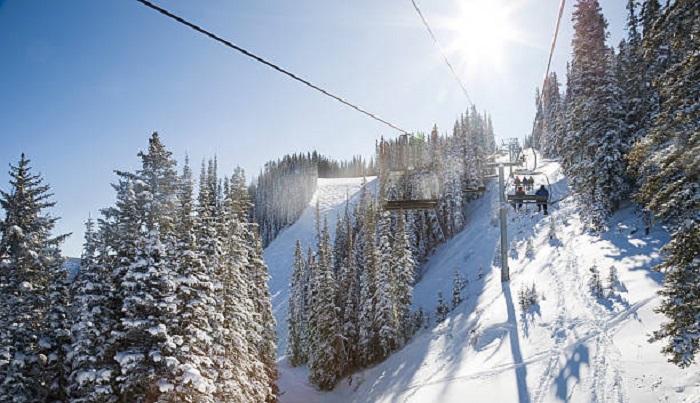 Features Worth Mentioning
Hotels close to The Innsbruck Aspen are simply top-notch. The White House Tavern offers the most delicious sandwiches while at the Pyramid Bistro, I could find some really great vegan options.
But… if you are craving some home-cooked food or your kids want to eat noodles right in the middle of the night, avail yourself of the kitchenette facility at The Innsbruck Aspen, and you won't have to step out of your room.
This hotel in the Snowmass base village has a great fitness center. I particularly loved having quick training sessions before I would set out to ski every morning. Also, the restaurant on-site offers great coffee post an extensive cardio.
As a chaser of amazing events across the globe, if you plan your trip timely, you can delight yourself with the Aspen music festival that occurs around Mountain Chalet Aspen each year!
11. Hyatt Residence Club Grand Aspen- For The Elegance
If you are looking for a super-elegant space that is more like a home and less like a hotel, the Hyatt Residence Club Grand Aspen is the best choice to make. Though it doesn't come with a fancy spa or a top-notch fitness center, it still makes you feel at home!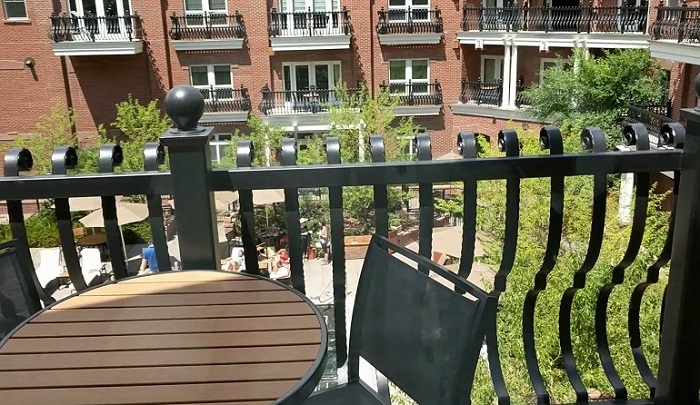 Features Worth Mentioning
This residential space is great for ski-out, and a variety of tourist stops are just steps away from it. For instance, the Wheeler Opera House, Independence Pass, and Belly Up won't even require you to hire a four-wheeler.
But if you really want to, delight yourself by enjoying the elk camp gondola, and you'll love the experience!
The management serves you a great continental breakfast, and if you are an early morning person, just like me, you would really enjoy that!
Also, as it's right in the middle of the town, I feel like its location is its best feature!
My Verdict
Sadly, over the years, the growing inflation has forced the management of these resorts at Snowmass to ramp up the prices for the services they provide.
However, you can still manage to save a few bucks if you act smartly. Making online reservations is a great way to win some discounts.
With the winter season just around the corner, if you really want to ski on the aspen highlands and delight yourself with the view of aspen meadows, make your bookings now!
Related Guide: