Wyoming ski resorts are the Disneyland for introvert skiers as they are less crowded than other state ski resorts. Besides the human rush, the travel time is also less for Wyoming than Utah and Colorado resorts.
From Jackson Hole, and Grand Targhee, to meadowlark, you can find multiple high-end yet budget-friendly resorts in Wyoming. The ski resorts have quality services, and safe and groomed ski terrain to entertain newbies, intermediate and expert skiers.
Old cowboy and aesthetic rural vibes await you in old Wyoming. The open spaces, wide mountain ranges, and beautiful scenery adds to the charm.
The Wyoming ski resorts have all varieties of great terrain, from smooth to challenging in bounds terrain. The price range of these ski resorts in Wyoming is also reasonable and ideal for a budget-friendly trip.
Best Ski Resorts in Wyoming
It isn't easy to select the best ski resort in Wyoming when you have all top-of-the-line options available. Wyoming ski resorts are like this; each has a unique and outstanding feature to attract tourists.
We want to make sure everything is clear among a variety of options for ski resorts in Wyoming.
For this reason, here we are with a list of top ski places in Wyoming with a detailed review of what they have to offer. So you can select the resort according to your preferences and budget.
We hope it will aid you in planning your next ski trip to the Wyoming mountains.
1. Grand Targhee Resort
Highlights
Season: November 18, 2022 – April 9, 2023
Travel time: 4 hours 58 mins
Ticket price: $60-$125 per day
Operating hours: 9 am – 4 pm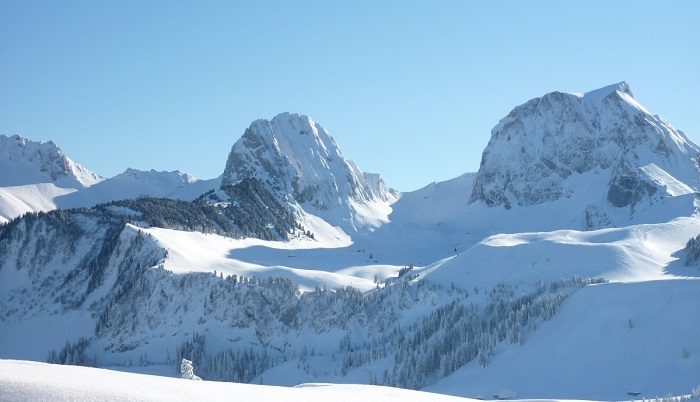 Grand Targhee ski resort can also be called an Idaho ski resort in an honorary manner. You have to pass through Idaho to reach the ski resort in Wyoming. The powder snow and plentiful annual snowfall at Grand Targhee are some of the main attractions for ski and snowboarding enthusiasts.
Two thousand six hundred acres of skiable terrain has ski runs for beginner, intermediate and advanced snowboarders. There are numerous lifts along the ski slopes.
Moreover, Grand Targhee ski resort is the only cat skiing place in the region. For this purpose, there are separate 1000 acres at Grand Targhee.
Locals usually refer to Grand Targhee as 'The Ghee' because of western hospitality and short lift lines. The base area has a family-friendly village with lodging opportunities, restaurants, shops, etc.
For more variety, you can look for Teton range valley in the neighborhood. Trap Bar and Grill is a famous and local eatery in the base area. Also, the kids' night out and the tubing park remain the favorites at Grand Targhee.
2. Pine Creek Ski Resort
Highlights
Season: December 2022 – March 2023
Travel time: 4 hours 42 mins
Ticket price: $45-$60 per day
Operating hours: 9.30 am – 4 pm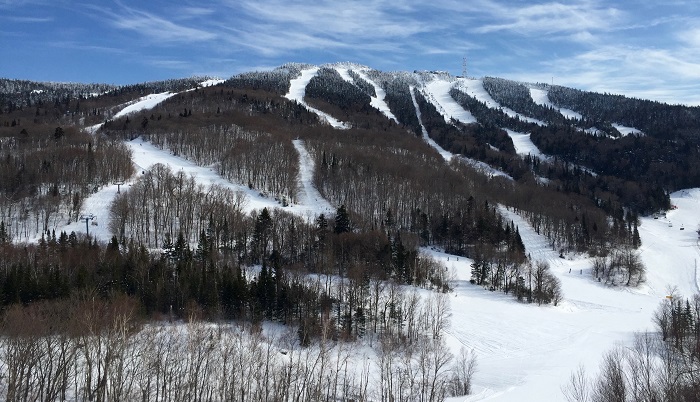 Pine Creek ski resort is a small ski resort in Cokeville town, and it also touches the state line of Utah and Idaho. The total area of the resort is 640 acres, with 32 ski runs of different difficulty levels. In this way, the Pine Creek resort is able to accommodate beginner, intermediate and advanced skiers.
The ski runs at Pine Creek resort are shorter and not much steep. The ticket prices are moderate and can be a good deal for a budget-friendly ski vacation. The seasonal passes and discounted packages towards the start of the ski season make it more affordable.
Pine Creek ski lodge is a great accommodation option after an exciting ski session. If you want to explore more, then lodging facilities at Cokeville are a fair deal.
There are hotels, motels, and rental places owned by the locals with a rustic touch. You will experience the classic scenery of Wyoming and learn more stories about the local and rural mundane life.
3. Snow King Resort
Highlights
Season: December 2022 – March 2023
Travel time: 3 hours 52 mins
Ticket price: $39-$75 per day
Operating hours: 5 am – 11.30 pm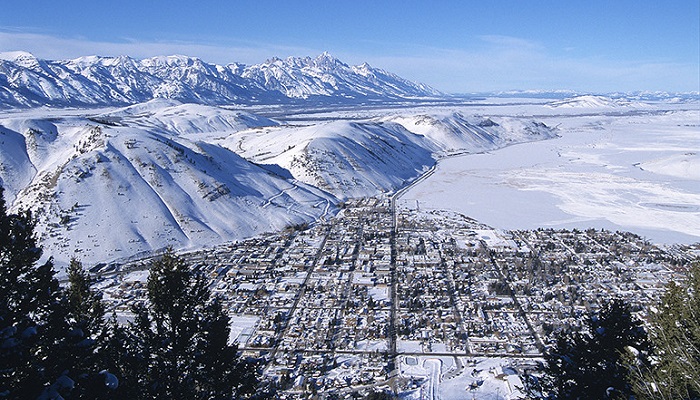 Snow King Mountain resort can be regarded as 'Jackson's hometown hill.' The ski terrain seen from downtown Jackson is not of the Jackson Hole Mountain resort. Instead, these trails are of Snow King resort.
There are 400 acres of the snowy range ski area at Snow King mountain, but we can expect an increase with ongoing expansion. There are 32 ski runs, three chairlifts, magic carpets, and one gondola to take you up on the top of the snow king resort.
It is a compact place best for visitors looking for smaller-scale options. Also, it is best for new learners as the beginner, and expert terrain are separate, so there is less crowd and more room for night skiing.
Moreover, Snow King mountain is the only place that offers night skiing in Jackson town. The slope-side lifts have a few accommodation options at Snow King resort.
However, you can find more authentic places and western nightlife in the Jackson town square nearby snow king resort.
4. Hogadon Basin Ski Area
Highlights
Season: December 2022- April 2023
Travel time: 1 hour 8 mins
Ticket price: $20 – $40 per day
Operating hours: 9 am – 4 pm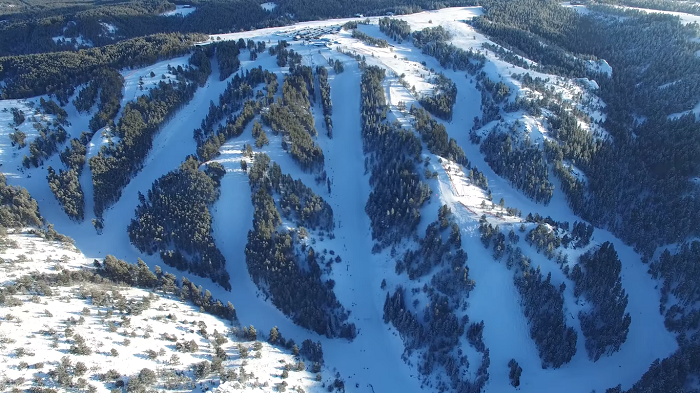 The city of Casper in central Wyoming has the Hogadon Basin ski resort for the intermediate skier. There are 60 acres of skiable terrain with 28 ski runs, a double chair lift, and a magic carpet. How ski lifts work will let you understand and appreciate the fine working of this amazing machine.
Hogadon is famous among skiers for its steep terrain. The 600 feet vertical drop and snowmaking capacity result in an early ski season, and the trails are easily accessible. Plus, the affordable lift ticket prices make it more attractive.
Hogadon does not only entertain skiers and snowboarders. They also cater to the needs of non-skiing family members on vacation. The town of Casper is the activity hub of the Hogadon Basin ski area.
You can find several fun options and non-skiing activities to entertain yourself. Casper Ice Area is popular for public skating for kids and adults.
Plus, the lodging options are limited to the Hogadon base area, so the town of Casper would be a good choice for more variety.
5. Jackson Hole Mountain Resort
Highlights
Season: November 2022 – April 2023
Travel time: 4 hours 8 mins
Ticket price: $95- $220 per day
Operating hours: 9 am – 4 pm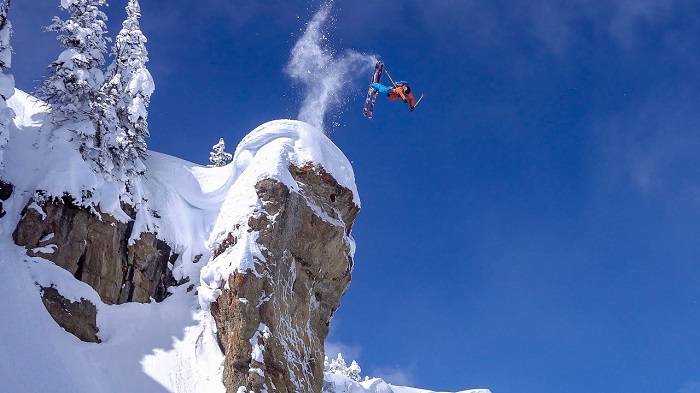 Located near Grand Teton National Park, Jackson hole mountain has served and entertained skiers for almost 50 years. The Jackson hole ski resort covers Apres Vous Mountain and Rendezvous Mountain ranges. So you get to experience the slopes and scenic beauty of two different mountains.
There are 2500 acres of skiable terrain and 3000 acres for the best skiing experiences of backcountry and Nordic skiing. Two gondolas, ten chairlifts, one tram, and 13 other surface lifts serve the skiers for transportation. The variety of lifts refrains overcrowding and ensures smooth functioning.
The ski trails at Jackson hole resort are among the toughest ski runs around the globe. For this reason, it has been a favorite spot for expert and advanced skiers who want to challenge their skills. Plus, the dry and fluffy powder adds to the popularity of Jackson hole mountain resort.
Teton village is the go-to place for accommodation and lodging variety. At the same time, the famous atmospheric town of Jackson can be a good choice for a staycation within 12 miles of Jackson hole mountain.
The ticket prices are high, but professional and expert skier may find it a good expense to polish their skills.
6. White Pine Ski
Highlights
Season: December 2022 – March 2023
Travel time: 3 hours 53 mins
Ticket price: $35-$50 per day
Operating hours: 9 am – 4 pm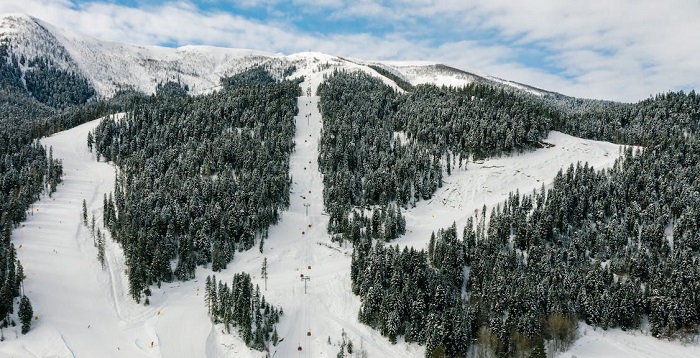 The White Pine ski area is also known as Pinedale. It is located across the Wind River mountain range near Pinedale town in western Wyoming. It is a medium-sized ski area perfect for family trips and intimate gatherings.
There are 29 ski trails with 1000 feet of vertical drop. The ski runs are family-friendly and can accommodate all skill levels, from beginners to advanced skiers. The price range of this resort is moderate and affordable for a day trip or a weekend getaway in the mountains.
You can experience the scenic views of the Continental divide and Wind river mountains from the slope side lifts while going on top to ski down. Moreover, you get 20 miles of Nordic skiing trails in the backcountry.
There are limited options for accommodation, camping, and rental cabins in the base area. However, there are multiple options in Pinedale town which is 11 miles at the southern end of the White pine ski area.
Plus, you can find several cafes, restaurants, and entertainment options in Pinedale town. Even a mere evening walk in the rural streets will be a relaxing treat.
7. Meadowlark Ski Lodge
Highlights:
Season: December 2022- January 2023
Travel time: 2 hours 45 mins
Ticket price: $45-$60 per day
Operating hours: 9.30 am – 4 pm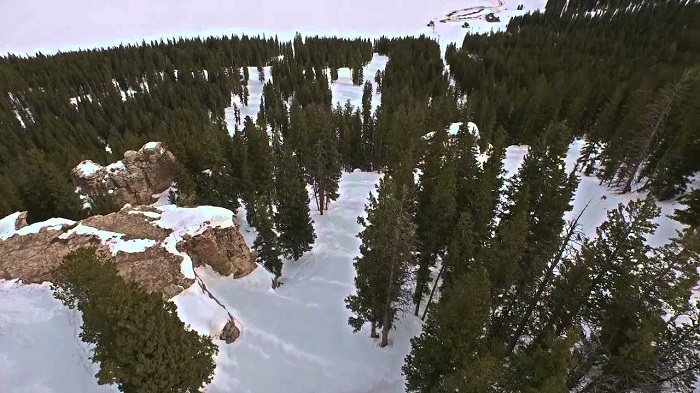 Bighorn mountains hold the Meadowlark ski lodge in the northeast of the state. It is famous for its beginner-friendly ski trails. There are 300 skiable acres with two chair lifts and multiple ski runs.
The ski runs are not so steep and have fewer complications, jumps, and bumps. The well-groomed ski terrains make them ideal for new learners to practice their skills at their own pace and comfort.
Meadowlark ski lodge has the shortest ski season compared to other ski resorts in Wyoming.
Apart from skiing, there are 450 miles designated for snowmobile trails along with vehicles for rent. So you can easily rent a bike and ride in the white spreads. Hence, you have enough options to enjoy other than skiing. Snowboarding, snowshoeing, and mere sightseeing will please you to the core.
You can consider Surestay Plus for the best possible services for a staycation. They have cozy rooms with fire pits, hot tubs, and much more. The best part is that the rental rooms are pet-friendly with extensive cleaning.
My Verdict
In a nutshell, skiing is an ultimate pleasure no matter where you are. If you have a decent ski area, perfect slope, ski gear, and the will to experience the holiness of skiing down the hill surrounded by nature, you are all set to rock.
Wyoming is a great place for the ones who like solitude and avoid crowded places. You can find ski resorts in Wyoming with little crowds and more open ski areas to dig in for skiing. There are seemingly no lift lines, no waiting time, only pleasure skiing.
Most ski resorts in Wyoming are family-friendly, so you can always plan a family getaway on the weekend or even a day trip.
If you check the Wyoming ski resorts map, the travel distance and time are comparatively lesser from the nearby places. So what are you waiting for?
Grab your backpacks and book your ski trip by utilizing all the seasonal passes and discounted packages now!
Related Guide: