Freeriding, All-mountain: What Are They and Why It Matters?
The entire mountain is your playing field. Riding switch. Carving up some serious turns before taking on some groomed runs.
Your board was made for this. All-mountain snowboards for all type of riders that refuse to conform.
Elsewhere, deep in the backcountry, where challenging terrain is just called terrain, another style is unleashed. Riding at a high speed and after only higher speeds and deeper challenges. A freeride board, race skis, strapped to your boots.
There exist many factors that determine how you ride and what you ride on. The boards, mountain terrain, and the snow itself (firm snow, deep powder snow).
Most riders use a mountain board. They are the one size fits all option but depending on where and how you like to ride, you may benefit from something else.
Which one is right for you? Let's pick apart both styles and find out.
Freeride vs. All-mountain, battle begins!
What Is Freeride Snowboarding?
Does blazing down natural terrain at blinding speeds raise your intrigue? Each riding style has its own specific boards that are tailor-made for them.
When you board through uneven backcountry terrain, something directional (freeride snowboards), is the best board for the job.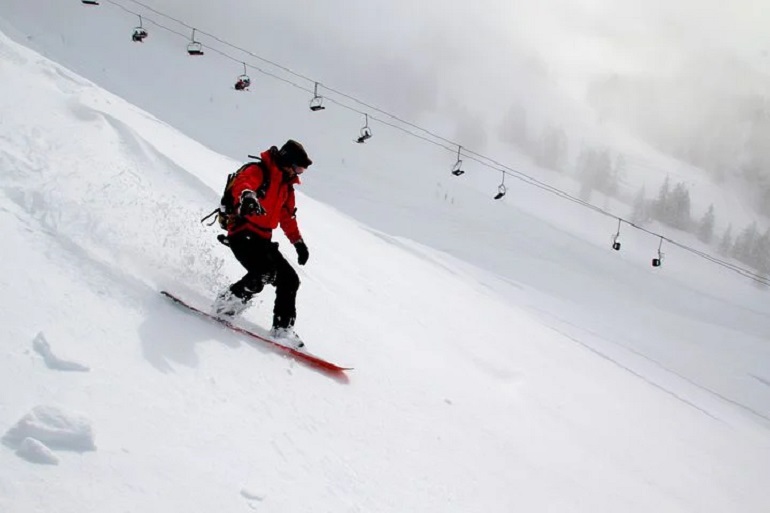 But if a mountain snowboard can do it all, then why not stick to it? All-mountain skis are great for riders of any level. But riding through deep snow at the highest speed possible can only be done with freeride boards(freeride skis).
This is an aggressive style. Thrashing through the snow isn't an option, it's the only way. The steeper the slopes, the harder the curves, rampaging in one direction through the segregated trees.
Sounds dangerous. Knowing how clumsy I am, I think I'll stick to the slower speeds.
Forget groomed snow, it's all untamed out here. Only a freeride board will get you through it. This style of riding loves the fresh pow, powder boards (powder skis) are a staple of freeriding.
It's not all about speed, with freeride boards (freeride skis), you can still catch some air. But you are more likely to do so by soaring off a natural lip rather than a halfpipe. And you can forget about riding the switch here.
What Is All Mountain Snowboarding?
Violently cutting up the backcountry sounds intriguing. But what if you don't specialize? Preferring the whole menu over a single dish. Mountain snowboards were made for those that find themselves riding switch. Constantly changing it up.
All-mountain snowboards (all-mountain skis) can do it all through any snow conditions. If you like to go off-piste or take a stroll through the groomers, then this is the style for you.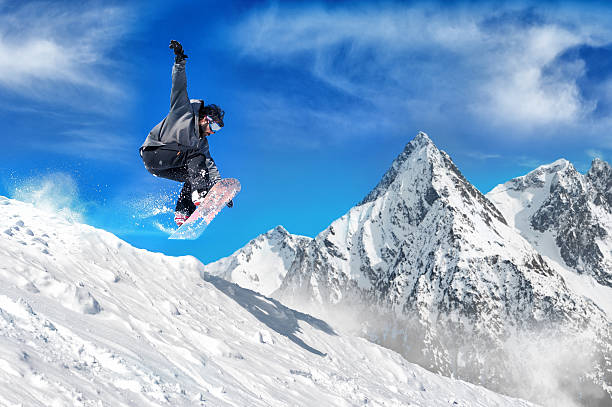 But what if you sometimes like to engage in a little freeriding? Fear not, mountain boards (all-mountain skis) were made for this as well. You can even catch some air with all-mountain boards(all-mountain skis), so don't be afraid to freestyle.
Whether you are on a budget snowboard or new to snowboarding, getting an all-mountain board lets you do it all. This is great because you can use the all-mountain board to discover what style appeals to you the most.
It's not uncommon for more advanced riders to have an all-mountain board and then a board that fits their specific type of riding. Plus, these boards can be used anywhere. Making it easy to ride when you want and how you want.
You can also take a look at the Union Force Bindings and K2 Maysis review and get your hands on one of the best all-mountain bindings and boots out there.
How Do Freeride and All Mountain Snowboards Differ?
To the untrained eye, freeride and all-mountain boards(all-mountain skis) don't have any major differences. The subtle tweaks are difficult to spot, but they make a world of difference. Everything from the length of a board to its shape and flex affects how you ride.
Let us get into the details. That's what it's all about.
Board's Flex
The flex of a board or its stiffness is what determines how a board bends from its nose to its tail. Boards with a softer flex bend more and as such are easier to control. These boards are suited for those that want to freestyle and beginners looking for a board that they can manage.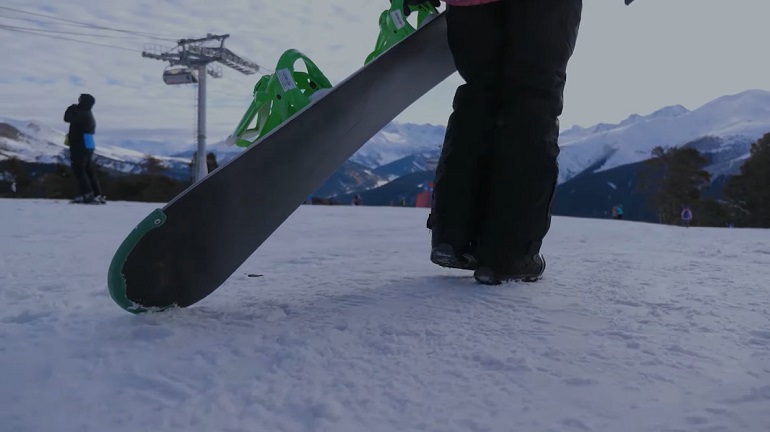 Generally, the best freeride boards (freeride skis) have a stiff flex ranging from 7 to 10, which is the stiffest rating that a board can have. It is rare that you'll find any freeride boards(freeride skis) with a rating of 5 or 6. There are no freeride boards (freeride skis) with a lower flex score.
All-mountain boards can range from a flex score of 3 to 7. This is because they are general boards used for all-around riding.
Shape of The Board
The shape of a board determines the balance of the board. It also affects how your board feels as you ride it and how it handles different snow conditions. In short, it goes way beyond your skill level.
Freeride boards will always have some kind of singular directional shape to them. Usually, this comes in the form of a tapered directional shape. The reason why is that these boards aren't meant for riding switch. They are suited for going fast and in one direction only.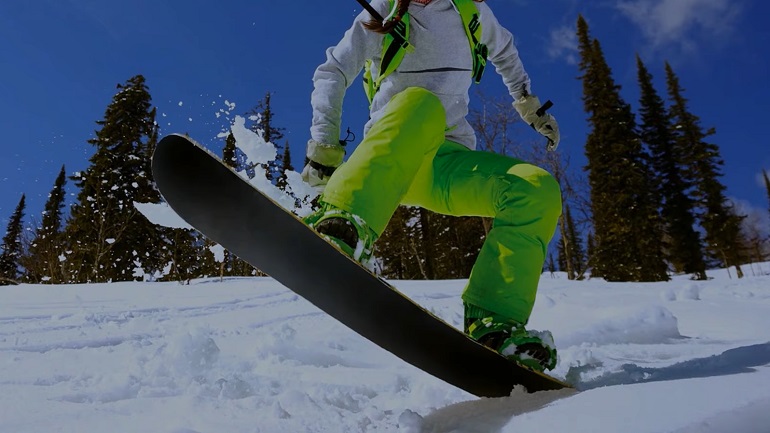 All-mountain boards are meant for all kinds of riding in all kinds of terrain. Their shape is often a directional twin shape. Allowing you to switch up your stance and which foot you are leading with.
You can ride either goofy or regular with all-mountain snowboards. You can also ride poorly, like me.
Length Of The Board
A board's length changes what the board excels at. Shorter boards are going to be easier to control. Paving the way for tight maneuvers through the trees. Longer boards offer you a more stable ride. Even if you are riding through some rough terrain.
You might be able to guess by now that freeride boards are longer than your average all-mountain boards. The increased edge control and stability are practically a necessity if you are going to be riding fast.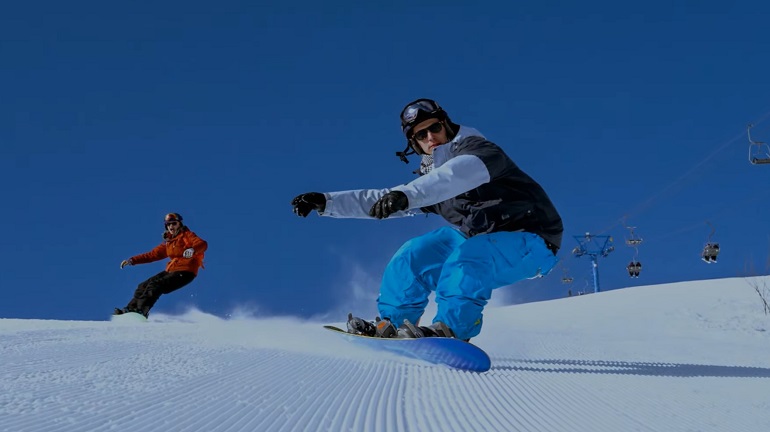 All-mountain boards have a length that sits firmly in between a freestyle snowboard and a freeriding board. Much like the flex of a board, the reason why mountain boards are like this is that they are suited for all kinds of terrain and styles.
Board's Profile
Like in modeling or when taking pictures, the profile of a board is the shape it has when looked at from the side. Your board's profile will affect how it handles the terrain, much like its shape.
For boards that are used to freeride, you'll find that they typically have a directional hybrid camber profile.
Why? Because this profile has a looser feel between your feet and a much better float when riding through powder. Freeriding is all about riding through powder.
All-mountain boards tend to have a hybrid profile. The turn-initiation and stability that comes with this profile favor all styles. Best snow skis or boards have almost the same shape as that carving skis or boards.
Board's Base
The structure of a board's base ensures that the board has enough float on the bottom. Breaking up the suction between the top layer of snow (often the wettest) and the board itself.
Freeride boards (freeride ski) have sintered bases. Sintered bases are not only more expensive but they also require more maintenance than other base types. Sintered bases are made up of ground-up pellets that are put back at high temperatures.
All-mountain boards that are more expensive will also have sintered bases. Cheaper boards and those geared toward beginners will have extruded bases.
Your Ability Level
Generally, all-mountain snowboards can be used by riders of all levels. They have varying flex levels, and more often than not, this will be your deciding factor. Once again, this is because these types of boards are an all-around option.
Freeriding boards are for more experienced riders. This isn't just because of their higher flex scores, either. Freeriding is one of the most intense styles of riding. It requires top precision and control because you are traveling at high speeds and on uneven terrain.
Leave the freeriding to those with experience.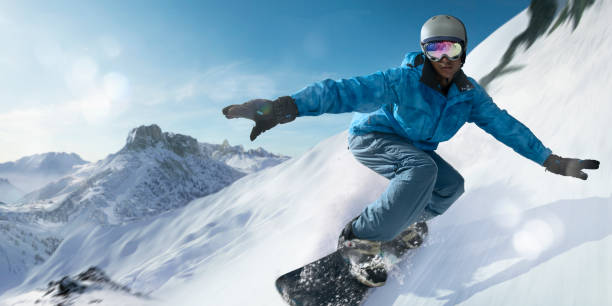 Is Freeriding the Same as All-mountain Riding?
No. The main differences between the two are the terrain in which you are riding as well as the limitations that come with freeriding itself.
Technically, you can all-mountain ride anywhere (provided that it's on a mountain). This includes the groomers or freshly paved piste.
Freeriding occurs in much more rugged terrain. The backcountry. You'll want to seek out the powder, the fresher, the better. The goal with freeriding is more specific. You want a fast-paced, challenging ride on difficult terrain.
All-mountain riding has no specific features or goals. Just ride how you want. Freeriding boards aren't for you if you wish to ride switch.
These are the main differences between the two styles of riding beside the differences in the boards themselves.
Different? What Is a Freeride Snowboard Good For?
To summarize, a freeride snowboard is good for those that want not just a day out on the snow but a battle amongst the fresh pow. It isn't about flipping through the air and completing 360 after 360.
It's about everything in between that, the ride itself. These boards are meant for the riders that want a challenge and want the challenge itself to be their entire ride.
These boards are great for riding at high speeds across all kinds of rugged terrain. They aren't for the faint of heart or the balanced-challenged.
My Final Thoughts
Ask yourself, why wouldn't you like to use a board that's tailor-made for your style? If you've got an itch to go fast, then pick up a freeride snowboard. The stable ride that they give you is refreshing, especially when the snow under you wasn't made or paved for your comfort.
Freeriding is exhilarating and the most liberating and therapeutic form of snowboarding. But there are plenty of reasons to pick up an all-mountain snowboard. In fact, I believe that every rider on the planet should have an all-mountain board. It's the place to get started.
Whether you carve your way down the mountain or prefer to spend as much time in the air as in the snow, there is a snowboard for everyone.