Guest post written by Sarah Maurer of Miss Adventure Pants
Looking for an ultra endurance hike that will break you down, lift you up, and blow your mind — sometimes all in the same hour? Then the Grand Canyon rim-to-rim-to-rim (R2R2R) hike might be exactly the poison you've been seeking. Here's what it's like to walk 42 miles and gain 11,000 feet of elevation in one day.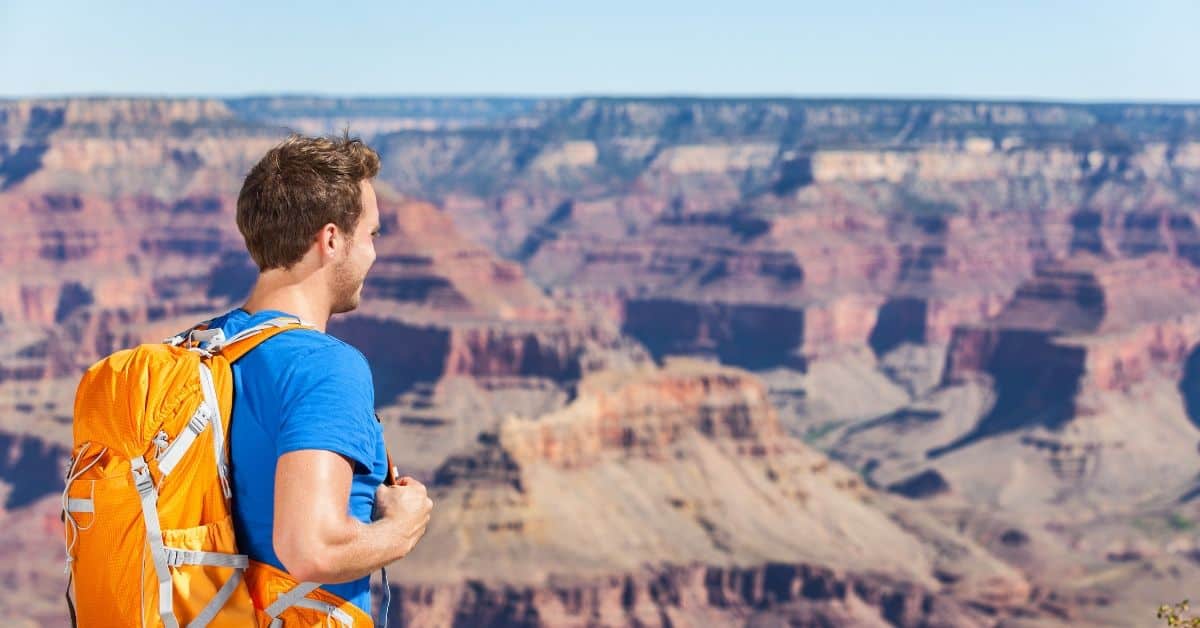 To really show you how the Grand Canyon R2R2R unfolds — the geographical, physical, and emotional ups and downs — I'm going to lay this out hour by hour. Times and temperatures are estimated from my memory, which gets worse as the hike goes on. Please don't live and die by them.

1 day before Hiking the Grand Canyon Rim to Rim to Rim (R2R2R)
I call my mom and make the mistake of telling her that I'm about to hike 42 miles across the Grand Canyon.
Naturally, she thinks it's a terrible idea. She reminds me that my grandpa died young of heart disease, and that I need to be more careful with myself.
I remind her that grandpa was a workaholic who pretty much lived on kielbasa for the last 20 years of his life. But silently, I add heart failure to my long list of fears, which include
Falling
Rattlesnakes
Running out of water
Heat stroke
Remortgaging my house to pay for a $30,000 helicopter evacuation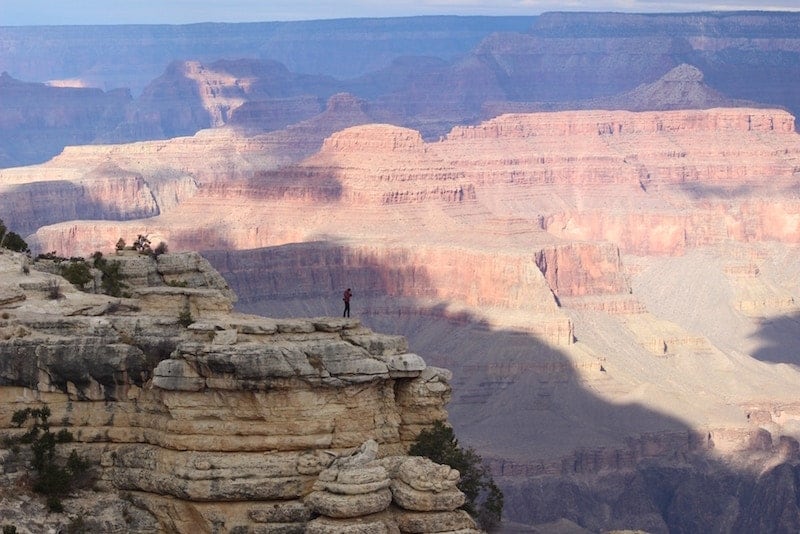 When I'd agreed to do the R2R2R back in January, I'd been really excited about it. Now that it's staring me in the face, I mostly feel strangling anxiety. There's never a great time to hike across the Grand Canyon in one day. But right now I'm working two jobs, dealing with my dad's probate out-of-state, and haven't had much time to train.
Also, I've gained weight recently. So if I can't drag my ass across the canyon and back, I will be the fat girl who ran out of steam. At least in my own mind.
However, I've learned from experience that doing hard things is good for you — and that it's also perfectly normal to convince yourself beforehand that they'll kill you. So I take a deep breath, then go home and pack.
Read related posts:
Hiking & Climbing the Grand Teton — Everything You Need to Know
The very best hikes in Yosemite National Park
Unmissable Hikes & Trails in Rocky Mountain National Park
Before we dive in further, here are some facts about hiking the Grand Canyon rim to rim.
Routes
Most R2R2R hikers start from Grand Canyon Village on the South Rim, hike to the North Rim, and return. During the summer, when more roads are open, it's also possible to start from the North Rim. However, temperatures in the inner canyon will exceed 100 F at this time, so this can be tough going.
Distance and elevation gain
Depending on which trail you take up and down the South Rim (South Kaibab or Bright Angel), your round trip mileage will vary from 42 to 46 mi. The South Kaibab Trail is 2 miles shorter than the Bright Angel Trail. Both are quite scenic, so consider going down one and up the other.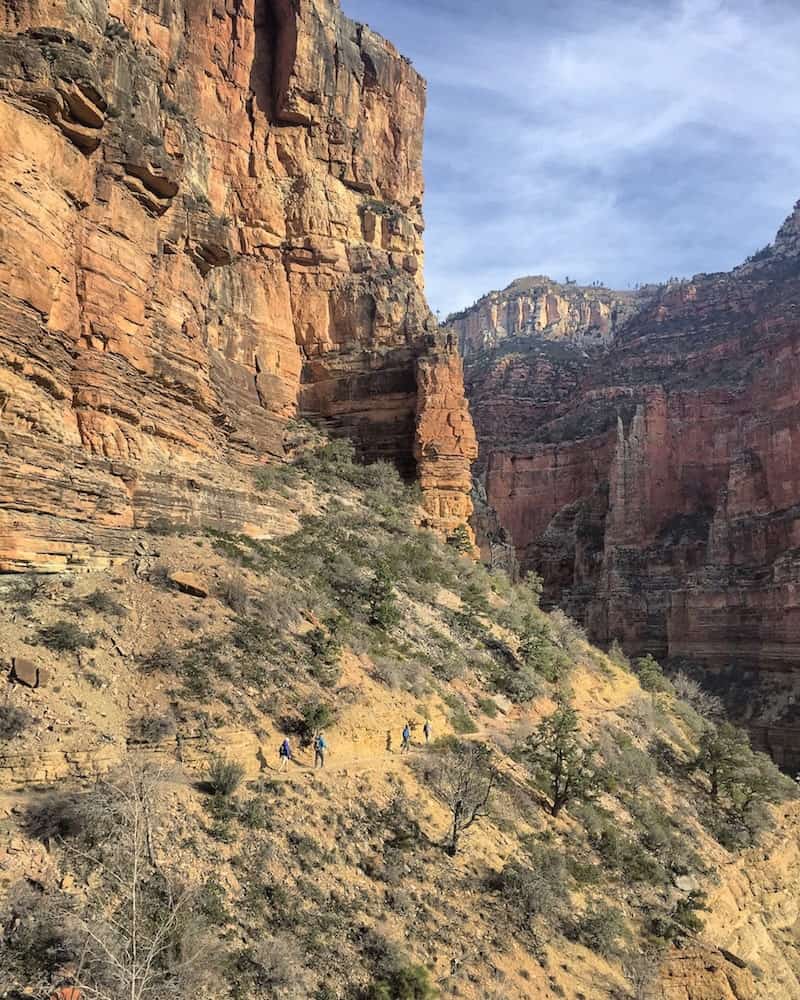 In addition to hiking the equivalent of an ultra marathon, you will gain 11,000 ft. of elevation on the R2R2R. This is not a stat to take lightly, especially since 4,500 ft. will happen at the end of the hike when you're pretty wasted.
Altitude is also a factor. Your max elevation for the Grand Canyon R2R2R will be about 8,200 ft. on the North Rim. That's high enough that you'll notice the lack of oxygen, especially when coming from sea level.
Time of year
Spring and fall are the best times to attempt to the Grand Canyon R2R2R. The inner canyon gets quite hot (over 100 F) in summer. Deep snow can be an issue in winter, especially on the higher North Rim.

Travel and planning info
I've written a detailed guide to the Grand Canyon R2R2R over at my blog. It covers where to stay, what gear to take, and how to handle important logistics such as water on trail.
Now that you have some context, back to the story.
9 hours before the R2R2R
I arrive at my hotel room to find my friend Jay, who hiked the R2R2R last year, painting the entire sole of his foot with New-Skin. Jay is an accomplished hiker and mountaineer, and he insists that it's the best way to prevent blisters.
Jay's new-ish girlfriend will be hiking the R2R2R for the first time with us. She looks on, wondering if she should also paint on some New-Skin. Jay and Jess are both super healthy types who eat clean and wear all-natural deodorant. The New-Skin smells toxic, like a mix of turpentine and battery acid. But finally Jess reaches for it.
While Jess rubberizes her feet, Jay helps me repack my bloated Camelbak backpack. He's convinced I've brought too much gear and not nearly enough food. With an engineer's precision, he explains that he will be carrying 21 items of food (bars, goos, etc.). He talks me into carrying 15 items, plus the leftover half of the Subway sandwich I purchased hours ago in Tuba City.
I end up with a pack that is light, but perhaps a bit shaky on the 10 essentials of survival gear.
7 hours before
Jay, Jess and I take a stroll along the South Rim to stretch our legs. It's a beautiful, clear day, and the rim is swarming with tourists and shutterbugs.
Crazy statistic:
Of the 6 million people who visit the Grand Canyon each year, only 1 percent will actually descend below the rim. So despite my anxiety, I feel a little bit smug watching the crowd mill about in flip-flops.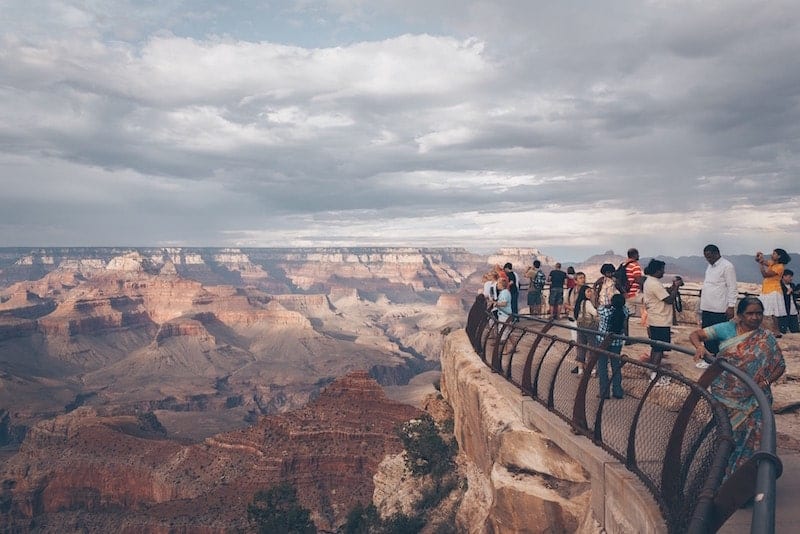 We stop in the gift shop book, where we're greeted by a book display. The book is called Death in the Grand Canyon. I try not to take this as a bad omen. I leaf through a book and am relieved to learn that plane crashes are the number one cause of death in the canyon. Avoiding crashing planes from above seems doable.
6 hours before
Our group of friends (mostly connected through Bill and Sherri) gather in the Bright Angel Lodge restaurant for out "last supper." This will be Bill's fifteenth R2R2R hike, which gives me hope. The fact that he keeps coming back suggests this might be more fun than getting a colonoscopy without sedation.
By the time the waitress comes around my nerves have gotten the best of me. Although no one else is drinking, I order a glass of wine. As soon as I do, Jess immediately asks for one too, and Bill orders a beer. If one of them falls 300 feet from the South Kaibab Trail in a few hours, I will have only myself to blame.
5 hours before
Back at the hotel room, I sleep for a few hours and dream about being trapped on I-70 on a high mountain pass in the snow storm. Maybe I'm already dying of heat stroke at the bottom of the canyon, and this is my brain's last gasp.
Hiking the Grand Canyon rim to rim: And so it begins…

Hour 0
Miles:0
Time: 0000
Temperature: 32 F
Status: Peeing my pants

Bill and Sherri pick us up at midnight and drive us to the trailhead. It's below freezing, and we are all wearing gloves, hats, and puffy jackets. I can actually see my breath on the air.
We meet the rest of the gang and start descending the South Kaibab Trail. Within 10 minutes we come to a picture of someone vomiting. I try not to take this as a bad omen.
The South Kaibab Trail is steep, serpentine, and super spooky in the dark. Every once in awhile, I look out into the blackness beside the trail and feel vast space yawning beside me.
I soon realize that the trail is very dusty — and that the dust is composed of 99 percent pulverized mule poop. I curse myself for forgetting my buff in the hotel room.
Hour 3
Distance: 7.4 miles
Time: 0300
Temperature: 55 F
Status: Groggy

We pause to refill our hydration bladders at the Ranger Station next to Phantom Ranch Ranger Station and canteen. Weirdly, we can smell someone cooking pancakes inside.
Bill tells us that on the way back (a time which seems unimaginably distant right now), we can buy lemonade from the Phantom Ranch canteen. It's a thought that will dog me for the next 16 hours.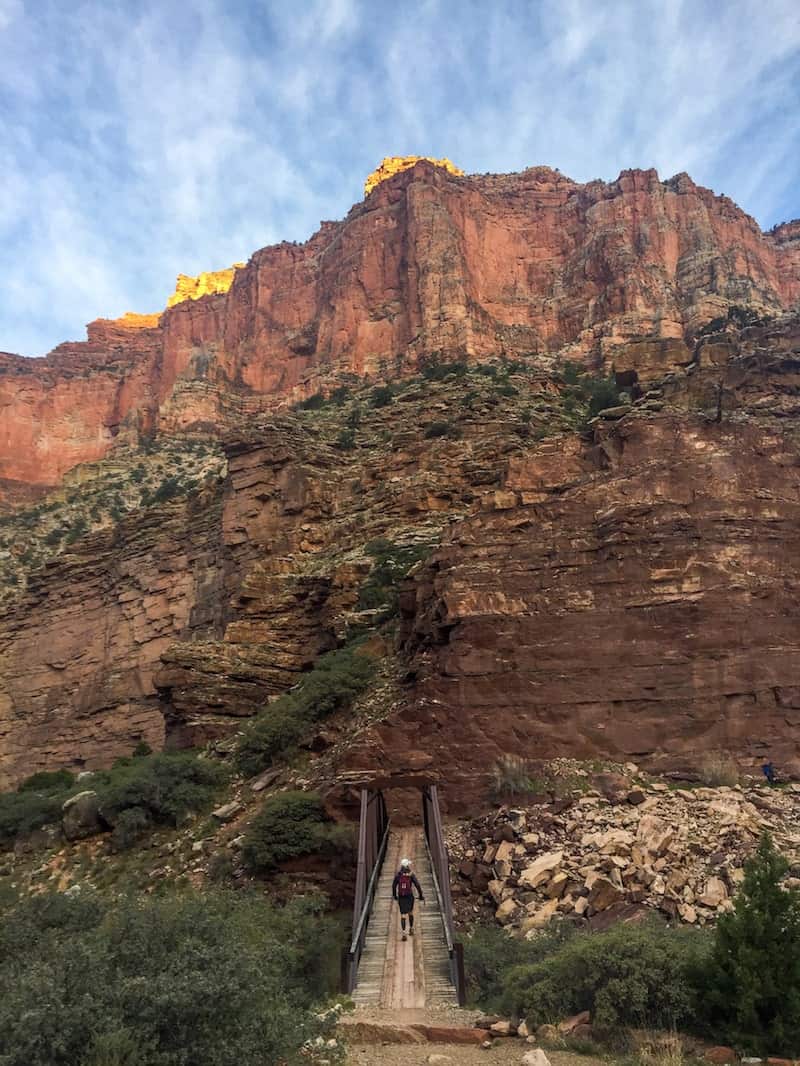 Hour 6
Distance: 13.0 miles
Time: 0600
Temperature: 59 F
Status: Worried

Just after emerging from a box canyon, we are startled to run into our friends George and Jenna (who left a few hours earlier than we did) sitting beside the trail in the dark. They tell us there's an impassable stream crossing up ahead. The water is raging, roaring, and spilling down a waterfall. They've decided to turn back.
Nervous, we keep going. Just before we reach the swollen stream, we almost trip over a hiker who's lying on the trail in a sleeping bag. He tells us the roaring stream freaked him out too. He's waiting for sunrise so he can get a better look at the crossing.
They're not kidding. We can hear the water crashing down the waterfall long before we see it. For a moment, we stand beside the swollen stream, wondering if this is the end of our R2R2R hopes.
Bill assures everyone that it's no big deal, and that in a normal year, you can hop across this silly stream. Famous last words, I think, gazing at the waterfall. But when he splashes across, the raging white water is no deeper than his ankles.
I hope like hell that this will be a metaphor for the rest of the hike.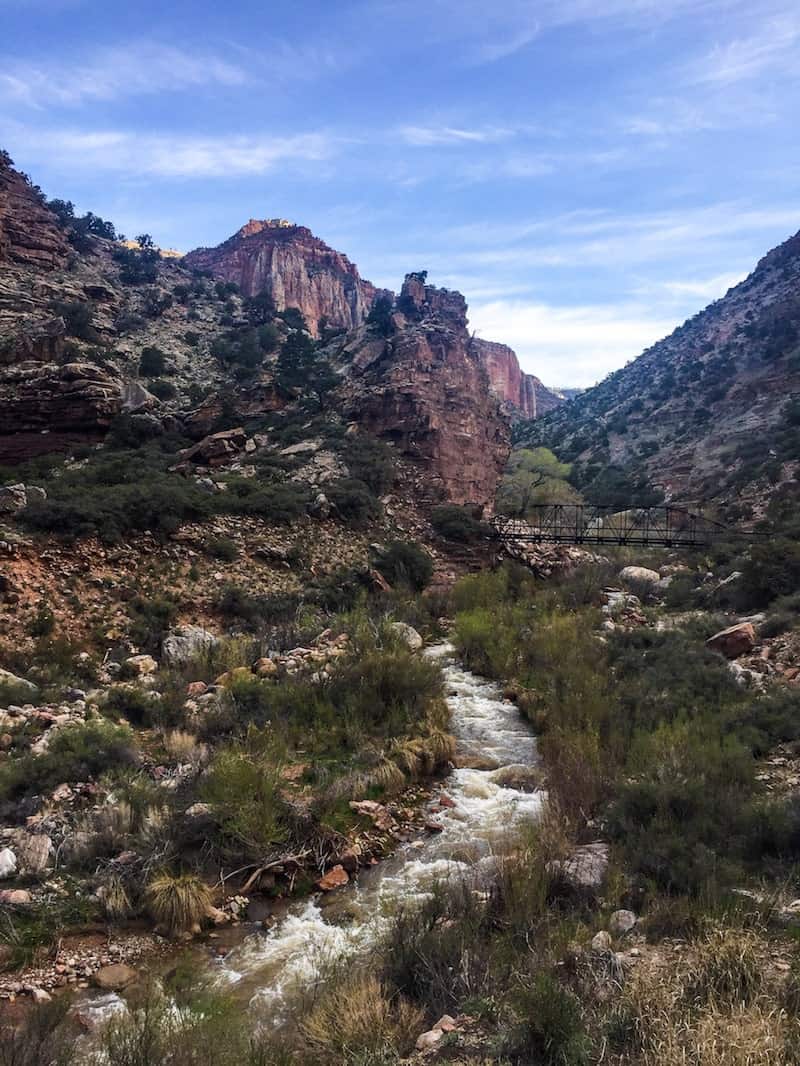 Hour 6.5
Distance: 14.2 miles
Time: 0700
Temperature: 62 F
Status: Mind-blown

After seven hours of hiking in darkness, we watch the sunrise at Cottonwood Campground. Suddenly, magically, the darkness flees, and we're transported into the heart of the Grand Canyon. The colorful bands of rock soar incredibly high above representing millions of years on earth. Sherri points out the Vishnu Schist and the Bright Angel Shale like they're old friends.
A camper kills the mood by warning us that there is 4 feet of snow on the South Rim. But being from Colorado, we quickly shake him off. We all know that tourists love drama. They're constantly "almost" being charged by moose that are a mile away — and also actually deer.
Hour 8
Distance: 17 miles
Time: 0900
Temperature: 58 F
Status: Dying (possibly)

I bite my lip and begin picking my way across an exposed section of the North Kaibab Trail that crosses beneath a waterfall. The sun hasn't hit this wall yet, and the path is a solid sheet of ice. A small slip to the left will send me plummeting hundreds of feet down the canyon wall like Wile E. Coyote. I resist the urge to get down on my hands and knees.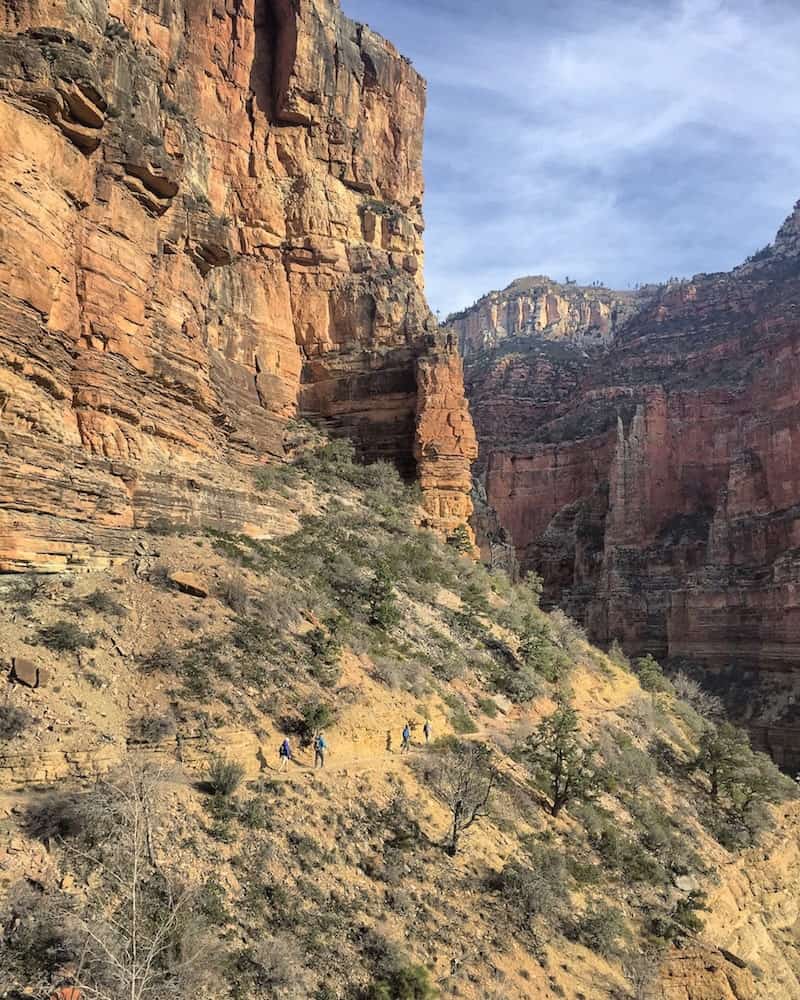 Hour 10
Distance: 21 miles
Time: 1000
Temperature: 44 F
Status: On top of the f*cking world

From the Supai Tunnel (located 1.7 miles from the North Rim), the trail becomes a snow slog. The further we climb, the more we slip and posthole. Our pace slows to a crawl.
To pass the time, we talk about how the folks back home just don't understand us. I tell a story about a team building event at my work. Everyone was supposed to share pictures from 4th of July weekend so we could get to know each other better.
I had climbed Mt. Olympus. No one was impressed. My coworker brought in a picture of her cat named Starfish. The crowd went wild.
And then suddenly we're on top of the North Rim of the Grand Canyon — plus four feet of snow. I've been walking so long at this point that arriving almost feels like a shock. Everyone is so elated to stop walking uphill, you'd have thought we were done, not merely halfway.
We slip and slide over to the trailhead sign — the only surface in sight not covered by snow — for an all-too-short rest and celebration break.
Hour 12
Distance: 26.4 miles
Time: 1200
Temperature: 79 F
Status: Frisky

After descending the dicey part of the North Kaibab Trail, I stop at the Manzanita Day Use Area to refill my water bladder and eat my Subway sandwich. My soggy veggie sub tastes so good it blows my mind. The last meal of the condemned couldn't beat it.
I silently thank Jay for urging me to pack more food. Of my 15 "items," I've already eaten 10. But of course, I'll be able to drink some cold lemonade in just a few hours …
Hour 14
Distance: 29.4 miles
Time: 1400
Temperature: 84 F
Status: Roasting to death

Although it's objectively not that hot, I feel like I'm walking in an oven. Something about this canyon concentrates and magnifies heat. Fatigue starts to set in. My trail runners are suddenly filled with lead. I have no f*cking idea how people run across this thing in the summer.
When I come to the stream crossing, I resist the urge to lay down and roll in the water. The thought of lemonade, just a few miles ahead at Phantom Ranch, keeps me moving.
Hour 16
Distance: 34.6 miles
Time: 1610
Temperature: 75 F
Status: Stiff and pissed off

We arrive at Phantom Ranch 10 minutes after the canteen closes for the day. There will be no lemonade for us.
A man is sitting at a picnic table with a couple paper cups of yellow liquid. When he waves us over, my mouth immediately waters.
"Hey are you Becky and Brian?" he asks. "This if for Becky's group."
I resist the urge to hurt him with a stick.
By now, I've lost track of all time and mileage. Without considering the implications, I sit down on a rock to eat some goldfish crackers. When I go to get up, nothing happens. My muscles have frozen in place.
Eventually, I somehow get to my feet and lurch around the yard. My gait is like a zombie with sciatica. And there are still 4 hours and 4,500 ft. of elevation gain left to go.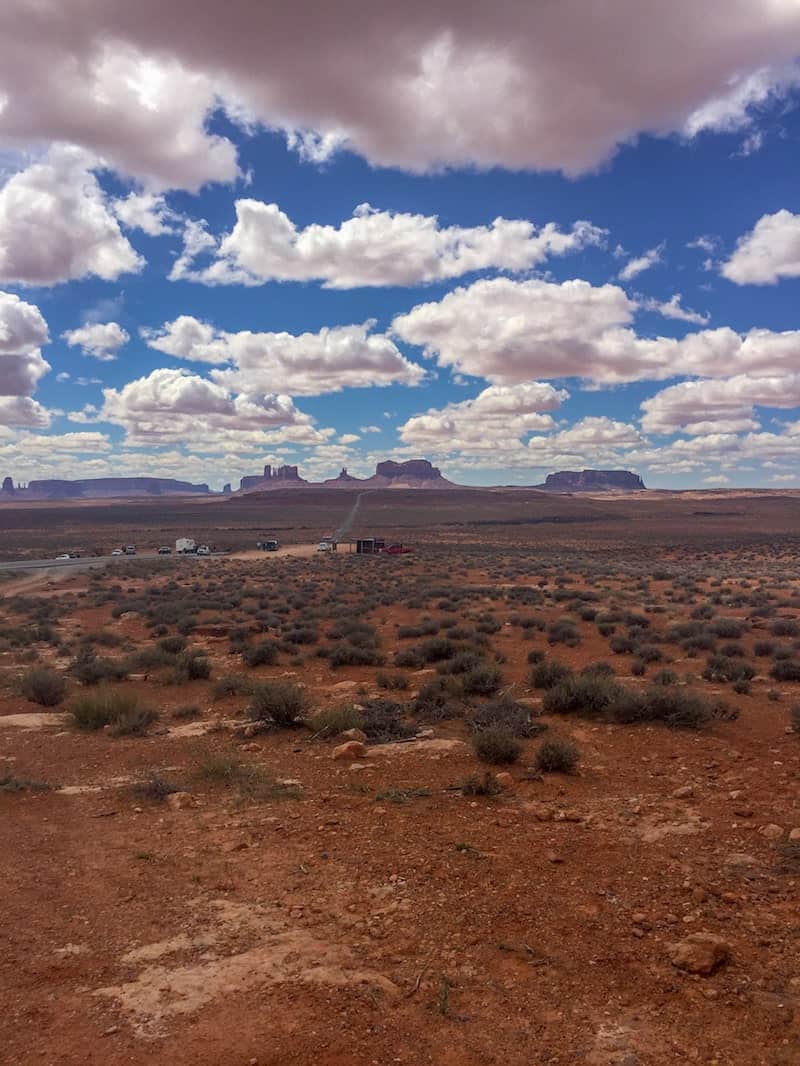 Hour 18
Distance: 37 miles
Time: 1830
Temperature: 61 F
Status: Somewhere between awestruck and delirious

We begin our (slow) ascent back up the South Kaibab Trail. About halfway up to the rim, we are treated to a truly amazing sunset. The hoodoos and pinnacles around us turn fiery red. Through my semi-delirium, they look close enough to touch.
It's possibly the most beautiful thing I've ever seen. But I'm so tired, I don't even reach for my camera. Maybe it's all for the better. For once, I just sit, enjoy the moment, and do my best to remember.
Hour 20
Distance: 42 miles
Time: 2000
Temperature: 42 F
Status: Holy balls

Darkness falls. We continue our endless shuffle, passing signs for Ooh Ahh Point and the vomiting guy. The plops of mule poop become fresher and more voluminous. And suddenly we're on top of the South Rim again beside the South Kaibab Trailhead sign.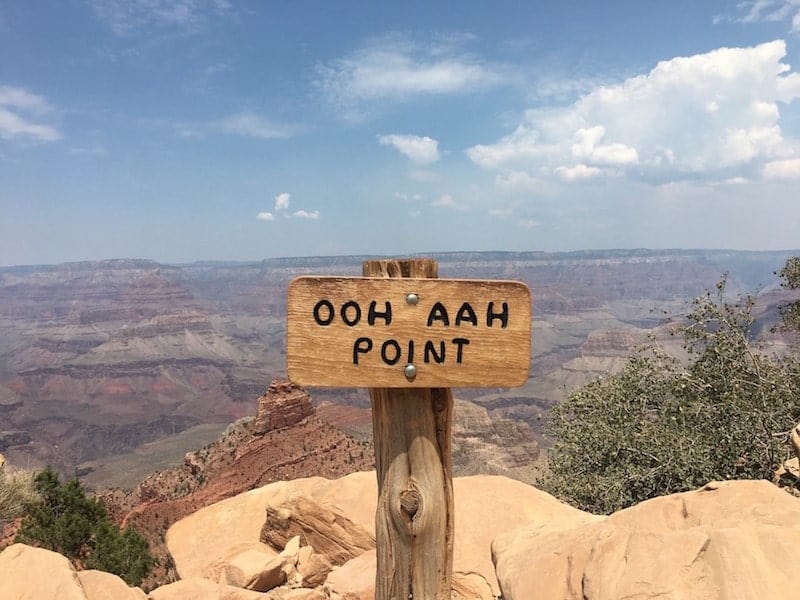 In that instant, the grogginess and delirium fall away, and there's a moment of pure bliss and delight. We all start laughing and cheering. It's hard to tell in the dark, but I bet a few of us cry a little, too. At least I do.
I have just walked 42 miles relying mostly on the power of my mind. It makes me wonder what else I can half-ass in life and get away with.
And maybe it's time to stop being so hard on my body. Who cares that it gained weight? If it can walk across the Grand Canyon and back, it must be doing OK.
1 hour after
I'm lying wide awake in the hotel room. For maybe the second time ever, I'm literally too tired to sleep. My nerve endings are jangling in the dark when Jay and Jess walk through the door.
I ask Jess how it was.
"That was …" she says. But she doesn't finish the sentence. Which about sums it the R2R2R perfectly. Because how do you explain such an experience? All you can really say about that hike is …
It was.

Got a question about hiking the Grand Canyon rim to rim to rim? Hit Sarah up on Instagram, in her Mountaineers and Backpackers in Training Facebook Group, or in a comment down below.