Stability Through Uncertainty
Not every ride will be on groomers. Even if they were, that freshly paved road would eventually get carved to bits by other riders. The point is, that much like in life, the sun can't shine every day. Eventually, you'll come across that bad patch of snow.
How do you get through it? Well, you've got two choices. Use any of the hundreds of mountain boards on the market or get a real world-class option. A directional twin board that was made with an effective edge for fantastic turn initiation.
An all-mountain board that you can ride, carve and glide through the mountain as you see fit. The Jones Mountain Twin is here with a keen focus on riding excellence and accessibility.
Although it's not a snowboard for beginners, any strong intermediate rider and above will be able to get the most out of this one.
Why is it so good? Allow me to tell you all about it.

Jones Mountain Twin
The price of "Jones Mountain Twin" varies, so check the latest price at
Our Jones Mountain Twin Review in Charts: Specs and Sizing
In a rush? Don't quite have the time to read through a whole review before your break is over? Maybe you just want to drunkenly purchase your freestyle board before you sober up. It's okay, we've all been there.
Below we've got for you a general specifications chart. Telling you what you need to know in as few words as possible.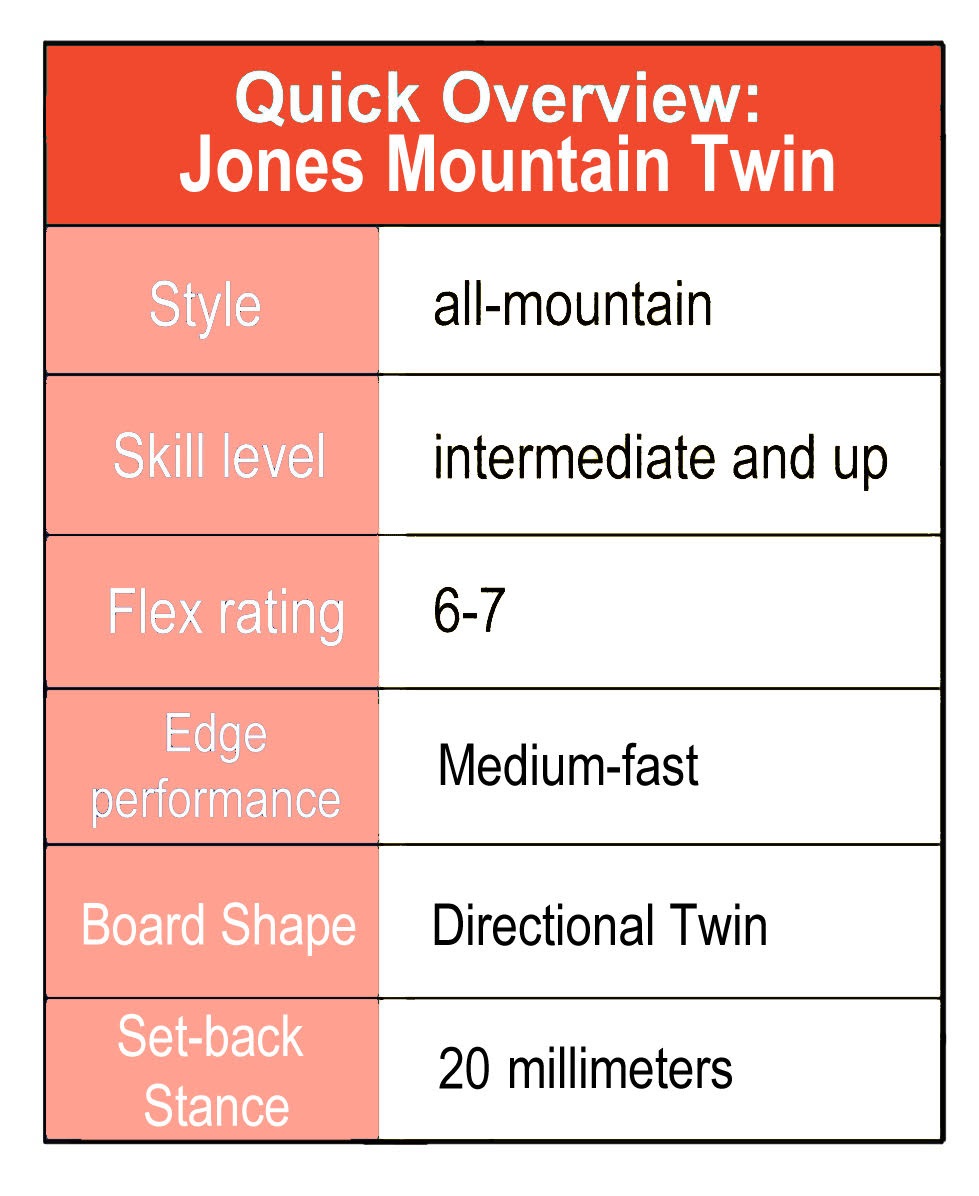 Now it's time for the sizes. How can you panic buy any board (or anything for that matter) if you don't know what sizes it's available in?
This is why we've put together this nifty chart that'll show you the sizes available as well as your recommended weight for each one.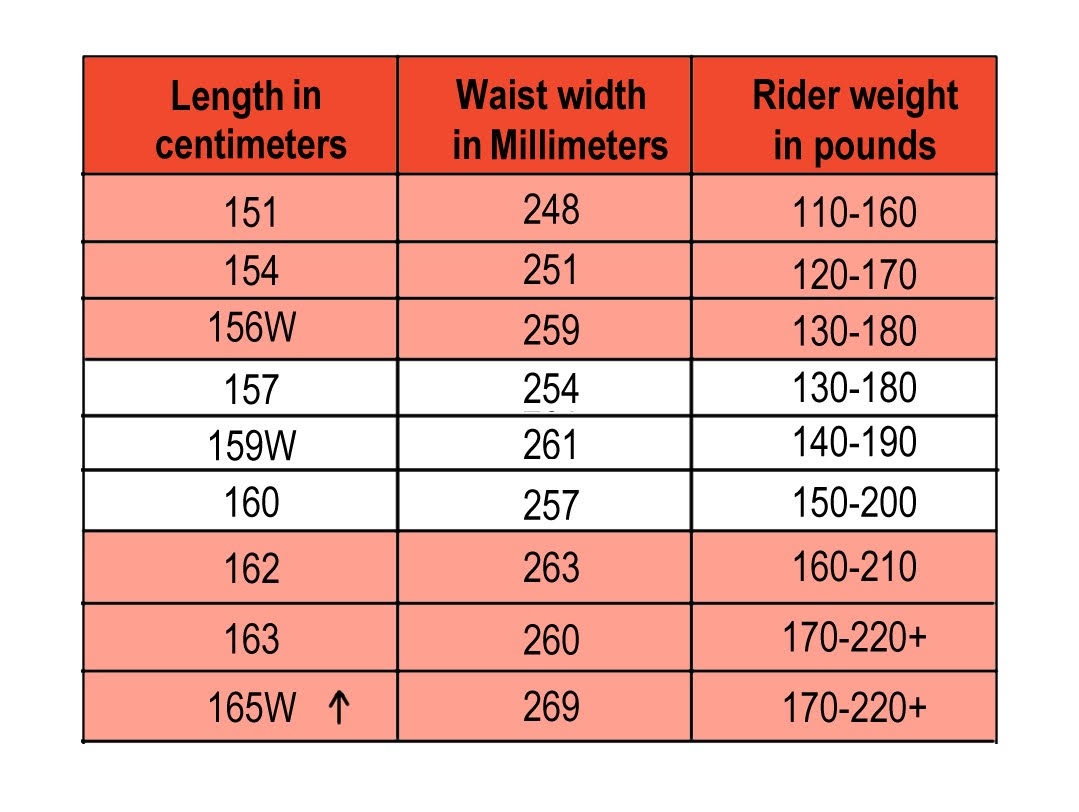 What Kind of Rider Benefits from the Mountain Twin?
The Jones Mountain twin snowboard forgoes the common design philosophy that often plagues a top all-mountain snowboard like the Burton Custom. It focuses on being a fun board instead of attempting to be elite at any one thing.
As a result, I would say that the Mountain Twin is the one board for those that want a stable ride anywhere on the mountain. The camber profile has a good pop to it. Any intermediate rider will be able to get a great performance out of it.
From the medium-stiff flex to the camber underfoot. This board is littered with design choices that optimize the quality of the ride. It's an all-around board but a great one. Delivering a solid performance across the board is what they are made for.
If you are interested in an excellent board that'll give you a good glide, even when riding on uneven terrain, then get the Mountain twin. There aren't many options that are better.
Jones Mountain Twin: Down to Its Roots
Let the tear-down commence! We are going to rip apart the Jones Mountain Twin. Giving you an overview of what's in the board and how that affects its performance. We want to really let you know what you can expect in all aspects of snowboarding.

From the materials used to construct the board to its flex and so on. Again, this isn't a board for beginners. However, anyone with an ability level higher than that will do just fine.
The Mtn Twin is a fantastic all-around board that all riders should have in their arsenal. that's not an exaggeration. It rides pow well enough and has great verticality. It's a versatile powder snowboard that specializes in being a great jack-of-all-trades.
What's It Made Of?
A sintered 8000 base. When your board has this level of quality packed into its base, then you can fully expect to fly across that sweet top layer of snow. The base has 3D contours that are designed to make your day at the terrain park a smooth one.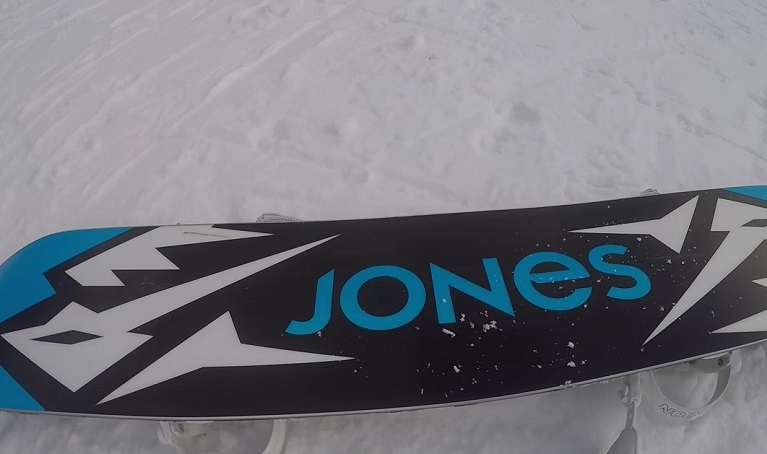 These contours also improve your turning because the drag of the board's tips has been reduced. This design feature was inspired by the shape of a surfboard's nose.
Just as the pointed nose of a surfboard allows for smooth turn initiation, the Mountain Twin has 3D contour bases that let your edge transition into a carve or turn.
On top of that, a new core and more pop make it a bit easier to justify any price increase.
All this innovation didn't get in the way of eco-friendly practices. The mold of the board itself was made with Super Sap Bio-Resin (an eco-friendly glue made from recycled materials).
How Does It Handle Different Conditions?
We all crave fresh pow but for those living in colder, northern regions, what you get is ice. Life's all about managing expectations, I suppose. But just because you can't control the weather doesn't mean that your board can't assist you in some way.
The Mountain Twin has got the quality edge hold required to give you stability when you need it most. It's responsive and precise when riding (or should I say skating) through icy conditions.
What about that long sought-after powder? Is the Mountain Twin good enough to get the most out of your dreamland terrain? Its float when riding on powder is serviceable. It's by no means the worst that I've ever had, but it's not near the best.
For everything else, it's a satisfying experience all around.
Flex: To Bend or Not to Bend?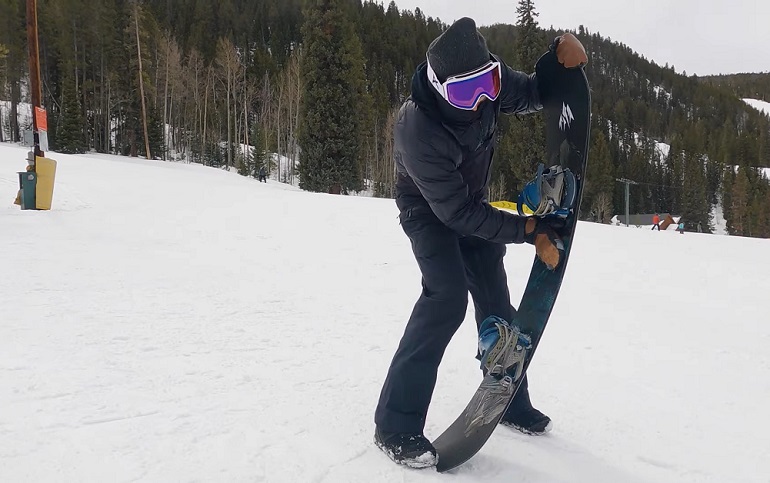 The flex of a board determines how the board feels as it rides. Freestyle snowboard riders prefer softer flex boards because these boards allow for increased maneuverability. Which is kind of necessary when you are looking to spin and press your way down the slopes.
Freeriders prefer a stiffer flex rating because these are the boards that are made for aggressive riding. Where does the Mountain Twin lie on the spectrum?
The flex pattern for the Mountain Twin lies smack dab in the middle of these two extremes. It's got a flex rating of seven (medium stiff). The flex is also consistent, which makes it easier to hold butters.
This consistency also benefits the feel of your turns. It's actually my new preferred flex rating. The Mountain Twin provides you with a consistent experience while still allowing you to experiment as you ride.
Stance: What Fits and How Well?
The stance has a setback of 20mm. Often when a board has a setback stance, it affects the quality of the riding switch. An issue that is only exacerbated due to the directional shape of said boards.
Here's where you may be surprised to find out that the riding switch on this all-mountain board is actually pretty good. Especially with a centered stance. Other boards have a directional shape, which isn't optimal if you want to ride switch.
The Mountain Twin has a directional twin shape which means that both ends of the board are near identical. You'll get a great switch ride out of this one. As for the width of the stance, the Mountain Twin has a stance width of 560mm.
Performance on Powder Days
Awww, fresh pow! Feels good, sounds good, and even looks good. On those fortunate days when you can get the good stuff, you are going to want a board that'll take full advantage of it. So, how does our board hold up?
It's not bad, but the float on powder isn't exactly better than any other board. The same can be said for its powder performance overall. There has been some improvement over previous models, but this has been marginal at best.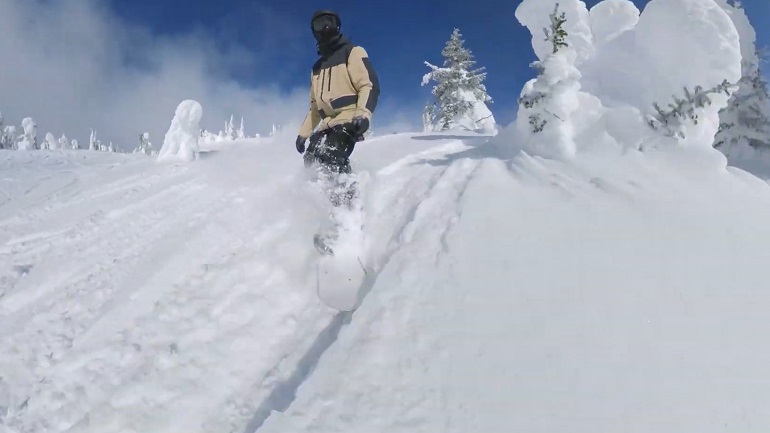 Still, the carving skis and pop of the camber profile make it a more than enjoyable ride. You won't get a bad time on powder, but you won't be impressed, either. But this is a limitation that can be found on many all-mountain snowboards. Nothing exclusive to the Twin.
Handling at Varying Speeds
This is where this board excels. You can ride fast on the choppiest terrain and with minimal chatter. Sounds like a dream but before you speed away, you should know something.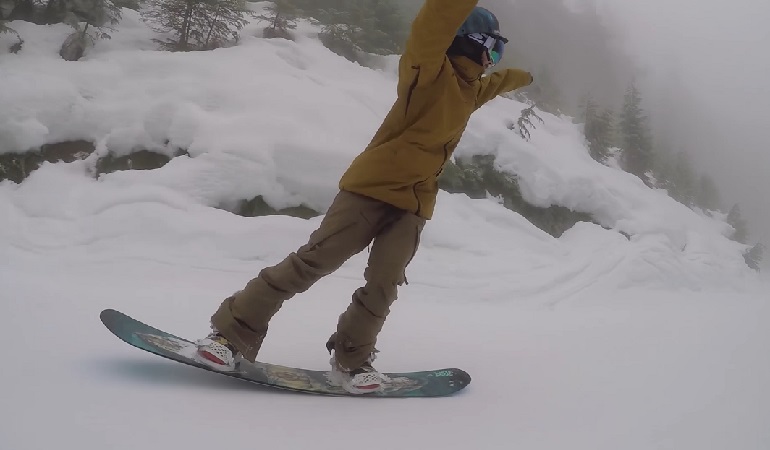 The Jones Mountain Twin wasn't made for speeding. This ain't your freeride "bomb down toward the summit" kind of board. A stable ride was the goal here, and a stable ride you will get, rest assured.
The slower you go, the more stable and easy it is to maneuver this board. Which is a great thing to hear for riders with less experience. After all, this is how you become a better rider, by having the gear that creates the right environment for you.
And it doesn't get better than a stable ride anywhere you go.
Pop and Jumping
Pop? You got it! This board is easy to get into the air. The pop is decent, and the jumps are great. You can take jumps of varying levels and still experience a comfortable landing every time.
The standout here is that while you won't get the biggest pop (you know, that pop that other quality boards can give you.), it is much easier to make use of it. This ease of access makes the board great for side hits.
Thanks to the twin shape of the board, you can leap into the air and expect a safe landing no matter how you choose to go about the task. Unless you land on your backside like yours truly!
I really enjoyed how easy it was to get some air.
How Well Does It Carve?
Nothing beats a mad carve to maintain your speed as you weave your way down the slopes. You'll be pleased to hear that you've got a decent carving board here. But much like its pop, it's not the best snowboard for carving. It'll do, and it'll do well.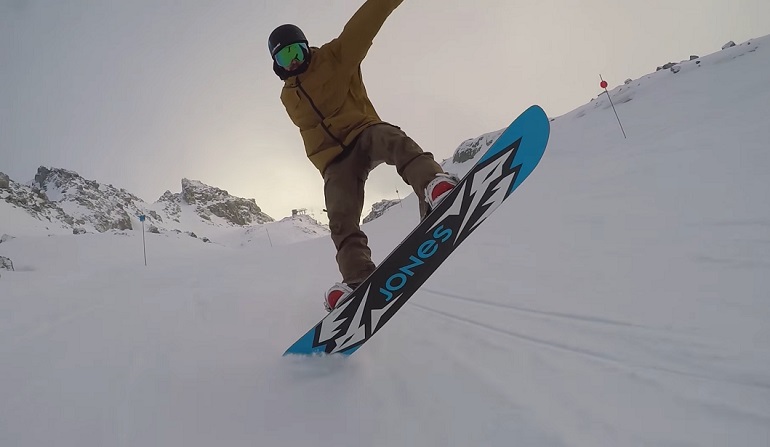 The Mountain Twin does have a quick edge, more effective than previous models. The edge hold overall is good, but don't expect it to over-perform in more icy conditions. When it comes to speed, edge-to-edge, the transitions lag a bit. This is a wider board, so that is to be expected.
The carving gets better the deeper you are into the turn. You may experience some chatter as you begin your transition, but it quickly dissipates.
Jibbing the Boxes, Rails, Etc
Jibbing with this board is about as solid as its jumps. Solid, but nothing more than that. If snowboard jibbing is a big part of your style then you should take this into consideration. It's a very middle-of-the-road score for jibbing. Perhaps the Ultra Mountain Twin is more your speed?
Butterability, How Much Effort Is Required?
It's buttery, more so than previous models of the same board. In fact, thanks to the stability of the board (at any speed), you'll find that it's easy to butter. Holding the butter for prolonged periods of time is also easier. All thanks to the consistent flex.
Long story short, the butterability of this board is pretty great. Definitely a plus!

Jones Mountain Twin
The price of "Jones Mountain Twin" varies, so check the latest price at
My Final Thoughts
I said earlier that the Jones Mountain Twin doesn't specialize in anything, instead, it prefers to be a versatile board. However, this isn't the complete story. The Jones MT Twin is a master at one thing, and that's at being consistent.
Thanks to its directional twin shape, it didn't matter what riding style I brought to the table. I always felt as if I was able to ride to the best of my abilities.
While some boards are unable to deliver a satisfying experience when riding switch. The Jones Mountain Twin delivers, and not even the most uneven terrain can change that. You need this board, I was completely won over by its stability and maneuverability.
There are other great boards like Capita Mercury, but none like this one!