Special thanks to Theo from Palaka Dive Centre for contributing his local knowledge and expertise for this article.
Siargao Island isn't nearly as well known for its diving as its other watersports — surfing, kitesurfing and cable wakeboarding for example. Nevertheless, there are a couple of dive schools operating on the island offering visitors the chance to discover the depths of Siargao's crystal clear waters, swim amongst a myriad of coral and stone formations, and get up close with tropical marine life.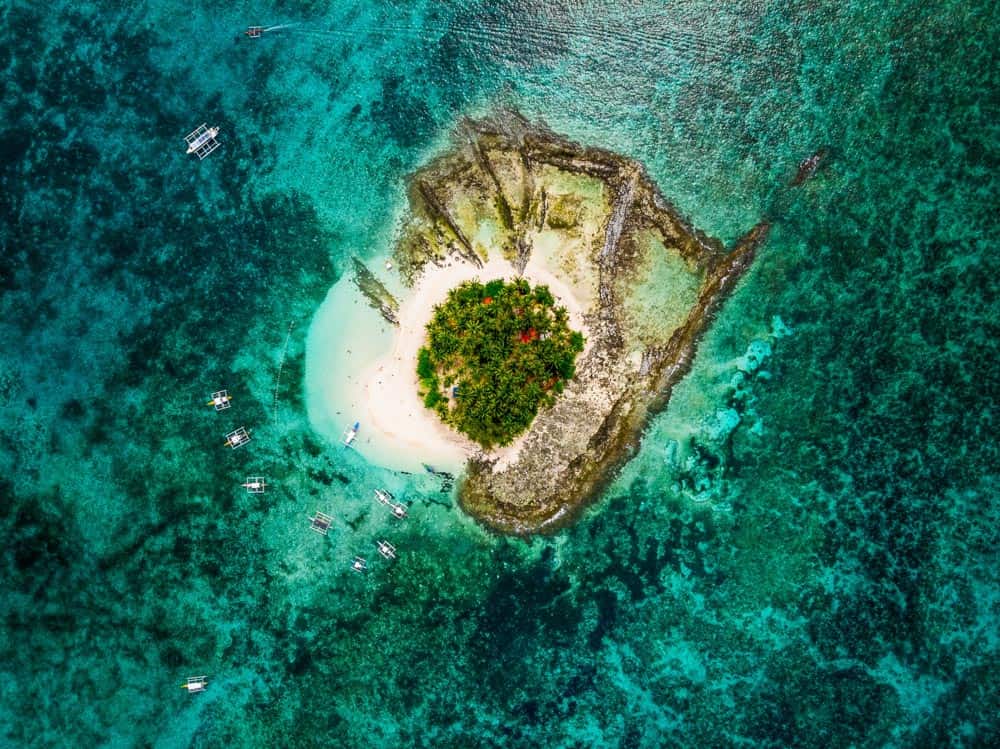 For those of you headed to the island and hoping to spend some time exploring underwater, this guide will give you a rundown of just what you can expect from the Siargao diving scene.
Pssst: head over to our Siargao travel guide for practical tips on accommodation, transport, eating out, internet, and more!
Siargao diving conditions – what to expect
Uncrowded dive spots
28-30 degree water temperatures year round
Clear water with good visibility (especially during the dry season)
Beginner friendly dive sites with no current
More advanced dive sites up to 40 meters
Best season for diving Siargao Island
It's possible to go diving in Siargao all year round, though the dry season (April-October) is somewhat better in terms of visibility. There tends to be more sediment in the water during the wet season, and the lower levels of sunlight during those months also contributes to a darker, murkier water colour.
The marine life doesn't vary majorly between the two seasons, though the excess water movement in the wet season would- if anything- mean more marine life.
Best locations for diving in Siargao
There are 4 main diving locations around Siargao, and since the local dive school, Palaka Siargao Dive Center, take their customers to all of them, you'll have the chance to experience a mix of underwater worlds:
Blue Cathedral
Located just off the coast from Cloud 9, Blue Cathedral is arguably the most famous dive location in Siargao. The site sits just a stone's throw from one of Siargao's tiny outlying islets, Rock Island, and is reachable by boat from General Luna in less than half an hour.
With an average depth of 35 meters, diving at Blue Cathedral means exploring underwater tunnels, arches, reef, and coming face to face with tons of tropical fish like jackfish, emperors, and barracuda.
Blue Cathedral is also one of the island's most challenging dive sites. With open Pacific waters and a tricky rock entry, diving at Blue Cathedral is best suited to those with previous diving experience (Palaka will insist on you doing a 'check' dive elsewhere before they'll take you diving at Blue Cathedral).
Marine Sanctuary Lagoon
Located between Siargao proper and its three outlying islands (Guyam, Daku, and Naked Island), this shallow water dive spot is bursting with beautiful coral and colourful reef fish. You'll see anemone, brain, cabbage, and staghorn- to name just a few. There's even a resident pink frogfish that the Palaka divers have come to know quite well now.
Since the area is relatively small and all of the highlights are bunched close together (combined with the easy-going 12 meter depth), the lagoon is one of the more beginner friendly diving locations around Siargao.
Dona Dolores, JDK, and Daku Hills
These Pacific facing dive sites are well worth noting, since they all enjoy pretty good visibility year round (the open Pacific waters are less affected by the seasonal changes in visibility). While there is some nice coral and Pacific greens scattered around the site, the real highlight are the fish: red-tooth trigger, snapper, fusiliers, tuna, and jackfish.
Daku Rocks, Pansukyan, Don Papa
A challenging and diverse reef dive, this reef actually acts as the main barrier between the Pacific Ocean and the inner lagoon. You'll find canyons, swim-throughs, and a solid mix of coral and macro. You're likely to see scorpionfish, scorpion leaf fish, pipefish, crocodile fish, ribbon eels, and tons of different kinds of nudicranches.
Siargao diving tips for beginners
The local dive school, Palaka Siargao, is certified to instruct beginners and to certify all new divers with PADI certificates. Your dive instructor will provide you with all necessary training and safety equipment, such as a snorkel mask and other stuff, to get you safely and comfortably out under the water.
Dive Centers in Siargao
This French run dive center is located in General Luna and offers diving tours along the coast and offshore islands of Siargao. On top of the dive sites listed above, they also offer tours to Dapa Channel, Casulian Island, Anahawan, and Mam-On Island. They offer PADI and AIDA (freediving) certifications.
Siargao Divers Club
Also located in General Luna, they offer diving experiences around the island as well as their own accommodation.