A big thank you to the contributors on our Siargao Island series: Kathrin Borgwardt, Hendrik Van de Perre, Tom Soupart, and William Bourget.
Siargao kitesurfing in all about its flat water lagoon, world class waves, and gentle breeze.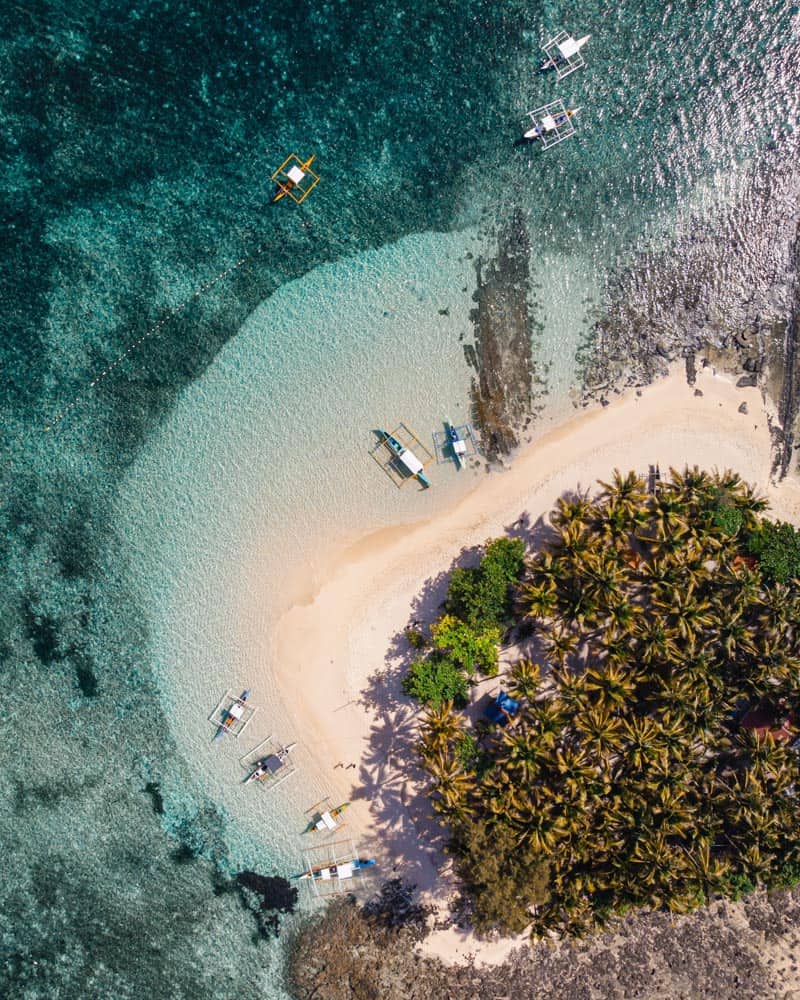 "Siargao is a waterman's paradise" says Hendrik Van de Perre enthusiastically, "and waterwoman's". Hendrik, a long time resident of the island, and even longer-time travelling kitesurfer, doesn't miss a beat.
Lucky for us, he generously offered to share his local knowledge for the purpose of this article. Here's what we've gleaned from him:
Famed for its barrelling surf, Siargao often gets overlooked as a kitesurfing destination in favour of its blustery neighbours like Boracay, Palawan, and Kingfisher. But the island is home to some pretty decent kitesurfing itself — as long as you understand the 'whens, wheres, and how muches' of it all.
In this guide, we'll share exactly what you need to know about Siargao's kitesurfing potential, including when the season is, how strong/reliable the wind is, where the best spots are, and more.
If you're in need of some practical advice about travelling to Siargao Island, head over to our Siargao travel guide to get details on accommodation, transport, internet access, food, and more.
Let's look in detail at what you can expect when kiteboarding in Siargao:
Siargao kitesurfing season
Like many locations in Southeast Asia, the main Siargao kitesurfing season runs from November until the end of March, peaking between December and February when the northeast monsoon is at its strongest and most consistent.
This is locally known as the amihan season.
Since this is also Siargao's rainy season, squalls are known to blow in and kill the wind — so you have to be ready to take advantage of the conditions when they're there.
June-September is known as the habagat season. This is typhoon season for most of Asia, meaning storms as far as Japan are accelerating the wind and funnelling it down through the Surigao strait (between Mindanao Island and Cebu/Bohol) right to Siargao. This creates a Venturi effect, and sends some lovely westerly wind blowing onto a select few of Siargao's kitesurfing spots.
Siargao kitesurfing conditions
Wind
You can expect 12-20 knots of cross-onshore wind during the amihan season for kitesurfing in Siargao. It doesn't always blow like that everyday though, which can be frustrating for those that choose to visit the island purely for kitesurfing (unless you're really into foiling, in which case you'll have beautiful conditions on a daily basis).
Since the habagat wind season is storm based, you'll occasionally have a sequence of 4-5 windy days in a row where the wind blows strong (up to 25-30 knots). Aside from these storm fronts, the habagat season mainly brings a few months worth of 6-10 knot days which are ideal for foiling.
Check out the wind forecast for Siargao on windfinder.
Water & beach
Though Siargao is most famous for its barrelling waves, you can also get your flat water fix on the protected shallow lagoon.
Siargao is lined with white sand beaches, and the main kitesurfing beach is no different. At low tide, the beach is wide enough to comfortably launch and land your kite on, but during high tide the sandy area all but disappears. Luckily, there's a grassy area behind the beach which serves as a good set-up site when the tide's high.
Temperature
Siargao's tropical climate promises warm weather throughout the year. The average air temperature during the peak kitesurfing season in Siargao is 27 degrees Celsius, meanwhile, sea temperatures rarely go lower than 28 degrees or higher than 30. You won't need a wetsuit when kitesurfing in Siargao.
Best Siargao kitesurfing spots
General Luna Lagoon
Widely considered to be the main kitesurfing spot in Siargao, the General Luna Lagoon is easterly facing, and therefore perfectly positioned to receive cross-onshore winds during the high season.
The lagoon is protected by an outer reef, so the water inside the reef is shallow and flat (apart from some small wind chop). Outside the reef, you can ride waves. The beach is sandy, as is the seabed leading into the lagoon. Watch out at high tide though; the beach area becomes very small, so you'll need to set up on the grassy area behind.
Thanks to the shallow depth and flat water, General Luna is easily the best place for beginners to learn kitesurfing in Siargao.
North Catangnan
Just a 10 minute drive up the road from the main kitesurfing spot, General Luna, the North Catangnan area works best when the wind blows in excess of 15 knots.
Here, the northerly facing beach in front of Ocean 101 Beach Resort is the best kiteboarding spot, and gives you easy access to the monster waves at Cloud 9 if you're looking to challenge yourself on a surfboard.
Pilar
Home of the renowned Magpupungko Rock Pools, Pilar is a 45 minute drive from General Luna by scooter- and the smooth drive through the dense groves of palm trees is worth the journey in itself.
Pilar is located on the east of the island, and during the high season its remote beaches receive pretty clean cross-onshore wind. Head here for a change of scene from General Luna.
Daku Island
Kitesurfing at Daku Island offers an uncrowded, remote alternative to the busier lagoon at General Luna. Best done as part of a downwinder from the main lagoon, you'll ride along the palm fringed coastline towards Daku, where the clear waters, powdered sugar beach, and surrounding sandbars make a fun, dynamic backdrop for your session.
Tips for beginners kitesurfing in Siargao
The General Luna Lagoon is the best spot for beginners to learn how to kitesurf in Siargao, thanks to its shallow water and relatively consistent wind.
Beginners should avoid kitesurfing in the mega big waves in North Catangnan, and should only consider taking part in downwinders once they have the right level of experience.
If you're looking to take kitesurfing lessons in Siargao, make sure you book with a qualified IKO instructor.
Clubs, schools & where to stay when kitesurfing in Siargao
The clubs and schools most frequently recommended by the Extreme Nomads community are Viento del Mar, Seabreeze Kiteboarding, Bravo Siargao, and SurfKiteSchool.
Pssst: Because we personally haven't had the chance to visit these schools yet (and FYI we would LOVE to!) we'd love to hear from any of you who HAVE been in the comments below).
Staying in the vicinity of General Luna offers the best access to waves, the flat water lagoon, and facilities like restaurants, bars and wifi. We love the look of Beach House Siargao and the super lovely rooms at the brand new Avocado Hostel — just a 10 minute walk from the beach.
Summary: should you plan a Siargao kitesurfing trip?
If you're exclusively a TT kitesurfer (in that you don't do other watersports like surfing, SUPing, or wakeboarding) then most likely you'll find Siargao's kitesurfing conditions to be frustrating and, quite possibly, a bit of a let-down.
The wind isn't particularly strong, and it's far from guaranteed.
That said, if you're a foiler then Siargao is quite possibly one of the most beautiful places in Asia you can head to with your hydrofoil gear. The regular light wind and abundance of deep water spots make it an ideal training ground — not to mention the year-round warm weather.
The same goes if you're keen to combine kiting with other sports — MTB, cable wakeboarding, stand-up paddle boarding, and surfing — then Siargao is a veritable dream come true (which is why, despite the distinct lack of strong wind, we included it on our list of favourite kitesurfing locations in Asia).
If you still have questions about the whole Siargao kitesurfing scene, hit us up in a comment below or in our FREE Extreme Nomads Facebook group — which is full of kitesurfing nomads and experienced travellers.