Check out the Best Things to do Outdoors in Siargao Island, Philippines
Belonging to the province of Surigao del Norte, Siargao Island is a surf washed, tropical paradise where the only phrase more commonly heard than "have you eaten yet?" is "good luck leaving, this place will suck you in".
The island is a patchwork of palm trees, jungle, and farmland; though it's Siargao's relentless surf that's brought it to fame within the extreme sports community.
Siargao is, as many will tell you, the surfing capital of the Philippines. But it's not just barrelling waves on offer; adrenaline sports and outdoor lovers also have their pick of kitesurfing, stand-up paddleboarding, diving, and mountain biking.
Surrounded by reef, knotted with mangroves, and covered in white sandy beaches, Siargao's outdoor adventure offerings have begun to fuel the island's modern culture. Early mornings, healthy food, and yoga come as standard.
But as with all idyllic hideaways, life in Siargao is changing at breakneck speed. There are few places you can go in the south which remain undisturbed by construction, and with word about Siargao quickly spreading, more and more tourists are choosing to include the island in their Philippines travel itinerary.
By all means, go to Siargao now before it all changes; but whatever you do, don't go there in any rush to leave.
1 – Surfing in Siargao
Home of one of the world's top 10 waves and host of multiple awesome surf comps, Siargao is the unanimous surfing capital of the Philippines.
The island reaps the rewards of having 30 km of exposed, wave battered coastline with more than 20 world-class surf breaks already discovered- and even more that are still kept secret by in-the-know locals.
While you'll need to flirt with the right people to get the down-low on the best hidden breaks, here's an overview of what you need to know about surfing in Siargao:
Best spots for surfing in Siargao:
Cloud 9
Located on the General Luna strip, Cloud 9 is a viciously powerful right hander, and has consistently been ranked as one of the top 10 waves in the world for the past few years.
Cloud 9 barrels and breaks over a shallow reef not far from the shore- so expect just a short paddle out.
The wave is powerful, the ride is short and fast, and if you mistime anything, the consequences can be pretty gnarly. But like the name suggests, when it goes your way, surfing Cloud 9 is paradise.
Cloud 9 is best surfed between September and November. You can also surf it after November and throughout the winter, but the cross-on northeast wind blows things out a little bit.
If you're not yet an experienced surfer, avoid Cloud 9 during peak season and opt to surf it in the summer instead. It'll be smaller, but much more forgiving for beginner and intermediate surfers.
Jacking Horse
Nearby to Cloud 9, you've also got Jacking Horse (so named because the wave 'jacks' at the peak before it breaks over a shallow reef).
There are two waves you can surf here, an outer and an inner. The outer wave is more powerful, and better suited to experienced surfers. Beginners should stick to the inner wave (beginner-friendly waves are in the minority in Siargao, so this one's worth noting).
Surf Jacking Horse at mid/high tide for the best ride (low tide is too shallow to surf safely).
Tuason's Point
Also within walking distance of Cloud 9, Tuason's Point is a winner for all the goofies in town.
This short, fast point break rivals Cloud 9 in a number of ways, and is often touted by locals as being the best left in Siargao.
With a shallow reef bottom and some sharp rocks lining the shore, Tuason's Point is best left to experienced surfers. Beginner and intermediate surfers should check out any of the surrounding smaller breaks, most of which you can see from Tuason's Point.
Stimpy's
Accessible only by boat, Stimpy's is a left hander that barrels and breaks over a shallow reef just off the coast of Rock Island (one of Siargao's many offshore islets).
Not unlike its famous neighbour, Cloud 9, Stimpy's is a fast, heavy, powerful ride that works best during shifting tides. Surfing at low tide can be risky though, since the sharp rocks and reef under the surface of the water can easily stab you or your board.
Once you've exhausted Stimpy's, head around the corner on Rock Island to discover the rest of its 150 meter coastline (with plenty of choice between rights and lefts).
Daku Island & Guyam Island
Just a 5 minute boat ride from General Luna, Daku Island is rife with breaks and offers a less crowded alternative to the main Siargao island.
The nearby Guyam Island is even more remote and offers its own collection of waves for beginners and experienced surfers alike. Turn your trip to Guyam Island into an overnight adventure by pitching a tent at the campsite; word on the street is it's the best place to catch the Siargao sunset.
Caridad
Along the central east coast of Siargao Island, Caridad is home to some clean left handers that barrel neatly during the peak surfing season. The waves here typically work best in E/NE swell.
Just 5 km further up the road from Caridad, Pacifico is another worthy wave to note. Pacifico's long, tubing left hander is a sturdy one, and holds out even when the swell is big.
Pilar
Also on the east coast of Siargao, Pilar has 2 very reliable left breaks and a few more which can be real fun to surf when you catch them on the right day. The best waves break in front of the little town and work best during periods of NE swell.
You can access the waves here by taking a 90 minute boat ride from General Luna, or a cross country drive through the palm trees and farmland until you reach the town. Either way, Pilar is quiet, uncrowded, and fun alternative to the surf spots in General Luna.
Tips for beginners surfing in Siargao
The off-season brings more manageable swell for beginners, especially if you're dead set on surfing the likes of Cloud 9. If you're a total newbie and feeling serious about upping your level, get an instructor- you'll make progress so much more efficiently. And lastly, even though you might be super tempted, avoid the really powerful waves until your level is up to scratch.
Best season for surfing in Siargao:
The best time to go surfing in Siargao is between June and November, when the southwest "habagat" monsoon and offshore swell bring the best conditions to Siargao's most famous waves. Most local surfers consider September and October to be the best months for surfing in Siargao.
That said, different waves peak at different times of the year. So while one wave might work best during the SW monsoon, another might work better during the NE (which typically begins in November), depending on the orientation and direction of exposure.
If you're looking for a cool surf camp in Siargao, check out this one from Harana Surf Resort.
Conditions for surfing in Siargao:
Wind:
SW and E/NE work for different spots.
Waves:
During the peak surfing season in Siargao, waves typically measure up to 2.5 meters- but are also known to reach nearly 4 meters when a strong swell kicks in. Overhead walls of water, barrels and hollow tubes come as standard.
Along the coast, you can find a mix of mainly reef and point breaks, with a couple of beach breaks thrown in for good measure.
Beach:
Siargao's beaches have powdery white sand, many of which are surrounded by reef.
Temperature:
The average air temperature in the peak surfing season in Siargao is 27 degrees Celsius, and sea temperatures hover between 28 and 30 degrees. You won't need a wetsuit when surfing in Siargao.
Hazards:
Some of Siargao's surf spots are affected by the tides, so surfers should always be careful during low tide that they don't hurt themselves (or damage their board) on exposed sharp rocks or shallow reef. Check with locals to find out when the tide is too low to surf safely.
In addition, less experienced surfers should tread with caution when it comes to Siargao's most powerful waves. Choose your wave according to your experience level.
Clubs and schools for surfing in Siargao:
Viento del Mar
Turtle Surf Camp
Kermit Siargao
2 – Kitesurfing in Siargao
With its huge flat water lagoon, hollow tubing waves, downwind adventure potential, and remote offshore islands, kitesurfing in Siargao is seriously dreamy.
Full disclosure: the wind in Siargao isn't as reliable (or strong) as, say, Boracay, but when the wind plays ball it's easily one of the most awesome kitesurfing destinations in Asia. And since most people head to Siargao to surf, kitesurfing is a naturally good fit for when the surfing conditions aren't their best.
Let's look in detail at what you can expect when kiteboarding in Siargao:
Best season for kitesurfing in Siargao:
Like many locations in Southeast Asia, the main Siargao kitesurfing season runs from November until the end of March, peaking between December and February when the northeast monsoon is at its strongest and most consistent. This is locally known as the amihan season. Since this is also Siargao's rainy season, squalls are known to blow in and kill the wind- so you have to be ready to take advantage of the conditions when they're there.
June-September is known as the habagat season. This is typhoon season for most of Asia, meaning storms as far as Japan are accelerating the wind and funnelling it down through the Surigao strait (between Mindanao Island and Cebu/Bohol) right to Siargao. This creates a Venturi effect, and sends some lovely westerly wind blowing onto a select few of Siargao's kitesurfing spots.
Conditions for kitesurfing in Siargao:
Wind
You can expect 12-20 knots of cross-onshore wind during the amihan season for kitesurfing in Siargao. It doesn't always blow like that everyday though, which can be frustrating for those that choose to visit the island purely for kitesurfing (unless you're really into foiling, in which case you'll have beautiful conditions on a daily basis).
Since the habagat wind season is storm based, you'll occasionally have a sequence of 4-5 windy days in a row where the wind blows strong (up to 25-30 knots). Aside from these storm fronts, the habagat season mainly brings a few months worth of 6-10 knot days which are ideal for foiling.
Check out the wind forecast for Siargao on windfinder.
Water:
Though Siargao is most famous for its barrelling waves, you can also get your flat water fix on the protected shallow lagoon.
Beach
Siargao is lined with white sand beaches, and the main kitesurfing beach is no different. At low tide, the beach is wide enough to comfortably launch and land your kite on, but during high tide the sandy area all but disappears. Luckily, there's a grassy area behind the beach which serves as a good set-up site when the tide's high.
Temperature:
Siargao's tropical climate promises warm weather throughout the year. The average air temperature during the peak kitesurfing season in Siargao is 27 degrees Celsius, meanwhile, sea temperatures rarely go lower than 28 degrees or higher than 30. You won't need a wetsuit when kitesurfing in Siargao.
Best spots for kitesurfing in Siargao:
General Luna Lagoon
Widely considered to be the main kitesurfing spot in Siargao, the General Luna Lagoon is easterly facing, and therefore perfectly positioned to receive cross-onshore winds during the high season.
The lagoon is protected by an outer reef, so the water inside the reef is shallow and flat (apart from some small wind chop). Outside the reef, you can ride waves. The beach is sandy, as is the seabed leading into the lagoon. Watch out at high tide though; the beach area becomes very small, so you'll need to set up on the grassy area behind.
Thanks to the shallow depth and flat water, General Luna is easily the best place for beginners to learn kitesurfing in Siargao.
North Catangnan
Just a 10 minute drive up the road from the main kitesurfing spot, General Luna, the North Catangnan area works best when the wind blows in excess of 15 knots.
Here, the northerly facing beach in front of Ocean 101 Beach Resort is the best kiteboarding spot, and gives you easy access to the monster waves at Cloud 9 if you're looking to challenge yourself on a surfboard.
Pilar
Home of the renowned Magpupungko Rock Pools, Pilar is a 45 minute drive from General Luna by scooter- and the smooth drive through the dense groves of palm trees is worth the journey in itself.
Pilar is located on the east of the island, and during the high season its remote beaches receive pretty clean cross-onshore wind. Head here for a change of scene from General Luna.
Daku Island
Kitesurfing at Daku Island offers an uncrowded, remote alternative to the busier lagoon at General Luna. Best done as part of a downwinder from the main lagoon, you'll ride along the palm fringed coastline towards Daku, where the clear waters, powdered sugar beach, and surrounding sandbars make a fun, dynamic backdrop for your session.
Tips for beginners kitesurfing in Siargao
The General Luna Lagoon is the best spot for beginners to learn how to kitesurf in Siargao, thanks to its shallow water and relatively consistent wind.
Beginners should avoid kitesurfing in the mega big waves in North Catangnan, and should only consider taking part in downwinders once they have the right level of experience.
If you're looking to take kitesurfing lessons in Siargao, make sure you book with a qualified IKO instructor.
Clubs and schools for kitesurfing in Siargao
Viento del Mar
Seabreeze Kiteboarding
SurfKiteSchool
3 – Wakeboarding in Siargao
Up until 2018, there was little to no wakeboarding action in Siargao. Lucky for all you wakeboarding nomads out there, the island just opened its first ever cable wakeboarding park– and it's already turning heads for being listed as one of TripAdvisor's top 10 activities in Siargao.
Where to go wakeboarding in Siargao
Hidden away in a grove of coconut trees and just a 10 minute drive from General Luna, Siargao Wake Park is the place to go wakeboarding in Siargao.
The cable park is equipped with a 2.0 system in a 100 meter long lake, which is the perfect place for beginners and airstylers to practice their moves. At the end of the lake there's a pool gap and 2 handrails connecting it with another elevated lake on the other side.
Best time to go wakeboarding in Siargao
Siargao wake park is open all year round, so you can go wakeboarding in Siargao throughout the whole calendar year- boom! This is really worth noting for all you Europe and US-based wakeboarders, since Siargao's weather is perfectly awesome during your winter months when your local wake parks close down for the season.
Tips for beginners wakeboarding in Siargao
Wakeboarding is a super accessible sport. You don't have to be a pro surfer, kiteboarder, or any kind of boarder for that matter, and you'll still be able to get up and riding within your first morning of being at the park.
The owner of Siargao Wake Park, Tom, and his team of staff are always on hand to provide instruction, coaching, and safety tips to all customers. You'll also be kitted out with proper safety gear (like an impact vest and helmet) so that you're totally comfortable and protected during your first experience wakeboarding in Siargao.
4 – SUPing and kayaking in Siargao
SUP culture is big in Siargao, with tons of people hitting up the lagoons and wave spots with their paddle boards every day. But for those who prefer to stay seated- or fancy getting some speed going- kayaks are also readily available and make for a great adventure activity in Siargao.
There are plenty of places for board and kayak rentals, and once you're kitted out with your equipment, you'll quickly find that there are endless places to explore.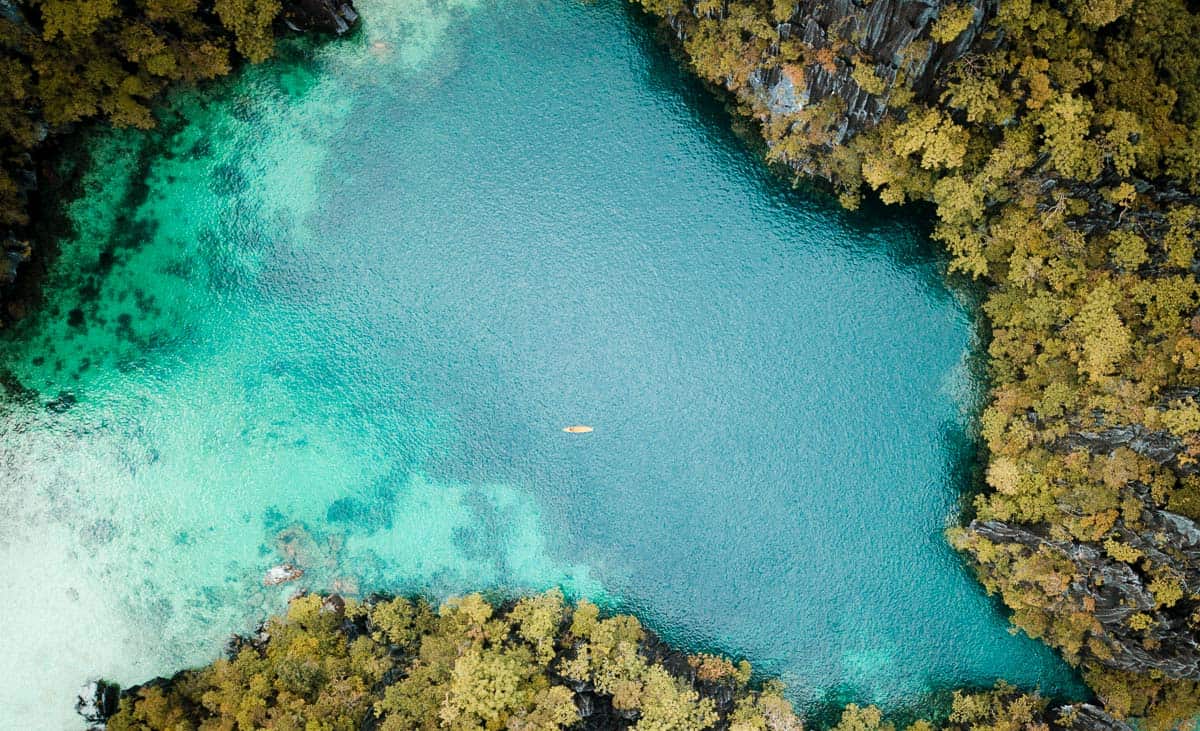 Best places for SUPing and kayaking in Siargao
General Luna
North Catangnan gives easy access to the estuaries that lead all the way from Cloud 9 inland to Dapa. The riverways twist and turn along the shoreline, offering a very different perspective of Siargao's coconut trees, farmland, and rural countryside.
Daku & Guyam Islands
Highlights of SUPing and kayaking in Siargao include paddling to the outlying islands and sandbars in front of General Luna (the lagoon is also great during no-wind days).
Sohoton Cove National Park
Just a 1-hour boat ride from Siargao, Sohoton Cove is an incredibly scenic place to paddle. The National Park is a giant marine reserve bursting with limestone rock formations, squillions of tiny jungle covered islands, caves filled with bats, wild orchids, and the brightest blue water you'll see this side of Palawan.
Mangrove forests
Siargao is home to the biggest mangrove reserve in the Philippines, with 4,000 hectares of mangrove laden river and land in Del Carmen, and a further 4,400 hectares scattered throughout the rest of the island.
With access to rivers, lagoons, and the open sea, paddling in Siargao's mangrove reserve is a peaceful experience- and a poignant reminder of the importance of protecting the local ecosystem.
Sugba Lagoon
Sugba Lagoon is surrounded by mountains and filled with clear, aqua coloured water. While adrenaline junkies hurl themselves off the cliffs on either side, those looking to take things a little slower will love paddling through the cool waters of the sheltered lagoon. When paddling at Sugba Lagoon, you can double up your adventure experience and visit the mangroves at Del Carmen.
Where to rent SUPs and kayaks in Siargao
Kermit Surf Resort
Turtle Surf Camps
5 – Diving in Siargao
What with all that wave smashed coastline, no one would be surprised if you thought diving in Siargao was off the menu. But you'd be wrong!
Siargao Island is actually a pretty cool place to do some diving, and since it's surrounded by reef and crystal clear water, the conditions are really quite nice.
Sadly, some of Siargao's surrounding reef has been damaged by dynamite fishing. But apart from that, you can find a mix of underwater caves, coral slopes, mounds, and pinnacles. Sea life ranges from coral, eel, sea snakes, sharks, pufferfish, grouper, clownfish, moray, snapper, barracuda, and much more.
Conditions for diving in Siargao
Uncrowded dive spots
28-30 degree water temperatures year round
Clear water with good visibility (especially during the dry season)
Beginner friendly dive sites with no current
More advanced dive sites up to 40 meters
Best season for diving in Siargao:
It's possible to go diving in Siargao all year round, though the dry season (April-October) is somewhat better in terms of visibility. There tends to be more sediment in the water during the wet season, and the lower levels of sunlight during those months also contributes to a darker, murkier water colour.
The marine life doesn't vary majorly between the two seasons, though the excess water movement in the wet season would- if anything- mean more marine life.
Best locations for diving in Siargao:
There are 4 main diving locations around Siargao, and since the local dive school, Palaka Siargao Dive Center, take their customers to all of them, you'll have the chance to experience a mix of underwater worlds:
Located just off the coast from Cloud 9, Blue Cathedral is arguably the most famous dive location in Siargao. The site sits just a stone's throw from one of Siargao's tiny outlying islets, Rock Island, and is reachable by boat from General Luna in less than half an hour.
With an average depth of 35 meters, diving at Blue Cathedral means exploring underwater tunnels, arches, reef, and coming face to face with tons of tropical fish like jackfish, emperors, and barracuda.
Blue Cathedral is also one of the island's most challenging dive sites. With open Pacific waters and a tricky rock entry, diving at Blue Cathedral is best suited to those with previous diving experience (Palaka will insist on you doing a 'check' dive elsewhere before they'll take you diving at Blue Cathedral).
Marine Sanctuary Lagoon
Located between Siargao proper and its three outlying islands (Guyam, Daku, and Naked Island), this shallow water dive spot is bursting with beautiful coral and colourful reef fish. You'll see anemone, brain, cabbage, and staghorn- to name just a few. There's even a resident pink frogfish that the Palaka divers have come to know quite well now.
Since the area is relatively small and all of the highlights are bunched close together (combined with the easy-going 12 meter depth), the lagoon is one of the more beginner friendly diving locations around Siargao.
Dona Dolores, JDK, and Daku Hills
These Pacific facing dive sites are well worth noting, since they all enjoy pretty good visibility year round (the open Pacific waters are less affected by the seasonal changes in visibility). While there is some nice coral and Pacific greens scattered around the site, the real highlight are the fish: red-tooth trigger, snapper, fusiliers, tuna, and jackfish.
Daku Rocks, Pansukyan, Don Papa
A challenging and diverse reef dive, this reef actually acts as the main barrier between the Pacific Ocean and the inner lagoon. You'll find canyons, swimthroughs, and a solid mix of coral and macro. You're likely to see scorpionfish, scorpion leaf fish, pipefish, crocodile fish, ribbon eels, and tons of different kinds of nudicranches.
Tips for beginners diving in Siargao:
The local dive school, Palaka Siargao, is certified to instruct beginners and to certify all new divers with PADI certificates. Your dive instructor will provide you with all necessary training and safety equipment to get you safely and comfortable out under the water.
Dive Centers in Siargao:
This French run dive center is located in General Luna and offers diving tours along the coast and offshore islands of Siargao. On top of the dive sites listed above, they also offer tours to Dapa Channel, Casulian Island, Anahawan, and Mam-On Island. They offer PADI and AIDA (freediving) certifications.
Big thanks to Theo from Palaka for contributing the latest info about diving in Siargao.
Also located in General Luna, they offer diving experiences around the island as well as their own accommodation.
Where to stay in Siargao
When it comes to the question of where to stay in Siargao, the "right" answer will be different for different people.
What do we mean by that? Well:
Depending on whether you're looking for a central location, close proximity to the waves or kitesurfing beach, or something truly remote, different parts of the island will appeal more than others.
Let's take a closer look:
The south of Siargao near General Luna is the most developed part of the island. This is where you'll find most of the tourist-friendly infrastructure, bars, restaurants, and resorts. Staying in General Luna also gives you easy access to Siargao's kitesurfing beach, as well as many of the famous surf spots. Once you've got a bicycle or motorbike, everything is pretty nearby.
For those planning to do some kitesurfing in Siargao, check out the resort at Viento del Mar, or the Ocean 101 Beach Resort. For a quieter, less touristy experience, look at staying in North Siargao, where you might have some of the island's loveliest surf spots all to yourself.
Around General Luna, you can expect to pay around $10 USD/night for a private double room with a fan (less during low season, and up to double during high season). Agoda has a good selection of hotels and resorts in Siargao to suit all price ranges.
For those looking for long term accommodation in Siargao, aim to budget around $250/month for a 2 bedroom furnished apartment. Airbnb has a lot of listings for monthly apartment rentals in Siargao, many of which can be negotiated down if you plan on staying long term.
---
Coworking Spaces in Siargao
Though there are no official coworking spaces in Siargao (yet), there are a number of digital nomad friendly cafes, restaurants, and resorts where remote workers can set up their office for the day.
In General Luna, Ocean 101 Beach Resort and Bravo Beach Resort are among the best choices. Both offer plenty of work space and are very welcoming to digital nomads, as long as you play it fair and buy a few coffees or lunch.
If you're a surfing digital nomad and you're on the lookout for a chill cafe to work from that's close to the waves, check out Shaka Siargao. Not only do they have the best coffee in town (and tons of amazing veggie food), they're also super close to Cloud 9, should the swell reader start singing.
---
Where to shop and eat in Siargao
Whether it's mahi mahi or chicken adobo, food is at the heart of Filipino culture, and on an island like Siargao, mealtime brings the community even closer together.
The seafood is Siargao is insanely fresh, and with so many barbeque joints on the island, you've got no excuse not to eat the stuff by the bucketload (unless, of course, you're veggo, in which case you'll also have plenty of choice- even if it's not on the menu). Mama's Grill is a local favourite.
Check out Kermit Pizzaria or Aventino's for authentic Italian pizza, and Kangaroo Restaurant or Cashey's Place for a mix of local and international flavours at a good price. Bravo has an amazing Catalan restaurant that do an unreal paella. Head to Surf'n'dine for big-ass burgers.
For all you craft beer lovers, don't miss the General Luna Pale Ale made by Monkey Eagle Brewery; it's available in a few of the local resties around General Luna.
For those staying long term and looking to cook at home, the General Luna morning/evening wet market is the best and cheapest place to buy fresh produce and seafood straight from the fishermen. General Luna also has good selection of supermarkets for all your other household bits and bobs.
Internet in Siargao
As far as public internet in Siargao goes, many resorts and local businesses offer free wifi which is, shall we say, moderately reliable. The speed of the internet in Siargao varies massively depending on the weather, how close you are to a signal tower, and how many people are on the same router as you.
The biggest problem in using a public/customer wifi is that you sit precariously on the edge of being kicked off the router if it gets overloaded or the IP addresses fill up. At best, the internet speed can end up going at snail's pace, particularly in the evening between 6-9pm.
Mobile internet in Siargao works reasonably well and offers coverage in almost all areas. Conversely, speeds are still rather modest and aren't conducive to data heavy work, even if you're tethering with a dongle (approximately 5 Mbps download and 2.5 upload). You'll be able to get online and use social media, but Skype calls and anything that requires bigger bandwidth may be a struggle.
Mobile internet in Siargao is cheap, with a 990 PHP/month ($18 USD) will get you 900mb/day. Globe and Smart are the best SIM cards to get in Siargao and are available in all small stores and pharmacies on the island. There's no registration needed, and you'll pay just 30 PHP ($0.55) for a SIM card.
How to get to Siargao Island
Up until quite recently, getting to Siargao meant signing yourself up for an agonising slew of connecting flights. Now though, you can fly to Siargao direct from Manila or Cebu. When flying to Siargao, you'll arrive at Siargao (Sayak) Airport.
It's worth noting, however, that budget airlines (Cebu Pacific in particular) are notorious for canceling flights last minute. If you're going to be connecting with another flight on your way back, make sure you factor in enough time just in case of a cancellation or rescheduled flight.
For those on a tight budget, you can also get to Siargao by flying to Surigao City (Airphil Express) and take a ferry from there to Dapa Port (2.5 hour boat ride). The last one leaves around midday, so make sure to check the schedule before you fly.
From Siargao Airport, you can take a taxi for 300-350 PHP ($5-6) to get to General Luna.
Getting around Siargao
The absolute best (and cheapest) way to get around Siargao is by renting your own motorbike. Not only does this end up being the most cost effective option, it also gives you the ultimate flexibility to set off and explore the island in your free time.
Motorbike rentals in Siargao cost about $8 USD/day, and you'll have a choice between automatic mopeds, semi automatic bikes (HOnda XRM 125 is the most popular), and seriously cool custom bikes and scramblers- all of which are very affordable. You can normally negotiate a cheaper rate for longer rentals.
If you're keen on going motorless, cycling is also a viable way of getting around Siargao, since the roads are in good nick and traffic is fairly calm.
Should you wish to hire a driver, you can rent a chauffeured habal-habal (tricycle/tuk-tuk) for around $20/day or a private van for about $90/day. Motorbike taxis are also available and cost an average of 50 cents for short rides around General Luna.
Cover Picture: Joel Vodell
Contributors: Kathrin Borgwardt