You can have your all-time nordic skiing experience! But how exactly will you do that? While track skiing or skating your way downhill?
If you don't know what they are and how they differ, you've stumbled on the right article. Read on, you'll see.
Introduction of Cross-country Skiing
Cross-country skiing is a great way to stay active, no matter your skill and experience.
Whether you're interested in a low-impact workout or an enjoyable winter weekend getaway in the snow, cross-country skiing can provide a skier with hours of fun and entertainment.
But with so many different styles of similar cross-country skiing, it can be hard to decide which type is right for a skier.
If you're a beginner to cross-country skiing, then it is best if you understand the difference between skate cross-country skiing and classic cross-country skiing. Yes, as the name suggests, they are both diverse types of cross-country skiing.
In this article, we'll compare skate skiing and classic skiing so skiers can decide which one is best for their needs.
Classic Cross-Country Skiing
Typically, the traditional style of cross-country skiing. It is the most common style of nordic skiing. It uses a diagonal stride motion, with one ski in front of the other, to propel you forward. Kind of like walking, if you will, but with 'classic' skis.
You'll need a special kind of ski, known as a 'classic' ski. Classic skis tend to be longer and thinner than skate skis, and they have metal rims on them to help you grip the snow better.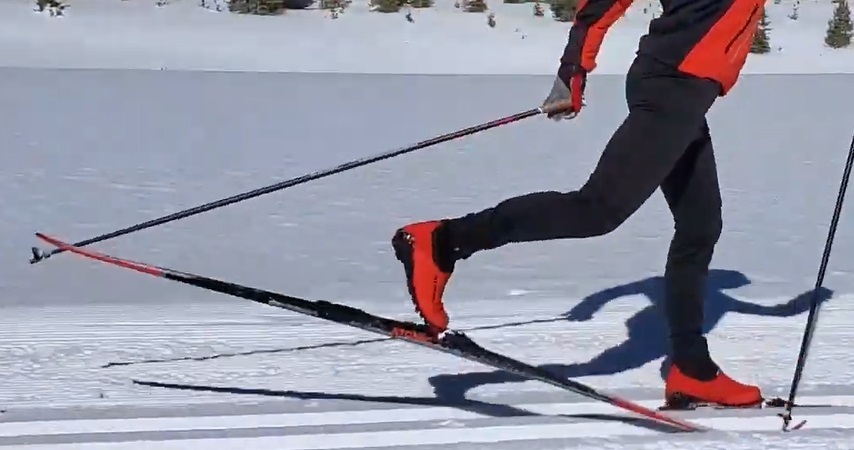 Classic cross-country skiing is usually done on groomed trails, but it can also be done downhill, in the woods, or on alpine terrain.
Depending on the skiers' track choices, classic skiing is much easier done on several trails, and it's all the more fun.
It is a great way to get a full-body workout and build endurance. As a skier, you need to keep pushing yourself to keep up with the fun pace.
Skate Cross-Country Skiing
The more modern take on cross-country skiing is skate skiing. Skate skis have also gained popularity in nordic skiing nowadays due to their groomed tracks.
It is similar to ice skating or inline skating. You use a side-to-side motion to ski ahead. Personally, I like skate skiing more than the classic, but it's totally up to you to see where your skis fit the fun!
Skate skiing too gets its own set of skis. It's called 'skate ski'. It's wider and shorter than typical cross-country skis.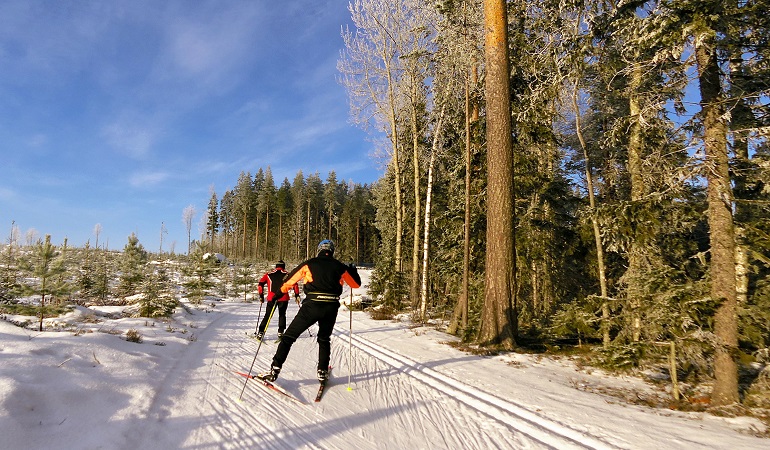 Skate skis are designed to provide more support and better balance while gliding across the snow.
Skate skiing is usually done on specially-groomed trails, which have a hard-packed surface that makes it easier to move quickly and efficiently.
Skate skiing also works as a fitness workout because it requires more effort than classic skiing. Skiers use their entire body and joints to control and propel themselves.
It is challenging to push yourself to glide faster, and it is all the more enjoyable and fun. However, lessons are definitely needed prior to it.
Skate Ski vs. Classic Skiing – What's the Difference?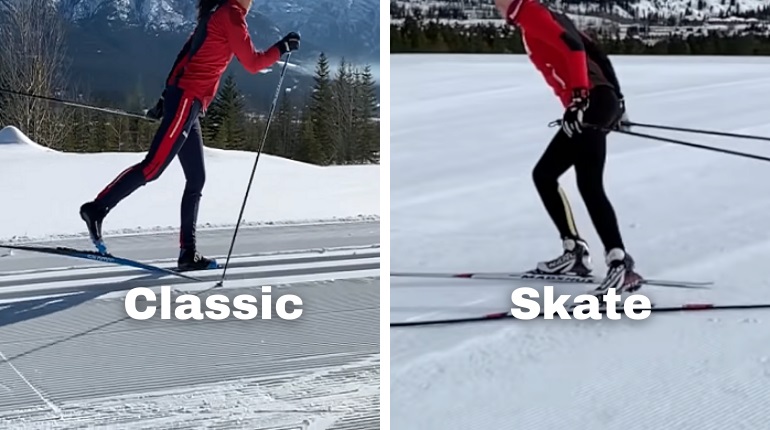 When you want to choose between classic or skate skiing, you should know what makes them different and how they need their own set of techniques and gear.
Because mainly, the difference between classic skiing and skate skiing is the styles of skis you use and the difference in technique to move on the groomed trails.
Skate Skiing
Skate skiing requires the use of skate skis and a side-to-side motion. This makes skate skis move faster, but difficult to learn the style.
Skate skiing is usually done on well-groomed trails.
Skate skiing is faster and requires more balance to keep up the pace as you glide. It is more challenging because you're moving in a skating motion with skis.
If you want to take turns, then you use the free technique.
It does not allow foot gaps.
The skate-skiing kick requires you to glide outwards with one, so the other ski corresponds to gliding onwards and repeating the motion. So the skis both skate forward.
Oh, and skate skiing adds more flair to your performance as you glide.
Classic Skiing
Classic skiing, on the other hand, requires classic cross-country skis, and the movement is a diagonal stride. It's best for beginners because it is faster to learn. Besides, pushing the classic skis is easier to perform.
Classic skiing can be done on ungroomed as well as groomed trails, woods, or even downhill alpine terrains.
Classic skiing is normally paced and requires more weight to push forward.
Even for sharp turns, the classic technique requires diagonal strides.
In classic style, you move your skis in parallel.
It's best if you want to quickly learn cross-country skiing and enjoy it without the pressure of speed and intense fitness level. Nobody will consider you lazy, we assure you.
Classic kick zone typically requires pressing with force on one ski to allow the skier to go further. Which means, a lot of foot gaps.
Equipment Differences Between Classic vs. Skate Skiing
The equipment you need for classic or skate skiing is similar. But there is quite a difference.
Whether for classic or skate skiing, the skier needs cross-country skis, comfortable ski boots, and cool ski poles. Skiers also use wax from head to tail for their classic and skate skis. Or they use a waxless base for both classic and skate skis to help them glide.
But if we're being specific, especially for beginners, it's important to know that both types also typically need:
Skate Skiing Gear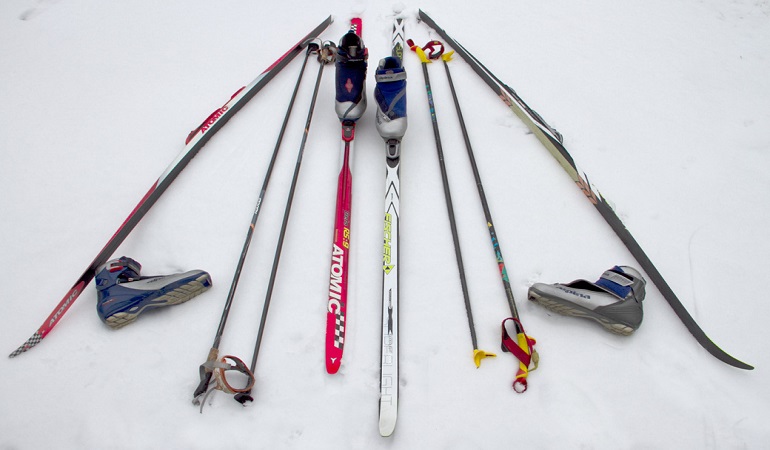 As mentioned before, a pair of skate skis are needed. These skate skis are wider and shorter.
As a skier, you are needed to have skate ski boots. These skate boots are designed to provide ankle support and better balance while you're having fun skating.
Nordic skiing also requires you to have skate poles. You should purchase longer ski poles than your shoulders.
Classic Skiing Gear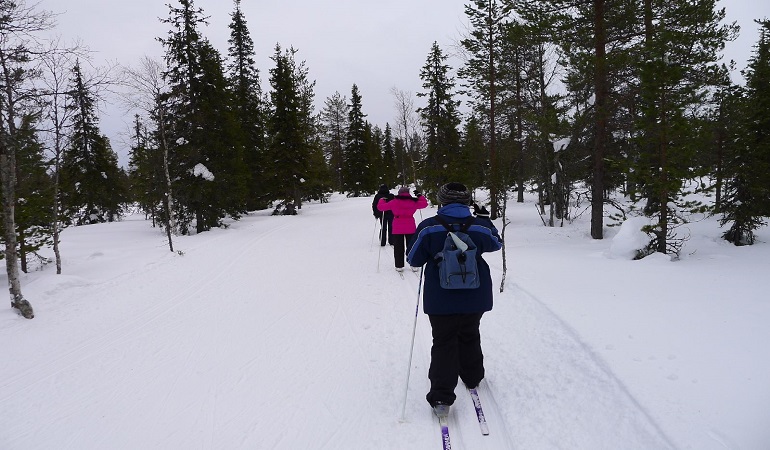 Of course, classic skis come in classic cross-country skiing. These classic skis are longer and thinner when used for classic cross-country skiing.
It also needs classic ski boots. They are created to be lighter because classic skis are lifted, and thus the classic boots help lift them up.
For classic cross-country skiing, classic poles are made. Its stick is supposed to match the shoulder length of the skier.
FAQs
Classic Vs. Skate Skiing. Which Is Harder and Needs Lessons?
For most people, skate skiing is harder and needs lessons.
Do Skate Skis Have Metal Edges?
Yes. Because it is challenging to ski on snow otherwise.
Can I Use a Skate Ski for the Classic?
Classic cross-country skiing needs its own classic skis. You cannot spend on one and use it for both.
Conclusion
For beginners in nordic skiing, it's better to choose classic cross-country skiing. It will help you become familiar with the groomed track.
However, if you are interested in skating in winter and moving faster than average, then skate cross-country skiing is the fun choice.