Kayaking on a windy day and getting flipped. O Lord, what a mess! Although you don't get much soaked while being in a sit-inside kayak, getting in and out of the kayak and self-rescue can be nerve-racking once the kayak is flipped, isn't it?
Thank heavens, I had one of the best recreational sit-inside kayaks with me, especially on a windy day. As bold as the statement may seem, I might have been dead meat if not for my favorite kayak and would've been writing this article from the heavens advising you not to get just any kayak!
Now that I am sitting comfortably on my couch, enjoying delicious whipped cappuccino, how I wish I could go back in time and video document my heroic drill.
However, all the wishes don't ride on horses. Anyway, I can at least jot down how Wilderness Systems Pungo 120 served as a knight in silver armor for me. Not only was it a stable, comfortable, and high-quality yak, it was easy to turn, pivot, and move through the waves easily, making the adventure thrilling and worth remembering.
Keep scrolling to find out more about the all-rounder Wilderness Systems Pungo 120.

wilderness systems pungo 120
The price of "Wilderness Systems Pungo 120" varies, so check the latest price at
Efficiency Evaluation
The 12ft kayak perfectly answers all your wishes regarding yak's efficiency. Looking for a light, durable, sturdy, inexpensive, and easy-to-maneuver yak with great storage is no easy task!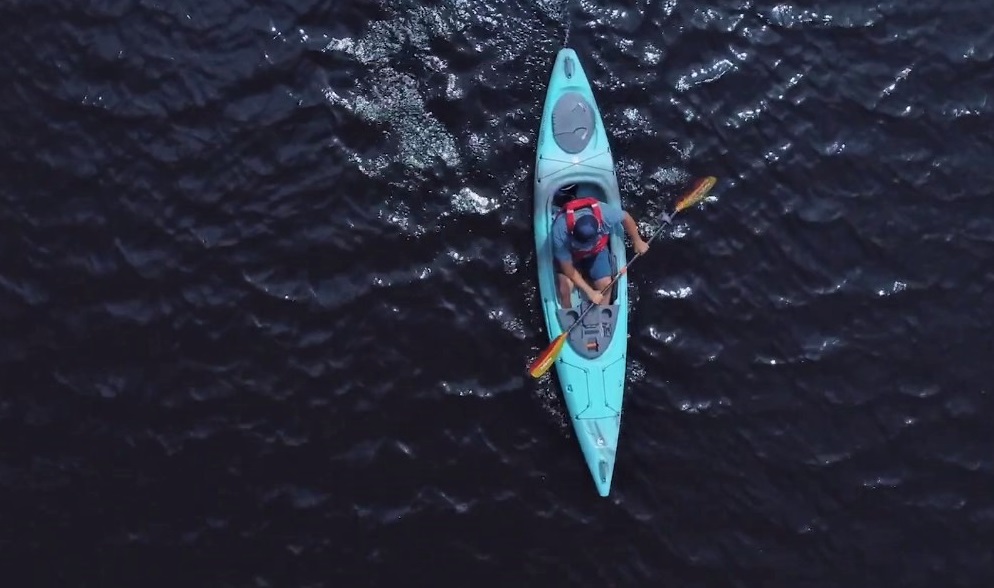 However, Wilderness Systems Pungo 120 is not only beautifully designed; it provides an optimum balance of all the amazing features you can ask for in a kayak with best-in-class performance.
Whether a beginner or an expert, you can efficiently paddle, turn, and track this lightweight recreational kayak with unmatched speed and reassuring stability along the waves and rocks.
Moreover, this yak has a comfortable and spacious cockpit with enough storage for camping gear, allowing adventure seekers to go for amazing paddling trips on rivers and small lakes for many days.
Not to forget the rear bulkhead that can act as a critical safety feature, boosting buoyancy and thus preventing the yak from sinking when you paddle in deep water away from the shore.
Specifications
The Wilderness Systems Pungo 120 kayak is built after multiple engineering experiments to ensure superior quality and dynamic on-water performance. The world-class luxurious sit-inside recreational kayak has multiple specifications, making it the best-selling kayak.
| | |
| --- | --- |
| Dimensions | 12'2 inhes* 29 inches |
| Cockpit | 22 inches* 57 inches |
| Weight | 49 lbs |
| Material | Polyethylene |
| Colors | Breeze blue, Fossil tan, Mango, Galaxy |
Further Details
Lightweight and easiest to paddle, perfect for small to medium-sized paddlers
Adjustable patented phase 3 AirPro seating system with mesh-covered honeycomb-vented foam providing ergonomic support while allowing airflow.
Upgraded dashboard with removable dry box, two cup holders, SlideTrax for mobile mounts, fishing rods, and other accessories.
Wilderness systems lithium battery (separately sold)
Adjustable footrests for leg comfort
Rear orbit hatch with sealed bulkhead for storage
Features
Now that you have read the cool specifications, let me brag about how this yak provides the ultimate fun and thrill while you venture into the meandering rivers and lakes.
Glide and Tracking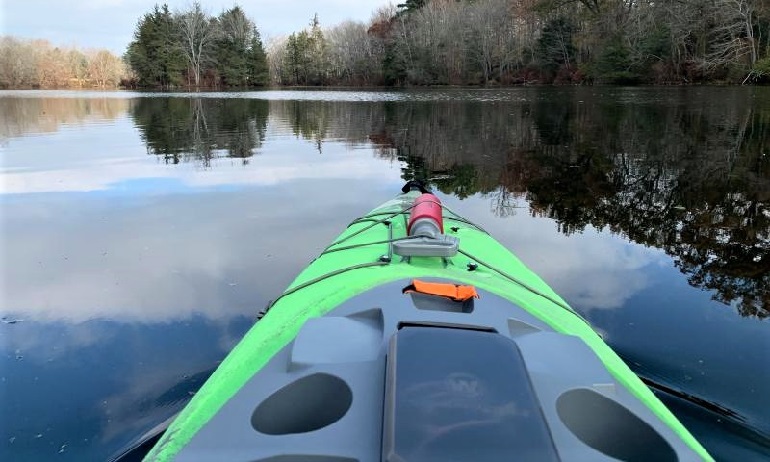 You would not wish your yak moving in a zig-zag direction once you stop paddling, right? Likewise, having a boat not moving efficiently through the water is not a good choice either. Obviously, who would like to get sore muscles after continuous paddling? I mean, it's supposed to be fun, not exercise.
However, fret not; the Pungo kayak solves the problem by maintaining a straight line at a considerable speed.
Although the boat lacks a rudder and not can be upgraded with an additional one, the v-shaped hull is lightweight and aids in the gliding and tracking of yak. Moreover, you can cover around 50 meters with efficient strokes within the same time range as some swiftest recreational kayaks require.
Maneuverability
Hold your horses if you want a flashy yak that is hard to maneuver just to show off your peers. You would not want to experience being hit by rocks and waves and getting flipped. Oops, that hurts the ego more.
The Pungo 120 allows you full control to steer the yak as you wish. You can easily move around the water and make a 360-degree turn if needed, efficiently overcoming all the hurdles you may face while you experience the thrill.
However, keep in mind that the yak doesn't come with a drain, making self-rescue difficult if you are far from the shore.
Stability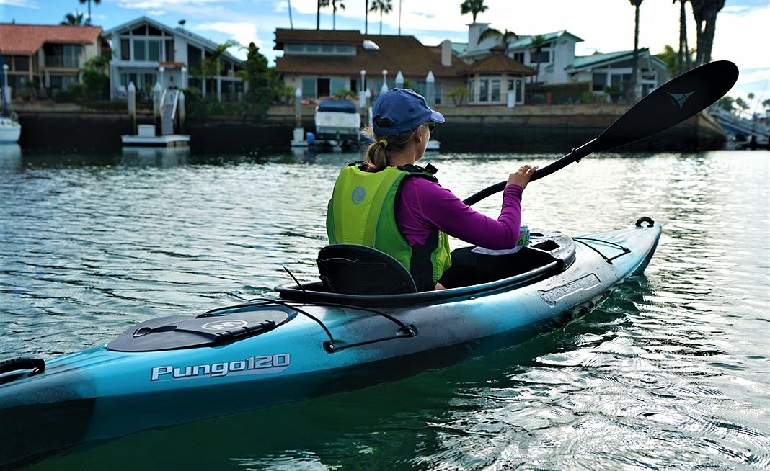 You may be concerned with Wilderness Systems Pungo 120 stability when you see its v-shaped hull. But that's that. It is only unbalanced when placed on the ground. Once you go into the water, all your worries will float away.
You can feel that the yak is built while keeping stability in mind when you sit on its low leveled seat, and the v-shaped hull further does the charm. This makes the yak ideal for exploring slow-moving rivers, humble creeks, flat water, or whitewater.
Comfort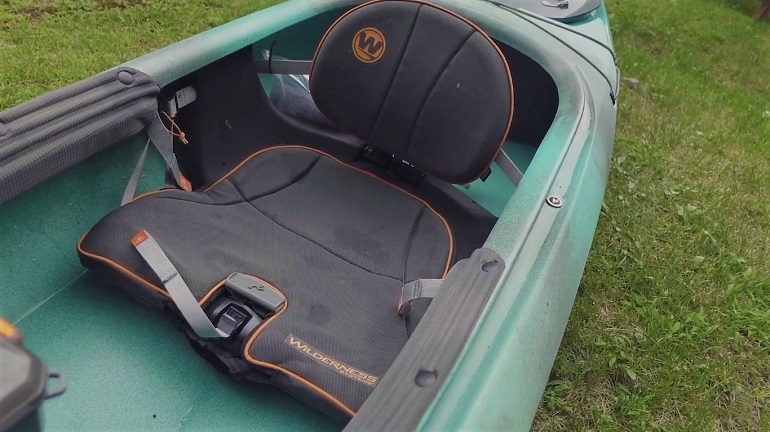 When they say always prioritize comfort over fashion, they are right. Why sit in a small uncomfortable seat in a crooked position for multiple hours? Are you sure you are out there having fun and not torturing yourself?
Get the best of both worlds with Pungo 120 by sitting in a wide and roomy cockpit that protects you from harsh sun, cold weather, or water splashing during kayaking.
Moreover, it allows you to sit in a comfiest phase air 3airflow seat having mesh fabric to keep the airflow at optimum levels. So, say no to claustrophobic feelings and sweating.
Oh, and remember that you can adjust the seat according to your comfort level, so your legs are always comfortable. Moreover, the seat's padded sides and adjustable foot pegs further aid in the comfortable movements of your legs and enhance your overall performance.
Overall, just like other Pungo kayaks, this sit-inside kayak also comes with bags of comfort. It provides you with ample storage capacity, a fully adjustable seat, a large cockpit with orbix stern hatch to mount fishing accessories like fish finders while kayak fishing, adjustable deck bungees,
Construction Quality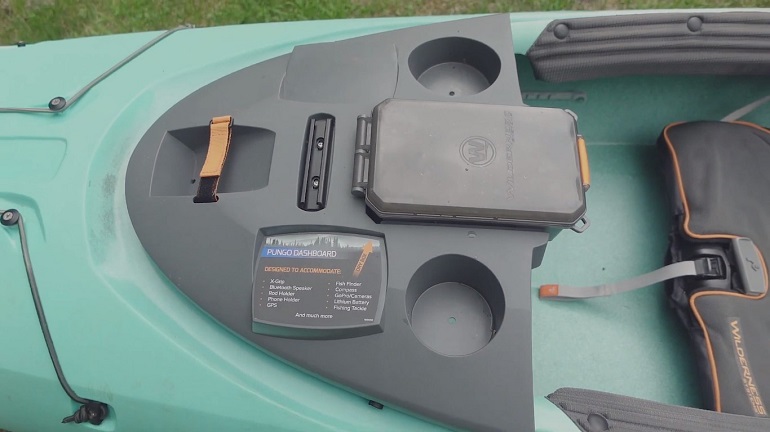 One cannot jeopardize their life in deep waters by overlooking the construction quality of the kayak. I mean, what if an accident happens; can your kayak withstand the storm?
The rigid plastic rotomolded polyethylene makes Pungo 120 sturdy and durable for daily wear and tear without damaging the hull.
Moreover, the replaceable skid plate, which provides an additional layer of plastic on the rear end, also promises to handle the abuse of hitting the rocks and dragging them on the beach and parking lot.
Portability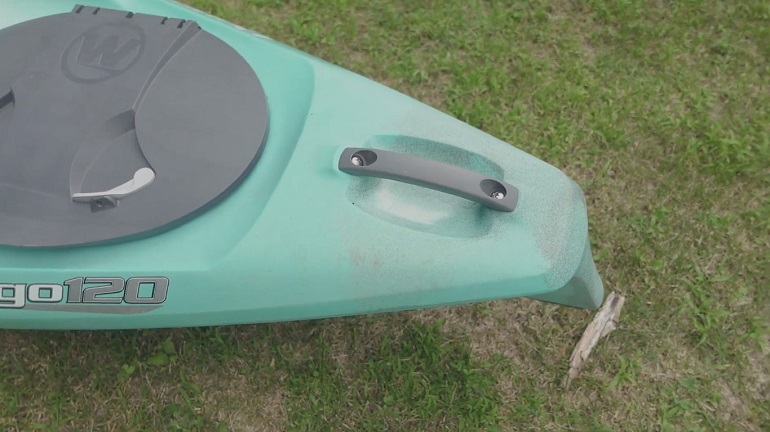 If you are an avid kayak user, you must be concerned with frequently moving the yak in and out of the water and docks. Wilderness Systems Pungo 120 comes with tough and thick molded plastic handles that make transportation less tedious.
However, after a long paddling day, you might need more energy to load the yak on the car roof. In such cases, you can use a kayak trolley or a kayak roof rack load assistor.
Design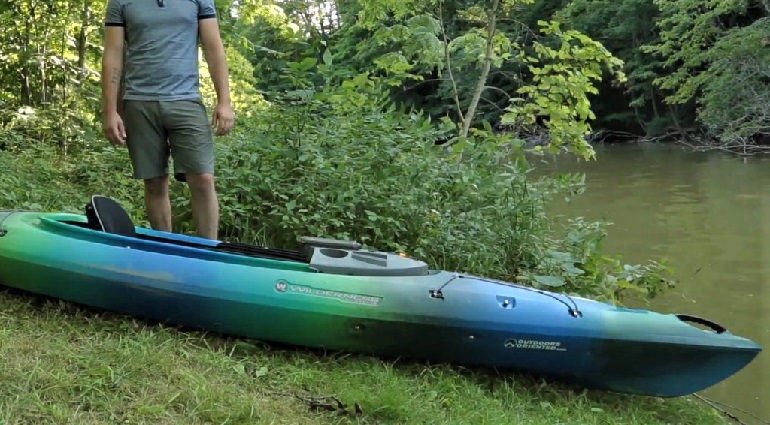 The design of the Pungo 120 not only has a modern flair with various beautiful colors but also caters to kayak users' needs. The 12'2 inches long and 29 inches wide kayak has a spacious cockpit enough to accommodate the rider comfortably but also your dog companion. Why go alone on an adventure?
Moreover, there is ample storage space on the yak. You can customize the removable cockpit console/ dashboard and easily install and remove it according to your needs. It ensures the safety of your valuables within your arm's length.
You can keep your drinks from spilling by placing them in the cup holders in the sealed hatch and using the mounts to keep your phone, keys, and other camping and fishing accessories like a rod holder, etc. There are also deck bungee cords on the bow and stern of the yak, providing additional storage for your gear and waterproof kayaking dry bags.
Oh, and don't fret if your phone battery is low. You can also keep your electronics charged on the go as it is fully supplied with power by lithium batteries.
Value
While looking for different varieties, styles, and brands of kayaks in the market, it is essential to find a perfect yak that can be your companion for multiple years without digging a hole in your pocket. And if it's expensive, the reasons should be justifiable. After all, who likes fair-weather friends?
Did I hit the nail on the head? Let's see if Pungo 120 provides enough value like all other Wilderness systems kayaks. It might not provide the best value among all other kayaks due to being a little pricey, but it does belong to the best-selling kayaks category. Why? It's simple.
The price tag of this efficient kayak may be worth it, considering its extremely comfortable seating, ample storage, world-class luxury, and the perfect combination of stability, maneuverability, and durable construction quality boosting the performance.

wilderness systems pungo 120
The price of "Wilderness Systems Pungo 120" varies, so check the latest price at
Alternatives to the Wilderness Systems Pungo Range
Finding the best kayak for you can be a meandering task since you need to know what you are looking for. If wilderness systems Pungo 120 is unavailable or doesn't fit the budget, you can look for alternative options providing somewhat similar benefits to your kayaking journey. Let's look into some options mentioned below.
Perception Carolina 12 Kayak
The versatile yak, Perception Carolina 12 Kayak, is a good alternate option comparable to Wilderness Systems Pungo 120 kayak but available at the same price tag. It is well known for its comfort, stability, durability, and safety.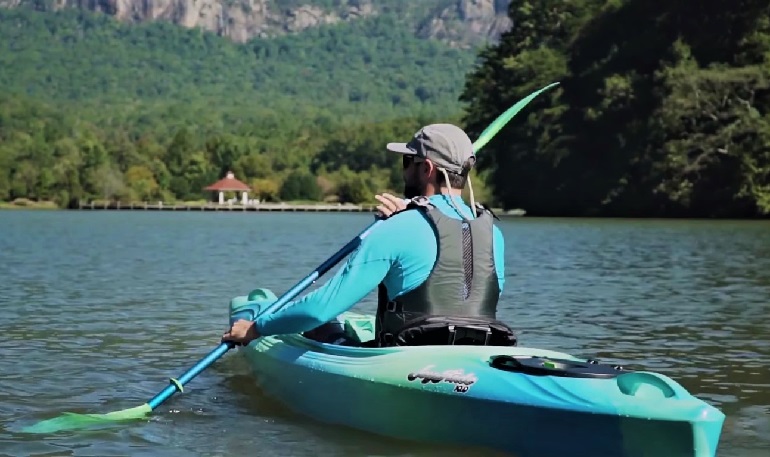 The spacious cockpit is slightly smaller than Pungo 120, which makes getting in and out of the yak slightly more difficult than its peers. Still, the ergonomic cushioned seat with adjustable backrest and thigh pads provides premium comfort.
The yak is perfect for both beginners and experts like the Pungo series, as it is easy to track and maneuver with good speed and agility.
The boat is also supported with a bulkhead to boast buoyancy when you can safely paddle in lakes, ponds, rivers, and oceans. You can haul around your yak with the kayak Karrie handles anytime you want.
Lastly, there is comparatively more storage space on the front and rear of the yak that you can seal with covers to keep them dry and safe. Not to forget, the bungee deck rigging and hatches also provide additional storage.

Perception Carolina 12 Kayak
The price of "Perception Carolina 12" varies, so check the latest price at
Old Town Loon 126
Looking for the perfect mix of innovation, quality, and comfort at the same price range? The Old Town Loon 126 is your boat.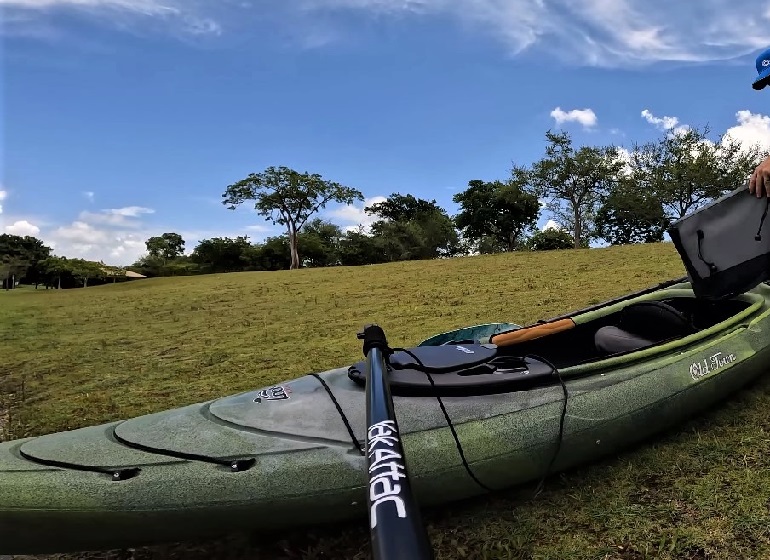 The cutting-edge and advanced design, with a spacious cockpit and customizable work deck, allows you to move in and out of the yak easily. The comfortable ergonomic seat with thigh pads also makes your time spent in the water a comfortable experience.
The multiple storage systems with click seal hatch to keep your gears in place and a USB charging port to keep your electronics charged. Not to forget, the bow and stern bungee for rigging, multiple carry handles that aids in transportation, and a drain plug to remove the water from the boat are worth mentioning features to look for in a yak.
Also, the cutting-edge technology with a durable triple-layer polyethylene hull makes it one of the best kayaks for fishing, sea kayaking, or other kinds of adventures.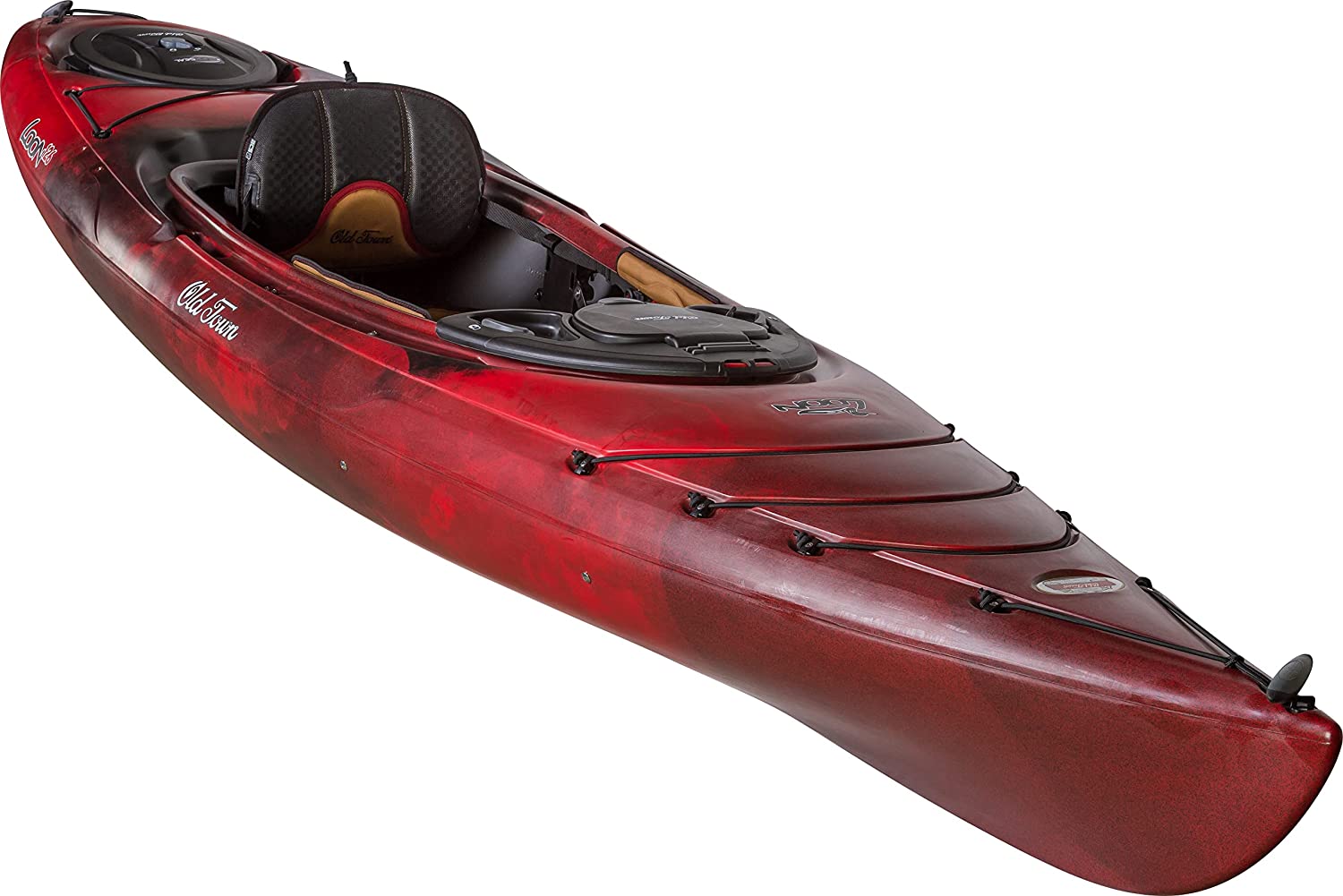 Old Town Loon 126
The price of "Old Town Loon 126" varies, so check the latest price at
Sun Dolphin Aruba SS 12
The Sun Dolphin Aruba SS is a 12 feet kayak with a spacious cockpit, comfortable seating, and easy tracking available at an affordable rate making it a great alternative for recreational kayaking; regardless you are a beginner or an expert.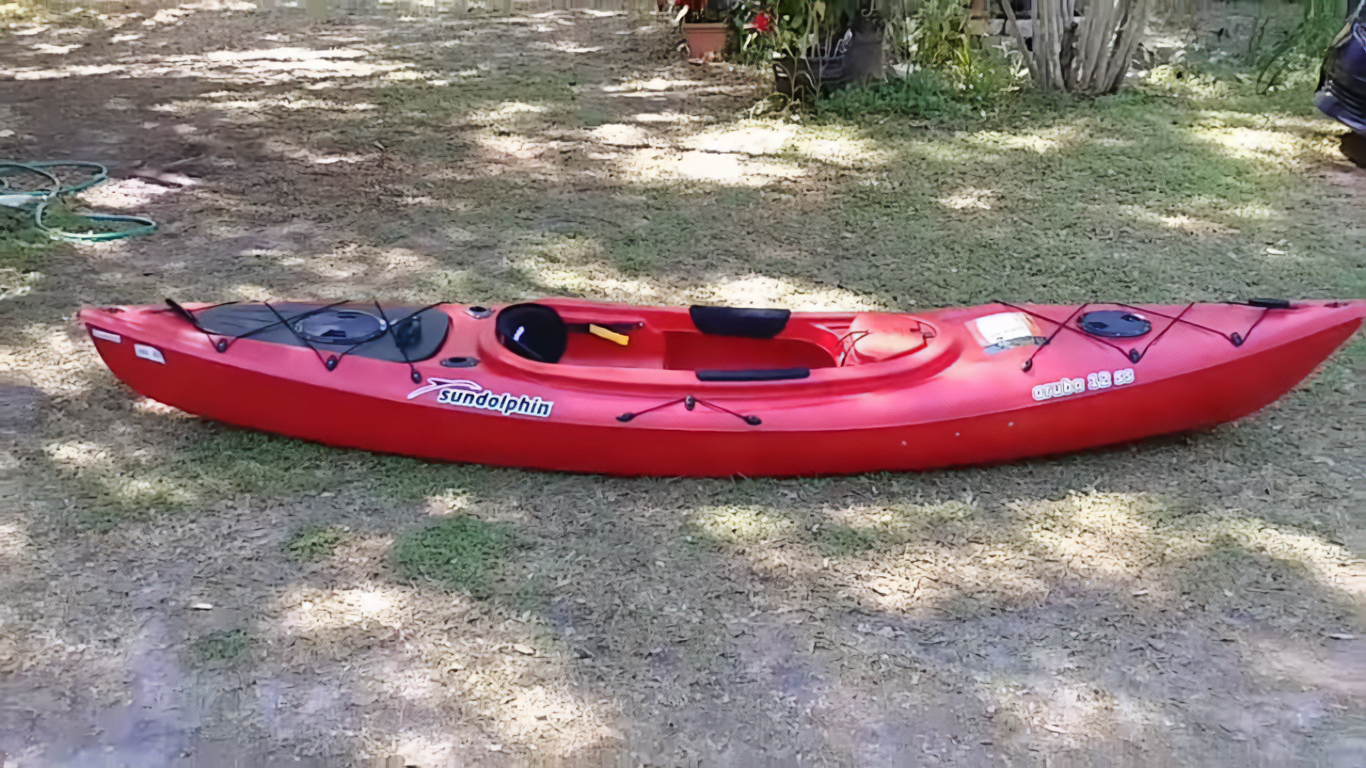 The lightweight yak is made of high-quality, rugged UV-stabilized FortiFlex High-Density Polyethylene, making it a stable and durable yak for kayaking fun. The bungee rigging at the bow and stern and the portable accessory carrier provide extra storage and keep your gear safe.

Sun Dolphin Aruba SS 12
The price of "Sun Dolphin Aruba SS 12" varies, so check the latest price at
Conclusion
With multiple years of experience and studying different kayaks, I can vouch for Wilderness Systems Pungo 120 to be one of the best kayaks. If you want to feel an adrenaline rush while exploring rivers and oceans, you need a yak that is comfortable, stable, and easy to steer through waves and hurdles.
Don't look for flashy things all the time; all that glitters is not gold. On the contrary, look for innovation and safety to have fun to the maximum level without saying hello to the grim reaper.