The Burton Custom Flying V is as iconic as all mountain boards get. The daily rider is just at home on the newly groomed slopes as it is drifting through deep powder or flying off a kicker.
Burton has built a high-end board that only confirms their well-earned status in the snow sports world. This may be your new one-board quiver.
The Custom Flying V is designed with fun in mind. The stylish blunt end shape gives an exceptionally balanced ride delivering smooth, playful control and float. The Burton Custom Flying V sports a medium stiff build for forgiving and fun carving that can absorb more minor mistakes.
The frostbite edges still give razor-sharp and effective edge hold even in the harder snow. The Flying V profile underfoot provides a rocker style between and on the outsides of the foot with the camber beneath.
An Experienced All Rounder

As an all-mountain board, it doesn't get much better than this. It is a board made for the experienced all-mountain rider who needs something that can keep up no matter where the day takes them. The simple graphic does not give away the true nature of the playful and stable ride of this premium Burton.
An Overview of The Burton Custom Flying V Specs
It's easiest to begin by simply running through a few of the numbers and details of the board to give you an idea of exactly what you're looking at. You can compare how it adds up against other all-mountain boards you may be more familiar with.
Specs
| | |
| --- | --- |
| Style | All mountain |
| Flex | Medium Stiff |
| Skill level | Intermediate To Advanced |
| Camber Profile | Flying V |
| Shape | Directional |
| Stance | 12mm Setback |
| Edge Hold | Medium |
| Base | Sintered |
Sizing
| | | | | | | | | |
| --- | --- | --- | --- | --- | --- | --- | --- | --- |
| Size(length) | 150 | 154 | 156 | 158 | 158W | 162 | 162W | 166W |
| Waist Width(MM) | 248 | 250 | 252 | 254 | 262 | 256 | 264 | 266 |
| Weight Range(KGs) | 54-82 | 54-82 | 68-91 | 68-91 | 68-91 | 82-118 | 82-118 | 82-118 |
Reviewing The Numbers
At first glance, the Burton Custom seems like an average all-mountain board made for the better rider. It sports some interesting shapes to the nose and tail and a specially formulated Flying V rocker.
It takes a good ride on it to really understand why this board is so loved by professionals and casual riders across the globe.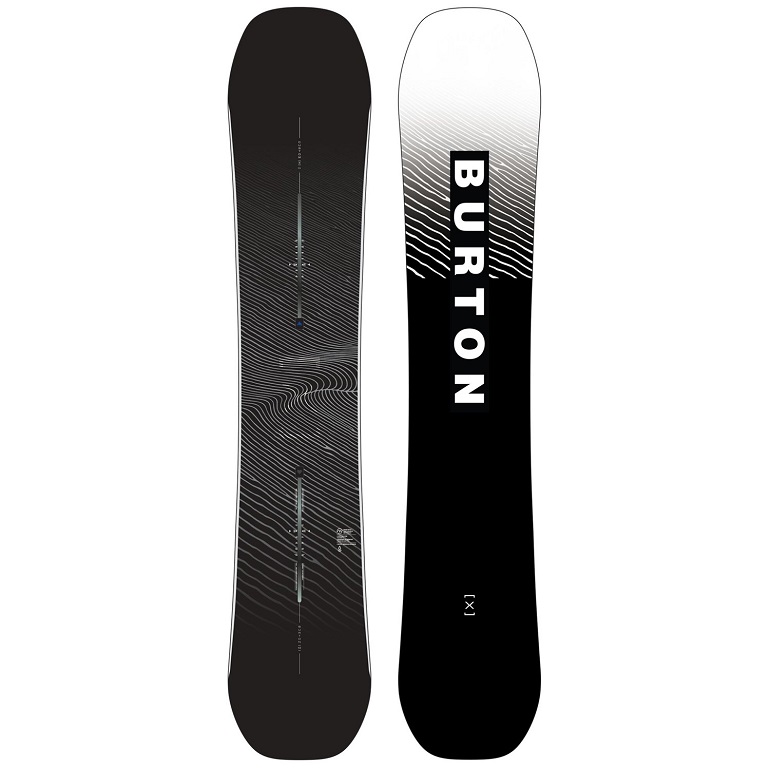 Burton Custom Flying V
The price of "Burton Custom Flying V" varies, so check the latest price at
Set Back Stance
The setback stance and directional shape make the board feel floaty and well-suited to powder or big kickers in the park.
Riding switch is a bit of a trick to get used to because of the very slight setback. This is combined with the specifically designed hybrid rocker camber version to provide awesome pop from jumps and other mountain features.
Edge Superiority
Riding with speed and aggression is facilitated by the razor-sharp and responsive frostbite edges, they work in harmony with the slightly stiffer flex to give you supreme edge-to-edge control.
You won't notice any lack of response when riding at speed until it absorbs some of the harder conditions of uneven terrain.
Who is The Custom Flying V Suited to?
Despite being a versatile and forgiving snowboard, the Flying V is much more suited to intermediate and expert riders.
The medium stiff flex is a little tougher than a lot of other all-mountain boards out there, but if you have mastered your snowboarding, you can expect a quick and fun response.
As a beginner, this might be a bit too aggressive until you make a little more progress.
The board's profile is suited to playful riding, encouraging pop, and buttery switch riding.
So if you're looking for something you can take all around the mountain with style, this is a great choice. It is the one-board quiver that is at home, wherever you decide to take it.
Taking A Deep Dive Into The Custom Flying V
We have gone over a few of the basics and essentials in this review so far. To really get to know the ride we need to properly break down the key points and find out how it performs compared to other boards in its category.
Powder
With the 12mm setback and the Flying V rocker camber profile, snowboarding in powder is a blast. It doesn't have the advantage of a long powder-specific nose, but you can carve it through powder with confidence.
You will feel the benefit of having your feet set slightly further back on the bindings rail system as your weight pulls the nose of the board from the deeper snow. The lightweight construction stops you from sinking under and keeps you atop the snow.
The board feels very natural in the deeper off-piste snow, with some good float and bindings that facilitate it. As an all-mountain board, it handles the lightweight stuff very comfortably.
Carving & Turns
The stiff flex and high-quality frostbite edges give a little more edge hold than you would expect from an all-mountain board.
As a confident intermediate Snowboard rider, you should be able to throw your weight into some pretty spectacular skidded turns and aggressive, deep, carving movements.
The edge-to-edge response is excellent, making the most of the Flying V camber profile to work alongside the stiffness throughout the board to really let you get some quality lines in.
Aggressive carving is no stranger to this Burton board, and you will feel comfortable with the response.
The camber underfoot contrasts the deep rockers between, in front, and behind. This unique shape allows you to really push down into the board. You can dig your edges hard into the piste biting in and keeping your carve locked down.

Speed
This one feels easy and controlled on soft snow with good conditions but can be a little bitey when in harder, icy conditions. You may struggle as a beginner to keep the board under your feet when the going gets tough, and the speed gets fast.
The Custom has a shape that lends itself to being playful and poppy. Despite the cleverly designed edge system, it may lose a little bit of grip when the snow isn't all there to cushion your speed.
All-mountain boards aren't made specifically for tearing down a mountain at a break-neck pace. They prefer instead to be ridden across multiple terrains at any time. They work much more as a jack of all trades rather than specialist rides.
The stiffness does mean you can absolutely throw this board down a piste, just be aware that it may get twitchy.
Uneven Terrain
Flying through uneven terrain, be it carved-up pistes or old frozen backcountry, is always a real test of a board. This one handles it a lot better than most, which is surprising given its stiffness.
Taking it out at the end of the day when the snow on the runs has been churned into boulders and moguls poses very little concern as the edges hold, and the wood of the core construction absorbs the abuse.
It's hard to find an all-mountain board that can stand the pressures of a well-ridden resort slope. A different board may struggle to hit the rubble and ice head on, but this provides a forgiving ride. It's a real bonus to have a snowboard that will be fine over all terrain.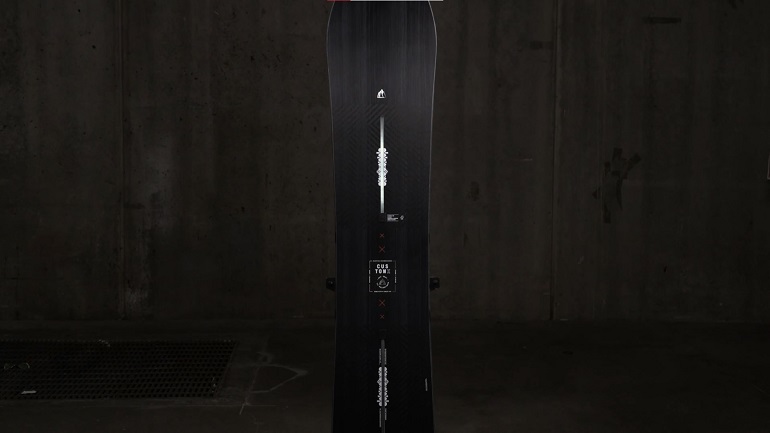 Jumps
The profile of the board does lend itself to poppy snowboarding, encouraging ollies and tricks, but the stiffness does make it a little harder. You can get the board up in the air without too much problem, provided you really throw your weight into it.
There are softer boards out there that are easier to get into the air off the flat but it isn't impossible.
The stiff flex on the Flying V is built to absorb some serious air. If you want to take this beast into the snow park and throw it off some kickers, you can rest assured the forgiving quality of a stiff board will have your knees thanking you.
Ride Switch
Despite the twin directional shape, the Flying V doesn't provide the easiest switch-riding experience of other directional boards. This doesn't mean it's impossible or even hard, but the 12mm setback can make the experience a little tricky to get used to.
It is slightly harder to ride switch than some other directional snowboards out there, but if you're an intermediate rider who's comfortable with switch, then you won't have many issues.
This board will still be great coming off big kickers the wrong way around, but if this is why you're buying the Custom Flying V, you may want to look at some other options.
Jibbing
Jibbing around on the slopes is the easiest way to make yourself look cool in front of your friends. Cheeky little tricks to keep your ride back to base stylish should be in any self-respecting rider's repertoire of skills. I always opt for a softer board for this reason alone.
In review, the Flying V is a very stiff board that does not facilitate jibbing. The lack of forgiveness in the board's construction makes popping and playing around on features a bit tricky. A park board or softer build would make it a lot easier.
If you're already great at jibbing about, then you should be able to get this snowboard to do what you want, but as a beginner, you may end up struggling.
Again, this is a jack-of-all-trades board made to conquer the whole hill under the mastery of an experienced rider.
Picking this board as the one you want to learn on or specialize with isn't the intention. To hone your skills, you could choose something a little softer, like the Burton Process.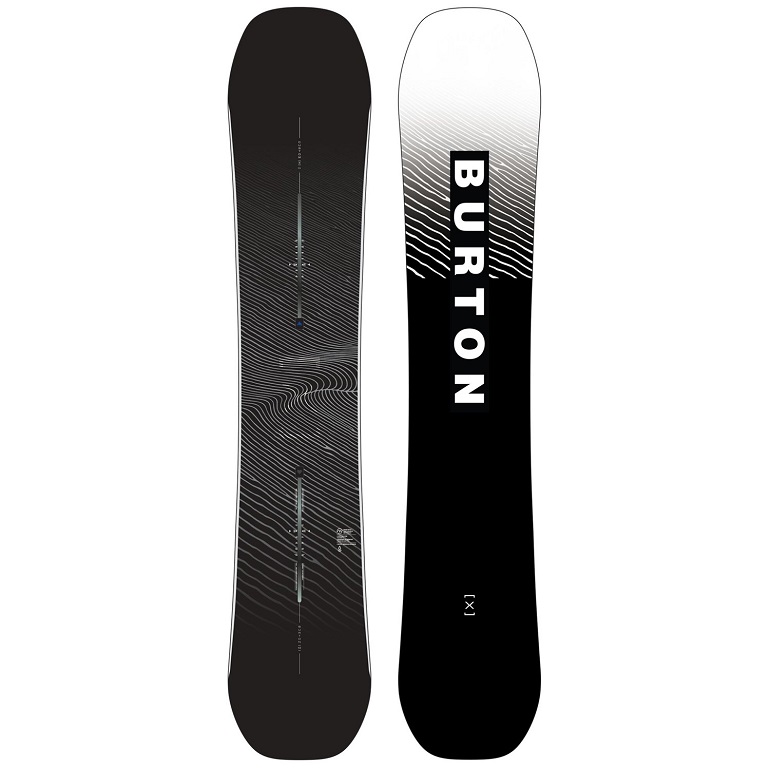 Burton Custom Flying V
The price of "Burton Custom Flying V" varies, so check the latest price at
Buttering
As an aside to jibbing, this board is really nice to butter around. Again, that lovely profile makes for smooth and silky spins around the slope.
It's hard to cut an edge with such deep rockers throughout the length of the board. Spins and slides just seem to come naturally from between your legs. You'll be pirouetting like a ballerina in no time.
A Breakdown And Final Score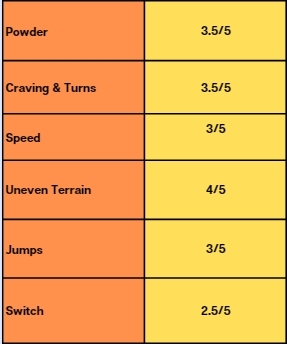 It's clear to see that this is a board that does it all and does it to a very satisfying degree. Whatever you want from a board, this will happily facilitate and give you a great time.
Burton snowboards are never the cheapest on the market, but they are without a doubt some of the best. Years of research and pro feedback have gone into creating some of the most elite snowboards on the slopes.
If you're looking for something that is a specialist, then you may want to look for something else. Burton has a board for every style and destination no matter how weird or wonderful.
The Flying V can do it all, but you can never expect it to be the best in any one niché.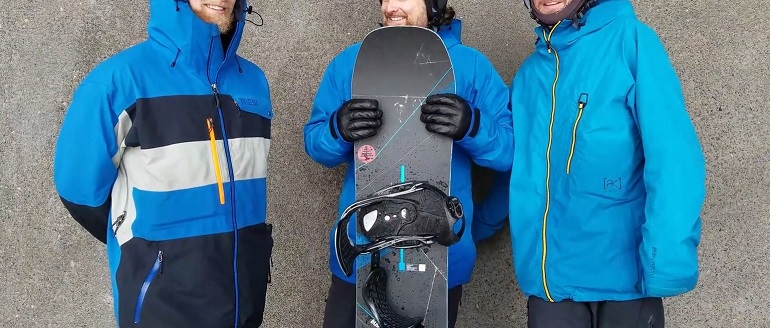 My Final Thoughts
Wrapping up Burton Custom Flying V review, this board isn't built for jibby riding or popping around on the slopes due to the rigidity in the build, although it can be thrown about if you already know what you're doing.
It really excels on the piste and in the fluffy backcountry stuff. It can handle uneven terrain without complaint, and the tight cornering both with hard slides and deep carving make it an absolute beast to race around on.
Take this great board out for a spin if you get the chance, you certainly won't be disappointed, and you never know, you may end up falling in love.