Are you in search of the best place to ski downhill? If yes, then pack your bags and head towards West Virginia ski resorts. Appalachian mountains host the four ski resorts in west Virginia.
However, the snowfall rate is average at these resorts, but they have efficient snowmaking machines. With this man-made snow technique, there is enough snow throughout the ski seasons.
The ski areas in West Virginia serve most of the major cities and smaller towns as well. For instance, Snowshoe Mountain, Timberline mountain, and Canaan valley resort serve the largest cities like Washington, Richmond, Pittsburgh, etc. Whereas Winterplace ski resort is in the south to cater to the smaller cities.
If you have ever skied in North Carolina, then you would also love to ski in west Virginia with its moderate temperatures and homely feel. Moreover, the vertical drops are not much higher so it is best suited to people with height phobia.
Best Ski Resorts in West Virginia
Let us make your ski vacation planning easier with the top four best ski resort in West Virginia. Following is a detailed review of the resorts and offered facilities, so that you can make your choice wisely!
1. Snowshoe Mountain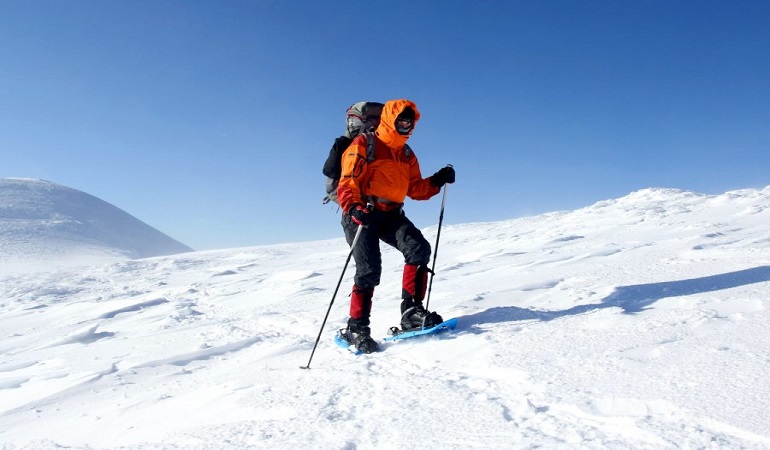 Highlights
Ski Season: November- March
It is the biggest ski place in Mid Atlantic region.
It gets a lot of annual snow.
There are challenging slopes for experienced skiers.
Snowshoe mountain state is a one-shop stop. Yes, it has something for everyone with different interests. For instance, this resort covers three areas i.e., the Snowshoe Basin, Silver Creek area, and the Western territory. In these three ski areas, you will find both calm cruises and steep and deep runs and slopes.
There are 244 acres of skiable terrain with 60 ski trails. Of these ski runs, 36% are beginner trails, 33% are for intermediate skiers, 19% for advanced skiers, and 3% for experienced skiers.
The Snow Basin in particular is for experienced skiers with expert runs and challenging slopes. Around 75% of the ski trails are regarded as green or blue levels making the resort ideal for intermediate and beginner skiers. There are 14 lifts that serve these trails.
Snowshoe Mountain is home to West Virginia's two highest peaks. Eventually, it gets the most snow which doubles with the snowmaking system. Therefore, the resort management offers a snow guarantee. They give you a free lift ticket for your next trip if you do not find more snow than most resorts.
There are 5 progressive terrain parks for freestyle snowboarders. Whereas the Silver Creek area has 12 ski trails for night skiing. Also, you can enjoy snow tubing at the tubing center to slip down the hill.
You get patios at the base area village to soak in some sun. The ski gear retail shops offer you the latest ski outfit designs. Moreover, you can devour delicious steaks at the famous 10 Prime in the Soaring eagle lodge.
2. Canaan Valley Ski Resort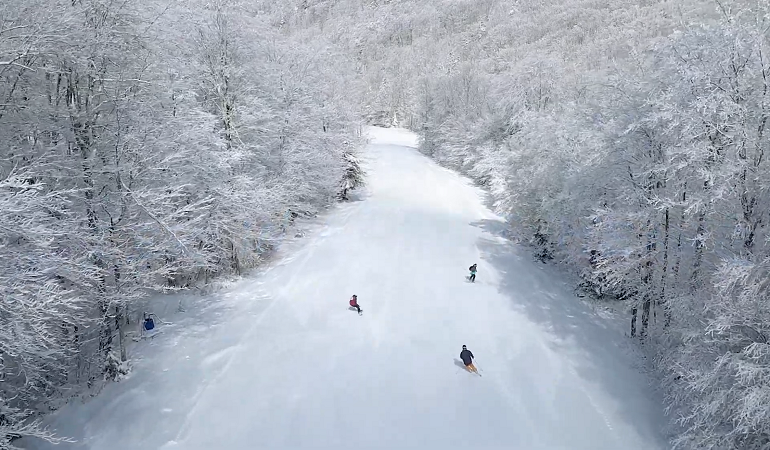 Highlights
Ski Season: December – April
There is no crowding of slopes.
Cross-country skiing is available.
Scenic views from the summit elevation.
Canaan valley resort is a compact area with some consistent and loyal visitors. It is the best place for new learners. They can learn and test their skills with beginner and advanced trials.
75% of the snow at Canaan valley is made artificially as it receives only 13 feet of annual snowfall.
There are 47 ski trails and a groomed snowboarding park for the freestylers. Moreover, Canaan valley is blessed with West Virginia's longest snow tubing runs. To convey the skies there is a magic carpet and runway.
There is much more to explore at Canaan valley other than skiing. For instance, you can go on snowmobile tours, snow tubing, or even ice skating.
Thanksgiving is the best time to plan a family or friends skating trip at the Canaan skating rink. Apart from this, you can go Nordic skiing.
Canaan resort has a number of rental cabins for families and around 160 hotel rooms for couples and individuals. Moreover, there are four on-site cafes and restaurants. You can have the best meals of your life at Season's cafe or the Hickory dining room near the fireplace.
3. Timberline Mountain
Highlights
Ski Season: Mid-December – Mid March
It offers ski-in/ski-out accommodation.
The green trail from the base to the summit.
The advanced terrain has lots of bumps, steeps, and chutes.
Timberline mountain ski resort is a happening place with lots of fun and exciting activities. The resort owners are moving with time and making significant changes and additions to the resort's infrastructure.
For instance, they have installed two new advanced, high-speed chairlifts with more capacity. While in the ski and snowboard school area a surface lift has been installed.
There are about 40 ski runs mostly for intermediate and beginner skiers at Timberline. While the terrain park serves snowboarders and freestylers. Moreover, Timberline resort offers night skiing on weekends. So, it is a good deal to hit the slopes on Friday night with your office mates or family friends.
Visiting Timberline ski resort has double benefits. It is located nearest to the Canaan valley resort so you can enjoy skiing at both resorts during your staycation. Moreover, you can enjoy music events, chairlift rides, snow biking, horseback riding, and self-guided hiking.
For accommodation, you can move towards the base area with quite a few options. However, for more hotel room choices you can consider a short drive to the town of Davis which is 15 minutes away. In this way, you can explore more areas and ethnicities during your holidays.
4. Winterplace Ski Resort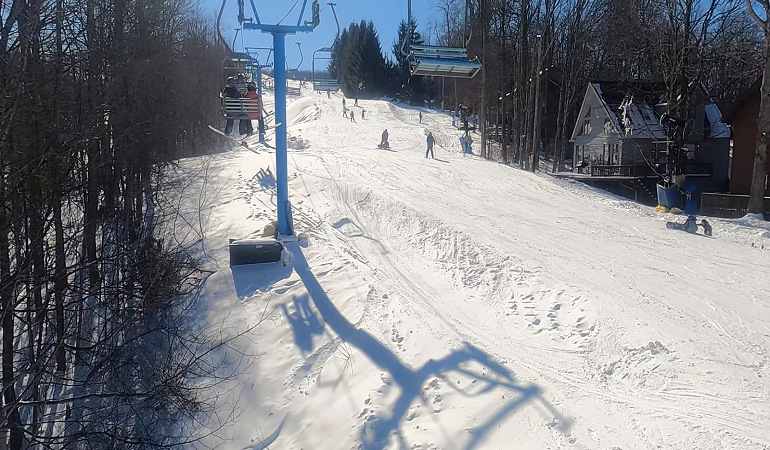 Highlights
Ski Season: Mid-December- Mid March
It has the biggest snow tubing park in the region.
Nearest to interstate 77 Ghent.
There are lit trails for night skiing.
Winterplace ski resort is the only resort in the southern part of West Virginia. It is more of an intimate place with a smaller setup. A compact or smaller setup does not mean the quality is compromised. It has a fully groomed terrain park with the latest features for snowboarders and freestylers.
There are 90 skiable acres with 27 ski runs for beginner, intermediate and experienced skiers serviced by 10 lifts to avoid long lift lines and crowing.
Moreover, the on-site ski school helps a lot of newbies to become maestros of skiing in no time. Thus making this resort the best skiing place to learn the skill among all the west Virginia ski resorts.
Winterplace gets around 9 feet of annual snow, but it is compensated by 100% snowmaking. Plus there are 27 runs for night skiing in the day lift ticket's price. Another attraction for the non-skiers is the largest snow tubing park in West Virginia. It is served by two surface lifts with 20 chutes.
Apart from skiing and snow tubing you can just sit and enjoy a relaxing time in the sun at the casual sitting areas on the mountain top. There are multiple cafes and 5 restaurants to serve you hot and tempting food surrounded by nature.
The Deck at Winterplace is the famous sitting area of this resort. The nearest town is Ghent. You can find plentiful options for rental places, lodging amenities, and winter activities nearby Ghent or at the base area of the resort.
FAQs
When Is the Best Time to Ski in West Virginia?
Ideally, the best time to go skiing in West Virginia ski resorts is from December to March. However, if the weather conditions are suitable and there are blowing storms then you can even plan the ski trip from November to April.
Thus, the snow conditions determine the ski season at these resorts.
Is Skiing in West Virginia Expensive?
No, skiing in West Virginia is not much expensive. According to a recent report from Realtor.com states, West Virginia ski resorts as the third most affordable ski resorts. So, you can enjoy a budget-friendly ski trip.
Final Thought
In a nutshell, the West Virginia ski resorts are best for family ski vacation plans as they are pocket-friendly and have the most latest features. The top 4 ski places in West Virginia have the most demanding and beginner-friendly ski terrain. You can have the most enchanting downhill ski experience at the highest point.
The vertical drop at these resorts is moderate with reasonable peak elevation. The accessible natural glades, world-class snowmaking system, wide beginner trails, efficient chairlift network, and much more make these ski resorts stand out in the crowd and get more attention from visitors.
Thus, you can have a memorable trip up in the Cheat mountain and the vast Appalachian mountain range of ski areas while enjoying skating, snowboarding, horseback riding, horse-drawn sleigh rides, and much more.
Related Guide: