Wondering what to do in Hua Hin? Here's 7 outdoor activities you don't want to miss.
Perched on the western side of the Gulf of Thailand, Hua Hin is a coastal city known best for its vast sandy beach, swanky seaside resorts, and kitesurfing — one of the fastest-growing adventure sports in Thailand.
Even though it was once just a quiet fishing town, Hua Hin's popularity as a holiday destination exploded in the early 1920's when Thailand's king at the time, Vajiravudh (Rama VI), chose Hua Hin as the location to build a ma-hoosive teak palace that he and the royal family would then use as a summer home.
Nowadays, Hua Hin is developing fast. The past decade has seen the city shift from being a low-key coastal getaway spot for Bangkok's city dwellers to a mini-metropolis in its own right.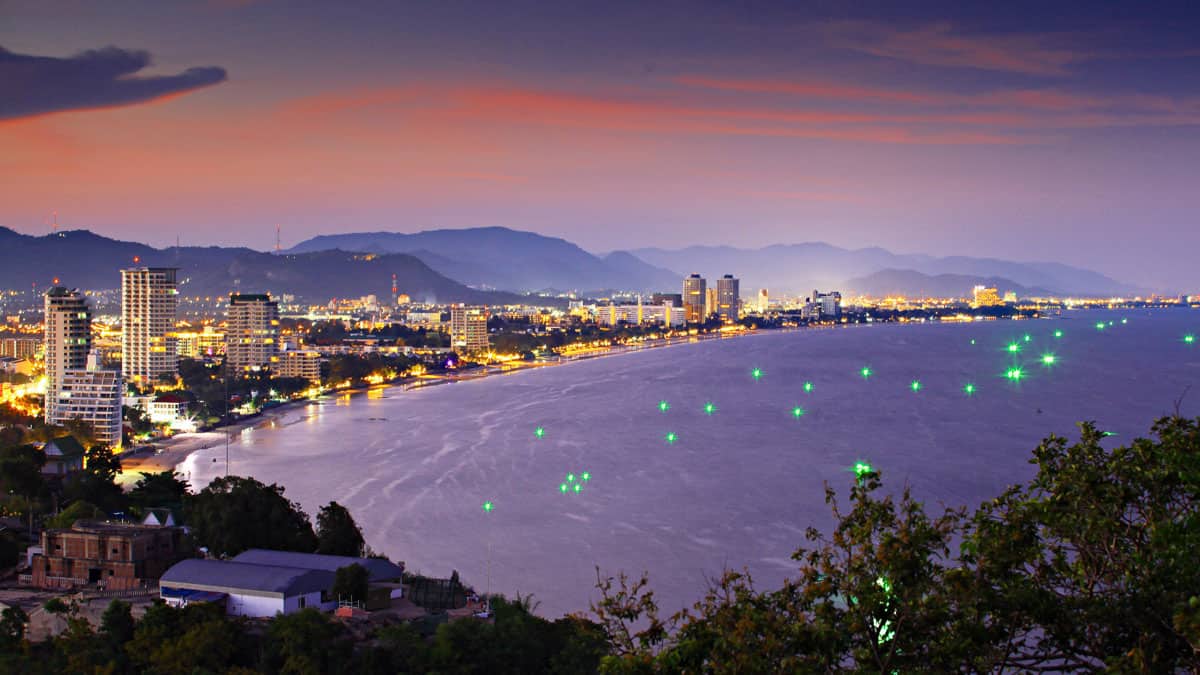 A popular spot for young and old alike, Hua Hin draws a mixed bag of travelling nomads — from fresh-faced English teachers, to retirees, to the wandering watersports tribe.
I'll level with you, though:
Upon first glance of the congested traffic and boulevard rammed with shops and restaurants, it's easy to pass quick judgement and write it off as just another city in the throes of awkward developments. But peel back the veneer and you'll soon find that Hua Hin's blustery kitesurfing beach, buzzing wake park, and misty mountain biking trails bring an energetic and edgy vibe to the city.
So guys, settle in for our pick of the best things to do in Hua Hin to get you outdoors and experiencing the best of the city's adventure activities:
Read related:
Our selection of adventurous things to do in Hua Hin
Kitesurfing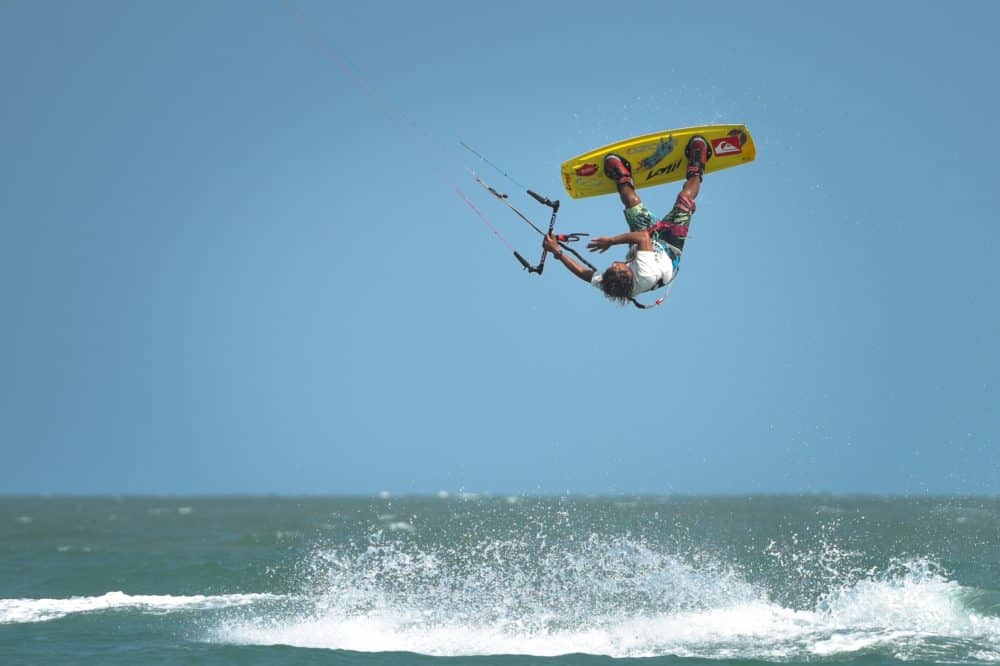 Hua Hin is one of the most popular — if not the most popular — place for kiteboarding in Thailand. And to be fair, the Hua Hin kitesurfing scene has developed to be a beast in and of itself over the past 10 years. Kitesurfing is one of our favourite things to do in Hua Hin because it gets you out on the water, exploring the coastline, and getting to know the international adventure sports community who base themselves here.
The 7km kitesurfing beach is home to half a dozen kiteboarding schools; several of which are owned by the Asia-wise franchise KBA, one from North, and the locally owned and run club Surf Spot.
If you've never tried kitesurfing before but you're keen to, you can take to the beach and learn the sport over the course of a couple of days with qualified, experienced instructors. Check out this beginner's package which promises to get you up and riding in just a couple of days' lessons.
Meanwhile if you're an advanced kitesurfer, you probably already know about Hua Hin's growing community of board riders. If you're heading this way and looking for a little support on the beach, you might find it helpful to kick off your stay in Hua Hin with an advanced lesson. This can be super helpful if you're not all that confident about kiting at a new spot and would like to get shown around by someone familiar with the tides, beach, and possible hazards.
Aaaand once you've had your fill of Hua Hin's own kiteboarding beach, you can also ride at the nearby Khao Tao beach or head off on epic downwinders to spots like Pak Nam Pran, depending on the season and wind direction.
Pssst: for full details about the kite scene in the city, check out our complete guide to kitesurfing in Hua Hin!
Wakeboarding
Thailand is at the forefront of the Asian wakeboarding scene, with a dozen or more super fun cable parks throughout the country — a handful of which are world-class.
Lucky enough for any nomads hoping to do some wakeboarding in Hua Hin, the city is home to a pretty saucy full sized cable, Black Mountain Wake Park — a trip to which has long been one of our favourite things to do in Hua Hin.
Wakeboarding is an awesome way to spend a day (or half day) in Hua Hin; it keeps you cool from that scorching Thai sun, for one; it's a badass workout, and Black Mountains is a really nice place to chill out for the day — whether you're a solo traveller, couple, group of mates, or a family.
Alright so, here's the dirty details for all you wakeboard junkies:
Black Mountain is a full sized Rixen cable with an 800 meter long counter clockwise run. With two kickers and a handful of sliders, including an A-frame and a pipe, the cable can accommodate up to 8 riders at a time. Open from 10.00-17.00 daily, you can buy a pass for a couple of hours, a day, a week, or a month if you plan on sticking around a little longer.
Black Mountain is open all year round, so you can go wakeboarding in Hua Hin at any time. Visiting in the summer is, if anything, the quieter time to do so, since the wakeboarding parks in Thailand are popular winter hangouts for European riders who come over to train when their own local cables close down for the season.
If you're a beginner wakeboarder, keep the following in mind:
Wakeboarding is an easy sport to pick up — even if you've never so much as stepped on any kind of board before. Try going wakeboarding in Hua Hin during off-peak hours (usually the morning time) if you feel like doing a few test runs before the crowds arrive.
There's always an instructor present who'll be able to give some light coaching and supply you with beginner-friendly boards and safety equipment. They also offer jetski rescue services if you crash in the middle of the lake.
Read more: Extreme Nomads' complete beginner's guide to cable wakeboarding
Anyone heading towards Hua Hin from Pranburi won't be able to miss the insane structures of Vana Nava Waterpark as it peaks over the walls surrounding the Holiday Inn Resort.
Visiting the water park
Vana Nava is a self-proclaimed "water jungle" (the first one in Thailand, at that), so called because the park is filled with more than 200,000 different species of tropical plants and trees from all around Thailand.
There's 19 rides to choose from, some of which fall into the shit-your-pants category (like the supa' scary Freefall) and others are very much PG-13. They've also got a climbing wall, ropes course, and a flow rider — cool for working on your board skills!
You'll also find tons of beach bars, cafes, restaurants, and facilities on-site. You can purchase a day ticket at the door, but we recommend booking for Vana Nava online in advance to guarantee yourself a ticket (it can fill up during high season) and because you can often score really good discounts by buying online — think half price or less.
Zip-lining (and other treetop adventures!)
Oooh, we would have been ALL over this one when we lived in Thailand, but it opened up after we left — rats! Even though we haven't been ourselves, we felt we had to update this list to include Hua Hin's newest hotspot: Treetop Adventure Park.
Located at Hua Hin's Vana Varin Resort, Treetops is a franchise that operates all over Thailand, offering zip-lining, rope walks high up in the trees, and rope bridges. They have TWENTY zip-lining platforms scattered throughout the jungle-filled park. Twenty, my friends.
On a practical note, the actual website for Treetop Adventure Park isn't up-to-date and has yet to list their Hua Hin centre (it is brand new, after all). But you can find all the info about the park's offerings — as well as ticket bookings — on the Treetop Adventure Park page on GetYourGuide.com.
Surfing & SUPing
Hua Hin isn't well known for its surf, but the reality is that it's one of the few places to surf in Thailand during the off-season winter months. When that swell kicks in, surfing is one of the coolest things to do in Hua Hin — hands down!
Plus, on glassier days Hua Hin is awesome for paddle boarding. Head out on the water right from the city beach and explore the shoreline — no better way of getting to know the city's coastline (and working off that pad thai you had for lunch).
It might take some patience, but if it's waves you're after you're most likely to score them in Hua Hin during the northeast monsoon, which runs from November until February. The two spots where you're most likely to catch surfable waves are Khao Takiab beach and Hat Wanakorn National Park.
It might be messy and it's rarely overheaders, but surfing in Hua Hin can be a good laugh — especially on a longboard or wooden SUP.
You can rent hard SUP boards (which are ideal for Hua Hin's choppy beach break) from SurfSpot, the local kite club on the main beach.
Hiking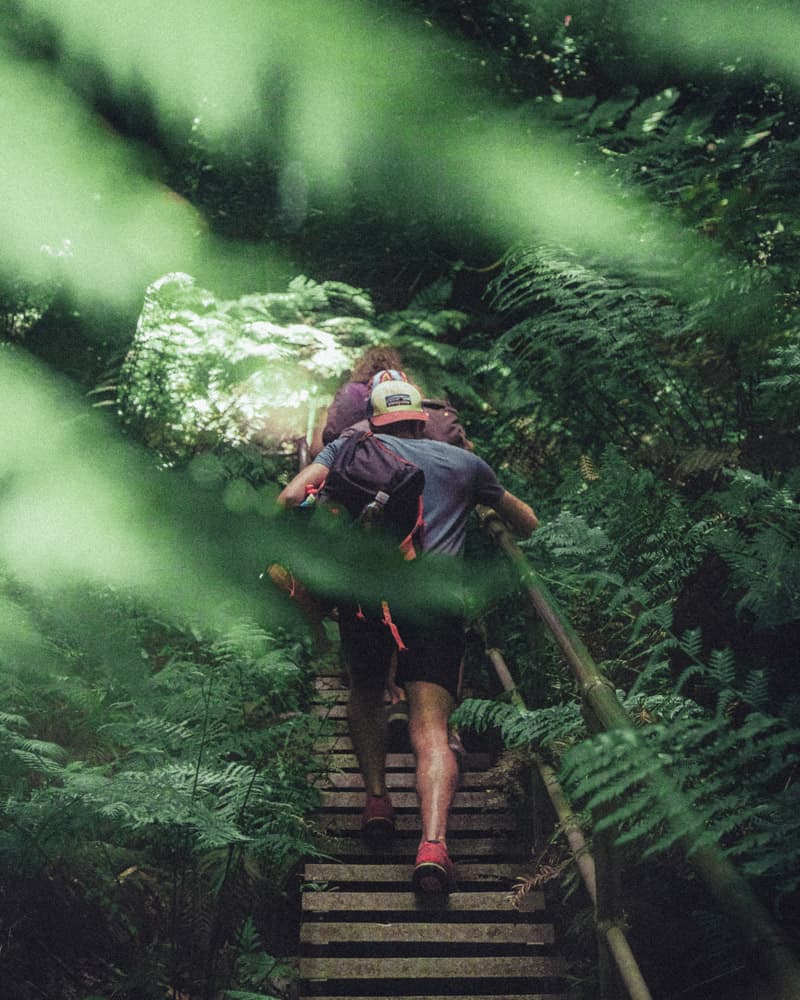 Hua Hin has been built on a fairly flat area, but outside of the bustling city limits there are plenty of steep forested mountains and easy-going hills that make hiking one of the most adventurous things to do in Hua Hin's great outdoors.
You can go hiking in Hua Hin almost all year round, though during the rainy season (which starts around late June and runs through October) the hiking trails can become slick with mud — which makes it kinda sketchy.
As such, the best time of year to go hiking in Hua Hin is typically between November and March (April and May aren't generally very rainy, but temperatures start to soar around this time, which makes any hiking experience feel like you've fallen head first into the Fires of Modor. So yenno, not ideal).
Here are the best places to go hiking in Hua Hin:
Wat Khao Takiap:
In just 15 minutes by car or motorbike you can reach one of the best — and closest — of Hua Hin's hiking trails. Khao Takiab sits just south of the city center, jutting out of the coastline slightly and overlooking the beautiful waters of the Gulf of Thailand.
Pssst: if you're keen to find things to do in Hua Hin that are a little outside the hustle and bustle of the main city, you should definitely consider heading out to explore the village of Khao Takiab! It's also full of sweet (and super affordable) places to stay, like Lunar Hut Resort — check out those prices!!
The thickly forested mountain offers a moderately challenging hike to the top, marked out with a well-trodden trail and a series of stairs that lead to a small temple near the peak.
Once there, you'll be greeted by hundreds of wild monkeys (they're used to human contact and are totally friendly and tame — although they have been known to ransack the odd backpack if it's left unattended. Don't say we didn't warn you!).
Khao Hin Lek Fai:
As well as being one of Hua Hin's best mountain biking trails, Khao Hin Lek Fai is also a great place to do some hiking. Conveniently located just 10 minutes to the west of the city center, Khao Hin Lek Fai offers 3 km of winding hiking trails through the breezy, forested hills — which also happen to be home to scads of wild peacocks.
The trails fork off in different directions, making it possible to find yourself at both southerly and northerly facing peaks — each of which offer different views of the city.
Sam Roi Yot National Park: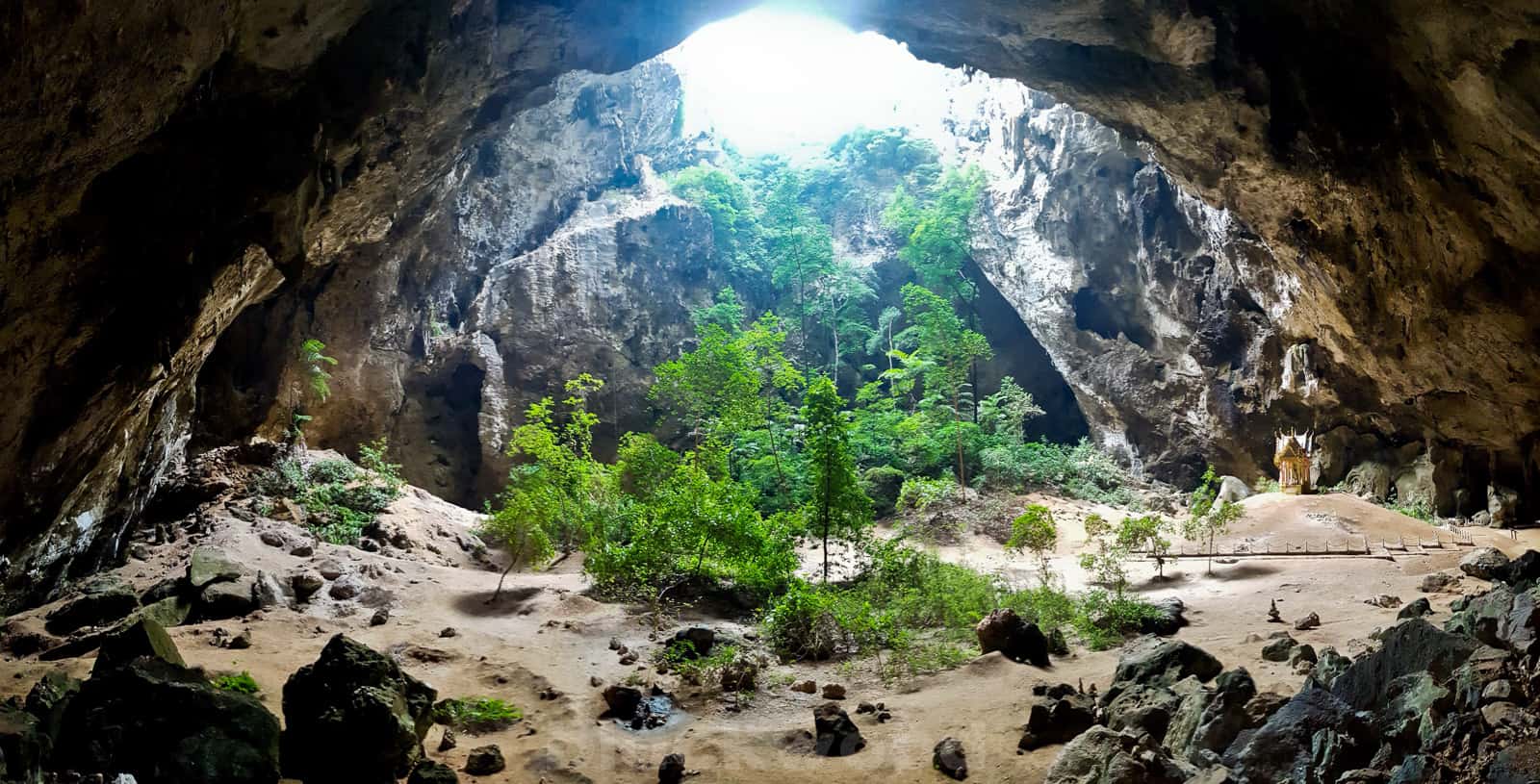 Sam Roi Yot (which we can translate to English as 300 mountain peaks) sits about 40 km south of Hua Hin. As the name suggests, the region is chock a block with huge mountains, a whole bunch of which come with their own hiking trails.
Though it's quite a bit further away, Sam Roi Yot is easily the most beautiful spot for hiking in the area near Hua Hin and one of our favourite places to visit outside the city.
The best hikes in Sam Roi Yot include the challenging hour-long climb up Khao Daeng and the incredible 90 minute trek to Phraya Nakhon Cave, with its magical Buddhist temple set inside an enormous cavern.
This trail, along with most of the other hiking trails in Hua Hin, are well-trodden and clearly marked, so they're very easy to tackle yourself without a guide. The terrain is a mix of dirt, fallen leaves, and some rocks.
In some cases, such as the Khao Daeng hike, there are sections where you need to do some vertical climbing up steep rocky faces.
While it's nothing the average fit person can't manage, it may be difficult for young children, elderly, or people with reduced mobility. As mentioned above, the condition of the trails deteriorates during periods of heavy rainfall, so it's best not to go up the mountain until things dry out somewhat.
Cycling & Mountain Biking
Mountain biking has skyrocketed in popularity in Hua Hin over recent years. There are now several schools and clubs operating in the area, working hard to maintain trails in the jungle-clad mountains just outside of the city.
On top of that, Hua Hin is often used as a tour stop for the Loose Riders Gravity Series, one other thing making downhill mountain biking in Hua Hin especially popular.
Most of the downhill mountain biking trails in Hua Hin have been forged up in the hills to the west of the downtown area, reachable after little more than a 15 minute bike ride from the city center.
But it ain't just adrenaline pumping downhill trails that Hua Hin has on offer, there are also plenty of opportunities for cross-country and enduro mountain biking around the city, too.
Check out our mate Willy Kerr and his buddies charging down Hua Hin's top track: Khao Hin Lek Fai (more on that spot coming up below!).
It's possible to go mountain biking in Hua Hin at most times of the year, although there are short periods during the rainy season (July-October) when the trails become slick with mud from all the downpour. Before planning a trip at that time of year, we advise contacting one of the local schools to find out the current condition of the trails for mountain biking in Hua Hin.
Best place to go mountain biking in Hua Hin
Khao Hin Lek Fai
Khao Hin Lek Fai (otherwise known as Mount Radar) is the most popular peak for downhill mountain biking in Hua Hin. Apart from the giant telecom towers at the top of the hill, the mountain is covered in rugged forest and wildlife- a far cry from the traffic and flashy shops of the city, just a few kilometers away.
Mount Radar boasts a modest collection of half a dozen trails, including the hair raising ICU Downhill Trail and the tamer Sen Bon (Upper) Trail. The ICU is fast, steep, and short (less than 1 kilometer) with a smattering of rock gardens. Meanwhile, Sen Bon is somewhat milder (although in parts, more technical) and offers one of the longer runs for mountain biking in Hua Hin.
For those of you who'll be looking to get in touch with a local club, shop, or school, here are the contacts you should know about:
Velo Bike Shop Hua Hin: With another HQ in Bangkok, these guys are one of the most renowned shops to rent or buy gear for mountain biking in Hua Hin. They stock a full arsenal of GT and TREK mountain bikes which they rent out to customers looking to tackle any of the local trails. They maintain 3 downhill trails in the area and also operate a number of cross-country and enduro tours for mountain biking in Hua Hin, too.
Hua Hin Bike Tours: Rated number one on TripAdvisor in the category of tours for mountain biking in Hua Hin, they organise a mix of half-day, day, and multi-day mountain biking tours in Hua Hin and the surrounding countryside. Their tours are ideal for beginners, families, and travellers keen to see the local sights from a fresh perspective.
See this complete listing for additional contacts and shops for mountain biking in Hua Hin.
Where to stay in Hua Hin
Being the fast-growing city that it is, there are tons of options when it comes to finding places to stay in Hua Hin. As is the case with most developing cities, you can choose to spend as little or as much as you like when looking for accommodation in Hua Hin — depending on the standard and style of lodgings that you're looking for.
At the most basic end of the spectrum, you can rent a room out in a local guest house in Hua Hin for as little as $10-25/night. For this price, you can expect to have free WiFi and a basic, cosy space. You can even score a private beachfront bungalow like the ones at Reera Resort for not much more than that.
For even less, you can get a bed in a dorm room in any one of Hua Hin's backpacker hostels. Definitely a good option for short term travellers on a budget, but if you plan on staying longer term, you'll likely want to splash out a little more on a larger, more comfortable space.
Meanwhile, short term travellers looking for a little luxury will do well to check out any of Hua Hin's high-end international resorts, like the incredible Intercontinental (click that link to see pictures of the insane pool overlooking the kite beach!).
How to get to Hua Hin
It's mercifully simple to get to Hua Hin, which is likely one of the reasons it's become such a popular holiday destination for so many.
Hua Hin has its own international airport, though as of right now, there are very few flights operating in and out. If you come up short with direct flights, your best option is to go from Bangkok to Hua Hin. Fly into Bangkok's Suvarnabhumi airport and, from there, take a private shared shuttle bus directly to Hua Hin for less than 10 bucks.
Alternatively, you can take the train or public bus from Bangkok city center or a private vehicle (which is the fastest option and will set you back roughly $70). Check out our partner 12go.asia to find the most suitable option at the best price.
How to get around Hua Hin
When it comes to getting around Hua Hin, taxis and tuk-tuks are widely available and fairly affordable. That said, if you plan on staying in Hua Hin a little longer, you'll probably find you have the most cost effective (and flexible way) of getting around Hua Hin is by renting a motorbike/scooter.
Renting a motorbike in Hua Hin is easy (just walk down the main street and you'll see plenty of signs), and local competition keeps prices between vendors pretty similar. Expect to pay $70-100/month for a rental motorbike.