Travelling to Thailand? Check out the best kite spots in the country!
Remember that island that Roger Moore jetted off to in The Man with the Golden Gun? Oh yeah, that was in Thailand.
And remember that insanely beautiful place where Leo DiCaprio went totally bananas in The Beach? Am I right?! Yup, that too was in Thailand.
Travellers' Thailand adventures have been gracing our screens and making homebound nomads green with envy for a long time now — but as far as kitesurfing in Thailand goes, we think the country's potential is definitely underrated.
Here's the story:
Thailand's year round warm weather, easy-going breeze, and mellow water conditions make it a really nice place to enjoy some laid-back kiteboarding and is especially good for beginners, free riders, and foilers.
Okay, okay, so it isn't exactly hurricane weather.
Truth be told, Thailand's wind is generally quite light- particularly when you hold it up against the blustery gusts in Vietnam and the Philippines.
However:
Kitesurfing in Thailand can be bloody great when you catch it at the right time.
Tack that on to the ridiculously long list of other reasons we love the place (sun, food, amazing people, but also decent surfing and world-class cable wake parks) and you've got yourself a damn good set up.
Better yet:
Thailand's geography causes different parts of the country to receive wind at different times.
Which means (*drumroll*)…
If you play your cards right, you can actually kitesurf in Thailand during *most* months of the year.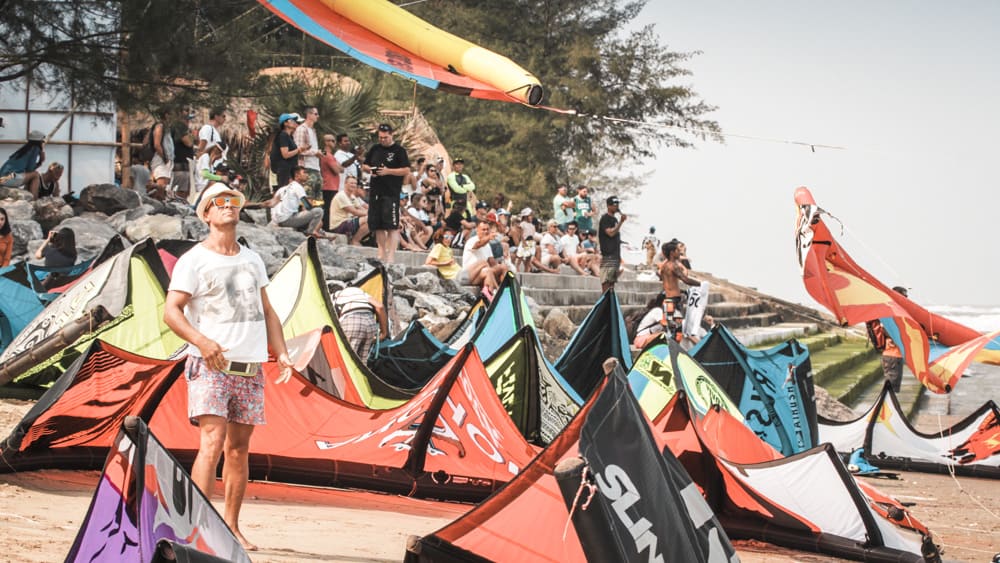 Read next:
This article will walk you through everything you need to know about kitesurfing in Thailand
You'll also find at the end of this article more information about Thailand's kitesurfing seasons, wind types, and wind statistics.
The main course is a breakdown of our top 9 spots for kiteboarding in Thailand, plus a little extra. We'll dish out a brief guide on each spot as well as at-a-glance info about the seasons, wind directions, and water conditions.
And just because we know a bunch of you nomads need to work while you travel, we've also included our recommendations for the best coworking spaces in each spot and details of the internet in Thailand.
Kitesurfing in Phuket
Best time to kitesurf in Phuket: Nov-Feb, June-Sept
Water conditions: flat and shallow, wind swell out in the bay
Best coworking spaces in Phuket: CocoWorking, HATCH, Sentio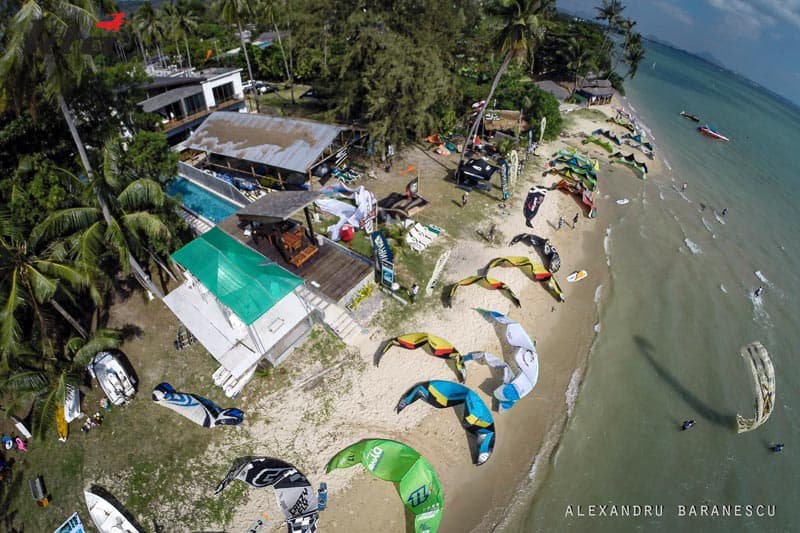 Ahh, Phuket. Thailand's largest island. Muay Thai capital of the country. Home of the baffling town of Patong.
Not only does Phuket have some of the best surfing in Thailand (making it one of the best countries to surf in Asia… just sayin'!), it's also got some pretty sweet kitesurfing conditions when the season is on.
Phuket's high season for kiteboarding kicks off in November and peaks between December and February. During this time, Rawai Beach in Chalong Bay is the best place for kitesurfing in Phuket. Just check out that video and see for yourself.
With fairly flat, shallow water and beaming blue skies, no wonder this is where our buddies at Kite Zone Thailand decided to lay down roots (hit them up for lessons and gear rental, if you're in need). They also offer IKO level 2 instructor courses.
During the summer, the wind direction switches and the local kite crew makes its way over to the north of the island, specifically to Nai Yang Beach. The sandy beach is lined with tamarind and coconut trees, while the water is kept flat thanks to the reef on the outside.
Summer is an unpredictable time for kiteboarding in Phuket since the wind is governed by storm fronts (which also bring a lot of rain to the island). That said, summer sessions are far from unheard of; you might just need to chuck back a couple of cold Leos while you wait (or plan a few handy wee day trips from Phuket so that you get the chance to explore the neighbouring regions, too!).
How to get to Phuket: Phuket has its own international airport which is well connected with the rest of Thailand and Asia. You can also take the train from Bangkok to Surat Thani then a minivan across the bridge to Phuket. There are also direct sleeper buses available for those that don't mind being on the move (and deprived of their sanity) for 20 odd hours.
Kitesurfing in Cha Am
Best time to kitesurf in Cha Am: Oct-Jan, Feb-May
Water conditions: wind swell, moderate chop, flat
Best coworking spaces in Cha Am: no official coworking space in Cha Am so far, but there are some work friendly cafes like The Tea House, Miffy's Garden Cafe, and Raya Coffee
Located in Phetchaburi Province on the western side of the Gulf, Cha Am is one of the many lovely kite spots in this part of Thailand.
Here's why it's worth noting:
First off, it's got a big-ass sandy beach with tons of launching and landing space. On top of that, Cha Am is a quiet spot, which means you're bound to have most of the beach (and water) to yourself.
But what's the most important thing to know about kitesurfing in Cha Am?
At 170 km, it's one of the closest kitesurfing spots to Bangkok (jot that down, city dwellers).
Psst: for those of you bound for Bangkok, find out about the city's best coworking spaces, internet speeds, and accommodation in our Bangkok digital nomad guide!
The main kitesurfing beach in Cha Am enjoys fairly tame conditions.
The thermal season brings 10-20 knots side onshore from around 11 A.M. throughout the day, while the monsoon season sees the wind blow from 8-22 knots and is strongest in the morning.
The water is mostly flat with some light chop when the wind picks up (and during the monsoon season). There's a pier on one side which creates a protective flat water area (a sweet little spot for freeriding and freestyle). Meanwhile, Cha Am South is home to some more challenging choppy wave spots.
There's a handful of local kitesurfing schools in Cha Am, including KBA and 17 Knots Kitesurf Center.
As for the town itself:
It's a good spot to head for if you're down to experience a slice of low-key, authentic Thailand. Cha Am is far less busy than Hua Hin, for example- though still there's plenty to keep you occupied off the water. The Wednesday night market is a must-do!
How to get to Cha Am: It's just 2-2.5 hours by car from Bangkok, depending on traffic. You can also take a 'direct' bus from BKK airport to Hua Hin and get off in Cha Am. There's also local buses from the city.
Kitesurfing in Hua Hin
Best time to kitesurf in Hua Hin: Oct-Jan, Feb-May
Water conditions: wind swell, moderate chop, flat water lagoons
Best coworking spaces in Hua Hin: Hua Hin Town Cafe, Siam Bakery
If you go by popularity, Hua Hin is easily one of the best kitesurf spots in Thailand.
And though it's just half an hour down the coast from Cha Am, Hua Hin is like another world. It's a bona fide city (though not a mega big one).
It is, though, the main hub for kitesurfing in Thailand's south-central region. Hua Hin is home to half a dozen kiteboarding clubs and a 7 km long sandy beach. It gets fairly busy during the high season, but never unpleasantly crowded.
As one of our reader's commented recently, there's a really strong foiling scene growing in Hua Hin at the moment! The Thai national team train here, as do the Chinese national race team. A visit to the city beach might result in you getting to see some high class foil action!
Free from obstacles, Hua Hin's kiteboarding beach gets hit with some light chop during the thermal season (Feb-May) and more challenging swells during the monsoon season (Oct-Jan).
The clean, side-on orientation during thermal season combined with the change of tides causes sweet little lagoons to form at the water's edge — perfect for beginners and freestyle riders.
Head to our complete Hua Hin kitesurfing guide for more details on the spot.
How to get to Hua Hin: If you're flying in from abroad, the most convenient way to get to Hua Hin is with the direct bus from BKK airport. You can also take a local bus or train from city center. Hua Hin does have its own airport, too, serving sporadic flights to and from Bangkok.
Kitesurfing in Pak Nam Pran
Best time to kitesurf in Pak Nam Pran: Oct-Jan, Feb-May
Water conditions: wind swell, light chop, flat water lagoons
Best coworking spaces in Pak Nam Pran: no official coworking space, but Brown and Grandmother's Cafe are both work-friendly.
A further half hour down the coast from Hua Hin, Pranburi, or more accurately Pak Nam Pran, has some of the best kitesurfing in Thailand — hands down. Way down.
And it seems we're not the only ones who think so:
Not only has Pak Nam hosted rakes of international kitesurfing competitions (including the 2018 Youth Olympic Qualifiers), it's also the home of 6 times 7 (!!!) times Asian kitesurfing Champion, 'Yo' Narapichit Pudla. If you're looking for kitesurfing lessons in Thailand, you can't do much better than Yoda Kite School in Pak Nam Pran, Pranburi's premier kiteboarding spot. Yo's wife, Agatha is Russian, they both speak English and know absolutely everyone in town so you're in good hands. Tell them Extreme Nomads sent you so we get some free beers next time we hop in town. Yes!
Located on the edge of the quiet, authentic fishing town, the kitesurfing beach of Pak Nam Pran is wide, open, and sandy. It never reaches full capacity, even during the peak high season.
We believe in this place so much that we've given it a slot as one of the best spots for kiteboarding in Asia.
The thermal season peaks in March and April, during which time you'll be treated to stable side-onshore wind of 10-20 knots. The daily duo of high and low tides causes those lovely little lagoons to form here too, just as they do in Hua Hin.
The winter monsoon winds are stronger, but a little less predictable since they're ruled by the erratic northeast monsoon. In a single day you could expect anything from 15-28 knots, and choppy water conditions.
What the monsoon's strength all day long offers though, is the possibility of epic, 100 km day trip downwinders from Pak Nam Pran all the way down to the city of Prachuap Khiri Khan, passing by the sumptuous Sam Roi Yot national park, the largest marine park of the country, home to secluded beaches, monkey islands and massive shallow areas. Master Yo will organize those from time to time during the season, with guiding, lunch and transport back all included.
Prachuap Khiri Khan is a pretty sweet spot too, with very similar conditions to all the other spots on this side of the coast.
Although the summer months do see Pak Nam Pran hit by the breeze from the Indian Ocean, the direction of the coast means it blows offshore at the usual kite beach (but if you're in the know, you can often squeeze in a seriously rewarding session at the Pranburi Dam).
Head to our complete Pranburi Adventure Guide for more information about the best sports and activities to do in and around Pranburi. You may also find our review of the best hotels in Pranburi useful.
How to get to Pak Nam Pran: Take the direct bus from BKK airport to Hua Hin, which is super comfy, and from there take a taxi to Pak Nam Pran (about $12). You can also take a local bus or train from Bangkok city center. Expect to pay the equivalent of $70 for a private vehicle.
Kitesurfing in Chumphon
Best time to kitesurf in Chumphon: Nov-Jan, June-Sept
Water conditions: wind swell, moderate chop, flat water lagoon
Best coworking spaces in Chumphon: no official coworking spaces, but Cafe Amazon and Cera Garden Coffee should do it.
Continuing with our wander down the Gulf of Thailand's western coast, Chumphon is next on our Thailand kitesurfing hit list:
Kiteboarding in Chumphon is at its peak in the lead up to Christmas when the northeasterlies winds kick in and sweep across Thung Wua Laen Beach.
In the main bay you'll be up against some wind swell and chop, but it's nothing unmanageable. If you're keen for kitesurfing in Chumphon but you prefer flat water, stick around for the thermal season when the lagoons come back.
The sandy beach is lined with palm trees and beach bungalows, the latter of which come cheap as chips and are great to rent out for a night if you find yourself on an epic kitesurfing odyssey bound for the southern islands.
Overall, Chumphon is chill.
There are some lively bars, a couple of disco style clubs and pool halls, but tourism is pretty low-key.
Wanna know what else is cool in Chumphon? Caving.
Strap on a headlamp and go explore those bad boys; see if it doesn't give you the slight sensation of being as awesome as Indiana Jones.
How to get to Chumphon: Chumphon has its own airport which connects flights from Bangkok. Alternatively, you can take the train, the government bus, or the Lomprayah bus from Bangkok's famous Khao San Road.
Kitesurfing in Pattaya
Best time to kitesurf in Pattaya: Nov-Jan, Feb-June
Water conditions: wind swell, moderate chop
Best coworking spaces in Pattaya: Anchor Coworking Space, rPod Coworking Space
A quick change of scene while we hop over to the eastern side of the Gulf (and when we say change of scene, we mean "Put on your spacesuit chaps, we may as well be going to Mars").
Pattaya is a notorious party town known for its unscrupulous after hours activities and big-ass beach resorts. But over 18s antics aside, Pattaya gets its fair share of wind, both during the winter monsoon and the springtime thermals.
Na Jomtien is the main spot for kitesurfing in Pattaya, and praise jaysus there's not a banana boat or jet ski in sight out here- hoorah! The whole beach is reserved for wind-powered water sports, unlike the other beaches close to the city.
But that ain't all:
You can also kite at Sai Thong and Chol Chan nearby, the latter of which works best in winter when the other spots are occasionally blowing offshore.
Winter time brings constant high tides while the summertime ushers in tasty beachside lagoons.
The summer southwest monsoon blows 6-12 knots during July and August too; not a bad one to remember for anyone hoping to sneak in a little foiling session.
How to get to Pattaya: Pattaya city is just a 1.5 hour from Bangkok airport and 2 hours from the city. There are regular buses from the Eastern Bus Terminal (Ekkamai) to the Pattaya Bus Station (which is a first class aircon bus). There's also one daily train that leaves Bangkok Railway Station (Hua Lamphong) at 7am and arrives in Pattaya 5 hours later.
Kitesurfing in Rayong
Best time to kitesurf in Rayong: May-Sept
Water conditions: wind swell, light chop
Best coworking spaces in Rayong: Pause Coworking Space
Here's a fun little tidbit for you:
Rayong is the home of one of the world's first ever Olympic kiteboarders, 15 years old Nichanan Rodthong, a.k.a. Mai (she'll be representing Thailand at the Youth Olympics in Buenos Aires in October 2018). Pak Nam Pran's Master Yo is in Rayong with her as we speak putting in some quality training hours in preparation for the big event.
Not too shabby, ey?!
Rayong's also hosted a slew of its own kitesurfing events over the years, including the Rayong Kiteboarding Championships.
So, here's the deal with kitesurfing in Rayong:
The region gets wind from the Indian monsoon (the same one that blows in Kalpitiya).
Thanks to the fact that the main kitesurfing spot, Laem Son, is southerly facing, it's one of the best places to kitesurf in Thailand during the summer. Even better though, is that the shape of the bay which is perfect for kitesurfing no matter if the wind is blowing from the southeast or southwest (and it does change occasionally throughout the summer).
There are a couple of kiteboarding schools in Rayong to serve all your lesson and rental needs, including Thai Kiteboarding and Rayong Kiteboarding School.
As for Rayong itself:
It's a peaceful place with few foreign tourists and plenty of understated local charm- a laidback alternative to the flashiness of Pattaya. The only time Rayong gets really busy is during the Thai national holidays when the Bangkokers fly the coop and flock to the beach.
How to get to Rayong: Take the local bus from Mo Chit Station in Bangkok or the regular mini bus from Rangsit or Chachoengsao (in the Bangkok suburbs).
Kitesurfing in Koh Phangan
Best time to kitesurf in Koh Phangan: Jan-April, July-Sept
Water conditions: flat, light chop
Best coworking spaces in Koh Phangan: Koh Space
We're making a jump south now and hitting the famous islands.
First on the list is Koh Phangan, also known as "the one where all the backpackers go and get embarrassingly trashed at the full moon party". Yeah, you know the one.
But seriously, let's be real for a sec:
Koh Phangan is an amazing place and full moon parties are just a teeny, tiny, luminous speck of what this island has to offer.
You can kitesurf all around the island, though Baan Tai Beach/Thong Sala on the southern coast is the main spot during peak season. With its sandy shore and waist deep water, this spot works best during the southerly summer wind. Thanks to the protection of the outer reef, Koh Phangan's southerly kitesurfing beaches enjoy perfectly flat water for miles around.
Here's some more good news:
You can still go kitesurfing in Koh Phangan during the winter.
Granted, the wind is a wee bit less reliable, but head for Haad Rin Beach in the south or Chaloklum in the north and that's where you'll find the local kite crew.
Koh Phangan now has a new 2.0 cable park for wakeboarding, even though it's still fairly basic for now, no obstacles and a bit short. They've only recently opened, so we hope to see them grow nicely in the coming years.
How to get to Koh Phangan: Those looking to maximise their time on the water can fly to Koh Samui and take the ferry to Koh Phangan (it's the fastest but by far the most expensive way to do so). You can also fly to Surat Thani on the mainland and take the ferry from there. Additionally, you can take a bus/train to Surat Thani from Bangkok, or the Lomprayah bus/ferry combo from Hua Hin.
Kitesurfing in Koh Samui
Best time to kitesurf in Koh Samui: Jan-April, July-Sept
Water conditions: light chop, flat
Best coworking spaces in Koh Samui: no official coworking spaces, but plenty of work-friendly cafes. Check out this monster list of cafes and their digital nomad friendliness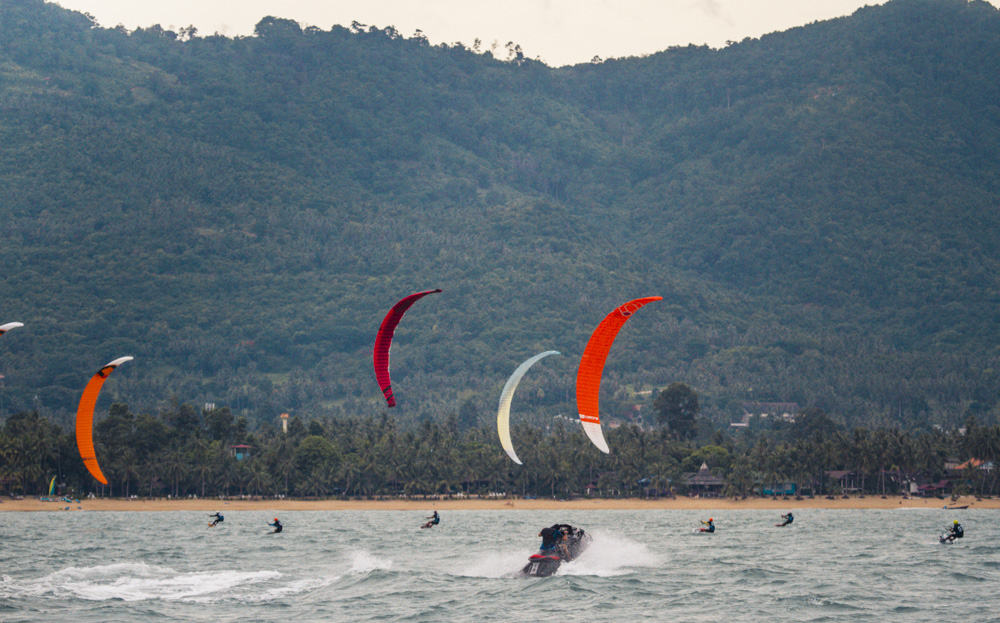 Just as Koh Phangan's best kitesurfing spots face out to the south, Koh Samui's best spots are on the north. On a clear day, you can practically wave to your buddy on the kite beach the island over.
One of the best spots for kitesurfing in Koh Samui is in Mae Nam, just 10 km away from the airport.
The headland to the west of Mae Nam calms a lot of the chop, so the rideable area enjoys fairly calm conditions. The water is deep throughout and the beach is long and sandy.
Meanwhile, on the west coast:
Nathon is the spot to head for. It works best during the summer months when the Indian monsoon blows side shore from the left.
Wind reliability isn't the highest in Samui, but when it does blow it's a cracker. 10 and 12 meters are the norm during the high season.
Koh Samui just recently held its first ever international foiling event (KTA Hydrofoil Series for Asia & Oceania). And no surprise they picked this island as the location; the gentle breeze and mellow water conditions are absolutely A1 for foiling.
How to get to Koh Samui: Samui has its own international airport (though direct flights to the island are around double the price of normal domestic flights). For a cheaper option, you can fly to Surat Thani and take the ferry. For the scenic route, take the bus/train to Surat Thani.
Extra Spot – Kitesurfing in Krabi
Best time to kitesurf in Krabi: Dec-Feb (potentially)
Water conditions: flat
Best coworking spaces in Krabi: KoHub
Krabi is one of Phuket's neighbouring islands out on the Andaman side. It's one of the more chilled out of the southern islands and is popular with adventurous nomads looking to try their hand at rock climbing, diving, and kayaking.
With those karst limestone mountains and baby blue water, it's a bit of a dreamy place.
If the wind was honking in Krabi, we'd probably never leave. But alas, you can't have it all…
Krabi isn't the breeziest of places- even by Thai standards.
BUT (yes, there's a but):
It does blow there on occasion. And when it does? Holy ba-jaysus, is it ever beautiful. Nopparat Thara in Ao Nang (which also has an awesome nature hiking trail) and Railay Beach are where you want to be if that wind reader starts going off. Obviously hydrofoil boards would have more chances here, and if coupled with a foil kite even better.
How to get to Krabi: Krabi has its own international airport. It can also be reached by bus from Bangkok's Southern bus terminal. If you're coming from Phuket, you can take a ferry, and from Koh Phangan/Samui you can get a bus/ferry combo ticket.
Should you plan a kitesurfing holiday in Thailand?
Here's the deal:
When it comes to kitesurfing in Thailand, we often hear the same mantras being repeated over and over.
"Good luck with that, no wind in Thailand" and "Bring your big kites, huh huh" are among the most-heard.
Sigh…
In reality, Thailand has plenty of wind.
It's just not as consistent as it is in the like of Vietnam or the Philippines, for example.
A lot of people come for kitesurfing holidays in Thailand, stay 1 week, are unlucky with the wind, and leave with a bad taste in their mouth, determined to tell anyone and everyone that it's absolutely pointless trying to kitesurf in Thailand.
In truth?
It's a great place to kite, but sometimes, if you go down for just a few days, you could not see any wind especially during the switch between 2 wind seasons. The percentage of kitesurfing days in high season, from someone who's lived there since 2009, hovers around 70%. So sure, it typically works out, but once in a while, it might not. But that's the whole story of kitesurfing and the weather will never be completely predictable more than 2 weeks in advance, even in world class wind destinations you sometimes have bad luck.
People generally have the best experiences kitesurfing in Thailand when they choose to stay for at least 2 weeks during the high season. Because if you have a few no wind days, it's still Thailand, you will always find some extra things to do. There are cable parks everywhere in this country, for example.
Wind statistics & season for kitesurfing in Thailand
There's a lot of confusion when it comes to when the season for kitesurfing in Thailand is, where the wind blows, and what kind of wind strength you can expect.
Now, pull up your socks and listen, 'cause we're about to get sciencey:
While a lot of peeps look at the wind statistics for years gone by to get an idea of the local wind strength, the stats only cover half the story.
Seriously. Only half. Maybe even less.
Anemometers (or wind readers) measure actual wind speed. What they don't account for is the temperature of the air and the effect that has on the apparent wind levels.
What do we mean by that?
Put it this way:
There are two dominant wind seasons that affect (most of) Thailand's kitesurfing spots: monsoon and thermal.
While monsoon wind is cold, dense, and punchy, thermal wind is light and lifty- for lack of a better word.
Thermal wind isn't actually wind, in a sense (bear with me here):
It's more of a difference in pressure. As cool air comes in off the sea, the warm air over the land rises up and is replaced with the cooler air, creating more lift and better kitesurfing conditions.
The thing is, anemometers don't measure this phenomenon very well.
When you look at the wind statistics for Thailand, it pays to note that the thermal season isn't recorded with very much accuracy. Take this record of the wind in Pak Nam Pran, for example.
From looking at the Windguru archives, you'd be led to believe only 10-19% of days during the thermal season had Beaufort force 4 wind (11-16 knots), when in fact, if you were on the beach every day during that time, you'd know it was a lot more often than that.
Local riders put the normal spectrum for wind during the thermal season at 10-20 knots on 70% of days and 15-25 knots during the monsoon season with similar/slightly less reliability.
So, taking all of this into account (hang in there, it gets easier after this)….
This should give you a much clearer idea of when and where to go kitesurfing in Thailand next time you get the chance.
Internet in Thailand
Thailand's internet speeds vary massively from place to place. In Bangkok, you can easily find coworking spaces and cafes with 50-100 Mbps of download speed, though the average is closer to 40 Mbps.
Meanwhile, many areas that we'd consider quite rural, such a Pranburi, still have totally acceptable speeds of 10-20 Mbps in most coffee shops. However, more and more houses for rent, hotels and guesthouses are getting fitted out with 50 Mbps fiber optic cables and free wifi is provided as standard virtually everywhere. Power cuts are rare and usually caused by unlucky pole climbing snakes.
4G in Thailand averages 9 Mb/s, which is in line with the Asia-Pacific region average of 9.69 Mb/s. The top 3 mobile providers in Thailand are Truemove, AIS and Dtac. You can easily buy SIM cards and credit at the airport or at any local phone retailer.
Travel resources
Plan your trip
Ready to start planning and budgeting your trip? Use Kayak to find and compare the best deals from all over the web on flights, hotels, and car rentals. When you do a search on Kayak, it pulls data from hundreds of travel booking platforms to offer you the best prices available, so you know you're always optimizing your budget to the max.
For local public transport in-country, like buses & minivans, taxis, trains, and even ferries, we recommend using Bookaway, which works the same way. Bookaway is especially useful in countries where small local operators don't necessarily speak English or even have a website at all. They also offer 24/7 support in case anything goes wrong.
Book activities
Want to start browsing and booking activities available at your destination? Nowadays there are a few booking platforms specialized in outdoor adventures and active holidays worldwide. We recommend Tripaneer for yoga and meditation retreats, surfing and kitesurfing camps, cycling holidays, or motorcycle tours.
Tripaneer focuses mostly on week-long holidays often including accommodation, while Manawa also lists daily and hourly activities including every action sport you can imagine but also a lot of crazy stuff like shark diving, survival training, zip-lining, or even reindeer sledding!
For traditional guided tours, day trips, and local experiences like cooking classes, GetYourGuide is everyone's go-to platform and features an insane amount of authentic reviews to help you make a decision. They also list some mainstream outdoor activities like diving courses, guided hikes, or kayaking excursions.
Travel insurance that covers surfing
Finding serious travel insurance that covers surfing and other extreme sports isn't easy, that's why we recommend World Nomads, a simple and flexible insurance company run by an international team of adventurous travelers since 2002. Fill up the form below and once on the website, just add the activity or activities you'll be doing and get a quote perfectly tailored to your trip.
From physical injuries and medical repatriation to dental emergencies, stolen passports, damaged gear by airline companies, trip cancellation, or even pregnancy complications, they've planned it all. You can even sign up for a policy after you started your trip. For a list of recommended travel vaccines and Covid country-specific information, head to the CDC's travel page.