A collection of the best surf quotes about life, love, the ocean, and travel.
Here at Extreme Nomads HQ, we're down for anything that serves to inspire our surf travels and and saltwater sessions — be it a bumper sticker-esque classic from a surfing legend, a fresh n' frothy insight from a modern day poet, or an excerpt from one of our favourite surfing books.
This post is a collection of surfing quotes from our favourite essays, movies, books, and documentaries. We combed through them to collect the wisest, funniest, and most real surf quotes from each one.
In doing so, a pattern emerged:
Where the theme of surf and travel slowly departed, the philosophical side of surfing and how it relates to life as a whole kicked in.
So, we've chosen not just to include travel inspired surf quotes, but also an extra section of surf quotes which feature the spiritual side of a surf lifestyle.
Go brew yourself a steamy cup of coffee and stack your feet up on the table; it's time to get inspired by our curated collection of poignant, original, and funny surfing quotes from around the world.
You might also like:
Our selection of travel and surf quotes to inspire your salty soul
"As hard as you try, as many places as you travel, and as many waves as you have the honor to feel beneath your heels, it will inevitably only deepen the desire to seek out more."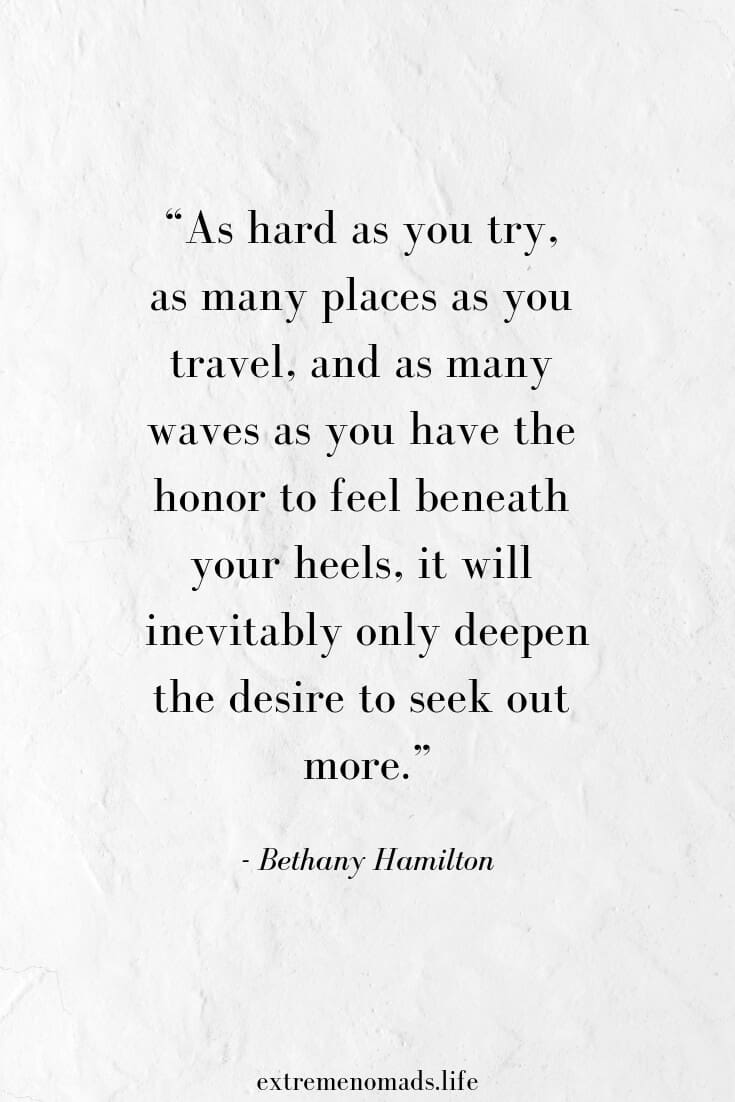 "It's so cool to be traveling around the world searching for good waves, meeting people, competing, living from the sport, and doing what you love. It's beautiful."
– Jacqueline Silva
"Through surfing we got the chance to go all over the world."
– Chris Malloy, The Malloy Brothers


"Going to places where you can find those waves where you still have it to yourself; that's one of the most special things in surfing. There's so much coastline that's still undiscovered."
Chris Malloy, The Malloy Brothers
"I love to travel. It's amazing and addicting. But it's super rich when you can learn something and feel the same way that you do on the road and be at home, it's an amazing combination."
Dan Malloy, Esquire
"Surfing-wise I have been blessed. I've been able to travel so much and surf so many incredible waves."
– Keith Malloy, Huck Mag
"Man cannot discover new oceans unless he has the courage to lose sight of the shore."
– Andre Gide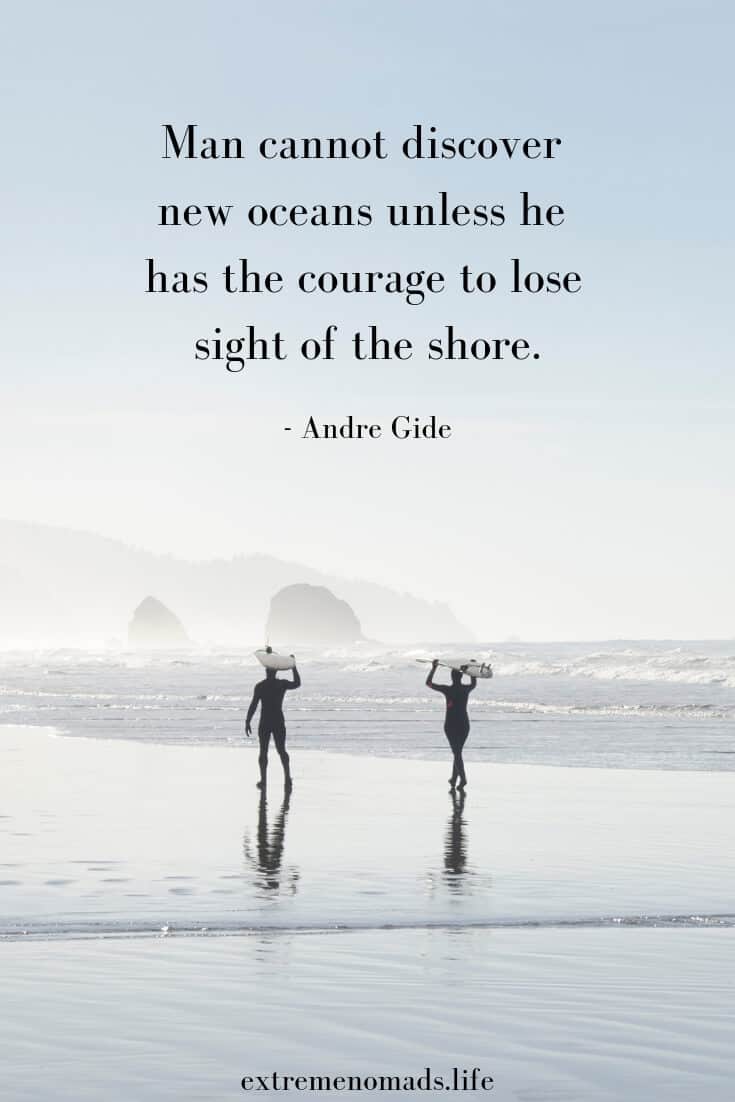 "Surfers, because they're exposed to the wild, have something that most of society has lost. Most of society is completely cut off from the wild, completely cut off from the natural world they live in. Climate controlled automobiles or houses or whatever they are… In this day and age where you have such fractured societies, who is there more prepared and more globalised and more integrated into the natural world and the global community than surfers?"
– Drew Kampion, Waveriders

You might also like:
"I think it's just the spirit of adventure. People get excited about travel and the unknown when you're going out to a wave that maybe nobody's ever surfed before. It's just the whole spirit of exploration."
– Richie Fitzgerald
"We'd name the breaks different names after girlfriends we'd left back home."
– Craig Peterson
"Some people travel to surf, but lots of times I feel like I surf so I can travel."
– Chris Malloy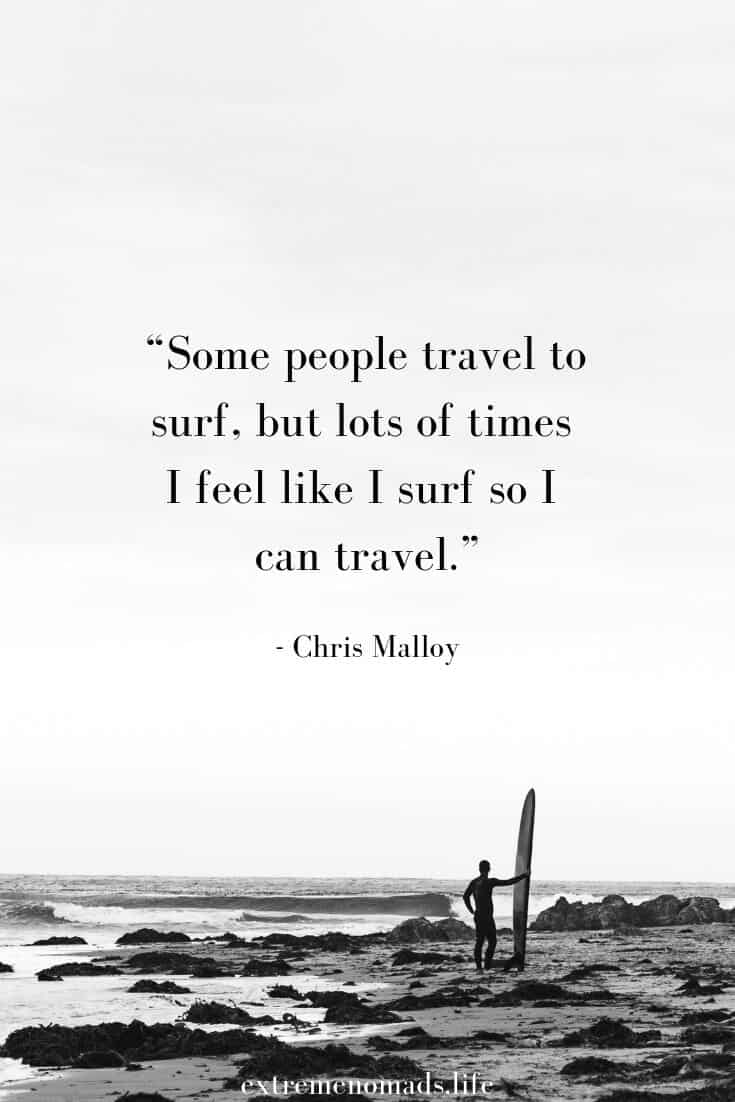 "We wanted to explore for new waves, discover our own spots, find beaches without another surfboard in sight."
– Kevin Naughton and Craig Peterson, Search for the Perfect Wave
"Road trips usually start with a sneaking suspicion: somewhere else on the coast someone is getting better waves than you are."
– Kevin Naughton and Craig Peterson, Search for the Perfect Wave
Editor's note: The next quote is one I love to pieces. It's written by Jack London (one of the world's first renowned travel writers) during one of his early trips to Hawaii where he met- and became enthralled by- George Freeth, an Irish-Hawaiian surfer. He writes about his impressions of seeing surfing for the first time, an essay which in turn became the first mainstream story that a US audience had ever heard about surfing.
"Where but the moment before was only the wide desolation and invincible roar, is now a man, erect, full-statured, not struggling frantically in that wild movement, not buried and crushed and buffeted by those mighty monsters, but standing above them all, calm and superb, poised on the giddy summit, his feet buried in the churning foam, the salt smoke rising to his knees, and all the rest of him in the free air and flashing sunlight, and he is flying through the air, flying forward, flying fast as the surge on which he stands. He is a Mercury — a brown Mercury. His heels are winged, and in them is the swiftness of the sea."

– Jack London – "A Royal Sport"
Surf quotes about life
"Part of surfing for me isn't the surfing. It's moments where I am alive and living and connected. This is why I am here."


"I feel really at home in the ocean; surfing is a huge part of who I am."
– Easkey Britto

"There's so many parallels that can be drawn between how you interact with the ocean and how you interact with life, they're both constantly shifting beasts."
– Caitlin Creeper, Salty Souls Experience
"Surfing is rehabilitative because the ocean, like war, is a minefield. Filled with sharks and other unknowns, it requires acceptance of chaos. But … once you embrace the chaos, it's beautiful."
– Eric Stoneking, "Injured war veterans search for peace and rehabilitation in the waves of Huntington Beach", Los Angeles Times, June 7, 2017
"Surfing is a release from exploding tensions of 20th-century living, escaping from the hustling, bustling city world of steel and concrete, a return to nature's reality."
– Fred Wardy, "Surfing Is", The Perfect Day: 40 Years of Surfer Magazine
"Life is a lot like surfing…. When you get caught in the impact zone, you've got to just get back up. Because you never know what may be over the next wave."
– Bethany Hamilton, 'Soul Surfer: A True Story of Faith, Family and Fighting to Get Back on the Board'
"Life's just better when you add surfing to it."
– Ben Marcus, 'The Surfing Handbook: Mastering the Waves for Beginning and Amateur Surfers'


"We're all equal before a wave."
– Laird Hamilton, 'Force of Nature: Mind, Body, Soul (And, of Course, Surfing)'
"When life hands you lemons, you make lemonade. But when life hands you hurricanes, you go surfing."
– Jon Foreman

"Surfing is a way to be free."
– Lisa Anderson, Surfer Magazine, June 30, 2017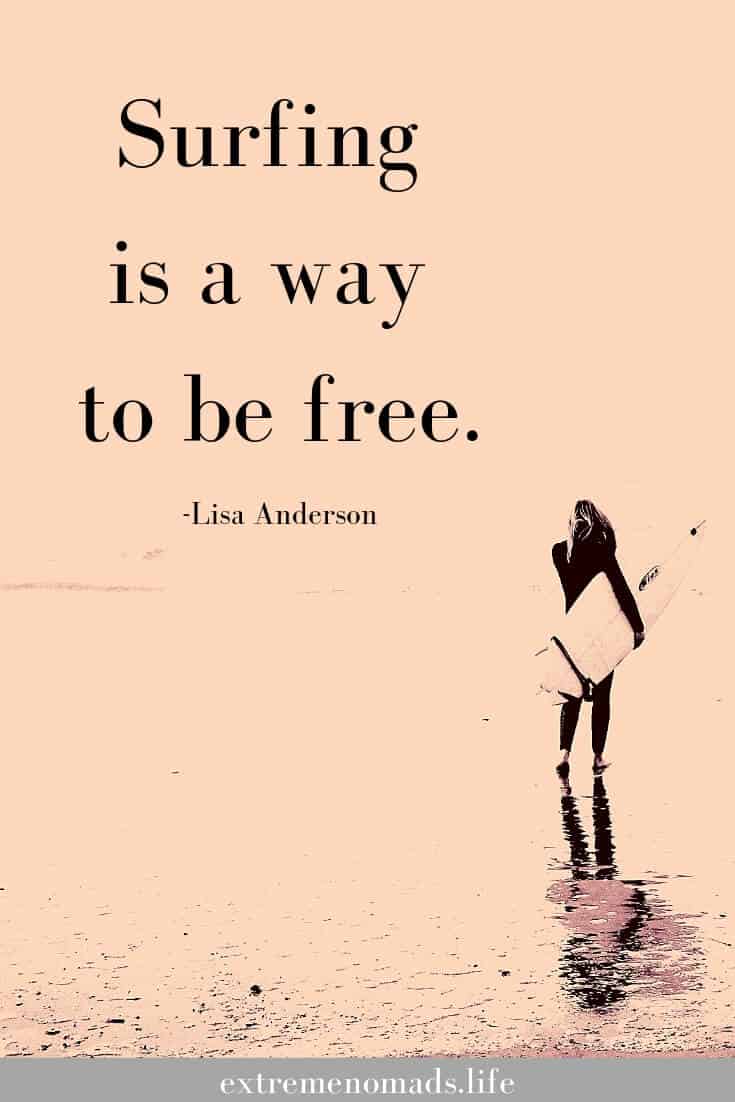 "There is not one right way to ride a wave."
– Jamie O'Brien
"The three most important things in life: surf, surf, surf."
– Jack O'Neill
"Surfing soothes me, it's always been a kind of Zen experience for me. The ocean is so magnificent, peaceful, and awesome. The rest of the world disappears for me when I'm on a wave."
– Paul Walker
"Surfing is such an amazing concept. You're taking on Nature with a little stick and saying, 'I'm gonna ride you!' And a lot of times Nature says, 'No you're not!' and crashes you to the bottom."
– Jolene Blalock
"Live to surf, surf to live."
– Mike Doyle
"You can take a surfer out of the surf, but you can not take surf out of surfer."
– Bob McTavish

You might also like:
"Surfing for me is more than my lifestyle; it's my passion, my love, and it's a part of me."
– Bethany Hamilton
"For me, surfing is as close a connection I can have with Mother Nature. To surf, you're riding a pulse of energy from Mother Nature. And it's strong. It's real. It's there. And you're dancing with that. You're connecting with that. You're might be the only person in the history of the universe that connects with that particular pulse of energy."
– Xavier Rudd
"I'm surfing the giant life wave."
– William Shatner
"Life is a wave, which in no two consecutive moments of its existence is composed of the same particles."
– John Tyndall

"Surfing, alone among sports, generates laughter at its very suggestion, and this is because it turns not a skill into an art, but an inexplicable and useless urge into a vital way of life."
– Matt Warshaw

Hey, want to make sure you don't miss any of our future articles? just sign up to our monthly Extreme Nomads newsletter when exiting this page (also located in the footer / sidebar), or follow us on Facebook, Instagram, or Youtube for more original content from us!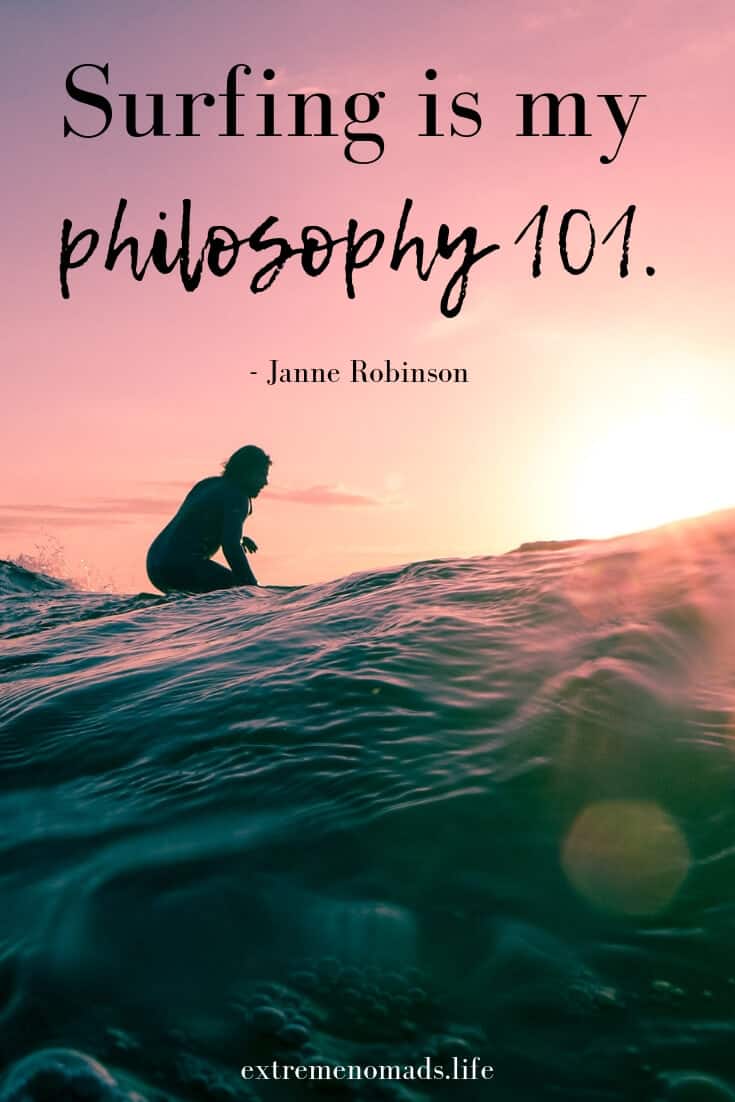 ---