A Force Of Nature
Coursing through the mountainside is a power. They make short work of the snow. The edge of their board carving up everything in its path, making mincemeat of that fresh powder. It's a ride like no other. This individual has taken snowboarding from the realm of sport and has turned it into a violent art form.
That rider could be you, but how does one go from a talented rider to a stomping machine?
The answer is by being dedicated to your craft and focusing on nothing else. To get into this mental state, you need the right gear. Bindings more so than anything else, because they connect us to our boards.
Enter the Union Atlas bindings. Super responsive thanks to their Vaporlite bushing and aluminum heel cups. I could truly feel my board, and when nothing stands between you and your board, the snow is yours to conquer.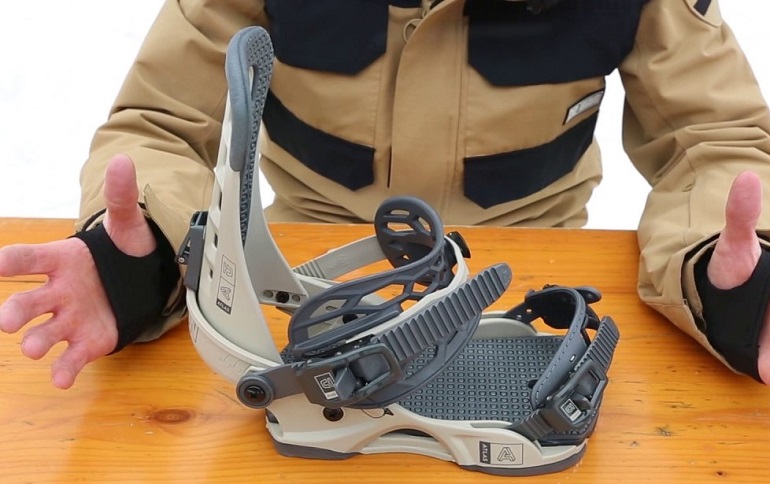 Why Did I Choose These Snowboard Bindings?
I made mention of this already, but I'll explain it in-depth here. The best bindings are the ones that feel like true extensions of your body. These are the snowboard bindings with a feel so great that you forget that you even had them on.
But this level of comfort requires finding the perfect balance between you and your right-sized bindings. The issue is that most bindings have a limit when it comes to boot adjustability. Sure some settings and features can be tweaked, but sometimes it's not enough.
These Union bindings are not like the others. I'm sure you've heard that one before, but I mean it. When it comes to their snowboard binding adjustability, they truly surpass all the rest.
This is why I chose them. Because if there is any chance of you getting that perfect fit, it'll be with these Union bindings.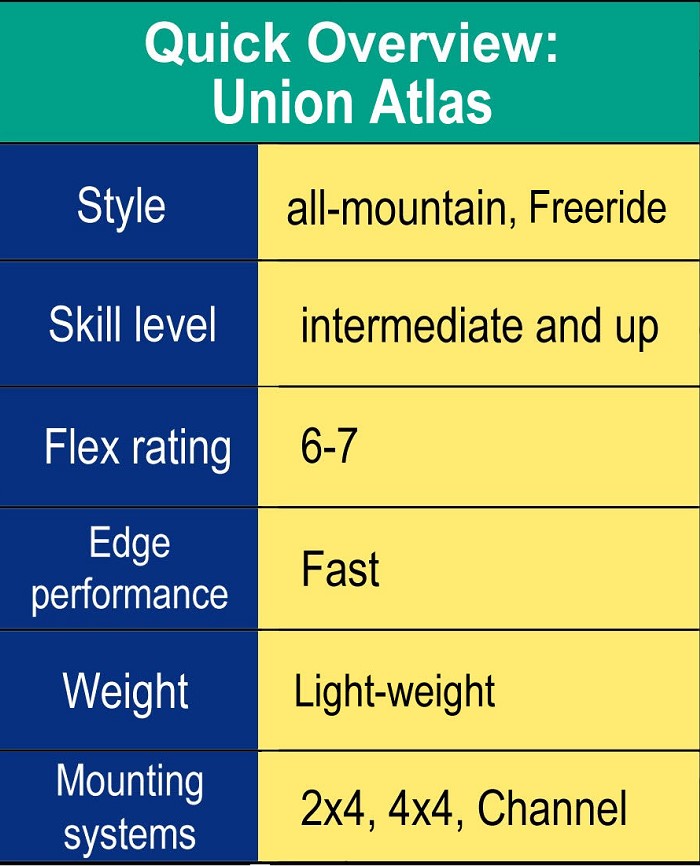 What Kind of Rider Should Get the Atlas Bindings?
Most other bindings have some kind of feature or function that makes them suited to a specific kind of rider. Maybe they've got a certain build that is made for aggressive riders or freestylers. This is true even for a versatile binding.
But I believe that for the first time, the only part to look out for is your own skill level. The flex rating isn't so stiff that it'll block out large swaths of riders. Sure, the Union Atlas should be used by experienced riders.
These are not beginner's snowboard bindings, but beyond this, there are no limitations. This is because of their high level of adjustability. They conform to fit your needs by giving the right parts the ability to be adjusted.
What's not to love?
If you want medium-stiff bindings that allow you to tweak them to your liking, then you've found the bindings for you.
Observe the size chart below to see if you can put them on in the first place.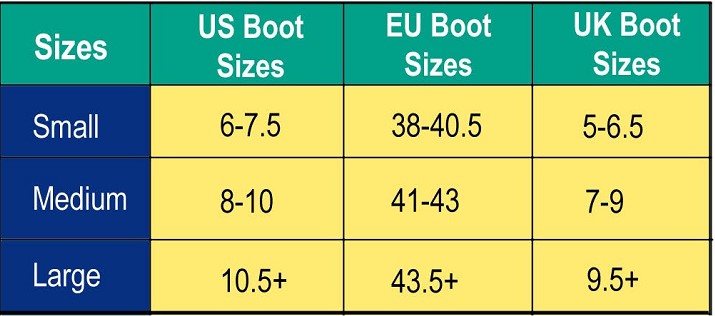 The Breakdown: The Union Atlas Bindings under the Scope
We know why I chose these bindings and what they can do for you, but now it's time to pick them apart. We are going to systematically move through them, section by section. Explaining their build-up and how this helps them perform.
This is important because you come to better understand your bindings. By understanding everything that they have and what they are capable of, you can get the most out of them.
Due to their high level of adjustability, it is paramount that you know how each part works. Otherwise, what would be the point of having purchased them in the first place?
Their Performance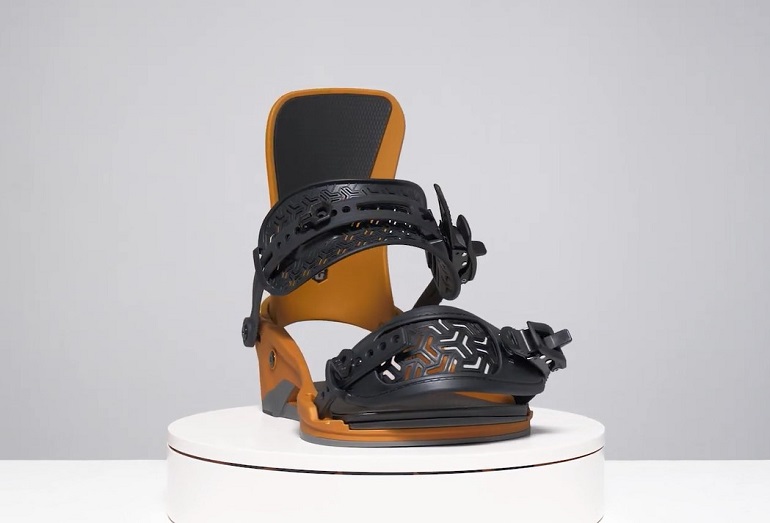 The performance of the Union Atlas has been great so far. They have a smooth feel to them (which I'll go over in-depth in the next section) and are pretty responsive. This comes as quite a surprise because of the high back.
The high back of the Union Atlas is very soft. Usually, if you want great responsive gear, then this gear of snowboard needs to have high flex ratings. The stiffer it is the less forgiving of a ride you'll get, but the more responsive it'll be.
The surprise comes from the fact that even though the high back is soft, the responsiveness of the Union Atlas hasn't taken a hit.
Previous versions of the Union Atlas had a completely different high back. But I'd say around 90% of the parts in this iteration of the Union Atlas are new or have been modified in some way.
This has only benefited these snowboard bindings. They have improved leagues ahead of both previous iterations of the Union Atlas and other Union bindings in general.
Comfortable Bindings? More than You Think
These bindings are comfortable, and the improvements made to their design over the years have certainly helped. Before, the ankle straps of this binding were a bit uncomfortable to ride with.
It didn't matter how much you fiddled around with them. You simply weren't going to get a good fit. The new ankle strap in this current iteration is an Exoframe 3.0 ankle strap. It's not just a fancy name. The response rate of these ankle straps (and the heel strap) has improved tremendously. Like a true exoskeleton.
Any lag that occurs as you move makes for an uncomfortable ride. When this lag is eliminated or shortened, then this no longer becomes an issue.
Throw in a lighter high back that feels soft and high-density Vaporlite into the base plate, and you get lightweight bindings with the right amount of control. The comfortable underfoot can not be overstated. The new base plate is divine.
As for the overall feel, there were no more weird pressure points. At least for me. The absence of pressure points meant that there was no weird pinching on my boot or foot.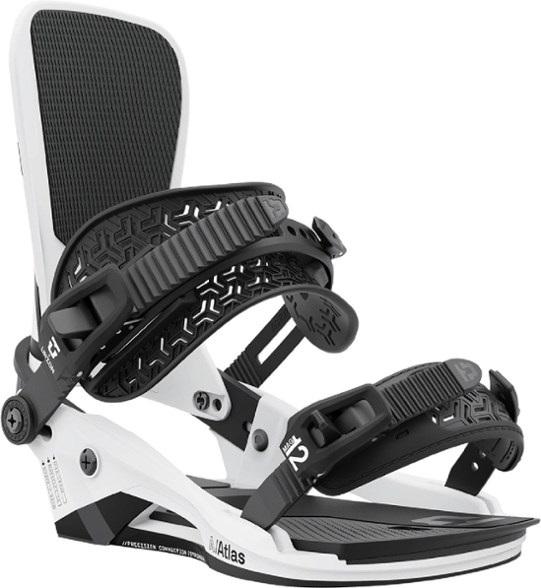 Union Atlas Snowboard Bindings
The price of "Union Atlas Snowboard Bindings " varies, so check the latest price at
Adjusting Your Stance Width
All the improvements and comfort in the world mean nothing if you can't set the stance width that you desire. Well, the Union Atlas has got you covered. When it comes to stance adjustability, these bindings get top marks.
Five stars, ten out of ten, whatever metric you want to use, it'll be maxed out.
Previous iterations of the Atlas did not have the new camber disc that this newer model has. Camber describes the bend of your board when staring at it from the side. The new disc in these bindings has a camber to it.
This camber provides you with a longer channel. Of course, a longer channel means that you have more adjustability. The channel is also wider. With its improved dimensions, the number of possibilities for stance width has grown dramatically.
Customization is the key design principle of the Atlas binding. If for whatever reason you don't like the new camber disc, then simply swap it out for a mini-disc. It can be done, and that in itself is amazing.
Other parts that can be adjusted include the toe strap, ankle strap, heel cup, and high back.
Shock Absorption, Can It Take It?
The ride that you get from the Atlas binding has been dampened significantly. Encase you aren't familiar, in regards to snowboarding, dampening can be used as another word for shock absorption.
When you are riding through a rough patch of snow, your board tends to bounce around. Now whether you like a bumpy ride or not is truly a matter of preference.
But if your riding style involves you reaching high speeds and requires you to maintain these speeds, then you should want as stable a ride as possible. If this is the case, then you should definitely consider getting the Atlas bindings.
This binding is able to produce such a dampened ride because of the new camber disc (discussed earlier) and the Duraflex CB base plate(which I am a big fan of). Besides its ability to adjust, the dampness of these bindings is its other five-star feature.
The mountain is a varied and uneven place, when riding down it, you are going to want a binding with good shock absorption. Once again, the Atlas delivers.
Carving up a Storm
With the Atlas, the carving is not a problem. In fact, it feels wonderful. Strict attention to detail was placed on the footbed of these bindings. Primarily the back and front end. This alteration to their shape doesn't just improve the feel of your carves but also their depth.
You can go full throttle into your carves because this mid-stiff binding has got the contours needed to help you handle the drift.
If your riding style features hard carving, then you will do fine with these, but there is one warning that I'll give you. This isn't necessarily a problem with the Atlas binding itself but more so for aggressive riding with any bindings.
Check your screws and tighten them well. As you rip and tear through the snow, it'd be a real mood killer to realize that your bindings were falling apart along the way. Also, make sure that your board has got the edge required to pull off those insane carves.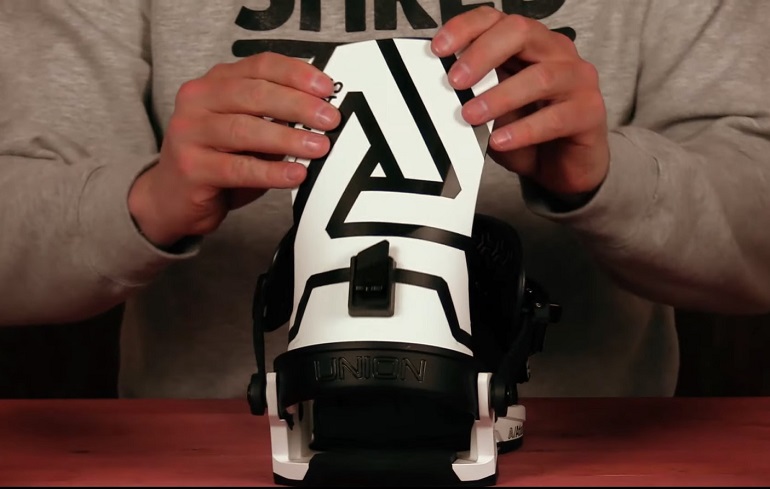 Buttering: Smooth Riding
Buttering sounds tasty, but when it comes to snowboarding, it refers to pressing one side of your board down so that the other end can lift. You then proceed to spin and turn as you ride. Hopefully in a straight line.
The role your bindings play is whether they are able to help you transfer your weight correctly and in the right positions. That's what buttering is all about, weight transfer and balance.
Where does the Union Atlas stand? Well, it's got a medium stiff flex and isn't exactly a freestyle-specific binding. With this in mind, I'd have to say that buttering with the Atlas is mid-level at best.
These bindings no longer have a mini-disc and that does improve their butter ability but not by much. You can butter with these bindings on, but it'll require more effort from you.
However, given how these bindings are for intermediate riders and above, you should be able to pull it off with no problems if you fall into this skill range.
The Union Atlas and Their Weight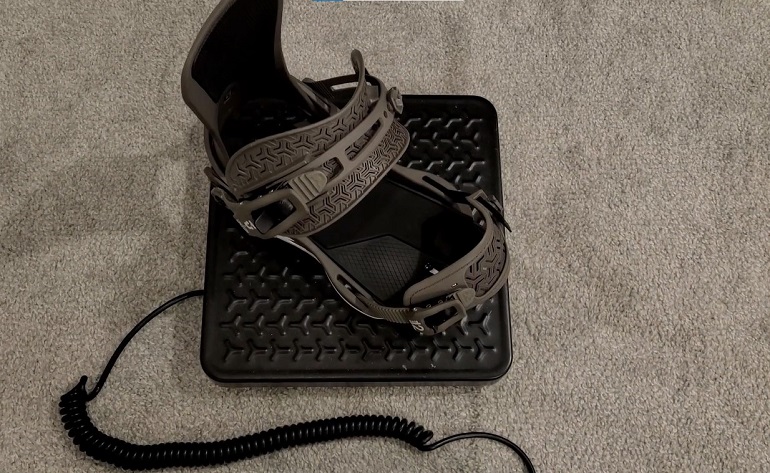 Asking how much someone weighs can be considered rude, but I'm sure the Atlas bindings won't be too offended. Besides, these bindings should be happy. After all, they have seen a massive reduction in weight over the years.
No thanks in part to the carbon that has been added to their build.
Why does the weight of your bindings matter? The answer is that it only matters in certain areas. For example, the weight of your gear determines how fast you can go. For certain terrain types, it is a good idea to rid yourself of any unnecessary baggage.
Another example would be your turning (more on this in the next section). The bindings that weigh less will make it easier to lift and turn your board.
You want to save weight where you can because this isn't just about your bindings. Remember that your board and any jacket layers or pants you may have will slow you down as well.
Turn Initiation, How Easy?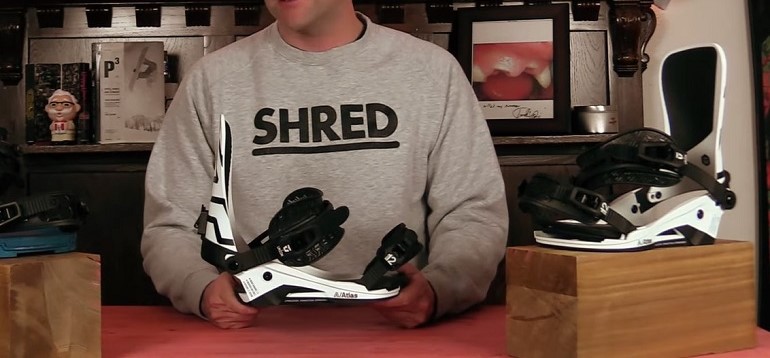 Turn initiation is all about speed. How fast can you get into that turn, and how much effort is required? But there is more to turning as a whole. Such as how well you can power through a turn and how aggressive can your turning get.
I will say that the only area in which this newest version of the Atlas has suffered is the turn initiation speed. It's slower than previous models, but it can easily handle much more aggressive turning than before.
The new and improved base plate played a big part in its handling. When compared to other bindings, the turn initiation here is still pretty quick. Less effort is also required to begin a turn in the first place.
Sure, there has been a downgrade, but only marginally so, and it can still hang with the best of them.
How Does the Union Atlas Compare Vs Other Options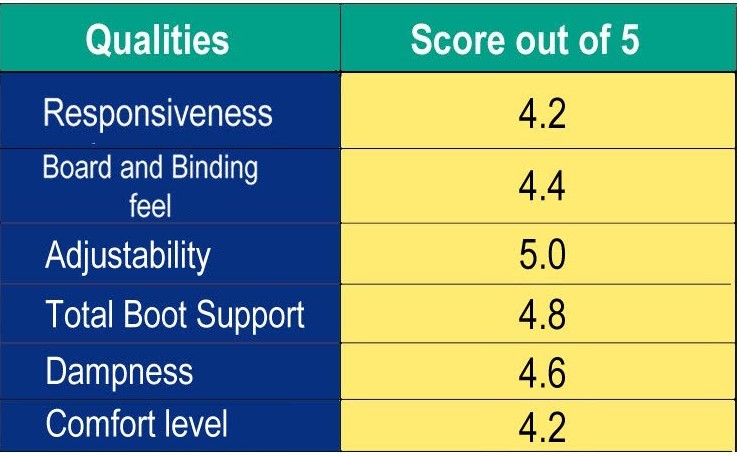 When compared to previous iterations of the Union Atlas, there have been significant changes. I've been banging on about it throughout this whole review. But I've got a valid reason.
The ankle and toe straps, the highbacks, the heel cups, the baseplate, and just about everything else has been changed from the 2020 model. And all for the better. But if you are wondering how well the Union Atlas compares to the best snowboard bindings from other brands, then I'd say pretty well.
When it comes to the number of parts that can be adjusted, without the need of a tool, mind you, then I'd say the Atlas comes out on top. When it comes to the shock absorption and how damp the ride is overall then, the Atlas comes out on top.
When it comes to the comfort level of these bindings and their turning, once more, I have to say that the Atlas gets top marks. These are an elite pair of bindings, and the best part is that they are suited for any kind of riding style.
As I have stated before, the only requirement is that you not be a beginning rider. Otherwise, you are all set to go.
Here's the final score breakdown.
My Final Thoughts
The Union Atlas were a joy to ride around in. Considering how much they have changed over the years, it's impressive that they improved so much.
I'd say that if you had tried these bindings out before and hadn't enjoyed them, then perhaps you should give them a second chance. They make a perfect match with the Jones Ultra Mountain Twin.
They are a great fit for any riders that are not complete novices. The comfort level of the ankle strap and toe strap is pretty high. There were no pinch points to speak off.
If you want a pair of bindings that can be tweaked to fit your style (whatever that style maybe), then don't hesitate to pick these up. They are well worth their price.