Wondering Which Waterproof Smartwatch Is the Best? Read Which Watches We Rate – And Why.
If you've read any of our previous reviews on the world's best watersports sunglasses or even our feature on bombproof kiteboard bags for travel, you'll know we take our watersports accessories pretty damn seriously.
And as much as we love the simplicity of going off-grid for the duration of our sessions, having an awesome waterproof smartwatch can open up a whole new world of possibilities.
From tracking your upwind tacks, heart rate, and accelerations, to being able to make a call in case of emergencies, modern waterproof smartwatches are fast becoming a key piece of kit for many.
Best Overall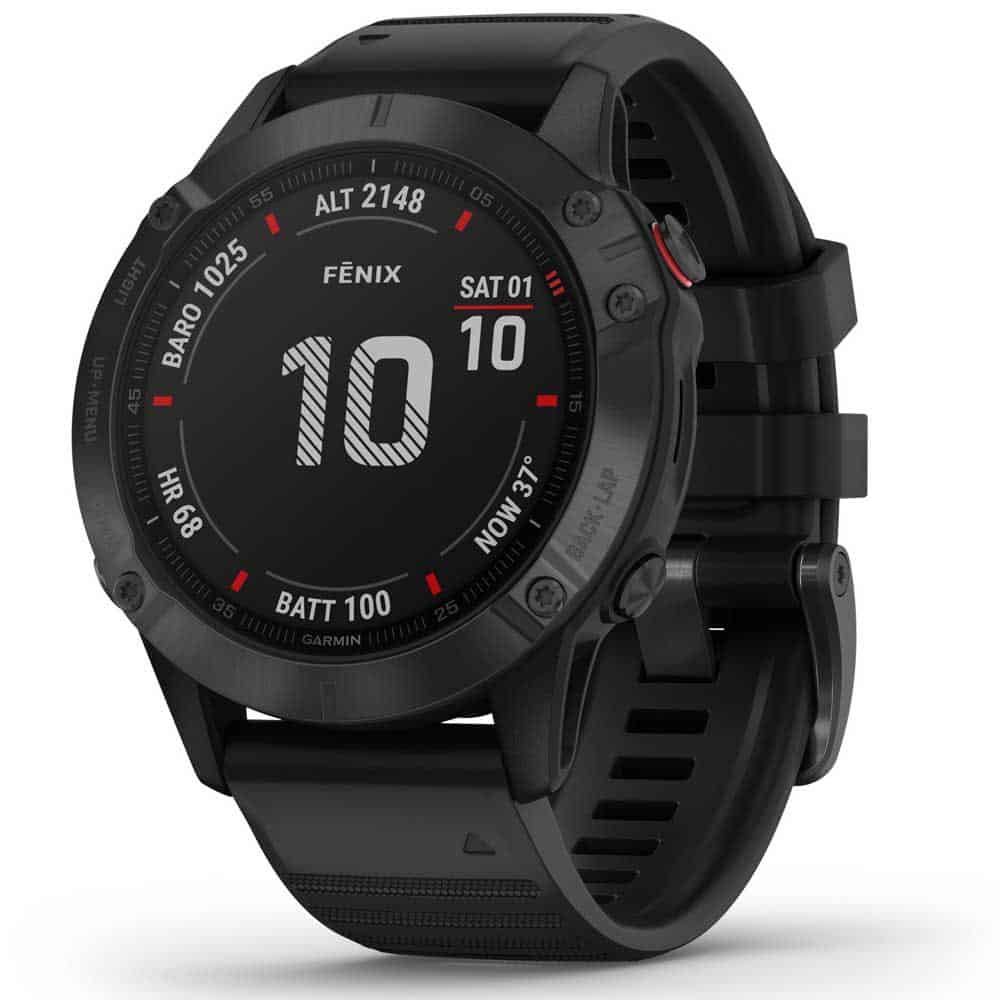 Garmin Fenix 6 Pro
DISPLAY RESOLUTION: 260 x 260 pixels
WEIGHT: 73 g (case only: 50 g)
Best For Comfort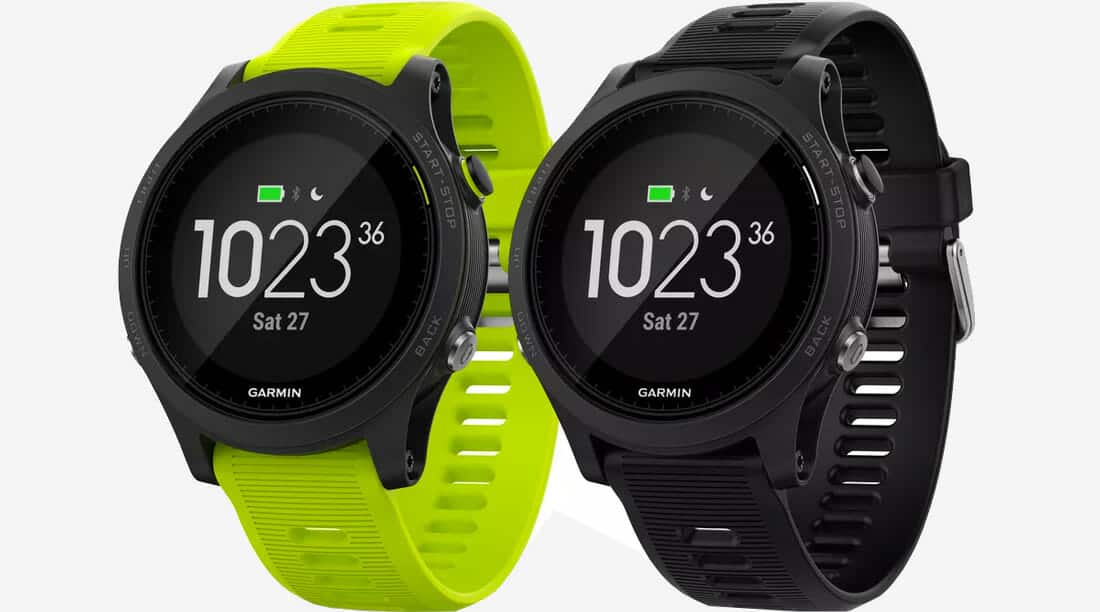 Garmin Forerunner 935
DISPLAY RESOLUTION: 260 x 260 pixels
WEIGHT: 53 g 
Best For iPhone Users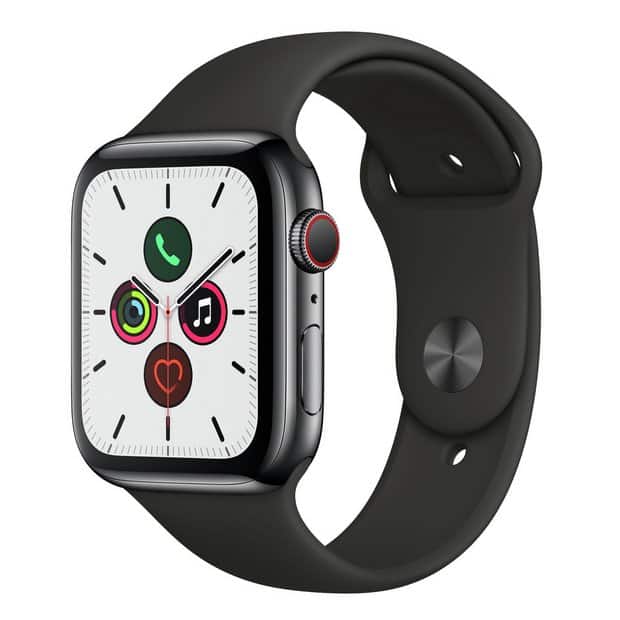 Apple Watch Series 6
Screen Size: 40 Millimeters
Special Feature: Blood Pressure Monitor
Best Value Fitness Tracker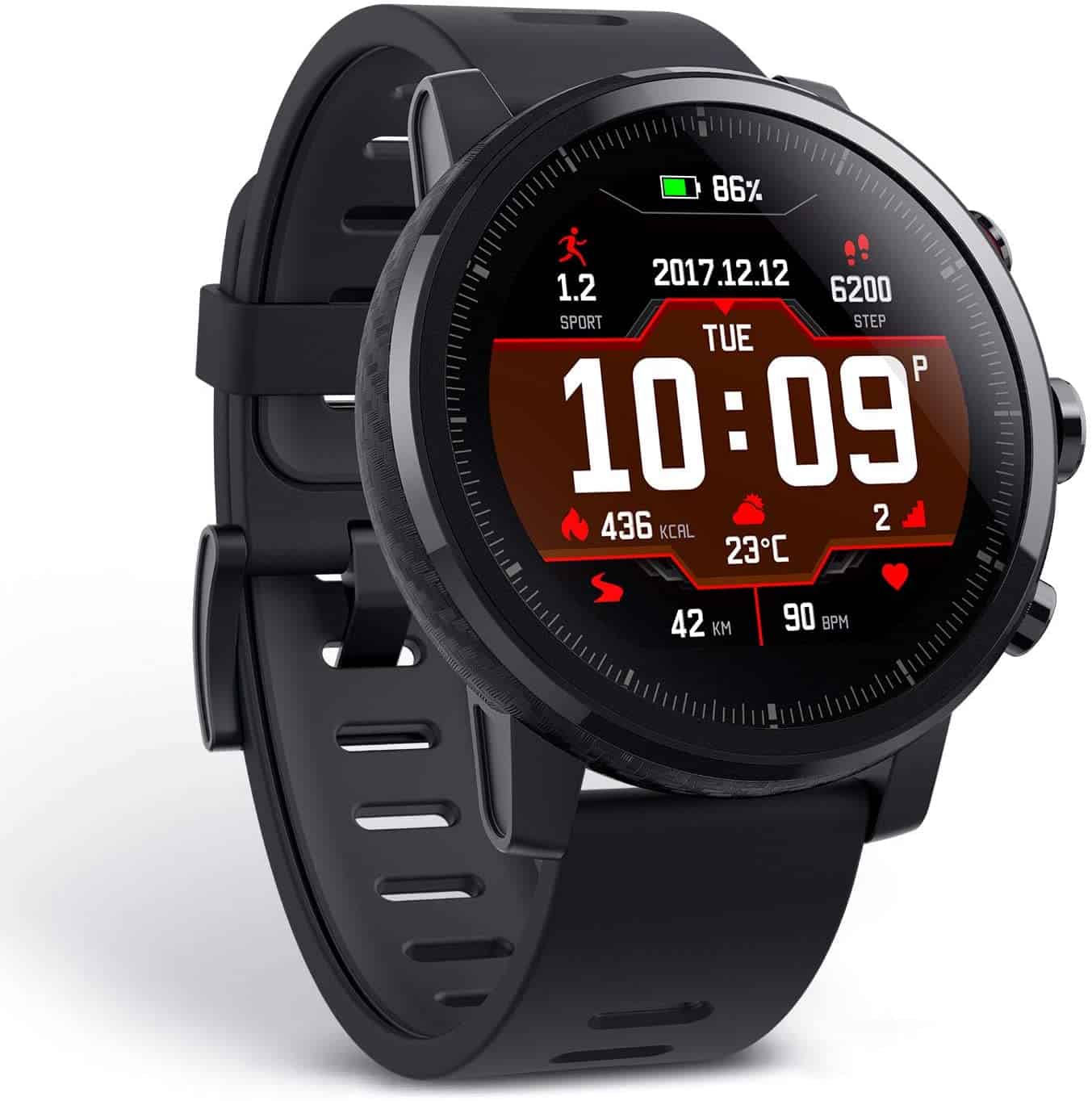 Amazfit Stratos
DISPLAY RESOLUTION: 320 x 320 pixels
WEIGHT: 60 g 
Best For Wave Riders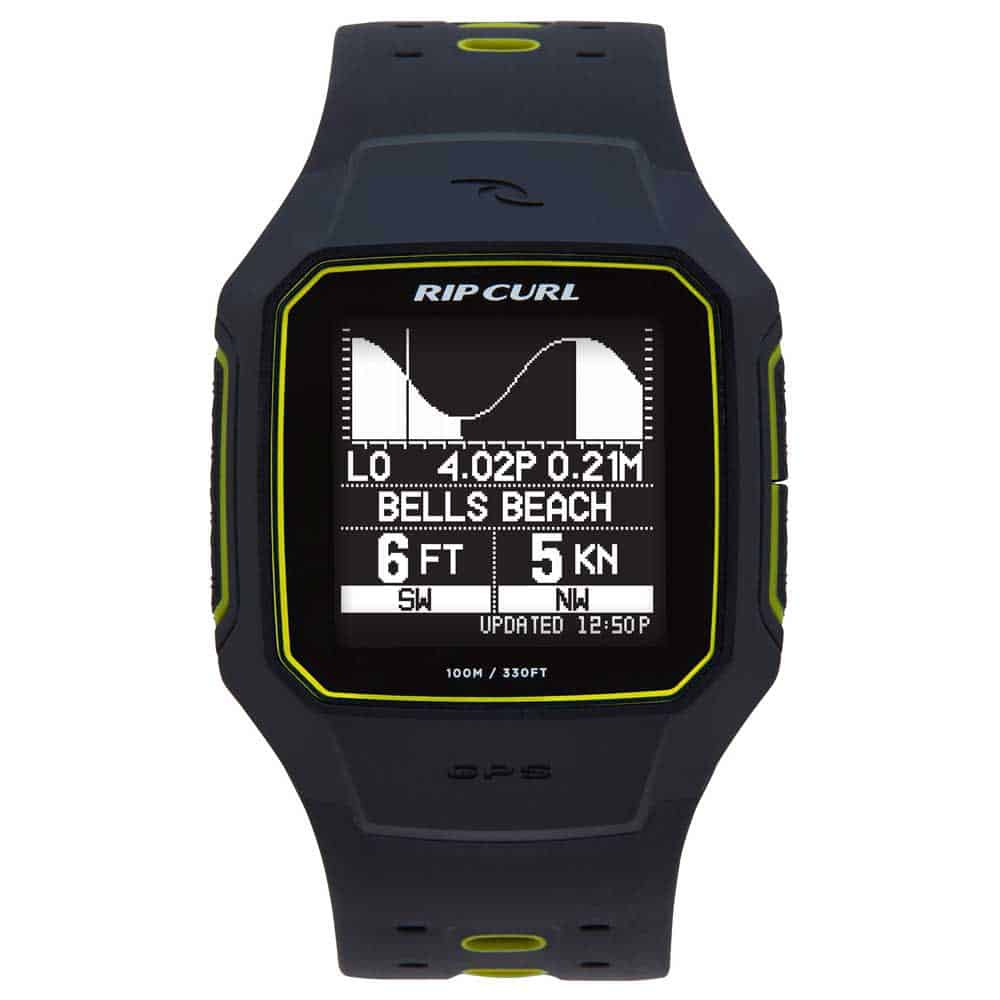 Rip Curl Search 2
Type:

Wrist Mount

Connectivity: GPS
By the way, if it's freestyle data you're after, then have a look at the Woo 3. You can even pair it with the Garmin Fenix if you really want to cover all grounds.
But the punch line, guys and gals, is that not all smartwatches are made equal:
Apart from the obvious factors like cost and aesthetics, there are a few super duper important things to consider when choosing a watch for watersports, which you'll find just at the end of this post.
You might also like:
Our Selection of the Best Waterproof Smartwatches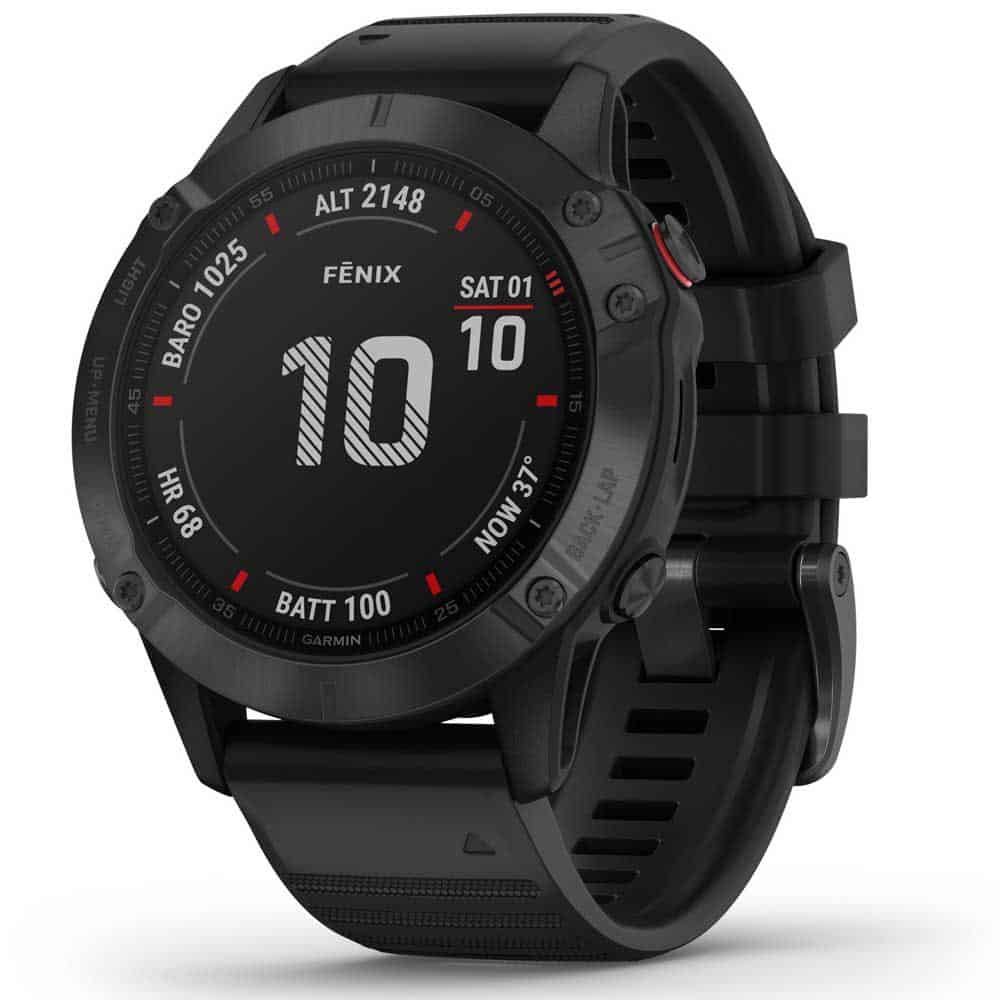 The Garmin Fenix 6 Pro is the crème de la crème for watersports and outdoor lovers, if you ask us. A true expedition watch, it can do just about everything.
The Garmin Fenix 6 Pro is designed to be used for watersports as well as running, cycling, and any other type of cardio activity you can think of — even climbing is there with the ClimbPro Ascent Planner app!
Pre-loaded maps for more than 2000 ski resorts, 41.000 pre-loaded golf course maps, animated yoga and pilates workouts to follow, hydration tracking, PacePro technology…
Conveniently, it's compatible with both Android and iOS, and features a whole bunch of specs (for on and off the water) like biometric readings, contactless payment capabilities, and app connectivity (including your kitesurf specific apps).

Most interestingly for kitesurfers, windsurfers, and sailors in general, the Fenix 6 Pro allows you to connect to other global navigation satellite systems in addition to GPS, such as GLONASS and Galileo.
Garmin pushes this watch as the ideal piece of kit for "rugged adventurers". In true Garmin fashion, the battery life on this baby is insanely long, lasting up to 14 days in normal smartwatch mode, 36 hours in GPS mode- and 10 with GPS AND music simultaneously. You'll actually find a whole "Power Manager" app, so you know which settings, sensors and trackers are affecting the battery at any moment. How long can this watch last on a single battery charge in its most power-saving mode, the "Battery Saver Watch Mode"? Hold yourself… 48 days. Yes, you read that right.
But back up a sec. A watersports smartwatch… with music?!
That's right lads and lassies, the Fenix 6 Pro lets you store and play up to about 1000 songs thanks to 32gb of storage capacity, which you can then listen to through Bluetooth headphones (if you've never had a session with music in your ears, get ready to have your mind BLOWN).
The other seriously great thing about this watch is that it's got an ATM rating* of 10 — double that of Garmin's other popular model, the Forerunner — so it's extra resilient when it comes to water resistance. In fact, it's tested to U.S. military standards for thermal, shock, and water resistance.
*Pssst: if you aren't brushed up on ATM ratings and what they mean, skip down to our section 'choosing a waterproof smartwatch – things to consider' at the bottom of this article, where we explain what ATM ratings are all about and much, much more.
The only downfall? She can feel a tad heavy, with 83 grams for the stainless steel version, while the titanium version is a bit friendlier with "only" 72 grams. I mean, it is bulky, let's be honest, so if you're also bulky yourself or even of an average build, great. But if you're more of the cute & tiny type you may not feel that comfortable wearing this for long periods.

We could go on for days listing all the specs of this piece of gear, but it's probably best you just head to Garmin's own product page to have a much better overview of all the Fenix 6 Pro can offer. You'll also find that it comes with 2 different lens options: the Sapphire lens (yes, real sapphire crystals) is literally scratch-proof, while the Solar lens can harvest solar energy to help the battery last even longer. If any of these options, as well as music, maps and wifi capabilities aren't really what you're after, you can also opt for the more affordable Fenix 6, classic version.
Garmin Fenix 6 Pro – Pros and Cons
Pros:
10ATM rating
GPS
Multisport functionality
Super durable materials
Seriously long battery life
Plays and stores music
WiFi and Bluetooth capabilities
Contactless payment
Full app compatibility
iOS and Android friendly
Cons:
Heavy at 83g, or 72g for the titanium version
No cellular
One of the more expensive models on this list, as after all this is Garmin's flagship model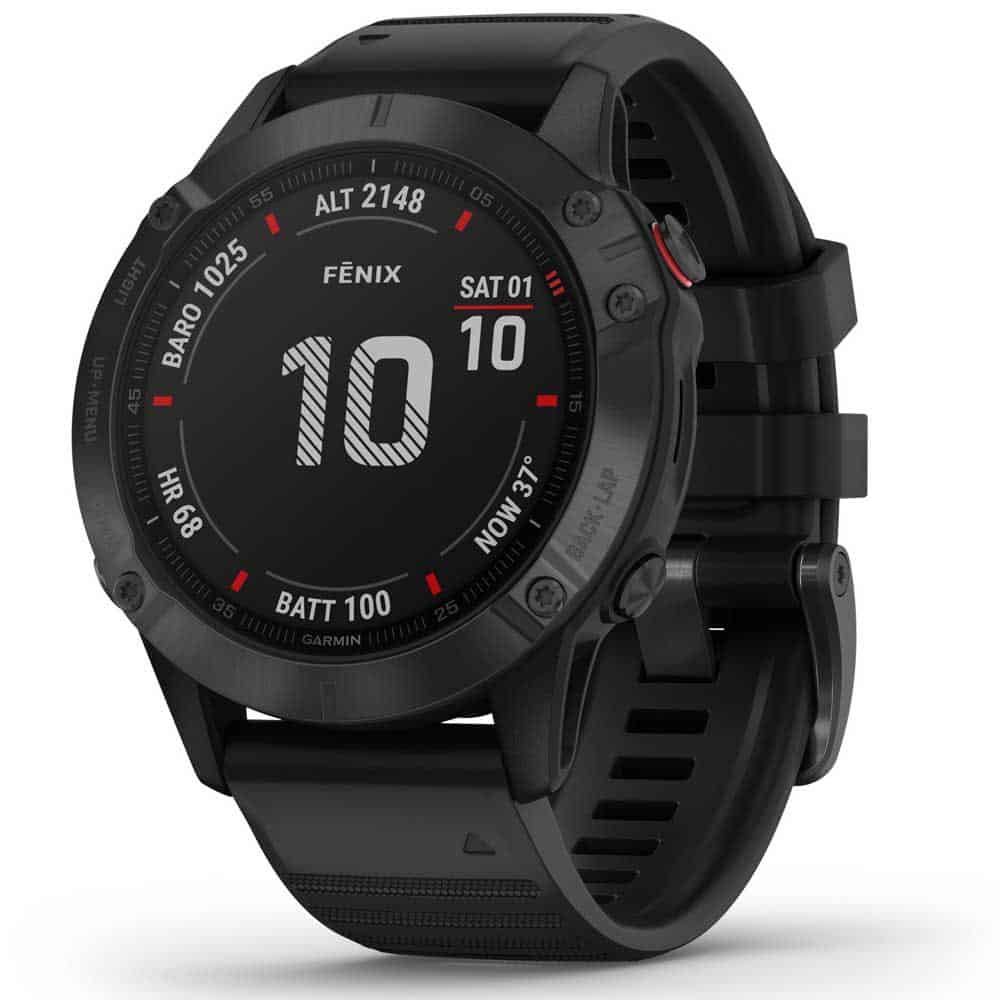 Garmin Fenix 6 Pro
The price of "Garmin Fenix 6 Pro" varies, so check the latest price at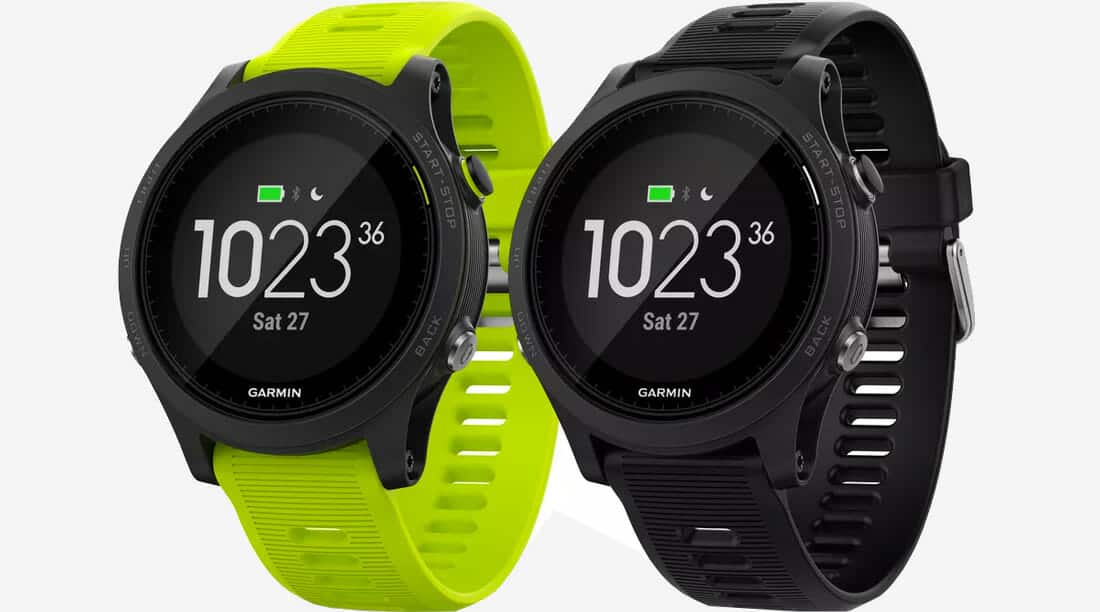 This watch is a tasty mate for any outdoor adventure lover who's looking to take their training to the next level. Garmin is a well-known sports watch brand, but the Garmin Forerunner sets itself apart from other models in a number of ways:
Of course, it's designed with multi-sport functionality in mind (think hiking, biking, and swimming for starters) but what's really awesome with this watch? It weighs just 1.7 oz (49 grams), making it nearly half the weight of Garmin's other popular model, the Fenix. No wonder it's the choice of many triathlon athletes among others.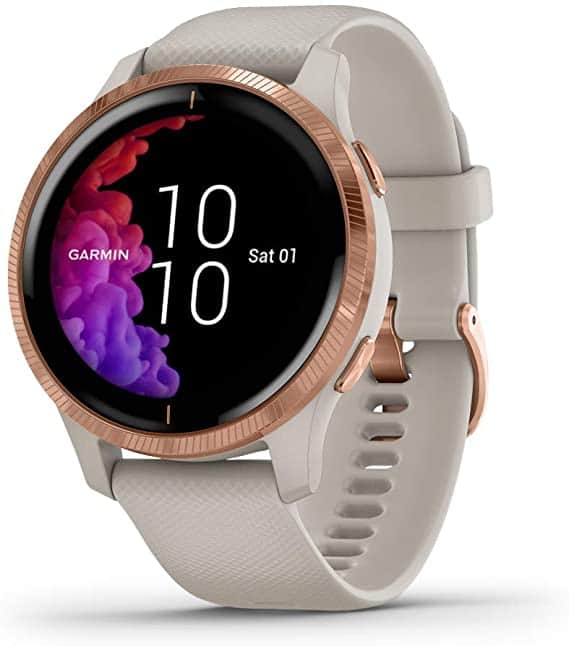 Not only is it one of the most comfortable watches on this list, but in terms of functionality, it also comes out high on the pile. Rated at 5ATM, it's also got a built-in GPS, heart monitor, barometer, altimeter, compass, WiFi capabilities, and sport-specific metrics (including a function that'll tell you if you're undertraining or overdoing it). To top it off, it's compatible with both iOS and Android.
Best of all, its battery life lasts up to a whopping 2 weeks when used in watch mode (and still a solid 24 hours when used in GPS mode). It's also got user-friendly buttons (take note, clumsy-fingered friends who despise touch screens!). It syncs with a bunch of useful apps, too, like Accuweather and even Uber (possibly good for when you need a lift back upwind? Ha!).
Garmin Forerunner 935 – Pros and Cons
Pros:
Multi-sport functionality
Comfort
Lightweight
GPS
Barometer, altimeter, compass
Insane battery life
User-friendly buttons
iOS and Android friendly
Cons:
Not as many functions as the Fenix 6 Pro
No Cellular option (wondering when Garmin will start picking up on that…)
A good alternative for women would be the Garmin Venu, pictured below, which is similar to the Forerunner in terms of functionality and weight but offers a nicer design with female-specific options.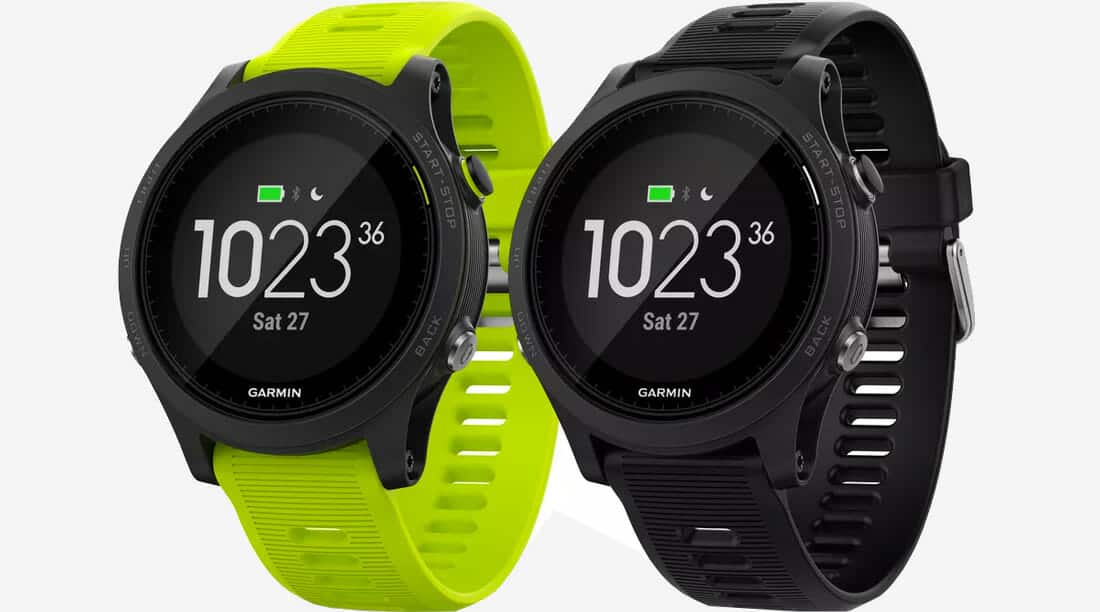 Garmin Forerunner 935
The price of "Garmin Forerunner 935" varies, so check the latest price at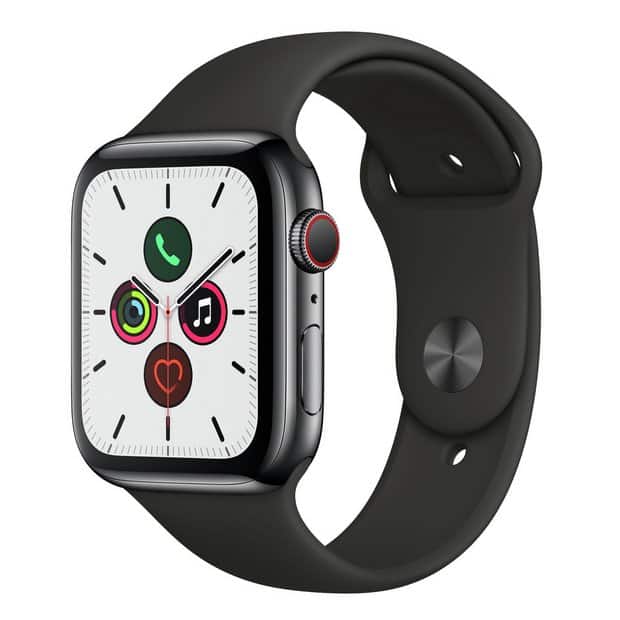 Ahhhh, the Apple Watch.
No list of waterproof smartwatches would be complete without paying dues to the i-Family. Regardless of whether you're a die hard iFan or not, the newest member of the Apple Watch series is worth considering for plenty of good reasons that we'll list below, but first, what we think is the most important one:
This is currently the only waterproof smartwatch, adapted to kitesurfing that is, to offer a cellular option, meaning you can make and receive calls straight from the watch, without needing your I-phone nearby (All other smartwatches, ski watches, stylish watches listed here offer calls and texts capabilities but they do need the paired phone nearby, which kind of beats the purpose right?). Obviously ideal if you're on call at work, but even more so in terms of safety, were you to need assistance far from the coast for any reason.
Other smartwatches with a cellular option include some of the Samsung Galaxy watches, but they get a pretty bad rap in the community, mainly for widespread waterproof fails, a touch screen hard to use when wet, a crappy OS and a fairly empty App store, without even the possibility to add custom apps.
With an ATM rating of 5, the Apple Watch Series 6 meets the base waterproof threshold you'd want to consider for a waterproof smartwatch and the feedback on it is really good. It's got updated touchscreen technology which not only functions impeccably, but also boasts a seriously sharp display, too. You can also pair the watch with bluetooth headphones and rock out to some tunes of your choice during your next session.
Particularly interesting for kitesurfers, the Series 6 watch has never-before-seen functions like ECG monitors, fine tuned accelerometers, and a gyroscope — all of which make the Apple Watch's ability to detect movement, acceleration, and velocity better than ever. Add that to its GPS capabilities and you've got yourself a pretty thorough outdoor workout buddy.
With an 18 hour watch battery life (6 hours on GPS mode) it's definitely shorter than most of the other smart watches on this list. Just remember that this watch was made with everyday, fitness oriented users in mind, rather than kitesurfers or outdoor adventurers looking at spending days hiking and camping in the wilderness without guaranteed access to power plugs. If that's the kind of use you might also be after, a simple solution would be to add to your kit this pocket sized, 12600 mAh power bank, which is also water, dust and dirt resistant. The Series 6 being equipped with a 296 mAh battery, you'd be able to recharge it up to 30-40 times, or your iPhone X up to 4-5 times.
The only downer is that you have to have an iPhone to be able to use the Apple Watch (all of them, regardless of series). So if you're an Android user, this probably isn't the one for you, unless you were already tempted to switch to an Iphone, and if so, that might be your dealmaker right here.
Finally, in terms of warranty, there is actually a way here to make sure you'll get a replacement in case of accidental damage, and it is to purchase an Apple Care+ plan, which will both extend the warranty to 2 years, and guarantee up to 2 replacements in that time frame (still subject to a $69 service fee), should your watch fail due to accidental damage. You can read a bit more about waterproofing and guarantee in the waterproof section at the end of this post.
Note that it's much better to purchase the Apple Care+ plan at the same time as the watch. Doing it later means Apple will have to re-test your watch before approving it for the plan AND the start date of coverage will always be the purchase date of the watch — not of the plan itself. Real life example: if you buy Apple Care+ 2 months after buying the watch (after which it isn't possible anymore), you'll only get 22 months of coverage and not 24).
Apple Watch Series 6 – Pros and Cons
Pros:
Fancy pants touchscreen with sharp display
Comes in two sizes (40/44mm)
Movement detection is second to none
GPS
Updated biometrics
Plays music
Cellular capabilities (for the GPS + Cellular version)
Wifi & Bluetooth
32gb Storage capacity
Possibility for Apple Care+
Cons:
Only compatible with iPhone
Relatively short battery life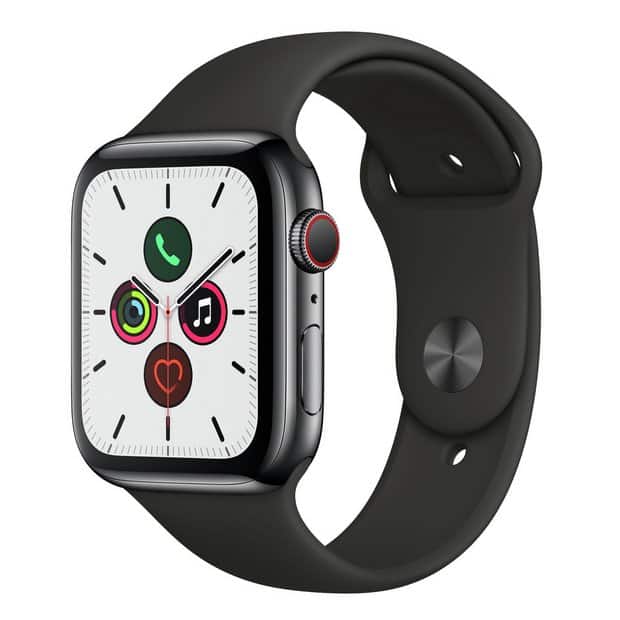 Apple Watch Series 6
The price of "Apple Watch Series 6" varies, so check the latest price at
Best for iPhone Users on a Budget: Apple Watch SE
A brand new addition to the Apple Watch family this year, the Apple Watch SE is like a little sister to the Series 6. No need for another picture here as it's really the same look as the Series, we'll just compare the 2 briefly:
Proposed at a bit more than half the price, it lacks some of the most high end features the Series 6 offers, as it uses the S5 chip instead of the S6, but overall the differences are not that remarkable considering the price drop. Mainly, it doesn't have the newest addition to the Series 6, the oximeter which measures your blood oxygen levels. It does have a heart rate monitor but an optical one, as opposed to an electrical one on the Series 6, which is more accurate and offers more app options.
Most other differences are, in my opinion, quite minor. Let's mention a few more, like the Retina display, which is always on with the Series 6 but not on the SE where you need to activate it by raising your hand or tapping the touch screen. There are fewer design options on the SE as well, and the Series 6 is the only one to feature the brand new U1 chip, aimed at improving spatial awareness with other devices when using Airdrop or Bluetooth for example.

That's it really. With the Apple Watch SE, you still get:
The same sleek design
The same large & efficient touchscreen
The same 5ATM rating
The same GPS accuracy
Cellular option available too
The same OS: WatchOS7
The same battery life (maybe even a bit longer without the always-on display and top features)
Still 32gb of storage
Wifi and Bluetooth
And all of the awesome features the Series 6 boasts, like Apple Pay, music, Emergency SOS, interchangeable bands, automatic workout detection, fall detection, compass, altimeter, heart rate monitor with high, low and irregular rhythm alerts, and of course access to the same App store and compatibility with custom apps.

So overall a pretty good deal if you ask me! This is definitely a great choice if the Series 6 is just too much over the top for you. Finally, if you're really tight and don't care about sporting the latest tech gadgets (yeah, that'd be me too!), don't forget that you can also go for an older model of the Series, like the Series 5, 4, or even the Series 3. Nowadays, and especially in the US, you can even find these reconditioned for a bargain ("renewed" as Apple calls it).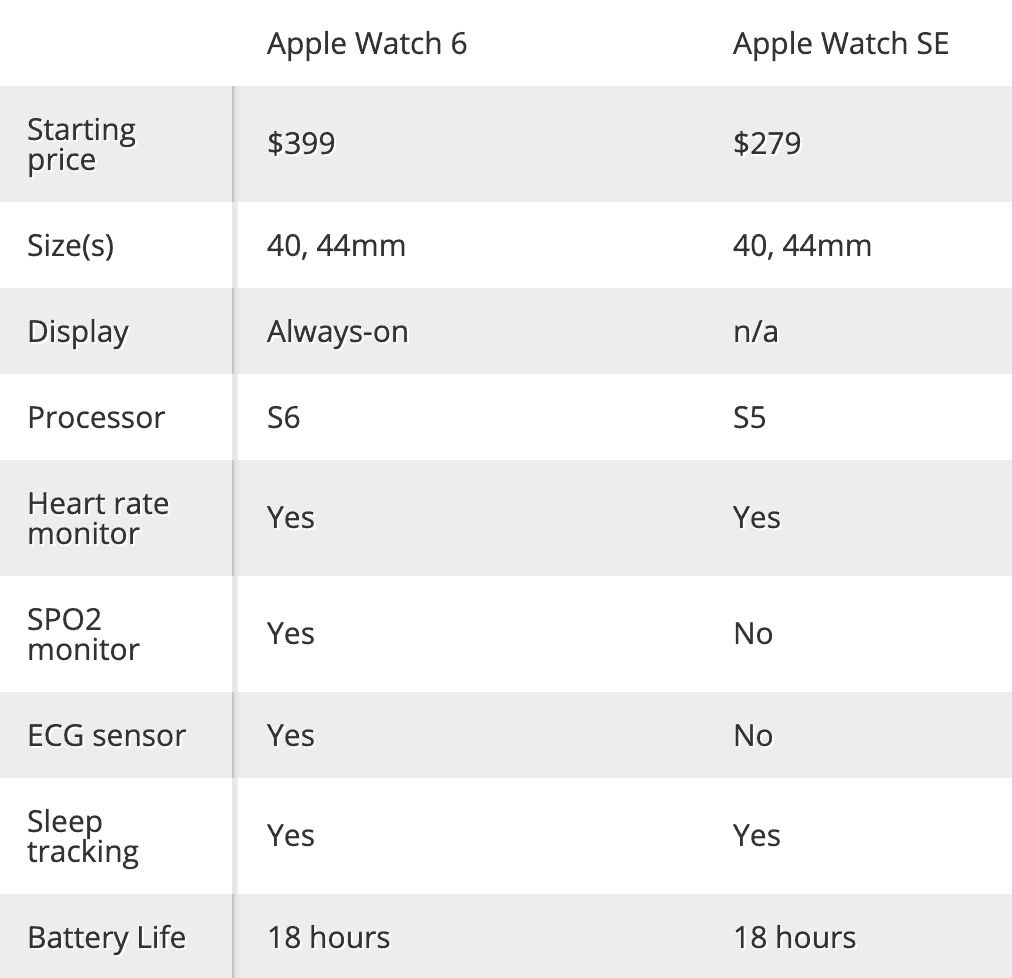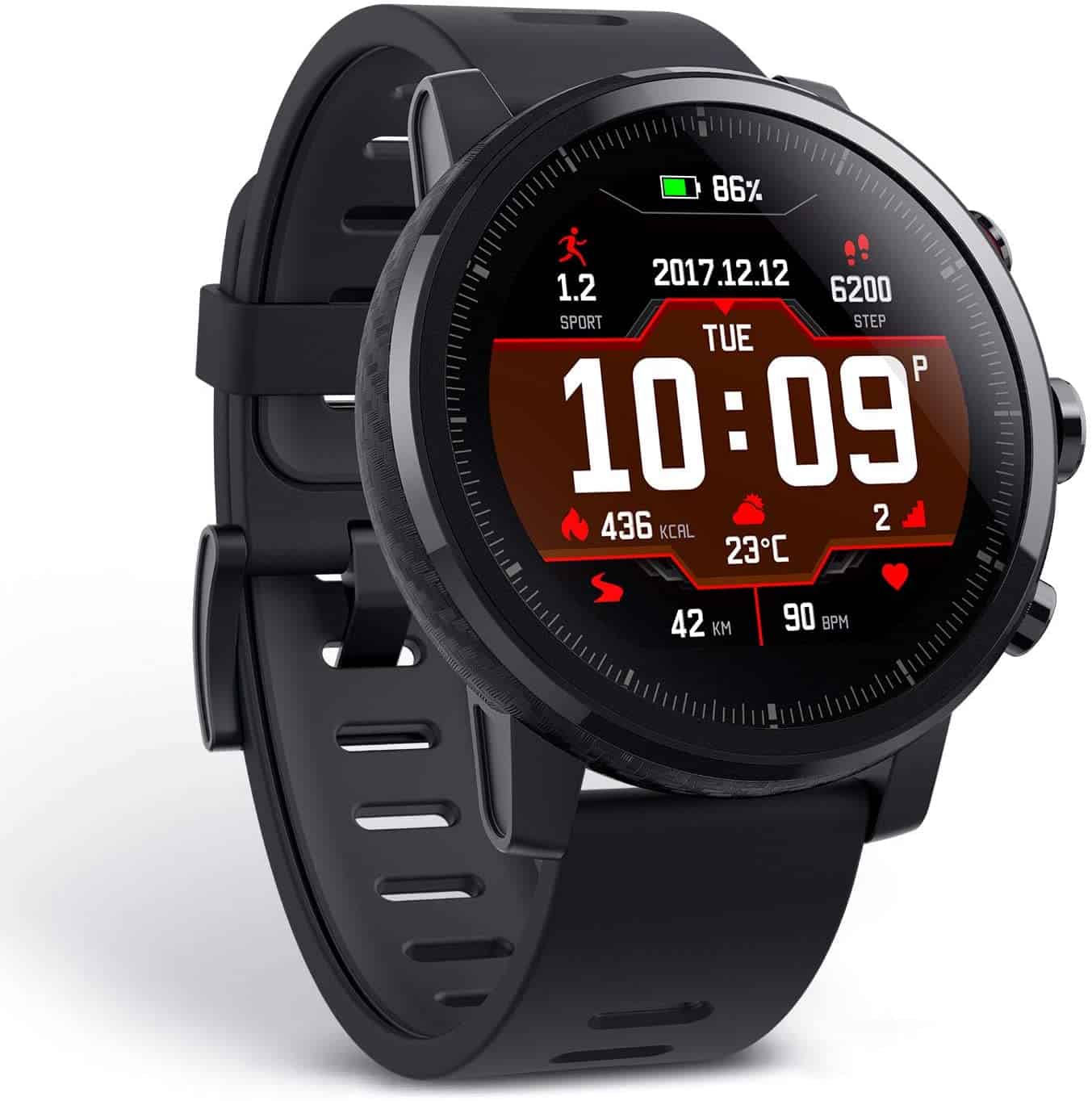 If you love the style and vibe of the Garmins and the likes but don't have the budget and the need for all the sparkly extras and just want something that works and gets the basics right, then the Amazfit Stratos might be the perfect solution for you.
Think of it like a stripped back version of the Fenix; it doesn't have half of the app functionality or cellular capabilities, but it does have biometric readings, fitness-specific apps and training functions, and a very decent GPS (which many users reckon is on par with that of a premium Garmin watch). It's got 5ATM rating and, most deliciously of all, it's a fraction of the price.
Going for the Amazfit Stratos is a bit like going for a Huawei phone instead of an Iphone. It's Chinese (made by Huami, whose parent company is Xiaomi, one of the biggest smartphone and consumer electronics manufacturer in China), but it doesn't mean it's sub-par quality. Where you may see shortcomings by buying a Chinese brand would typically be support, compatibility with custom apps and maybe language translations if you don't speak great english (the documentation is only available in english and Mandarin so far).

But in terms of functions, build quality and ease of use, the reviews have been pretty good so far and quite a few people kitesurf with this watch already.
The Amazfit Stratos still rocks a battery life of 5-6 days (35h with GPS on), which beats the Apple Watch by a country mile. In addition, you can also play and store music directly on the Stratos (with enough space for 250 songs) and use full WiFi and Bluetooth functions.
Added plus:
The Stratos has a really user-friendly touch screen; it's super responsive and the display area is nice and large — which really is a must from a smartwatch if you plan to interact with it on the water.
In short:
The Stratos is an awesome all-rounder as far as waterproof smartwatches go. It's great value for money and does what it says on the tin. Two thumbs way up from us!
Amazfit Stratos – Pros and Cons
Pros:
Value for money
Accurate GPS
Decent biometrics
Satisfying battery life
WiFi and Bluetooth
Plays and stores music
Works with Android and iOS
Replaceable straps
Cons:
Support
Apps compatibility
No cellular option
Probably won't get as many firmware updates as the other watches listed here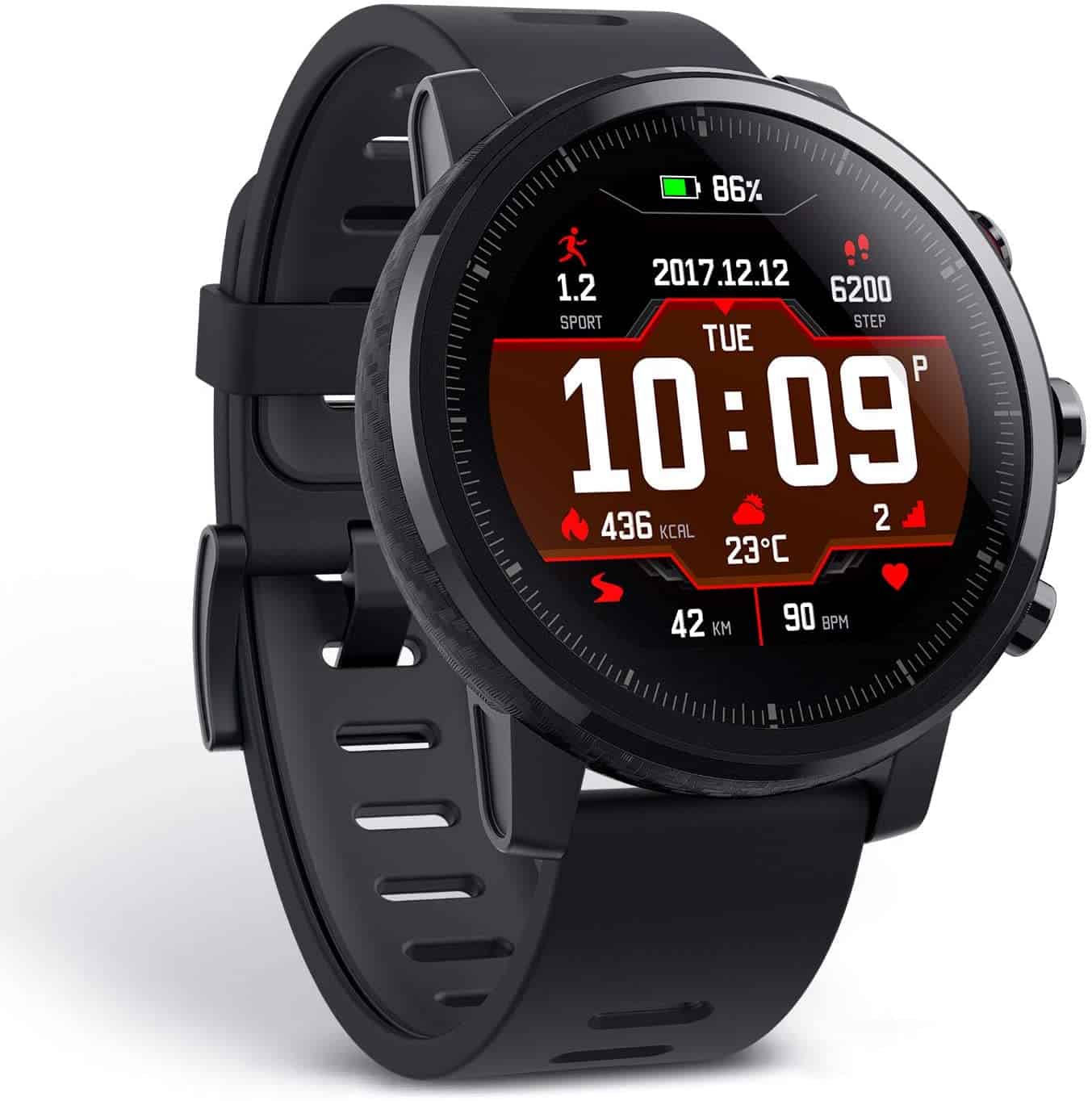 Amazfit Stratos
The price of " Amazfit Stratos" varies, so check the latest price at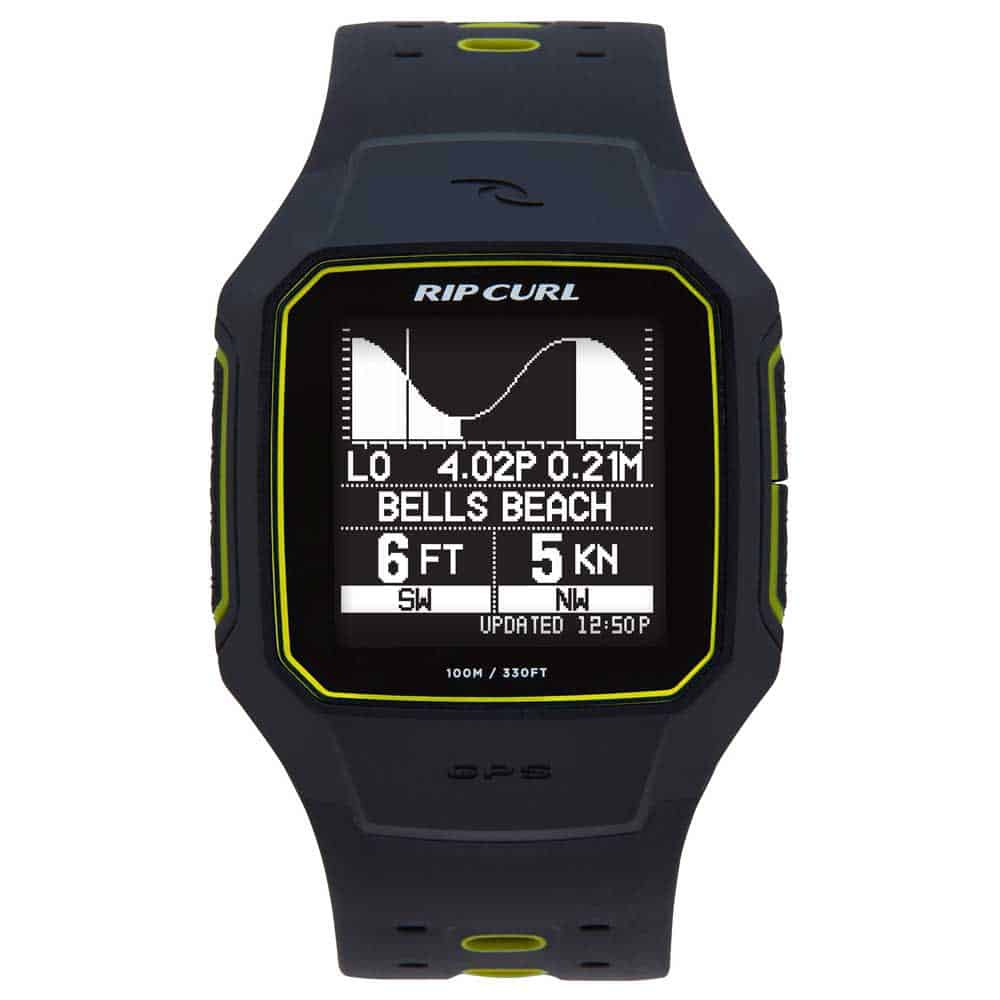 The Rip Curl Search 2 is quite unique as it offers live wind, swell and tide reports, but is also GPS equipped. That makes it a winner for riders whose main discipline is waves (with or without a kite) but who also want to be able to track their speed, routes and tacks.
Another reason to love this watch is that it's one of the few on this list rated at 10 ATM.
We also appreciate the simplicity of use here, as there's only 3 large, easy to press buttons from which you can reach any mode and function. The GPS one touch time / tide set function even makes it easy to find which spot you've just arrived to without having to scroll through all of the preloaded tide locations.
Download the Rip Curl Search App (rated 4.1* on the App Store) and get to re-live your session right on your smartphone, from distance paddled to wave count, graphic charts, location map, top speed or longest wave. You can even use it as a surf journal, documenting with a quick write up and uploading a picture to keep session logs. You may also want to follow your friends' or Rip Curl's pro riders activity.
While live weather conditions get pulled by the Search App from their partner Surfline by default, you'll actually get a 3 months free trial of Surfline's Premium version, giving you access to the biggest network of surf spot live cams, long range swell analysis and quality weather forecasts.
What about the Rip Curl Search 2's battery life?
As the original intent here is obviously surfing, you'll get only about 7 hours of battery life when using GPS, which will certainly not be enough for wild multi-day downwinders. As long as you can get it to charge every night though, you'll be fine. Note that the battery lasts up to 2-3 months without using GPS.
Then, something we're glad to see from Rip Curl, is a clear explanation of its warranty policy: as long as you're buying from an authorized dealer, like the ones we propose below, you'll be covered for 5 years on inner movements, 2 years for water resistance, and 1 year for the battery.
Rip Curl Search 2 – Pros and cons
Pros:
Live wind, swell, tide & moon phase
GPS
10 ATM rating
Well made Rip Curl App
Surfline Premium first 3 months free
Weather forecasts & live surf cams with Surfline Premium
Great user experience
One touch GPS tide location
Track other activities: snowboarding, hiking, cycling etc…
Clear warranty policy
Affordable price considering functions and ATM rating
Cons:
Short battery life with GPS on
No cellular option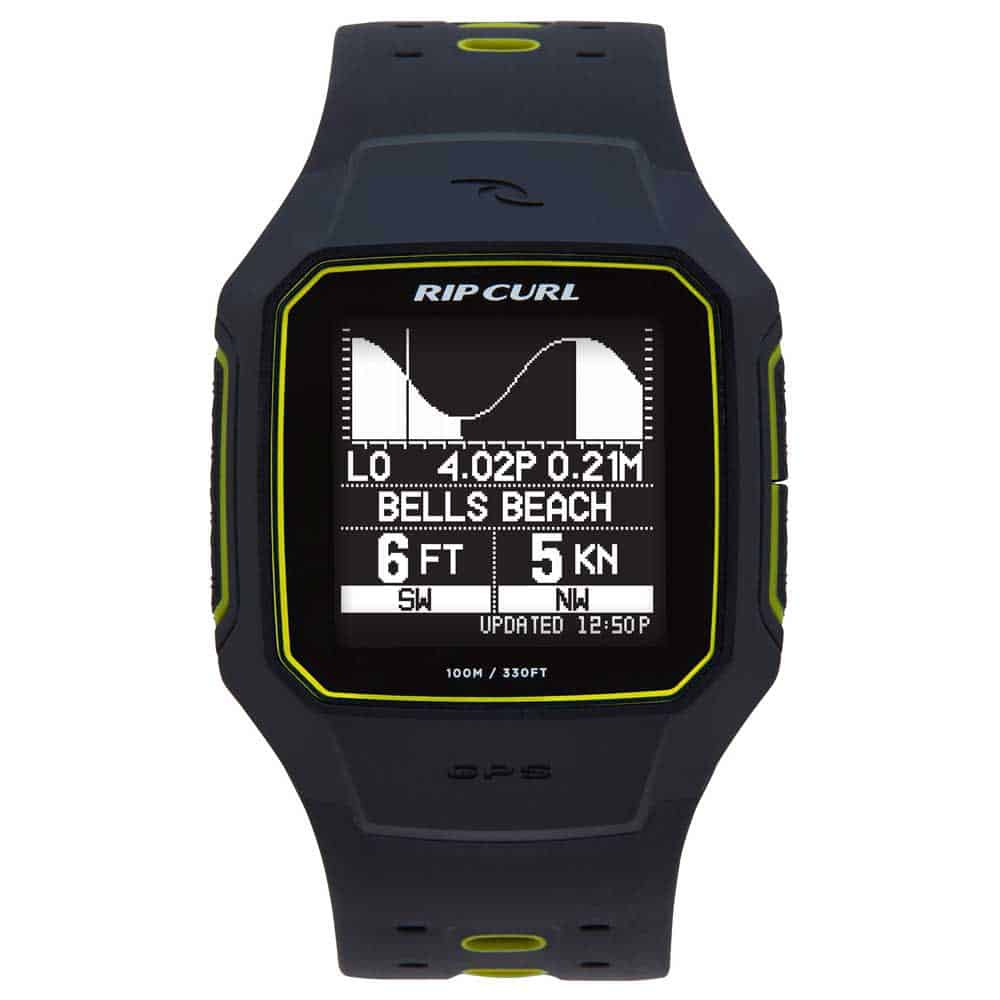 Rip Curl Search 2
The price of " Rip Curl Search 2″ varies, so check the latest price at
Read next:
Choosing a Waterproof Smartwatch: Things To Consider
Functionality
This is waterproof smartwatch 101: what the heck do you want the damn thing to do?!
Maybe you want to fine tune your upwind angles, or get an overview of how much distance you covered during your session; whatever the reason, if you want your waterproof smartwatch to track your movements, GPS is a must.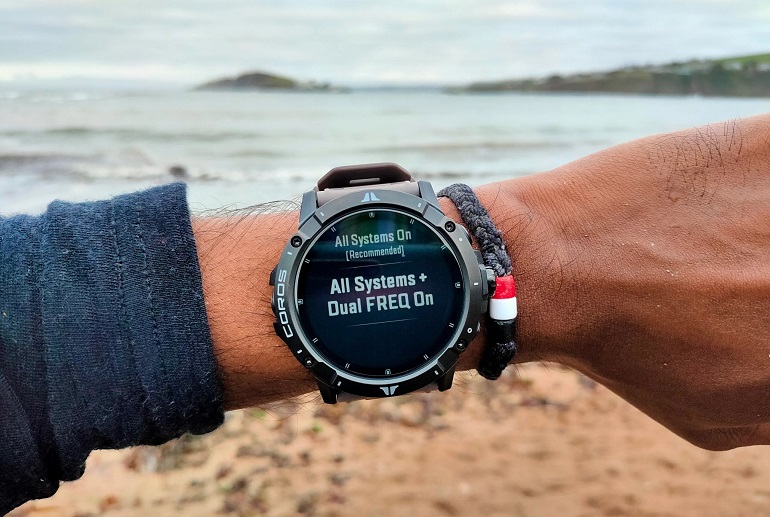 What about biometrics, like lactate threshold or heart rate measurements? You'll want a watch with a good sensor (make that an extra good one if you prefer to wear your watch outside of your lycra or neoprene, which may be the case if you want to see what's on the screen while you ride).
Does it have a built in barometer? Altimeter? Tidal and weather information? What about a compass? Or WiFi and Bluetooth connectivity? Does it have a touch screen or buttons — or both? All things that could be important, depending on what your needs are.
Finally, you'll also want to consider the battery life — some otherwise great watches need to be recharged notoriously often. Watch out for that one (see what I did there? Ohhhh boy….)!
Waterproof Rating
This sounds like an obvious one, but terms like "splash proof watch", "waterproof watch", and even "dive watch" get bandied around like mad — and they aren't always that accurate.
In short:
Your smartwatch must be strong enough to withstand the dynamic pressure of a wipeout. Even if it's just for a split second, the pressure that comes from a surface wipeout can be equal to (or in some cases, greater than) the pressure experienced when diving 10's of meters underwater.
Basically:
You want to look at the watches' ATM rating (short for atmospheres) which is a measurement of pressure. It tells you how far underwater you can theoretically go before your watch is unable to withstand the pressure (at which point water may enter the watch). If you buy a smartwatch with an insufficient ATM rating, the watch may be breached, corrode, and eventually stop working.
5 ATM is hypothetically good up to 50 meters, 10 ATM is equivalent to 100 meters, and so on. Essentially, the higher the ATM rating, the safer your watch will be. Bear in mind though that moving water creates more force than still water, so the depths above aren't literal (since watersports inherently involve plenty of movement) but more of an indication.
To be clear, a 5 ATM rating is considered largely sufficient for kitesurfing. After literally hours spent digging on the web, we just could not find any mentions of breached waterproof smartwatches due to kitesurfing (except for the Samsung Galaxy watches).
In theory, you would have to crash hard enough to create more than 75 PSI of pressure to crack a 5 ATM watch open, but such an impact would also be more than enough to knock yourself out unconscious which, in our opinion, does not happen very often in this sport.
And if it does, it's truly exceptional, unlike waterskiing, for example, where rope angle and boat direction can easily multiply the base speed by 2 or 3 fold thanks to inertia force.
That's why life jackets are mandatory for waterskiing or wakeboarding but not kitesurfing or surfing. So unless you're Alex Caizergues attempting a speed world record, or Jessie Richman screwing a loop at a King of the Air final, there's not really much to worry about.

Still, you should know that if you were to experience water damage on any of these watches while kitesurfing, there's a very good chance the brand will not consider this a valid claim for a warranty replacement, arguing that this would fall under the "accidental damage" category.
We would strongly advise that right after purchasing or receiving one of these watches, you'd just soak them in clear water at home and film the process on your phone, from opening the box to taking off protections, soaking the watch and finally checking meticulously for any leaks, in order to make sure you did not get a faulty model. If you did, you can then return it right away and honestly claim a replacement covered under warranty, helped by your little video.
If water damage was to happen during kitesurfing, and since each brand treats each case differently at their entire discretion, you may still get a replacement covered under warranty terms, but there is simply no way to know beforehand and you probably shouldn't count on it.
Compatibility
Smartwatches are essentially teeny weeny computers, right? And just like any other computer, they have operating systems which are limited in their compatibility. A lot of the watches on this list are designed to be used in conjunction with a phone, so keep that in mind and remember to identify whether they're meant for Android, iOS, or both.
Read next:
Wrapping it up (and picking a winner!)
There's a million and one waterproof smartwatches on the market these days, and this list is by no means inclusive of every single good one. This list is designed to give you an overview of a few very trustworthy, high quality waterproof smartwatches for kiteboarding, windsurfing, sailing, suping and other outdoor activities; and to show you an idea of what you need to consider when choosing the right smartwatch for your own needs.
The 7 waterproof smartwatches we've listed above are all awesome in their own way, but if we had to pick an overall winner, well, we'd actually pick 2… The Garmin Fenix 6 Pro for Android users, because of its amazingly long battery life, durability, powerful water resistance, and overall great functionality. For Iphone users though, we'd highly recommend the Apple Watch Series 6 thanks to its peace of mind Cellular option, great movement detection, efficient touch screen, and a super sleek design making it wearable at the office or anywhere really.

Still not sure which model to go for? Check out other kiters' feedback in this fairly active thread on Kiteforum.