Wondering which waterproof smartwatch is the best? Read which watches we rate — and why.
If you've read any of our previous reviews on the world's best watersports sunglasses or even our recent feature on bombproof kiteboard bags for travel, you'll know we take our watersports accessories pretty damn seriously.
And as much as we love the simplicity of going off-grid for the duration of our sessions, having an awesome waterproof smartwatch can open up a whole new world of possibilities.
From tracking your movements, heart rate, and jump height to being able to make a call in case of emergencies, modern waterproof smartwatches are fast becoming a key piece of kit for many.
But the punch line, guys and gals, is that not all smartwatches are made equal:
Apart from the obvious factors like cost and aesthetics, there are a few super duper important things to consider when choosing a watch for watersports.
Before we reveal our top picks, let's take a look at the finer details to help you choose the right watch for your specific needs.
Disclosure: extremenomads.life is a participant in the Amazon Services LLC Associates Program, an affiliate advertising program designed to provide a means for sites to earn advertising fees by advertising and linking to Amazon.com. This page may also contain affiliate links to products or services from other entities.
Choosing a waterproof smartwatch: Things to consider
Functionality
This is smartwatches 101: what the heck do you want the damn thing to do?!
Maybe you want to fine tune your upwind angles, or get an overview of how much distance you covered during your session; whatever the reason, if you want your waterproof smartwatch to track your movements, GPS is a must.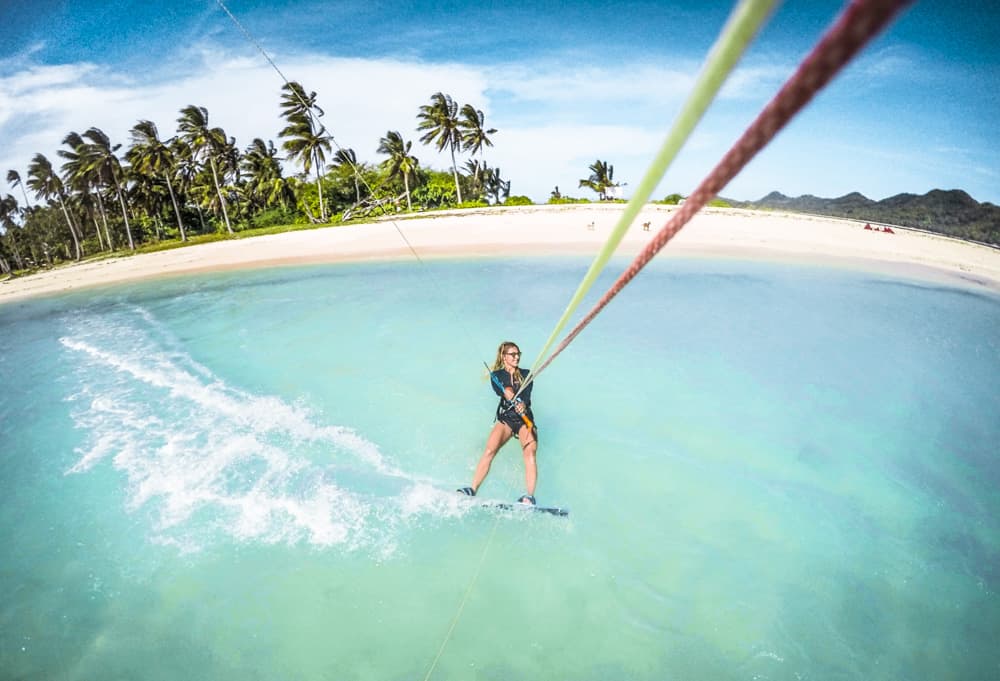 What about biometrics, like lactate threshold or heart rate measurements? You'll want a watch with a good sensor (make that an extra good one if you prefer to wear your watch outside of your lycra or neoprene, which may be the case if you want to see what's on the screen while you ride).
Does it have a built in barometer? Altimeter? Tidal and weather information? What about a compass? Or WiFi and Bluetooth connectivity? Does it have a touch screen or buttons– or both? All things that could be important, depending on what your needs are.
Finally, you'll also want to consider the battery life- some otherwise great watches need to be recharged notoriously often. Watch out for that one (see what I did there? Ohhhh boy….)!
Waterproof rating
This sounds like an obvious one, but terms like "splash proof watch", "waterproof watch", and even "dive watch" get bandied around like mad- and they aren't always that accurate.
In short:
Your smartwatch must be strong enough to withstand the dynamic pressure of a wipeout. Even if it's just for a split second, the pressure that comes from a surface wipeout can be equal to (or in some cases, greater than) the pressure experienced when diving 10's of meters underwater.
Basically:
You want to look at the watches' ATM rating (short for atmospheres) which is a measurement of pressure. It tells you how far underwater you can theoretically go before your watch is unable to withstand the pressure (at which point water may enter the watch). If you buy a smartwatch with an insufficient ATM rating, the watch may be breached, corrode, and eventually stop working.
5ATM is hypothetically good up to 50 meters, 10ATM is equivalent to 100 meters, and so on. Essentially, the higher the ATM rating, the safer your watch will be. Bear in mind though that moving water creates more force than still water, so the depths above aren't literal (since watersports inherently involve plenty of movement) but more of an indication.
You should also consider if a particular rating is sufficient for salt water, as this will have a somewhat different effect than fresh water.
Compatibility
Smartwatches are essentially teeny weeny computers, right? And just like any other computer, they have operating systems which are limited in their compatibility. A lot of the watches on this list are designed to be used in conjunction with a phone, so keep that in mind and remember to identify whether they're meant for Android, iOS, or both.
Beyond that, you may want to consider whether a certain watch on this list is compatible with other pieces of tech- like the Woo, for example (see Woo's official list of supported devices for more on that).
Pssssst: keep in mind that these waterproof smartwatches also make AWESOME gifts for kitesurfers, surfers, SUPers, and all-round outdoor lovers!
Our selection of the best waterproof smartwatches (for every need)
The Garmin Fenix 5X is the creme de la creme for watersports and outdoors lovers, if you ask us.
Like its premium cousin, the Garmin Fenix 5X is designed to be used for watersports as well as running, cycling, and any other type of cardio activity you can think of. Conveniently, it's compatible with both Android and iOS, and features a whole bunch of specs (for on and off the water) like biometric readings, contactless payment capabilities, and app connectivity (including your kitesurf specific apps).
Garmin push this watch as the ideal piece of kit for "rugged adventurers", and with its super durable scratch resistant lens and a titanium and stainless steel casing, it's easy to see why. In true Garmin fashion, the battery life on this baby is also insanely long, lasting almost 3 weeks in watch mode and 13 hours in GPS mode- with music.
A watersports smartwatch… with music?!
That's right lads and lassies, the Fenix 5X let's you store and play up to about 500 songs, which you can then listen to through Bluetooth headphones (if you've never had a session with music in your ears, get ready to have your mind BLOWN).
The other seriously great thing about this watch is that it's got an ATM rating of 10- double that of the Forerunner- so it's extra resilient when it comes to water resistance. The only thing we don't love? She's pretty feckin' heavy (3.36 oz; 95g).
We love:
10ATM rating
GPS
Multisport functionality
Super durable materials
Seriously long battery life
Plays and stores music
WiFi and Bluetooth capabilities
Contactless payment
Full app compatibility
iOS and Android friendly
Meh:
Heavy
One of the more expensive models on this list, but considering its superior functionality and bombproof durability, we reckon it's well worth it.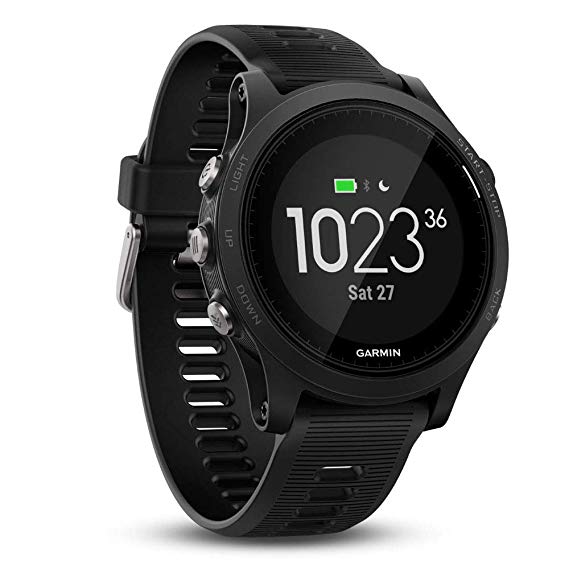 This watch is a tasty mate for any outdoor adventure lover who's looking to take their training to the next level. Garmin is a well known sports watch brand, but the Garmin Forerunner sets itself apart from other models in a number of ways:
It's designed with multi-sport functionality in mind (think hiking, biking, and swimming for starters) so if you're the type of person who digs other sports too, this one's for you. Plus it weighs just 1.7 oz (49 grams), making it nearly half the weight of Garmin's other popular model, the Fenix (we'll get to that one in a minute).
Not only is it one of the most comfortable watches on this list, but in terms of functionality it also comes out top of the pile. Rated at 5ATM, it's also got a built in GPS, heart monitor, barometer, altimeter, compass, WiFi capabilities, and sport-specific metrics (including a function that'll tell you if you're undertraining or overdoing it). To top it off, it's compatible with both iOS and Android.
Best of all, its battery life lasts up to a whopping 2 weeks when used in watch mode (and still a solid 24 hours when used in GPS mode). It's also got user-friendly buttons (take note, clumsy fingered friends who despise touch screens!). It syncs with a bunch of useful apps, too, like Accuweather and even Uber (possibly good for when you need a lift back upwind? Ha!).
We love:
Multi sport functionality
Comfortability
Lightweight
GPS
Barometer, altimeter, compass
Super long battery life
User friendly buttons
iOS and Android friendly
Meh:
At 5ATM rating, it's one of the lower pressure resistant watches on the list
Ahhhh, the Apple Watch.
No list of waterproof smartwatches would be complete without paying dues to the i-Family (even if Apple watches are often a topic of contention… I ain't pointing any fingers though, yo). Regardless of whether you're a die hard iFan or an Apple avoider, the newest member of the Apple Watch series is worth considering as a waterproof smartwatch for a number of reasons:
With an ATM rating of 5, the Apple Watch Series 4 meets the base waterproof threshold you'd want to consider for a wateproof smartwatch. It's got updated touchscreen technology which not only functions impeccably, but also boasts a seriously sharp display, too. The screen size is 30% bigger than previous models and the speaker is 50% louder, Apple developers say. You can also pair the watch with bluetooth headphones and rock out to some tunes of your choice during your next session.
Particularly interesting for kitesurfers, the series 4 watch has never-before-seen functions like ECG monitors, fine tuned accelerometers, and a gyroscope- all of which make the Apple Watch's ability to detect movement, acceleration, and velocity better than ever. Add that to its GPS capabilities and you've got yourself a pretty thorough outdoor workout buddy.
With an 18 hour watch battery life (6 hours on GPS mode) it's definitely shorter than most of the other smart watches on this list, but in fairness, the 64-bit dual-core S4 processor and insane range of capabilities more than make up for that.
Finally, if you value the ability to make and receive calls (maybe because you're on call at work, or you like to have the security in case of an emergency on the water) the Apple Watch offers full cellular capabilities when paired with the SIM in your iPhone- so calls, texts, and app use are all go.
The only downer is that you have to have an iPhone to be able to use the Apple Watch (all of them, regardless of series). So if you're an Android user, this probably isn't the one for you.
We love:
Fancy pants touchscreen with sharp display
Comes in two sizes (40/44mm)
Movement detection is second to none
GPS
Updated biometrics
Plays music
Cellular capabilities (as well as Wifi and Bluetooth)
Basically a mini computer
Full app use
Replaceable straps
Meh:
Only compatible with iPhone
Relatively short battery life
5ATM rating
Best value fitness tracker – Fitbit Ionic
If you love the style and vibe of the Apple Watch but either a) don't have in iPhone and don't want to get one b) don't have any need for all the sparkly extras or c) don't care much for the price tag, then the Fitbit Ionic might be the solution.
Think of it like a stripped back version of the Apple Watch; it doesn't have half of the app functionality or full cellular capabilities, but it does have great biometric readings, fitness-specific apps and training functions, and super accurate GPS (which many users reckon is on par with that of a premium Garmin watch). It's got 5ATM rating and, most deliciously of all, it's a fraction of the price.
The Fitbit Ionic also rocks a battery life of 4-5 days, which beats the Apple Watch by a country mile. In addition, you can also play and store music directly on the Ionic (which is an upgrade from its popular sister model, the Blaze) and use full WiFi and Bluetooth functions (whereas the Blaze only has Bluetooth).
Added plus:
The latest Ionic has a really user-friendly touch screen; it's super responsive and the display area is nice and large- which really is a must from a smartwatch if you plan to interact with it on the water.
In short:
The Ionic is an awesome all-rounder as far as waterproof smartwatches go. It's great value for money and does what it says on the tin. Two thumbs way up from us!
We love:
Value for money
Accurate GPS
Updated biometrics
Relatively long battery life
WiFi and Bluetooth
Plays and stores music
Works with Android and iOS
Replaceable straps
Meh:
Just 5ATM rating
Doesn't offer full cellular capabilities
If you're after a rugged, hardwearing smartwatch that actually looks like a watch then get a load of the Nixon Mission:
Nixon is, of course, an iconic surf watch brand, and indeed the Nixon Mission has been designed with surfers and snowboarders in mind (can you say real time surf and snow reports?! Heeeelllls yeah!). It's designed to be used in high impact extreme sports- including in salt water and freezing temperatures- so you can be pretty sure it'll live through even the gnarliest of kite sessions.
The Nixon Mission gets a 10ATM rating, making it one of the more water/pressure resistant watches on this list (YASSSS!!). It comes with a touchscreen which has been ergonomically designed for use with wet fingers, too, so no accidental screen activation from water droplets.
It's made with a shock resistant polycarbonate casing, Gorilla glass, and stainless steel bezel, and features built-in GPS, a thermometer, altimeter, barometer, e-compass, and gyrometer. It's compatible with both Android and iOS, although there are some technical snags when it comes to the latter (think delayed syncing to iCloud and limited ability to add more apps).
That said, the Mission also comes with a bunch of pre-loaded apps, including Google Translate which is super handy for all you who pilgrim to the best spots in the world . To top it all off, the Nixon Mission also offers phone-free music playback for on-water listening.
The only thing that ain't so great about the Nixon Mission is its relatively short battery life. The built-in GPS sucks up a bunch of power, meaning you'll only get 1-2 days of battery life out of it with medium use.
We love:
GPS
thermometer, altimeter, barometer, e-compass, and gyrometer
Live surf and snow reports
Designed for high impact outdoor sports
wet -finger-friendly touchscreen
10ATM rating
Super durable
Phone free music
App capabilities
Compatible with Android and iOS
WiFi and Bluetooth
Meh:
Relatively short battery life
No cellular function
Wrapping it up (and picking a winner!)
There's a million and one waterproof smartwatches on the market these days, and this list is by no means inclusive of every single good one. This list is designed to give you an overview of a few very trustworthy, high quality waterproof smartwatches for kiteboarding, windsurfing, sailing, suping and other outdoor activities; and to show you an idea of what you need to consider when choosing the right smartwatch for your own needs.
The 5 waterproof smartwatches we've listed above are all awesome in their own way, but if we had to pick an overall winner it'd be the Garmin F5X because of its amazingly long battery life, durability, powerful water resistance, and overall great functionality.
As always, if you have any questions about a product in this list (or one we didn't include!) drop a comment down below and we'll do our best to give you some good advice.