From the sand dunes of Morocco to the wave battered shores of Mauritius, kitesurfing camps are popping up everywhere in the world these days, and for good reason. They're simply the easiest way to learn kitesurfing in no time, gloriously marrying adrenaline thrill, truckloads of fun and the exploration of amazing new destinations and cultures.
Also, often enough (actually almost every single time, honestly), you'll get that weird side effect of feeling like you're building deep, lifelong connections within the community, whether it's with other kitesurfing students, the kite school staff, or even some of the locals if you stay somewhere long enough.

I've been working in the kitesurfing industry for more than 10 years now, doing kite videos for the Kiteboard Tour Asia mostly, but also occasionally giving some lessons or even judging comps in small local events.
And I can tell you that kitesurfers are some of the funniest, friendliest and craziest people on earth, mark my words! Why is that? Because kitesurfers who get to kite everyday are just happy as hell, man.
Smile to the ears and hands in the air throwing you double handed shakas all day long, and often deep into the night too. We sure love parties. And barbecues, lots of fresh seafood barbecues. And this stuff is highly, highly contagious you know, you may think you're shaka proof, but you're wrong. We'll get you with just a cold Corona and a joint.
It's just simple peer pressure, you can't do anything, it's kind of fucked up, right? Well, wait. Because then you get back home and it just happened, you've half inadvertently shaka'ed your boss, and on the spot for half a second you wonder maybe it's not that inappropriate? is it? You dare not look up to know the answer. Then you feel all sorts of mixed emotions and you think why are you even in this office and start to wonder where the nearest windy beach is. Wow. At this point, just chill. And then look at kiteboarding gear. It works.

Or you get a shaka back. No way! Lucky you. We are everywhere, hiding among normies, stalking weather forecasts like incels on Springbreak. OK, I've drifted, did I?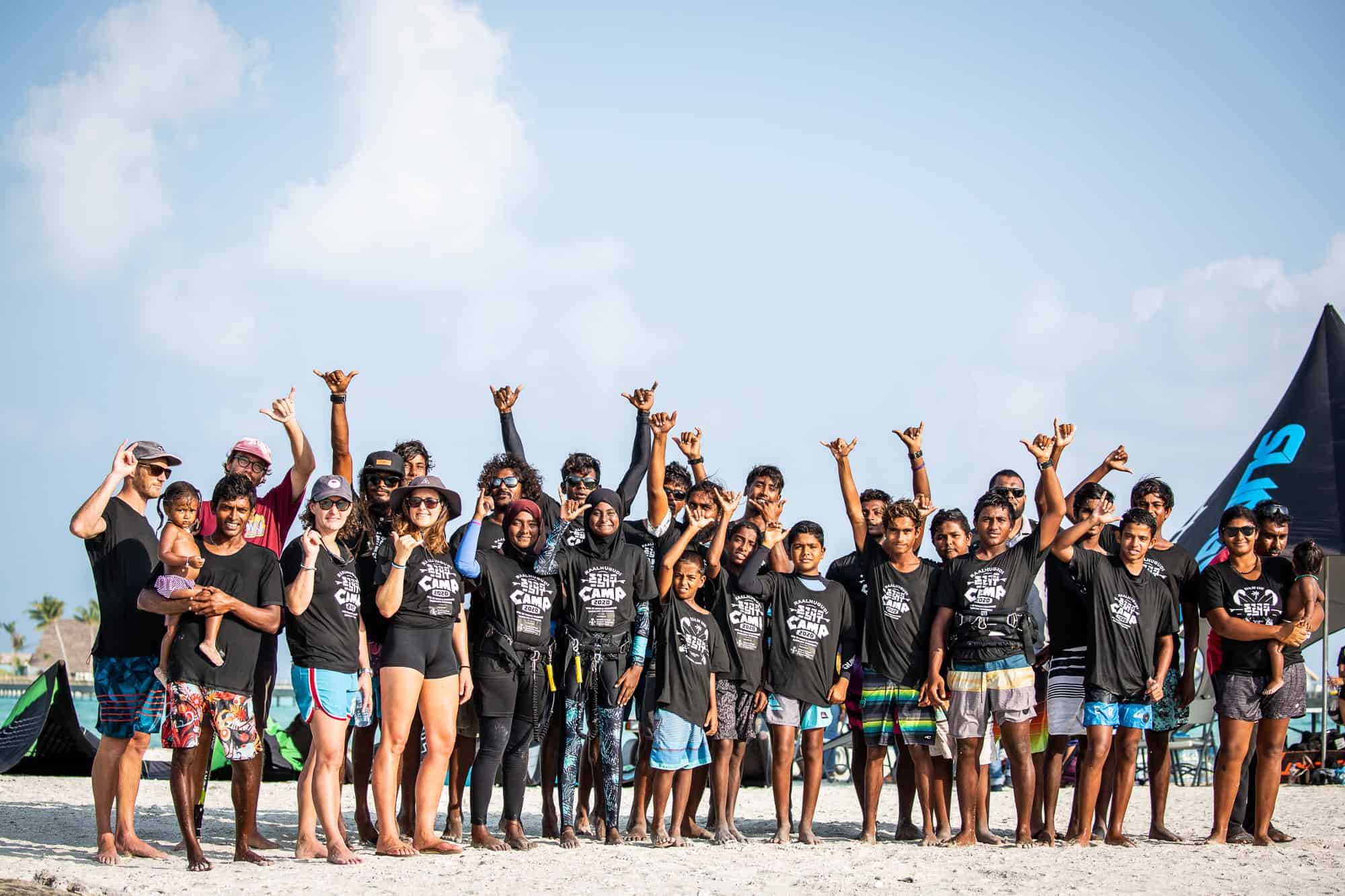 So, I've narrowed down a selection of 10 of the raddest camps around the world that I think are in the most world class kitesurfing destinations out there, and even for some of them I'll more than happily vouch for the professionalism and friendliness of the staff or owners when I know them. Whether you're a total beginner or looking to build on the skills you already have, we'll have you covered.

Editor's note: we're currently updating this post for the current travel conditions. Come back later to see new spots! Bookmark this page to find it easily.
To give you the widest possible window in terms of season and location proximity (more info on all that in just a sec!) we've chosen a variety of locations around the globe, with each kitesurf camp offering something fairly unique to the next.
But before we look at the camps themselves, let's briefly run through some housekeeping points so that you have a solid idea of how to choose which camp is the right one for you:
Read next:
First off, what exactly is a kitesurfing camp?
Good question — and one that sometimes falls to confusion.
Typically, a kitesurfing camp is a package deal that covers your accommodation, kite lessons, and equipment use. Some schools go further and also offer things like meals, non-kiting activities, and transport for one all-inclusive price (flights are sometimes offered, but most commonly not). Other schools do not have accommodation on-site, and it will be up to you to find your own, although most of the time, they'll gladly assist you on this and propose a few different options close by.
Then you'll find just as many camps that charge extra for all those little extras like SUP rentals or yoga sessions — so it's definitely worth reading the camp complete description, so as to ensure your budget actually fits the camp you're considering. BookSurfCamps folks are doing a very good job at presenting a maximum of information on what's specifically included or not, often with verified reviews for each of their listed camps.
And you know these are authentic as you sometimes stumble upon pretty savage essays with the lowest scores possible. But they're not suppressed and instead the camp owner has the opportunity to reply back, which often gives you a totally different picture. Much like Tripadvisor.
In short though, kitesurfing camps are primarily about learning; your days will mainly be spent on the water under the guidance of a coach or instructor. This is a little different to what's called a 'kitesurfing holiday', which is typically more geared towards intermediate/advanced kiters who are looking to experience a new place by kite — although there still might be a progression component, it's not considered the primary part.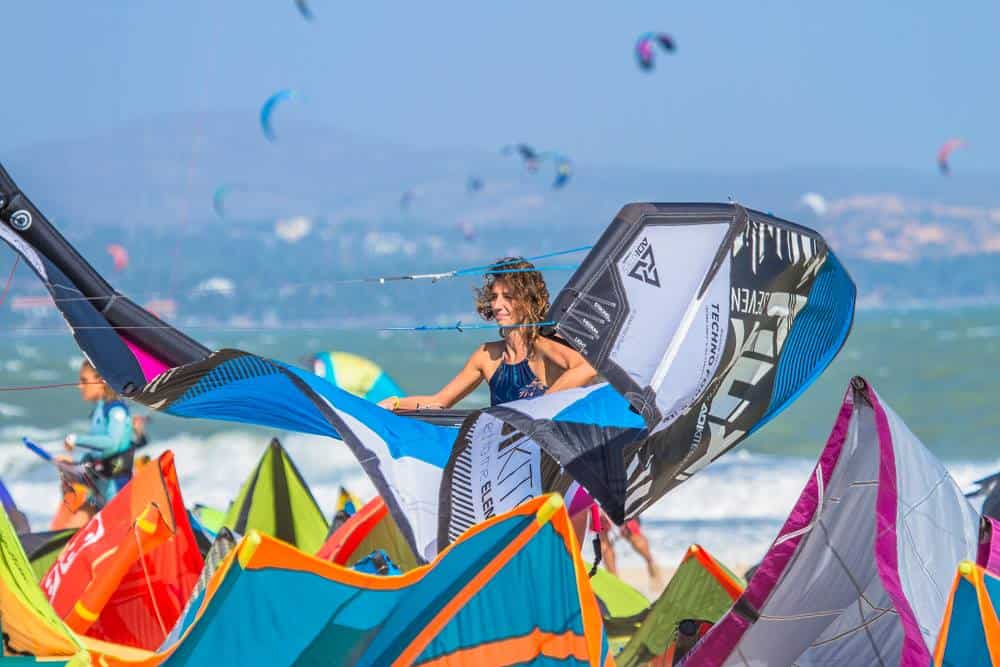 How do I know if I should join a kitesurfing camp?
Kitesurfing camps exist in all shapes and sizes — and to suit all levels of riders.
With that in mind, it stands to reason that theoretically you don't need to have a minimum level of riding to go to a kite camp, and equally that you don't need to be a beginner kiter to enjoy and learn from the experience (just make sure that whichever camp you're looking at caters for your current level — which we've outlined in detail for each camp below).
Camps can be a great space to learn how to kiteboard for the first time, to progress (or refresh) skills you already have, and to push yourself to a higher level of riding.
How to pick the right kitesurfing camp for you
There's a handful of things to consider:
Location: and not just whether they're set on a tropical beach in the sunshine, which… is always a plus. But also how easy/difficult it is to get there from your current base
Conditions: are they conducive to learning/progressing in the discipline you're after, for example maybe you're already a surfer who wants to learn how to use a kite to ride 10x the amount of waves?
Cost: the cost of the camp itself + non-inclusive extras + flights
Season: does the place's windy season match up with your holiday dates?
Type of accommodation: kite camps offer everything from yurts to luxury villas — so make sure you choose accordingly.
Types of lessons: Private? Group? How do you learn best? Also keep an eye out for how many hours of lessons are offered by each camp. It differs — and just a few hours can make a huge difference. Try to find camps that group a maximum of 3 students per instructor, for the beginners anyway.
Culture/vibe of the place: your experience at a kite camp happens off the beach too; and this is extra important to consider depending on what your tastes are and who you're travelling with.
There's also a huge selection of niche kitesurfing camps on the market these days; some combining kiting with other sports like surfing, paddle boarding, and yoga; some girls-only camps; some which match kiting with cultural activities like language lessons; and advanced clinics with pro kitesurfers.
While all of the above can be awesome in their own right, this post focuses more on your classic kite camp format (kitesurfing lessons + accommodation), though each individual camp does indeed have its own unique spin. Check 'em all out and see which one speaks to you!
10 of the best kitesurfing camps around the world!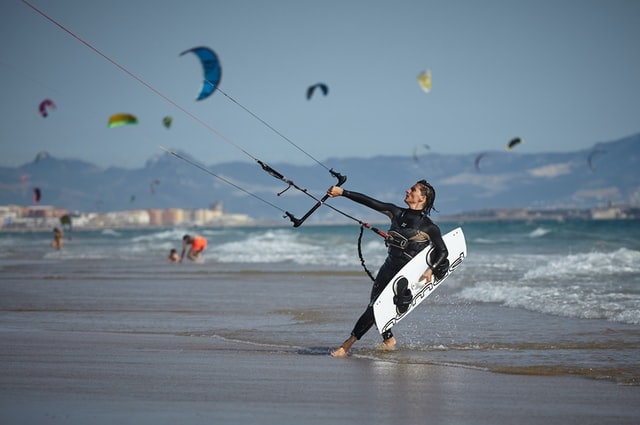 When to go: March-November
Nearest airport: Gibraltar, Jerez, Malaga, Seville
Suitable for: beginners, intermediate, advanced
Highlights: reliable wind, big kite community, buzzing nightlife, tapas
This 7-day course with Addict Kite School is a great all-rounder since it's suitable for all levels of kiteboarders (a brilliant option if, for example, you're a more experienced kiter and you have a friend or partner who might like to start learning). Totalling 15 hours of lessons, you'll have 5 jam-packed days of kitesurfing in Tarifa, the kite capital of Europe and one of the windiest beaches in the world.
With a choice between a shared house or a private apartment, you'll be based just a two minute walk from Tarifa's Old Town and only a stone's throw from the kite beach (with free transfers provided). Instructors are all IKO certified and you'll have lessons either on your own or with a maximum of one other person — which is a recipe for fast progression.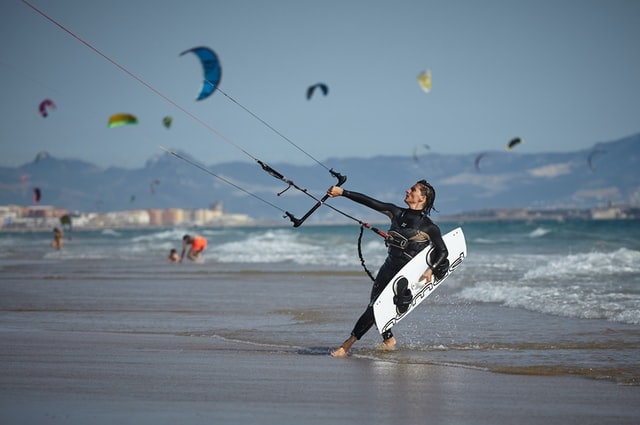 Tarifa, Spain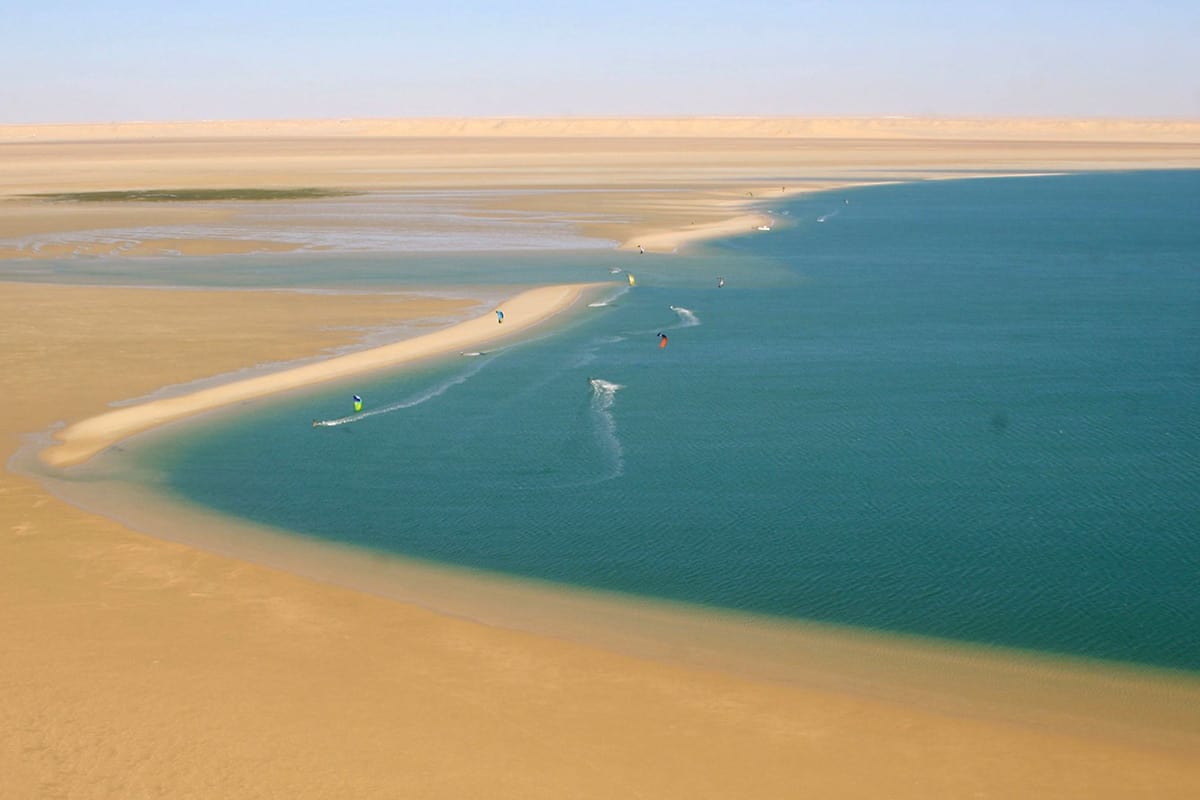 When to go: April-October
Best airport: Dakhla
Suitable for: beginner, intermediate, advanced
Highlights: desert landscape, remote countryside, flat water lagoons
Dakhla is one of North Africa's most renowned kitesurfing hubs, with near constant wind and a dreamy mix of flat water and waves. This week-long kitesurfing and yoga holiday organized by Om Yoga Retreats would see you taking daily kite lessons in addition to 3 coached yoga sessions, yes, PER DAY! That also includes all your meals (vegan cuisine available), necessary transfers, and lagoon-side accommodation in the Ocean Vagabond hotel provided within the package. Those with a high enough level will also have downwinders to the white sand dunes and local oyster farms to look forward to.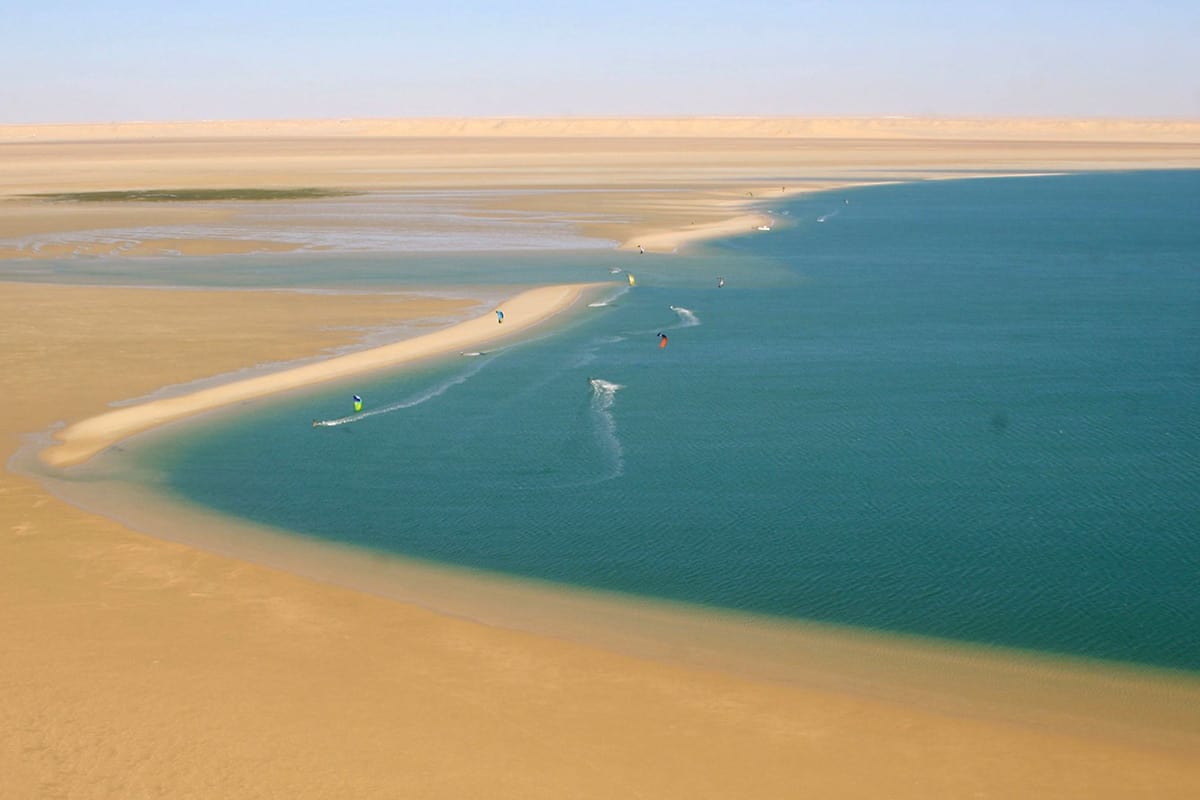 Dakhla, Morocco
Read next:
When to go: May-September
Best airport: Colombo
Suitable for: all levels
Highlights: flat water, stunning nature, undiscovered spot, delicious food, warm weather
Sri Lanka is the holy grail when it comes to kitesurfing in Asia, and Kalpitiya has been the country's hottest kite spot to develop — quickly earning a reputation for its consistent wind, flat water, insane downwinders and rich local culture.
While there are many spots for kitesurfing along Sri Lanka's windy west coast, Kalpitiya takes the crown for its variety of conditions, offering safe and shallow spots to beginners and deeper inlets to try out your big tricks in the lagoon, as well as sea conditions meaning usually 50cm to 2m waves with sandy shorebreaks just over the sand dune.
We highly recommend our old friends Dil and Leo's Kitesurfing Lanka's School for all your kite trips in the northwest coast of Sri Lanka, whether it's in Mannar or Kalpitiya. Dil, a Sri Lankan local, teamed up with Leo, a Swiss kitesurfer and snowkiter, more than 10 years ago to create the most amazing kite school of Sri Lanka!
Webmaster's note: The first time I went to Sri Lanka was in 2011, not long after the end of the country's 26 year civil war. We were running Kiteboard Tour Asia events all winter and this was more of a discovery trip for the crew, we've spent 10 days at Dil and Leo's school and I dislocated my shoulder on a downwinder just 3 days into the trip. Leo's dad, who happened to be a ski resort doctor, managed to put it back in place after 2 hours, which felt like a lifetime. We went back in 2018 to run the first KTA event in partnership with 3 local schools, Kitesurfing Lanka included. And had a blast as you can see from the video I made of the event with the help of DJI pilot Rufus Blackwell! The road to get there is still a bit of a journey (around 4 hours from Colombo) but oh so worth it, and actually often beautiful. The standing of the local businesses has really improved since 2011, with a lot more accommodation options but still only a few restaurants. Eating at your school is still the easiest, and will make you meet plenty of fellow kiters from all around the world, Sri Lanka included. Many instructors and employees are local youngsters hungry for wind and eager to share.
Jim.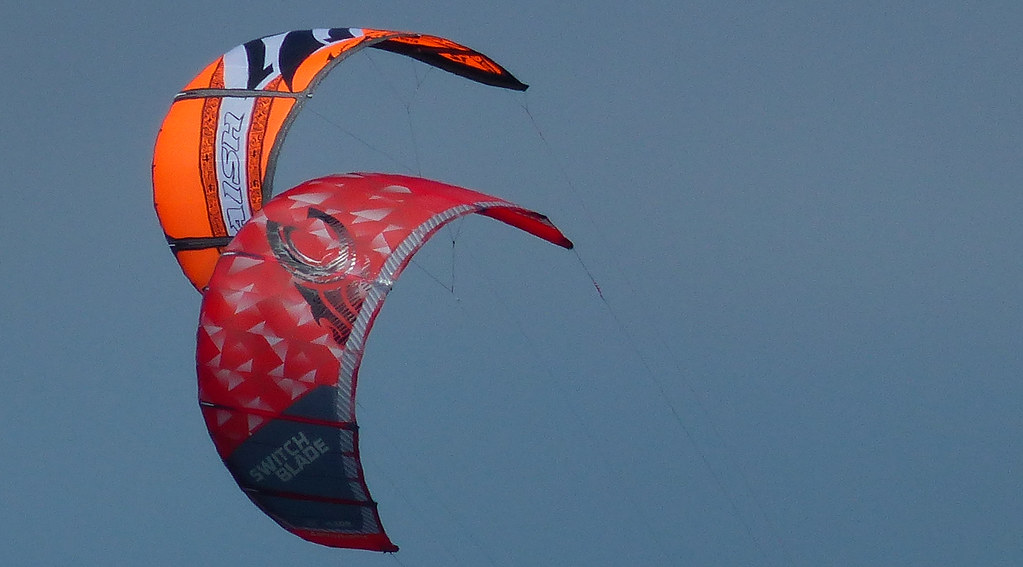 Kalpitiya, Sri Lanka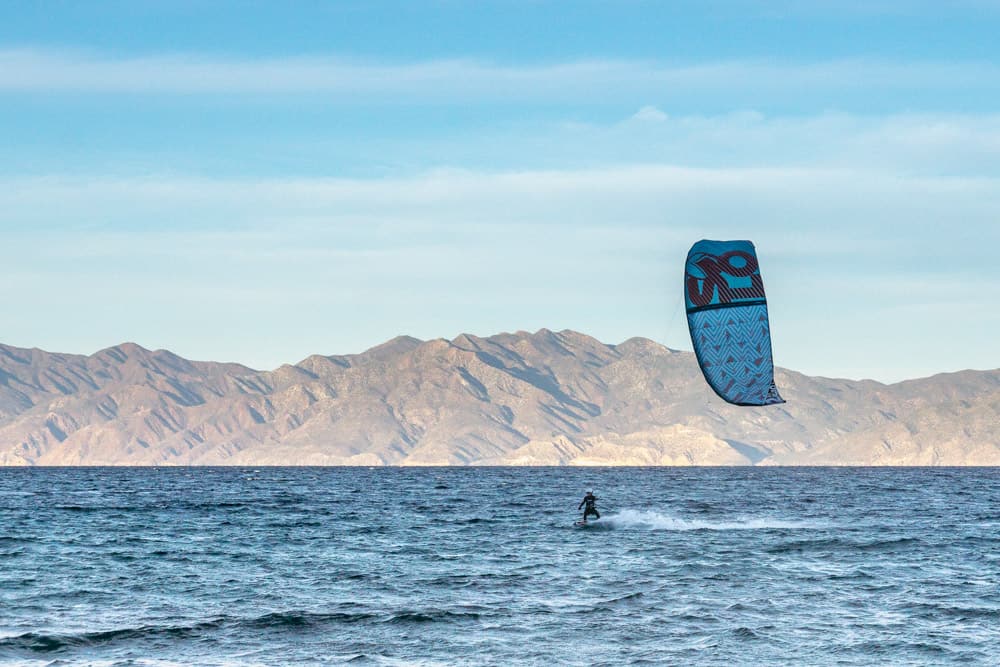 When to go: November-April
Nearest airport: Manuel Márquez de León, Los Cabos
Suitable for: beginner, intermediate, advanced
Highlights: strong wind, established kite community, warm weather, margaritas, glamping
Over 8 days and 7 nights, this kitesurf camp will see you learning to fly on the windswept Mexican coastline amongst a super established kite community. With daily morning yoga sessions to start you off right, you'll have 5 action-packed days of kite lessons in groups with no more than 8 students — a fab choice if you're looking for a kite camp that guarantees a solid social aspect or if you feel like you'd progress best in a group setting.
The standard package will see you glamping in yurts on the shores of La Ventana (though upgrades are available if you prefer something a little more cushy). You'll also have free access to the club's snorkel gear, mountain bikes, and SUPs; and be invited to partake in their regular parties, evening bonfires, hikes, and margarita tasting sessions (yummmmm!!). For the mega adventurous amongst you, they even offer the chance to swim with whale sharks.
There's TONS included in this package (possibly the most of any on this list) and seriously tasty discounts are up for grabs if there's more than one person looking to join the camp, so we recommend clicking through and reading the full details.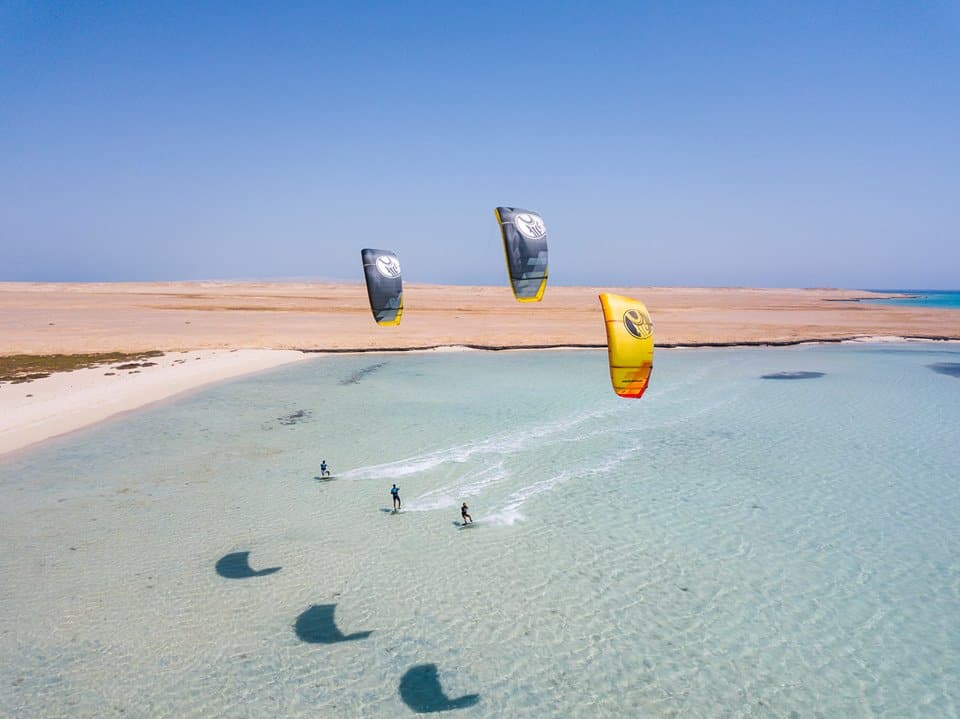 When to go: April-October
Nearest airport: Hurghada
Suitable for: beginners, intermediate, advanced
Highlights: flat water, reliable wind, night life,
The buzzing resort town of El Gouna is Egypt's most renowned kitesurfing spot, and is known around the world as an awesome place for beginners to start learning kiteboarding for the first time (as well as for freeriders and freestyle addicts looking to progress in easy-going conditions). The spot features a wide sandy beach and flat warm water in a 500-meter wide lagoon — ideal.
This 7-day camp is packed with up to 24 hours of kitesurfing lessons over the course of 6 days. In addition, the package includes 6 nights' stay in one of two cushy resorts near the lagoon, airport transfers, daily breakfasts, and GoPro/photo sessions to capture all your best moments. Lessons take place with groups up to 5 students big — so a good choice for those who thrive in a social setting.
This camp is also one of the better choices on this list for those travelling with kids, as one of the resorts offers free daycare at their kid's club complete with supervised playgrounds, playrooms, and swimming pools (as well as pools, sun loungers, golf, and tons of live entertainment for the grown ups).
When to go: April-October
Nearest airport: Lisbon
Suitable for: beginner, intermediate, advanced
Highlights: surfing, wave riding, easy access for the city, beautiful nature
This one's for the multi-sports lovers amongst you, as this camp has SUP, surf, and kitesurfing all rolled into one big, wet, salty ball of fun. Cascais sits on the coastline just west of Lisbon and offers easy access to Guincho Beach nearby — one of Portugal's premiere kite spots.
Let it be known that this side of Portugal is famous for its waves; so it's an amazing spot if you're an experienced kitesurfer looking to progress your wave riding skills, or if you're like me and you like to follow up your kiting with surf sessions.
But beginners should keep in mind that big waves aren't the easiest to learn in, so if you fall into the newbie category you should think about going for this camp during July/August when the waves are at their smallest.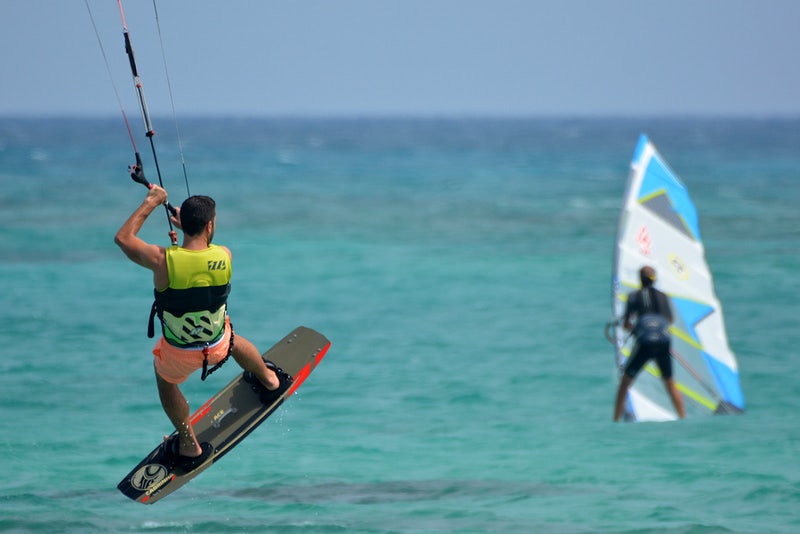 Cascais, Portugal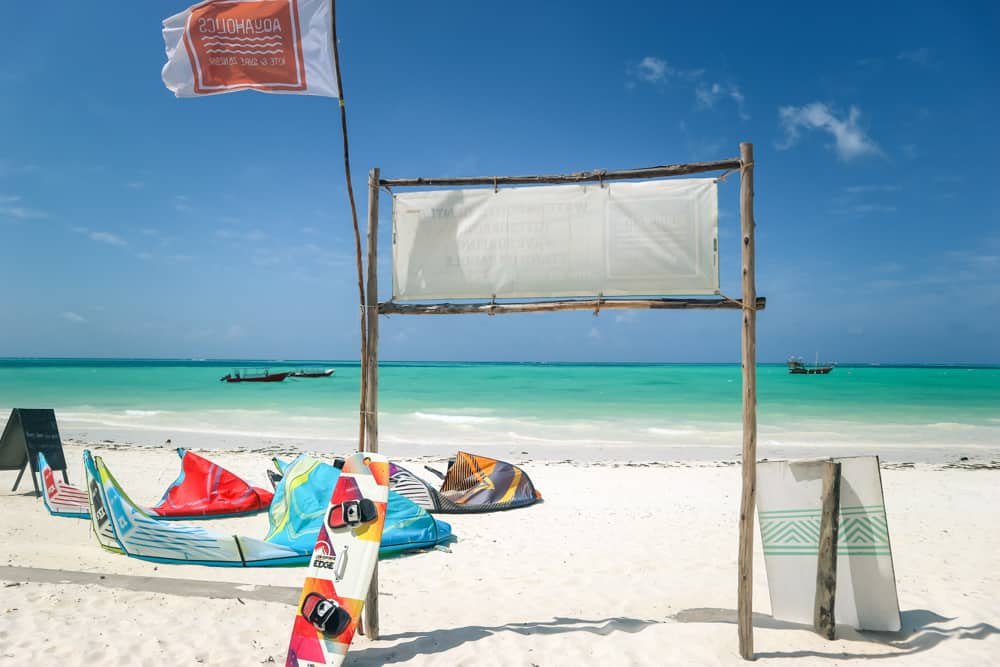 When to go: July-September
Nearest airport: Abeid Amani Karume International Airport
Suitable for: beginner, intermediate
Highlights: easy-going conditions, multi-sport activities, tropical weather, insanely beautiful beaches
Ahhhh Zanzibar. You're dreamy blue waters, mellow wind, and tropical island vibes got us ALL kinds'a in love with you. And if you're anything like me, the aforementioned is enough to get you packing your kiteboard bag and booking a flight!
This 8-day kitesurf camp offers 5-9 hours of lessons (5 for private lessons, 9 for group) over 3-4 days, 7 nights' stay in a beachside apartment, airport transfers, and daily breakfasts. Though the amount of lessons provided is a little on the slim side, this also means you'll have more time off the water to explore beautiful Zanzibar and make the most of the other activities on offer — like diving, snorkelling, surfing, cooking classes, cultural tours, road trips, and exploring the nearby Jozani Forest.
A sweet option for anyone seeking a camp that offers a mix of kitesurfing and solo exploration.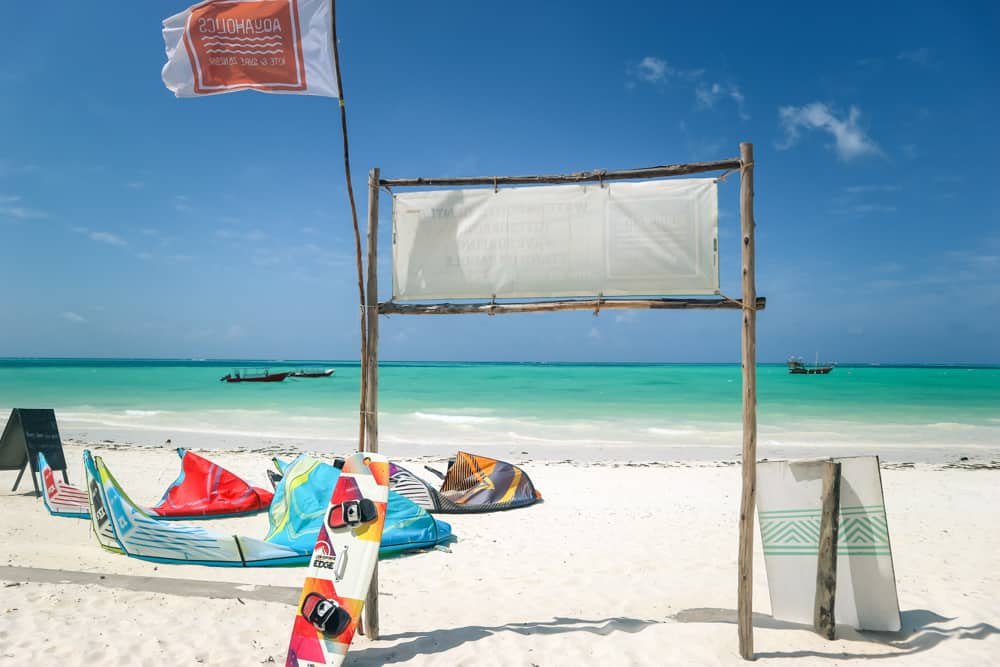 Zanzibar, Tanzania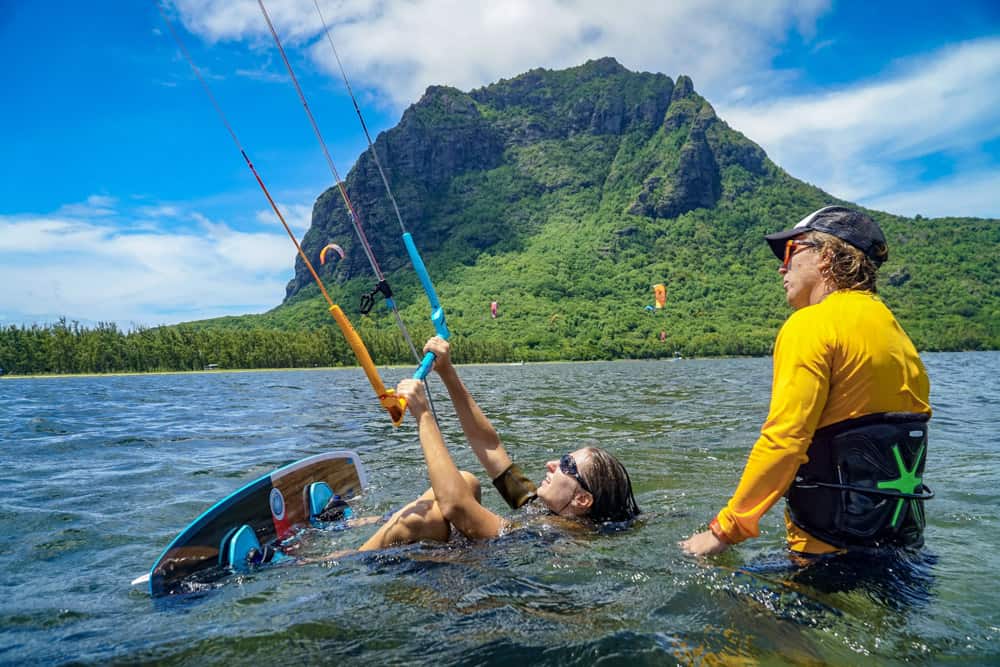 When to go: June-November
Nearest airport: Sir Seewoosagur Ramgoolam International Airport
Suitable for: beginner, intermediate, advanced
Highlights: surfing, amazing waves, incredible scenery, solo exploration
Le Morne's strong wind, barreling waves, and beautiful scenery are well known in the kitesurfing world.
This 9-day camp would see you complete 10 hours of kitesurfing lessons over 5 days (which, in the unlikely case of no wind, would be exchanged for surfing lessons) — a good choice for those of you with an inclination towards both sports. Lessons take place in groups of 2 students max — a nice balance between focused learning and socialising.
You'll be staying in a private room in the dedicated kite house, with other kitesurfers sharing the space with you. In between your lessons, you'll be whisked off to Mauritius' countryside to explore, hike, and maybe even get high with some paragliding.
Meanwhile, you'll also have the option to rent a car while you're there if you fancy skiving off to explore the island on your own time.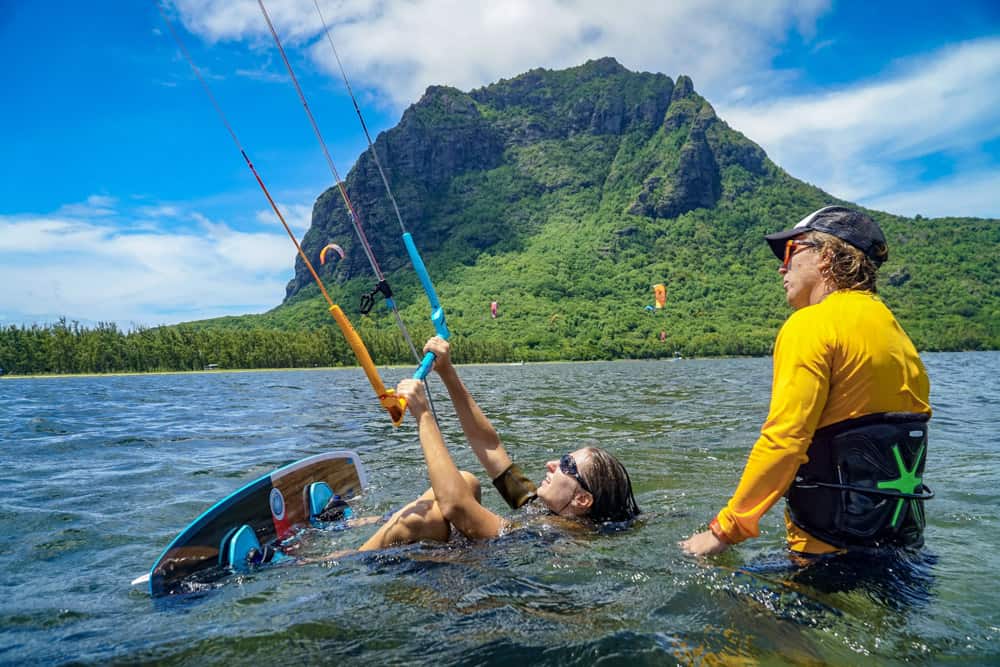 Le Morne, Mauritius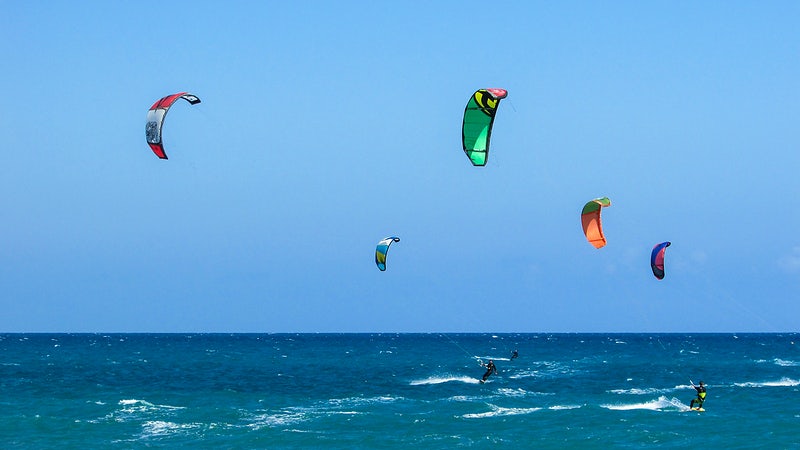 When to go: December-March
Nearest airport: Gregorio Luperón International Airport
Suitable for: beginner, intermediate, advanced
Highlights: daily yoga, organic dining, adventure activities, stellar kite community
Cabarete is one of the most famous kite spots in the Caribbean — maybe even the world — with reliable wind, playful kickers, tropical beaches, and amazing surf to boot. This camp is designed to accommodate riders of all levels, with basic instruction given for beginners and advanced coaching available for those with more experience.
The 8-day camp blends kitesurfing with yoga and all-round mindful living. You'll kick off each day with a yoga sesh and an organic, locally sourced breakfast, followed by a fully powered day of playing in Cabarete's wind and waves. Days will wrap up with a farm fresh organic dinner and putting your feet up in your room at a sustainable eco hotel right on the beach. Dreamy.
With total wellness in mind, you'll be offered a complimentary 'eat well session' with a nutritionist. You'll also be whisked off on a river tubing adventure, which'll see you float down with the current to the organic farm that's been supplying your yummy eats back at the camp — where you'll learn all about farm-to-table dining and organic living.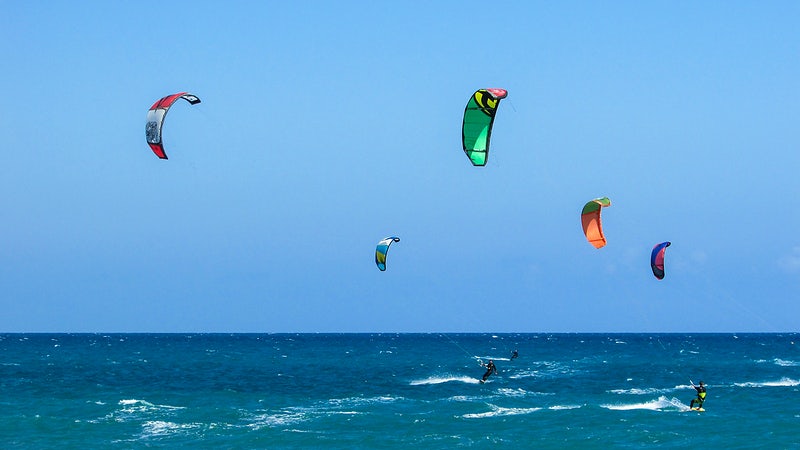 Cabarete, Dominican Republic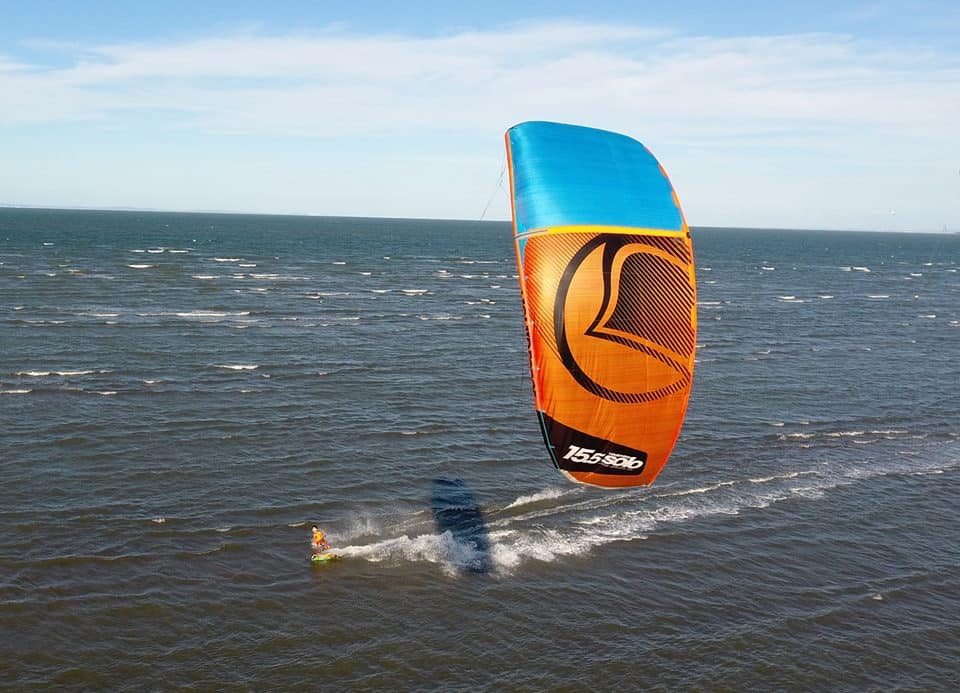 When to go: September-April
Nearest airport: Brisbane
Suitable for: beginners
Highlights: awesome spot for beginners, tons of boardsports and activities, easy airport access
The final entry on our list of kitesurfing camps is a fab one for those of you located (or looking to visit) down undah. Over the course of 6-7 days and up to 24 hours worth of lessons, beginners can learn all the basics of kitesurfing under the guidance of super competent, experienced instructors at this camp Brisbane Beach.
The spot is sandy, spacious, and has plenty of shallow water to get to grips with your first water starts — so it's pretty ideal for those of you looking to take your first steps into the world of kiting.
Psst: it's also super close to the airport, which is a big plus if you're looking for an accessible location for your next kitesurfing camp!
Outside of your kite sessions, you'll also have the chance to try your hand at activities like drone piloting, blow karting, SUPing, kayaking, or land boarding — and at night fall into a cushy bed in your room in a local B&B.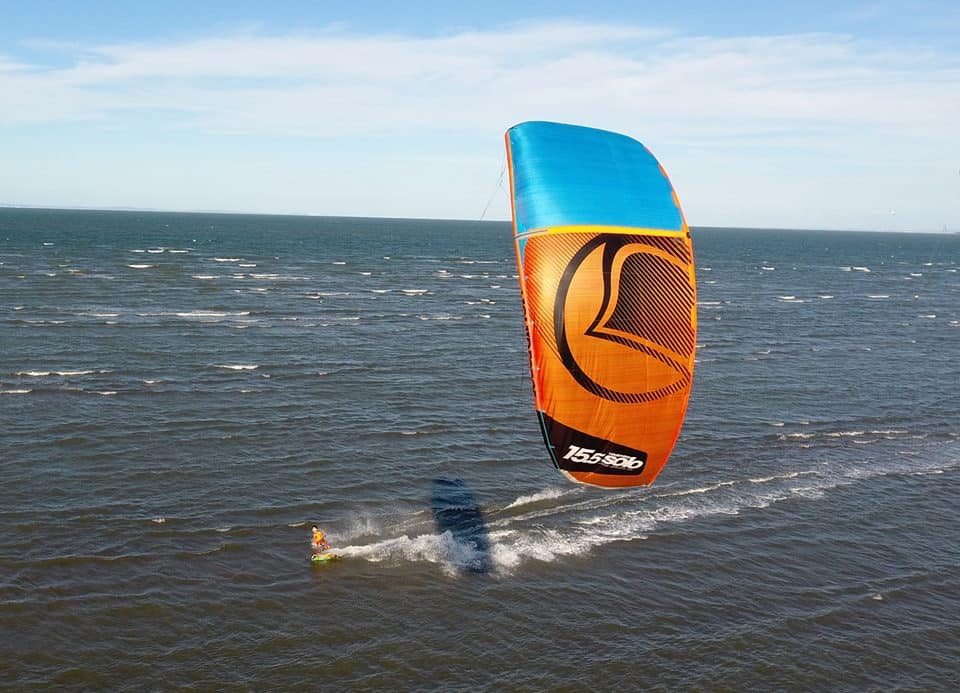 Queensland, Australia
Travel resources
Plan your trip
Ready to start planning and budgeting your trip? Use Kayak to find and compare the best deals from all over the web on flights, hotels, and car rentals. When you do a search on Kayak, it pulls data from hundreds of travel booking platforms to offer you the best prices available, so you know you're always optimizing your budget to the max.
For local public transport in-country, like buses & minivans, taxis, trains, and even ferries, we recommend using Bookaway, which works the same way. Bookaway is especially useful in countries where small local operators don't necessarily speak English or even have a website at all. They also offer 24/7 support in case anything goes wrong.
Book activities
Want to start browsing and booking activities available at your destination? Nowadays there are a few booking platforms specialized in outdoor adventures and active holidays worldwide. We recommend Tripaneer for yoga and meditation retreats, surfing and kitesurfing camps, cycling holidays, or motorcycle tours.
Tripaneer focuses mostly on week-long holidays often including accommodation, while Manawa also lists daily and hourly activities including every action sport you can imagine but also a lot of crazy stuff like shark diving, survival training, zip-lining, or even reindeer sledding!
For traditional guided tours, day trips, and local experiences like cooking classes, GetYourGuide is everyone's go-to platform and features an insane amount of authentic reviews to help you make a decision. They also list some mainstream outdoor activities like diving courses, guided hikes, or kayaking excursions.
Travel insurance that covers kitesurfing
Finding serious travel insurance that covers kitesurfing and other extreme sports isn't easy, that's why we recommend World Nomads, a simple and flexible insurance company run by an international team of adventurous travelers since 2002. Fill up the form below and once on the website, just add the activity or activities you'll be doing and get a quote perfectly tailored to your trip.
From physical injuries and medical repatriation to dental emergencies, stolen passports, damaged gear by airline companies, trip cancellation, or even pregnancy complications, they've planned it all. You can even sign up for a policy after you started your trip. For a list of recommended travel vaccines and Covid country-specific information, head to the CDC's travel page.
Bstoked's World Wind Map
Read next: