Looking for some accurate, first-hand info about kitesurfing in China? We got you covered.
The world over knows little of China's kitesurfing scene. But it's there, baby–and it's growing at a freaking phenomenal rate.
City spots, wave spots, lagoons–heck, even tropical islands (yes, China has tropical islands; it's a thing and it's easily one of our favourite spots for kitesurfing in Asia).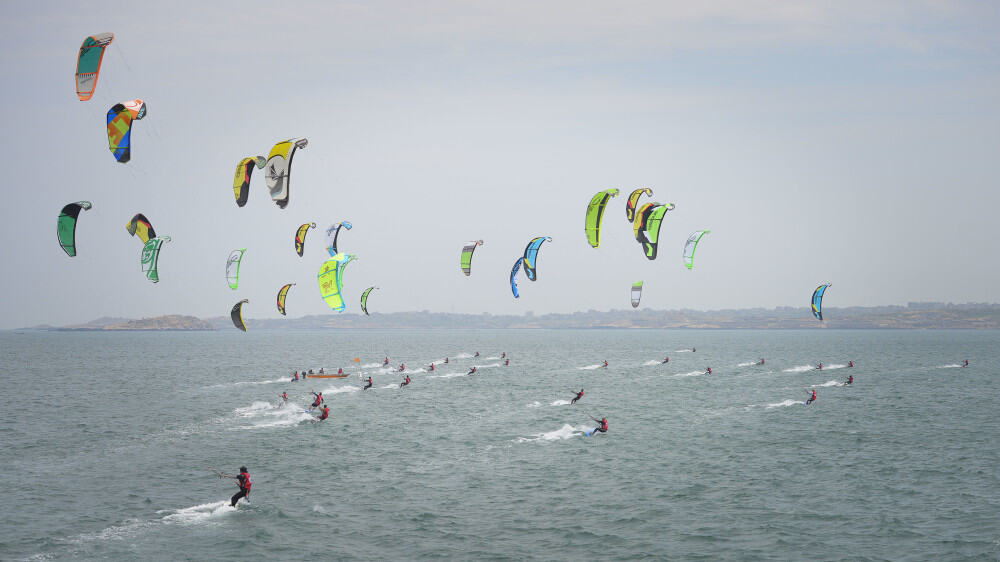 It has to be said though:
Kitesurfing in China is a shade different to anywhere else in the world. It's an enormous country; a kitesurfing adventure there could see you nestled in the mountains, palm trees, or frigid northern waters; surrounded by an insane variety of culture, language, and customs–all of which differ wildly from province to province.
Exciting, right?!
Thing is, China's size also makes it hard to know where the best kitesurfing spots are along that ridiculously long coast.
But hey, who the fack are we to tell you about it?!
For context, I lived in China for quite a few years (it was actually where I learned how to kitesurf!) and Jim and I have both spent plenty of time travelling in and out for kitesurfing competitions–so taking what we've learned from our time there, we've put together this guide to kitesurfing in China.
We'll outline the best spots around the country to kitesurf, as well as the best times to go and what kind of conditions you'll find in each place. Keep in mind that our list is far from exhaustive, but it will give you a solid overview of the main places and the most established kitesurfing communities around the country.
So put your feet up, pop a cold one, and enjoy reading our kitesurfing guide to one of the most exciting, mesmerising, and all-round baffling countries on planet earth:
You might also like:
When is the season for kitesurfing in China?
As you can imagine, the geography and sheer size of China means that the wind patterns differ around the country somewhat. Consequently, you can actually go kitesurfing in China year round–YAY for that!
As a rule of thumb though, consider that most of China's coast receives northeast monsoon winds from around November-February/March and the warmer southeast/west winds tend to blow from April-October. Once again, this varies from spot to spot, but we'll go through each one in more detail below.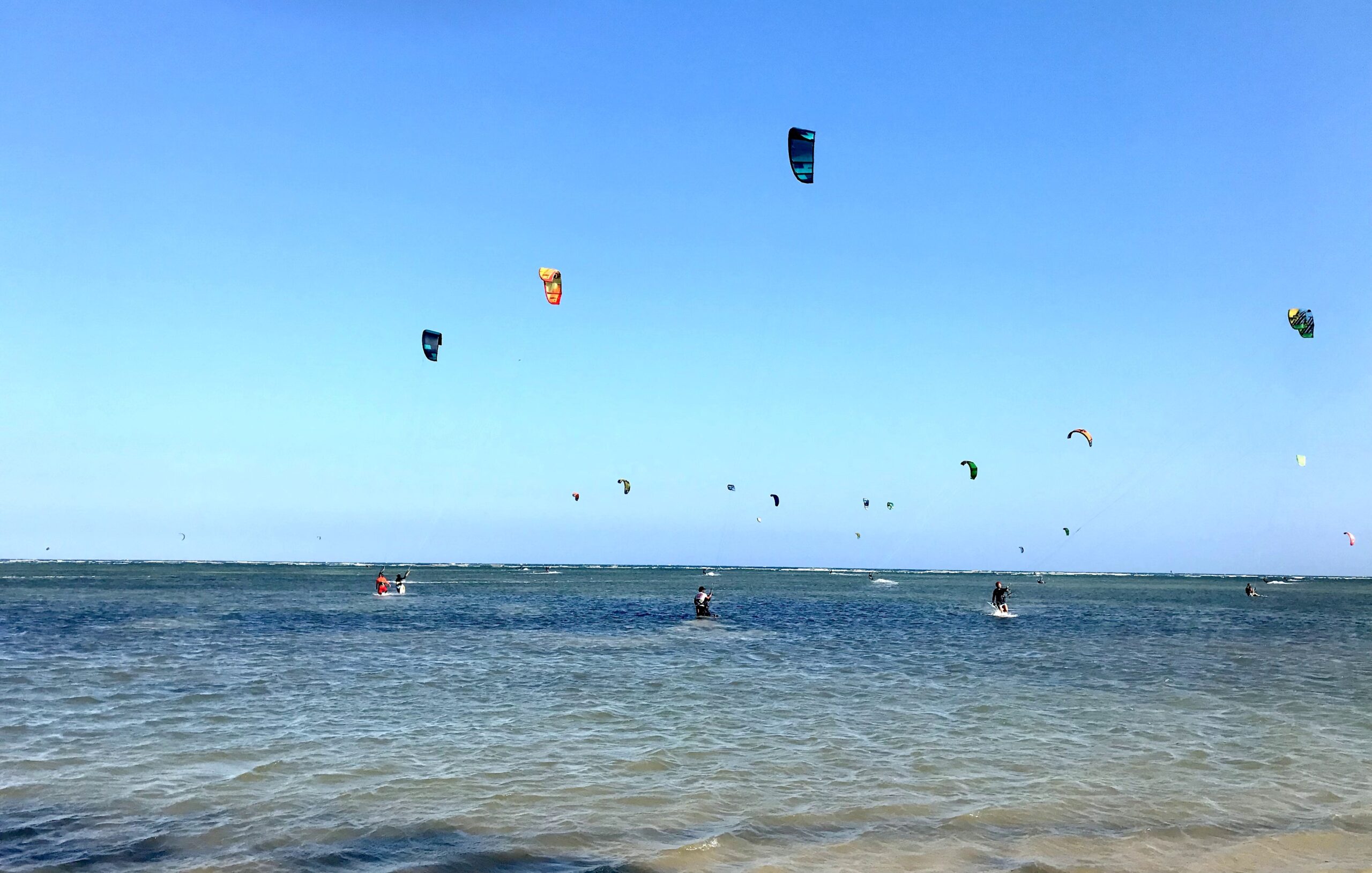 The really cool news to take away from this, though?
China is an awesome kitesurfing destination in the months of April/May and August-October, which is when most places in Asia experience a big fat lack of wind as the seasons change. Keep reading to discover the best places to head to!
Getting a visa for your China kitesurfing trip
Coming from someone who has a passport FULL of visas for China, I can tell you two things about the process that I know for sure:
That it's not as hard as you might expect it to be
That even so, you'll want to get it sorted as far in advance of your trip as possible (because snags happen, and this is China).
The application options you have will vary from country to country, but generally speaking you must either apply directly at an embassy/consulate, or through an agency online. Read up on latest visa rules and costs for applying for a Chinese visa.
Best spots for kitesurfing in China
Pingtan
Best months for kitesurfing in Pingtan: May-November
Wind conditions: strong
Water conditions: Waves, chop
Pingtan is an island just off the coast of the south central mainland, and is by far and above one of the premiere kitesurfing spots in China. Back in the day, it was a frequent stop-off for the PKRA and the KTA competition circuits, and today the IKA still go for their racing/freestyle events.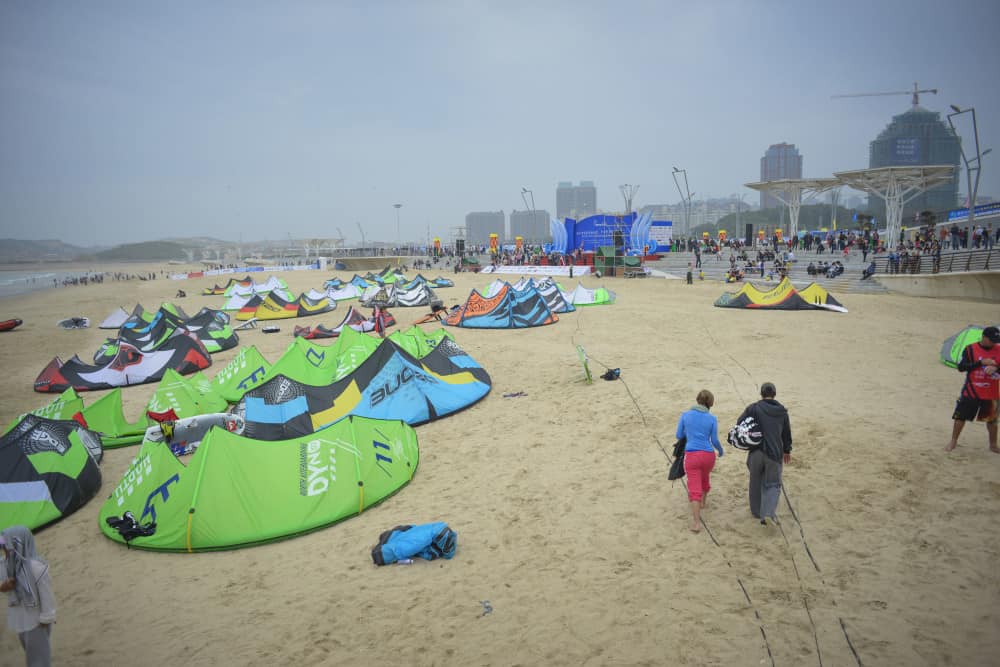 But here's the news you really came to hear:
Thanks to the fact that Pingtan sits within the perimeters of the Taiwan strait, the wind is almost always howling. YASSSS!
At Pingtan's main kite spot, you'll find a massive sandy beach with absolutely tons of space. On the water, you've got waves–big, often overhead ones. It's a phenomenal wave riding spot for more advanced riders; but beginners can still learn when the wind is a little lighter (or at a wave-free spot just a few minutes away from the main beach).
The best time to go kiteboarding in Pingtan is between the months of May and November, during which time you can expect reliable wind and temperate weather (you won't necessarily need a wetsuit, though some do choose to wear a thin shorty).
After November, Pingtan's temperatures drop pretty dramatically; though there is still wind during the winter months, the cold weather is enough of a deterrent for many. However, if you're brave enough to face the cold, the northeast winds blow steadily most mornings, dropping off a bit in the afternoons.
You'll find facilities on-site with Pingtan Kiteboarding Centre, as well as remote clubs that operate out of the next biggest spot nearby, Xiamen. Note: the club is usually only open from May-Nov.
Where to stay: The stylish wood furnishings of the private apartments in ShunYiJu gets our vote.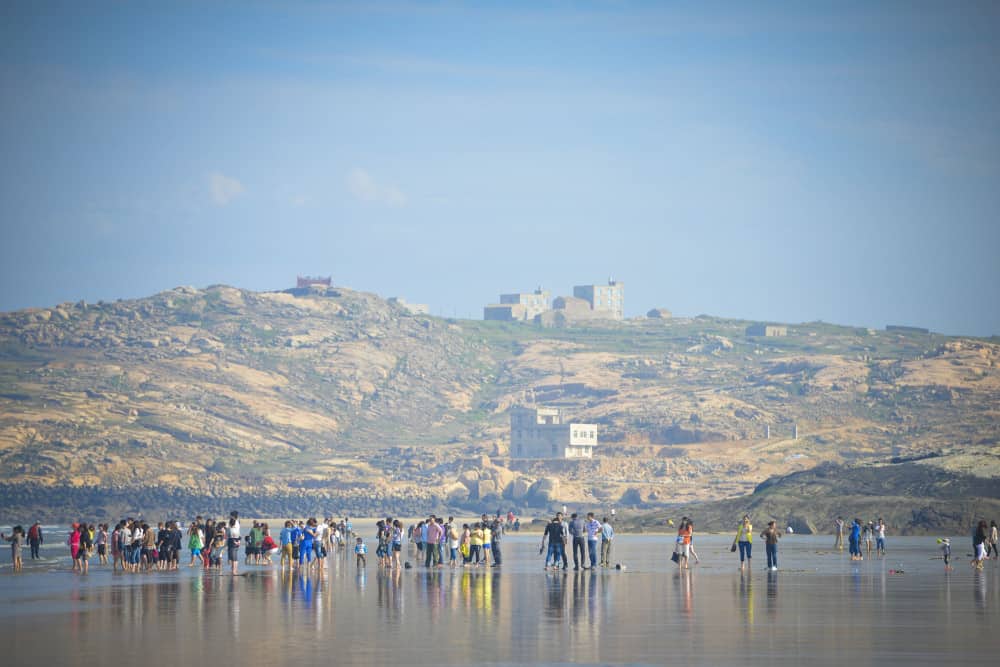 You might also like:
Xiamen
Best months for kitesurfing in Xiamen: May-November
Wind conditions: moderate
Water conditions: Waves, chop
2.5 hours south of Pingtan (which, remember, is practically nothing by China standards), Xiamen is an established kitesurfing spot in its own right. The season is comparable to that of Pingtan, though due to its slightly more sheltered positioning, winds in Xiamen are often around 10 knots lighter than they are in Pingtan.
Because of the lighter winds and ideal side-shore orientation, Xiamen is a much more mellow kite spot, suitable for beginners and more advanced riders alike. 10m+ kites are standard during the NE winter winds (October-January) and 12-18 are the norm during the summer thermals.
Raptor Kitesurfing Club operate onsite facilities for those needing rentals and lessons.
Where to stay: Asia Gulf Hotel offers 5-star amenities for affordable rates — and it's right next to the spot, which we love.
Hainan Island
Best time to go kitesurfing in Hainan: March-June
Wind conditions: moderate
Water conditions: medium chop, flat, waves
If you ask us where the best place for kitesurfing in China is, Hainan Island will always win–hands down. This island is where my own love affair with the wind and waves began, and thanks to its palm-lined sandy beaches, insanely good local food, year-round warm weather, and different way of life (compared to the mainland, I mean) it's where a little piece of my heart will always lie.
Pssst: did you know Hainan also has world class surf? Hop over to our guide to the best places to surf in Asia to find out more!
Thanks to its fortuitous location, much of Hainan's coastline is windy and kiteable. Haikou, Wenchang, Qionghai and Bo'ao, Lingshui, Houhai, Sanya, and Dongfang all get wind during different times of the year.
Now, not all of those places have kitesurfing facilities, so unless you're under the guidance of an experienced local kitesurfer from one of the clubs, you'll more than likely want to stick to the main spots: Haikou, Bo'ao, and Houhai.
Haikou
Haikou's main kitesurfing spot is right in the city on Holiday Beach. The wind blows fairly reliably between October-February at 15-25 knots on average (though it can blow stronger if there's a storm).
The beach itself is spacious and sandy (the coarse kinda sand) and there are kiteboarding facilities onsite. It can get nippy during these months (you'd be surprised by the temperature difference between the north and south of the island) so you might find it's most comfortable to kite in a shorty.
Bo'ao
Then there's Bo'ao, home of what may just be China's most beautiful kitesurfing beach of all (at least we think so!). With its soft white sand, clean water, and burgeoning surf vibes, Asia Bay is the main hub in town.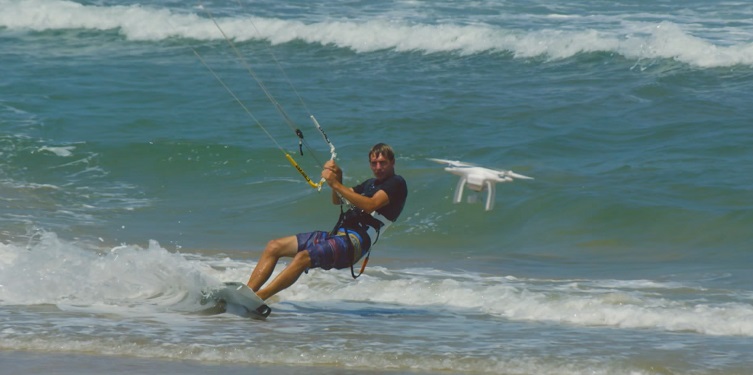 Storm-based wind blows across the shores from October-February (think moderate/strong chop, grey skies and water, and often gusty wind). Meanwhile, March-June brings blue skies, fabulous warm weather, and a reliable 15-25 knots of SW wind on a near daily basis.
There are a few kitesurfing schools that set up seasonally in Bo'ao, though the one that we recommend from personal experience is Hui Ning Kiteboarding, which is run by a lovely Chinese man named Richard (err, that's his English name obviously!) who is a super professional instructor and excellent English speaker.
Apart from Asia Bay, there are other places to kite around Bo'ao, including King Bay just a few miles up the road. There you'll find similar conditions to Asia bay out at sea, as well as a small man made lagoon with flat water inside the sea wall.
Where to stay: Bo'ao is not short on hotels or guesthouses. If you fancy staying right on the spot (about 2km from town) check out the stunning Tao Ji Seaview Hotel or many kiters' favorite plush hotel, Asia Bay.
Houhai
Houhai is located about an hour's drive outside of Sanya, on the southeasterly coast of Hainan. It's a super small fishing village with all the vibes of an old school surf town (err, as long as you bypass the throngs of tourists at the big ferry terminal on the way into town, that is).
It's pretty remote, low-key, and filled with an interesting mish-mash of local restaurants and quirky cafes. When I lived in Hainan, Houhai was one of my favourite places to escape to on my days off (one of the restaurants there makes the BEST la mian noodle soups I've ever had).
There are two kite beaches in Houhai: the one most frequently used is on the northern side of town opposite WuZhiZhou Island. It works with E/NE/N winds and offers a sandy launch/land spot with small/moderate chop out on the water.
When you've got good wind from the east, Houhai's southern beach fills with kiters; and you only need to take one look at the incredible mountainous backdrop and picturesque coast lined with cool hostels and beach bars to see why.
There are kitesurfing facilities in Houhai where you can avail of lessons and gear rental.
Where to stay: there are so many sweet local style guesthouses in Houhai, most of which are best booked on the spot when you arrive in town. If you prefer to book in advance however — and to stay somewhere a little more luxurious (Houhai's hotels are mostly very basic) — you can't do better than the stunning Westin Hotel Westin Hotel around the corner in Haitang Bay.
Binhai, Weifang
Best time of year for kitesurfing in Weifang: May-November
Wind conditions: light-strong, extremely varied and volatile
Water conditions: light/moderate chop
A frequent stop-off for the IKA racing circuit and TT opens, Binhai itself is one of these mega big and freakishly empty Chinese cities that has been built in anticipation of zillions of tourists, who….have yet to arrive.
Honest opinion? We got ghost town vibes when we visited for the first time.
But head for the beach and you'll find there's a perfectly good kitesurfing spot that receives anything from 5-35 knots of cross-onshore wind, depending on the time of year and weather systems swirling around at any given time.
There isn't much in the way of permanent kitesurfing facilities, and when I was there I felt like there wasn't a whole pile of things to do away from the kite beach. That said, if you spend enough time there you can eventually find some interesting things to do in Weifang, so don't knock it 'til you try it, isn't that what they say?!
Where to stay: When we visited, we were put up in the Farrington Hotel (which is fancy AF, but in a big, flashy, China kinda way). Personally, I don't think it's worth the money, especially when you can stay in the INCREDIBLE Pullman Hotel for less.
Qidong, Nantong
Best time of year for kitesurfing in Qidong: April-October
Wind conditions: moderate
Water conditions: flat, chop
Qidong is the closest kite spot to Shanghai and where most of the city-dwellers head for when they're in need of some hours on the water.
Flanked by giant wind turbines, the Qidong kite spot is a sea-facing lagoon with flat-ish water inside and small/moderate chop when the wind picks up. The spot is very susceptible to the tides, and at low tide you need to walk quite far to reach the waterline. Statistically, you can expect to get about 10 good kiteable days per month, and that goes for most months of the year.
NE blows Nov-Feb and SW March-Sept (Sept/Oct constitute the months when the direction shifts, so conditions can be unpredictable–though wind is still blowing).
The local club is open between April and October each year, which is when you'll score the best of the warmer southwesterly winds. Then the northeast monsoon kicks in around October/November, and though there's still a good wind probability, the cold temperatures and lack of club facilities make it less-than-perfect for those few months of the year.
Where to stay: most people kiting at Qidong stay in Shanghai, which is a good 1.5 hour drive away. Those staying in Shanghai can opt for a cheap and cheerful local guesthouse which are easy to book onsite or alternatively, a room in any number of the cushy international hotels chains (you can't beat the Grand Hyatt up on the 88th floor of the iconic Jinmao Tower). But if you want to stay in Qidong, there are plenty of local hotels to choose from there, too.
Dapeng, Shenzhen
Best time of year for kitesurfing in Shenzhen: September-March
Wind conditions: light
Water conditions: light chop
Dapeng has been moving up the ranks as a surf spot over the past few years, and today it's not uncommon to see kitesurfers out on the water here too.
The wider city of Shenzhen's kitesurfing community has been going strong for a long time now, but there's still no getting around the fact that the wind around these parts is pretty light and unreliable (if you read our blurb about kitesurfing in Hong Kong, you'll know what we're talking about). 10-16 knots is standard, and you might only score a couple of kiteable days per month.
That said, when you catch it at the right time (often at the tail end of a typhoon), Shenzhen's winds can pick up quite nicely.
The kite beach at Dapeng is sandy with some big rocks in a few select corners of the shoreline. Behind the beach lie big, forest covered mountains–not a bad view from the water at all. At high tide, there isn't a huge amount of beach space, but it is still enough to launch and land.
Where to stay: Aloha Beach Club offers affordable rooms right on the beach — and though we haven't stayed here ourselves, it's the place we'd book on our next trip! Psst: if you have stayed here (or at another hotel in Dapeng) let us know in the comments!
Nanshan Bay, Guangdong
Best time of year for kitesurfing in Guangdong: September-March
Wind conditions: light
Water conditions: light chop
We know quite little about Guangdong's kitesurfing scene, but we do know that the small coastal area of Nanshan Bay in Shantou City gets kiteable wind. Sitting about 3 hours from Guangzhou City, Shantou is located on the far southeast coast of China (not too far from Hong Kong, relatively speaking) and the kite spot is located just 20 minutes' drive from the downtown area.
The beach is spacious and sandy (though some visitors report sharp shells and fishing hooks on the sand, so keep your eyes peeled when setting up and packing down). Working in both the northeast and southwest monsoon winds, it's apparently possible to kite here most months of the year–and thanks to its relatively close proximity to Guangzhou, it's a frequent haunt for the city-based kiters on weekends and holidays.
[We'll chalk this down with a wee disclaimer that we haven't actually been to this spot ourselves and are basing our info on second hand accounts. If you've kited here, we'd love if you would drop us a comment down below and share your experience so we can update this post with more info!].
Where to stay: Without having been ourselves, we're all ears for those with specific hotel recommendations! Meanwhile, check out the selection of hotels in Shantou City.
---
Hey, want to make sure you don't miss any of our future articles? just sign up to our monthly Extreme Nomads newsletter when exiting this page (also located in the footer / sidebar), or follow us on Facebook, Instagram, or Youtube for more original content from us!
Read next: