If you write these three words, people might think you are asking them What's up? Actually, anyone unknown to this term might end up thinking this.
SUP is an acronym that stands for 'Stand Up Paddle Boarding.'As cool as it sounds, paddling on it is much cooler, a water sport activity that is popular now. I mean, paradise is just a paddle away!
Paddle boarders stand on the board, using the paddle to drive them ahead and through the waters. Sounds like so much fun, isn't it? Something this exhilarating, and you are still thinking of your weekend plans?
History of SUP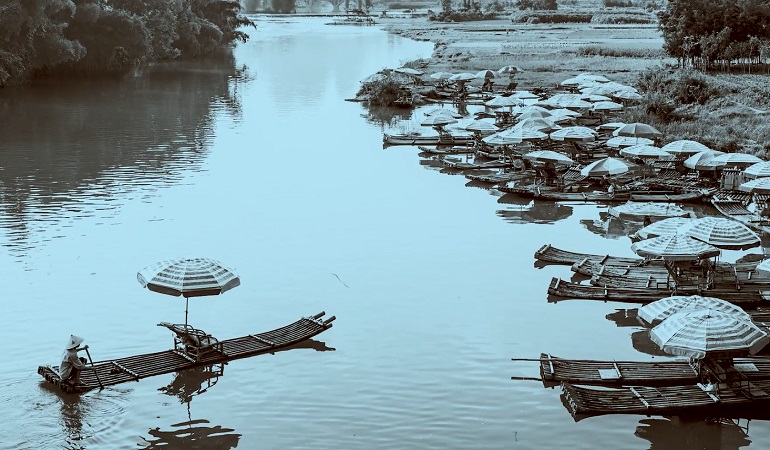 History says stand-up paddleboarding came into existence thousands of years ago in the form of rafts and punts. Native Hawaiians who paddled between Hawaiian islands in the Pacific during the 18th century are their first known ancestors.
Initially, it was used for gathering food for their communities.
Despite being around for a while, it only gained popularity in the 2000s, when Laird Hamilton (legendary surfer) began SUP Surfing. His famous Malibu magazines' cover photo attracted many, and soon surfing underwent changes to become the sport we know today.
The modern uses of standup paddleboarding appeared in the 20th century with the explosive growth of surf culture in that era. SUP originally arrived on California's beaches in 2005, where it became a popular sport in no time for the locals.
Who can SUP?
Anyone can do paddle boarding irrespective of gender; that is the beauty of it. Even if you are a young fellow or an old lad, you can get on the board and reach out for the waves.
There are countless options available for anyone who likes paddling. You can opt for a single paddling board or for specially designed boards for two. Some even love to have their dog give them company on the board.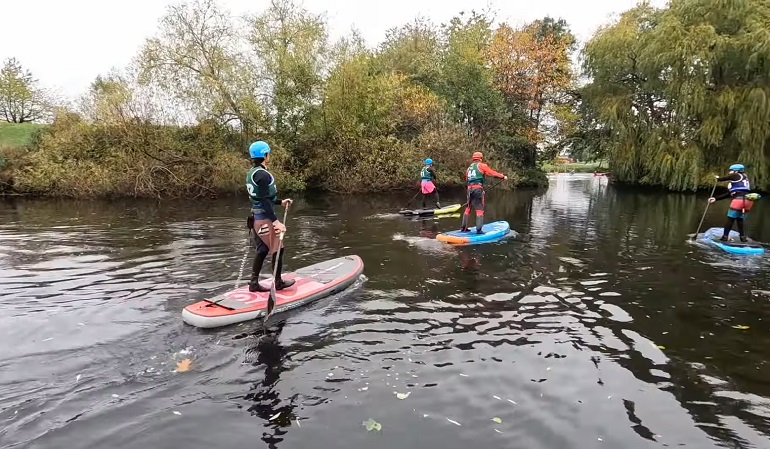 Where to Stand up Paddle Board?
If I had to tell you, I would say anywhere you see enough water to float on! Otherwise? That's it, that is the answer, Hah! It can be enjoyed in flat oceans, lakes, canals, inland waterways, and even large pools.
Before going to the spot, get thorough research about the location and its safety precautions; also, know the type of water waves you are stepping into and if they serve your paddleboarding purpose.
Check for the weather forecast to decide if it is even wise enough to go for this activity. Strong winds or rain can affect your sport, making it difficult for you to maintain stability.
Try to evaluate the population on the beach when you arrive there because other boaters might not have considered this, but you should do your homework well. Remember that you will be sharing the space with them while paddle boarding.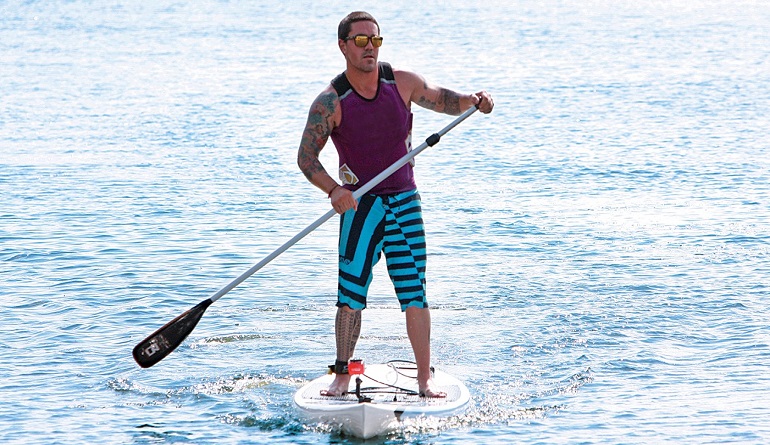 SUP Tips for Beginners
As soon as you think you need to learn sup paddle boarding, go through the beginner's basic guide. Nothing is impossible, but to acquire techniques for smooth paddling, one should always be ready. (As a beginner, a good paddle board option is the all-inclusive Body Glove SUP).
Are you a beginner? Because I have got some awesome tips for you to start with and be a pro at it. These are your useful tips :
Check Conditions
Always look out for the weather forecast the day you plan for this activity. This is as important for an advanced boarder as it might be for a beginner. But for a fresher, it might be difficult to handle the tough weather conditions at the spot. Also, it's best to bring along a personal flotation device.
I recommend flat water paddling for someone who has just started sup surfing. Choose a day with less to no wind, having minimum traffic on the water, and a calm sunny day for a perfect learning experience.
Take a Buddy
For a sport this fun, take along a friend you share a fun chemistry with. Oh, but make sure your friend knows how to paddle board or knows swimming. This will not only keep you motivated, but you will end up having a helping hand. An outing with friends is anyway a treat!
Always Use a Leash
You should remain connected to the paddle board by wrapping a leash around your ankle. As fun as this water sport is, it is certain that you will fall off your board at some point. But what fun would a water activity be without getting yourself all dipped in the water?
Therefore, always use a leash to ensure you stay near your board and can quickly fetch it.
Use Your Core
Using your arms for all the hard work is cruel. Keep your core muscles firm to balance out the hard work your body is doing while paddling. Do you know how they teach us that sharing is caring? Just that way, buddy!
Remember, your strong back muscles should be doing the majority of the work. Maintain a tall body posture when using your SUP board, and make sure you fully dip your blade with each stroke to get great resistance.
Take a Paddle Boarding Lesson
There are numerous ways to improve your paddle-boarding skills; it does not necessarily matter if you are a beginner or an expert. Trips with a guide offer great arrangements, require less preparation, and include a secure group of very cool people.
You can constantly learn new skills to improve your paddling and make the most out of your vacations. We all love to master the art we like the most, don't we?
Hope these important tips are useful to start your journey. Now, let me get into some more serious work and list down what kinds of SUPs are out there.
Types of SUP Boards.
Let the fun begin because we are stepping into my favorite part. There are three types of SUP boards ready for you to pick. Choose a paddleboard according to your budget, style, and needs.
Epoxy Paddle Board (Hard SUPs)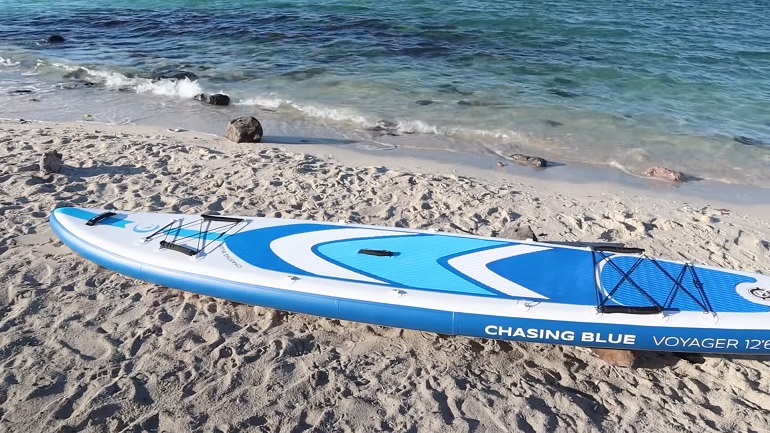 Due to their durability and ability to function under specific conditions, epoxy SUP boards have been around the longest and are the most popular SUP board at the moment.
In order to prevent dents and damage, these epoxy boards are built from EPS foam, layers of fiberglass, and epoxy resin.
Inflatable Sup Board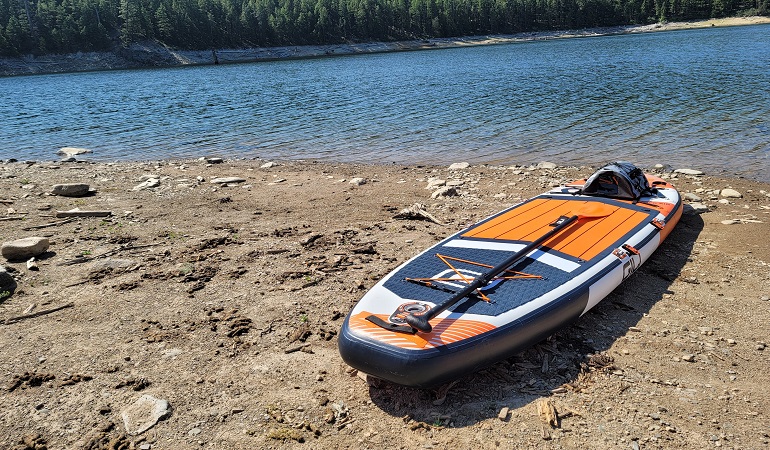 Inflatable SUP paddle boards, also referred to as Inflatable stand-up paddle boards, are constructed from one or multiple layers of military-grade PVC, a drop stitch design, and an inflatable core.
The extra layers of PVC increase the SUP's durability, thanks to the drop stitch technology for its stiffness.
These are ideal for taking on long routes since you can roll them and fit them in a backpack after deflating them, making transport a breeze.
Soft Top Paddle Boards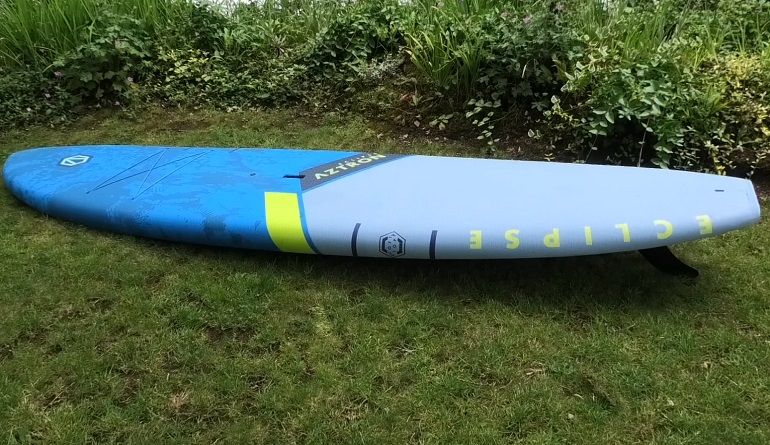 These paddle boards are best for beginners, and all credit goes to the front deck of the soft top board. The deck is made up of a spongy, soft material making it user-friendly and long-lasting.
Having said that, I would also like to add up that, similar to an epoxy board, the cores of soft boards are made of durable and rigid material. They can be as tough as you want and as soft as you desire.
How SUP Boards Can be Used in Different Ways?
There is a wide range of SUP boards for you to pick from. When it comes to the ride that will help you catch waves through the water, you need to consider a few important things before making a decision.
Longer SUPs are ideal for practicing yoga, while shorter SUPs are better for surfing. A good all-rounder paddle board for freshers is something in the center, which is a wonderful and flexible alternative.
SUP Yoga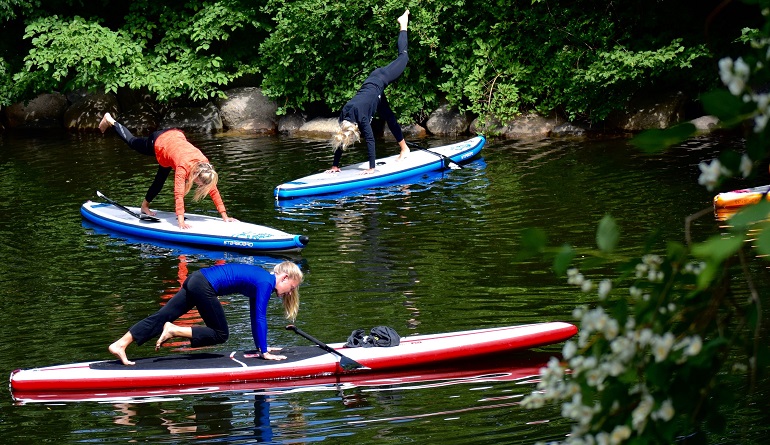 Yoga practice on a stand-up paddle board is an adventure and is undoubtedly something you have heard about or even tried if you are a fan of yoga.
SUP yoga exercises are practiced on a paddle board while floating in the ocean as part of the well-known yoga fitness trend. There are some tips to follow for additional stability; prefer those tips and safety equipment and gear for a smooth experience.
The wind and swift movement of the water will make your workout even more intense. Moreover, the random passing fish or dolphins really alter the atmosphere of a typical yoga session.
SUP Fishing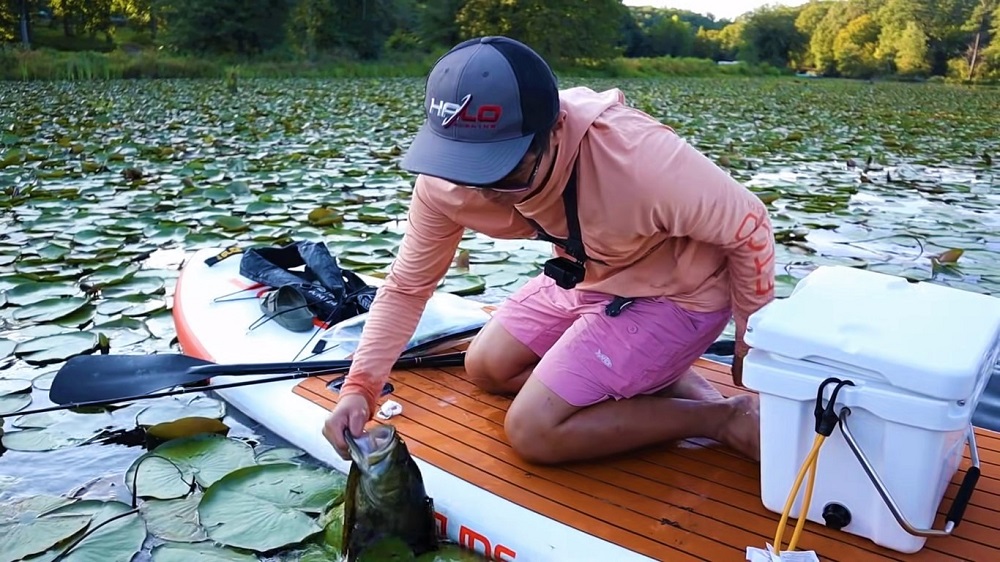 Fishing is a popular pastime for paddle boarders. With the help of the board, you may easily reach the nicest shoals without having to rent a boat.
Paddleboarding with the best fishing paddle boards is a lot of fun, and you can try many different techniques; how do you make money off it? Well, you could either go back to the land and sell your capture or train other people how to catch fish.
SUP Touring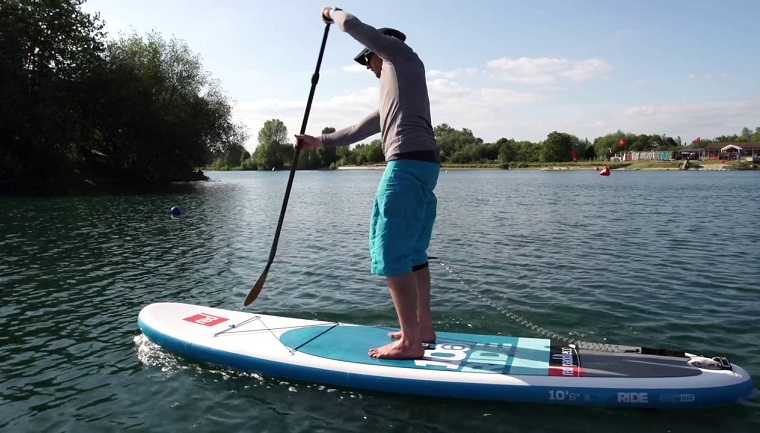 A SUP tour can range from casual cruising to a full-fledged weeklong vacation with a small group of friends. You can have mid breaks, also considered camping stops on and off the water.
You will be surprised at what the locations and spots have in store for you, which you cannot access otherwise.
SUP Surfing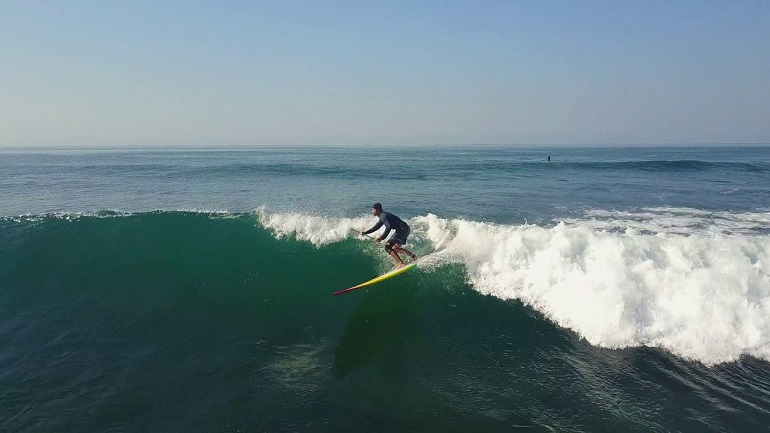 There are different types of surfing, such as wave surfing, kite surfing, windsurfing, and more. It involves standing or lying on surf boards while riding the waves in the sea. Narrower boards are usually preferred for this purpose.
This sport was once a need for the people rather than a means of amusement emerging from the Southern Hemisphere.
Surfing was initially used as a means of getting back to the land from ships, but over time it developed into a pastime and was later recognized as a sport.
SUP Racing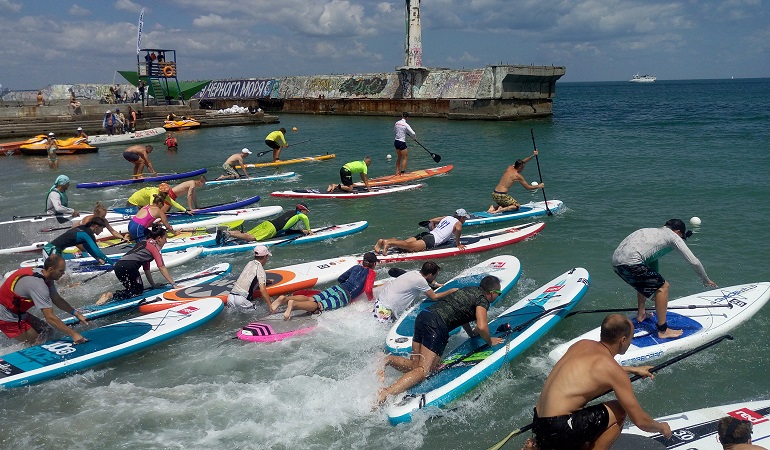 Being on the water and having fun is an enjoyment everyone craves for. Whether on the beach with friends or alone, this activity will keep you fit, well, and healthy physically.
Nevertheless, people are taking this sport seriously and are eager to compete with each other on the wave. For example, the International Surfing Association conducts the World StandUp Paddle and Paddleboard Championship. Whitewater sup is a great option for paddling through rapids.
Required Accessories for Paddle Boarding
There is nothing more enjoyable than paddling out onto wider boards and wide water. Having a surfboard and a paddle is half the battle; the other half is the accessories you should be grabbing along. Following is a list for you.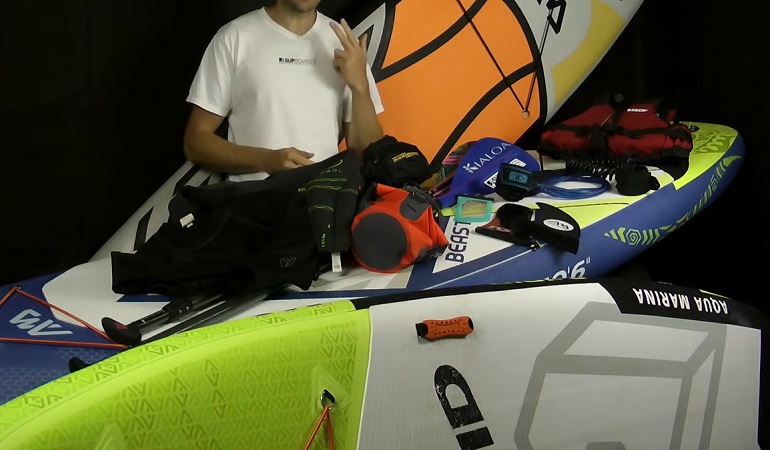 Sunglasses and SPF (For sun protection)
SUP leash
Dry bags
Wetsuit
Drysuit
Anchor
Spare fin paddles
SUP Attachments
Paddleboard bag
Fishing accessories
First aid kit
SUP Surfing, a Good Exercise!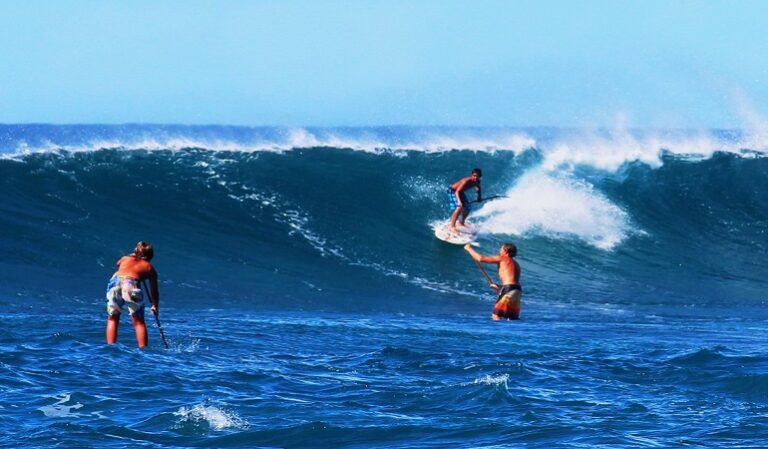 Stand-up paddleboards are a fantastic way of full-body muscle training while enjoying the great outdoors and promoting good health. Paddle boarding is easy to learn and may help you get in your best shape, regardless of your age or fitness.
Exercise via a paddle board is a great way to stay fit and you'd be pleasantly surprised to know how many calories paddleboarding burn, but this activity also gives you more time with your family.
Paddlers are mostly interested in disconnecting themselves from technology and having a healthy time with fresh air outdoors. So what could be more pleasing than getting yourself a treat by the beach?
Conclusion.
Having a lifestyle of your own is ok, but adventures and activities like paddling and surfing have great benefits, including other factors.
Certain conditions are necessary to keep in mind before going and exploring the lakes and rivers. Safety regulations should be your priority because some specific outdoor sports are bound to hurt you.
Enjoying is to life, like medicine is to the patient. So hit that whitewater with speed and let the water do the rest because who said life is easy?
Just keep rolling, homie!