Southeast Asia is home to some of the best wake parks in the world
The US of A tend to jump to the forefront of our minds when we think about the mainstream industry, but since the 90s, wakeboarding in Asia has been taking off in an impressive way, thanks to the evolution of cable parks.
Want to give wakeboarding a try? Check out my latest post on how to learn wakeboarding at a cable park!
Ever since cable technology appeared in 1960's bubbling Europe as an affordable, energy-efficient alternative to boat towing, wakeboarding and wakeskating have been pushing their way into the mainstream watersports industry at a speed that would put a coked-up antelope to shame.
Due to a long history of high gas prices, European countries like Germany, France and the UK kickstarted a cable park revolution that's democratizing the sport in an explosive way.
In the process, it's also making the sport of wakeboarding cheaper, more diverse, more inclusive, and, best of all, so much cleaner.
Surprisingly enough, once Europe single handedly established this new industry by the 90's, it wasn't the US that followed suit, perhaps because cable technology was seen as a serious threat to the powerful core of the US wake boat market.
Instead it was growing Asian nations like Thailand (1990's) or the Philippines (2000's) who foresaw an interesting opportunity to leverage a new market, as they were enjoying a high increase of international tourists at the time.
Here's why wakeboarding in Asia should be on your travel list: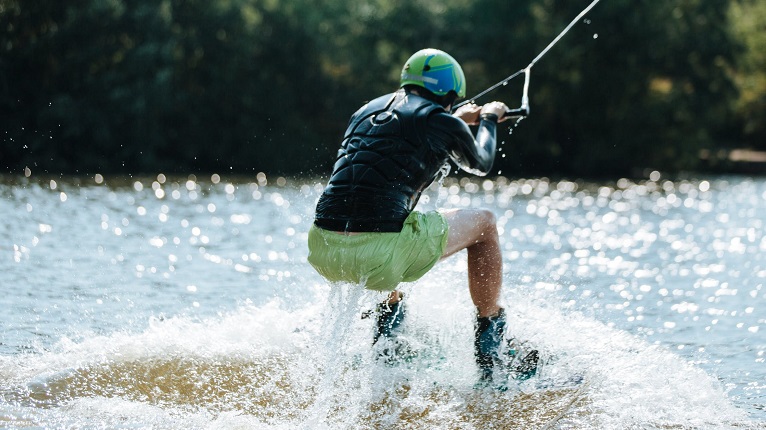 Boardshorts weather, all year:
With cold winters back in the west closing down all the parks for 4 to 6 months, you need somewhere to get your fix, and wakeboarding in Asia offers just that. It's beautiful, safe, warm and mostly sunny, and the people are super lovely.
Dirt cheap:
Not just the cable prices, but life in general.
Think $0.50 for a coffee, $1 for a beer, $2 for a meal, $5 massages or $20 guesthouse rooms. What about $530 for a year membership at one of the best cable parks in the world? Or access to 2 different, world class, full size parks for just $960?
Laid-back lifestyle:
Southeast Asian countries all have that sweet little vibe to them. The food is exotic and diverse, making it a paradise for spice lovers. People are easy-going, mindful, and always happy to help.
Anyway, that's what wakeboarding in Asia has coming for you.
You might also like:
Best Wakeboarding in Thailand
Shall we start with the hippo in the lake?
Wakeboarding in Asia is growing at this crazy-ass rate thanks- in no small part- to the development of the Thai wake scene.
Thailand has the most wakeboarding parks of all eastern nations, with more than a dozen full size parks already in operation!
Read now our pick of the top outdoor activities to do while in Bangkok!
Thai Wake Park Lumlukka – Wakeboarding in Bangkok
Anti-clockwise
Restaurant: Yes
Pro-shop: Yes
Accommodation: Yes
Opened in 2009 and now at the forefront of the industry for cable wakeboarding in Asia, Thai Wake Park is a place of pilgrimage for a majority of pro riders looking to put in a few months of training in the sun.
If you're willing to progress seriously, chances are you'll find here some pretty insane riders to look up to and learn from.
Now called TWP "Lumlukka", due to the company having recently opened 2 new parks under the same parent name (TWP Pattaya and TWP Korat), this awesome park is located in a quiet green patch out of urban Bangkok, a 45 minutes drive north east of the city center.
Wakeboarding in Asia (or anywhere, for that matter) doesn't get much better than here, with no less than 14 unique, homemade obstacles to play with: "wall ride", "triple pipes", "stax spine", the "skate park" to name a few. These guys have been working on this setup for almost 10 years- and it shows.
But wait before you start drooling:
In addition to this crazy course on the full size, you also have 2 extra 2.0 systems, 1 obstacle free for wakeboarding beginners, and the other featuring a massive pool gap with 6 different rails surgically laid out in pure street style.
Thai Wake Park Lumlukka offers great membership deals, with the standard year long, every day access going for 29.950 Baht (900$), as well as the option to choose a weekday only or weekend only access for 24.940 Baht (750$).
One of the only places for wakeboarding in Asia offering such a deal, you can get a year membership with everyday access to both Lumlukka and Pattaya parks for just 31.950 Baht (960$). Pattaya being only an hour and a half away, having access to 2 different full size cable parks, each with their own 2.0 systems as well, for less than a thousand bucks, isn't that a sweet damn deal?
If you find yourself in need of new gear, Intensity Pro Shop, the park's own store, offers technical gear from brands like Ronix, Liquid Force, Double Up and Remote Wakeskates.
In terms of accommodation, you can choose to stay at the park's own hotel, Ride 'N Lazy, which, with its grey walls in and out, isn't madly attractive, although clean and modern with pool tables on the roof top, or you can look for a hotel close by with our partner HotelsCombined. These guys find the best prices for your specific dates across all major booking platforms.
Zanook Wake Park – Wakeboarding in Bangkok
Clockwise
Restaurant: Yes
Pro-shop: Yes
Accommodation: No
Although Zanook Wake Park only opened a few years ago, it's quickly become a favourite among the Bangkok wakeboarding scene for 2 reasons:
Firstly, it's the closest wake park to the city center (about 25 minutes hopping on the skytrain and a brief taxi ride).
Secondly, it's the only park offering a clockwise pull, still something of a rarity that's sure to please regular riders as well as goofy ones looking for a change.
In effect, Bangkok is one of the few places in the world where you can choose between clockwise and anti-clockwise pulls depending on nothing but your mood. Then, finish the day in style by dipping your toes in Bangkok's explosive underground party scene.
Even though Zanook doesn't quite match up its older neighbour, Thai Wake Park, in terms of number and quality of obstacles yet, it's definitely going in the right direction. They already have 3 kickers of different sizes and more than a handful of beginner friendly rails.
A year long membership with every day access at Zanook will cost you 29.990 Baht ($900), but you can also choose a weekday only or weekend only pass for 19.990 Baht ($600).
Zanook's pro-shop offers wakeboarding gear from Slingshot, Hyperlite, Byerly and Humanoid.
Find the best hotels in the Bang Bon area to stay close to the park.
International Wake Park – Wakeboarding in Phuket
Anti-clockwise
Restaurant: Yes
Pro shop: Yes
Accommodation: Yes
Opened in 2015, International Wake Park is located at the northern tip of the island, only 10 minutes away from Phuket's international airport.
When it comes to wakeboarding in Asia, the IWP stands out:
IWP's concept is that it's more than just a cable park; it's a full on water sports complex, offering unique extras and features and the most exclusive of all, a flowrider!
What's a flowrider, you ask?
It's an artificial, static wave on which you can surf or bodyboard indefinitely (or well, until your pass runs out).
I know what you're thinking: you're never going to leave this place!
Obstacle wise, there's plenty for you to play with for sure, but it's worth noting that the majority of rails are of a fairly easy level (great for intermediate riders although experts and pros might feel unchallenged at times).
Still, with a Rixen cable setup at 14 meters high, you'll find your air tricks to be well explosive- perfect to finally stomp that friggin' double S-bend to blind you've been working on for ages!
In addition to that, you have a 2.0 obstacle free system for beginners laid out right next to the main lake, as well as 2 naturally filtered swimming pools, a modern gym with high end fitness equipment (no wonder Julia Rick loves it here) and perhaps the best of all, especially thought for modern day nomads it seems, a super wide, double decked terrace overlooking the action.
And of course it's within range of the cable park's free wifi.
Quick note: all lakes at IWP hold salt water as the complex is connected to the ocean through waterways, so don't forget to rinse down your gear with fresh water after your session.
Regarding membership options for wakeboarding in Phuket's IWP, there's unfortunately not much choice yet. The 1 year everyday access costs 34.900 Baht ($1050). Otherwise, there's also a month pass at 14.900 Baht ($448) or a week pass at 5000 Baht ($150).
IWP has its own accommodation, which is great since there's not much choice in the area. The problem with staying in the north part of the island is that the airport, and the planes' trajectories, are never far. If you're planning to stay for more than a few days in Phuket, I would really advise to go south instead, where the other 2 parks are located.
Phuket also holds a top slot in our list of the best kitesurfing spots in Thailand, as well as on our Best Surfing in Thailand Guide.
Anthem Wake Park – Wakeboarding in Phuket (Now Closed)
Clockwise
Restaurant: Yes
Pro shop: Yes
Accommodation: No
Located in a quiet district right in the heart of Phuket and surrounded by lush mountains, Anthem Wake Park is the only clockwise cable for wakeboarding in Phuket- and also the only cable for wakeboarding in Thailand to offer a rock climbing facility.
Although it doesn't have accommodation on site, you can find plenty of guesthouses, hotels and airbnbs in the same area. It's actually fairly close to the west coast beaches, which (as well as being awesome for surfing) are reachable with a short 5 minutes drive.
The cable itself is lined up with 11 homemade obstacles offering a good mix for both beginners and experts (you have 4 different kickers to choose from).
The cable here hangs at 12 meters high, and there's floating docks all around the route so you can walk back easily wherever you fall.
The atmosphere at Anthem is always cool and casual and the staff members are super friendly and will be happy to help you out at any stage if needed.
As for memberships, Anthem proposes its 1 year everyday pass for 39.500 Baht ($1188), but also offers X days' passes valid for Y amount of time, from a 5 days pass valid for 2 weeks at 6.000 Baht ($180), to a 30 days pass valid for 3 months at 19.500 Baht ($586).
For accommodation options, you could either rent a room in that awesome pool villa right next to the park, or find a nice hotel closer to the beautiful Bangtao beach, which is just a 15 mns drive down the hill.

Unfortunately, Anthem Wake Park is no more! We will update this list once we find a worthy addition.
Phuket Wake Park – Wakeboarding in Phuket
Anti-clockwise
Restaurant: Yes
Pro shop: Yes
Accommodation: Yes
Located south of Anthem- actually just a quick drive around the mountain- is Phuket Wake Park. This is the last spot on our Thailand wakeboarding hit list- and perhaps the best park for wakeboarding in Phuket in terms of obstacles.
The cable here hangs at 10.5 meters, runs a 700 meters route, and is lined up with 13 Unit obstacles including 2 pro-rider designed models- a Kevin Henshaw funbox and a Steffen Vollert rainbow.
Wakeskaters will undoubtedly appreciate the Poseidon obstacle, a sweet, skate style, 3 rails in 1 combo. There is also an obstacle free 2.0 system for wakeboarding beginners and riders looking to perfect their air game.
Also worth mentioning:
There's a proper chop-breaking island that runs all along the middle of the lake- as well as a very welcoming swimming pool.
The summer wakeboarding camps organized by the park (and coached by renowned pro riders) is another big draw. In July 2018, it was world champion Courtney Angus from Australia that took the park's riders to the next level.
Phuket Wake Park's own pro shop stocks gear from brands like Liquid Force, Jobe, Slingshot and Hyperlite, as well as 69Slam beachwear and bikinis. You can also find an open fitness area complete with a slackline to work on your balance skills.
Membership costs at Phuket Wake Park are aligned with its close neighbour, Anthem, with the 1 year everyday access going for 39.900 Baht ($1200). The other long term options are a 3 month pass for 28.900 Baht ($870), or a month pass for 15.900 Baht ($480).
PWP has its own accommodation on site, while the surrounding Kathu area has a few hotels available. Just so you know, the closest beach to the west is part of the infamous Patong district, so if that's a place you'd like to avoid, you'll want to go either north to Kamala beach, either south to Karon beach.
You might also like:
Best Wakeboarding in the Philippines
No two ways about it:
The Philippines has some of the best wakeboarding in Asia- hands down.
With a savage number of wake parks scattered across the country, it's pretty hard to pick the best ones…. but we'll give it a bash.
Check out what we think are the best parks for wakeboarding in the Philippines:
Camsur Watersports Complex – Wakeboarding in Naga
Anti clockwise
Restaurant: Yes
Pro shop: Yes
Accommodation: Yes
Welcome to one of the craziest water sports complexes in the world, CWC in Naga, Philippines.
CWC was built up more than a decade ago by a passionate local politician and wakeboarder, Luis Raymond Villafuerte. His goal was to boost the economy of his home region (he was the Camarines Sur governor from 2004 to 2013) by attracting adventurous international tourists looking for action filled vacations.
Now often finding itself in the top 3 tourist destinations in Philippines (usually right behind the Western Visayas where Boracay is quietly resting) it did much more than reach its economic ambitions. After 10 years of expanding, perfecting and experimenting, it's seen today as the perfect example of what a cable park should be.
It's not just the majestic location at the foot of a Fuji-like mountain planted right in the middle of never-ending lush plains, or the utter awesomeness of its obstacle courses designed to perfection.
It's also all of this:
A bloody street style skate park complete with a wooden mini.
A 2.0 with 2 levels called the winch park, featuring up and down inclined rails for endless jibing action.
A beach volleyball area, a swimming pool, $7 massages on demand, a huge aqua park in its own separate lake, a massive choice of accommodation with long term packages right in the complex, and best of all: the friendliest prices on the planet.
It will seem unbelievable after having read about membership prices in Thailand, but yes, you can do even better. $536 to get a year membership for some of the best wakeboarding and wakeskating in the world.
Hard to beat right?
The 6 months pass goes for 16.500 Peso ($328) and the 3 months one for 8.500 Peso ($170).
CWC has a nice choice of accommodation options on site, from cheap containers to bigger family bungalows, which is great since the closest hotels are all back in Naga city, a 25 mns drive away.
Republic Wakepark – Wakeboarding in Calamba
Anti-clockwise
Restaurant: Yes
Pro shop: Yes
Accommodation: Yes but not on site – 5 minutes free shuttle
If there was a need to prove how successful CWC became, you'd only need to know that Republic Wakepark is actually the same company that decided to branch out closer to the capital.
The relationship is obvious, from the general brand design to the quality of the course (the obstacles here are actually made by the same team, so you know you're in good hands).
Set much closer to the country's capital (just an hour and a half south from Manila), Republic is basically CWC's little brother (or sister, depending).
Nothin' shy about this place:
The full size is massive, the obstacle course is legit, there's an extra 2.0 with an absolutely massive pool gap, and of course you've got a pro shop on site.
Strangely enough, the membership price here is quite far from the CWC's, which could be due to its location. You'll have to pay 55.000 Peso ($1028) for a year pass, while the 6 months goes for 24.000 Peso ($448). The 1 month pass is at 15.000 Peso ($280).
The park being located in an industrial area of town, the closest hotels are at about 5-10 mns drive, and you'll find mostly cosy budget guesthouses and higher priced modern suites in condo style, fully equipped residences.
Best Wakeboarding in Indonesia
As far as wakeboarding in Asia goes, Indonesia has got to be a contender on our list.
Indonesia may best be known as an incredible surfing destination, but with more and more members of the watersports community showing their keen interest in the world of wake, wakeboarding in Indonesia is becoming increasingly popular.
There's a handful of parks throughout the country, but below you'll find our absolute favourite places for wakeboarding in Indonesia:
Batam Wake Park – Batam Island
Clockwise
Restaurant: Yes
Pro Shop: Yes
Accommodation: No
Strategically facing the megalopolis of Singapore across the straight, Batam Wake Park lies on a small Indonesian island.
Opened just recently, it's already a decent clockwise park that actually held its first competition event called "We Are One" just 2 months ago to celebrate its one year anniversary.
The cable itself is a 5 tower, 6 carrier system running around a 500 meter route and the obstacles come from both Unit and the park's own workshop. They're laid out in a nice progressive course, from the easy ones at the start to the more technical at the end.
There's also an obstacle-free 2.0 system, a fully stocked pro shop, massages, and shower facilities.
If you're hoping to do some wakeboarding in Asia and plan to be in Singapore, it should take you just $30 and an hour of your time to reach Batam Island.
Check out a list of the best Batam hotels.
Bali Wake Park – Wakeboarding in Bali
Anti clockwise
Restaurant: Yes
Pro shop: Yes
Accommodation: No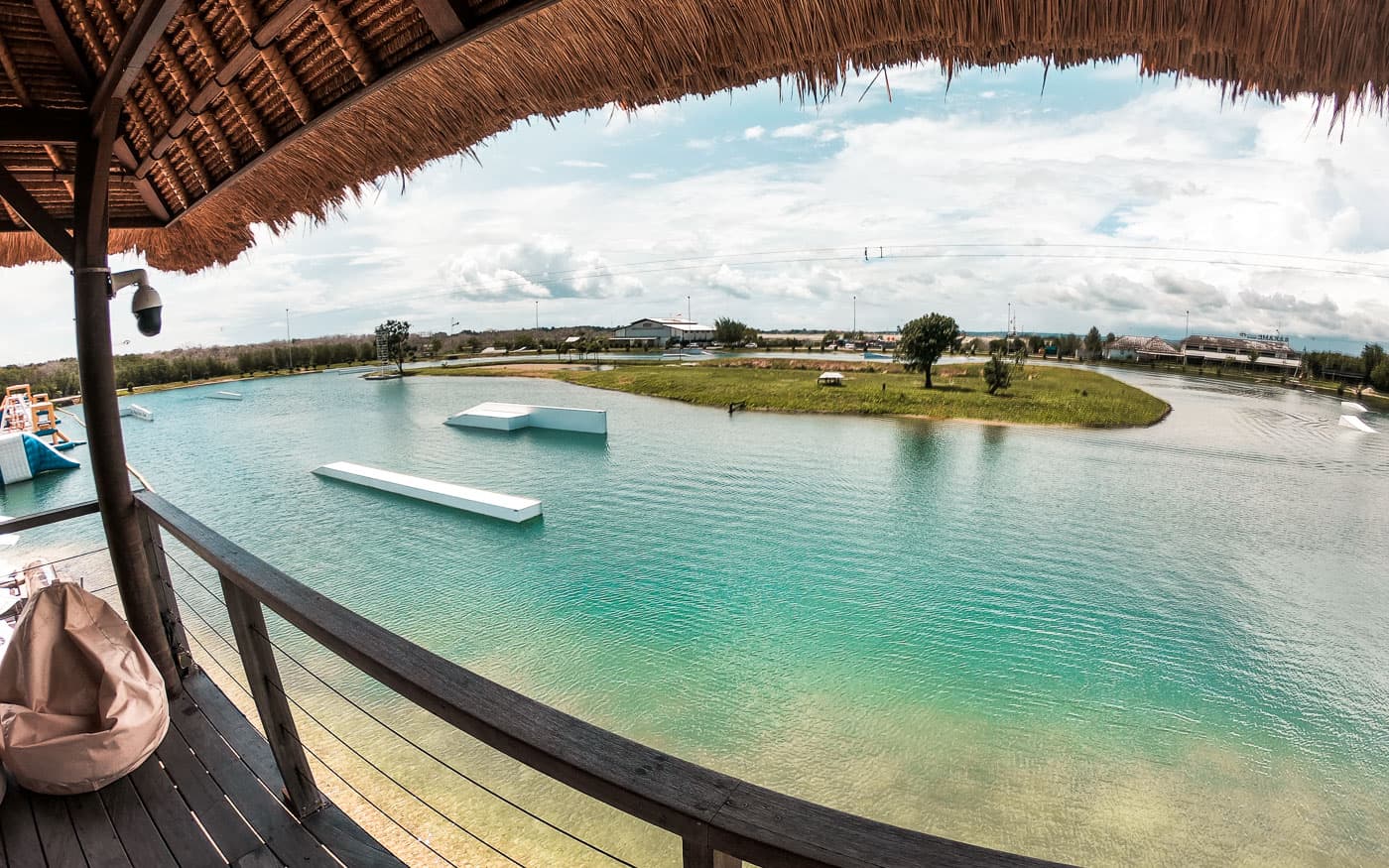 Bali might be known mostly for its surf, yoga and general mindfulness, but why narrow it down to just this?
As if the island wasn't blissful enough already, Bali got its first (and only- at least so far) cable park in 2015.
We made an awesome trip to Bali recently- and of course Bali Wake Park was at the top of our list of places to visit! If you're interested in getting some inspiration for your own Bali trip, head over to our epic 10 day adventure itinerary (featuring the very wake park we're about to talk about!).
Nestled into the harbour just 15 minutes from the international airport in Denpasar, Bali's capital, you couldn't make it much more convenient if you tried.
The course is made up of homemade obstacles with a clean construction and even some creative graphic designs. There's a free buggy service to take you back to the starting dock when you crash.
No 2.0 system here just yet, but instead a gigantic aqua park for your hyperactive child- or yourself. Hey, sometimes we need it, too!
And if that's not quite you, the infinity pool with built in bar and an elevated view on all the action might be more your style.
As the island is already a heavily established travel destination, you'll find the prices for wakeboarding in Bali are a notch higher than most of the previous parks on this list- though they still don't reach the neighbouring Aussie price range.
A year long membership will set you back 20 million rupies ($1400), while a 1 month pass goes for 5 million rupies ($350).
To find accommodation in distance of the park, choose to stay either in Kuta, 20 mns drive to the west, or in Sanur, 20 mns to the east.
Roundup: Why we love wakeboarding in Asia
Cheap
Warm
Diverse
Fun for goofies and regulars
Quality parks
And a gateway to an awesome community of Asian wakeboarders
What's not to love about wakeboarding in Asia?!
---
Hey, want to make sure you don't miss any of our future articles? just sign up to our monthly Extreme Nomads newsletter when exiting this page (also located in the footer / sidebar), or follow us on Facebook, Instagram, or Youtube for more original content from us!
Read next: